Grilled Romaine Salad
Grilled Romaine Salad – A beautifully charred and smoky summer salad, with grilled lettuce, tomatoes, and sweet corn. Bacon and homemade buttermilk ranch dressing put this grilled salad over the top!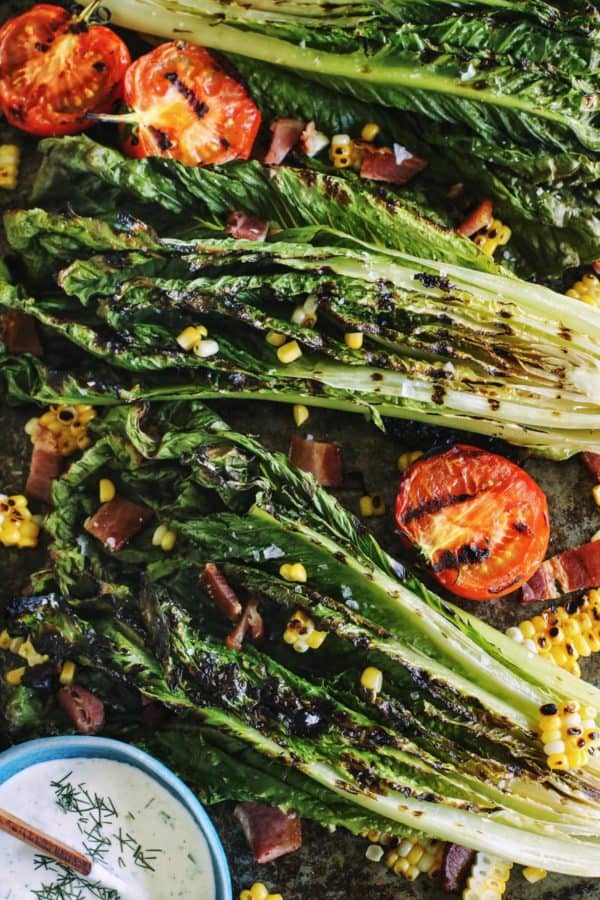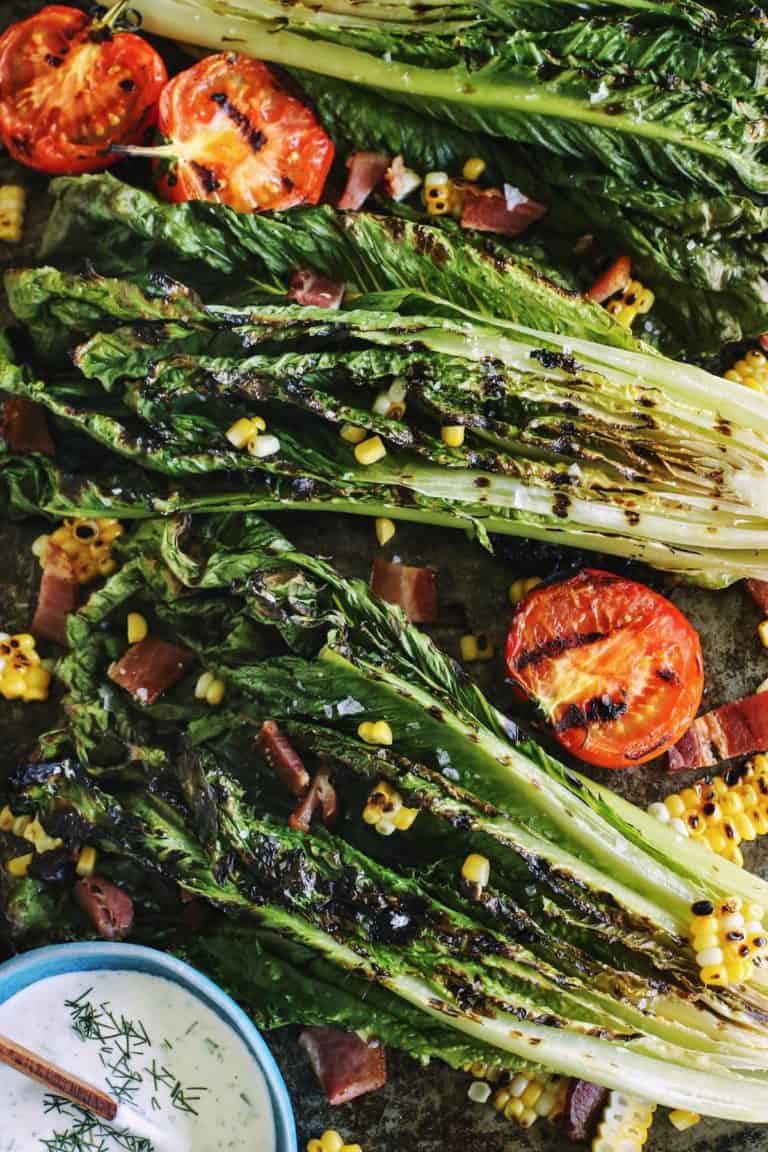 Summer entertaining is my favorite entertaining.
The nicer weather allows us to spill out of our smaller home, in to the 3-season sunroom and on to the backyard patio, under the umbrella of tall shade trees.
Summer entertaining also means grilling, my favorite means of feeding our friends and family. Sometimes it's super casual with burgers, brats, and hotdogs. Other times we invest a bit more, grilling up a surf 'n turf meal of grilled margarita shrimp appetizers and sweet and smoky salmon, plus perfectly grilled ribeyes.
Whatever the menu, I'm always looking for a fresh and beautiful (and easy!) side dish to serve alongside the grilled entree. And summer has this Grilled Romaine Salad written all over it. A grilled lettuce salad is always a topic of conversation (many people have never heard of grilling greens!), and easy to prep ahead of time.
We've been making some version of this salad nearly every week, all summer long, for a number of years now. Our whole family welcomes it, each and every time.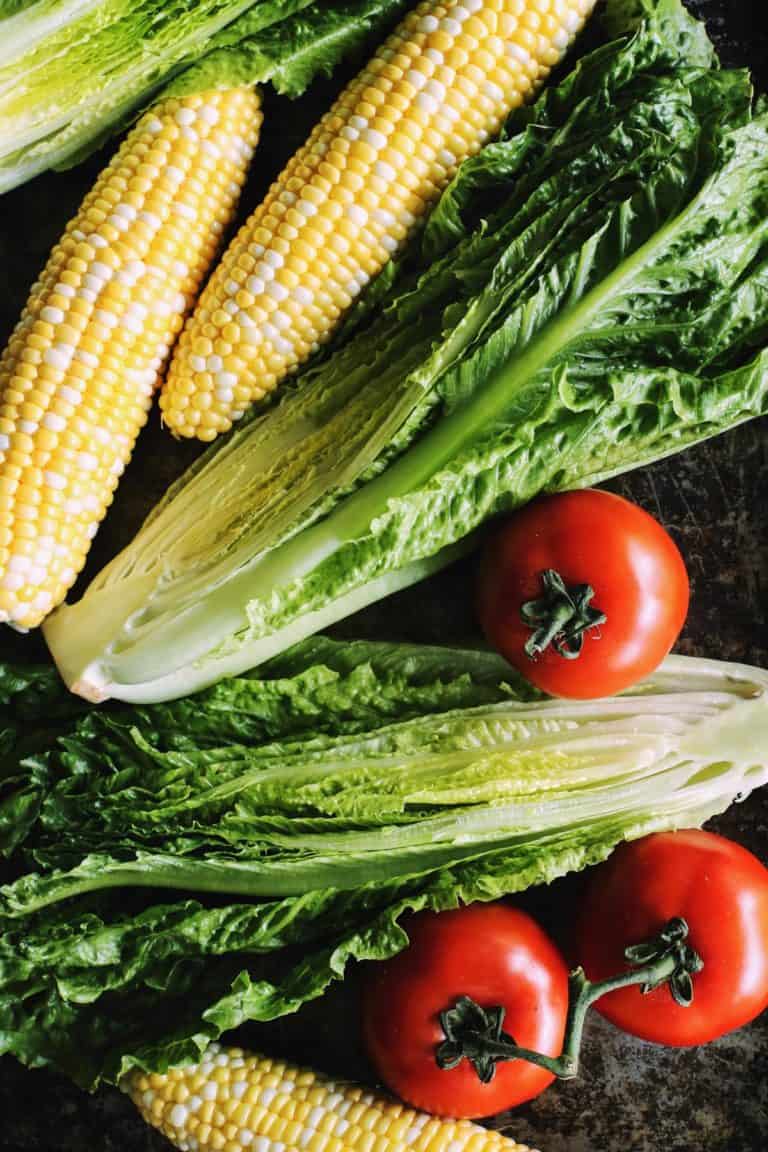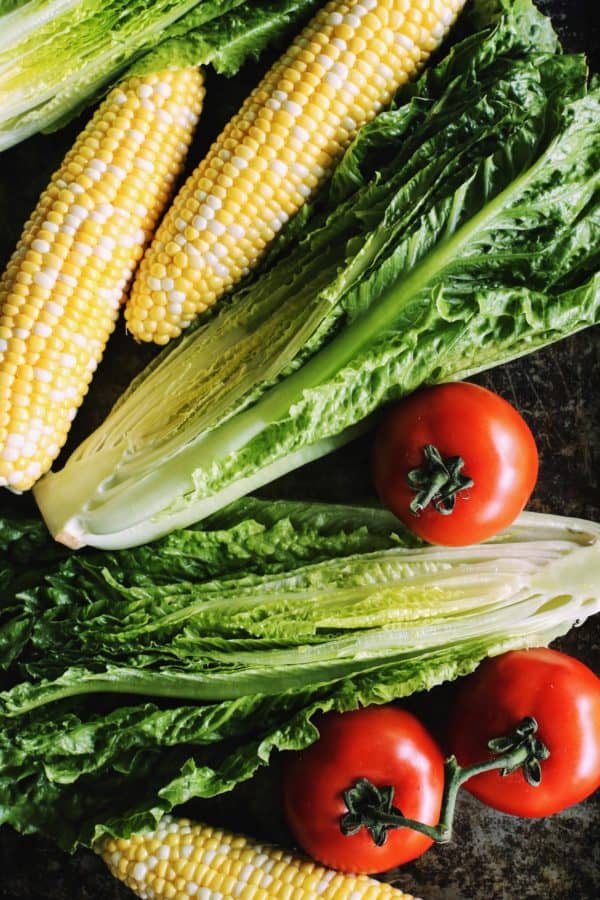 Summertime pleads with you to make this grilled romaine salad.
Pick up a few heads of romaine lettuce, plus some local sweet corn. And then grab fresh, ripe tomatoes from your garden or farmer's market – or the best you can find from the store.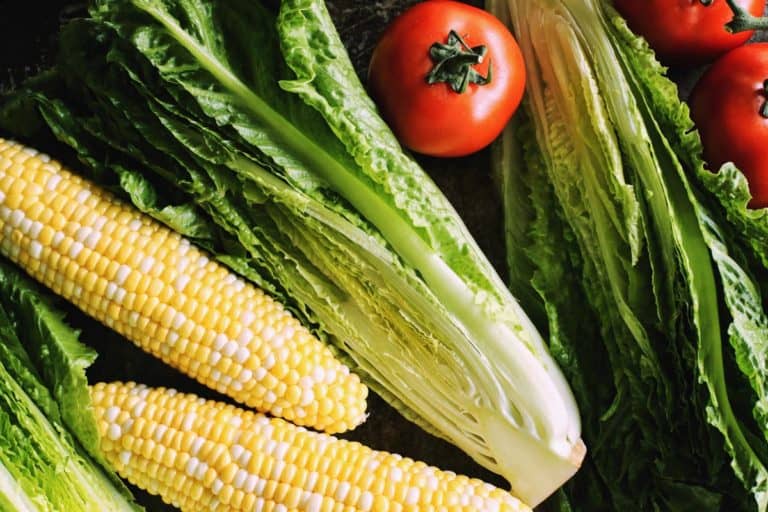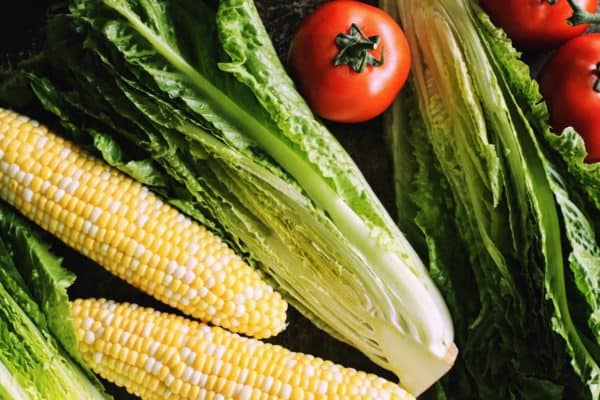 Tomatoes are packed with nutrients and antioxidants. They are often referred to as a "super food", a nutrient-rich food considered to be especially beneficial for health and well-being.
I try to incorporate tomatoes in our meals weekly, and summer is the very best time to enjoy all of their most delicious texture and sweetness. If you haven't tried them grilled, you're in for a treat!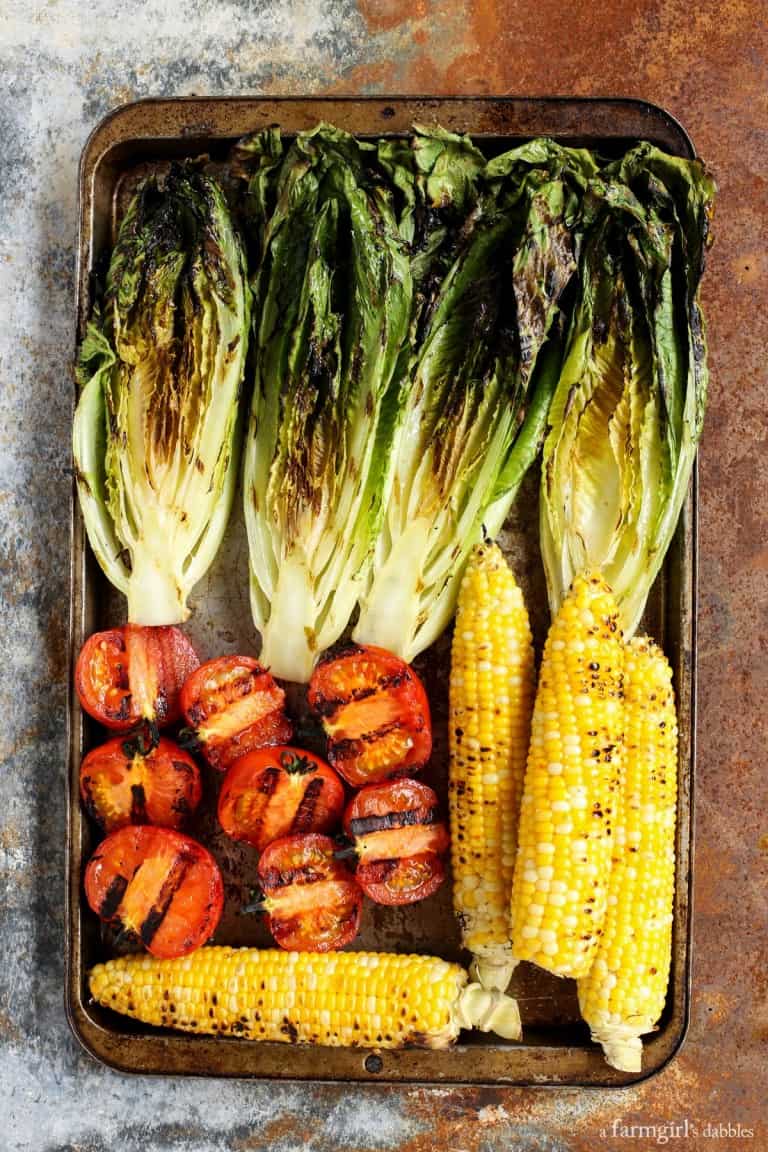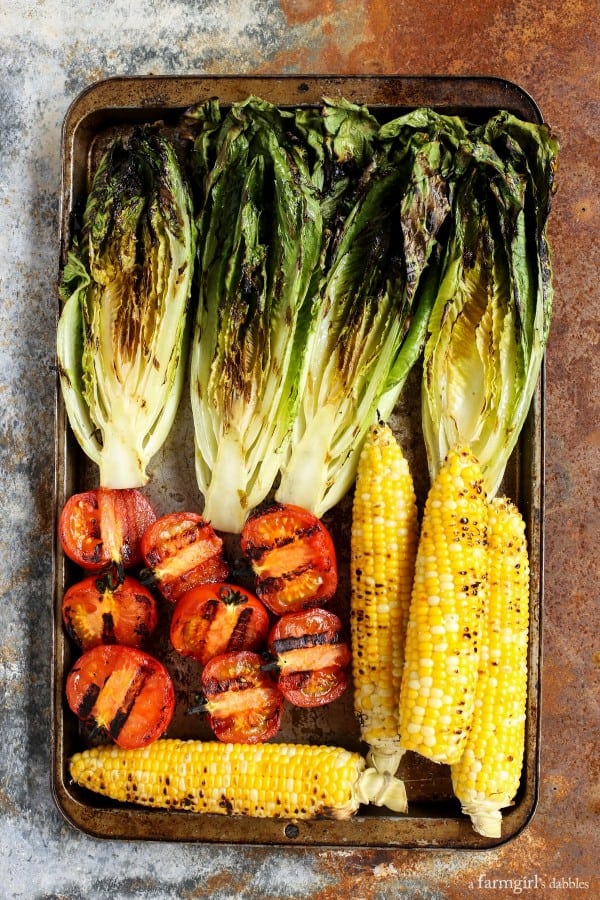 How to grill romaine lettuce
But the star of this salad is the grilled romaine. No doubt about it.
The first time I ever ate grilled romaine lettuce was on a blogging trip to Oregon. Before taking my first bite of that grilled Caesar salad, I was admittedly skeptical. But that one bite was all it took to convince me that the grill and fresh romaine are a match made in heaven.
How to grill lettuce? It's so easy!
Simply slice the romaine heads in half lengthwise. Brush the cut sides lightly with olive oil. And then sprinkle lightly with kosher salt and freshly ground black pepper.
Place cut sides of romaine onto hot oiled grill grates and cook until softened a bit and charred to your liking. I tend to like alot of that crispy, smoky char!
And that's it. The lettuce is grilled!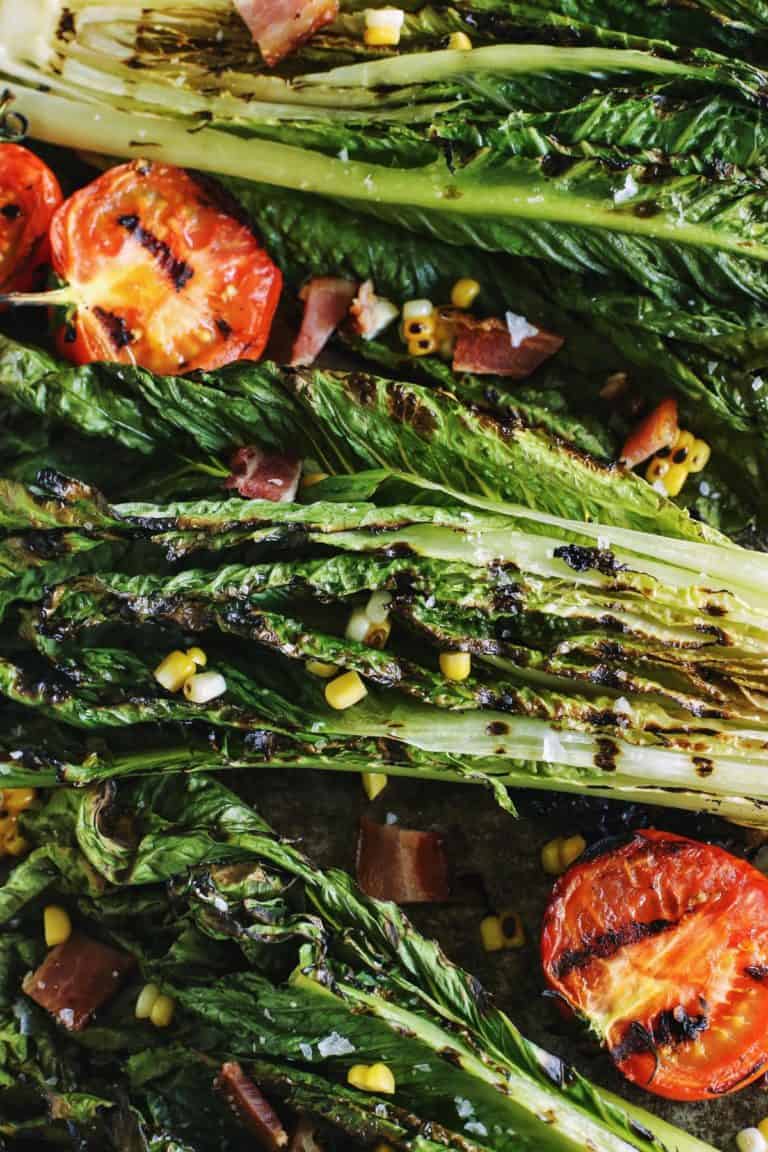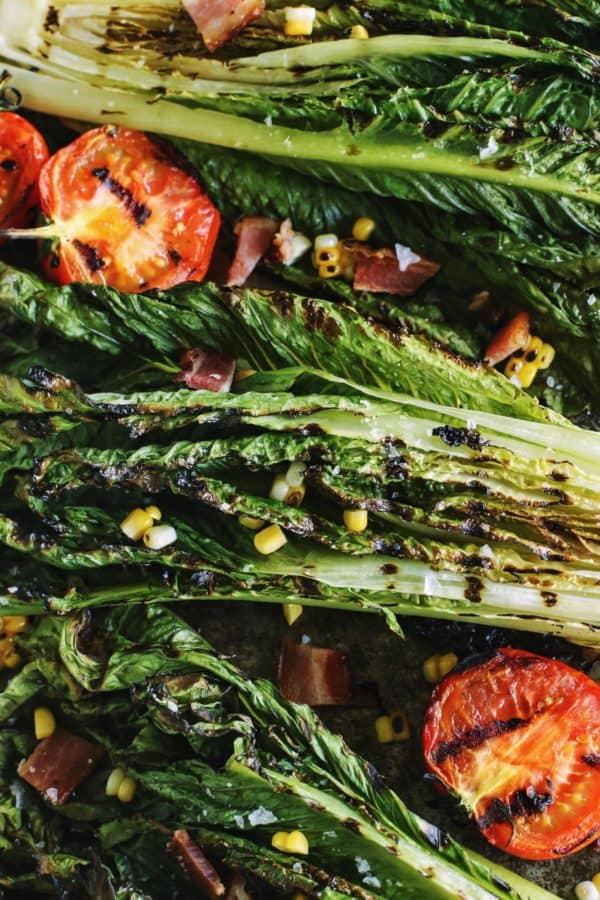 Grilled Lettuce Salad
With this grilled romaine salad recipe, I went just a bit further by also grilling fresh, juicy tomatoes and sweet corn. The grill helps to intensify the flavor of the tomatoes and corn, and adds a nice smokiness to everything it touches.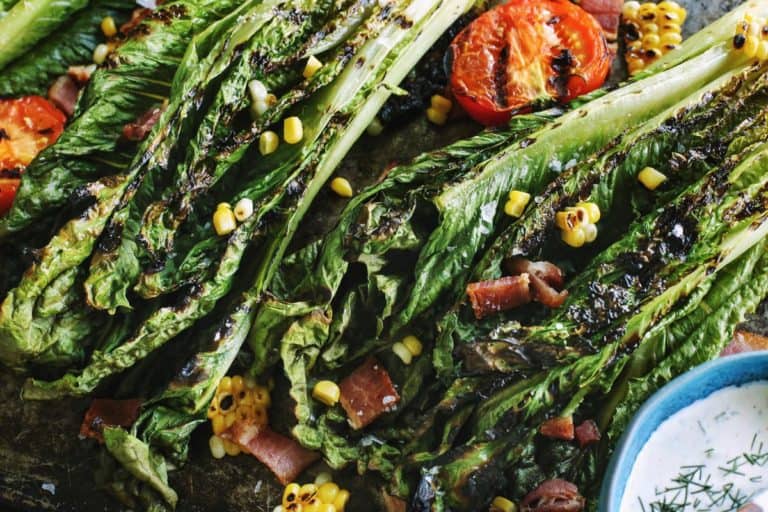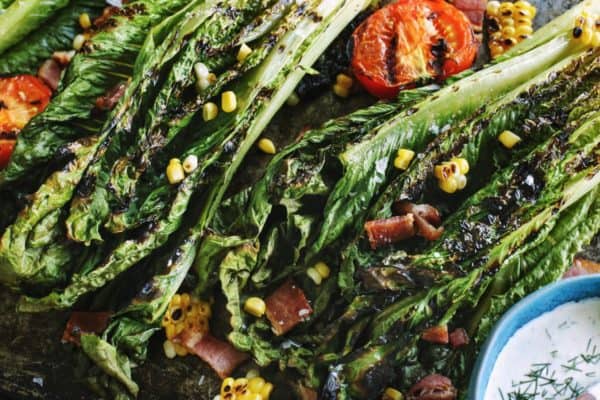 The charred grill marks not only add awesome smoky flavor, but also so much beauty.
I like to serve this salad super casually, on a large rimmed sheet pan, just like you see in my photos. (Here's my favorite large rimmed pan.)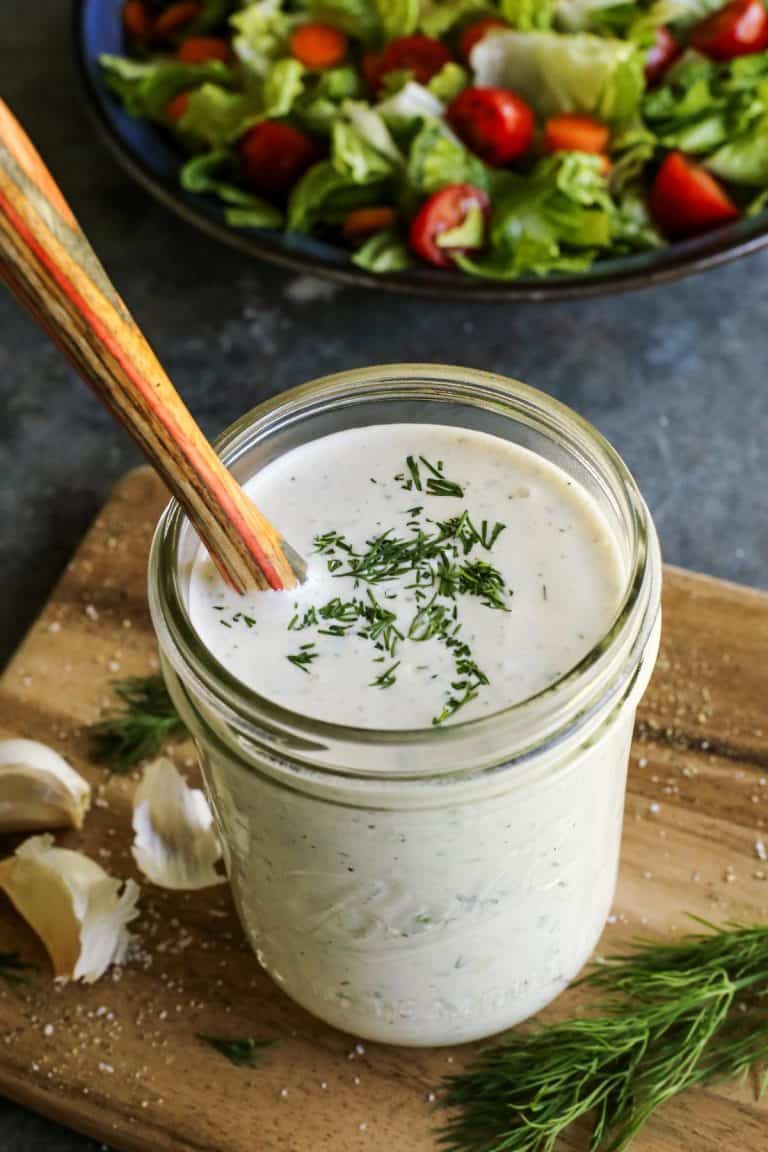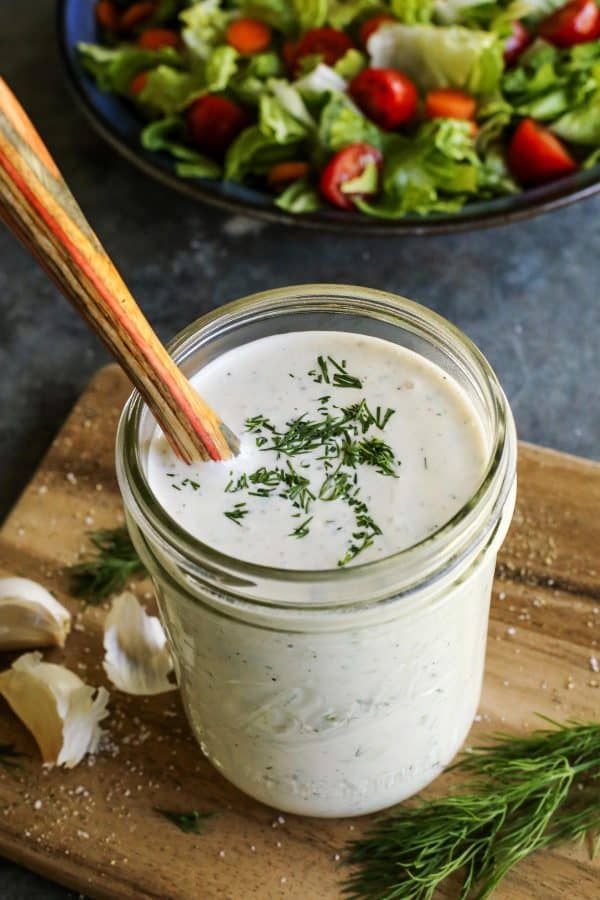 Sprinkle some chopped bacon over the top of the salad and serve with my creamy homemade buttermilk ranch dressing. This is my family's favorite ranch dressing. Once you try this tangy, garlicky dressing, you'll never want to eat any other!
Like this recipe? Save it to Pinterest!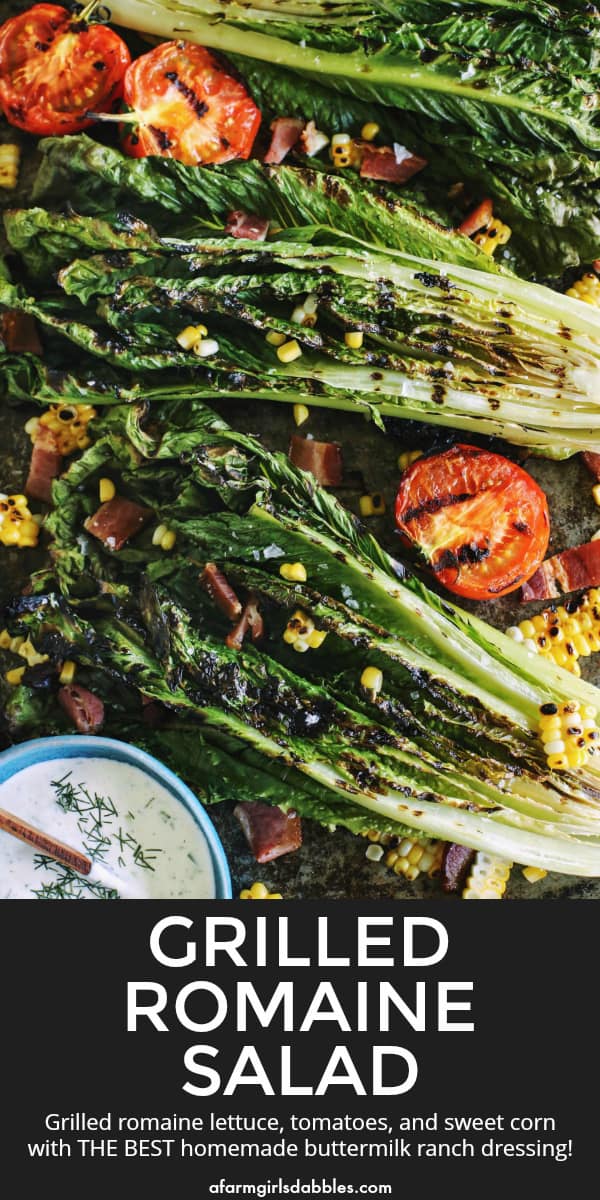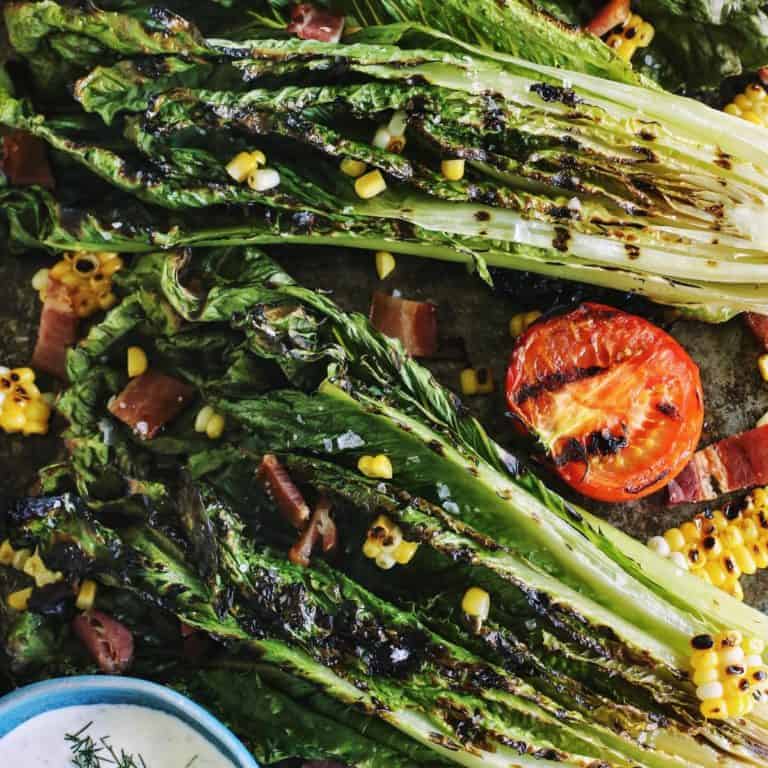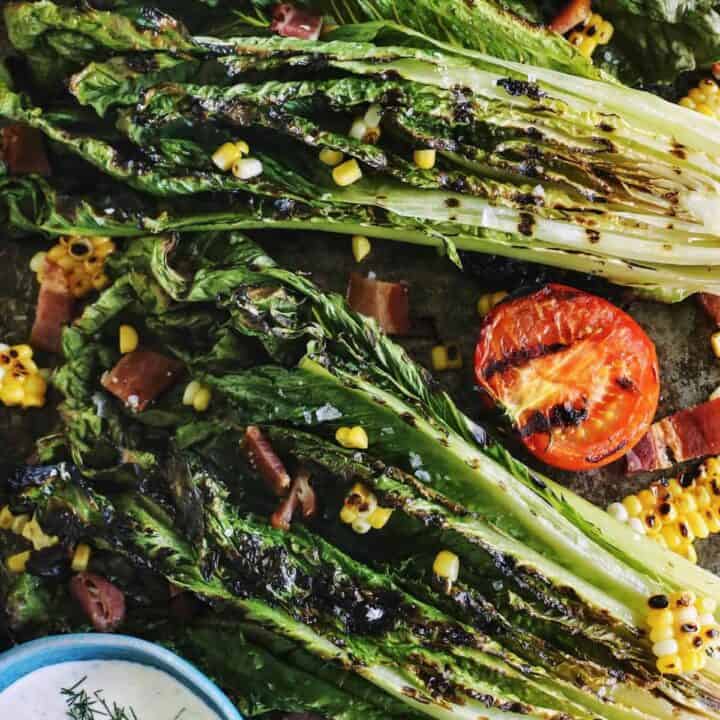 Grilled Romaine Salad
Yield: 6 servings
Prep Time: 20 minutes
Cook Time: 25 minutes
Total Time: 45 minutes
You'll love the charred smokiness of this salad with grilled romaine, tomatoes, and sweet corn. Bacon and a homemade buttermilk ranch dressing put this summer salad over the top!
Ingredients
3 large heads romaine, cut in half lengthwise
6 medium tomatoes, cut in half through the stem
4 large ears sweet corn, husks and silk removed
olive oil
kosher salt
freshly ground black pepper
1/2 lb. thick-cut bacon, fried, drained, and chopped
Instructions
Preheat grill to medium-high. Once hot, clean the grates really well. Then generously oil the grill grates using a long tongs and a folded paper towel soaked with vegetable oil. Close the grill and let it heat back up again.
Lightly brush olive oil on cut sides of romaine and tomatoes, and on the corn. Sprinkle with salt and pepper. Place romaine and tomatoes on grill grates, cut sides down. The romaine is the most tender and should cook the fastest, but this will also depend on your own grill and heat. I like a good amount of char to the romaine, as it adds so much nice smoky flavor. Check the tomatoes after they have been grilling for almost two minutes. They will take a little longer to achieve a solid char. As the corn chars, roll the ears to grill all sides. Have a large platter or pan ready, to pull items off as they finish cooking. Once the ears of corn have cooled a bit, cut the kernels from the cob.
Arrange grilled romaine and tomatoes on a large rimmed pan or serving platter, overlapping as needed. Sprinkle with grilled corn kernels and bacon pieces. Finish with additional kosher salt and freshly ground black pepper, to taste. Serve with homemade buttermilk ranch dressing.
Notes
from a farmgirl's dabbles
Recommended Products
As an Amazon Associate and member of other affiliate programs, I earn from qualifying purchases.
Nutrition Information:
Yield: 6
Serving Size: 1
Amount Per Serving:
Calories: 377
Total Fat: 20g
Saturated Fat: 6g
Trans Fat: 0g
Unsaturated Fat: 14g
Cholesterol: 37mg
Sodium: 778mg
Carbohydrates: 33g
Fiber: 10g
Sugar: 11g
Protein: 21g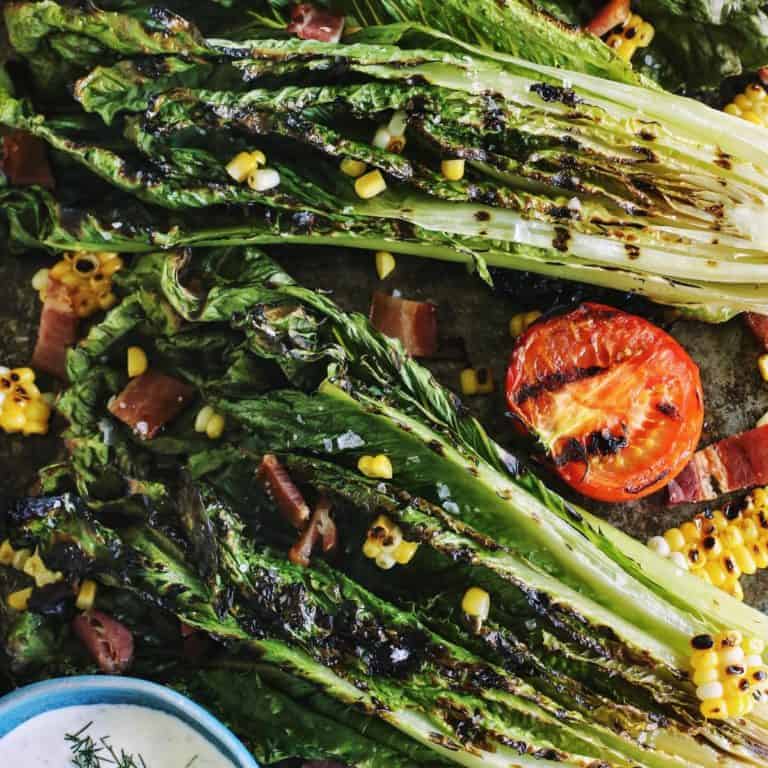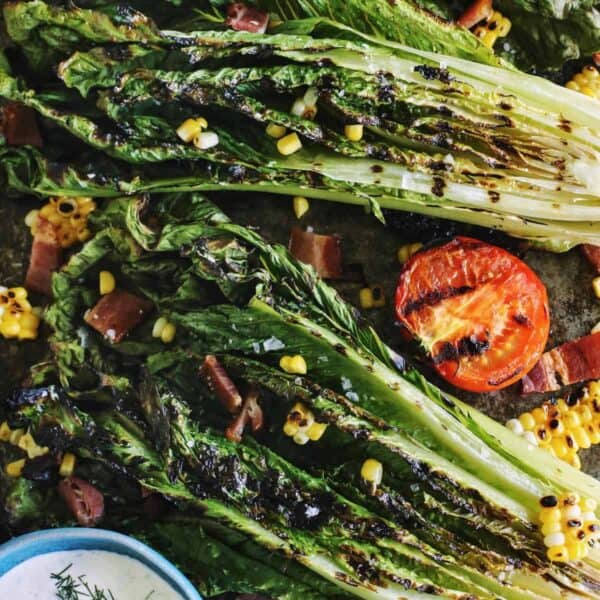 Here are a few more salads, perfect for summer, that you might enjoy:
I originally published this post in 2016. Then I updated some of the photos and text in 2019.