Grilled Romaine and Tomato Salad with Bacon and Homemade Buttermilk Ranch Dressing
Grilled Romaine and Tomato Salad with Bacon and Homemade Buttermilk Ranch Dressing…summer salads just don't get any better than this!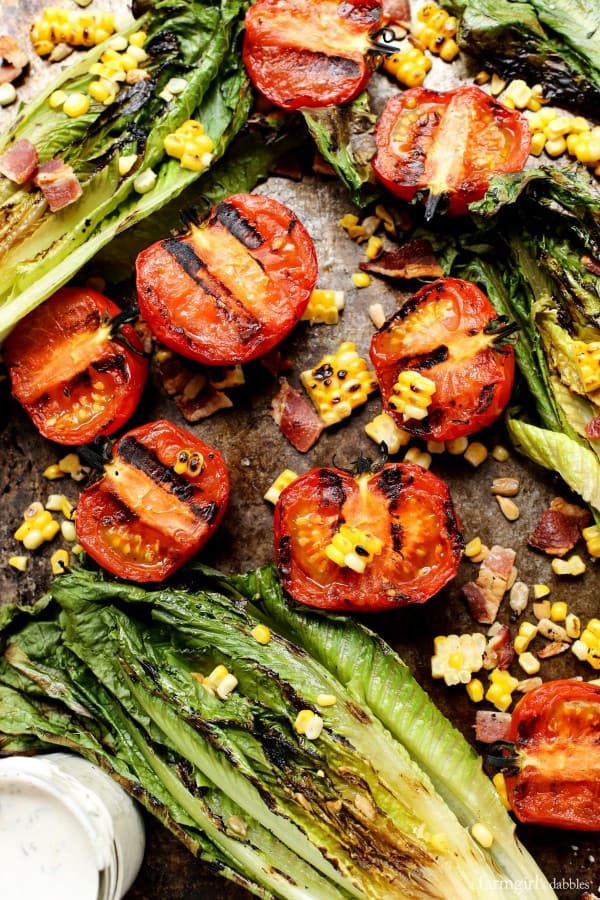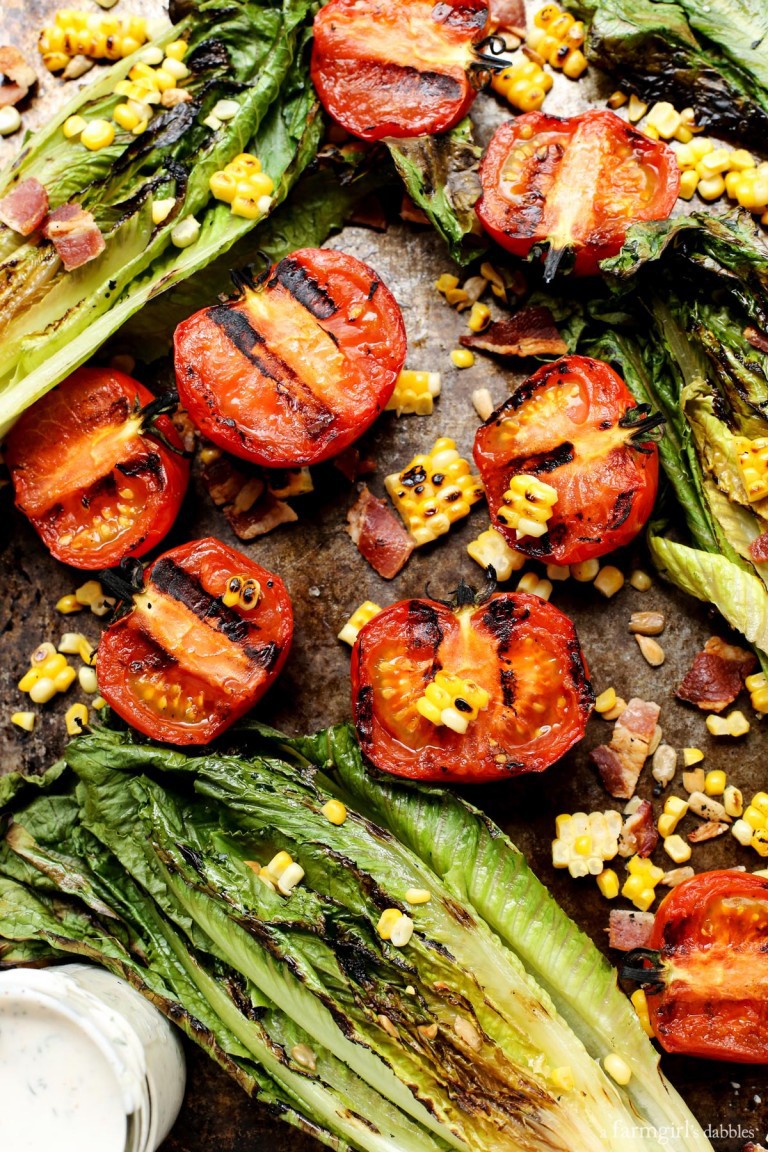 Summer entertaining is my favorite entertaining. The nicer weather allows us to spill out of our smaller home, in to the 3-season sunroom and on to the backyard deck, under the umbrella of tall shade trees. Summer entertaining also means grilling, my favorite means of feeding a group of friends and family. Sometimes it's super casual with burgers, brats, and hotdogs. Other times we put a bit more effort into it, grilling up a surf 'n turf meal of jumbo Caribbean jerk shrimp appetizers and sweet and smoky salmon, plus perfectly grilled ribeyes.
Whatever the menu, I'm always looking for a fresh and beautiful (and easy!) side dish to serve alongside the grilled entree. And this summer has this recipe written all over it: Grilled Romaine and Tomato Salad with Bacon and Homemade Buttermilk Ranch Dressing. It's so good, and so easy to prep ahead of time. We've made it three times since I photographed this post. Yes, you need this recipe for your summer entertaining plans!
* This post was created in partnership with Bushel Boy™ Tomatoes.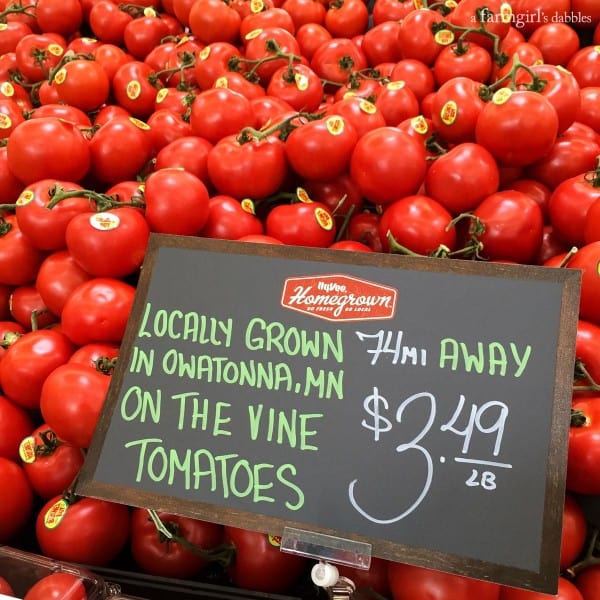 When I was buying the Bushel Boy vine-on tomatoes for this recipe, I couldn't help but snap a picture of the store display. Not only was this scene gorgeous, piled high with red, juicy tomatoes, but I love how the sign announced how far the tomatoes had traveled to get to my own local store. Just 74 miles!
Click here to find out where Bushel Boy tomatoes are available. Be sure to also check out Bushel Boy on Facebook.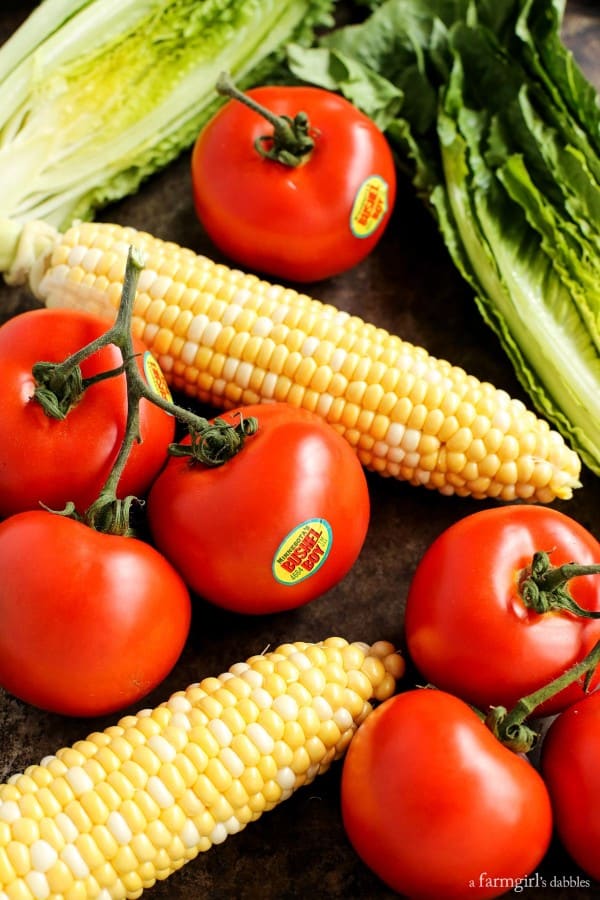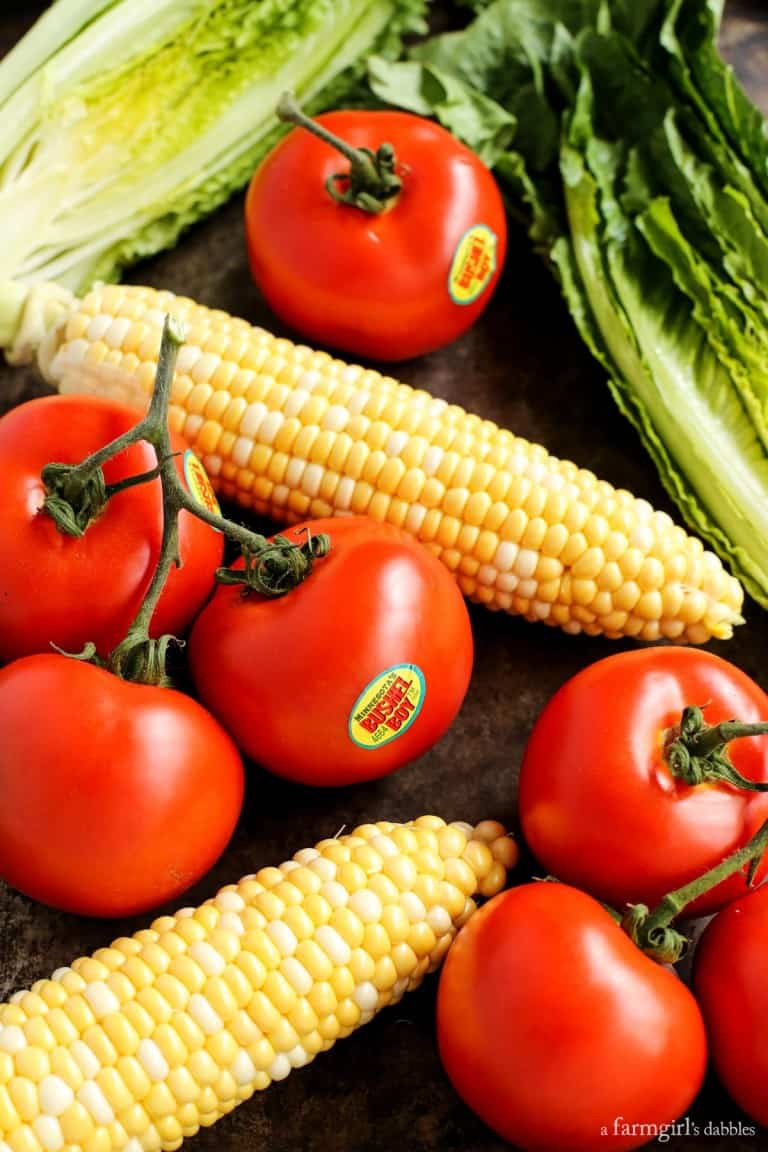 Bushel Boy tomatoes are grown right here in Minnesota and I've been serving them to my family for as long as I can remember. At Bushel Boy Farms, they grow fresh, vine-ripened tomatoes year-round, in greenhouses that are buzzing with bumblebees. The tomatoes are vine ripened to ensure full flavor, and are only picked when they're red, ripe, and juicy.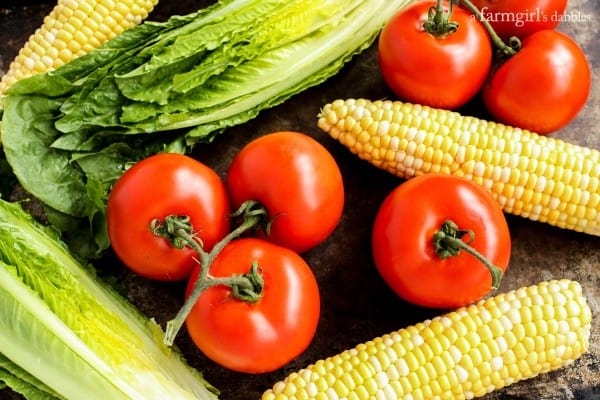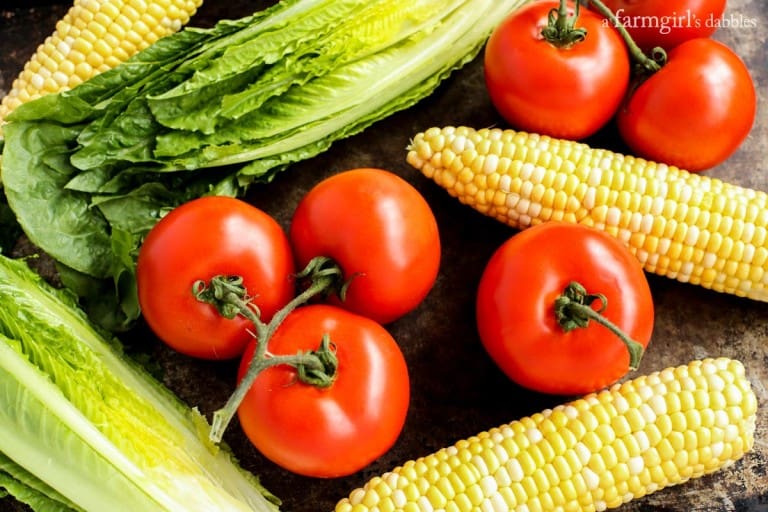 Tomatoes are packed full of beneficial nutrients and antioxidants. They are often referred to as a "super food", a nutrient-rich food considered to be especially beneficial for health and well-being. You can read more about the health benefits of tomatoes here.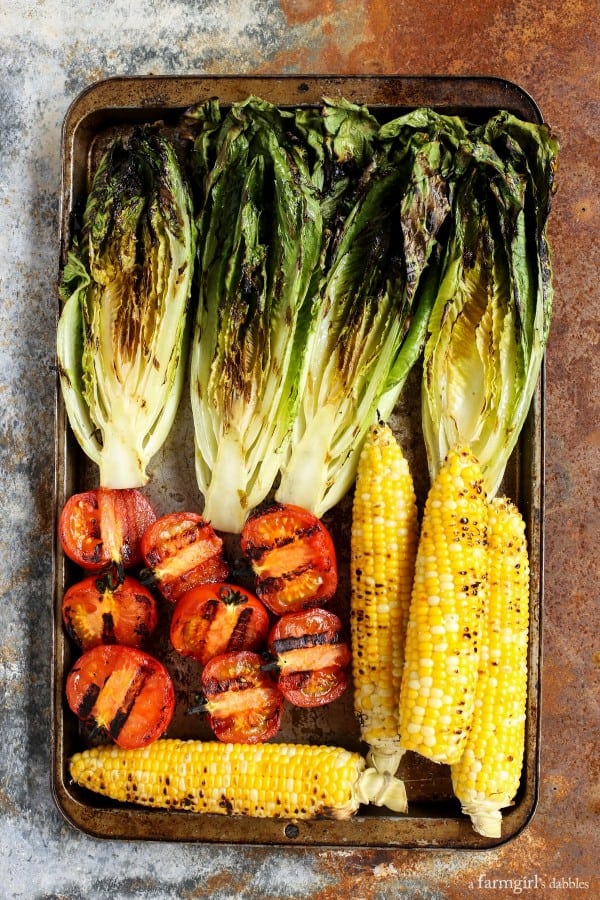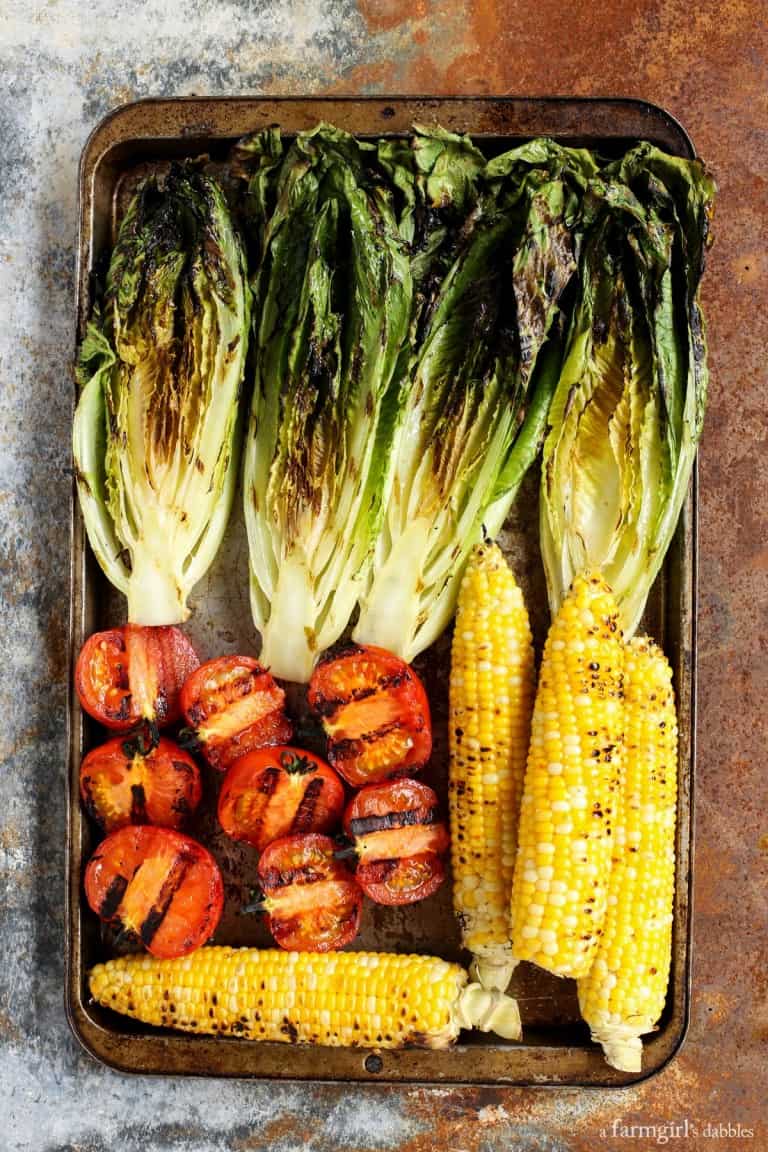 The first time I ever ate grilled romaine lettuce was on a blogging trip to Oregon. Before taking my first bite of that grilled Caesar salad, I was admittedly skeptical. But that one bite was all it took to convince me that the grill and fresh romaine are a match made in heaven.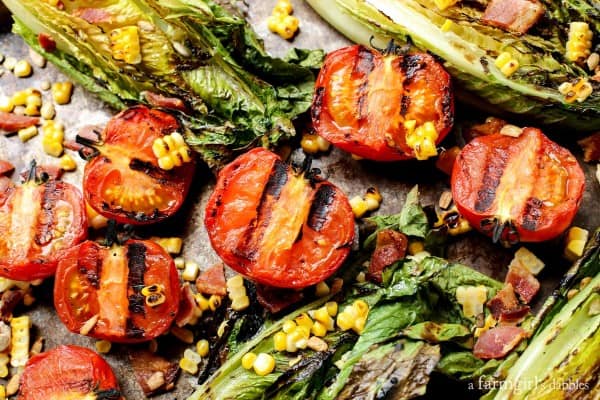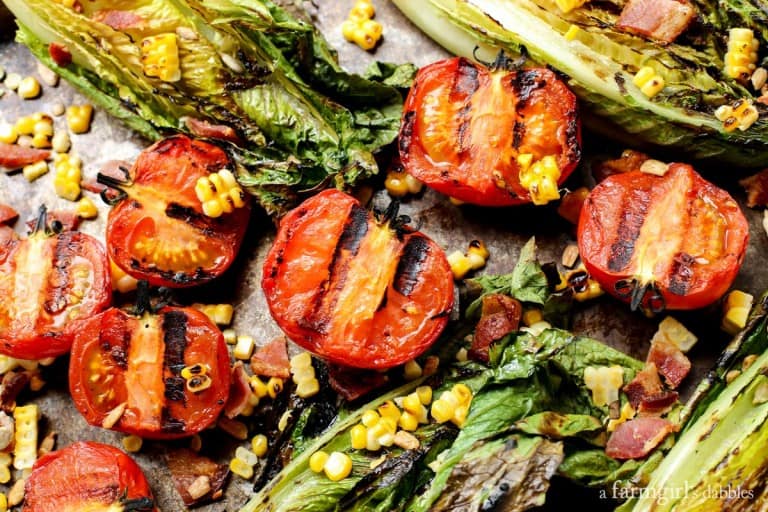 With this recipe, I took the grilled romaine salad just a bit further by also grilling fresh, juicy tomatoes and sweet corn. The grill helps to intensify the flavor of the tomatoes, and adds a nice smokiness to everything it touches. A summer salad just doesn't get any better than this.
This grilled romaine and tomato salad is so easy to prep. Simply slice romaine heads in half lengthwise and slice the tomatoes in half through the stem (if you cut horizontally through the middles, the tomatoes will be looser and won't grill as nicely). Brush a light coating of olive oil over the the romaine, tomatoes, and ears of corn, and then sprinkle with salt and pepper. They're ready to hit the heat of the grill!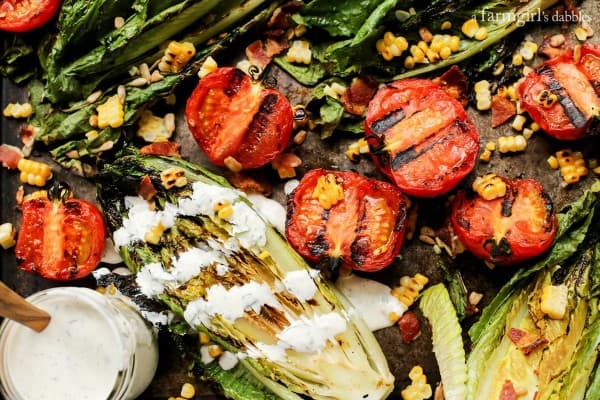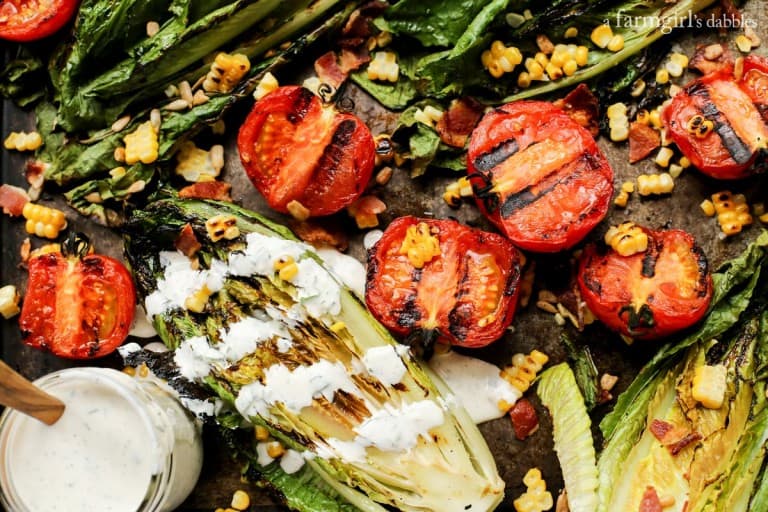 The charred marks from the hot grill grates not only add awesome smoky flavor, but also so much beauty. I like to serve this salad super casually, on a large sheet pan, just like you see here in my photos. Sprinkle some cooked, chopped bacon over the top of the grilled goodness and serve the salad with my creamy homemade buttermilk ranch dressing. Once you try this tangy, garlicky dressing, you'll never want to eat any other!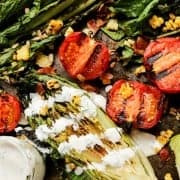 Grilled Romaine and Tomato Salad with Bacon and Homemade Buttermilk Ranch Dressing
Yield: 6 servings
Calories per serving: 346
Ingredients:
for the salad:
3 large heads romaine, cut in half lengthwise
6 Bushel Boy vine-on tomatoes, cut in half through the stem
4 large ears sweet corn, husked and silk removed
olive oil
kosher salt
freshly ground black pepper
1/2 lb. thick-cut bacon, fried, drained, and chopped
2 T. roasted and salted sunflower nuts
for the homemade buttermilk ranch dressing:
1/2 c. buttermilk
1/2 c. sour cream
1/4 c. mayonnaise
2 tsp. freshly squeezed lemon juice
2 medium-sized garlic cloves, minced
3/4 tsp. kosher salt
1/8 tsp. black pepper
2 green onions, finely minced
2 tsp. fresh minced dill
1/8 tsp. cumin
1/8 tsp. chili powder
Directions:
for the salad:
Preheat grill to medium-high. Once hot, clean the grates really well and then oil the grates. (To oil the grates, add some canola oil or olive oil to a small bowl. Then fold a heavy paper towel a few times to make a smaller square. With a tongs, grasp the folded paper towel and dip it into the oil until the paper towel is drenched. Then run the paper towel over the grates, repeating until all grill grates are thoroughly oiled.) Close the grill and let it heat back up again. 
Lightly brush both sides of the romaine, the cut sides of the tomatoes, and the corn with olive oil. Sprinkle with salt and pepper. Place romaine and tomatoes on grill grates, cut sides down. The romaine is the most tender and should cook the fastest, but this will also depend on your own grill and heat. With a tongs, flip romaine over after the cut sides are nicely charred. I have found that I like a healthy amount of char to the romaine, as it adds so much nice smoky flavor. Check the tomatoes after they have been grilling for almost two minutes. They will take a little longer to achieve a solid char. As the corn chars, roll the ears to grill all sides. Have a large platter or pan ready, to pull items off as they finish cooking.
Once the ears of corn have cooled a bit, cut the kernels from the cob.
for the homemade buttermilk ranch dressing:
Combine all dressing ingredients in a medium bowl and whisk well. If you like a thicker dressing, add a bit more sour cream. Taste and adjust seasoning if necessary. Chill until ready to serve. This can be prepared up to one day in advance. Keeps well in the refrigerator for up to 4 days.
to assemble the salad:
Arrange grilled romaine and tomatoes on a large serving platter or rimmed pan, overlapping as needed. Sprinkle with grilled corn kernels, bacon pieces, and sunflower nuts. Finish with additional kosher salt and freshly ground black pepper, to taste. Serve with homemade buttermilk ranch dressing.
from a farmgirl's dabbles
©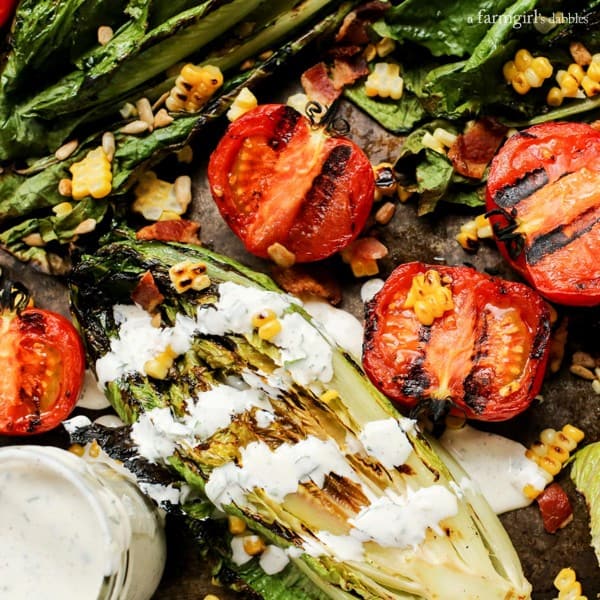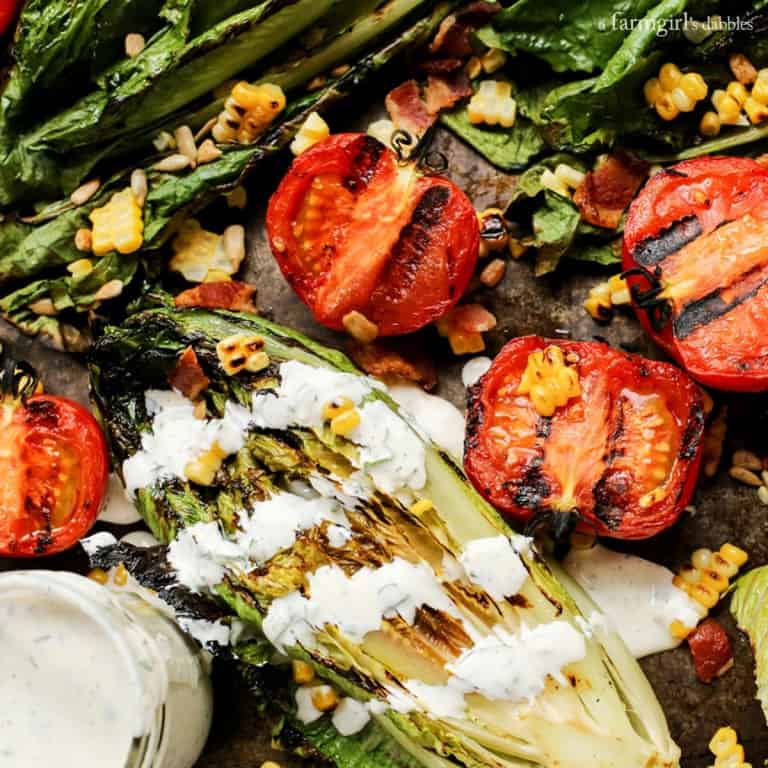 Here are a few more salads, perfect for summer, that you might enjoy:
This post was created in partnership with Bushel Boy Tomatoes, a local Minnesota fresh tomato company. All text and opinions are mine. Thank you for supporting the brands that help make this site possible!
We participate in the Amazon Services LLC Associates Program, an affiliate advertising program designed to provide a means for us to earn fees by linking to Amazon.com and affiliated sites. See our disclosure policy for more info.