Cowboy Beans
This post may contain Amazon or other affiliate links. As an Amazon Associate I earn from qualifying purchases.
This easy baked Cowboy Beans recipe is hearty and flavorful with bacon and ground beef. It's the ultimate side dish for all your casual gatherings!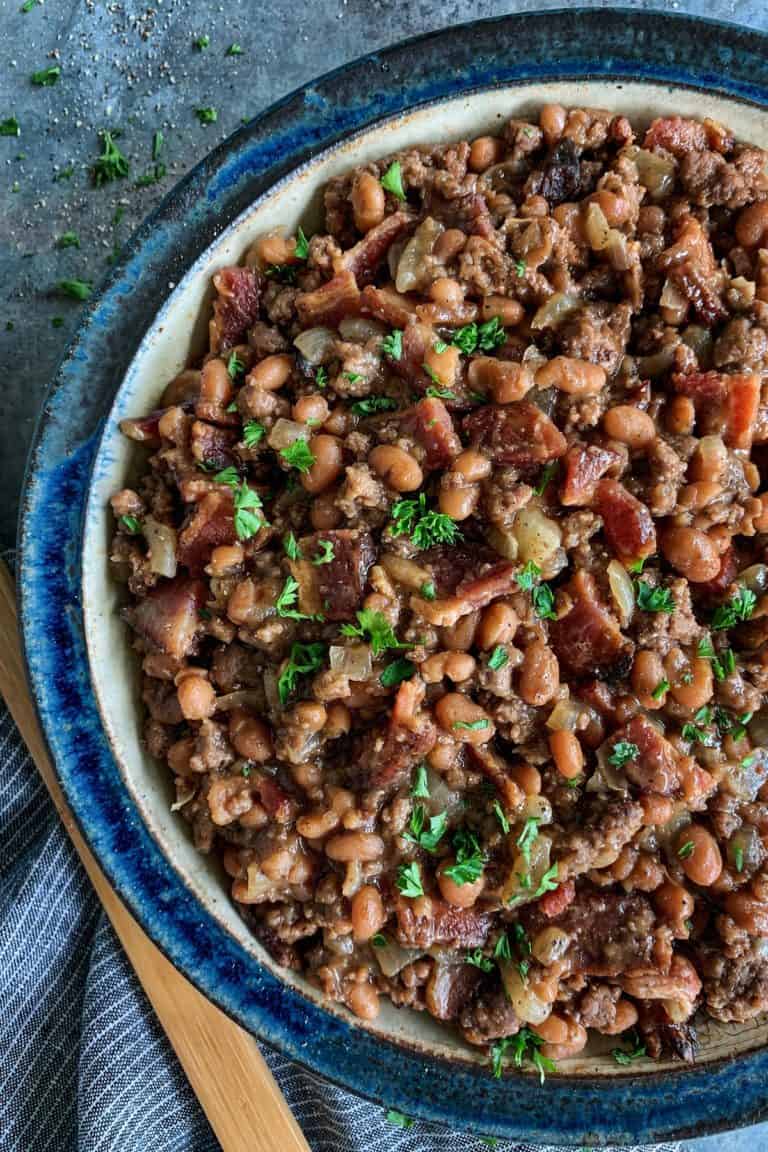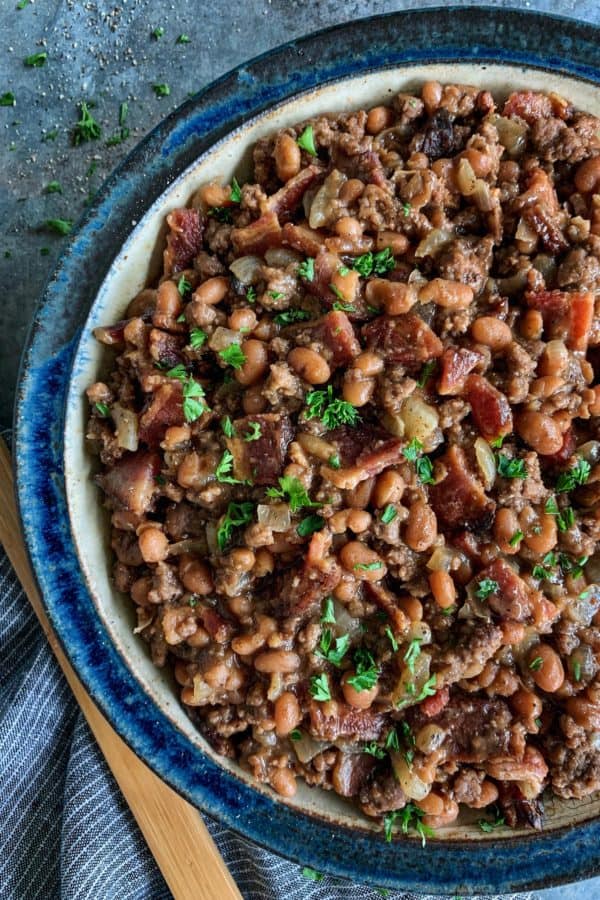 Cowboy Beans
Sometimes all a dish needs is a fun name to get kids to try it. Such is the case with this recipe for Cowboy Beans…
"Beans."
"Yuck!"
That was the common response from our oldest daughter when she was young, whenever baked beans were served. It didn't matter how much bacon, ground beef, or brown sugar was added. Hatti wasn't gonna try them. End of story.
But then, a few days after Hatti finished up third grade, our family took a road trip out west. To beautiful Custer State Park and the Black Hills of South Dakota. This is where Hatti fell for the tasty baked beans side dish that our family now affectionately calls Cowboy Beans.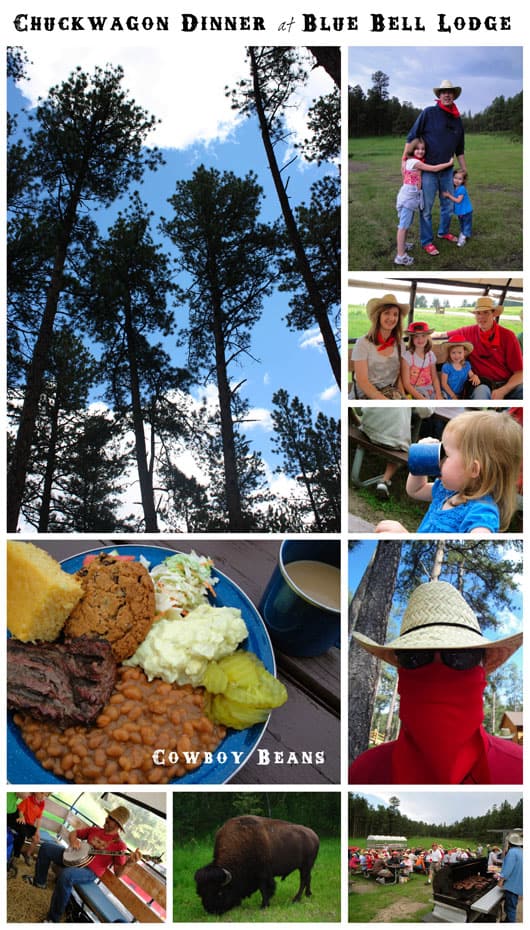 Why our family likes this easy Cowboy Beans recipe
Our first family trip to the southwest corner of South Dakota was filled with nostalgia for me. I had visited that area many times as my sisters and I were growing up. At nearly every turn, I'd find myself smiling as I watched our own daughters enjoying this special place, just as I had.
We did try something new on this trip, though; something I hadn't done when I was young. We went on a chuckwagon dinner ride.
I probably would not have even looked into it except my sister's family had gone on one the year prior, and their whole family really liked it. So I signed us up. Family of four for the chuckwagon dinner at Blue Bell Lodge.
It was a real treat. There were people of all ages, simply looking for a little entertainment, some wildlife spotting, and of course, a good ol' chuckwagon meal in a beautiful setting. This did not disappoint. The grub was delicious and plentiful. And the live country and bluegrass put an instant tap in your foot.
But I think the best thing that came from this little rendezvous was that Hatti tried baked beans for the first time. I was perplexed when I saw the beans on her plate, and asked her if she was going to give the beans to her dad.
She replied, "No, they're mine. They told me these are Cowboy Beans. So I wanted to try them."
That's all it took. A fun name!
And the bandana and cowboy hat she was wearing probably helped, too.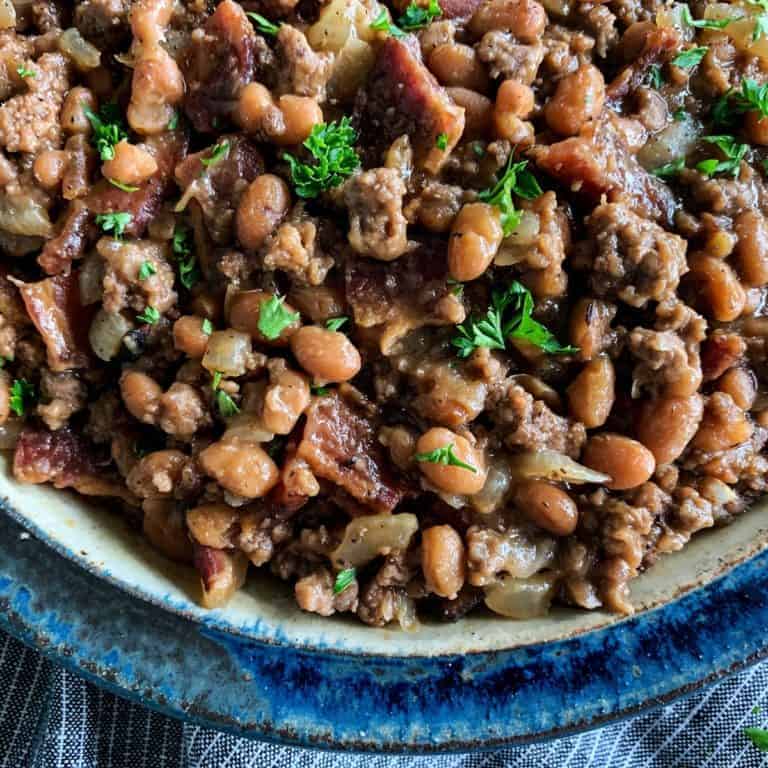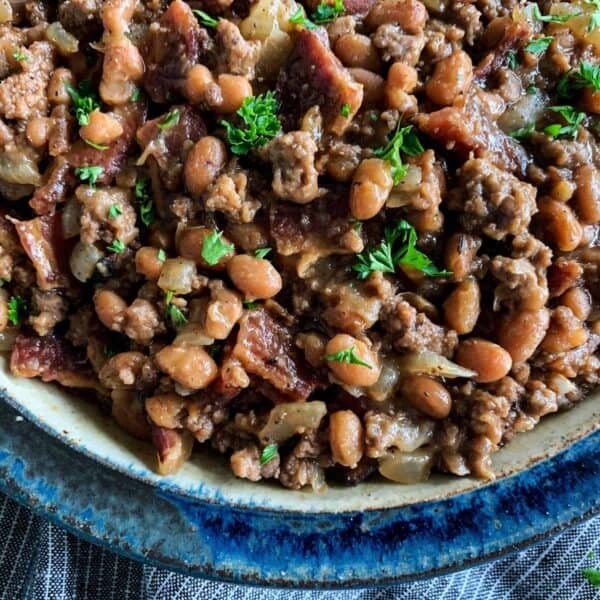 So now, when we serve baked beans at home, we call them "Cowboy Beans". And Hatti eats them, willingly and happily, and doesn't hesitate to ask for a second helping.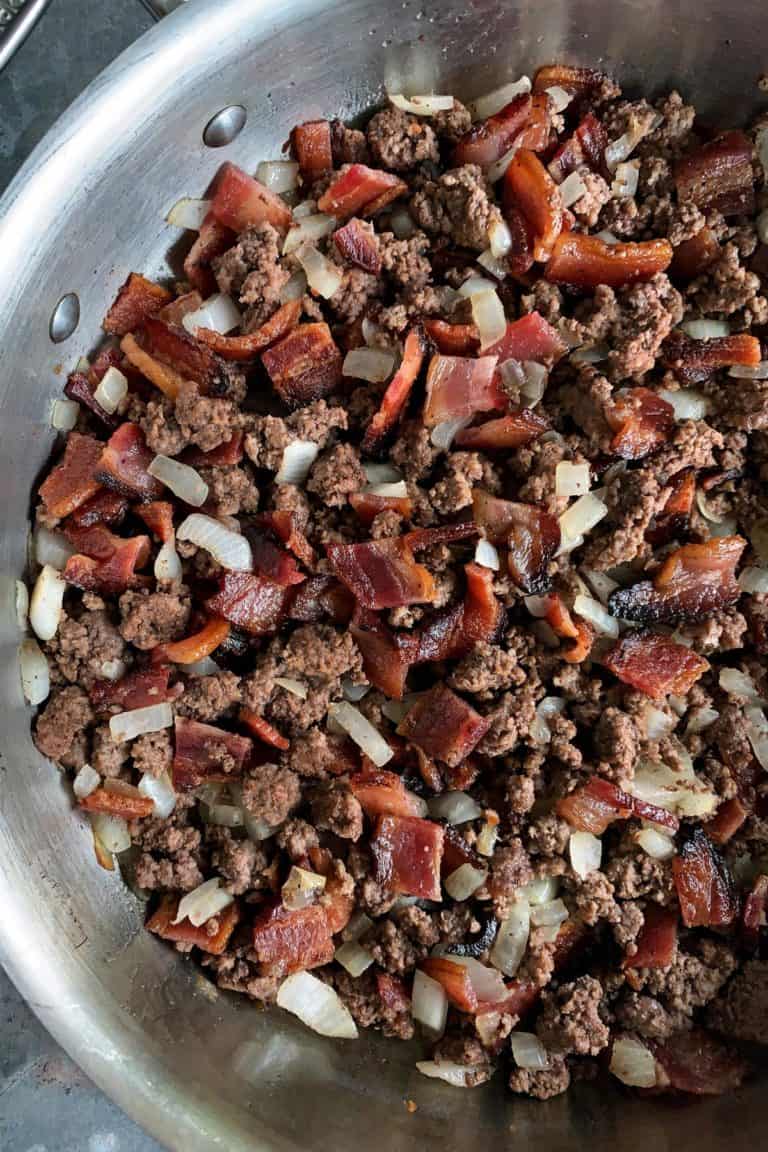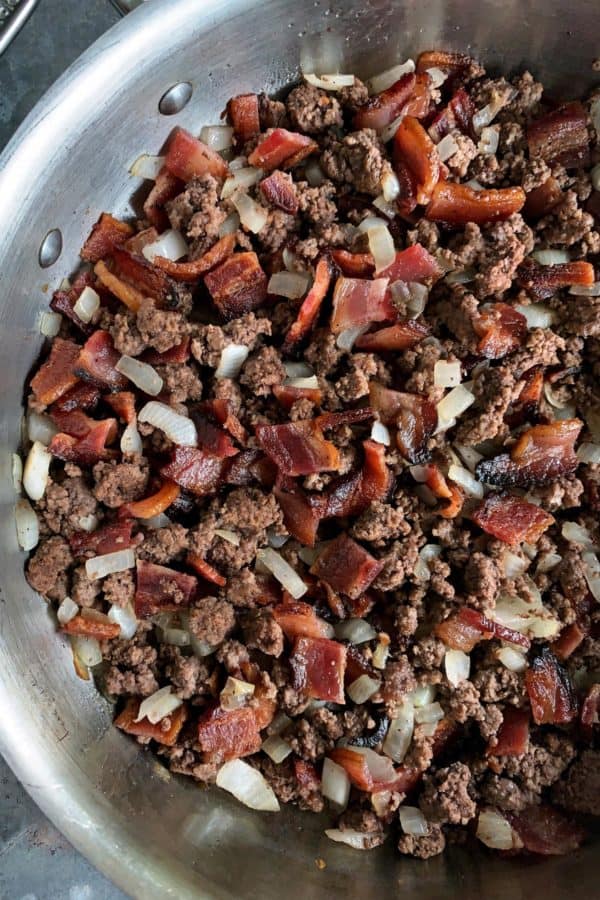 Cowboy Beans Recipe with bacon and ground beef
I'll admit; I always find baked beans more enticing when the dish is loaded with bacon and ground beef. So that's exactly how this recipe starts out, with bacon, beef, and onion browned in a skillet.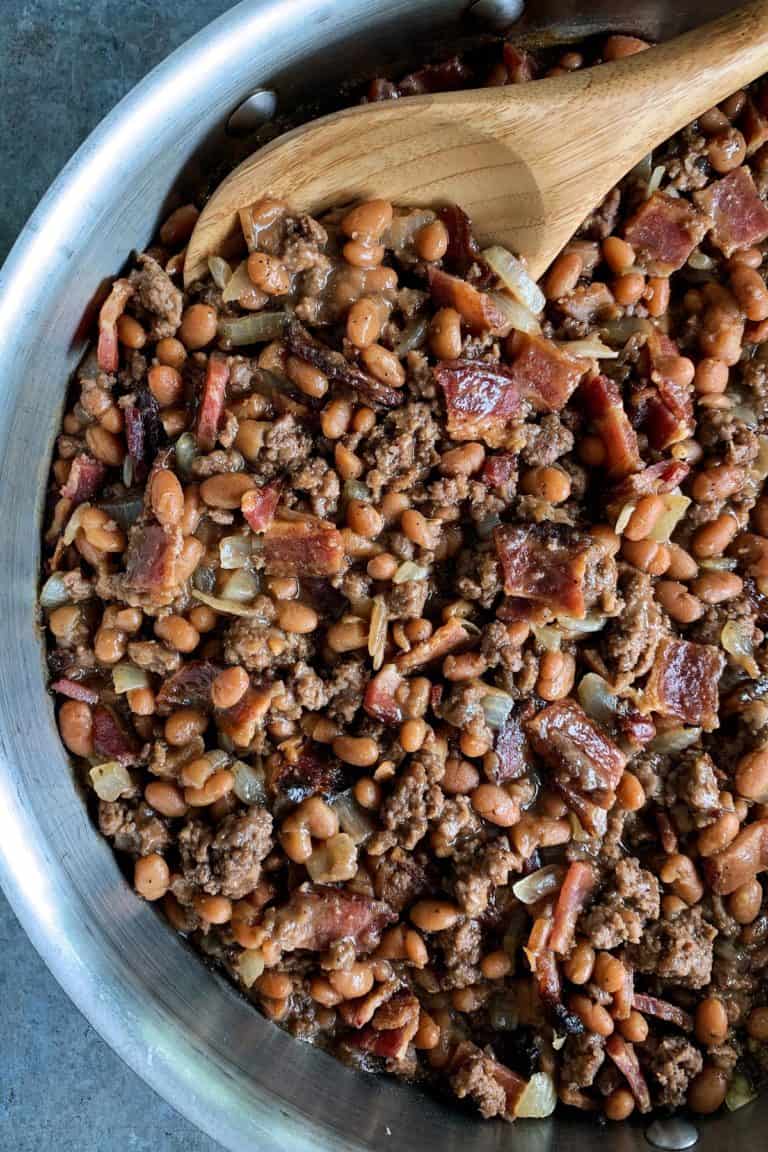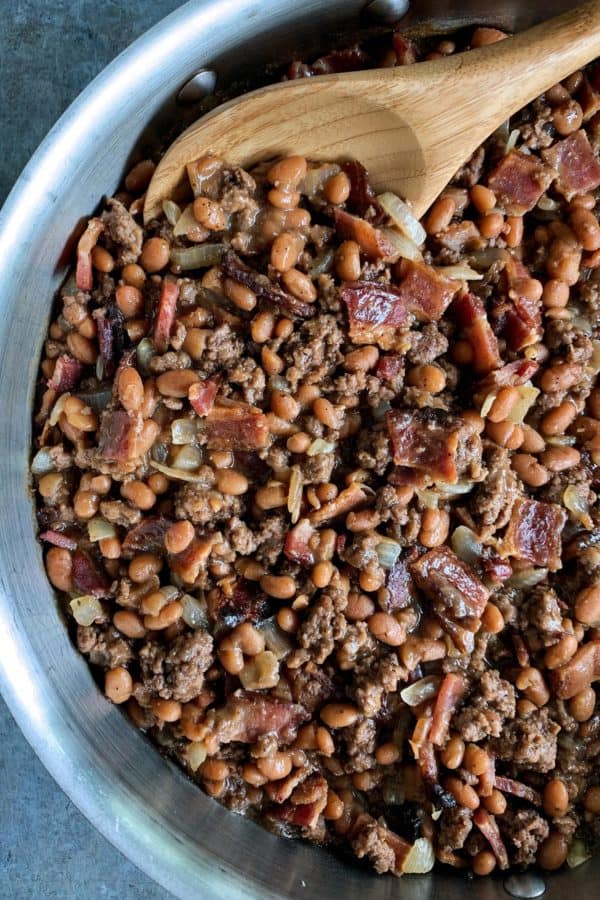 That's it.
That's all it takes to make a super tasty side dish of cowboy beans.
Looking for more side dishes for your gatherings? How about a basket of Honey Cornbread Muffins? Or my mom's Refrigerator Sweet Pickles? Or this mustard-y Dill Pickle Potato Salad?!
Like this recipe? Save it to Pinterest!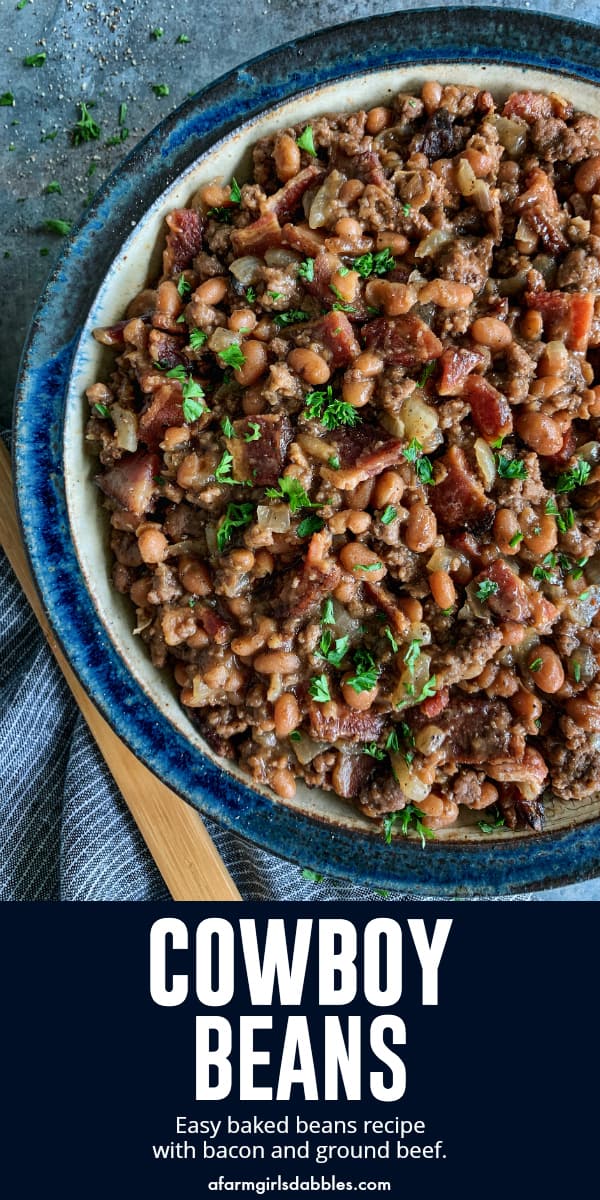 A few summery side dishes I'd like to try:
Easy 5- Minute Parmesan Zucchini from FoodieCrush, Chili Lime Corn on the Cob from TidyMom, and Tomato Peach and Goat Cheese Salad from greens & chocolate.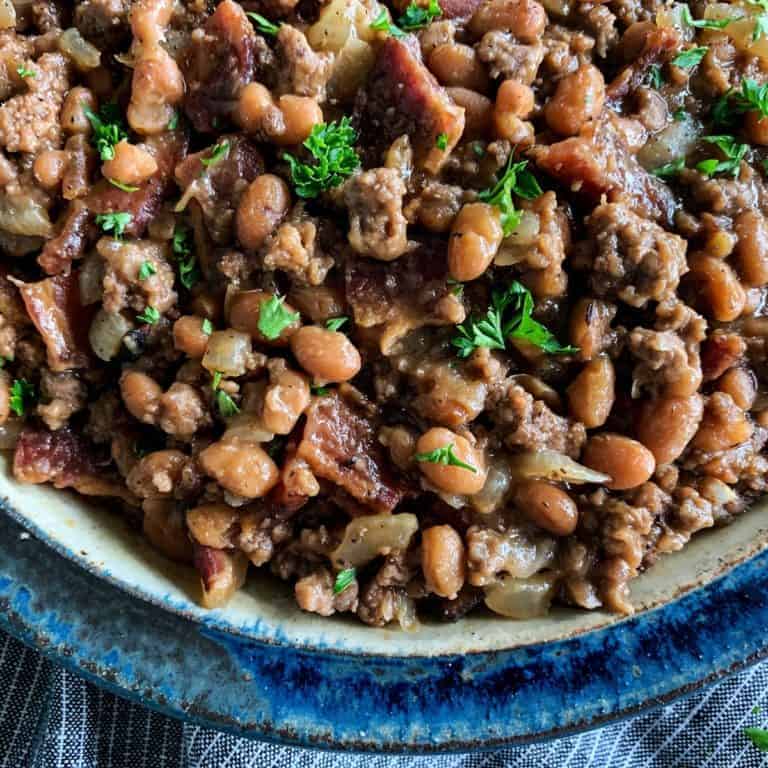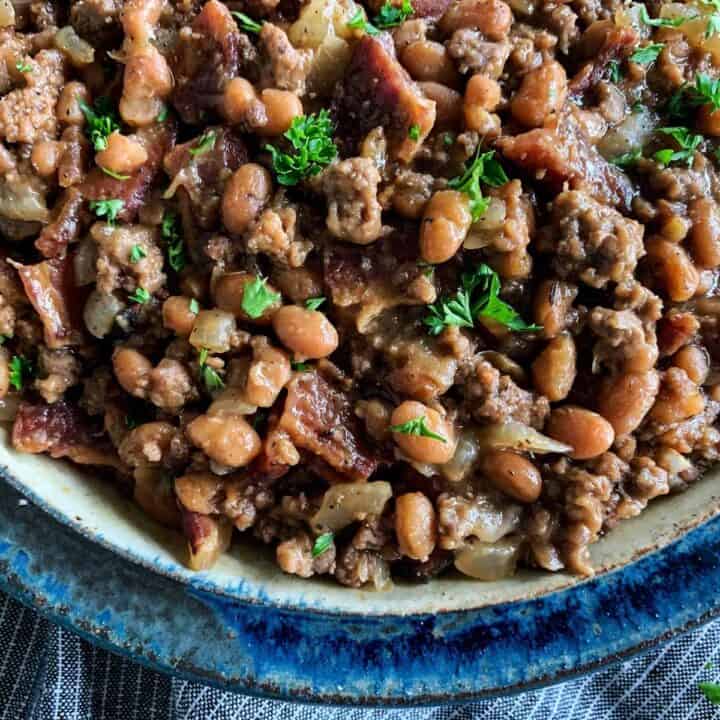 Cowboy Beans
Yield: 8 servings
Prep Time: 5 minutes
Cook Time: 35 minutes
Total Time: 40 minutes
This easy baked Cowboy Beans recipe is hearty and flavorful with bacon and ground beef. It's the ultimate side dish for all your casual gatherings!
Ingredients
1 lb. bacon
1 lb. lean ground beef
1 medium yellow onion, chopped
1 can (28-oz.) Bush's Baked Beans "Original" recipe
1 T. prepared yellow mustard
1/4 c. packed brown sugar
1/2 tsp. ground black pepper
Instructions
In a large skillet over medium to medium-high heat, fry bacon until chewy-crisp. Remove from skillet to paper towel lined plate to cool. Drain fat from skillet.
Return same skillet to medium to medium-high heat and add ground beef and onion. Cook until beef is browned and onion is tender. Drain fat.
Roughly chop the cooled bacon and add to skillet with beef and onion. Then add beans, yellow mustard, brown sugar, and black pepper. Fold to combine. Heat until warmed throughout. Serve hot.
Notes
adapted from Angela Johnson's recipe box, a recipe from her aunt
Recommended Products
As an Amazon Associate and member of other affiliate programs, I earn from qualifying purchases.
Nutrition Information:
Yield: 8
Serving Size: 1
Amount Per Serving:
Calories: 453
Total Fat: 27g
Saturated Fat: 9g
Trans Fat: 0g
Unsaturated Fat: 16g
Cholesterol: 107mg
Sodium: 1136mg
Carbohydrates: 14g
Fiber: 2g
Sugar: 8g
Protein: 37g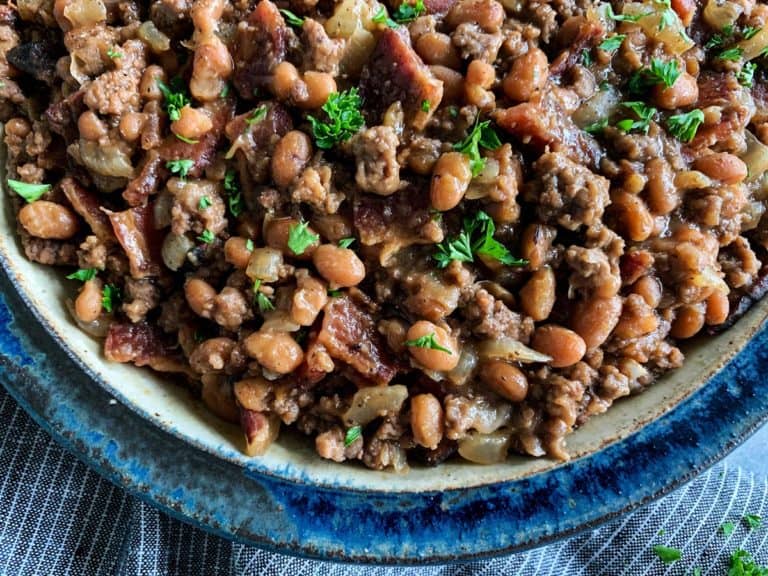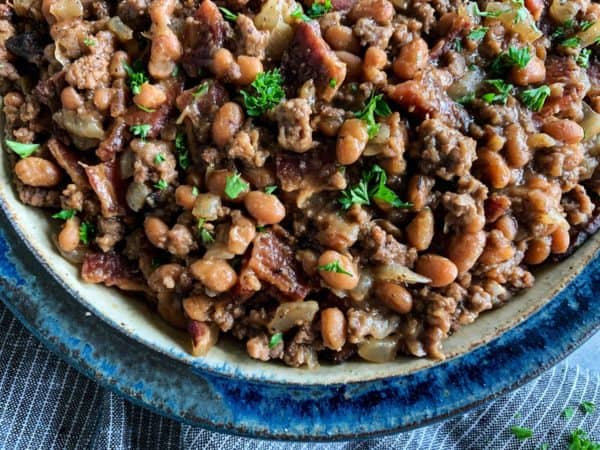 I originally published this post in 2010. Then I updated some of the photos and text in 2019.
We participate in the Amazon Services LLC Associates Program, an affiliate advertising program designed to provide a means for us to earn fees by linking to Amazon.com and affiliated sites. See our
disclosure policy
for more info.