Cowboy Beans
Made with bacon, ground beef, and baked beans, these easy Cowboy Beans are a hearty and flavorful side dish. They're the perfect accompaniment to anything off the grill and ideal for casual gatherings and potlucks too!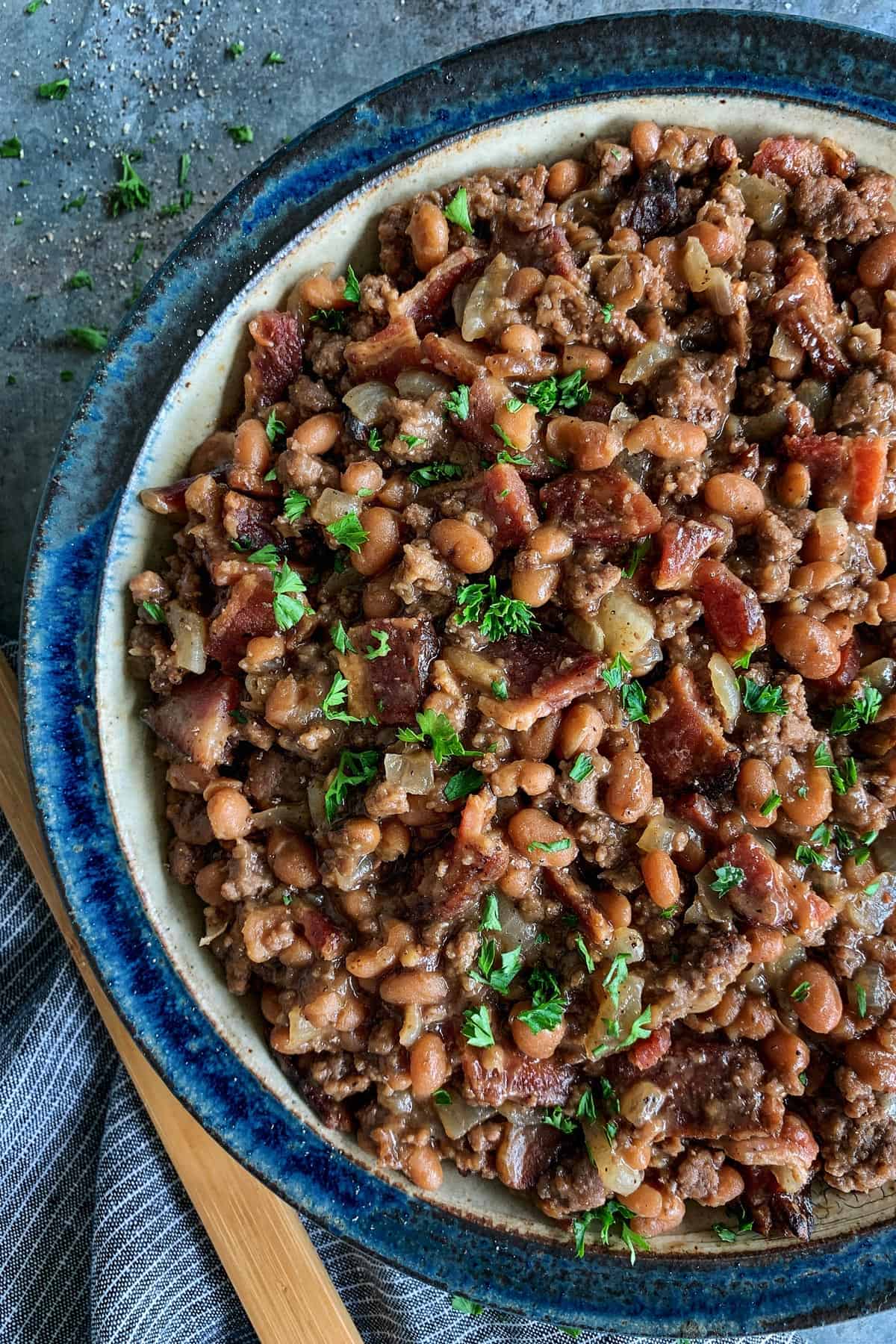 An Easy Potluck Side Dish
Baked beans are a side dish that our family has always been on the fence about. Depending on who's made them and what's in them, we're either "in" our "out". But once we tried these Cowboy Beans on a chuckwagon ride in the Black Hills many years ago, I found the way to our family's baked beans lovin' heart!
This dish is loaded with great flavor, plus bacon and ground beef. It's a hearty dish that my family adores, a pumped-up version of basic baked beans.
Cowboy beans are great for any kind of casual gathering, any time of year – from summertime BBQs to wintertime football parties. If you've never tried cowboy beans before, I highly encourage it. Just be warned, you'll never want regular (boring) baked beans again!
What Are Cowboy Beans?
Cowboy beans (also called "chuck wagon beans") are baked beans cooked with ground beef, bacon, and onion. They have a slightly sweet flavor from brown sugar. This recipe calls for some mustard, which adds fabulous flavor to the beans. But you could also stir in some BBQ sauce as well.
Why are they called cowboy beans? The story goes that beans were an easy, nutritious, protein-packed food for cowboys to carry with them, as all they needed to prepare them was water. The ground beef and seasonings were likely added later to give more flavor and substance to the meal.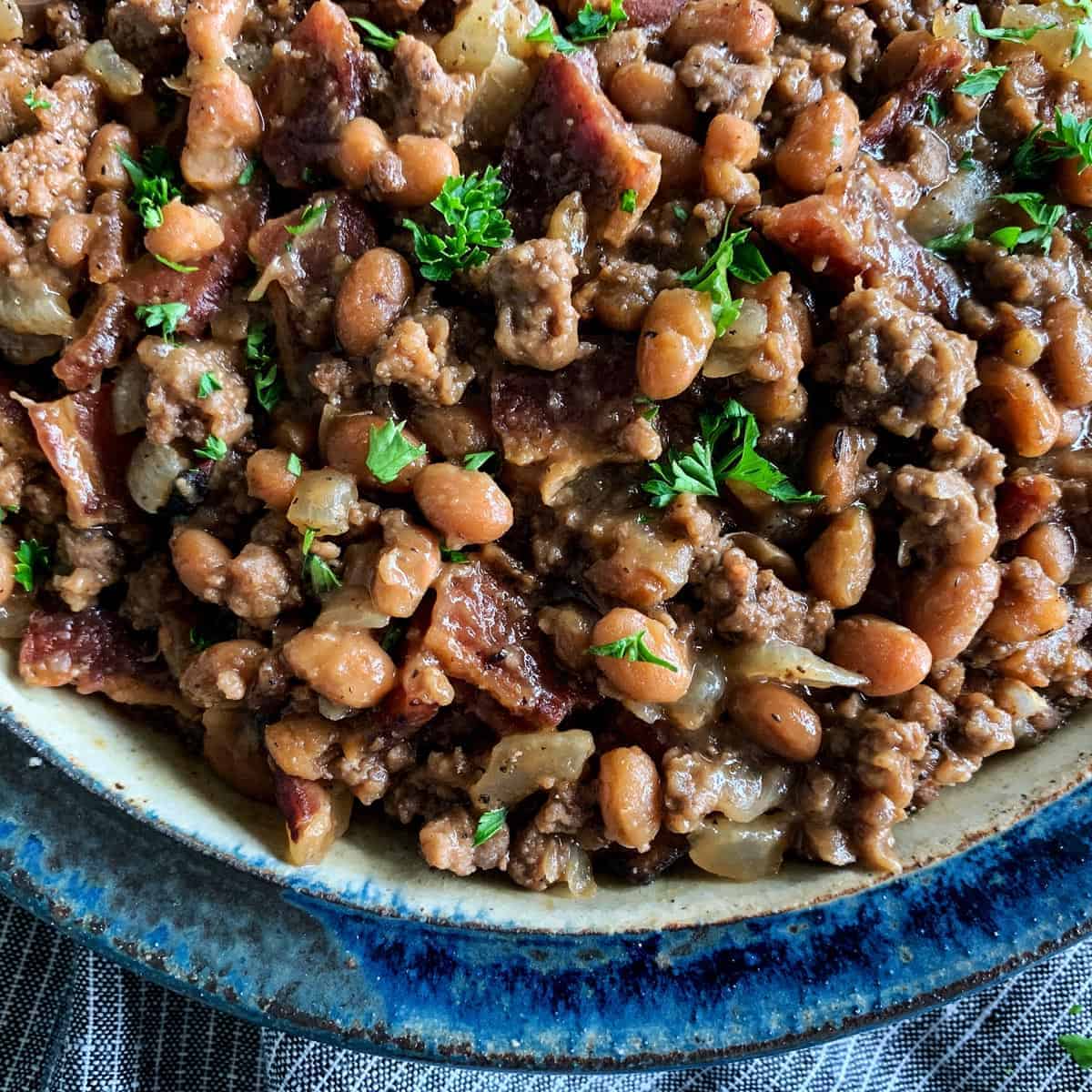 What You'll Need
This cowboy baked beans recipe calls for only 7 ingredients!
Bacon – Adds so much delicious flavor, plus texture.
Ground beef – For beefy flavor and extra heartiness.
Yellow onion – Fresh onion adds so much flavor to this dish – do not skip it!
Baked beans – I use Bush's "Original" recipe (affiliate) canned beans for this recipe.
Yellow mustard – Adds a wonderful flavor.
Brown sugar – Adds a little sweetness to the savory beans, bacon, and beef.
Black pepper – Sometimes I sprinkle in extra – this dish loves black pepper! (Also note: I don't ever feel the need to add extra salt, as the bacon and baked beans already have some.)
What Type of Beans Go in Cowboy Beans?
I always use a 28-ounce can of Bush's "Original" baked beans since this is supposed to be a baked bean side dish. These beans are what you'll most commonly see used. However, I've also seen recipes that use kidney beans, white beans, and pinto beans as well.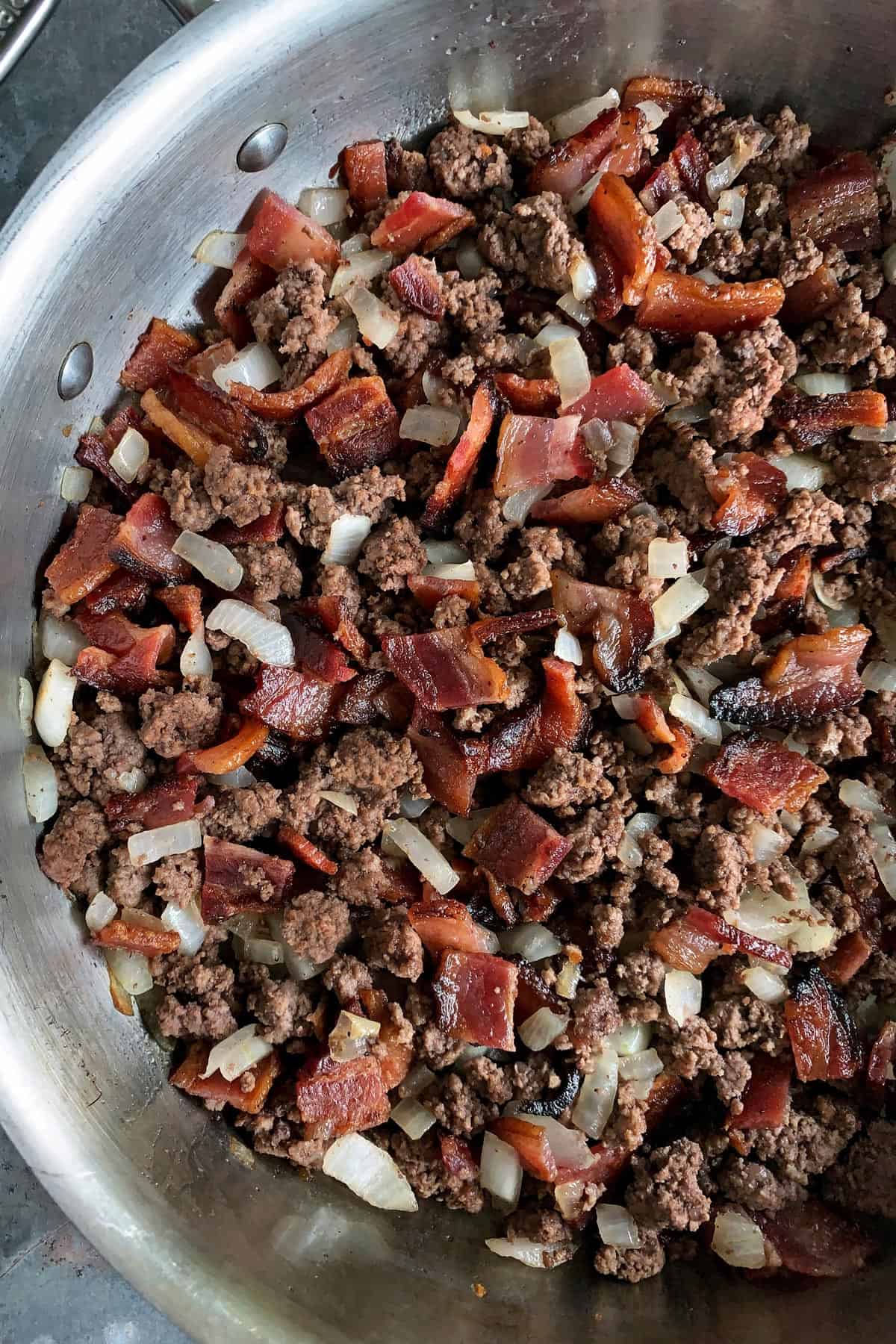 How to Make Cowboy Beans
These chuckwagon beans come together in just a few easy steps.
Cook the bacon and ground beef. Fry the bacon until chewy-crisp. Transfer to a plate lined with paper towels and drain the fat from the skillet. Add the ground beef and onion to the same skillet and cook until the beef is browned. Drain the fat.
Add the remaining ingredients. Chop the cooled bacon and add it to the skillet with the beef and onion. Stir in the remaining ingredients. Cook until warmed throughout.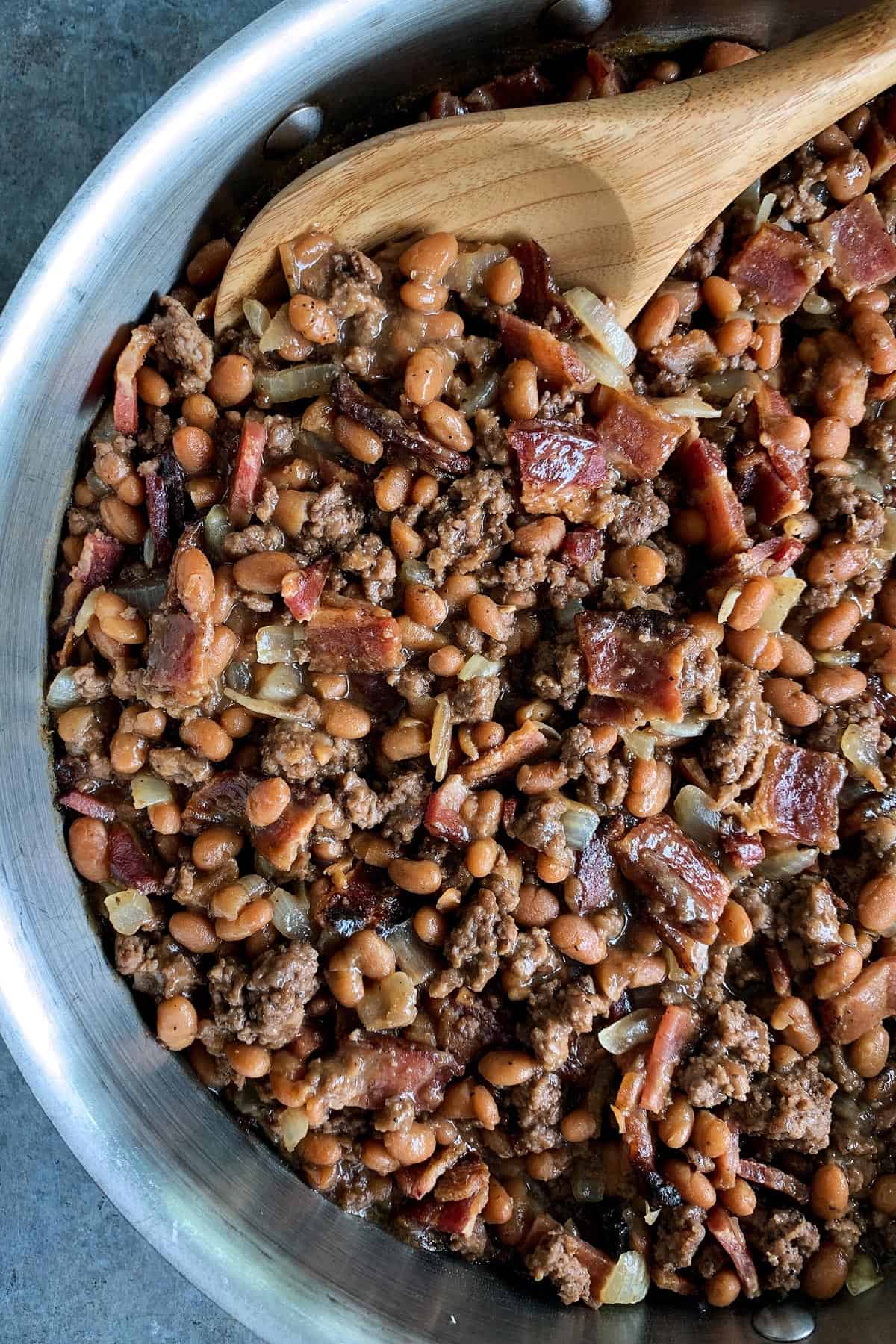 Serving Suggestions
Oh, the many ways you can serve cowboy beans!
Technically, since this dish is so packed with protein, it really could be considered the main course. In that case, you can serve them with some cornbread and maybe a fresh salad.
However, we usually serve this as a side dish. I especially love these baked beans in the summer alongside anything hot off the grill, whether it's burgers, hotdogs, pork chops, steak, or my "famous" beer can chicken or margarita shrimp!
This is a great potluck side dish in place of regular (boring) baked beans. Everyone always comments on how especially good this recipe is!
A few more side dish recipes that would go great with these cowboy beans: This cucumber salad with a tangy vinegar dressing is a fresh, tasty contrast. Or maybe you like a creamy cucumber salad?! Macaroni salad with ham & cheese is always a potluck hit. Or how about coleslaw – I have coleslaw with vinegar dressing and a creamy coleslaw!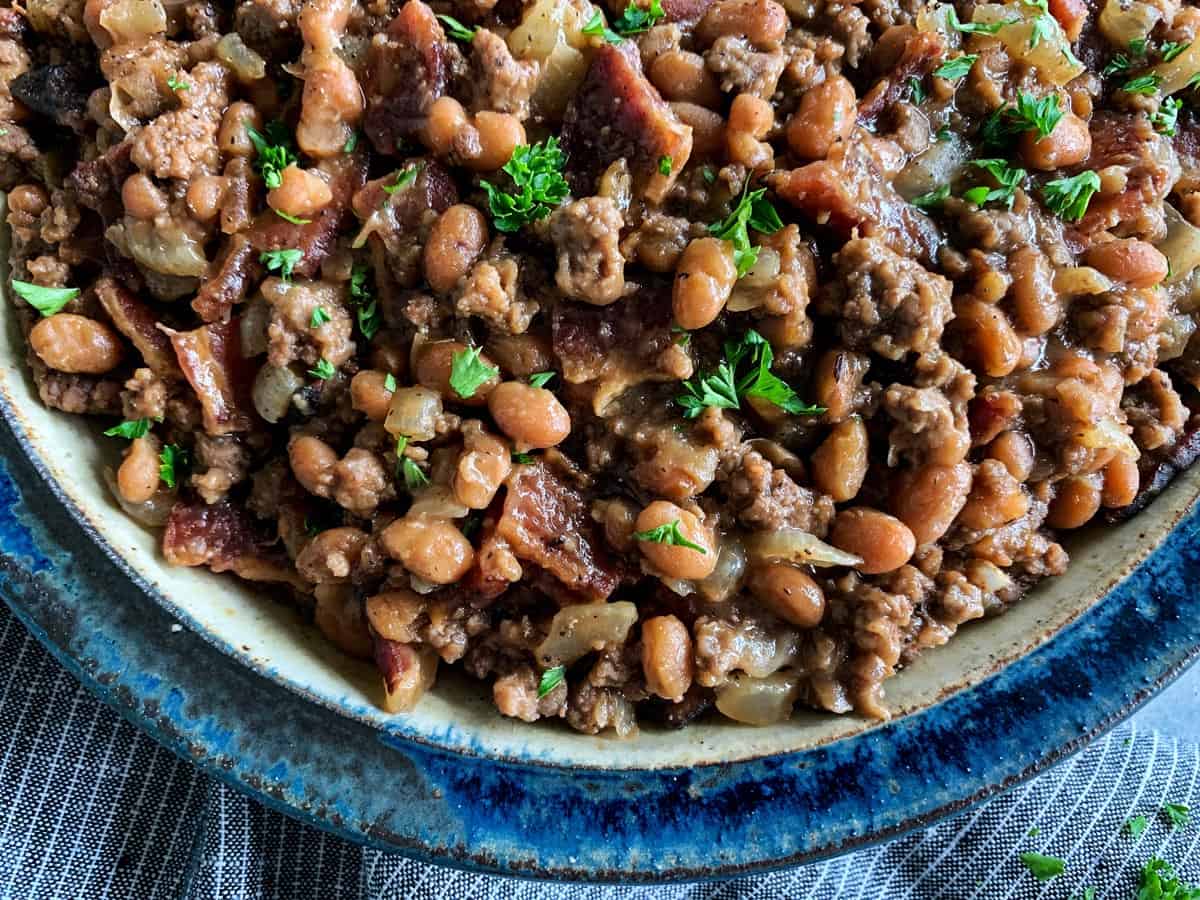 Can You Freeze Leftover Baked Beans?
Yes! Leftover cowboy beans can be frozen. Allow them to cool completely, then store in a freezer-safe container. Baked beans can be frozen for up to 6 months. Thaw and then reheat on the stovetop. Or in a baking dish covered with foil in the oven at 300° F.
How to Store & Reheat Extras
Leftover chuckwagon beans will last in the fridge for up to 4 days. You can simply reheat them on the stovetop, or pop them in the microwave for a minute or two if reheating a small portion.
More Side Dish Ideas
Like this recipe? Save it to Pinterest!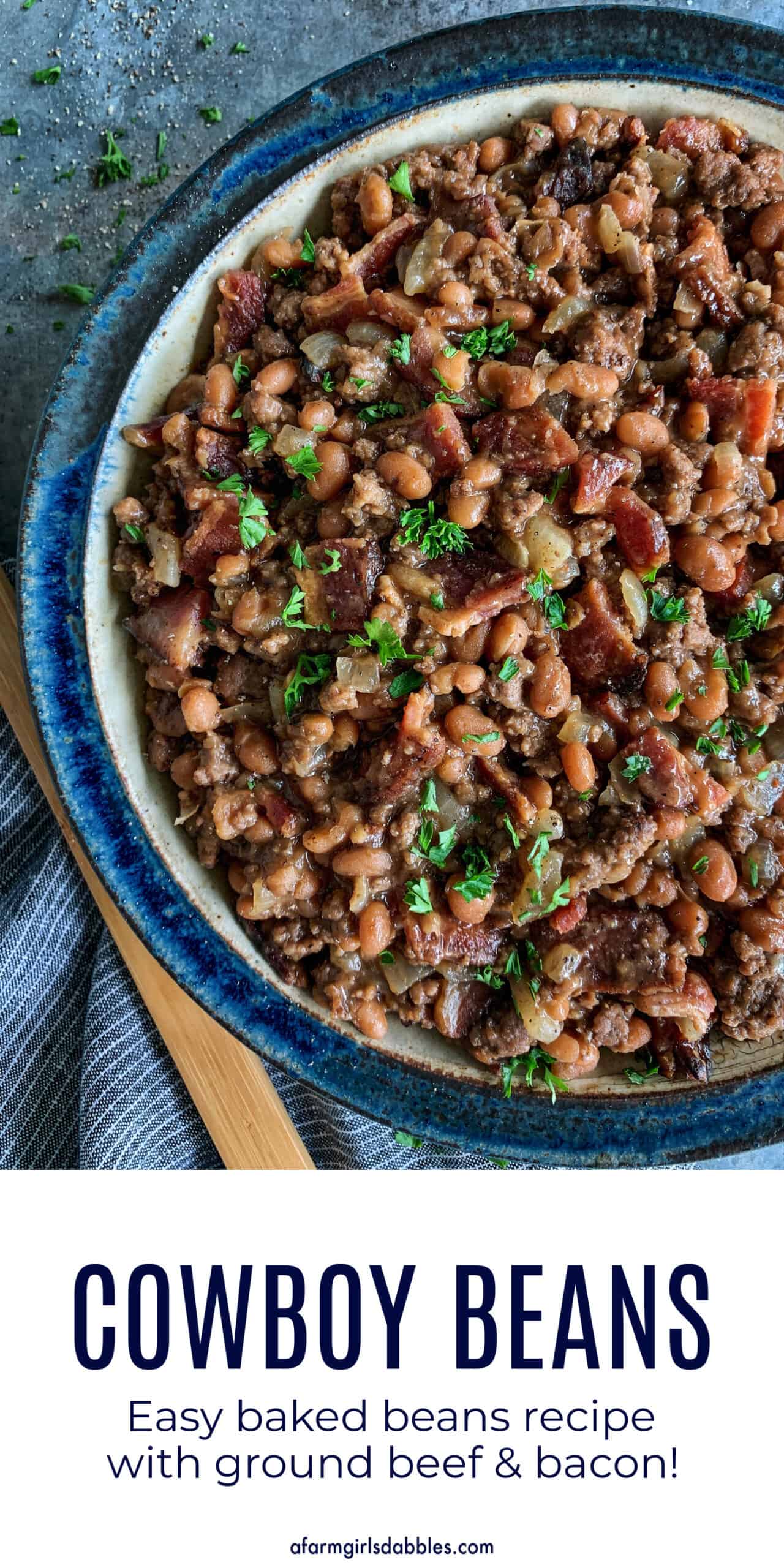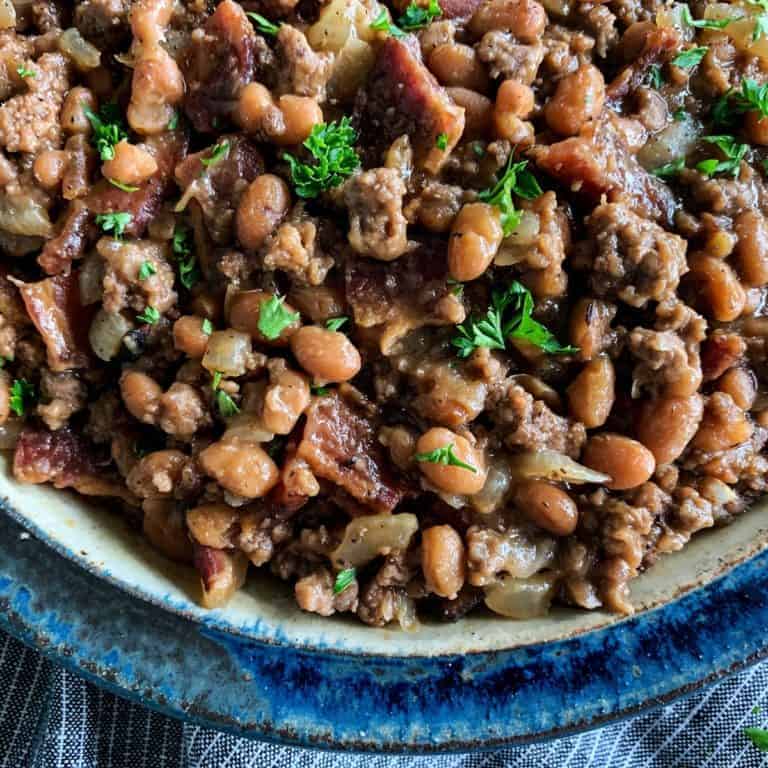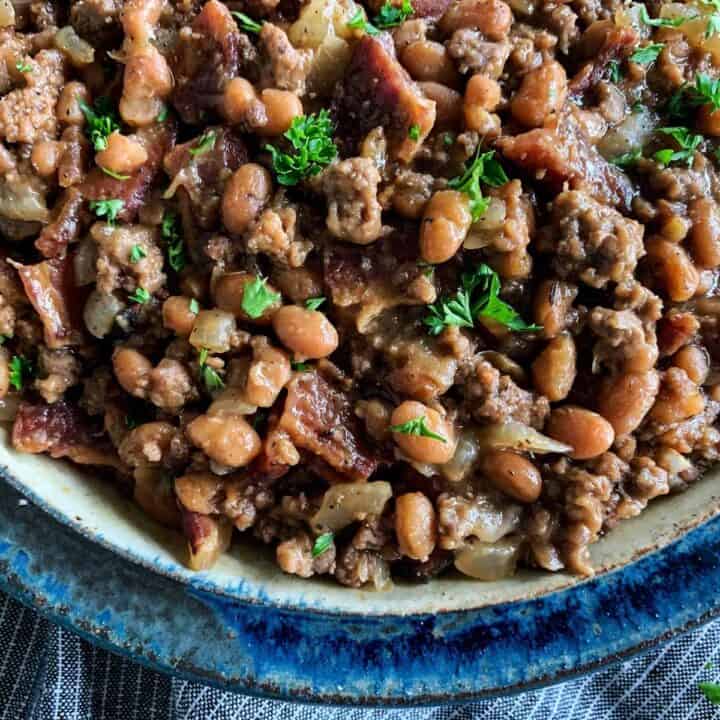 Cowboy Beans
Yield: 8 servings
Prep Time: 5 minutes
Cook Time: 35 minutes
Total Time: 40 minutes
This easy baked Cowboy Beans recipe is hearty and flavorful with bacon and ground beef. It's the ultimate side dish for all your casual gatherings!
Ingredients
1 pounds bacon
1 pound lean ground beef
1 medium yellow onion, chopped
1 can (28-oz.) Bush's Baked Beans "Original" recipe
1 tablespoon prepared yellow mustard
1/4 cup packed brown sugar
1/2 teaspoon ground black pepper
Instructions
In a large skillet over medium to medium-high heat, fry bacon until chewy-crisp. Remove from skillet to paper towel-lined plate to cool. Drain fat from skillet.
Return same skillet to medium to medium-high heat and add ground beef and onion. Cook until beef is browned and onion is tender. Drain fat.
Roughly chop the cooled bacon and add to skillet with beef and onion. Then add beans, yellow mustard, brown sugar, and black pepper. Fold to combine. Heat until warmed throughout. Serve hot.
Notes
adapted from Angela Johnson's recipe box, a recipe from her aunt
Recommended Products
As an Amazon Associate and member of other affiliate programs, I earn from qualifying purchases.
Nutrition Information:
Yield: 8
Serving Size: 1
Amount Per Serving:
Calories: 454
Total Fat: 27g
Saturated Fat: 9g
Trans Fat: 0g
Unsaturated Fat: 16g
Cholesterol: 107mg
Sodium: 1136mg
Carbohydrates: 15g
Fiber: 2g
Sugar: 9g
Protein: 37g
Nutrition information is automatically calculated by Nutritionix. I am not a nutritionist and cannot guarantee accuracy. If your health depends on nutrition information, please calculate again with your own favorite calculator.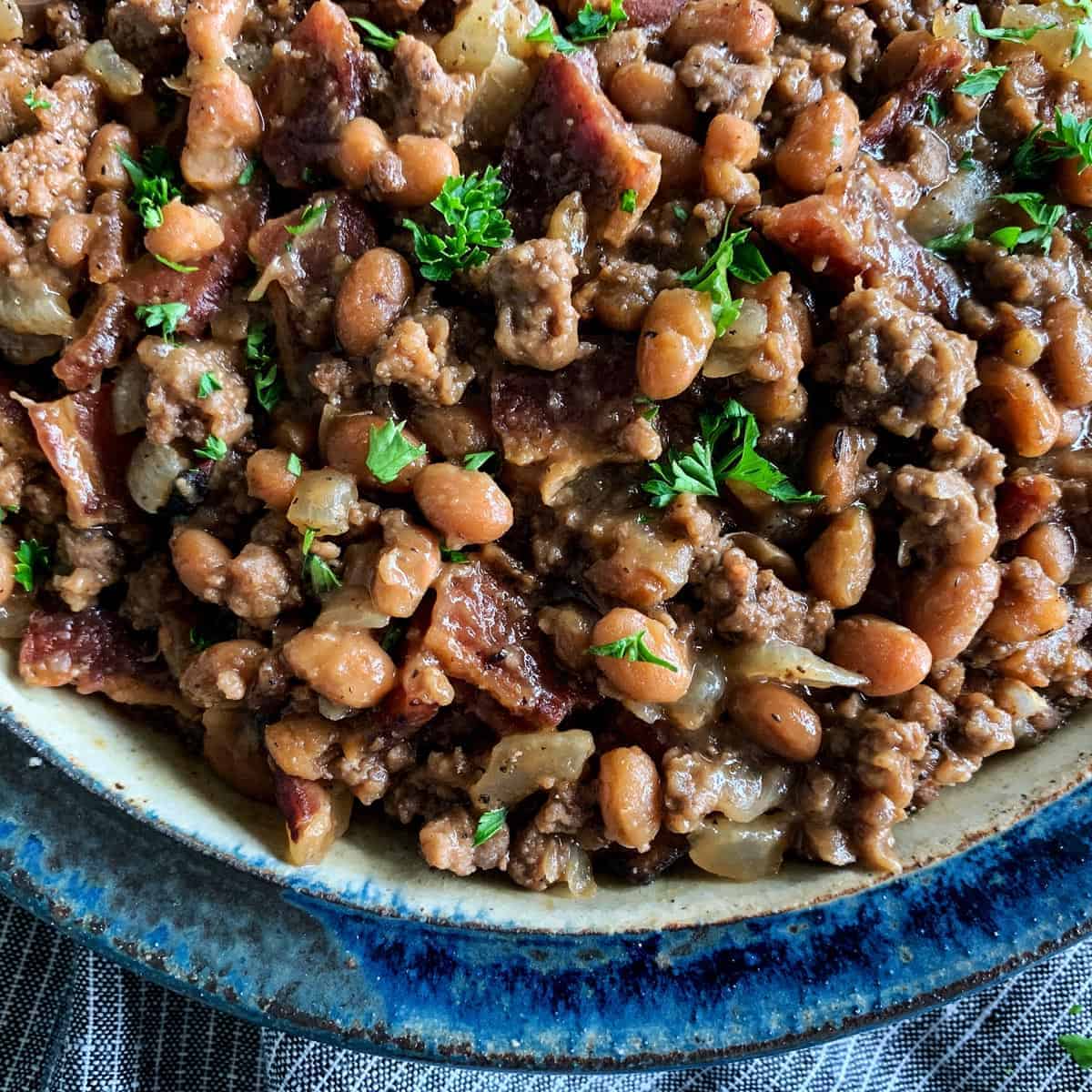 Our First Cowboy Beans
Following is the story from when our family first experienced these awesome Cowboy Beans!
Sometimes all a dish needs is a fun name to get kids to try it. Such is the case with this recipe for Cowboy Beans…
"Beans."
"Yuck!"
That was the common response from our oldest daughter when she was young, whenever baked beans were served. It didn't matter how much bacon, ground beef, or brown sugar was added. Hatti wasn't gonna try them. End of story.
But then, a few days after Hatti finished up third grade, our family took a road trip out west. To beautiful Custer State Park and the Black Hills of South Dakota. This is where Hatti fell for the tasty baked beans side dish that our family now affectionately calls Cowboy Beans.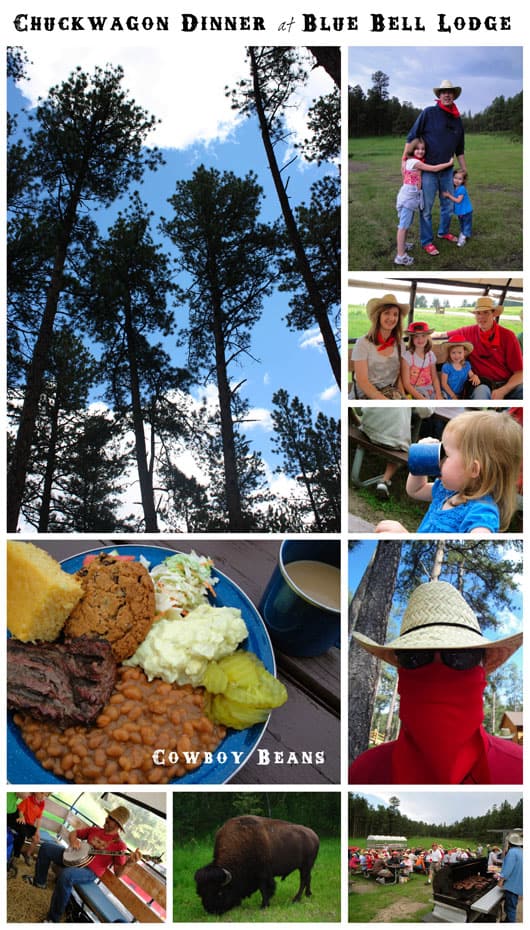 Why Our Family Loves This Recipe
Our first family trip to the southwest corner of South Dakota was filled with nostalgia for me. I had visited that area many times as my sisters and I were growing up. At nearly every turn, I'd find myself smiling as I watched our own daughters enjoying this special place, just as I had.
So it was extra fun to try out something new this time around, with a family of my own. We booked a chuckwagon dinner ride at Blue Bell Lodge.
It was a real treat. There were people of all ages, simply looking for a little entertainment, some wildlife spotting, and of course, a good ol' chuckwagon meal in a beautiful setting. This did not disappoint. The grub was delicious and plentiful. And the live country and bluegrass put an instant tap in your foot.
But I think the best thing that came from this little rendezvous was that Hatti tried baked beans for the first time. I was perplexed when I saw the beans on her plate, and asked her if she was going to give the beans to her dad.
She replied, "No, they're mine. They told me these are Cowboy Beans. So I wanted to try them."
That's all it took. A fun name!
And the bandana and cowboy hat she was wearing probably helped, too.
So now, when we serve baked beans at home, we call them "Cowboy Beans". And Hatti eats them, willingly and happily, and doesn't hesitate to ask for a second helping!
I originally published this post in 2010. Then I updated some of the photos and text in 2022.