Creamy Cucumber Salad
A classic Creamy Cucumber Salad recipe, with fresh cucumbers, onion, and dill. When summer cucumbers are plentiful, this is the salad you'll want to serve with EVERYTHING!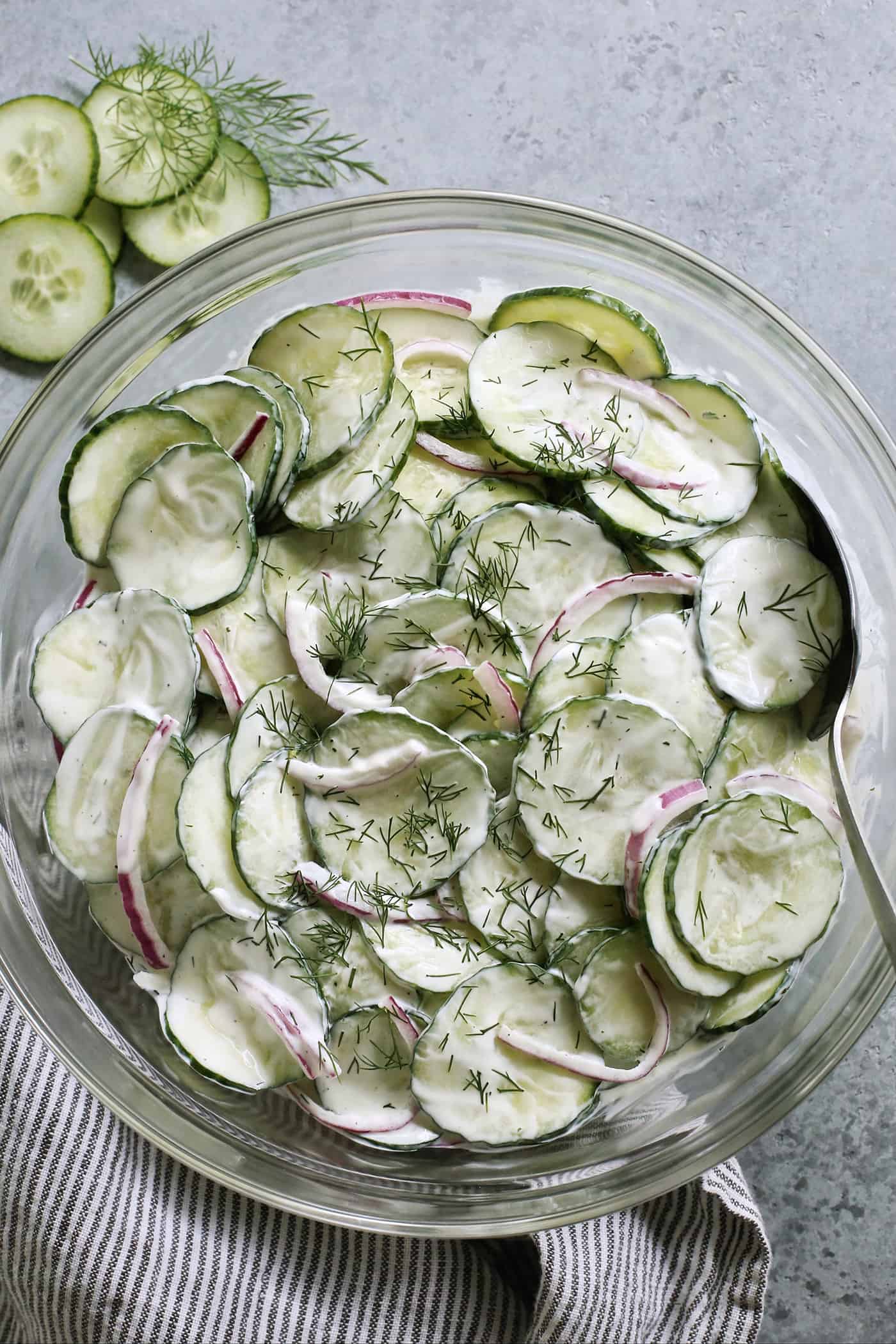 Creamy Cucumber Salad is a Summer Tradition
Gardens and farmers markets are currently in their heyday, with all their beautiful summer produce to share. And when the cucumbers are plentiful, you can bet that I'm making this classic Creamy Cucumber Salad recipe!
It feels like I've been eating this fresh cucumber salad all my life. And, come to think of it, it's because I have! Mom and Dad had a huge garden on the farm when I was growing up, and this has always been one of my mom's favorite salads. This recipe is a summer garden harvest tradition, made with fresh cucumbers, onion, and dill!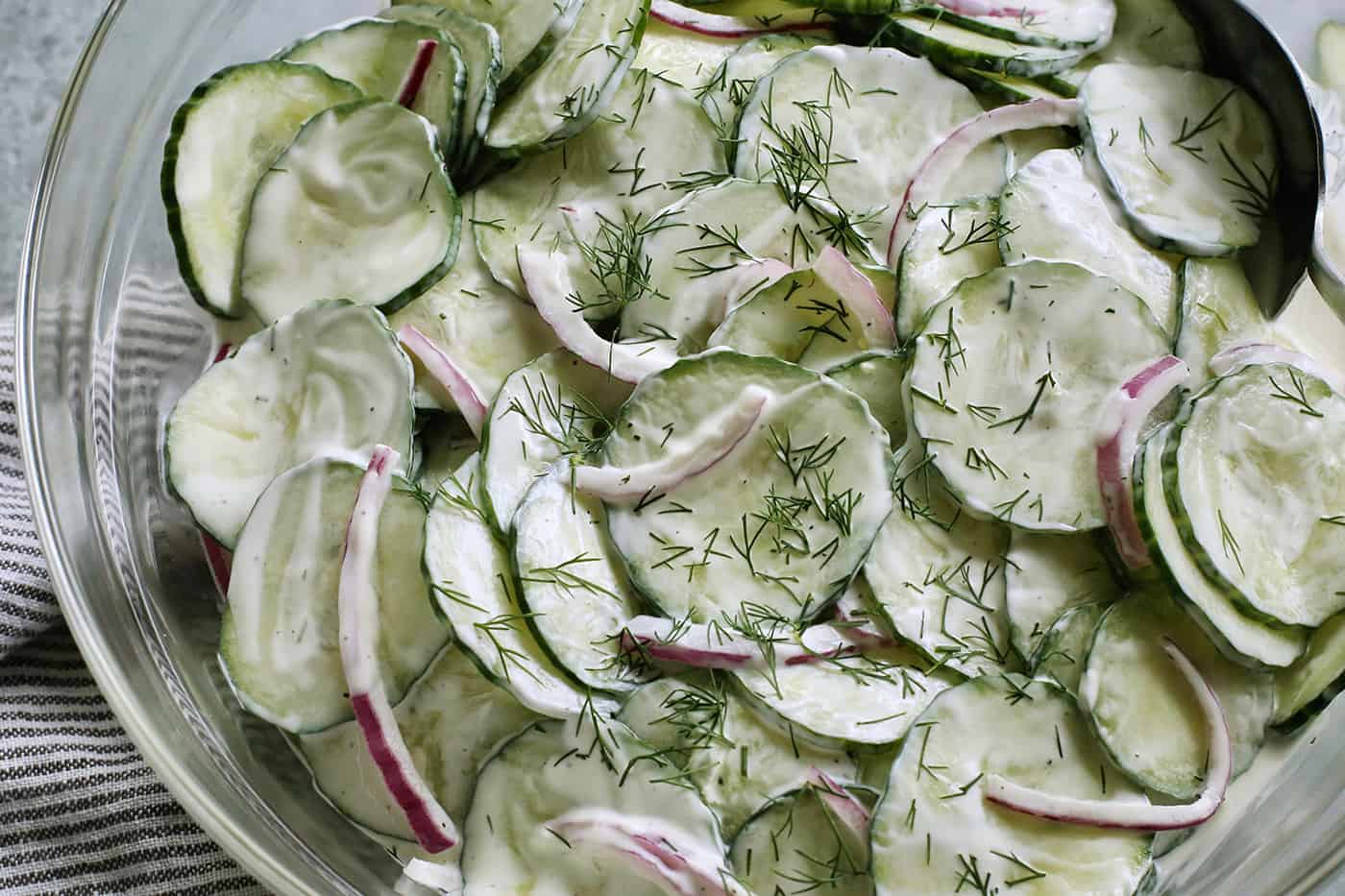 This creamy cucumber salad holds all kinds of nostalgia for me. I can picture Mom in the kitchen, slicing up cucumbers and stirring together the dressing – without a recipe; it always came together by taste.
If you prefer a cucumber salad that isn't creamy, be sure to check out this Cucumber Salad with a tangy vinegar dressing. Our daughter Tessa loves to make this all year 'round!
So, creamy or not, I have you covered when it comes to cucumber salad!
What to make with cucumbers? Another family favorite recipe is my mom's Refrigerator Sweet Pickles – my FAVORITE pickle!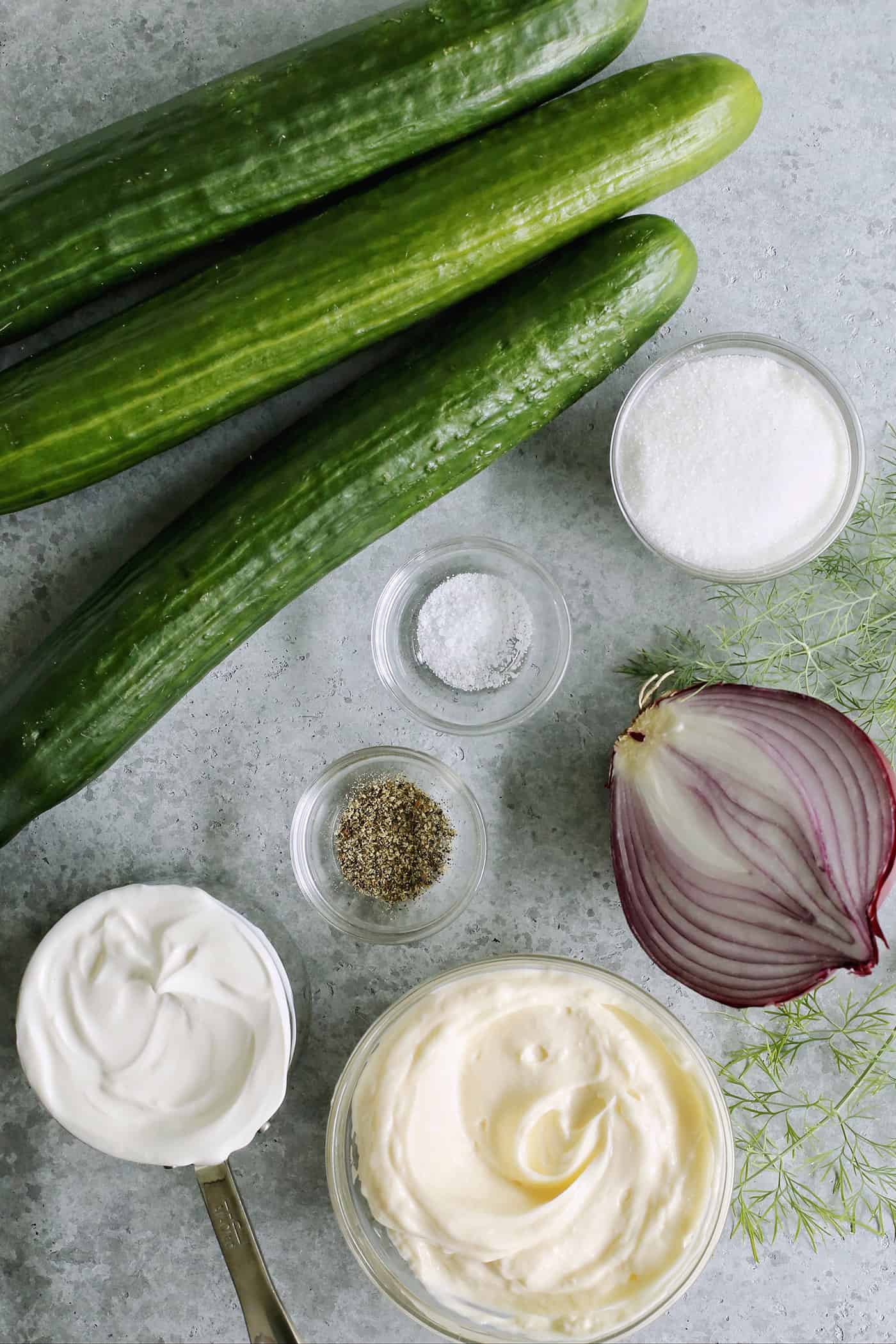 Ingredients for the Best Cucumber Salad
When it comes to fresh cucumber recipes, this is a super simple one that relies on just a few fresh ingredients plus a handful of pantry staples.
Cucumbers – Sometimes cucumbers can be bitter, so be sure to taste test them before adding to your salad.
Onion – Use red, yellow, or white.
Dill – Fresh dill will always be best!
Mayonnaise – Part I of the creamy base for the dressing.
Sour cream – Part II of the creamy base – I love a creamy dressing made from mayo and sour cream!
White vinegar – To loosen up the creamy dressing. This also lends a simple, clean tang to the flavor.
Sugar – Just a little bit of white sugar.
Salt & pepper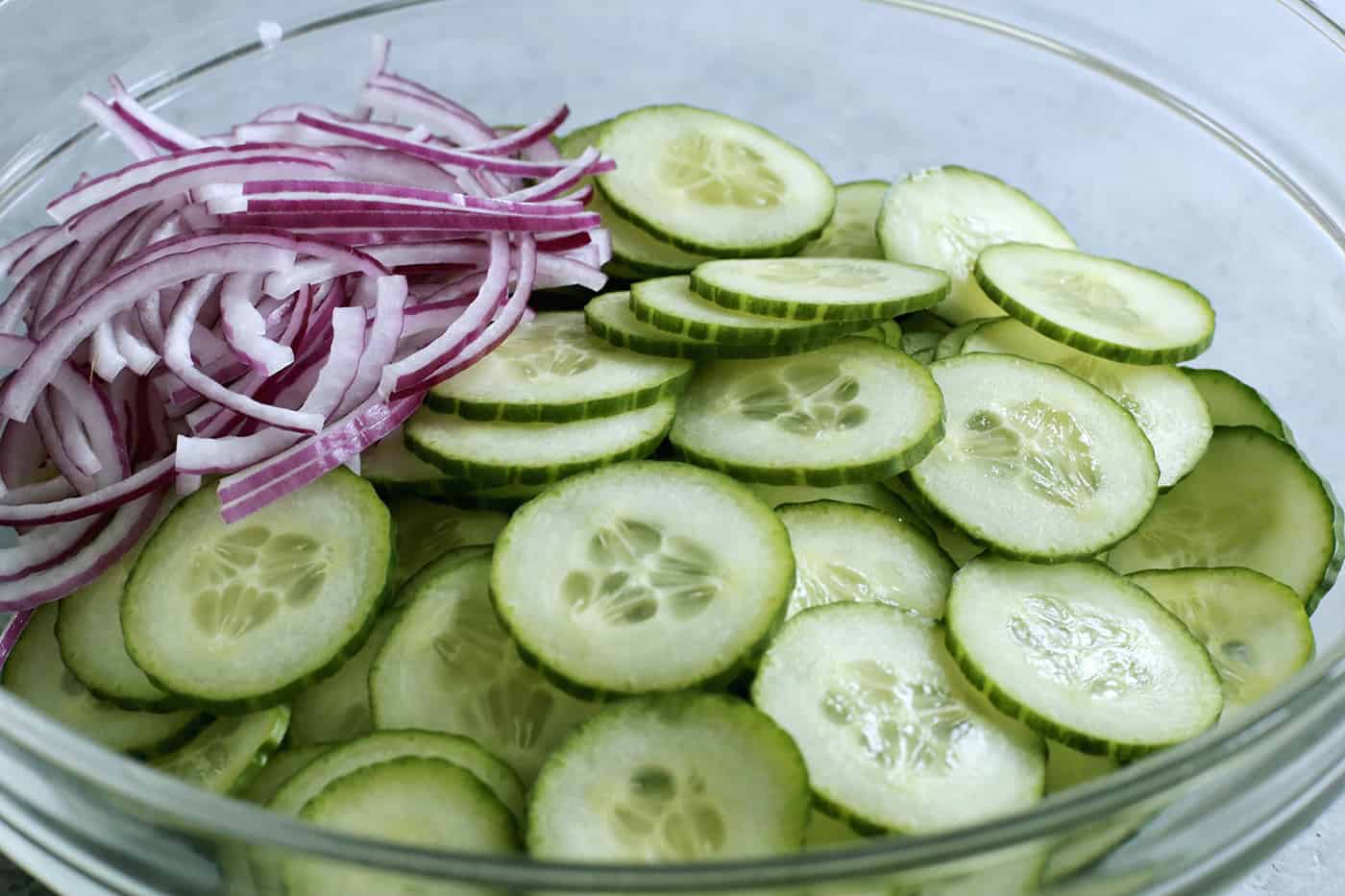 How to Make Cucumber Salad
This creamy cucumber dill salad is quick and easy to make!
1.) Place sliced cucumbers and onion in a large bowl.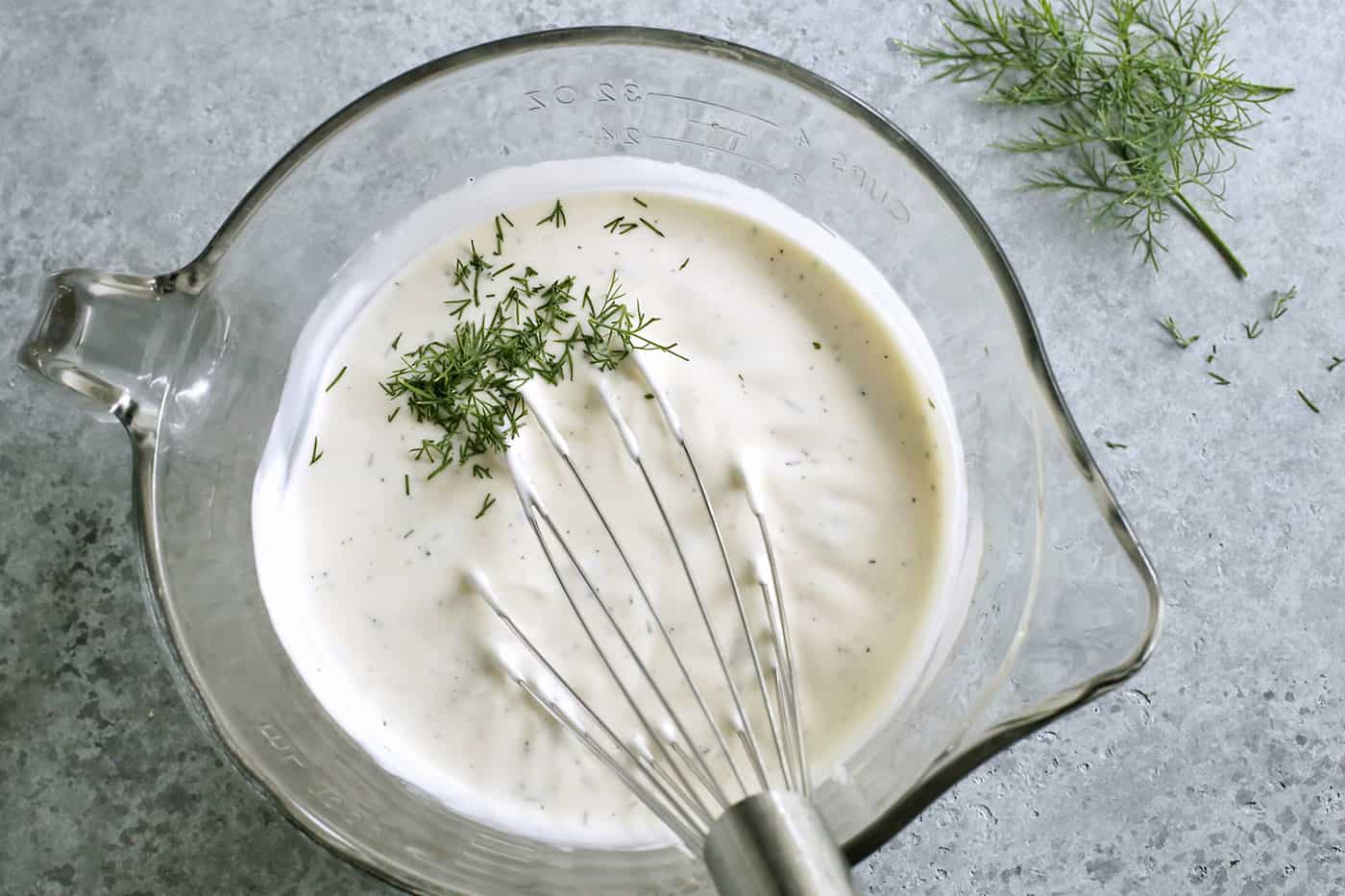 2.) Stir together mayonnaise, sour cream, sugar, white vinegar, salt & pepper, and dill.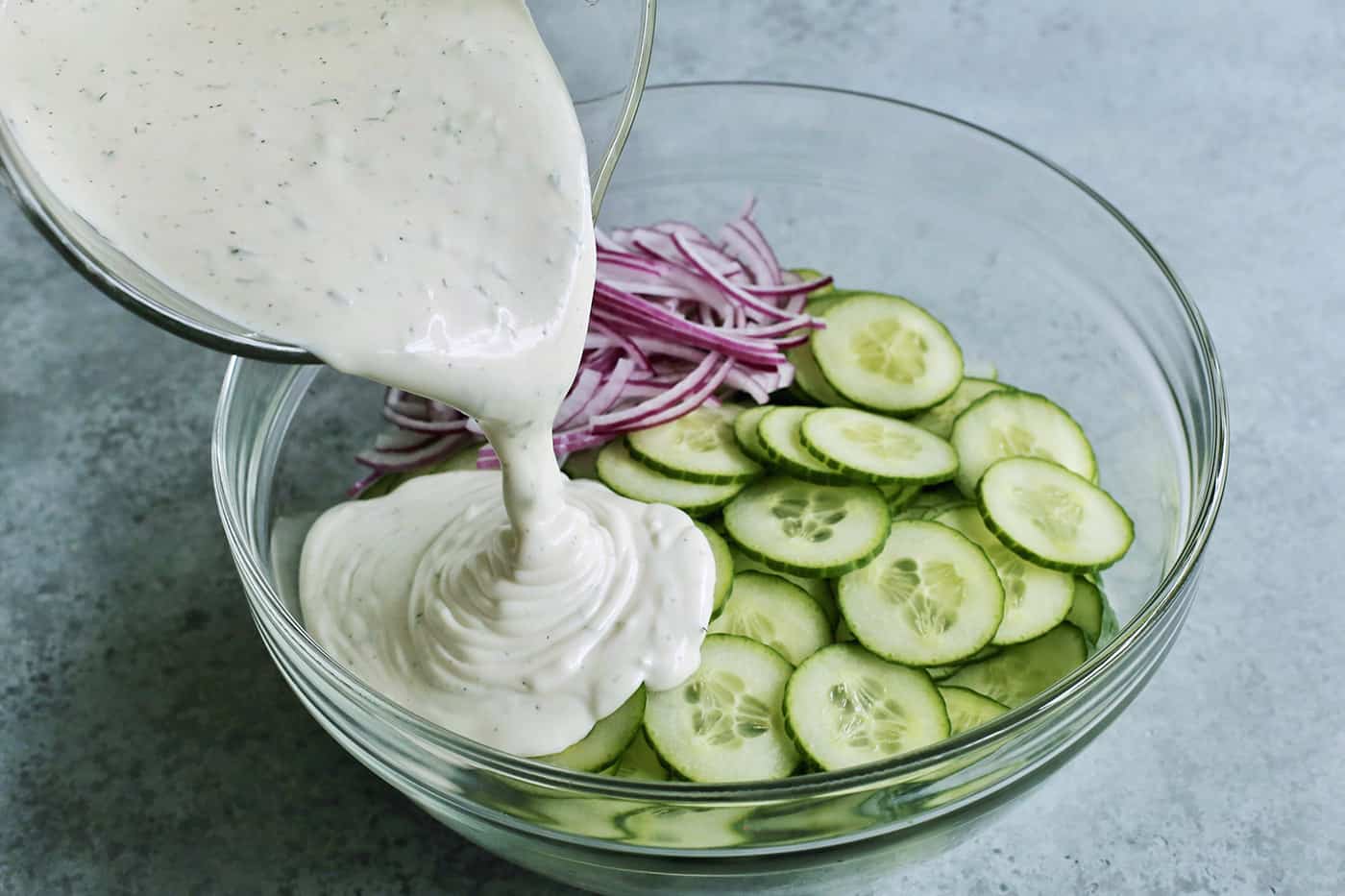 3.) Fold creamy dressing into cucumbers and onion; cover and chill for 1 to 2 hours.
That's it!!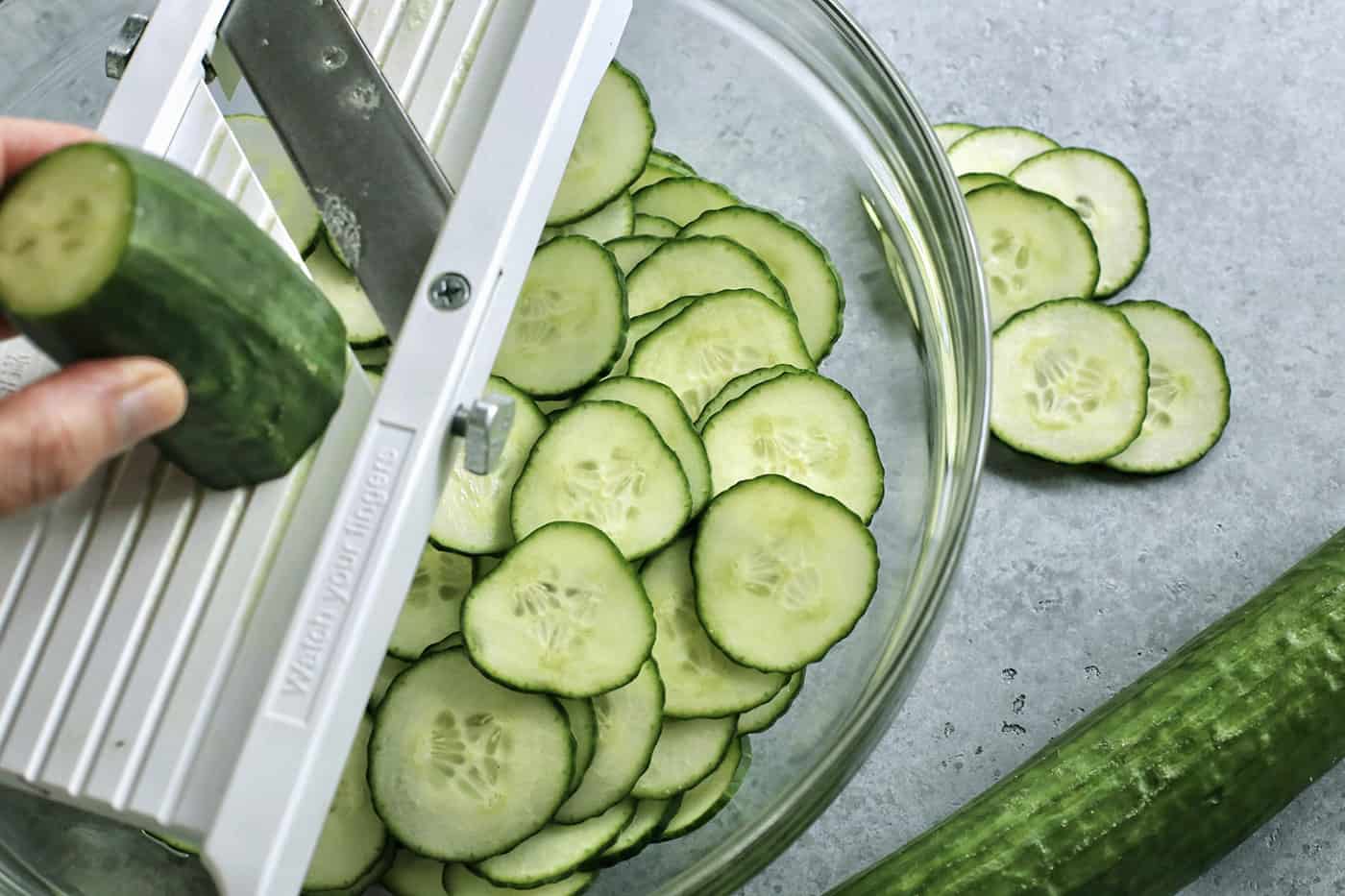 How to Slice Cucumbers Thin
If you want an especially great cucumber salad, then slice the cucumbers and onion nice and thin, and both the same thickness. For me, a mandoline is key. I use it regularly; it's one of my favorite kitchen tools!
Not only does a mandoline create thin, uniform slices, but it does it QUICKLY!
If you don't have a mandoline, however, a good sharp chef's knife is all you really need. I promise that your salad will still be a great one. :)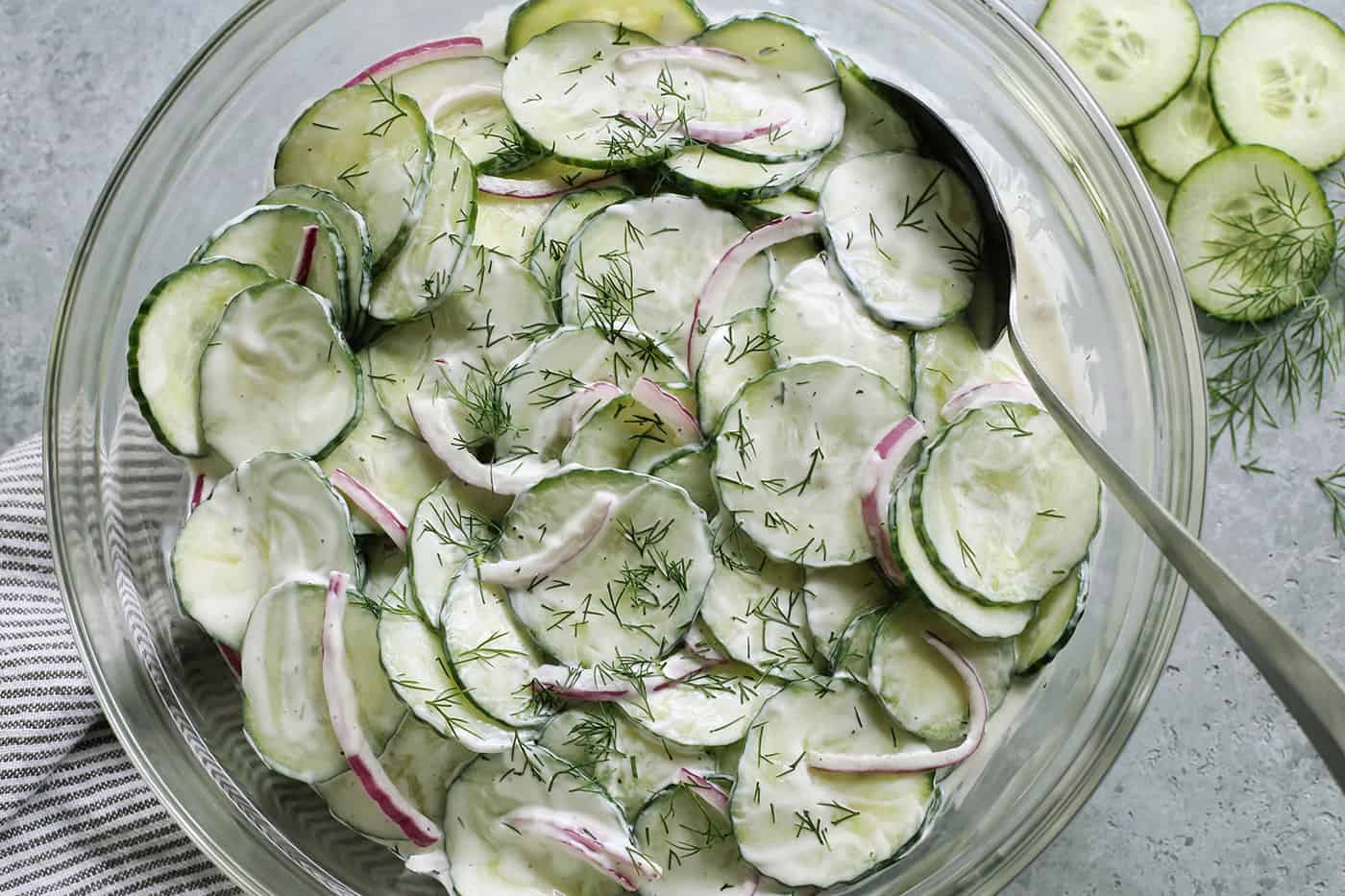 Tips & Variations
Cucumbers – I always use large English cucumbers because I like their thin skin and small amount of seeds – and I've rarely encountered a bitter English cucumber! I also really like the smaller Persian cucumbers; they're always sweet and crunchy. And remember: Slice those cucumbers thin!
Should I peel the cucumbers? – Another variation is that you can peel the cucumbers, which changes both the appearance and overall texture of the salad – somewhat of a personal preference. But if your cucumbers have tough skins, definitely peel them. Nobody wants to chew tough cucumber skins!
Onion – Red onion is my favorite, mostly because I like the color it adds to the dish. But yellow or white are also great, and what my mom uses most often.
Dill – There's nothing like fresh dill in this recipe. But use dried dill if you're in a pinch (you'll need less dried dill than fresh dill).
Mayo – Use a good quality mayonnaise. Please do not use a salad dressing (such as Miracle Whip)!
Sour Cream – I always use regular sour cream (not reduced fat or "light") as I like its consistency and appearance better in this salad.
Vinegar – My preference is white vinegar; I like its clean flavor. But you could swap it out for rice wine vinegar or cider vinegar. If you're not a fan of the vinegar flavor, use cream or milk to thin down the dressing instead – my mom likes to use these.
Sugar – Depending on my mood, I use less or more sugar in this dressing. Sometimes a little more sugar is very fun in this salad!
Can I Make This In Advance?
If you want to make this salad in advance, I recommend placing the sliced cucumbers and onion in a bowl, and the prepared creamy dressing in a separate bowl – and then cover each one and refrigerate. Between 1 and 2 hours prior to serving, fold everything together and then place in the refrigerator until ready to eat.
What To Serve With This Salad
We make this salad most often during the summer, so it's usually served alongside something from the grill. Here are a few suggestions for you:
Like this easy salad recipe? Save it to Pinterest!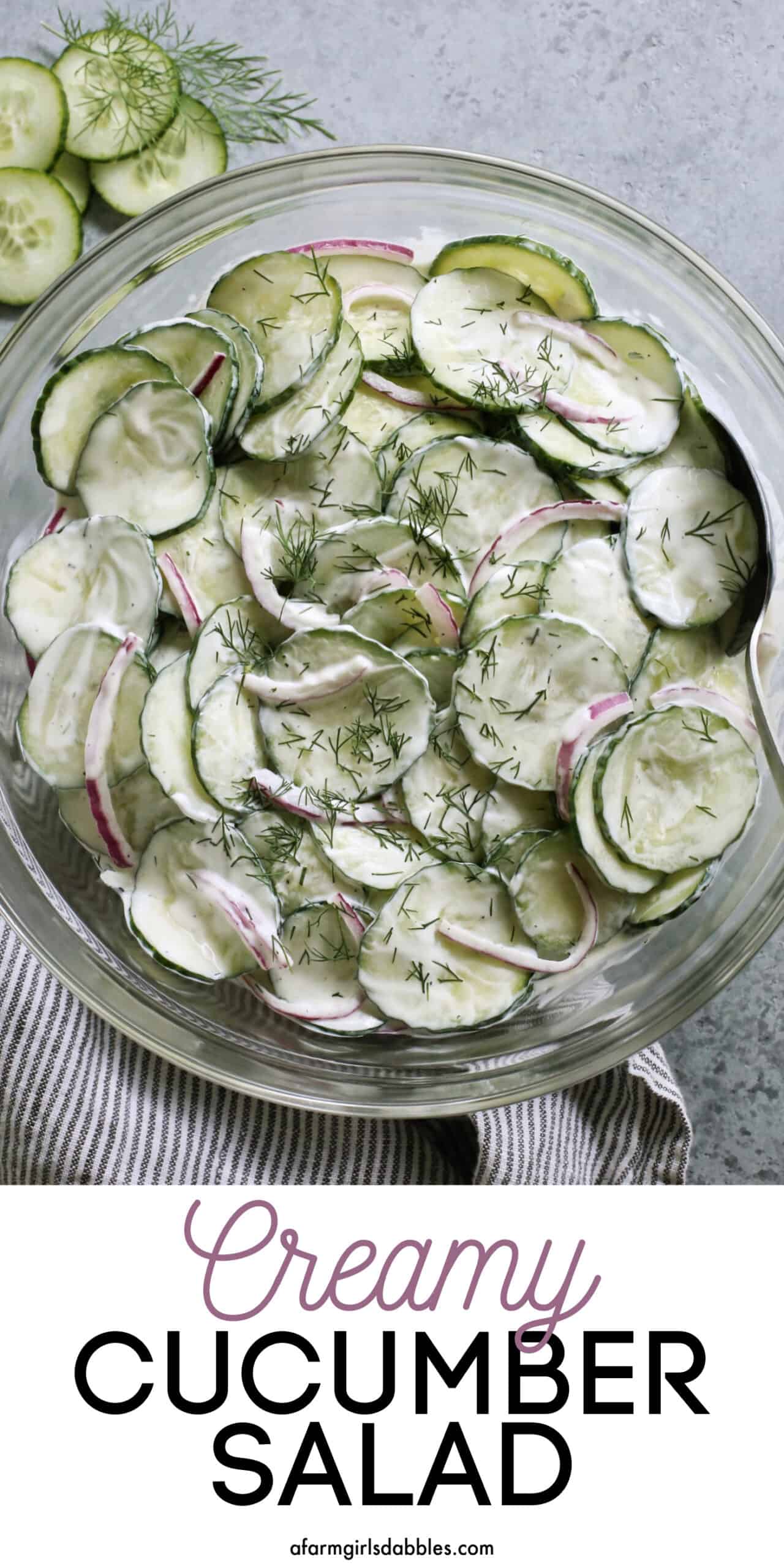 More vegetable salad inspiration: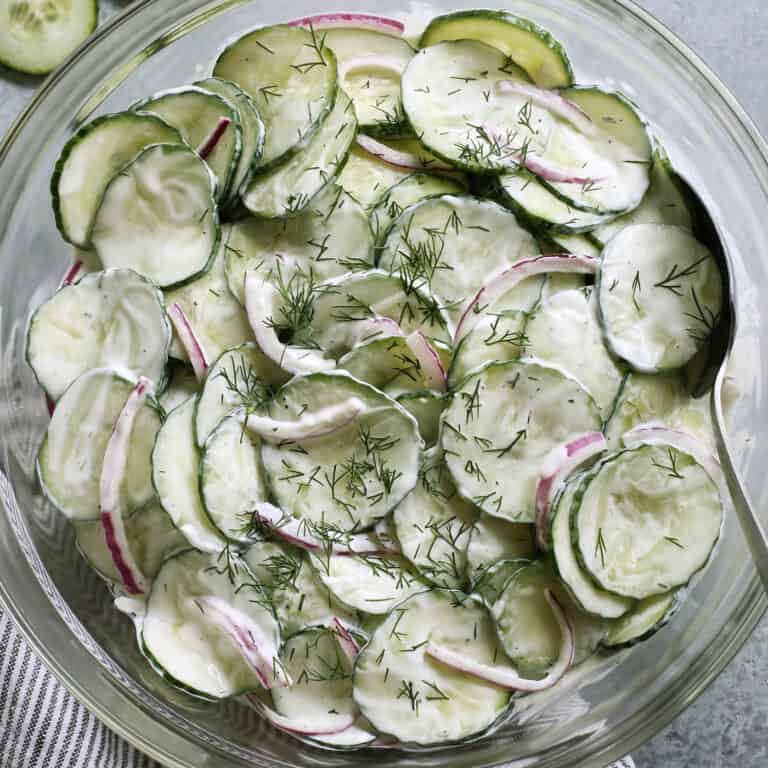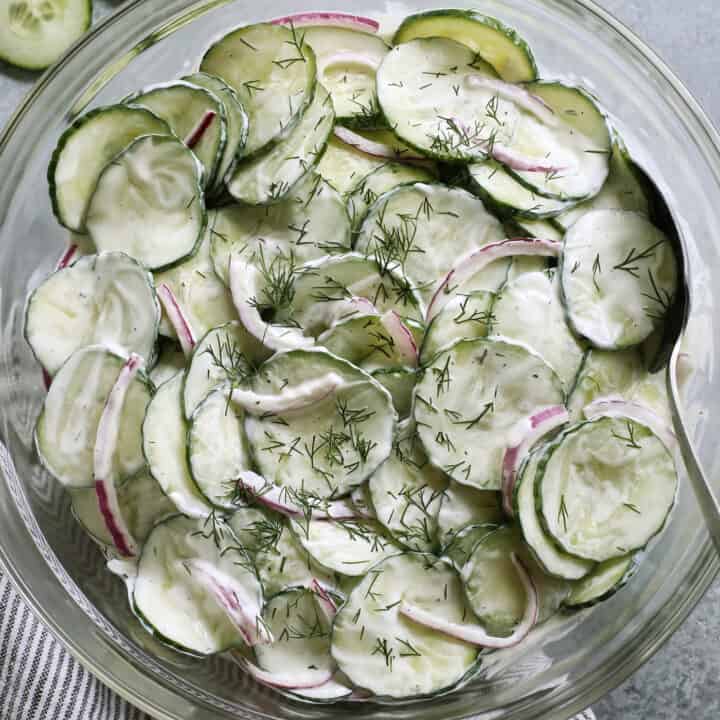 Creamy Cucumber Salad
Yield: 12 servings
Prep Time: 15 minutes
Total Time: 15 minutes
A classic Creamy Cucumber Salad recipe, with fresh cucumbers, onion, and dill. When summer cucumbers are plentiful, this is the salad you'll want to serve with EVERYTHING!
Ingredients
3 large English cucumbers (about 2 to 2.5 pounds)
1 small red onion
1 cup good quality mayonnaise (do not use "salad dressing" such as Miracle Whip)
1 cup sour cream
1/3 cup sugar (add a bit more if desired)
2 tablespoons white vinegar
1/4 teaspoon kosher salt
1 tablespoon chopped fresh dill
ground black pepper, if desired
Instructions
Slice cucumbers and onion thinly, and add them to a large bowl. I prefer the slices to be between 1/16" and 1/8" thick - a mandoline works great for this!
In a small bowl, stir together mayonnaise, sour cream, sugar, white vinegar, salt, and dill. If desired, thin down the dressing with a little more vinegar, or some milk or cream. Pour dressing over over sliced cucumbers and onion, and fold to combine.
Cover and refrigerate for 1 to 2 hours. Fold right before serving and sprinkle with black pepper if desired.
Recommended Products
As an Amazon Associate and member of other affiliate programs, I earn from qualifying purchases.
Nutrition Information:
Yield: 12 servings
Serving Size: 1
Amount Per Serving:
Calories: 198
Total Fat: 18g
Saturated Fat: 4g
Trans Fat: 0g
Unsaturated Fat: 12g
Cholesterol: 19mg
Sodium: 150mg
Carbohydrates: 10g
Fiber: 0g
Sugar: 8g
Protein: 1g
Nutrition information is automatically calculated by Nutritionix. I am not a nutritionist and cannot guarantee accuracy. If your health depends on nutrition information, please calculate again with your own favorite calculator.