Grilled Turkey Tenderloin with Brown Sugar and Whole Grain Mustard
Tender, super flavorful, and easy to make, this Grilled Turkey Tenderloin with Brown Sugar and Whole Grain Mustard is equally perfect for Thanksgiving and summertime grilling! Enjoy with your favorite sides for a simple yet special dinner.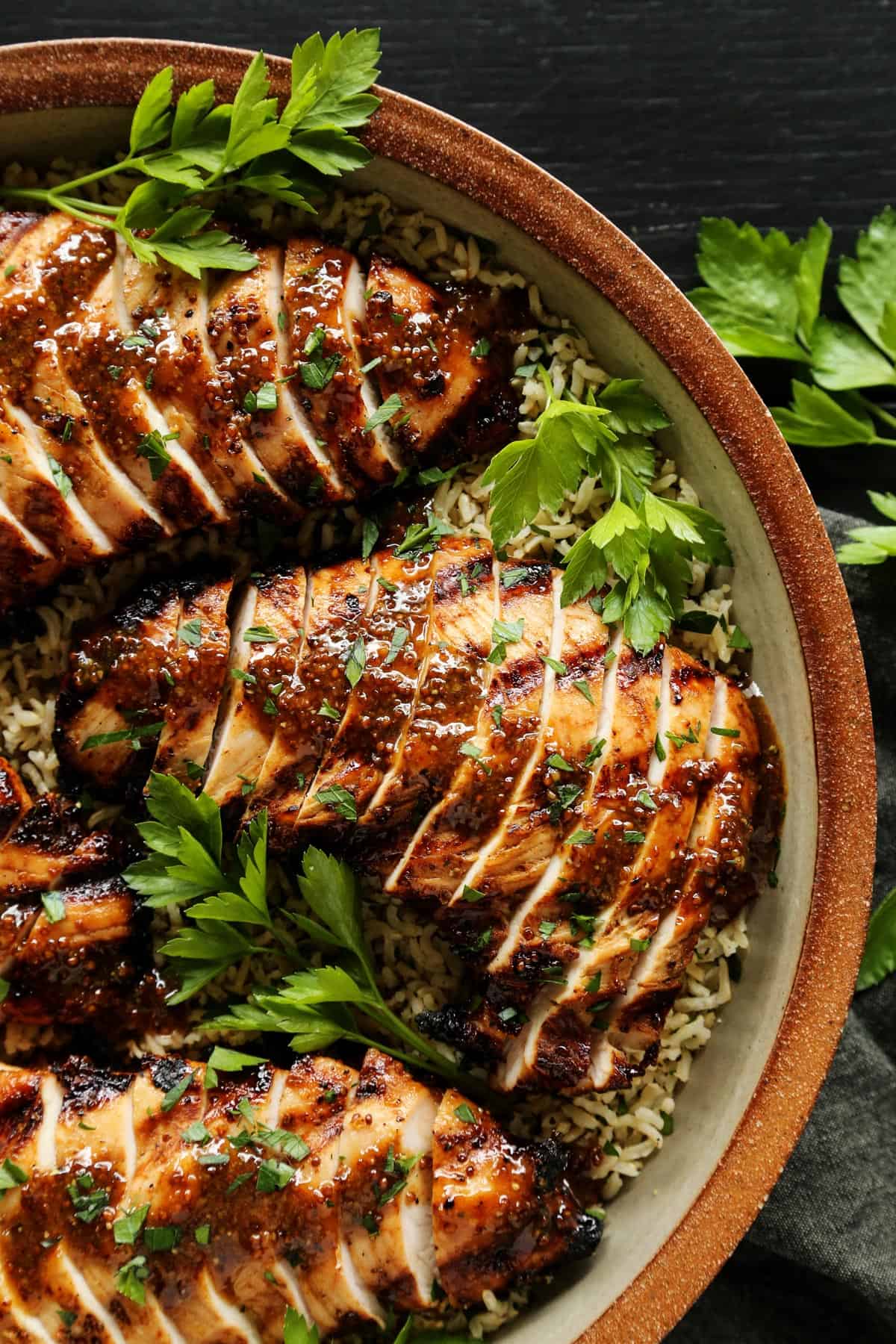 Easy Grilled Turkey Tenderloin Recipe
This delicious Grilled Turkey Tenderloin with Brown Sugar and Whole Grain Mustard recipe is a no-fuss, big-flavor way to serve turkey. It's an easy turkey recipe that's great all year long, and especially nice to have on hand for a smaller or more simplified Thanksgiving meal!
We tend to do Thanksgiving turkey dinners that are not the traditional oven roasted recipes. Our family is partial to Blake's smoked turkey – we've enjoyed it numerous times (and especially the leftovers it makes!). And this grilled turkey tenderloin comes in with highest marks as well.
This grilling recipe for turkey tenderloin features the simple yet ultra tasty flavors of brown sugar and whole grain mustard. A little sweetness combined with pungent whole grain mustard is just my thing, and it works so well with turkey.
While this recipe is beautiful enough to serve up for Thanksgiving or another special occasion dinner, it's also easy enough to make any time. Enjoy!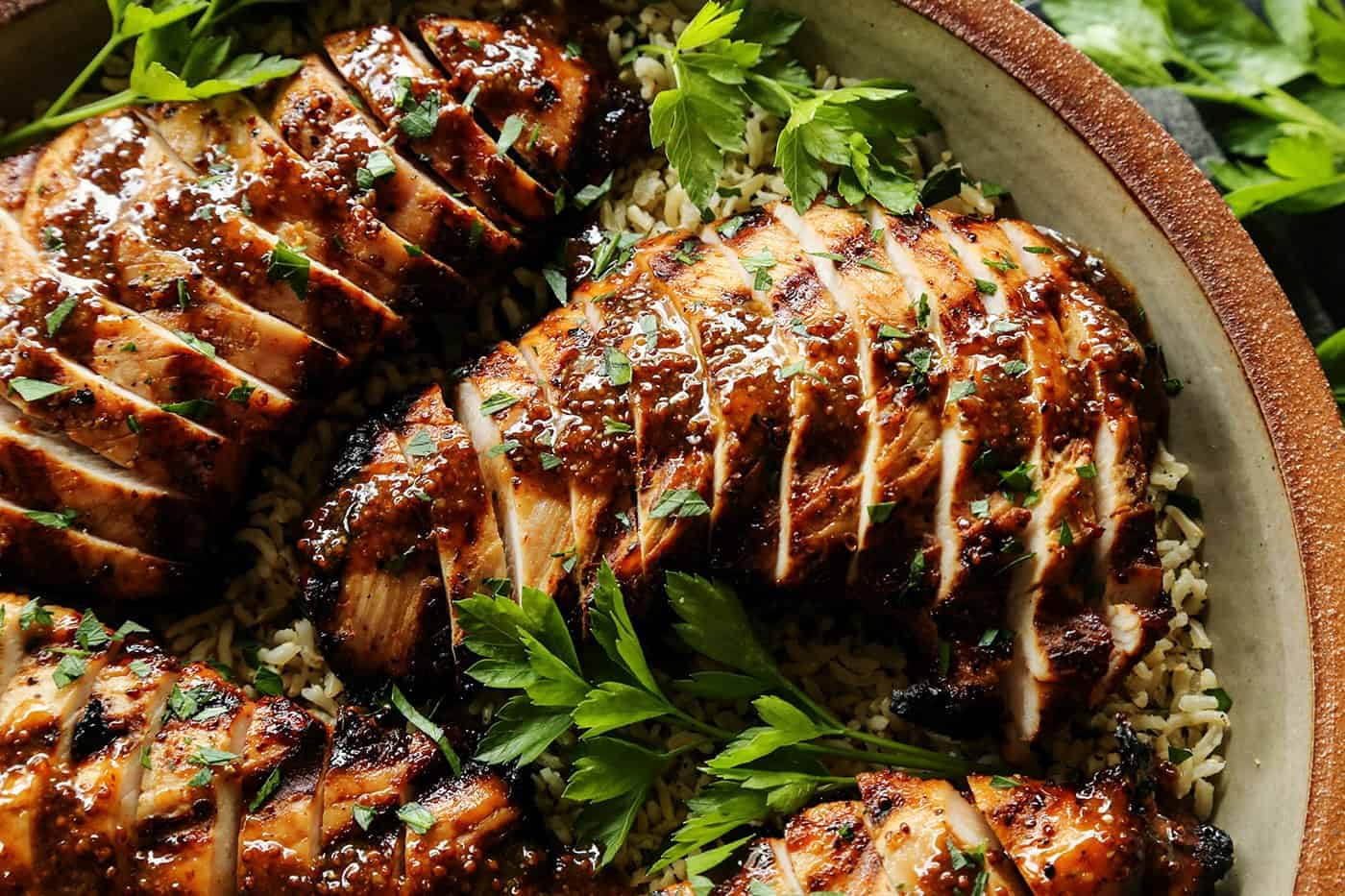 What You'll Need
This turkey tenderloin recipe is made with just 4 ingredients + a handful of spices.
Turkey tenderloins – Be sure to choose ones that are roughly the same size so they all finish cooking at the same time.
Brown sugar – Adds the rich sweetness to the glaze.
Whole grain mustard – Provides a pungent, earthy, and super flavorful contrast to the brown sugar.
Apple cider vinegar – Thins out the glaze a bit and adds a delicious tang.
Spices – Cumin, smoked paprika, garlic powder, salt & black pepper help to make the perfect flavor in this dish.
What is Turkey Tenderloin?
Turkey tenderloin is the piece of meat directly under the turkey breast. It's white meat that is very lean and mild – a perfect fit for this recipe, as it takes on all the flavors so well!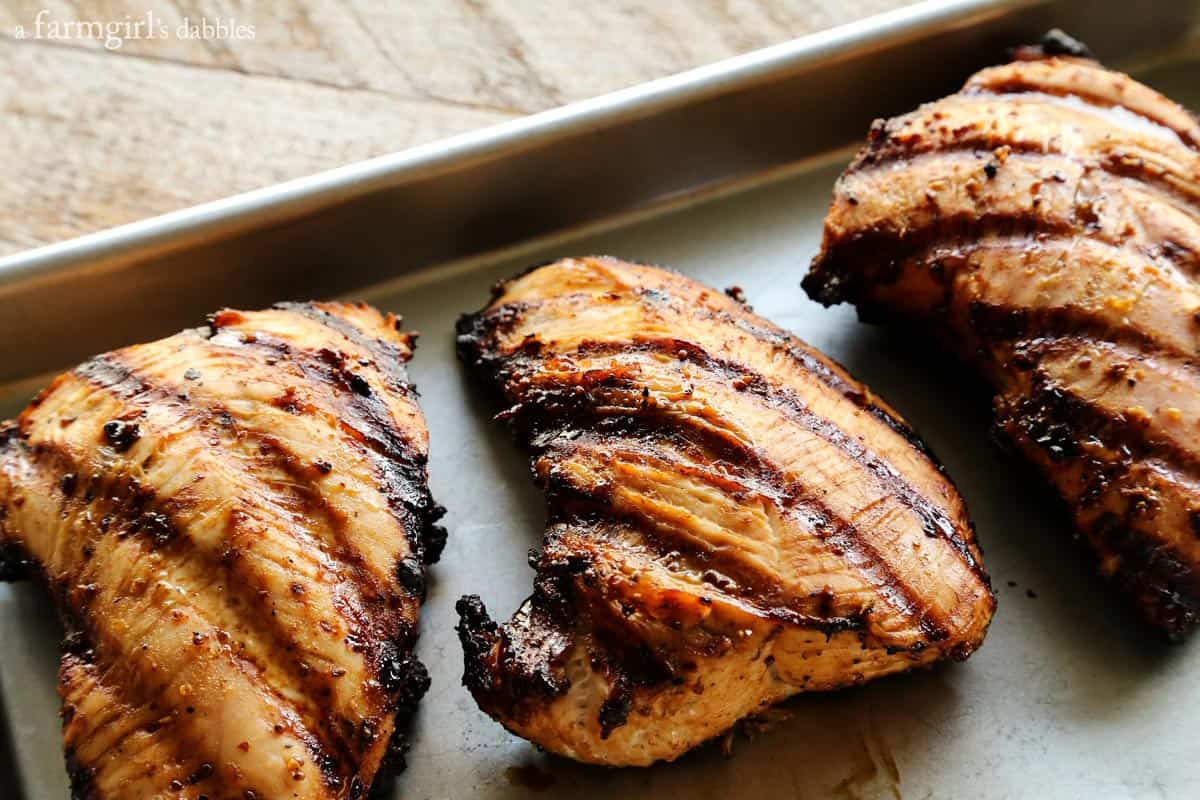 How to Make Grilled Turkey Tenderloin with Brown Sugar and Whole Grain Mustard
It's so easy to make a tasty, flavorful turkey tenderloin. Here's how!
Prepare the marinade/finishing sauce. Whisk together the brown sugar, mustard, vinegar, and spices/seasonings. Set aside 1/3 cup to use later as the finishing sauce.
Marinate. Pour the rest of the brown sugar & mustard mixture over the tenderloins to coat completely. Cover and refrigerate for 1 hour.
Sear the tenderloin. Allow the tenderloin to sit on the counter while you prepare the grill. Make sure the grill grates are scrubbed clean and oiled. Place the tenderloin on the hot grill grates and sear for 4 minutes on one side, or until there are beautiful char marks.
Continue grilling. Flip each tenderloin, reduce the heat to medium, and grill for 8 minutes. Rotate on the same side then continue cooking until the internal temperature reaches 160° F.
Allow to rest. Transfer the tenderloins to a platter. Let rest for at least 5 minutes before slicing. Top with the reserved brown sugar-mustard mixture.
How Long Does It Take To Grill Turkey Tenderloin?
The amount of time you need to grill your tenderloin will depend on the size of the tenderloins and the cooking temperature.
In this case, these tenderloins were about 3/4 pound each and the grill time was 40 minutes total. If your tenderloins are closer to 1/2 pound, reduce that time, or add a few minutes for tenderloins that are larger.
The best way to check is to use an instant-read thermometer. The turkey tenderloins are ready when it reads 160° F.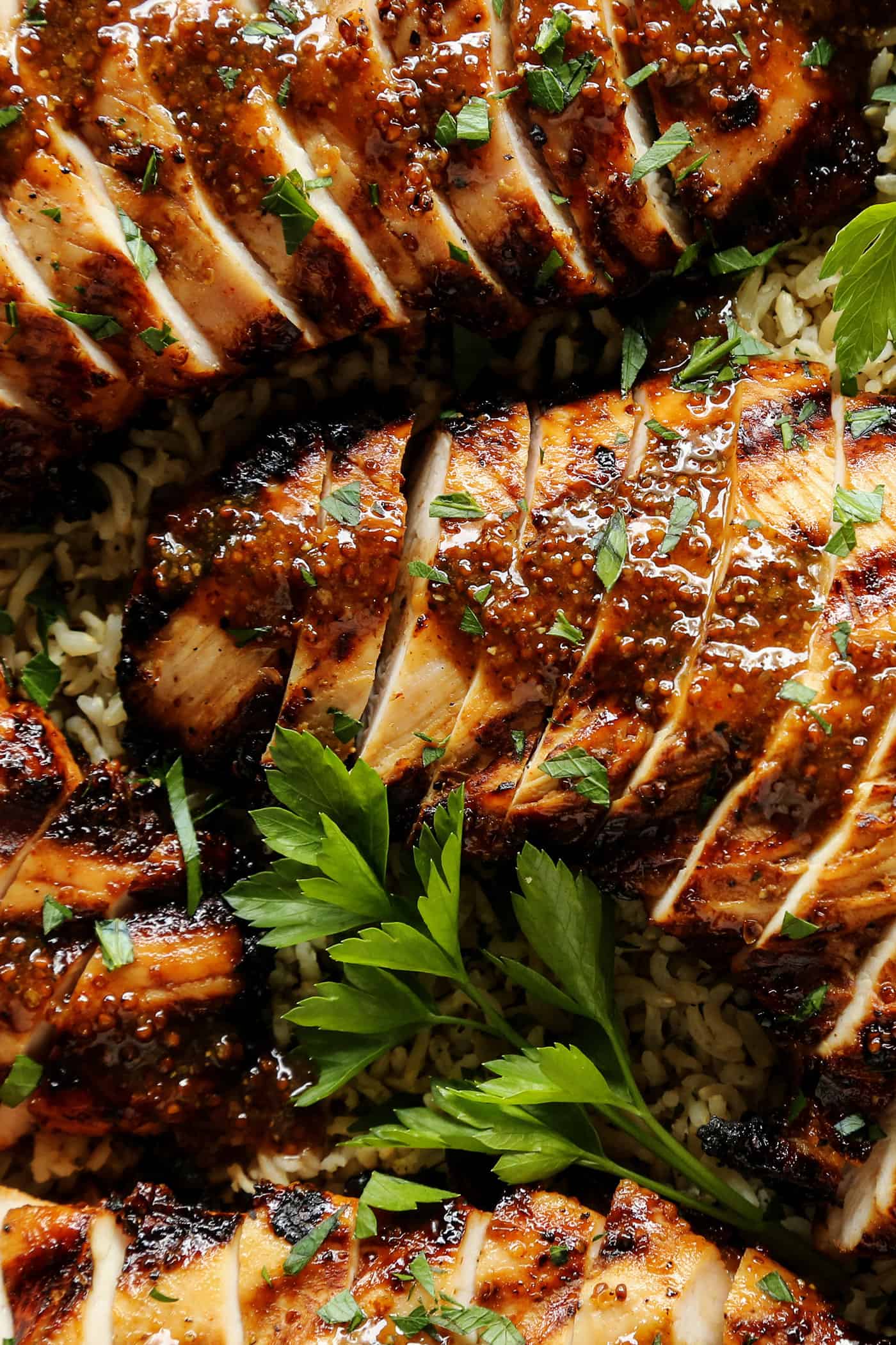 Tips for Success
Here are a few helpful hints to keep in mind when grilling your turkey tenderloin.
Do not overcook the meat. It's very important to remove the turkey from the grill when it reaches 160° F. Since tenderloin is so lean, you really do not want to overcook it, as it will have a drier texture.
Allow to rest before slicing. Another secret to juicy turkey tenderloin? Allow it to rest before slicing to let the juices settle into the meat.
Do not flip the turkey after searing. Once one side is nicely seared and you flip it, do not continue flipping back and forth. You want those beautiful grill lines!
Definitely use the finishing sauce! Once you've sliced the tenderloins, drizzle that delicious brown sugar & mustard finishing sauce over the top. It adds a wealth of flavor!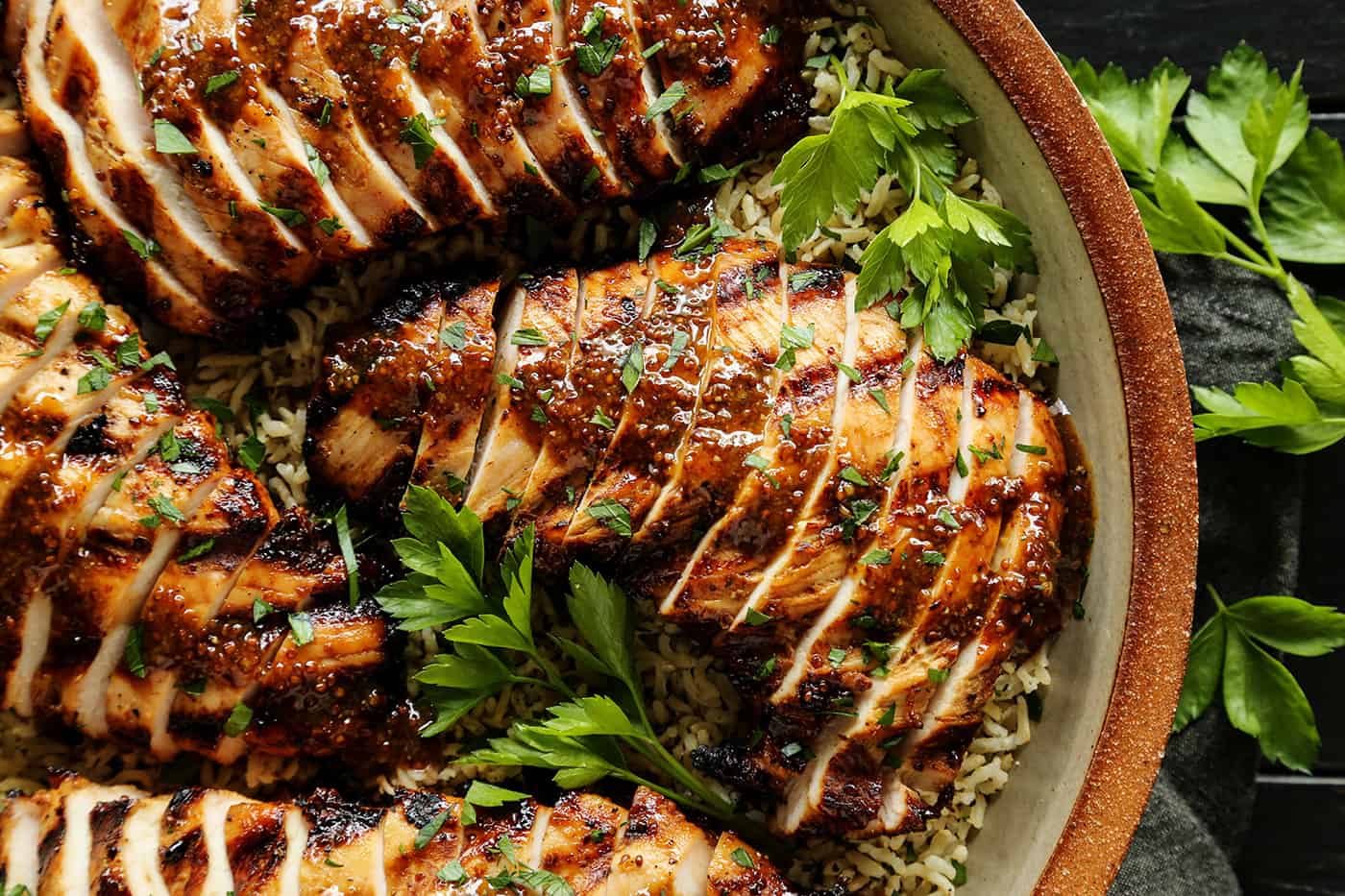 Serving Suggestions
After a short rest off the grill, slice the grilled turkey tenderloin and drizzle with reserved brown sugar & whole grain mustard finishing sauce, for that final punch of flavor.
When serving this for the holidays, we often stick to classic sides. Mashed potatoes and roasted garlic and mushroom dressing and cinnamon honey carrots and fresh cranberry sauce never had such a beautiful (and EASY!) bird sitting next to them on their Thanksgiving plate!
If you're serving this up as a casual dinner, any other time of year, almost any side will do! A few suggestions – broccoli salad or creamy coleslaw would be great in the summer or fall. And new potatoes with roasted garlic vinaigrette or roasted asparagus would be perfect when you want to cozy in during colder weather.
How to Store Leftovers
This grilled turkey tenderloin is definitely best when eaten fresh off the grill. However, leftovers can be stored in the fridge in an airtight container for up to 3 days. Take care reheating in the microwave or stovetop and heat just until hot, to avoid drying out the turkey.
More Turkey Recipes:
Like this recipe? Save it to Pinterest!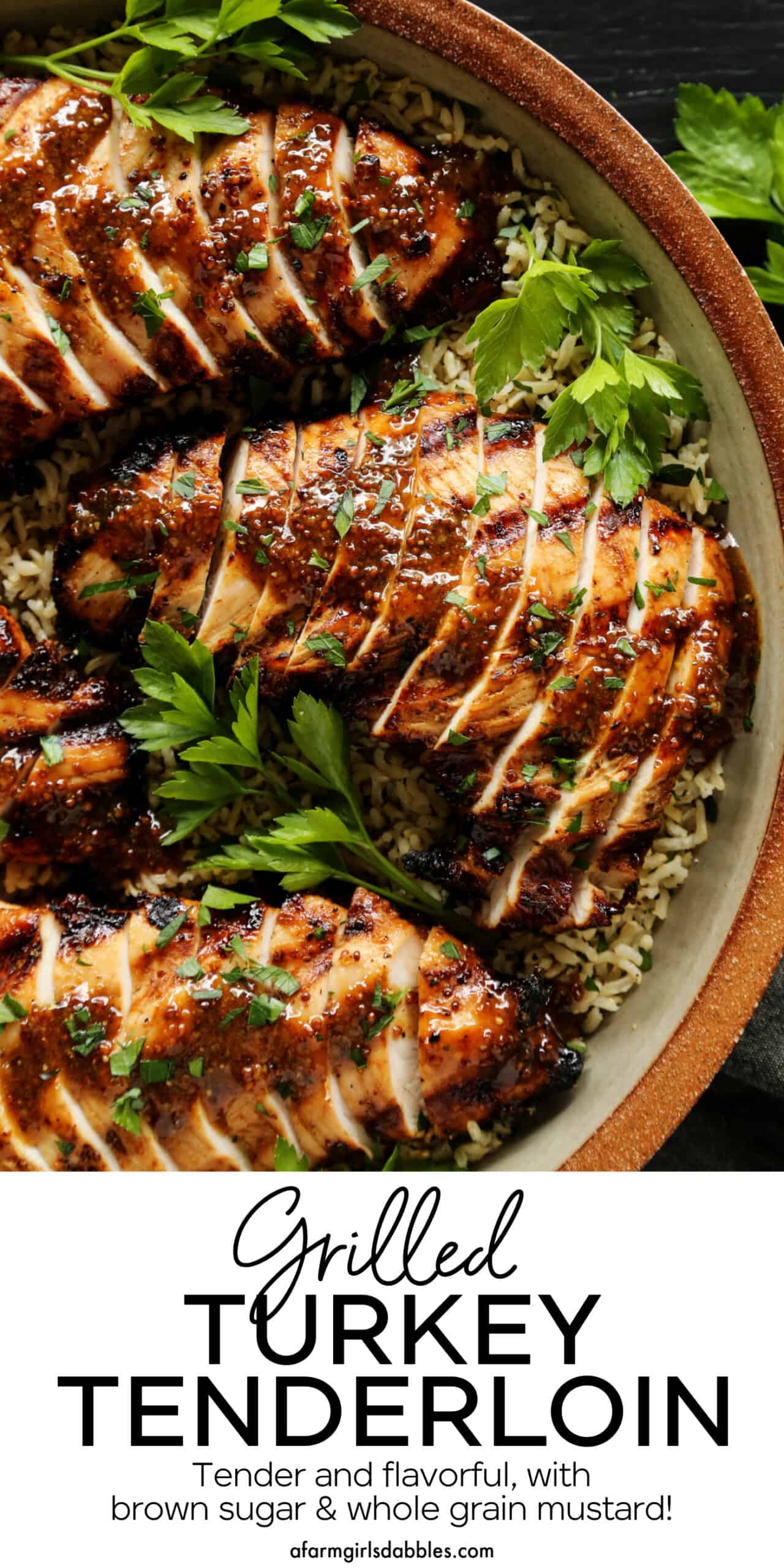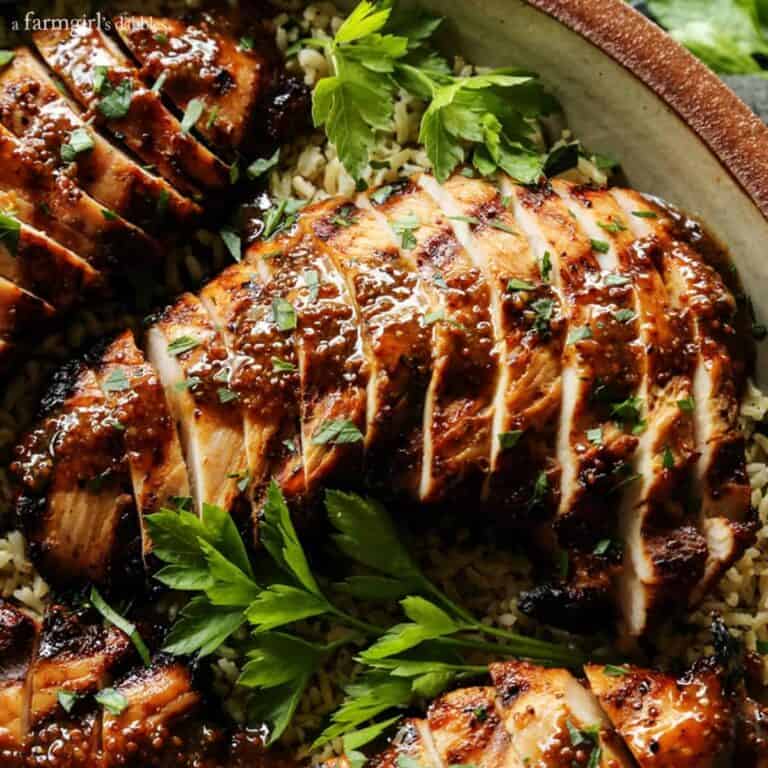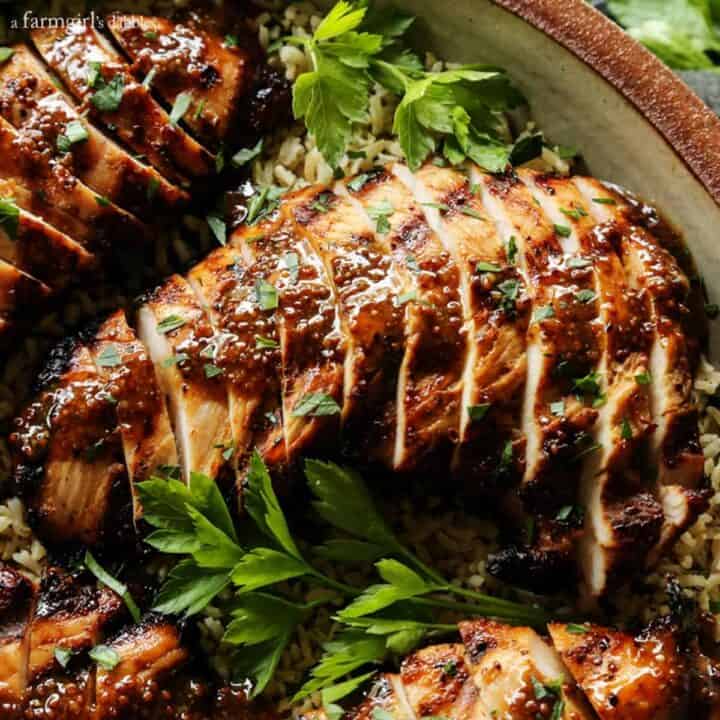 Grilled Turkey Tenderloin with Brown Sugar and Whole Grain Mustard
Yield: 8 servings
Prep Time: 1 hour 15 minutes
Cook Time: 40 minutes
Total Time: 1 hour 55 minutes
Tender, flavorful, and easy to make this Grilled Turkey Tenderloin with Brown Sugar and Whole Grain Mustard is equally perfect for Thanksgiving and summer grilling! Enjoy with your favorite sides for a simple but elegant dinner.
Ingredients
3 lbs. turkey tenderloins (The four tenderloins in my photographs were approximately .75 lbs each.)
1/2 c. packed brown sugar
1 T. apple cider vinegar
1 tsp. cumin
1 tsp. black pepper
1/2 tsp. smoked paprika
1/2 tsp. garlic powder
1/2 tsp. kosher salt
Instructions
In a medium bowl, whisk the brown sugar, whole grain mustard, apple cider vinegar, cumin, black pepper, smoked paprika, garlic powder, and kosher salt. Reserve 1/3 cup of mixture to drizzle over turkey right before serving.
Place turkey tenderloins in a medium bowl or pan that is low and wide. Pour remaining brown sugar and mustard mixture over the top and turn tenderloins to coat completely. Cover bowl/pan with plastic wrap and refrigerate tenderloins for 1 hour. Remove from refrigerator, uncover, and let sit on counter while heating the grill.
Heat grill to high heat. Make sure grates are scrubbed clean and then oiled. (To oil the grates, add some canola oil to a small bowl. Then fold a heavy paper towel a few times to make a smaller square. With a tongs, grasp the folded paper towel and dip it into the oil until the paper towel is drenched. Then run the paper towel over the grates, repeating until all grill grates are thoroughly oiled.) Then turn heat down a bit, to medium-high. Place "beauty" side of each turkey tenderloin face-down on the grill grates. Sear for about 4 minutes, until there are beautiful charred grill lines. Using a metal turner, carefully turn each tenderloin over, taking care to not tear the turkey surface by gently working the turner to scrape and lift turkey from grates. Reduce heat to medium and grill for about 8 minutes. Rotate tenderloins on same side (don't flip them over - you want to preserve those pretty grill marks!) after 5 minutes. Then reduce heat to medium low and grill until internal temperature of thickest part of tenderloins reaches 160° F. Grill time should be about 40 minutes total, for tenderloins that weigh about 3/4 pound each. Adjust all times for tenderloins that are larger or smaller.
Remove tenderloins to a platter to rest for 5 minutes before slicing. Slice tenderloins and then drizzle reserved brown sugar and whole grain mustard mixture over the top. Serve hot to warm.
Notes
from a farmgirl's dabbles
Nutrition Information:
Yield: 8
Serving Size: 1
Amount Per Serving:
Calories: 295
Total Fat: 4g
Saturated Fat: 1g
Trans Fat: 0g
Unsaturated Fat: 2g
Cholesterol: 136mg
Sodium: 318mg
Carbohydrates: 11g
Fiber: 0g
Sugar: 11g
Protein: 51g
Nutrition information is automatically calculated by Nutritionix. I am not a nutritionist and cannot guarantee accuracy. If your health depends on nutrition information, please calculate again with your own favorite calculator.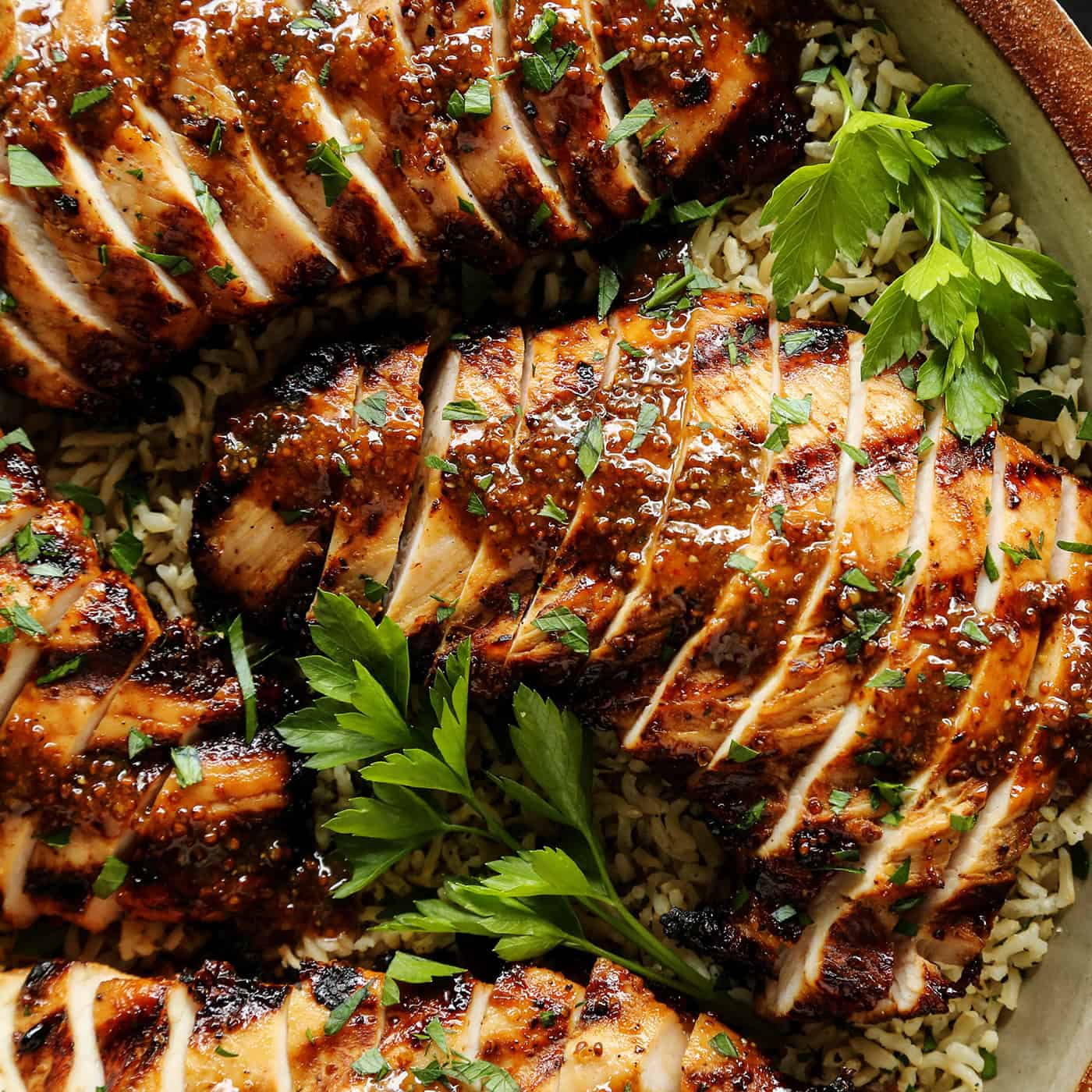 The Story Behind This Recipe
This is a sponsored post, created in partnership with Minnesota Turkey.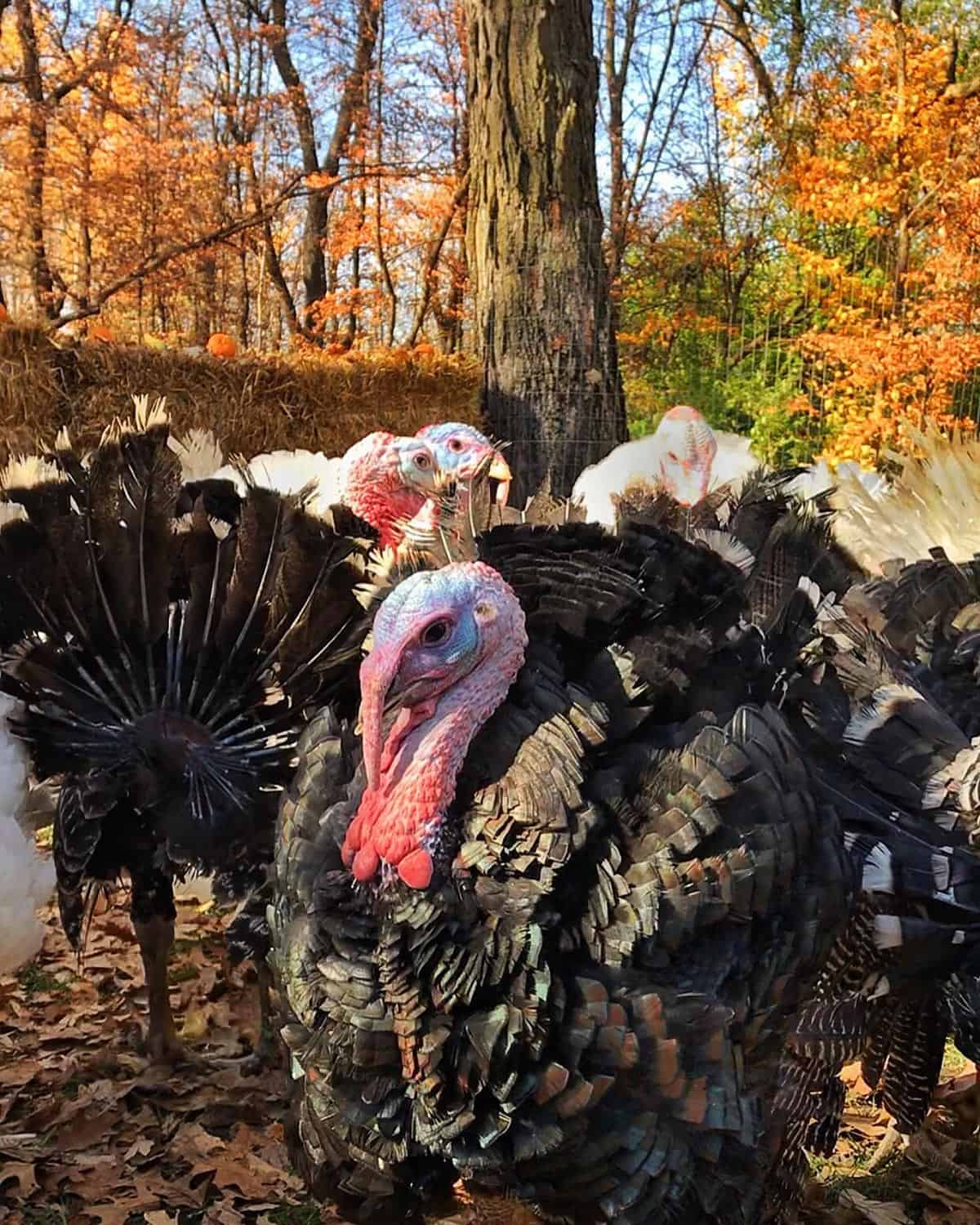 Serving Turkey is an Annual Holiday Tradition
Back in 2017, our family met the Presidential Turkey Flock. Yes, the turkeys who travelled to the White House for the 70th annual turkey pardoning tradition by our nation's president!
Since President Harry S. Truman in 1947, this annual presentation of the National Thanksgiving Turkey has become a highly anticipated ritual in the nation's capital. The event signals the unofficial beginning of the holiday season and provides the president an opportunity to reflect publicly on the meaning of Thanksgiving.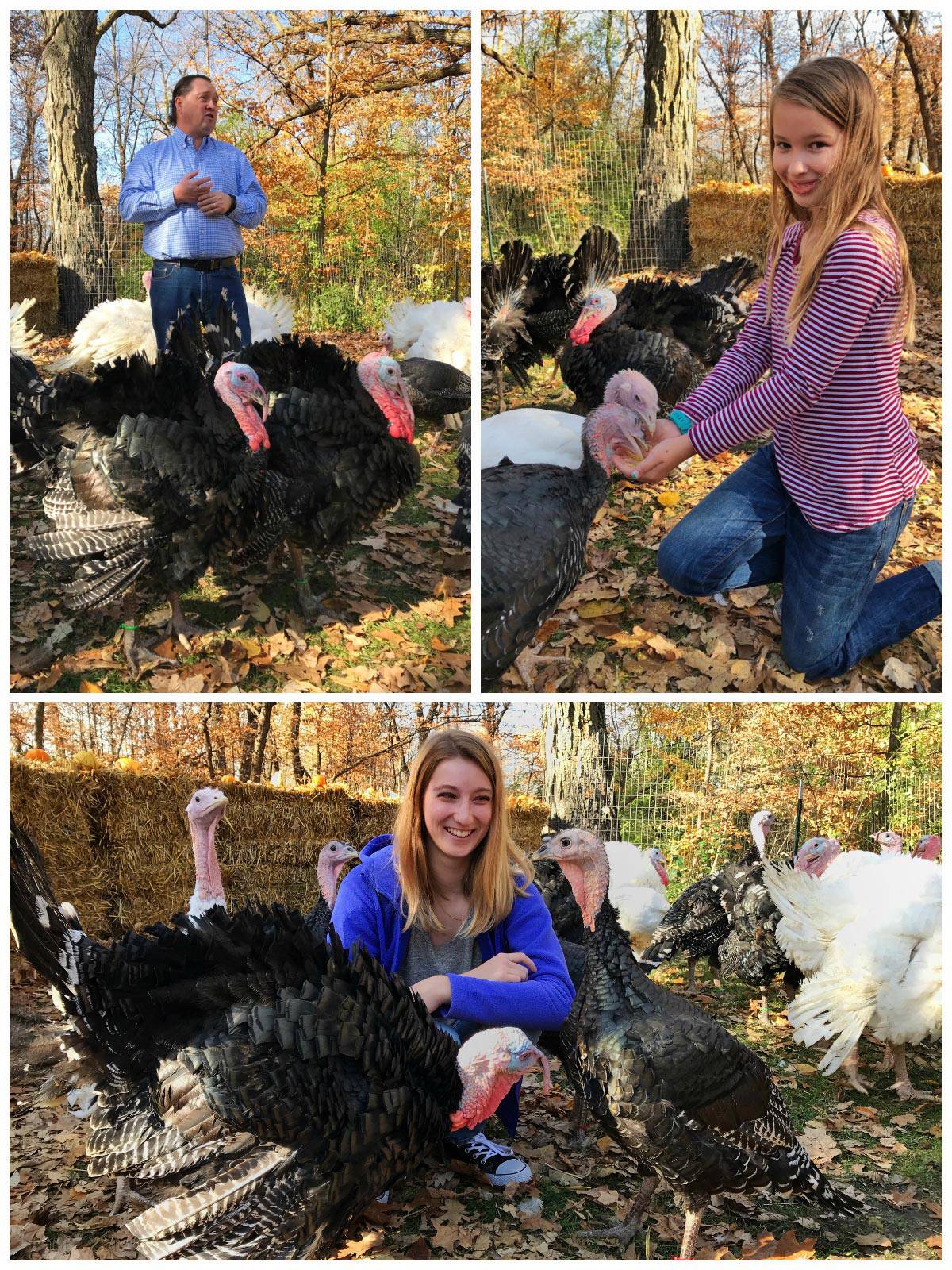 For this tradition each year, two turkeys are chosen from the home state of the chairman of the National Turkey Federation. The 2017 chairman was Carl Wittenburg (photo: top left), who resides with his wife and turkey-raising partner Sharlene near Alexandria, Minnesota.
It was an absolutely splendid Minnesota fall day when we traveled to the Wittenburg's farm; the sky was big and blue and the air was warm.
We got to meet the Wittenburgs' beautiful turkey flock, hand-feed the turkeys, and talk with Douglas County 4-H members who were assisting with this project. The 4-Hers helped train the turkeys to become accustomed to light, noises, music, and people, for their star appearance in DC!
This was such a great day for our family. It has made us look forward to Thanksgiving turkey in a whole new way!

Minnesota Turkey Facts
Minnesota ranks #1 in turkey production in the U.S., with the most family-owned turkey farms in the U.S. Many of these farmers are 3rd, 4th, and even 5th generation turkey farmers, and are passionate about raising wholesome and quality turkey for consumers.
Minnesota raises 46 million turkeys annually
For more information about the Minnesota Turkey Growers Association, including recipes, nutritional information, and Presidential Turkey Flock fun, visit their web site. Also find them on these social media channels: Facebook, Twitter, and Pinterest.
This post was sponsored by Minnesota Turkey, originally published in 2017 and updated in 2022.