New Potatoes with Roasted Garlic Vinaigrette
With a garlic and mustard vinaigrette, this Roasted Garlic New Potatoes recipe is an easy side dish that packs a flavorful punch. The potatoes are creamy on the inside, crispy on the outside, and tossed in roasted garlic goodness!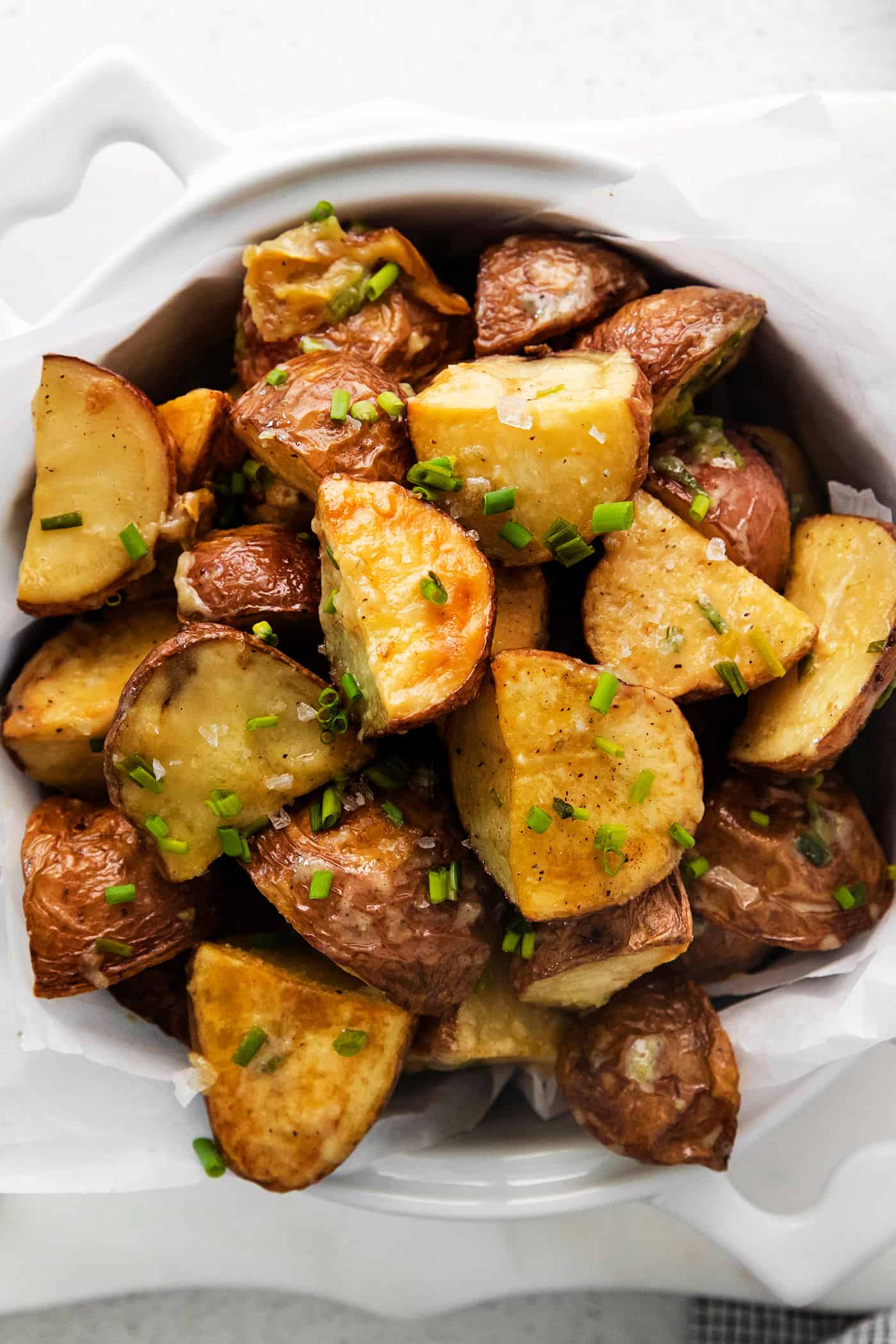 Easy Oven Roasted Potatoes
Do you ever make something, then kick yourself for not making it sooner? That's what happened with me and these Roasted Garlic New Potatoes. This side dish is fabulously tasty, with a short ingredients list and very little effort. And this dish pairs deliciously with so many meals!
Once I made these oven roasted potatoes for the first time, they quickly became a favorite side dish for our family. With a pungent garlic and mustard vinaigrette, this recipe is a twist on potato salad, all warmed up and yummified. Kinda like my favorite German potato salad recipe, but different!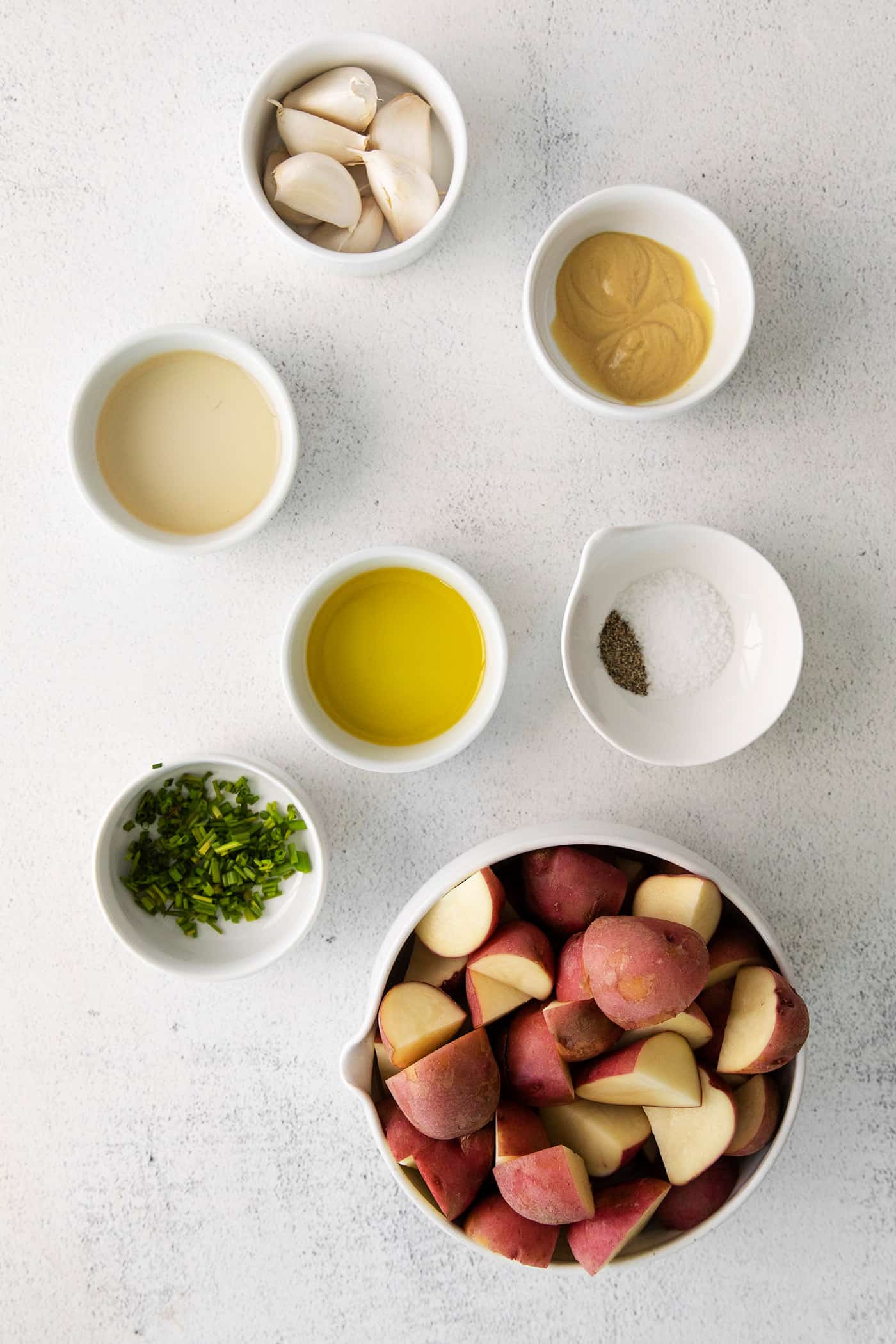 What You'll Need
I love when recipes are super flavorful, with a short ingredients list. Here's all you need to make these crispy new potatoes!
Olive oil – Helps make the potatoes crisp.
Salt & pepper
Garlic – Leave the cloves unpeeled for roasting.
Small red potatoes – These are also called "new potatoes".
Minced chives – The mild flavor of chives complements the garlic with a fresh green onion flavor.
White wine vinegar – Adds a tang to the vinaigrette.
Dijon mustard – This mustard adds loads of flavor to the potatoes. It's one of my favorite flavor-packed cooking ingredients!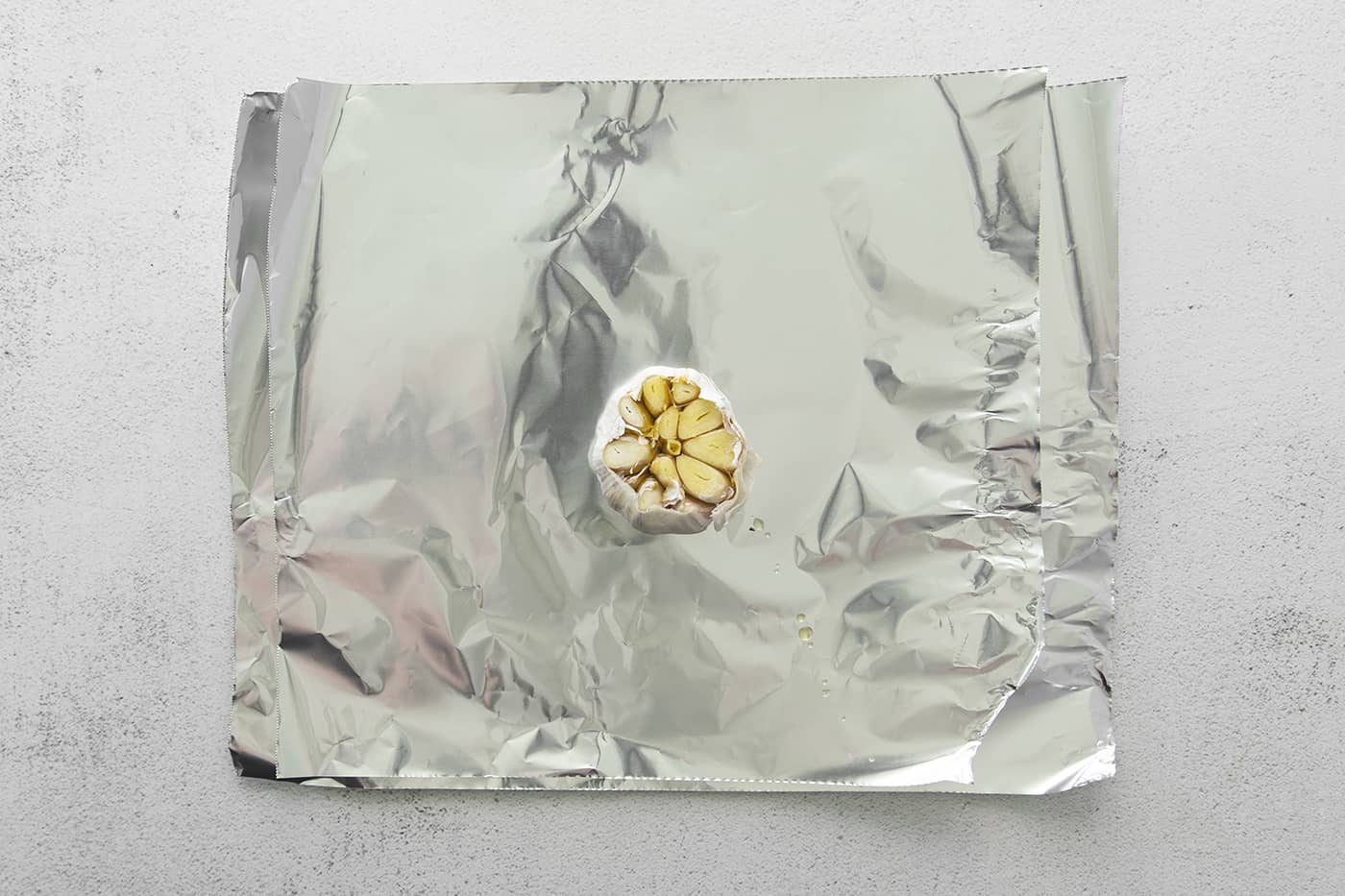 How to Roast Garlic
Have you ever roasted garlic? While raw garlic is sharp and biting, roasted garlic is mild, sweet, and beautifully buttery. It's a whole different ingredient. And it's so easy to accomplish!
This recipe for roasted garlic new potatoes incorporates 7 individual garlic cloves, right along with the potatoes on the same pan. But I also want to show you how easy it is to roast an entire garlic bulb. The luscious garlic makes a fabulous steak topper, is wonderful spread on slices of grilled bread, and awesome in garlic butter…and so much more! Here's how to do it!
Cut the garlic bulb. Cut off the top quarter of a whole garlic bulb, to expose the pulp of the individual cloves. (Do not peel the garlic bulb or any of the individual cloves inside!)
Prep for roasting. Lay out a double layer of 12″ square aluminum foil. Place garlic bulb in the middle. Drizzle olive oil over the exposed cloves, and then sprinkle with salt. Bring the sides of the foil up around the garlic loosely and twist the top shut.
Roast. Place your foil wrapped bulb on a pan and put it in a 350° F oven for about 45 minutes.
Cool. Take it out of the oven and let it cool a bit before unwrapping. Then simply squeeze out the soft, buttery pulp. Deeeeeeeeelicious!!
How to Make Roasted Garlic New Potatoes
There are really just 3 steps to making this side dish:
Combine ingredients. Combine olive oil, salt, pepper, garlic cloves, and potatoes on a rimmed baking sheet. Toss to coat.
Bake. Bake for an hour, until potatoes are tender. If the garlic is soft before the potatoes are done, remove the cloves from the oven. Once the potatoes are done, remove them from the oven and let cool for 5-10 minutes.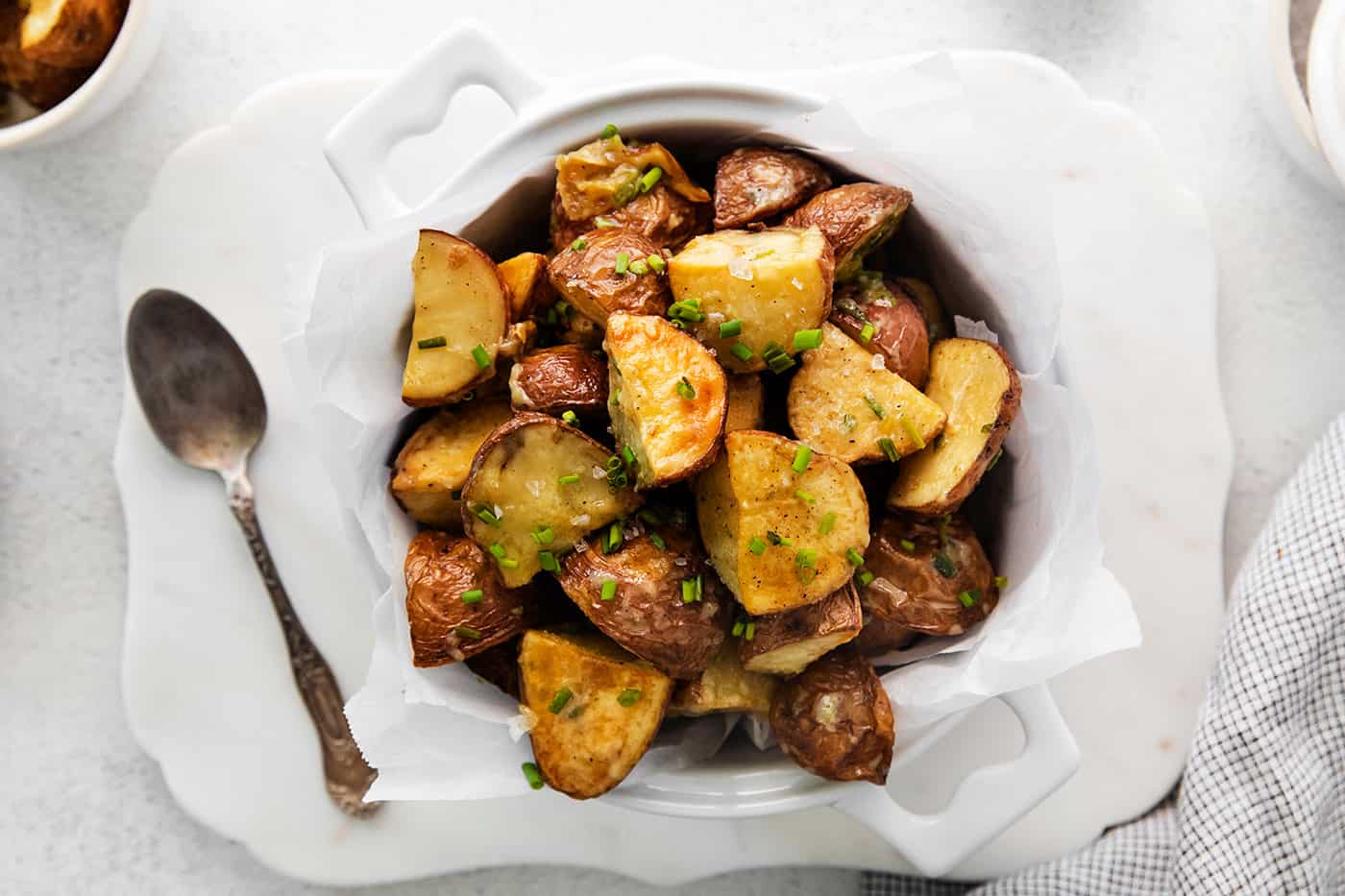 Make the vinaigrette. Squeeze the garlic cloves to extract pulp. Combine the garlic pulp and remaining ingredients in a large bowl. Stir well. Add the potatoes to the bowl and toss to coat.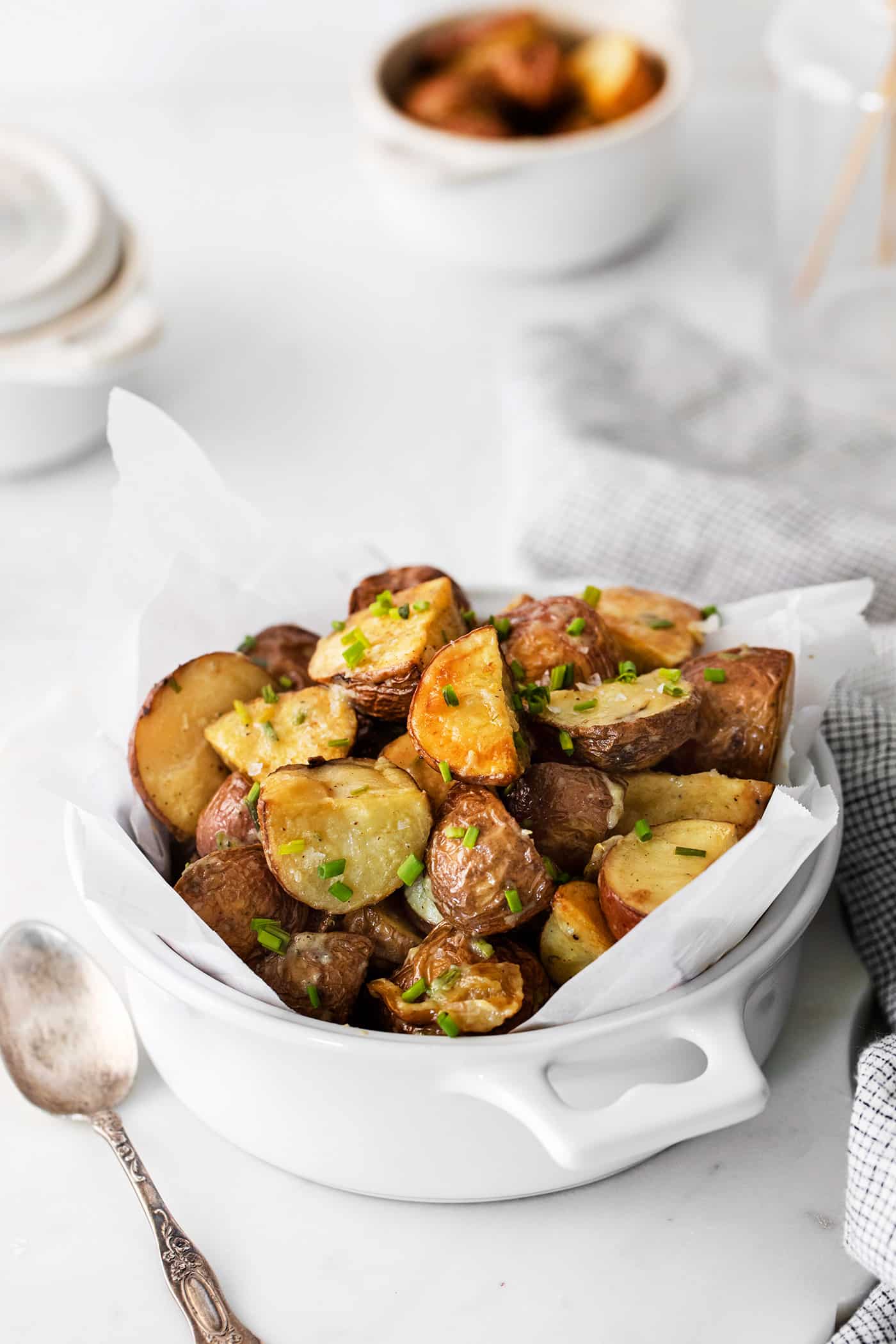 Tips for Success
This is a super easy recipe, but here are a few tips to ensure the best finished dish:
Line the pan with foil. For easy clean-up, place a layer of foil on the pan before adding the potatoes and garlic.
Cut the potatoes into even pieces. To ensure the potatoes bake evenly, cut them into equally-sized pieces.
Don't burn the garlic. The garlic may be ready before the potatoes. Remove it from the oven once it's soft to avoid burning it.
Do I need to peel the potatoes? New potatoes have a very tender skin so there is no need to peel them for this recipe, though you can if you want.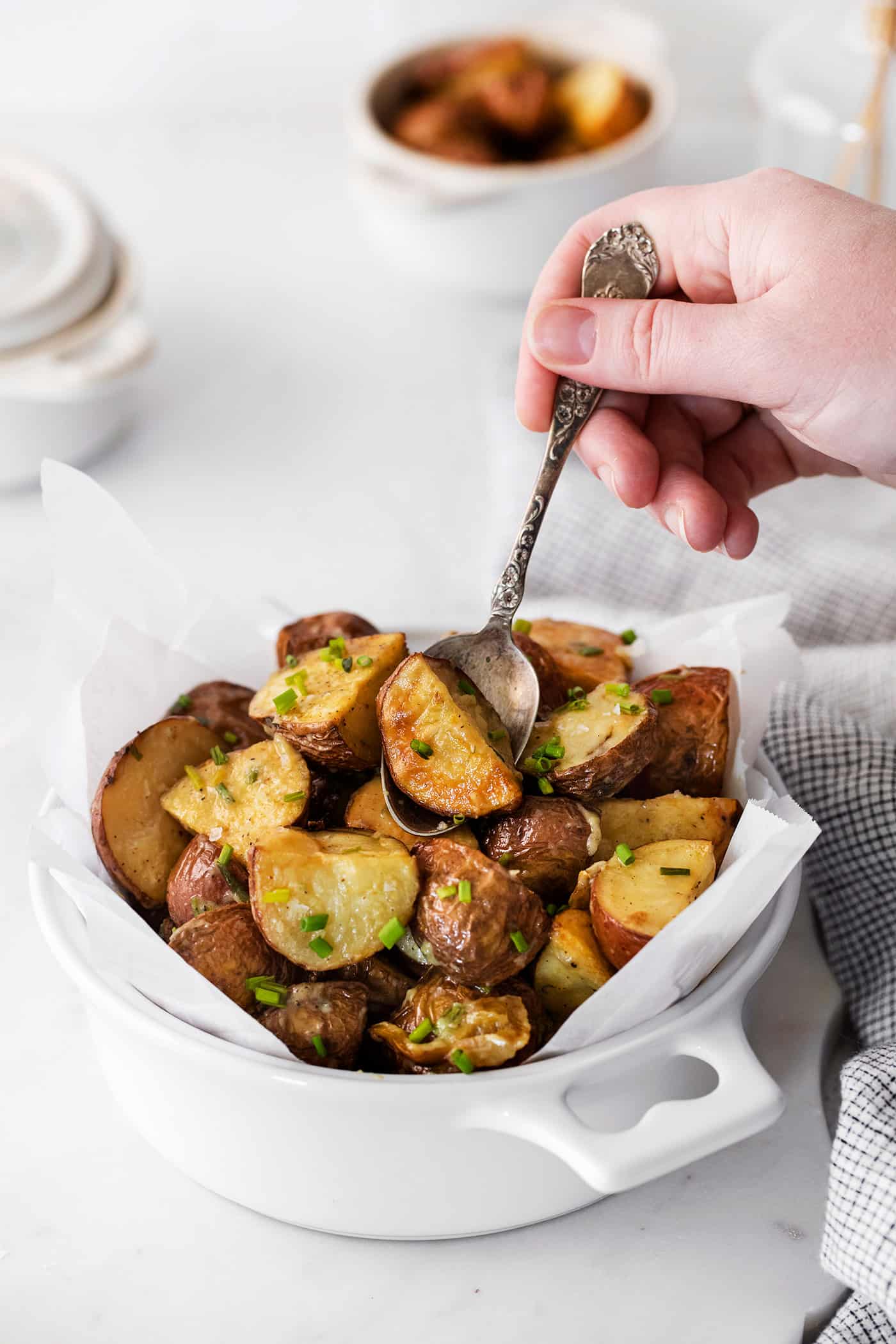 Serving Suggestions
These roasted new potatoes make a great side dish any time of year, with just about any menu.
Our family especially likes this tangy potato side dish with a pot roast or stuffed pork chops during the winter months.
And during the summer, it's perfect with anything fresh off the grill. Some of our favorite grilled entrees that pair well with these potatoes are: beer can chicken, quick & easy pork chops, turkey kebabs, and sugar grilled beef and asparagus kebabs. And nothing beats a simply grilled steak, hot and juicy from the grill's flames! Also think about incorporating this dish when you use barbeque sauce. To round out your meal from the grill, this grilled vegetable salad is also a winner!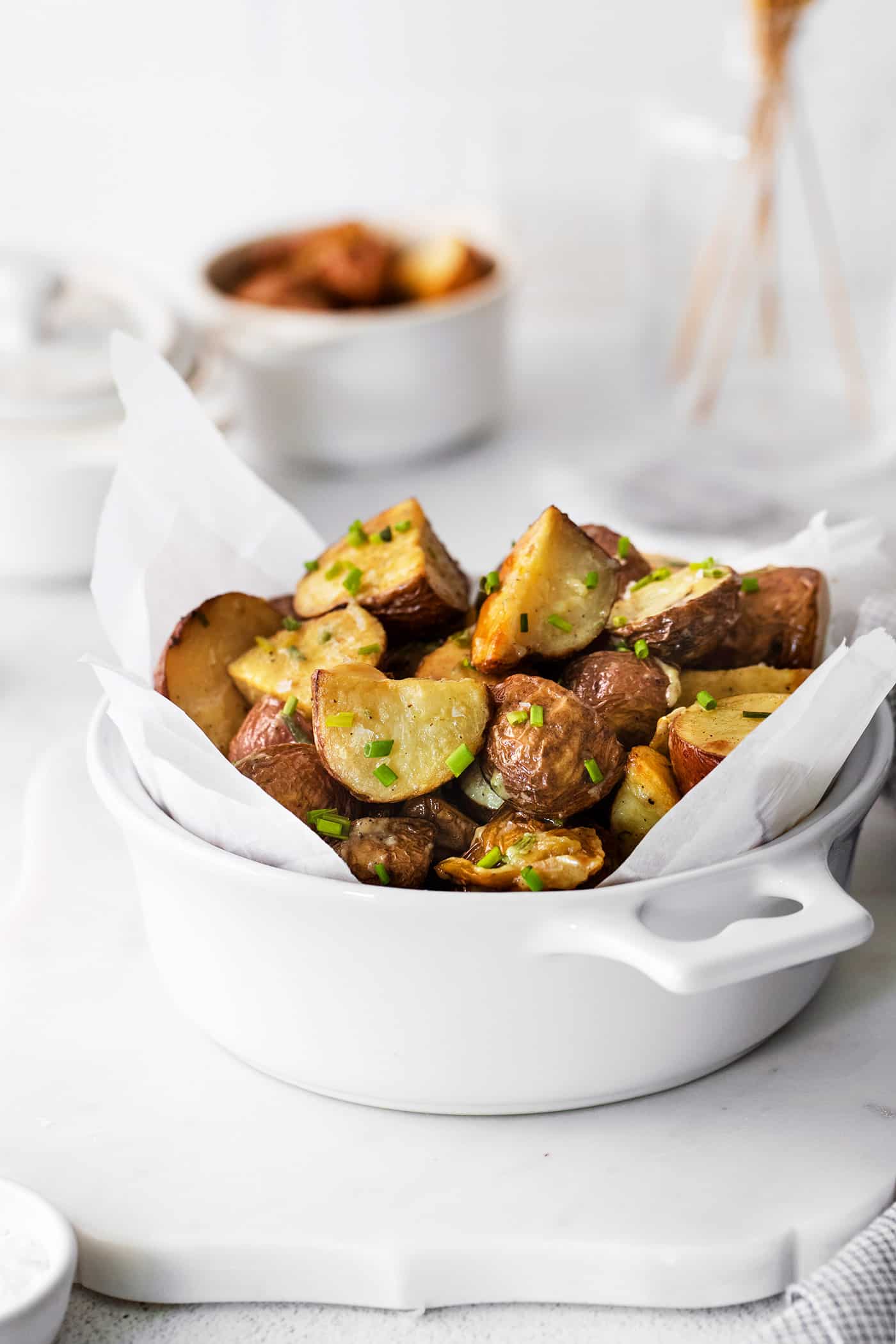 How to Store & Reheat Leftovers
How to store leftovers. Leftover roasted potatoes can be stored in the fridge in an airtight container for up to 3 days.
How to reheat leftovers. Reheat the leftovers on the stovetop, in the oven, or in a microwave. Just know that because the potatoes are dressed with a vinaigrette, you will not get that same crisp exterior as when the dish was just made.
Use cold and/or with other dishes. Also know that these potatoes are very enjoyable cold. Throw a few onto your fresh salad greens, for a heartier salad. Or repurpose the potatoes in frittatas and other recipes.
More Potato Recipes:
Like this recipe? Save it to Pinterest!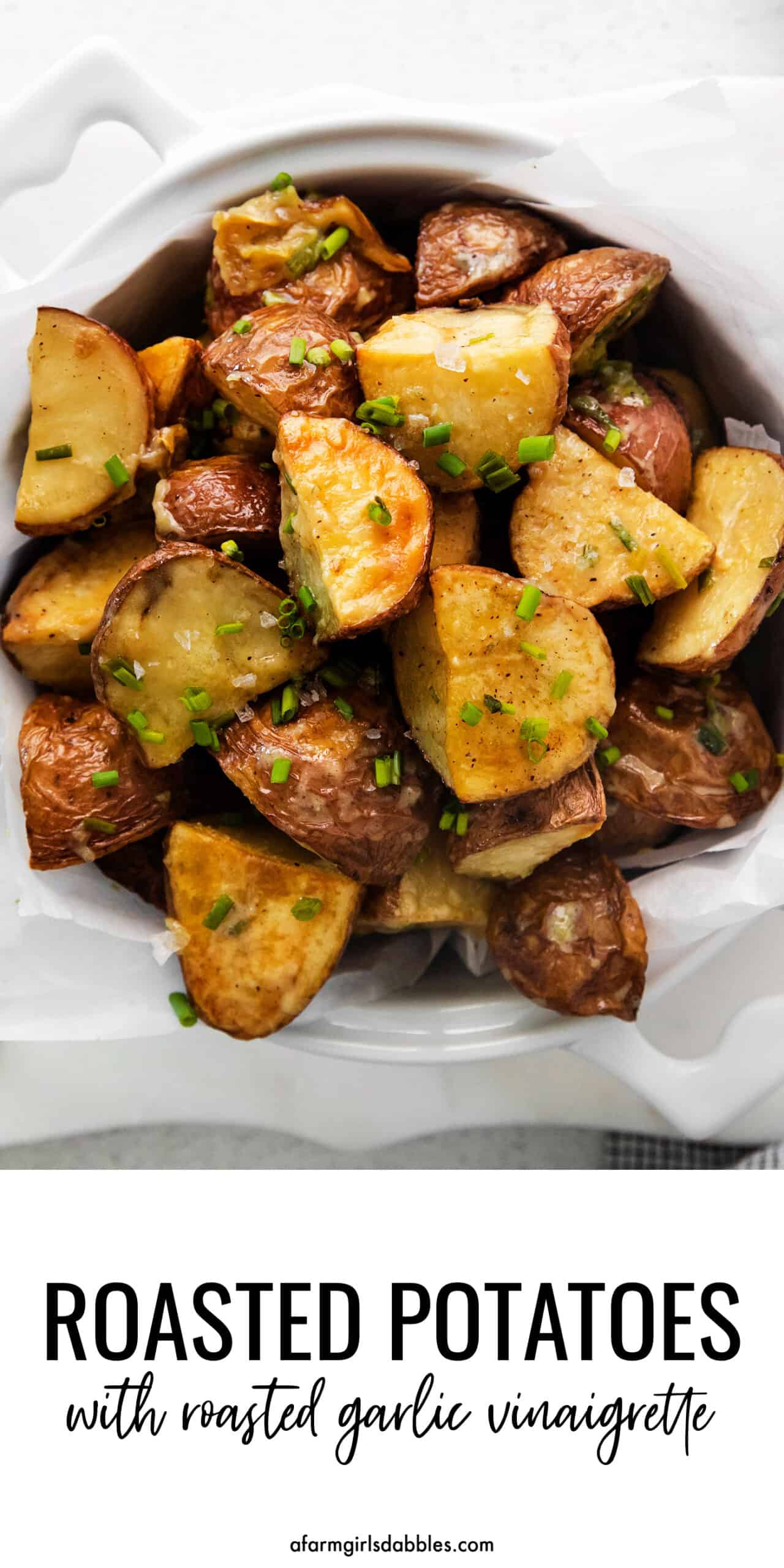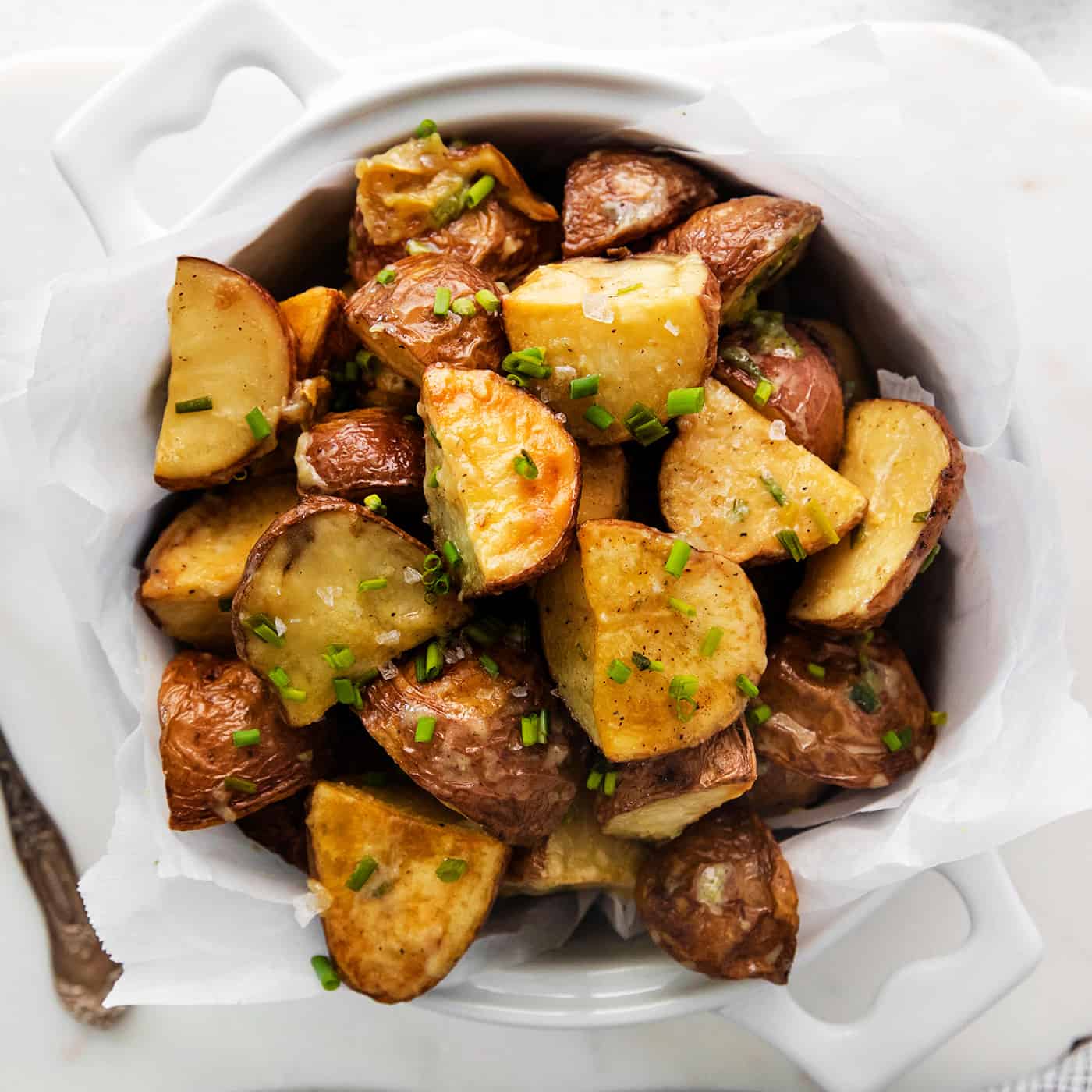 Potatoes with Roasted Garlic Vinaigrette
Yield: 8 servings
Prep Time: 20 minutes
Cook Time: 1 hour
Total Time: 1 hour 20 minutes
With a garlic and mustard vinaigrette, this Roasted Garlic New Potatoes recipe is an easy side dish that packs a flavorful punch. The potatoes are creamy on the inside, crispy on the outside, and tossed in roasted garlic goodness!
Ingredients
3 tablespoons olive oil, divided
1.25 teaspoons kosher salt, divided
1/2 teaspoon freshly ground black pepper, divided
7 large garlic cloves, unpeeled
3 pounds small red potatoes, quartered
3 tablespoons minced chives, plus a bit more for garnish
2 tablespoons white wine vinegar
2 teaspoons Dijon mustard
Instructions
Preheat oven to 400° F.
Combine 1-1/2 tablespoons of the olive oil, 1/2 teaspoon salt, 1/4 teaspoon pepper, garlic cloves, and potatoes on a large rimmed pan. (Cover pan with foil first, for easy clean-up!) Toss well to coat. Bake for 1 hour or until tender, stirring after 35 minutes. Keep an eye on the garlic - if it's soft before the potatoes are done, remove it to a plate and let the potatoes continue cooking. Once potatoes are completely tender, remove from oven and let cool for 5 to 10 minutes.
Squeeze garlic cloves to extract pulp. Discard skins. Combine garlic pulp, remaining 1-1/2 tablespoons oil, remaining 3/4 teaspoon salt, remaining 1/4 teaspoon pepper, chives, vinegar, and mustard in a large bowl; stir well with a whisk. Add potatoes to bowl; toss well to coat. Garnish with additional chopped fresh chives and some fresh cracked black pepper.
Nutrition Information:
Yield: 8
Serving Size: 1
Amount Per Serving:
Calories: 202
Total Fat: 5g
Saturated Fat: 1g
Trans Fat: 0g
Unsaturated Fat: 4g
Cholesterol: 0mg
Sodium: 418mg
Carbohydrates: 34g
Fiber: 3g
Sugar: 2g
Protein: 4g
Nutrition information is automatically calculated by Nutritionix. I am not a nutritionist and cannot guarantee accuracy. If your health depends on nutrition information, please calculate again with your own favorite calculator.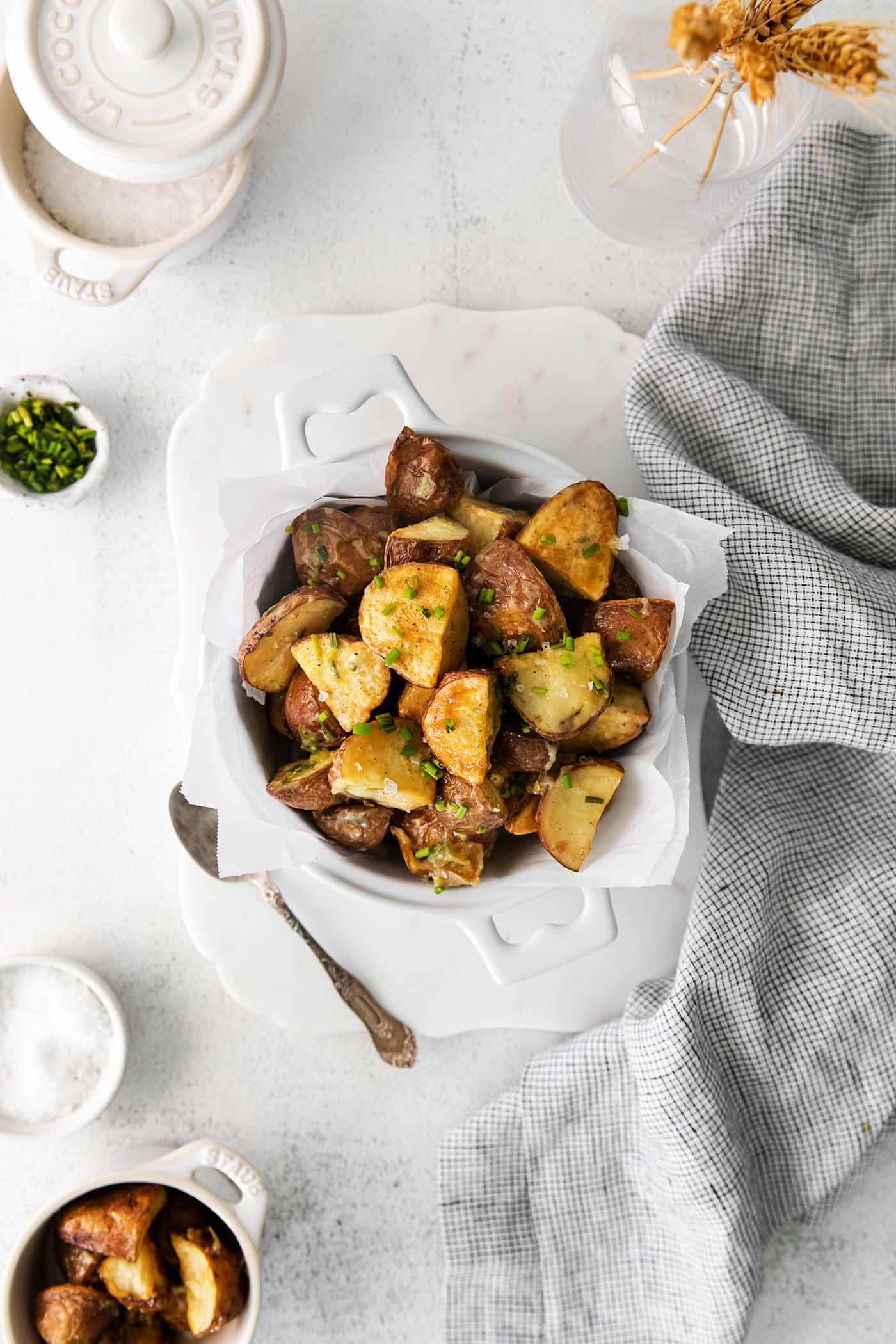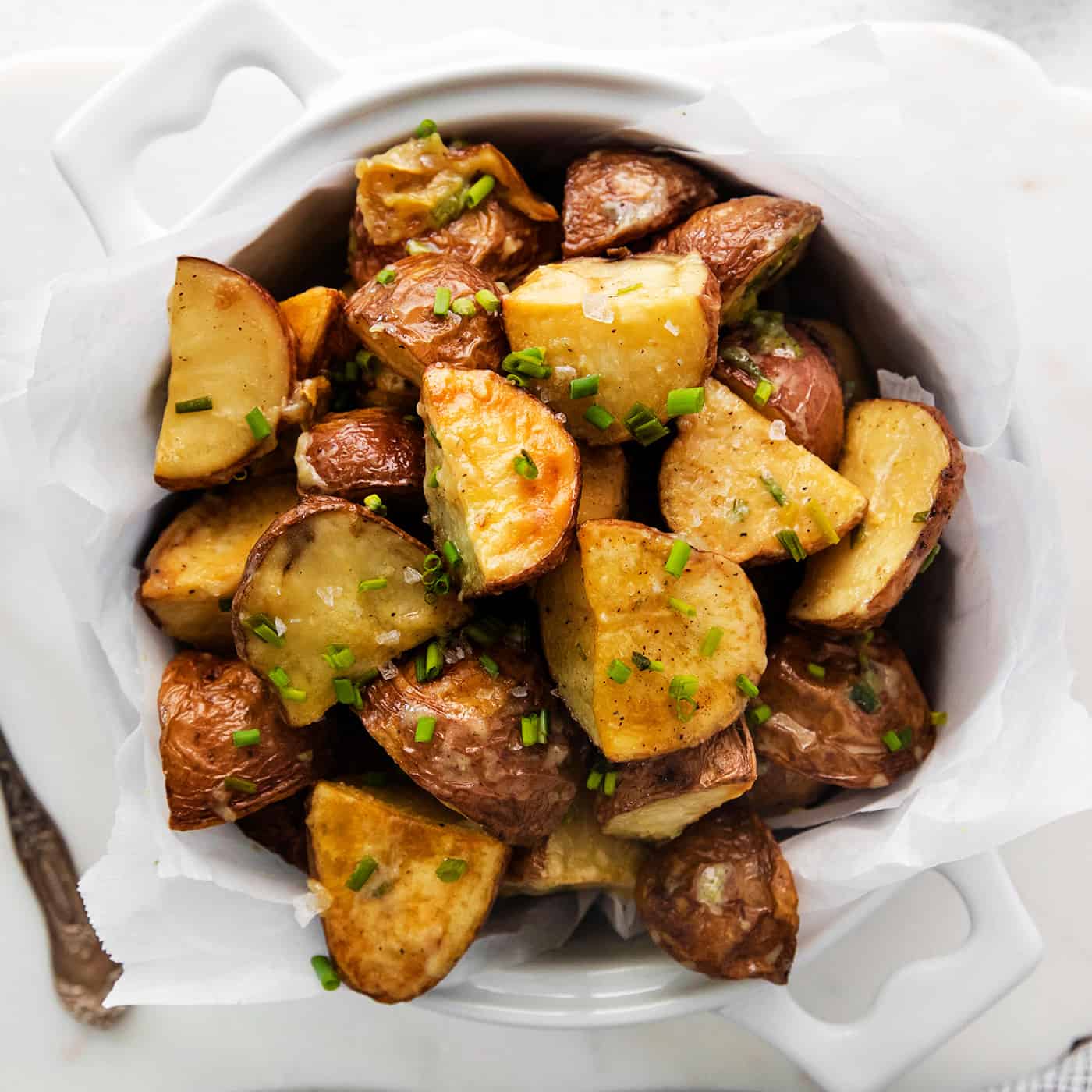 This post was originally published in 2010, and then updated in 2021.