Classic Pot Roast
This Classic Pot Roast is full of hearty comfort, with fork-tender beef and veggies in a rich, beefy broth. It's an easy, flavorful chuck roast recipe that's perfect for any chilly day – from a weeknight meal to Sunday dinner!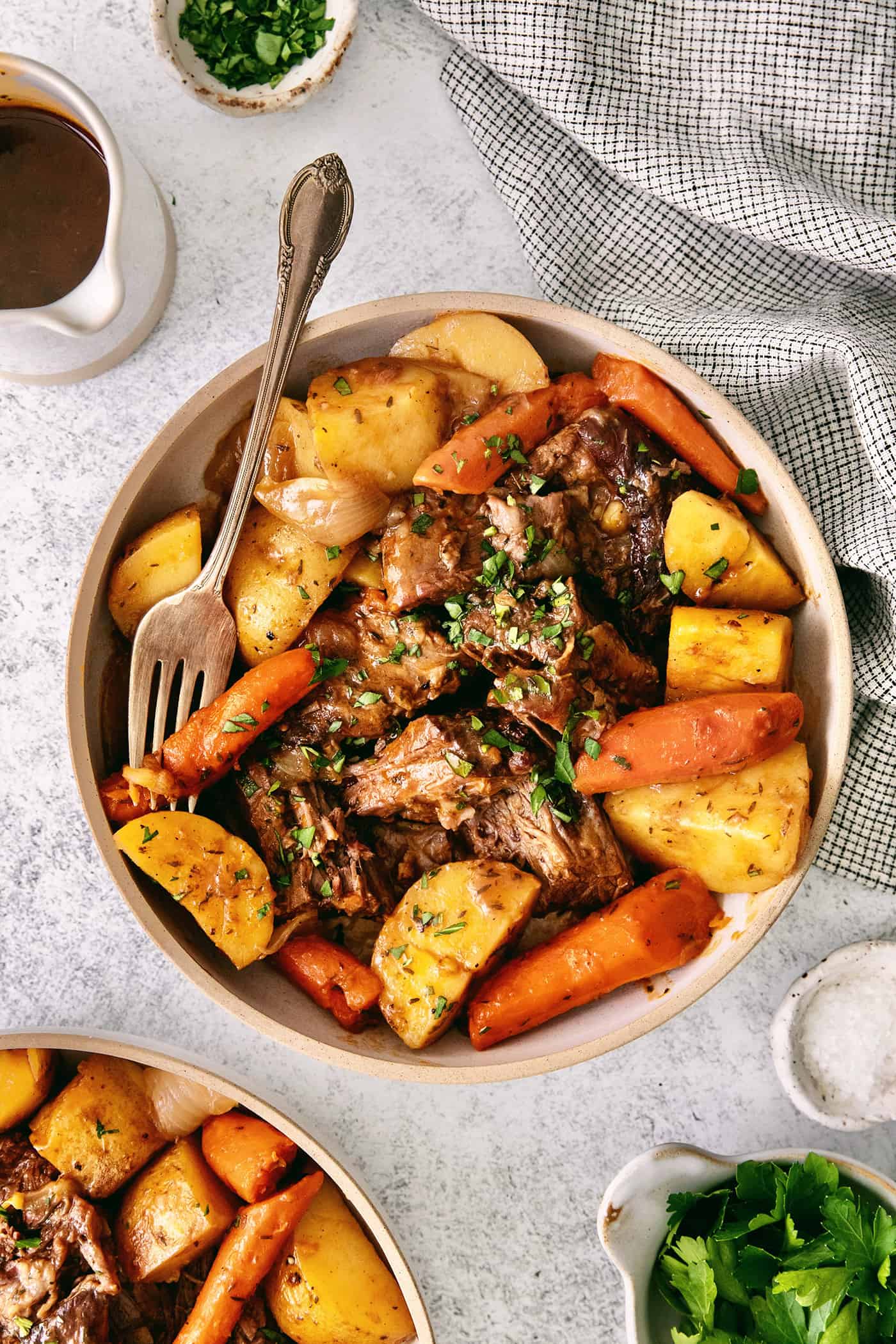 The Best Pot Roast Recipe
Everyone needs a Classic Pot Roast recipe – it's just the perfect meal for a chilly day. This has been my family's go-to recipe for more than a decade because it's crazy easy to make and loaded with fork-tender flavorful beef and veggies.
Winter just never seems to end this year. Monday was the first official day of spring, and while I'm seeing bulbs pop through on the south side of the house, our yard is still covered in a 2-foot blanket of snow!
From chilly fall days until the snow finally melts in spring, I'm grateful for this easy pot roast recipe. It's hearty with tender beef, potatoes, carrots, and onions – and incredibly flavorful in a rich, beefy broth.
Our family lives for this comfort meal. They like to break away their own portion of slow-cooked beef roast while it's still in the pot, with meat so wonderfully tender all that's needed is a fork. Such delicious JOY!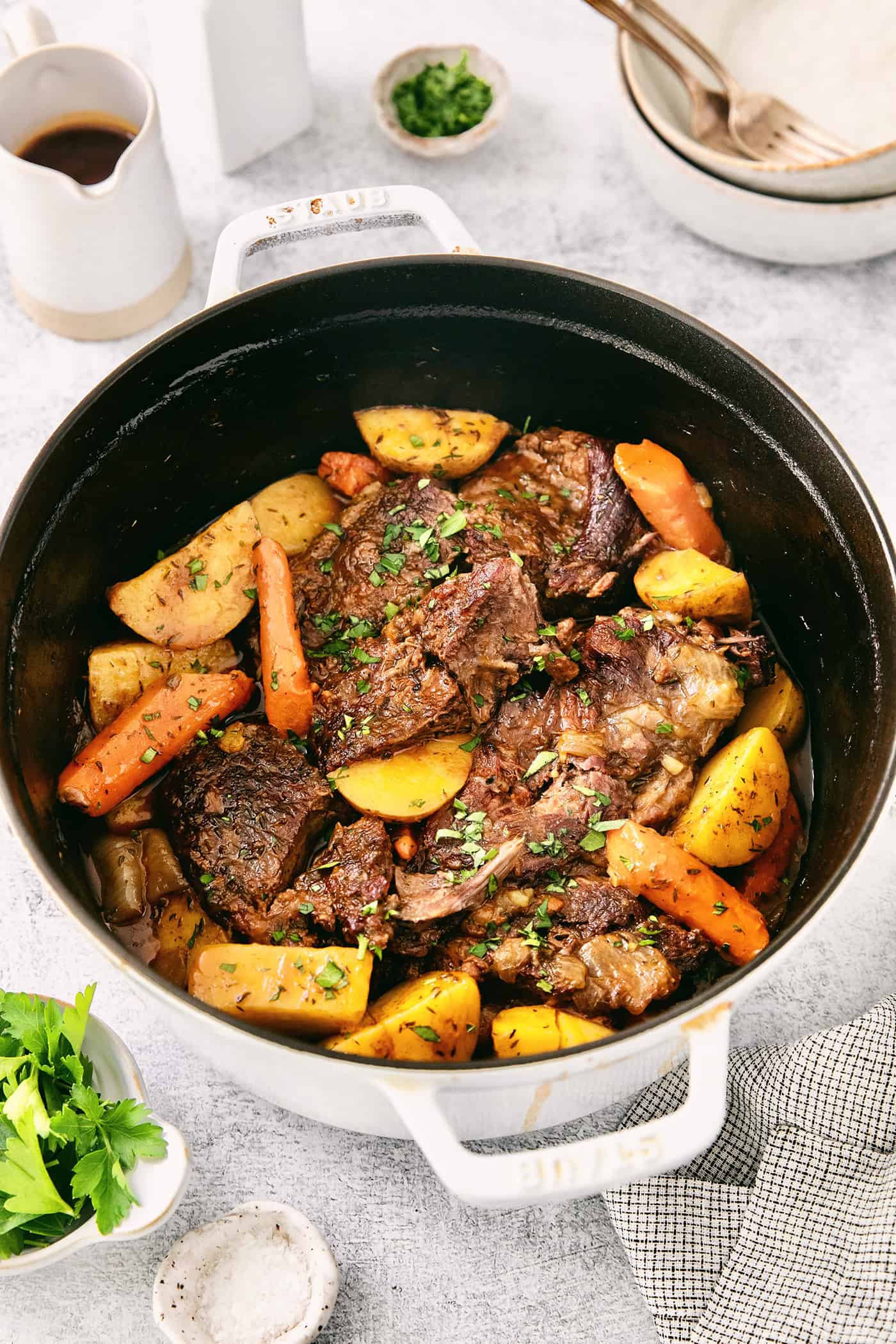 What is Pot Roast?
The term "pot roast" is more of a method than a recipe.
It's all about taking a big cut of tough beef and cooking it in a covered pot with liquid (broth, stock, beer, wine, water, etc.), some vegetables, and flavorings. It's slow cooked, at a low temperature for hours, until the meat becomes so tender that it breaks apart easily with fork.
Why You'll Love This Recipe
Here are a few reasons why this chuck roast recipe will quickly become a family favorite.
Hearty & filling. This is definitely a comfort food recipe, loaded with protein and rich, deep flavor.
Simple ingredient list with BIG flavor. No need to run to the store for special ingredients, this recipe sticks with basic ingredients to keep the focus where it belongs – on the tender roast! But basic does not mean boring, as this recipe includes a few ingredients that make this recipe sing: beer, tomato paste, and dried thyme. When roasted long and slow with the beef, the flavor is INCREDIBLE!!
Melt-in-your-mouth tender. The chuck roast is cooked slowly and the end result is beef that falls apart with only the nudge of a fork. It practically melts in your mouth!
Easy dinner in one. While you're welcome to add a side or two, you can easily serve this dish as a complete dinner on its own, as you have the roast, veggies, and potatoes all cooked in one pot.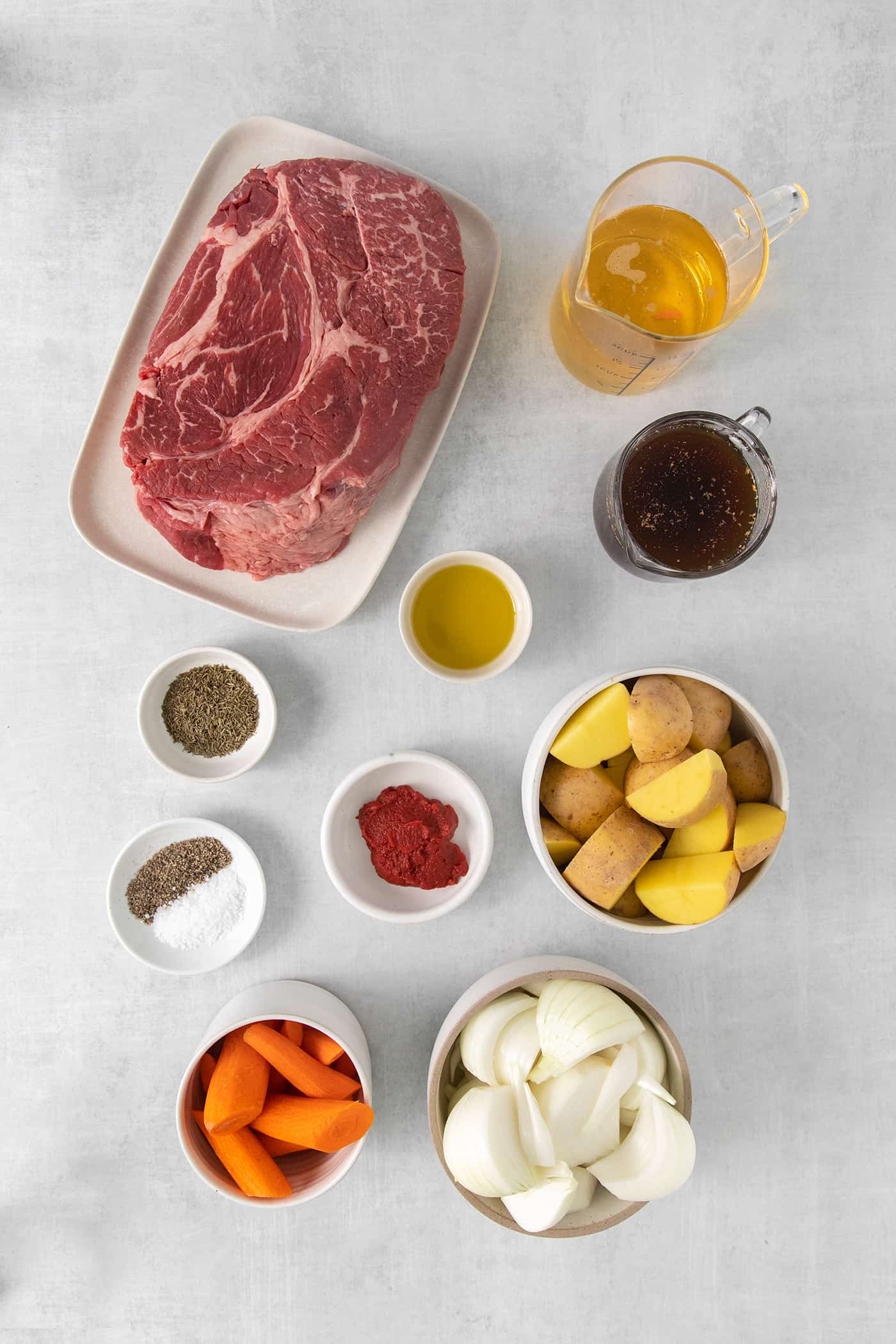 What You'll Need
This classic recipe consists of mostly whole food ingredients, plus a few seasonings.
See the recipe card below for ingredients measurements and full instructions.
Beef chuck roast – Look for a roast that's about 4 pounds for this recipe.
Salt & pepper
Olive oil
Carrots & onions – Classic pot roast ingredients that add both flavor and texture.
Dried thyme – This recipe calls for 2 teaspoons of dried thyme, which might seem like a lot, but it's the perfect amount.
Beer – You can use whatever beer you like, from light to full-bodied. I just recommend sticking to a more basic style of beer (not a craft beef with crazy fruit flavors, etc).
Beef broth – I always recommend using a low-sodium broth, to better control the final flavor. You can always add more salt, but you can't take it out!
Tomato paste – Just a bit of tomato paste adds a deep, rich flavor to the broth.
Potatoes – I recommend Yukon gold as they hold up well while still being tender and flavorful.
What Cut of Meat Is Used For Pot Roast?
You can use any beef roast to make a pot roast, but chuck roast is my go-to. Here's why:
Budget friendly cost
Becomes super tender when cooked long and slow
Has rich beefy flavor
When chuck roast is cooked properly, low and slow, it's pure magic. Tough cuts like this have a high amount of collagen, which breaks down into gelatin when slow cooked. This process tenderizes the meat, giving it that succulent, melt-in-your-mouth quality. Plus, it adds rich flavor, body, and texture to the braising liquid.
Other meat options: Bottom round, rump roast, and shoulder roast are other cuts that also work well.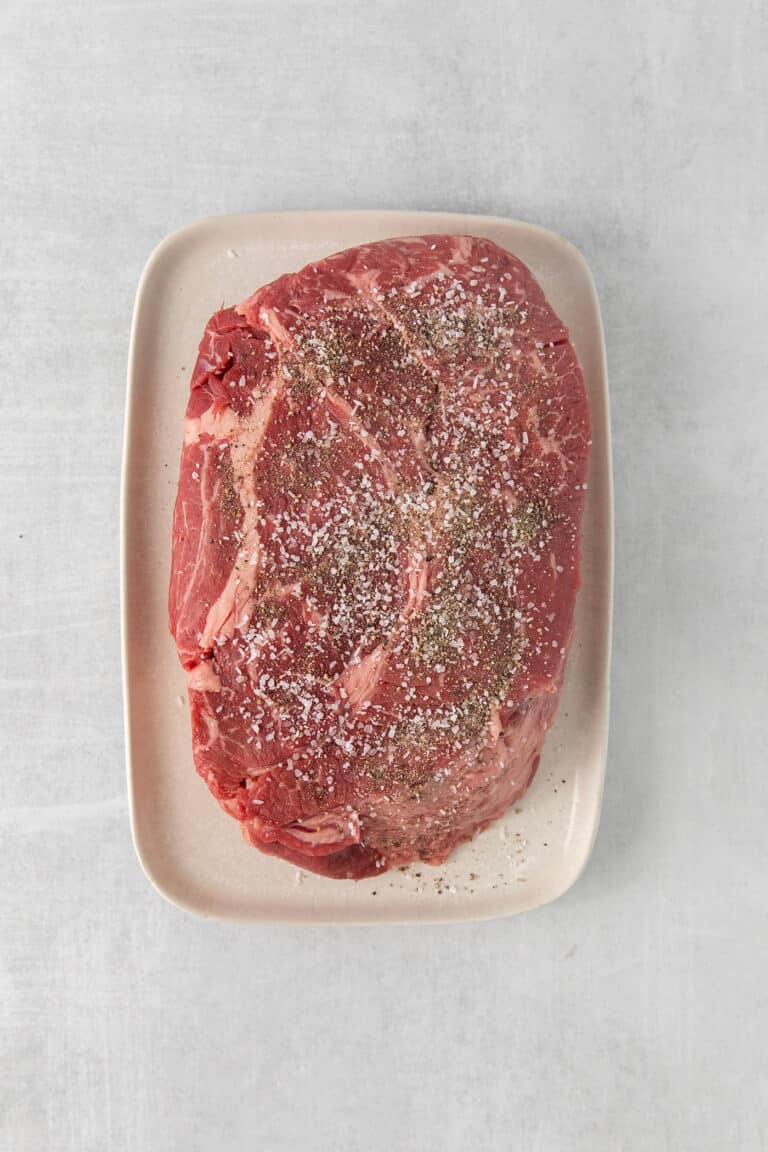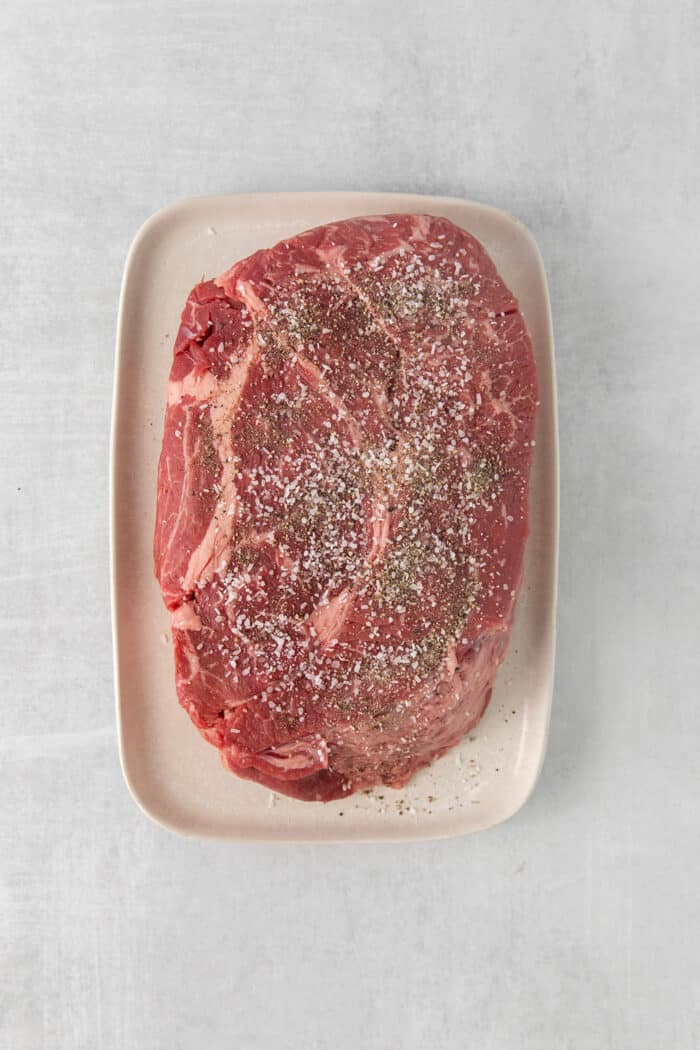 How to Make Classic Pot Roast
Here's how to make this easy pot roast in the oven.
Prepare the roast. Remove the roast from the fridge an hour before cooking. Dry with paper towels, then season with salt and pepper.
Sear the beef. Add olive oil to the bottom of the Dutch oven. Cook the roast, without moving, until deeply browned. Turn and continue browning each side. Transfer to a plate.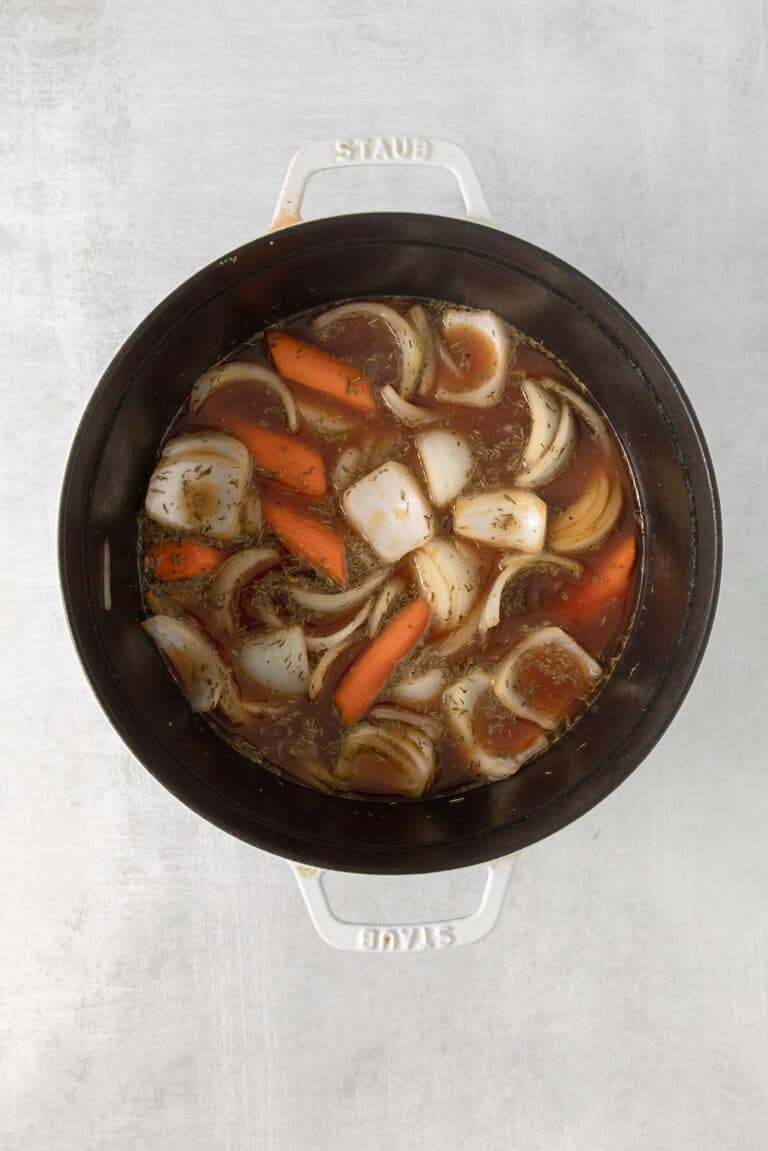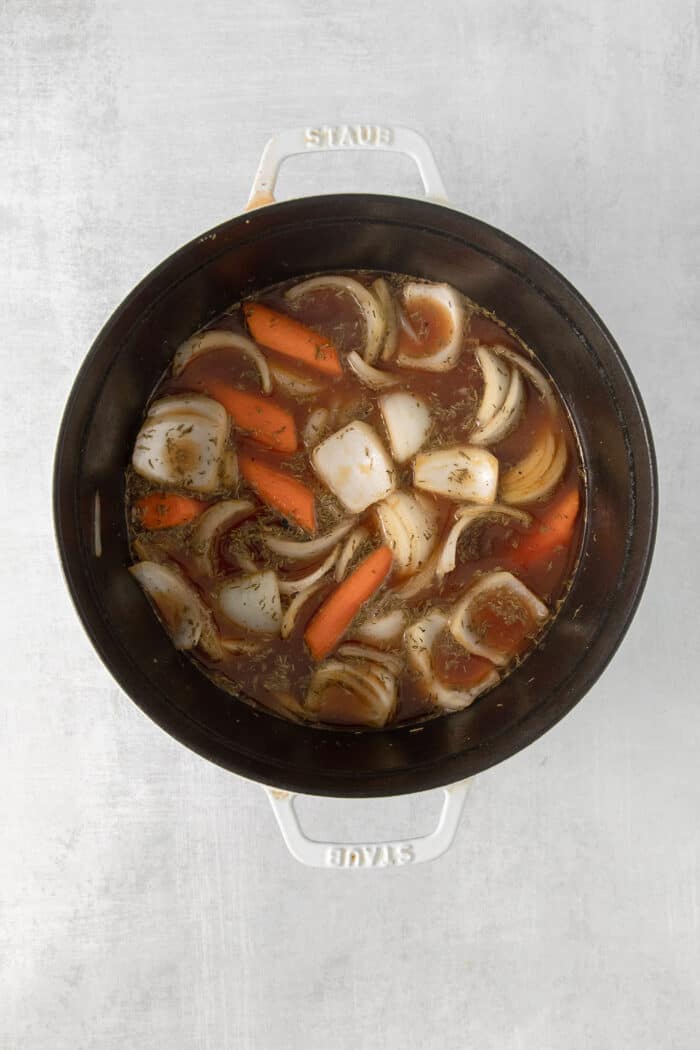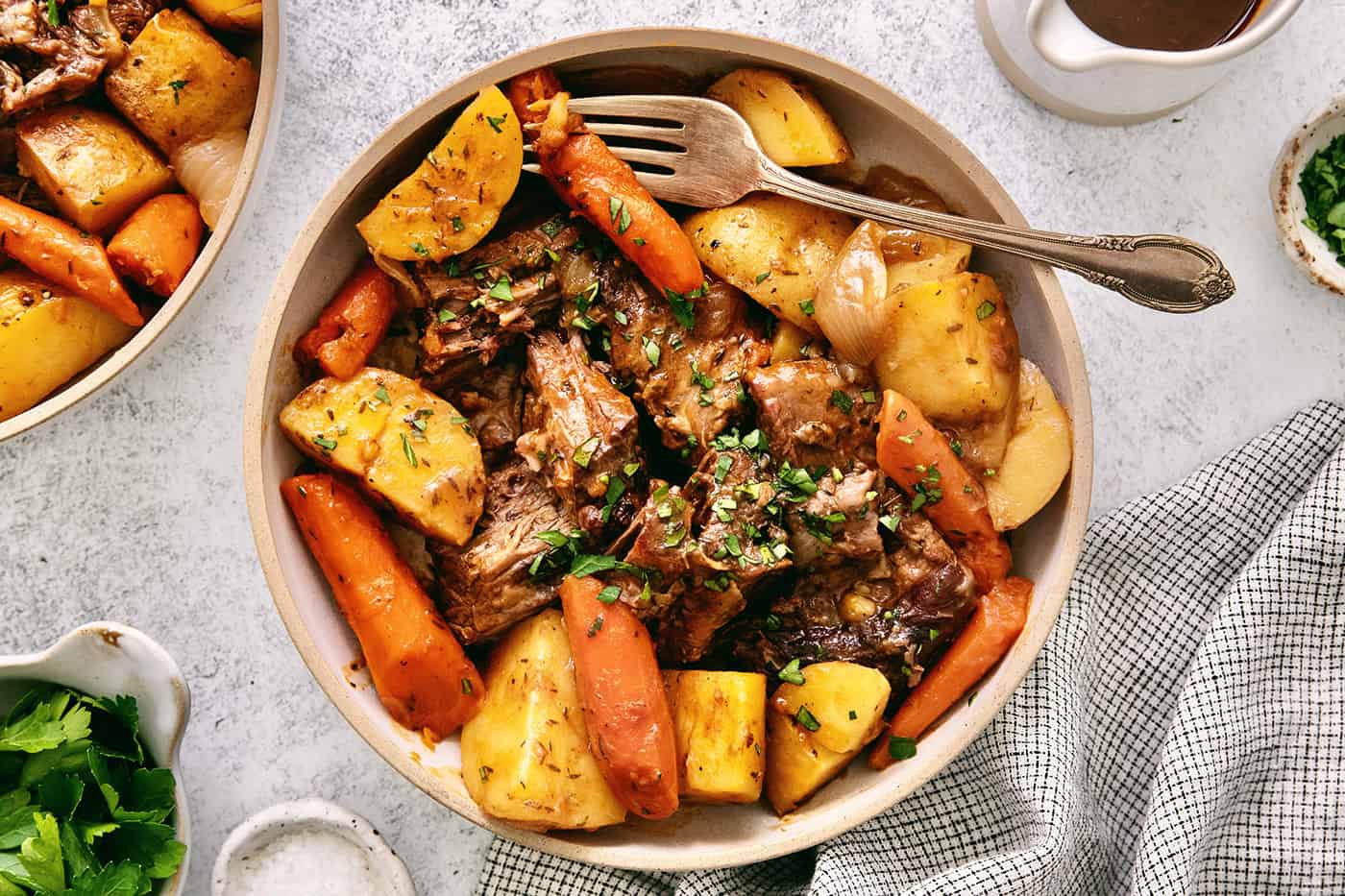 Cook the veggies. Cook the onions and carrots in the pot, until softened. Stir frequently, scraping the bottom of the pot. Add the thyme, beer, and broth, followed by the tomato paste. Bring the mixture to a boil.
Cook in the oven. Add the beef back to the pot, cover with a lid, and place in the oven. Cook for 2 1/2 to 3 hours total. Halfway through, flip the roast and add the potatoes, and then continue cooking. When done, the beef will break apart easily with a fork. Serve and enjoy!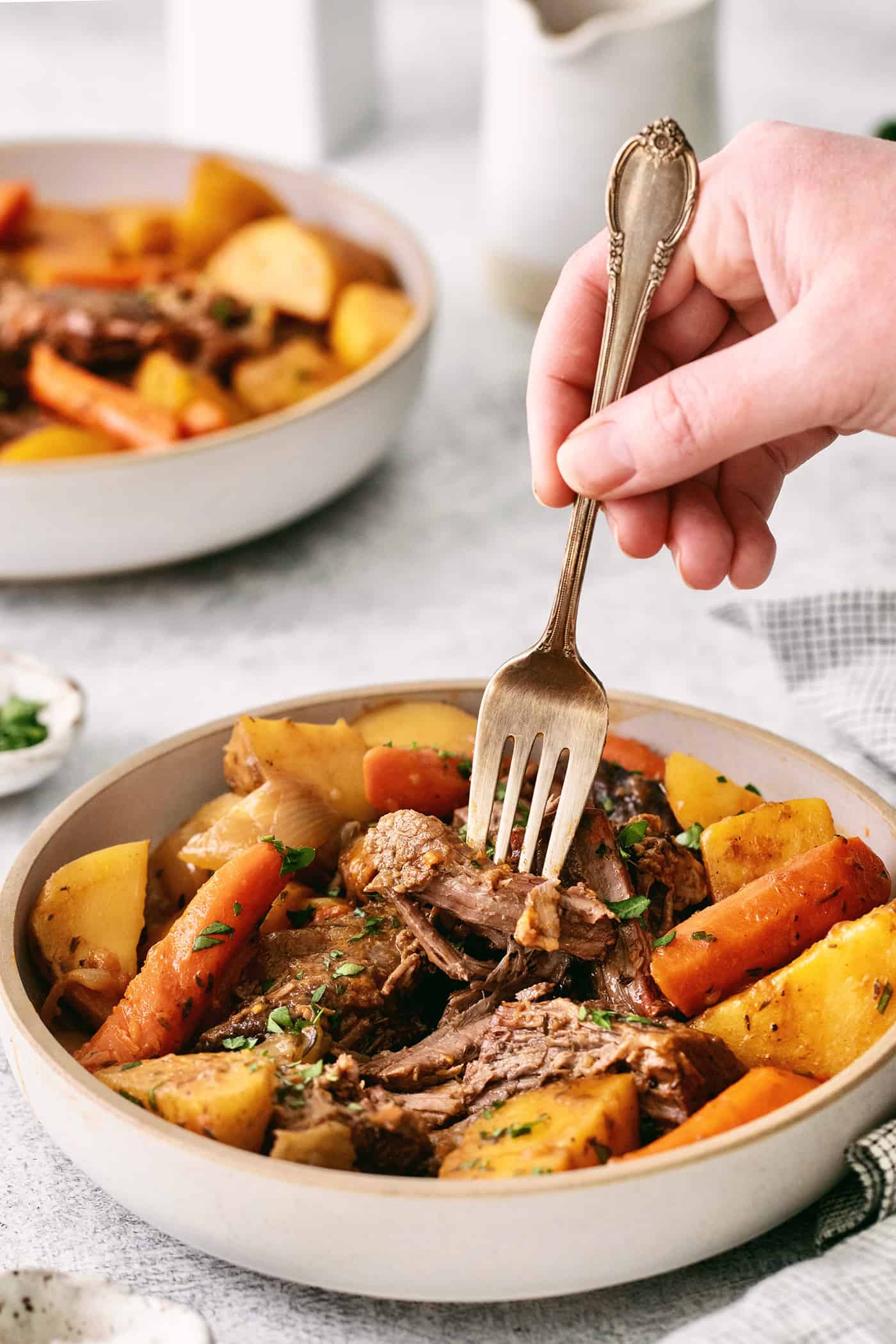 Recipe Tips, FAQs, and Variations.
Here are a few tips and variations for making this classic comfort food dish, as well as a few commonly asked questions.
Bring the roast to room temperature. I recommend taking the roast out of the fridge about an hour before you want to begin cooking. This allows it to come to room temperature before searing.
How do you know when pot roast is done? You'll know your chuck roast is done when it breaks apart easily with a fork. If you want to check the internal temperature, it should be between 190° F and 200° F.
Don't rush the cook time. The longer the chuck roast cooks, the more tender and flavorful it will be. If the roast isn't fall-apart-tender after cooking for 3 hours, have patience and keep cooking. If the pot needs more liquid, add a little more beef broth.
How long do you need to cook pot roast? The exact time needed will depend on the kind and size of the roast, but generally around 3 hours for a 4-pound roast in a 350° F oven.
Try other veggies. Carrots, potatoes, and onion are classic pot roast ingredients. However, you can experiment with adding parsnips, turnips, rutabaga, or other root veggies as well. I also like to add mushrooms!
Swap out the beer. This hard cider pot roast recipe uses hard cider – and it's SO GOOD! Either way, you won't taste the beer or hard cider once the pot roast has finished cooking, as the alcohol cooks off. They just give delicious flavor. If desired, eliminate the beer altogether and substitute with more beef broth.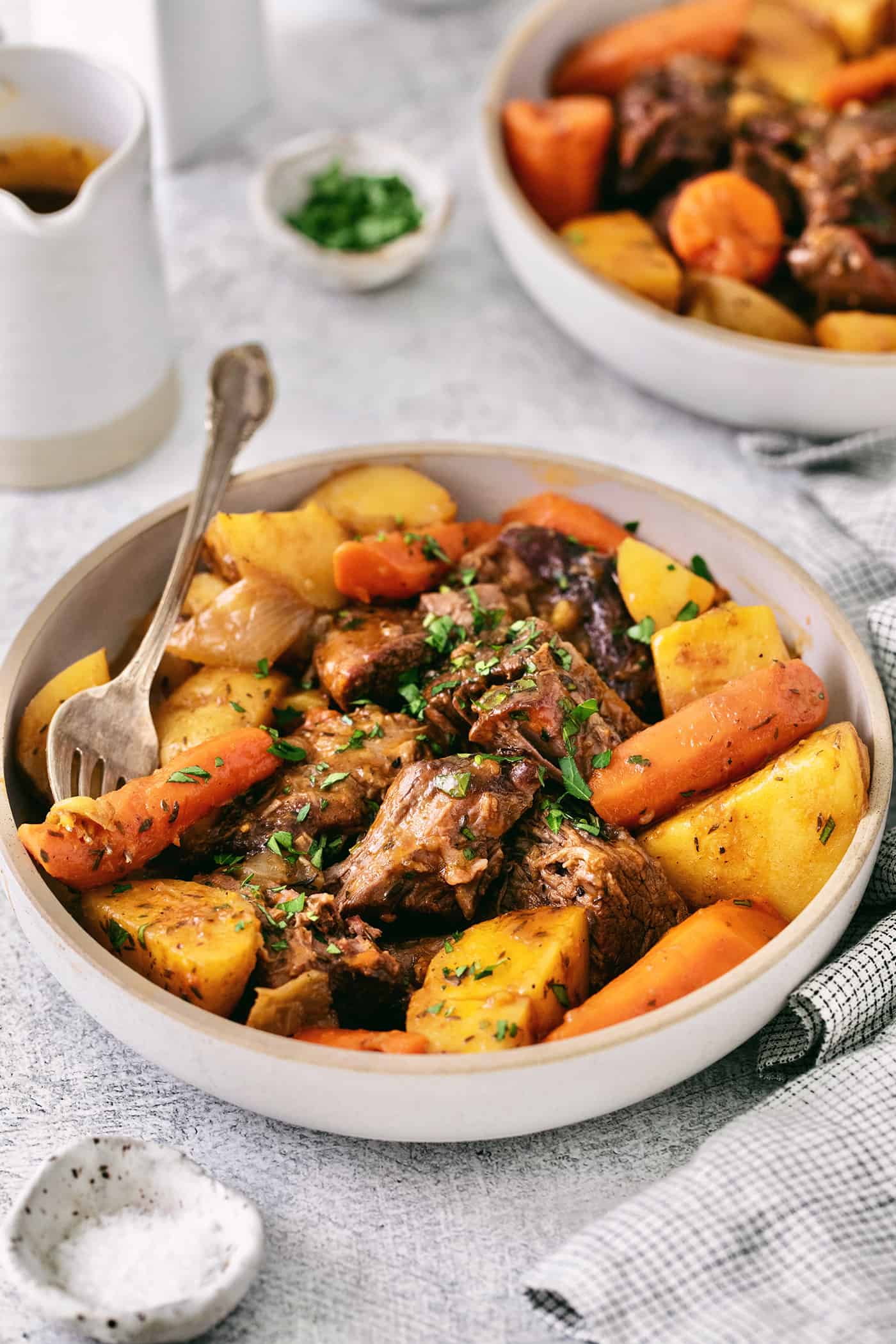 What to Serve with Beef Pot Roast
With meat, potatoes, and veggies, all cooked perfectly together, this easy pot roast recipe makes a great meal all on its own – no need to think any further!
But if you want to add another side, mashed potatoes (either regular creamy mashed potatoes or buttermilk potatoes) are always a great option, as my family loves mashed potatoes. When I go this route, I eliminate the potatoes in the pot roast and add more carrots and onions, and sometimes mushrooms.
It's also pretty wonderful to have a vessel to soak up all that delicious beef broth, whether that's garlic bread, Texas toast, cornbread, popovers, or plain crusty bread!
And a fresh salad is always welcome on my table. With pot roast, I'd keep it simple – a big bowl of fresh greens topped with sliced tomato, onion, and cucumber – plus buttermilk ranch dressing. A tangy cucumber salad would be another great option!
How to Store & Reheat Leftovers
Fridge. Store any leftover beef pot roast in an airtight container in the fridge for up to 4 days. You can reheat large quantities in the oven but the microwave is usually the easiest. Be sure to store it with any extra juice to keep it tender and moist.
Freezer. To freeze leftover pot roast, store with any extra juice in a freezer-safe container or bag for up to 3 months. Thaw overnight in the fridge and reheat in the oven or microwave. If it appears dry, add a splash of beef broth.
More Comfort Food Dinners:
Like this Recipe? Save to Pinterest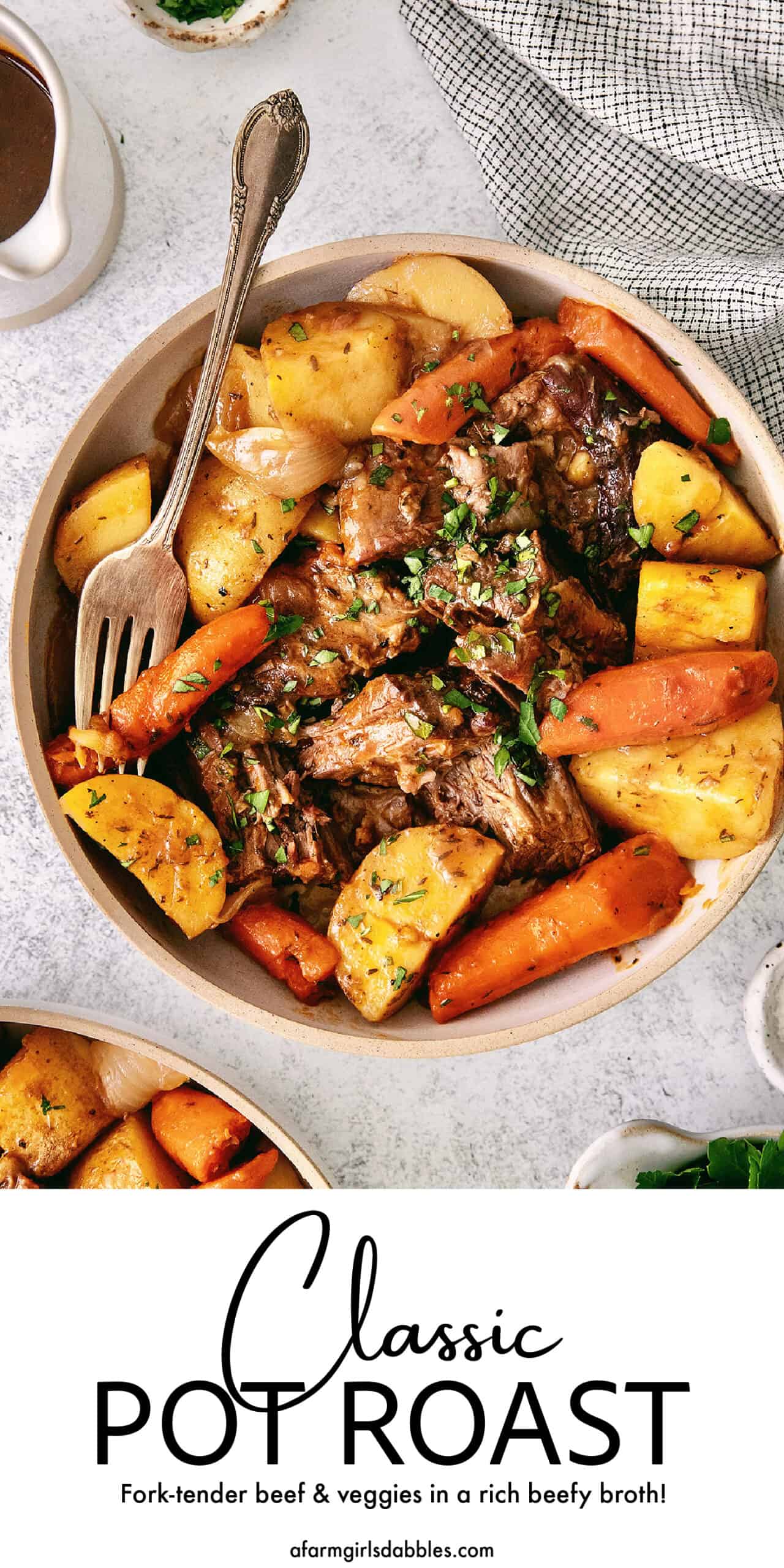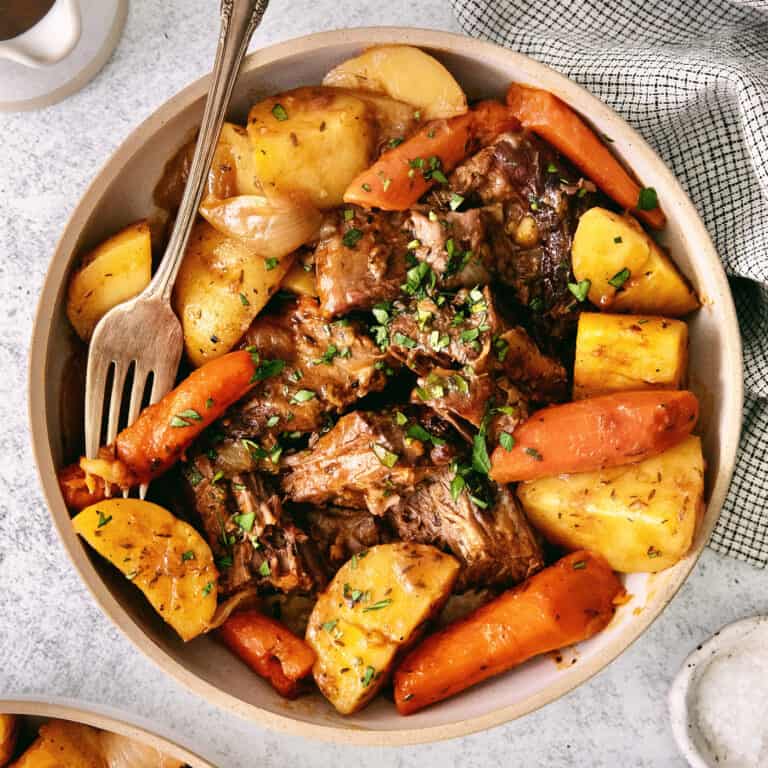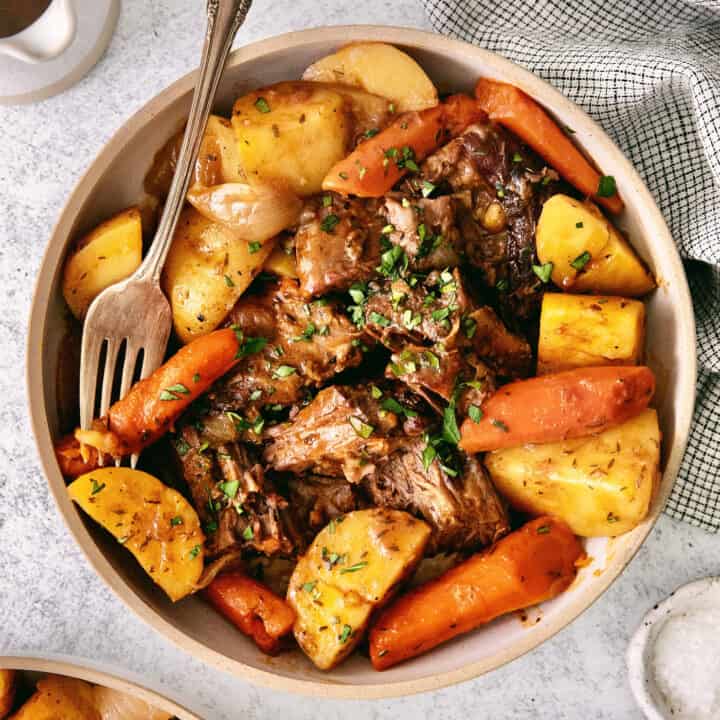 Classic Pot Roast
Yield: 8 servings
Prep Time: 30 minutes
Cook Time: 3 hours
Total Time: 3 hours 30 minutes
This Classic Pot Roast is full of hearty comfort, with fork-tender beef and veggies in a rich, beefy broth. It's an easy, flavorful chuck roast recipe that's perfect for any chilly day - from a weeknight meal to Sunday dinner!
Ingredients
4 pounds boneless beef chuck roast
2 teaspoons Morton kosher salt
1 teaspoon black pepper
olive oil
2 large yellow onions, chopped into 1″ pieces
4 large carrots, peeled and sliced into 1″ pieces
2 teaspoons dried thyme
12 ounces beer
1 cup low-sodium beef broth
2 tablespoons tomato paste
4 small Yukon gold potatoes, cut into 1" pieces
Instructions
An hour before starting to cook, remove roast from the refrigerator. Pat it dry with paper towels. Place on a plate and sprinkle with salt and pepper. Let stand at room temperature.
Preheat oven to 350° F. Place a 5 to 7-quart Dutch oven over medium-high heat. When hot, add enough olive oil to create a thin film over the bottom of the pot. When the oil is shimmering, add the beef and let it cook, without moving it, until it is deeply browned on the bottom and lifts easily from the pot when turned. This should take about 8 minutes or so. Continue to brown all sides of the meat, turning as needed. Transfer meat to a plate and set aside.
Add the onions and carrots to the pot and cook, stirring and scraping the bottom of the pot with a wooden spoon, until veggies are a bit softened, about 5 minutes. Add the thyme, beer, and broth. Stir and scrape the bottom of the pot to release any tasty browned bits.
Stir in the tomato paste. Let mixture come to a boil, then return meat and any accumulated juices to pot.
Cover pot and transfer to the oven. Halfway through cooking, flip the roast and add the potatoes, sinking the potatoes into the liquid. Cook until meat is tender and pulls apart easily when prodded with a fork - about 2½ to 3 hours total, depending on the size and cut of meat.
There are a couple of different ways you can finish up this beautiful pot roast: 1) For a simple weeknight meal, just break apart the meat with a wooden spoon while it sits in the juices in the pot. This is personally my favorite way to eat the roast, all loose and juicy and tender. 2) For a sliced look, remove the meat from the pot after it has been in the oven for about 2 hours. Then slice it against the grain and return it to the pot, along with any accumulated juices, nestling it back into the veggies and juices. Return the pot to the oven and cook for another 30 to 60 minutes, or until fork-tender.
Nutrition Information:
Yield: 8
Serving Size: 1
Amount Per Serving:
Calories: 662
Total Fat: 37g
Saturated Fat: 15g
Trans Fat: 2g
Unsaturated Fat: 19g
Cholesterol: 188mg
Sodium: 574mg
Carbohydrates: 22g
Fiber: 3g
Sugar: 4g
Protein: 59g
Nutrition information is automatically calculated by Nutritionix. I am not a nutritionist and cannot guarantee accuracy. If your health depends on nutrition information, please calculate again with your own favorite calculator.