Espresso Martini
This Espresso Martini is a beautiful coffee cocktail made with just 4 ingredients. It's strong, slightly sweet, and a little bit creamy, the perfect brunch or after-dinner drink. A coffee lovers dream!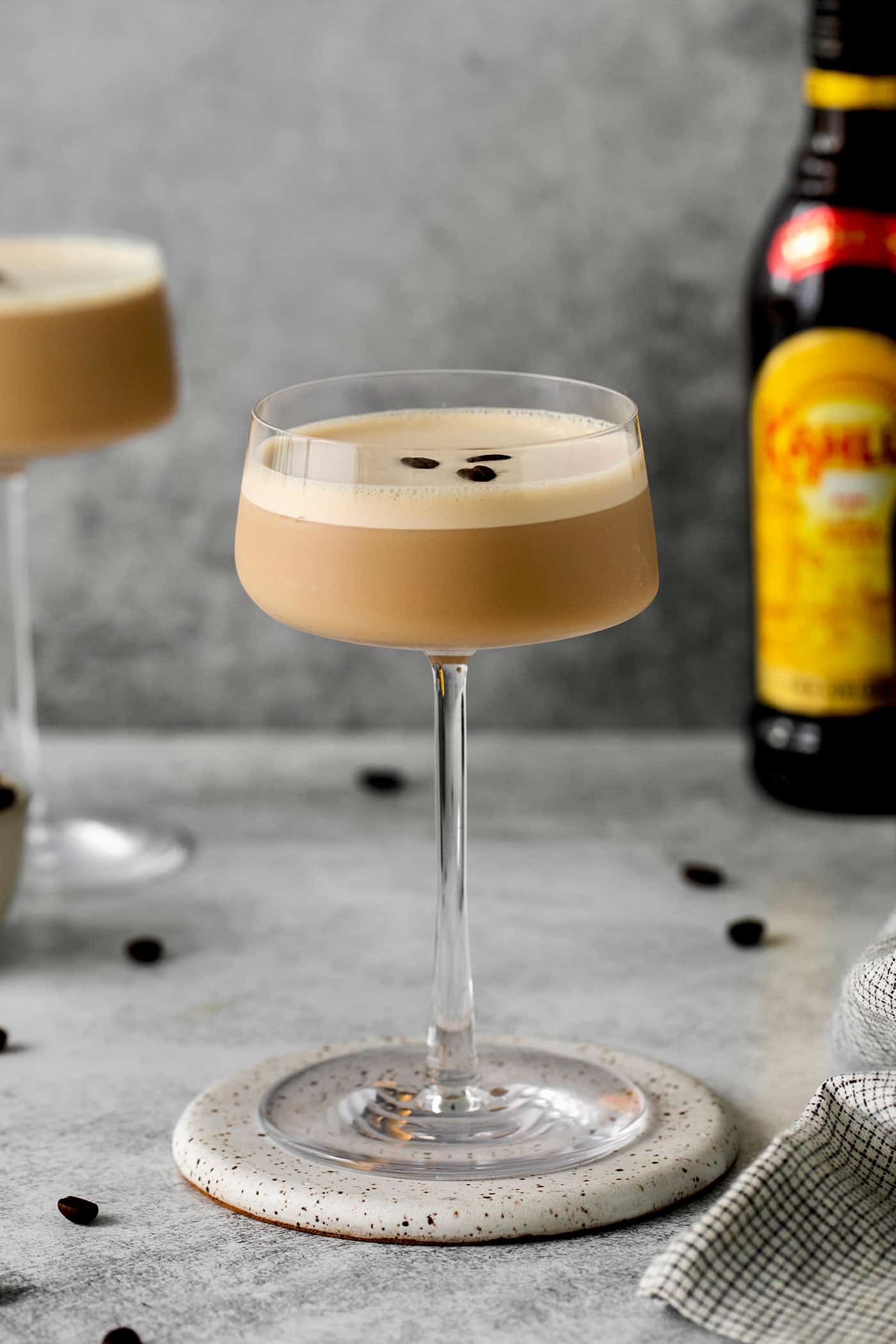 Easy Coffee Cocktail Recipe
This gorgeous cocktail is for all you coffee lovers – an Espresso Martini!
With a caffeinated twist on the classic martini, this eye-catching drink is made with just 4 ingredients – espresso, coffee liqueur, vodka, and Irish cream liqueur. While Irish cream isn't typically included in an espresso martini, I love how it softens both the texture and the flavor – it's really quite lovely.
This coffee martini is easy to make at home, no need to find a bar that specializes in making one. All you need to do is shake everything together and strain it into a glass.
It's perfect for sipping during brunch, with a stack of pancakes or waffles. Or – if a little caffeine buzz doesn't keep you up at night – it makes for a lovely after-dinner dessert cocktail, much like hot buttered rum coffee and Mexican coffee. Enjoy!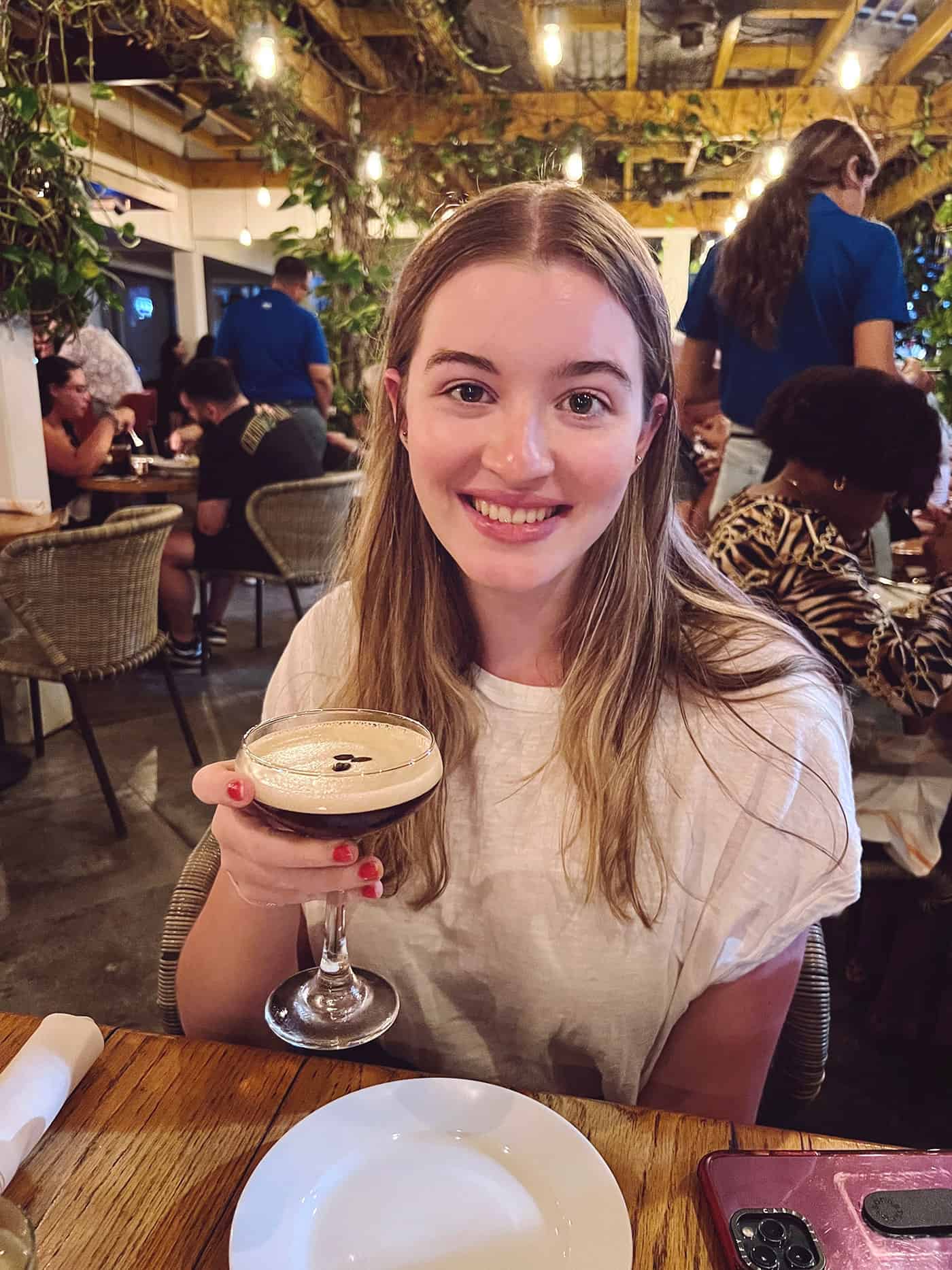 The Story Behind This Recipe
It's our oldest daughter's birthday today. Her 21st birthday!
It's also my dad's birthday, how cool is that?!
Our family traveled to Puerto Rico a couple weeks ago, during Hatti's college spring break. We enjoyed wood fired pizzas on the beautiful open air patio at Serafina one evening, after hiking in the rainforest earlier that day.
Hatti loves coffee and ordered an espresso martini (drinking age is 18 in Puerto Rico). It was beautiful and strong, which pretty much sums up our girl – the inspiration behind this recipe.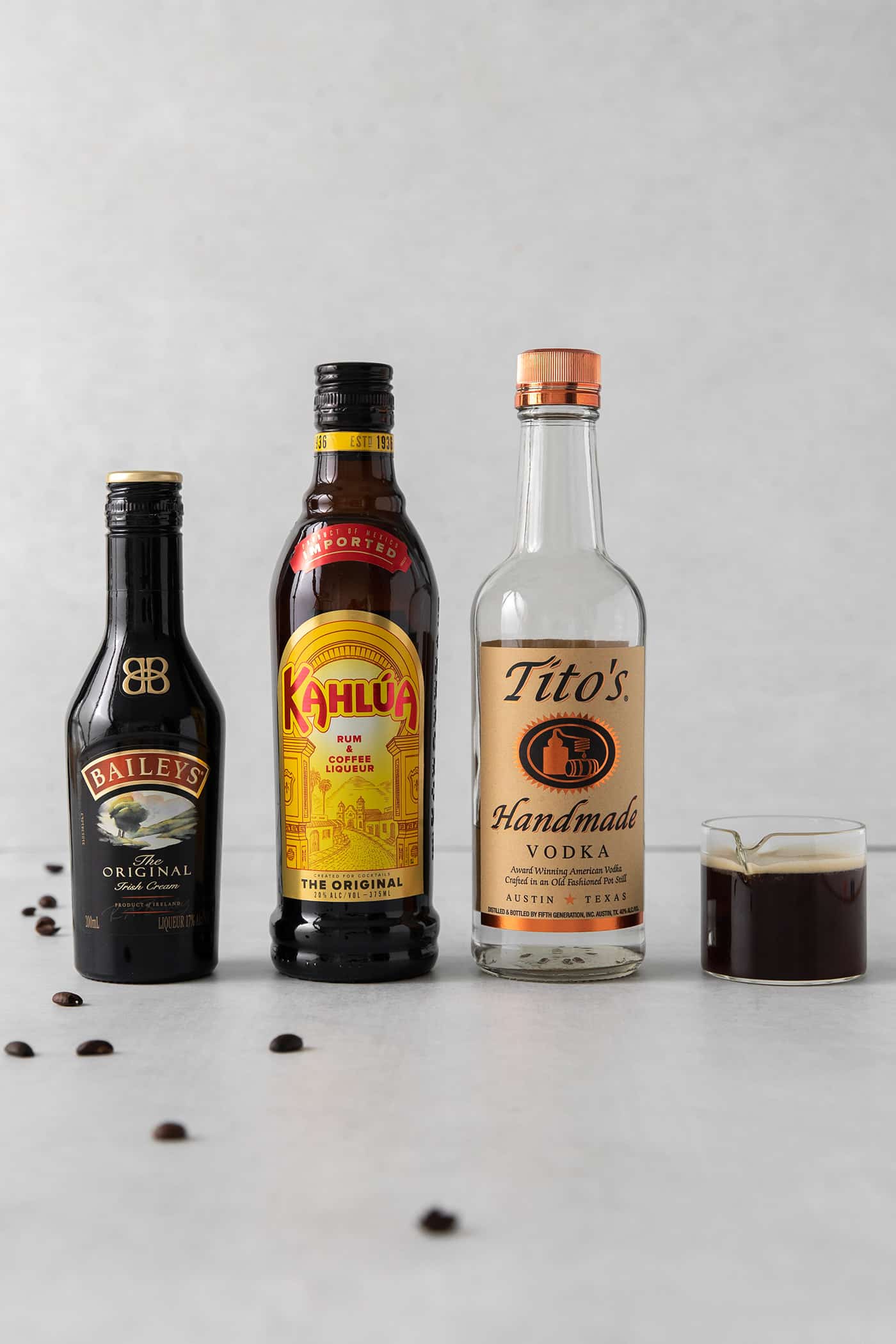 What You'll Need
This classic coffee martini is made with just 4 ingredients, plus a coffee bean garnish.
See the recipe card below for exact measurements and instructions.
Espresso – Use strong espresso, preferably freshly brewed in a machine that produces a nice amount of froth. If you have an espresso machine, perfect! We have a Nespresso machine and use a medium to dark roast pod, and this works great.
Vodka – Use your favorite unflavored vodka. There's no need to buy a premium vodka, but do stay away from the really cheap stuff.
Coffee liqueur – This adds even more rich coffee flavor to the cocktail.
Irish cream liqueur – This liqueur blends Irish whiskey and spirits with cream, plus a touch of chocolate and vanilla flavors. I like how this ingredient not only adds a lightly creamy texture to the drink, but also a bit of sweetness – which eliminates the need for additional sweeteners. I prefer a Baileys espresso martini, but this liqueur is optional .
Coffee beans – A classic garnish for this drink – always 3 beans. It's a fun garnish, for looks only, and not necessary for taste.
What Alcohol Is Best For An Espresso Martini Cocktail?
This recipe uses 3 different types of alcohol – unflavored vodka, coffee liqueur, and Irish cream liqueur.
For the vodka, any quality vodka works, as long as it's unflavored. You do want to make sure you're using a vodka that you already enjoy drinking – avoid the really cheap stuff.
For the liqueurs, I stick with my favorites – Kahlua coffee liqueur and Baileys Original Irish Cream – though you can use other brands.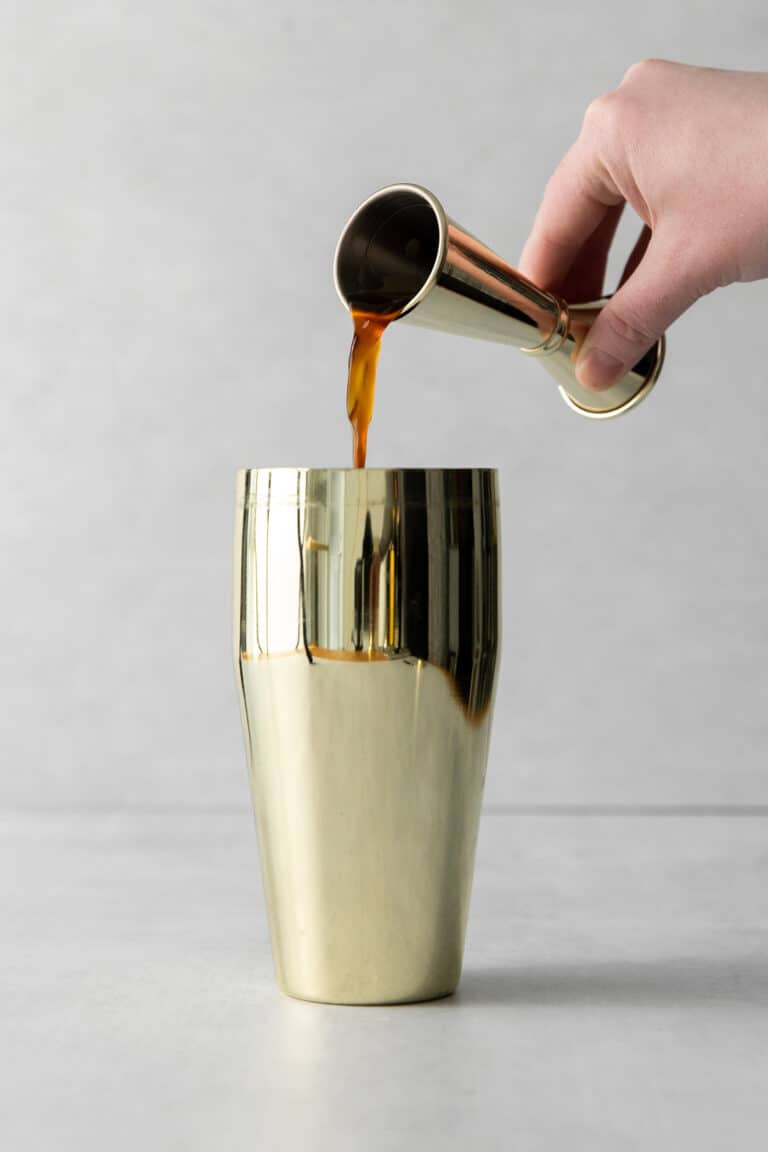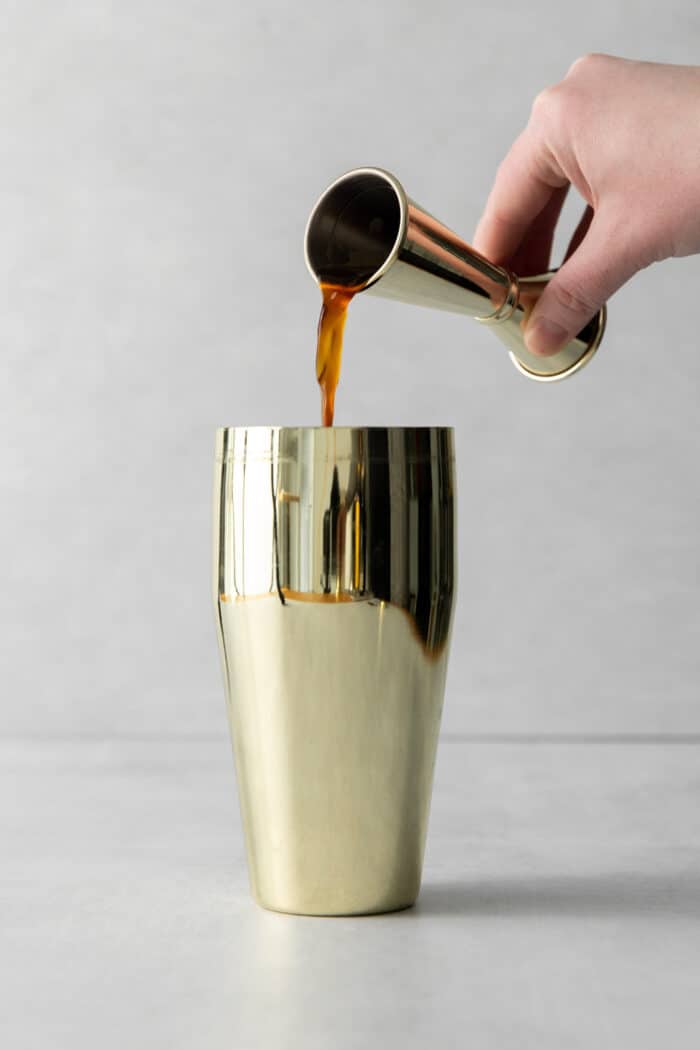 How to Make An Espresso Martini
Here's how to make this easy espresso martini in just a few minutes.
Shake. Add the ingredients (except the coffee beans) to a shaker filled with ice. Shake vigorously for 30 seconds. This will chill and dilute the drink, plus create froth for that beautiful layered look for the finished cocktail.
Strain. Strain into a martini glass, then garnish with the 3 coffee beans and enjoy.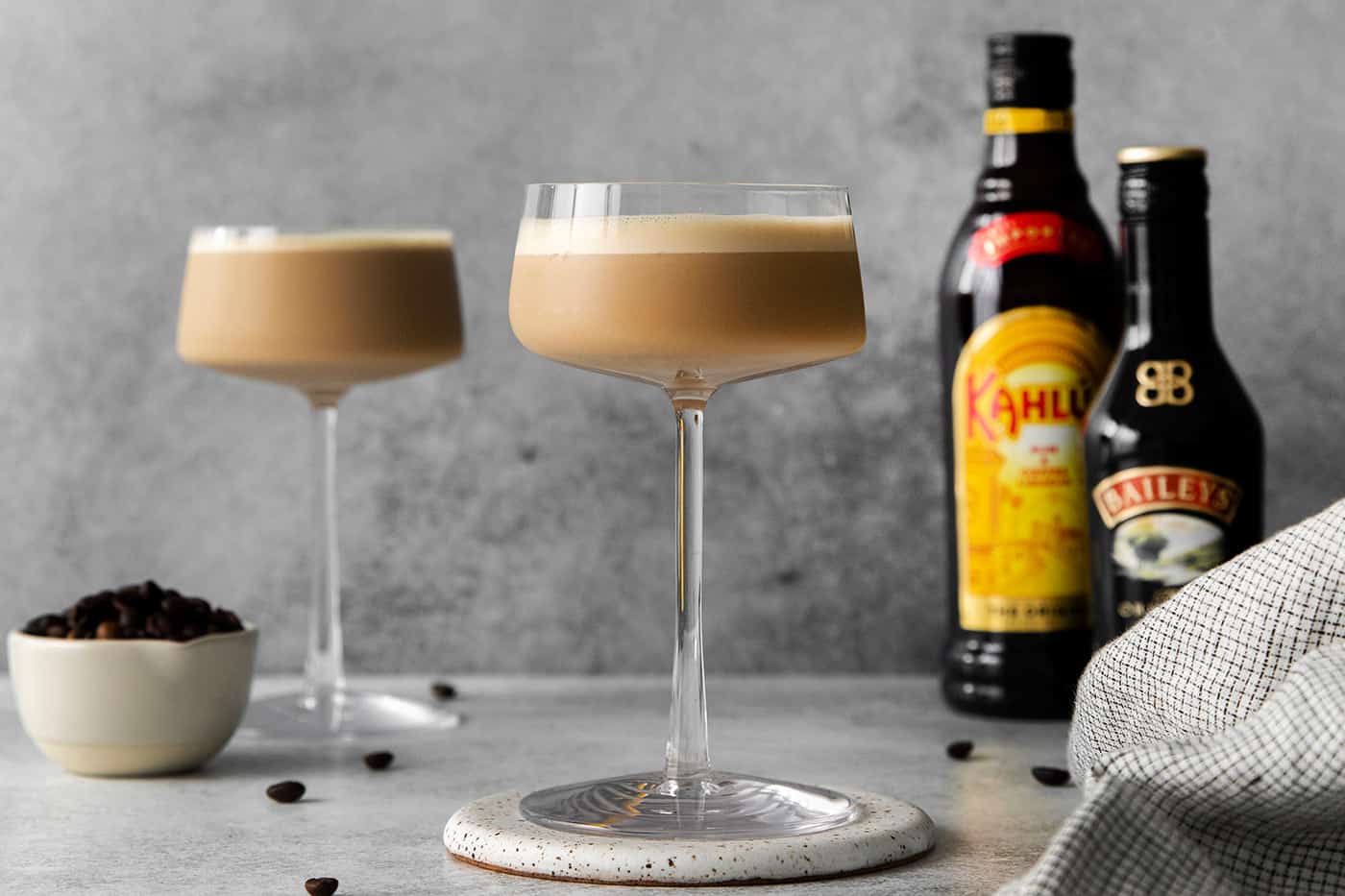 What Makes An Espresso Martini Frothy?
The key to a frothy espresso martini is to shake it very vigorously and then quickly pour it into the glass. That creates the layer of foam on the top of the cocktail.
Note: Some people will add an egg white to create an extra foamy appearance but I prefer not to.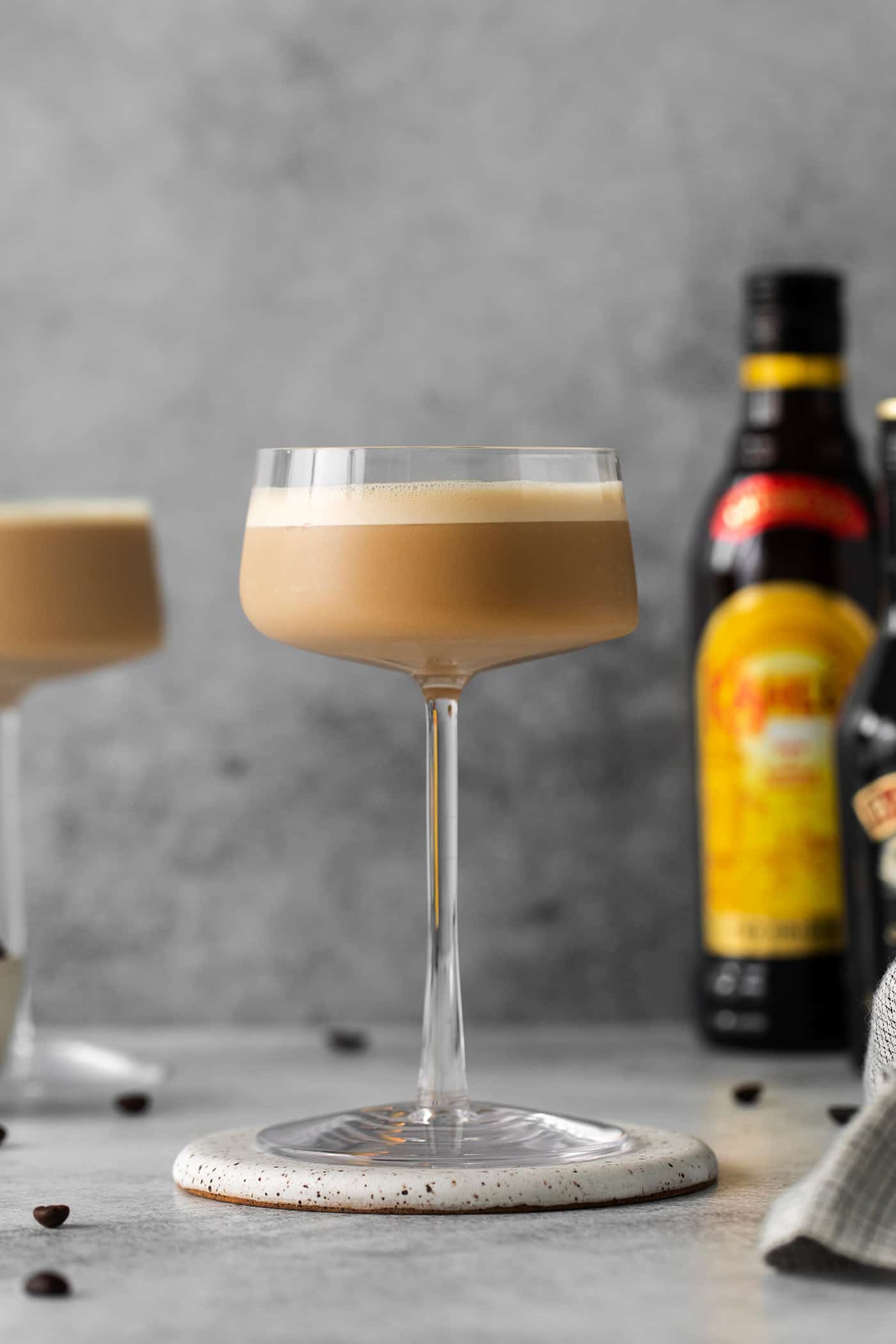 Tips & Variations for the Best Coffee Martini
For this espresso martini recipe with Baileys, here are a few tips and variations:
Do NOT use instant coffee. Just don't do it! Definitely use REAL espresso for this cocktail – especially if you want it to froth.
Cool the espresso slightly. I recommend that you make the espresso first, and let it sit while you gather the ingredients, glasses, etc. This will give the hot espresso time to cool a bit before making the drink.
Skip the Irish cream. If desired, you can skip the Baileys and use only Kahlua. This will give you a traditional espresso martini. It will have a much more straight-forward coffee flavor, without the added creaminess and sweetness.
Use a flavored vodka. If you super duper like coffee, swap out the unflavored vodka for a coffee vodka. A vanilla vodka would also be nice.
Chill the glass. For a super chilled experience, place your glasses in the freezer or refrigerator an hour or two before making this drink.
Add sweetener. If you like a sweeter drink, simply add some simple syrup to the cocktail shaker before shaking the drink.
Add some cocoa. To add a little more chocolate, dust the top of the drink ever so lightly with cocoa powder. This not only adds another light layer of chocolate flavor, but it's also pretty and it smells wonderful each time you take a sip! (I recommend using a super fine mesh sifter for this.)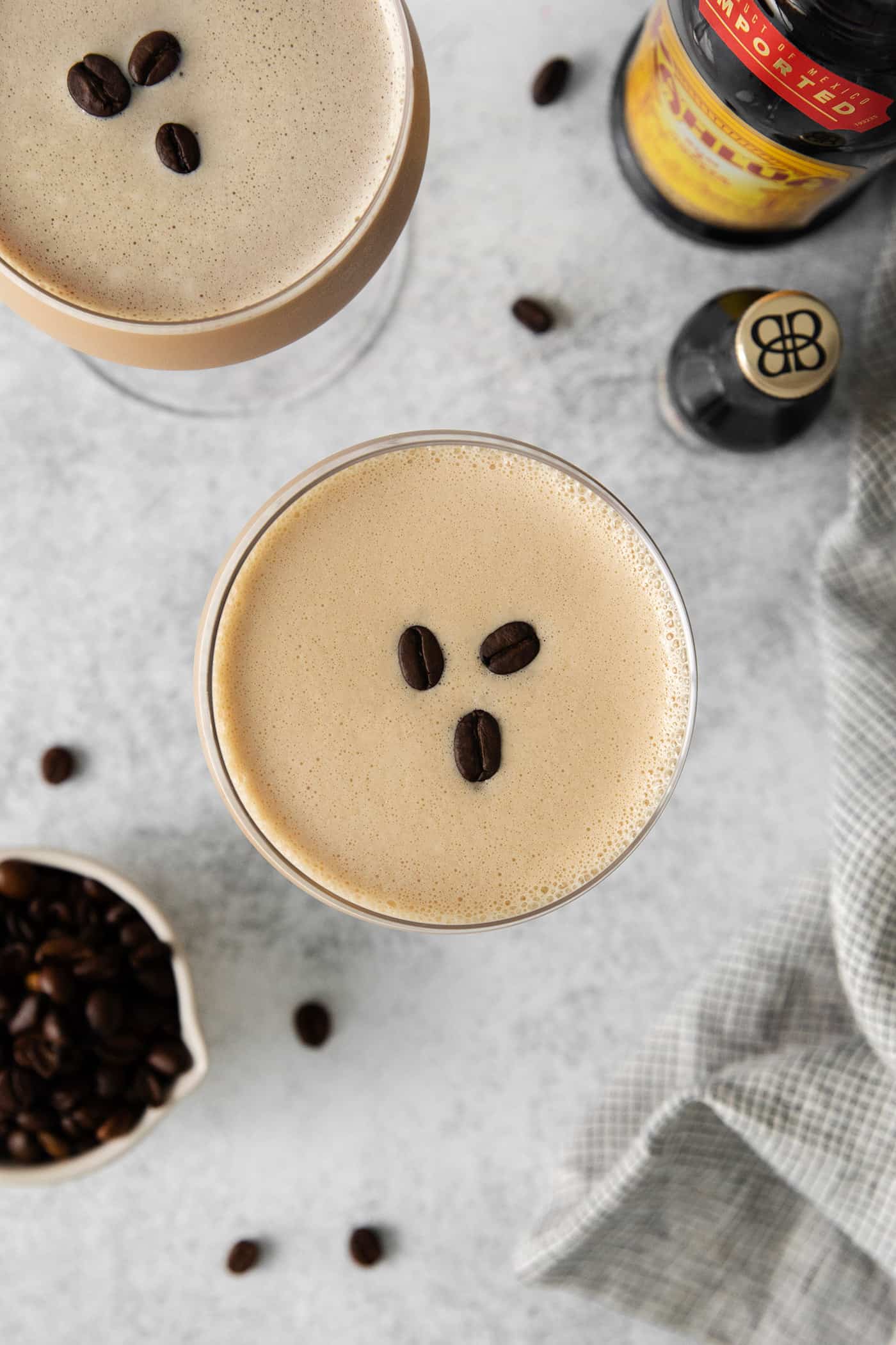 What Do The Three Coffee Beans Represent?
The coffee beans on top of this cocktail are a tradition from Italy. They're called "La Mosca" (the fly) and represent health, wealth, and happiness.
You don't technically have to add them…but with a meaning like that, I say, why not?!
More Easy Cocktail Recipes:
Like this Recipe? Save to Pinterest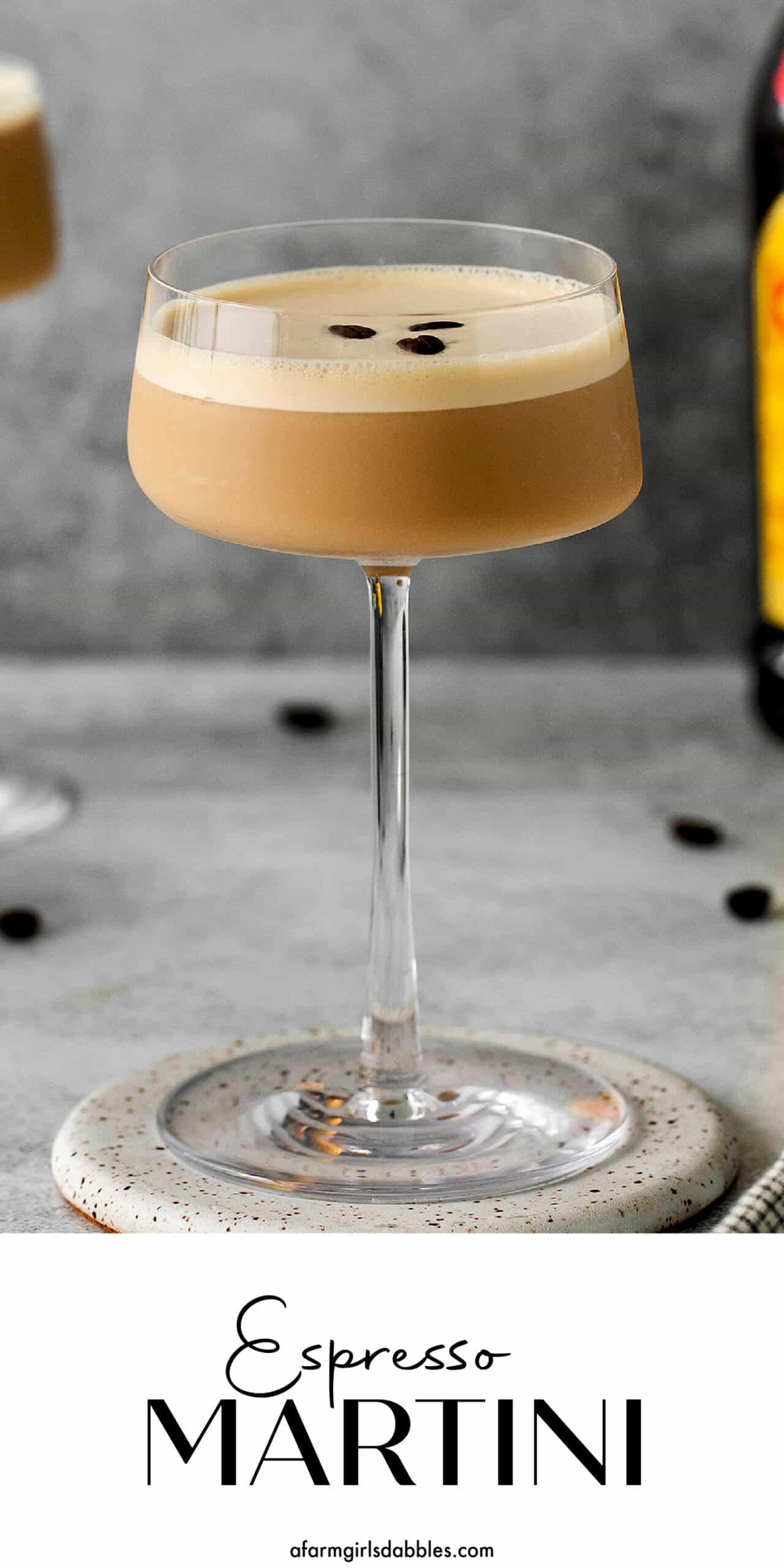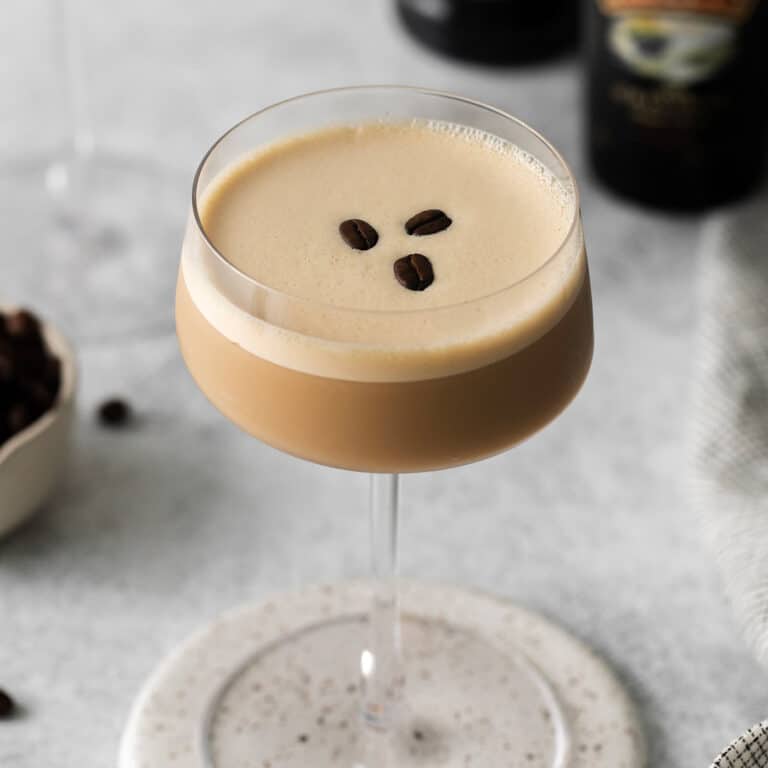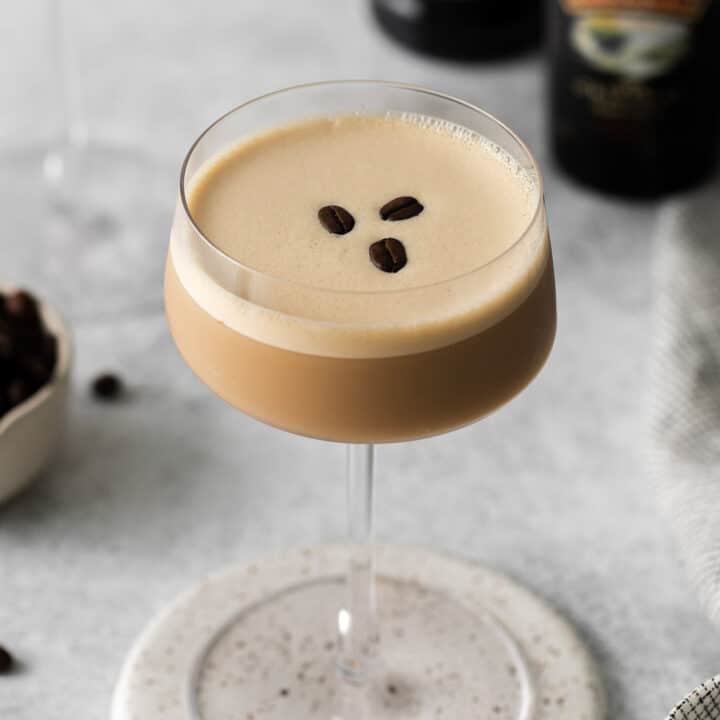 Espresso Martini
Yield: 1 drink
Prep Time: 15 minutes
Total Time: 15 minutes
This Espresso Martini is a beautiful coffee cocktail made with just 4 ingredients. It's strong, slightly sweet, and a little bit creamy, the perfect brunch or after-dinner drink. A coffee lovers dream!
Ingredients
1 ounce freshly brewed espresso, slightly cooled
1 ounce (unflavored) vodka
1 ounce coffee liqueur (I use Kahlúa)
1 ounce Irish cream liqueur (I use Baileys Original Irish Cream)
3 coffee beans
Instructions
Add espresso, vodka, coffee liqueur, and Irish cream to a cocktail shaker.
Fill shaker with ice and shake VERY vigorously for 30 seconds - don't skimp on the shake time as this will chill, dilute, and give a nice foam top to the drink.
Quickly strain the drink into a martini or coupe glass and then quickly garnish with the 3 coffee beans.
Nutrition Information:
Yield: 1
Serving Size: 1
Amount Per Serving:
Calories: 462
Total Fat: 1g
Saturated Fat: 0g
Trans Fat: 0g
Unsaturated Fat: 1g
Cholesterol: 0mg
Sodium: 895mg
Carbohydrates: 77g
Fiber: 10g
Sugar: 43g
Protein: 13g
Nutrition information is automatically calculated by Nutritionix. I am not a nutritionist and cannot guarantee accuracy. If your health depends on nutrition information, please calculate again with your own favorite calculator.