Classic Manhattan
A Manhattan is a classic, elegant cocktail that takes only 5 minutes to make, with just 3 ingredients. Featuring whiskey, sweet vermouth, and bitters, it's a strong, simple drink that goes down smooth and easy!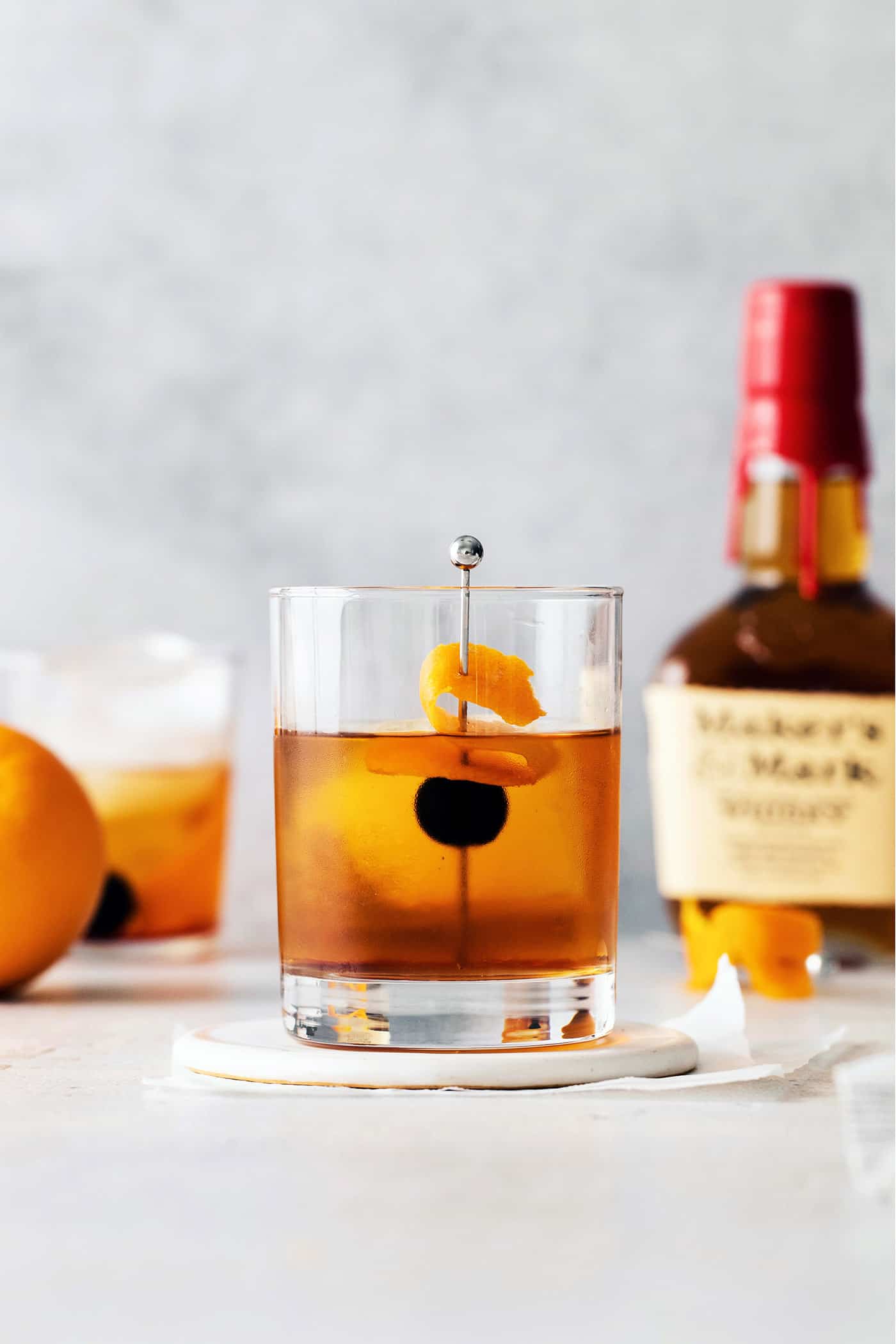 A Classic Manhattan Cocktail Recipe
When it comes to classic cocktail recipes, the Manhattan definitely makes the list. It's elegant yet astonishingly easy to make, with just 3 ingredients!
After meeting friends at a local whiskey distillery a couple times this winter, it became clear that I needed to school myself in how to make a couple very classic cocktails. Namely, the Manhattan and the Old Fashioned.
So I started with a classic Manhattan. And what surprised me the most was just how easy they are to make. Blake enjoys sipping on a simple strong cocktail, more than a sweet fruity one, so this Manhattan experiment made him very happy. 😊
A traditional Manhattan requires just 3 ingredients, plus garnishes. And there are no fancy-schmancy tricks or tools to prepare it – just stir the ingredients briefly with ice to chill. Got 5 minutes? Then you have yourself a Manhattan!
What Is A Manhattan Cocktail?
A Manhattan is a classic cocktail that's made with whiskey, sweet vermouth, and bitters.
While rye whiskey is the traditional whiskey of choice, you'll often see bourbon or another whiskey used.
This cocktail is briefly stirred over ice, not shaken. Then it's strained into a glass and garnished with a cocktail cherry, and sometimes a piece of orange peel.
Most often you'll see a Manhattan drink served in a stemmed glass, without ice. I take the liberty of serving our Manhattans in rock glasses with a single large ice cube, as I'm a huge fan of very chilled cocktails. Besides, this is a strong drink, so the ice continues to dilute it as I'm sipping – which I like!
A Manhattan is truly a cocktail classic. This drink has been around for a LONG time – at least since 1882 when it was first published in Harry Johnson's Bartenders Manual.
However, it's widely believed that the cocktail was first created several years beforehand, in 1874 at the Manhattan Club, when it was served to Winston Churchill's mom, Lady Randolph Churchill.
Given the name, it's likely that the cocktail originated in New York City, even if we don't have the exact details of how and when!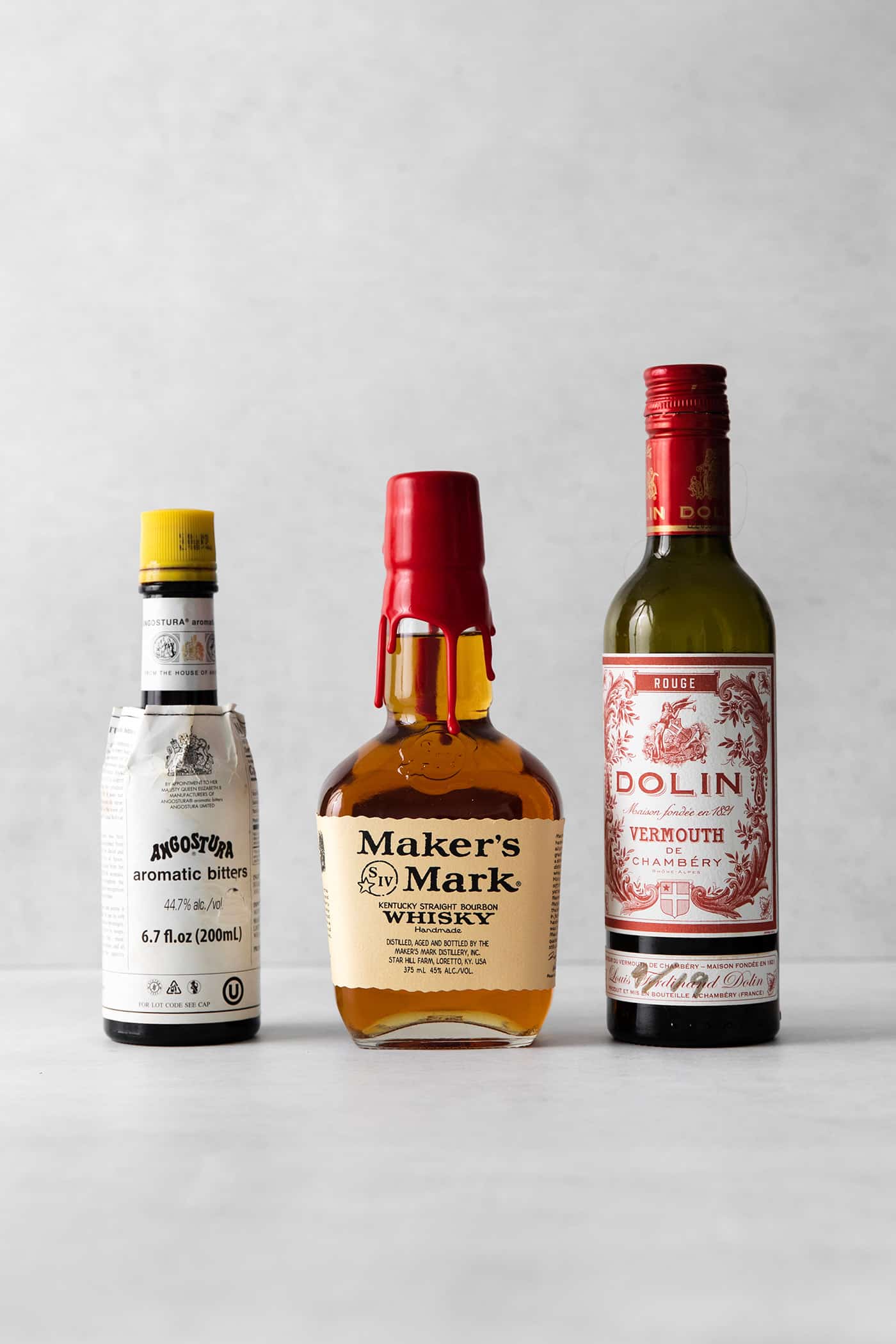 Recipe Ingredients
This classic cocktail recipe is made with just 3 ingredients, plus garnishes. The most important thing here, with this being such a simple drink, is that you use high-quality ingredients.
Whiskey – Rye whiskey is what you'll most often see in a Manhattan, but bourbon whiskey is also very common. Rye typically has a little more spice flavor to it. Use whatever you like, just make sure it's a quality whiskey that you already enjoy drinking.
Sweet vermouth – This is a wine that is "fortified" (has a spirit added, such as brandy, which makes it stronger than usual) and "aromatized" (flavored with herbs, spices, and botanicals). It has a reddish or brownish coloring and adds a subtle sweetness and depth of flavor to the drink. Make sure you're using sweet vermouth, not dry vermouth.
Bitters – Angostura Bitters is a classic cocktail ingredient that's infused with herbs and spices. It has intense flavor, so only 2-3 dashes are necessary. For a slightly sweeter, fruitier Manhattan, try swapping this for orange bitters.
Garnishes – You'll always see a cherry garnish in a Manhattan, most often a Luxardo cherry. I like to also include orange peel – rub it over the rim of the glass and then plop it into the drink. I love the fresh citrusy flavor and scent with each sip!
How to store vermouth: Once you open a bottle of vermouth, you'll want to store it in the refrigerator. Vermouth is wine, so its quality will deteriorate over time, like all opened wines do. But the added spirit in vermouth helps it to keep longer than a regular bottle of wine. Refrigerated, an open bottle of vermouth will be good to drink for 1-2 months.
Other ways to enjoy vermouth: You can drink vermouth neat, with or without ice, but always cold – add an orange peel if you like. This is how Europeans have been enjoying vermouth for many, many years! Another option is to add a splash of bubbly soda water.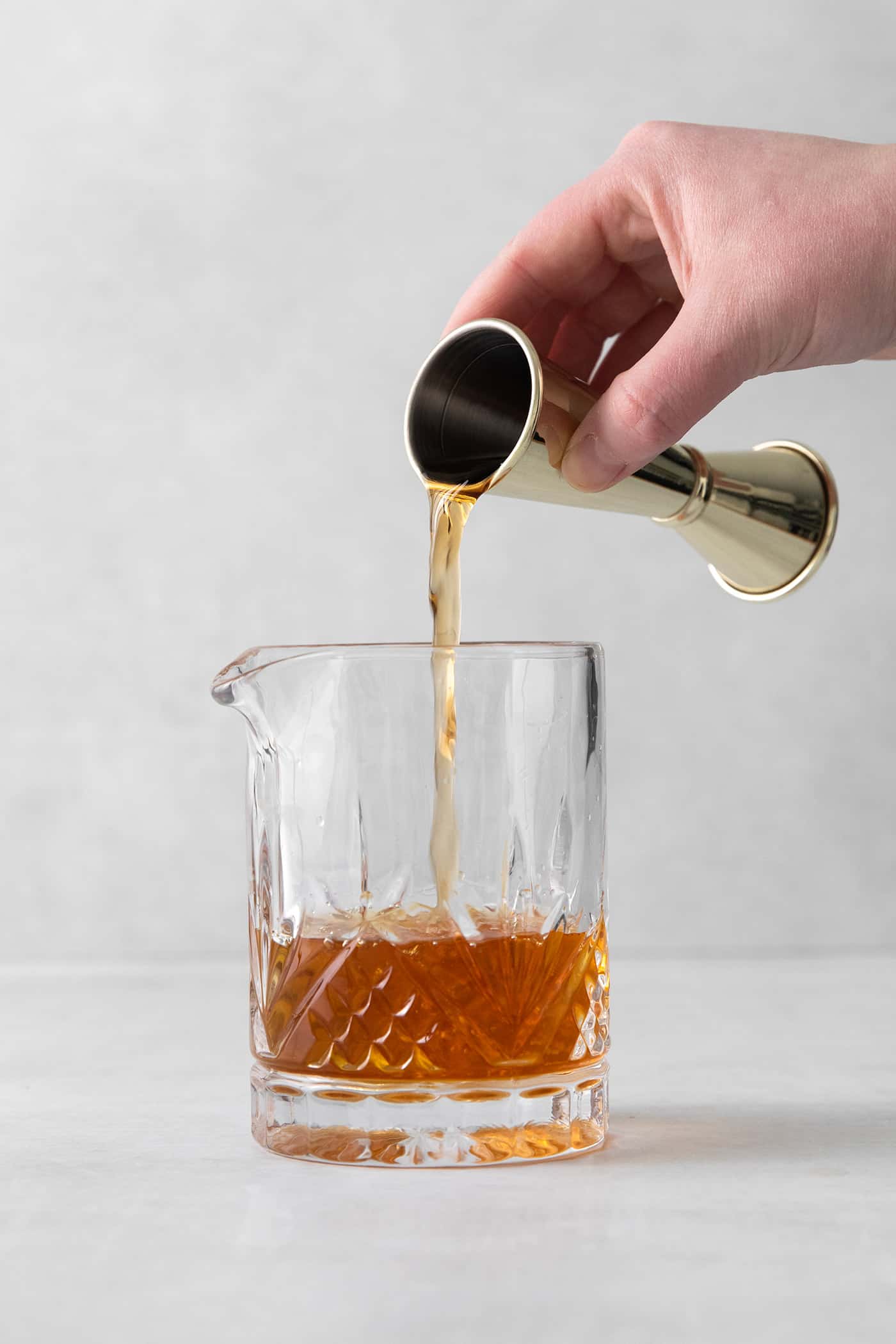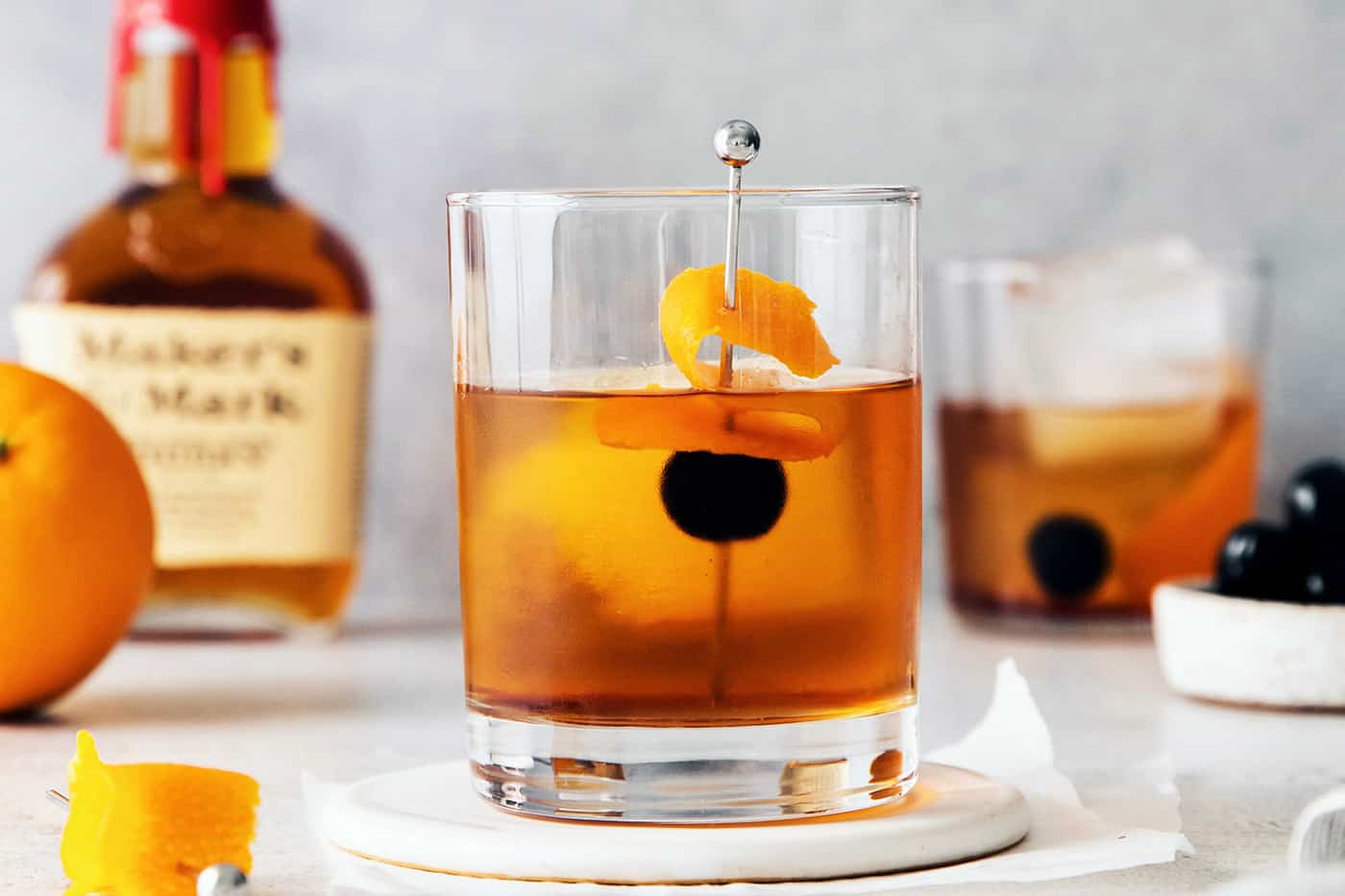 How to Make a Classic Manhattan
Here's how to make a Manhattan cocktail at home – all you need is 5 minutes!
Combine. Add the whiskey, vermouth, and bitters to a glass or cocktail shaker with ice.
Chill. Stir for 15 seconds to chill.
Strain. Strain the drink into a rocks glass with a large ice cube. Or strain into a chilled stemmed glass without ice.
Garnish. Rub the orange peel around the rim, then garnish the drink with the orange peel and a cocktail or maraschino cherry.
Manhattan Cocktail Variations
As with most recipes that have been around awhile, there are many Manhattan cocktail variations out there. Here are a few of the most popular.
Rye Manhattan Cocktail. Swap the bourbon for rye whiskey and you'll have a traditional rye Manhattan.
Brandy Manhattan. Likewise, you can also swap the bourbon for your favorite brandy or cognac.
Perfect Manhattan. This variation uses equal parts dry vermouth and sweet vermouth.
Black Manhattan. A popular variation that uses Italian amaro in place of the vermouth.
Rob Roy. This is simply a Manhattan made with Scotch whiskey.
Revolver. Instead of swapping an ingredient, the Revolver adds one – coffee liqueur (usually Tia Maria).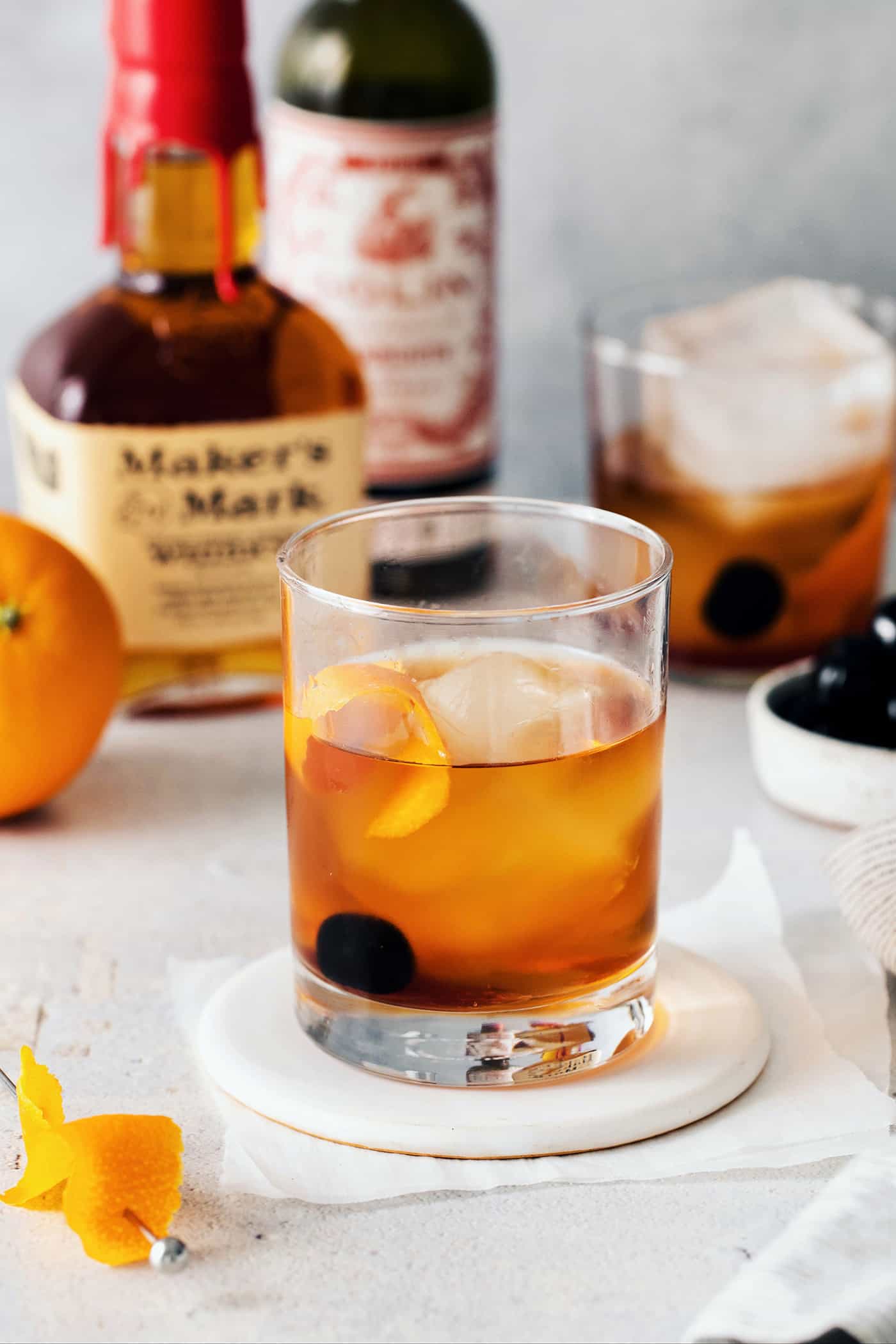 Serving Suggestions
Serve your Manhattan drink immediately after preparing it. This is not a drink you want to prepare in advance – but it's so easy that it truly doesn't matter!
Enjoy it chilled with a single large ice cube, along with a Luxardo cherry (or two!) and orange peel.
Classy and elegant, yet oh-so-simple, this cocktail is a great addition to dinner parties, guys' or girls' nights, sitting around a campfire, or absolutely any other occasion!
More Classic Cocktail Recipes:
Like this recipe? Save it to Pinterest!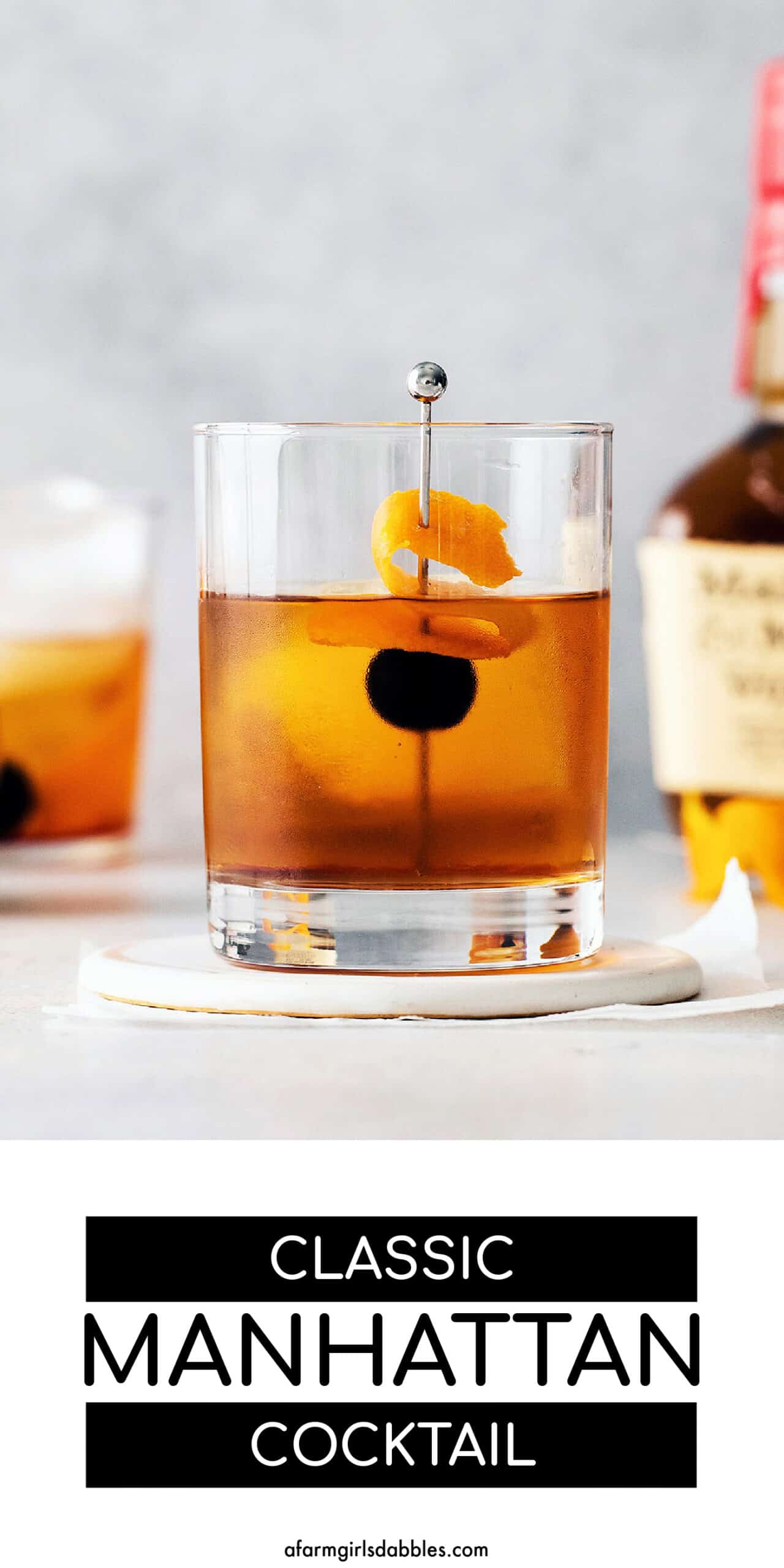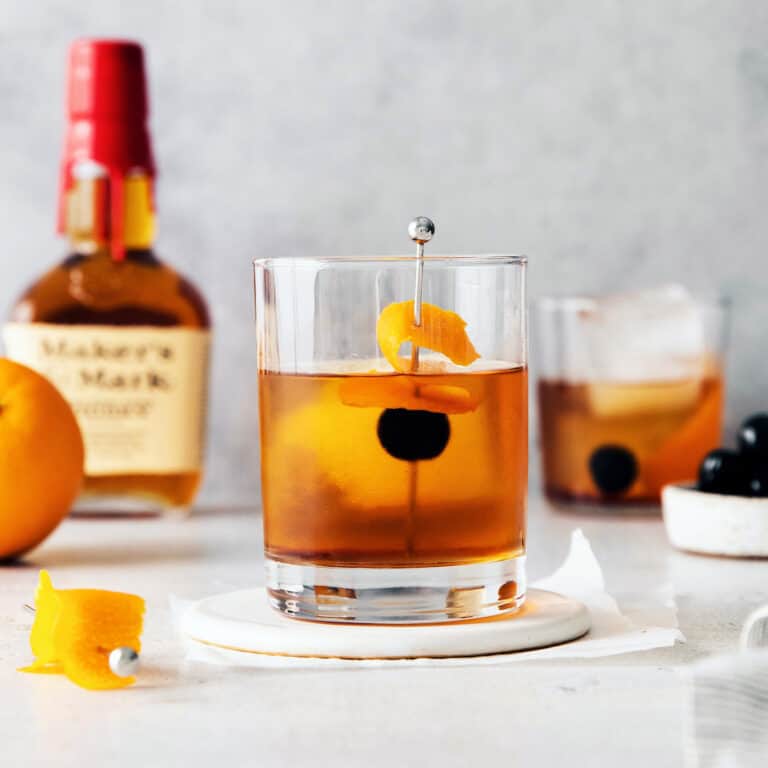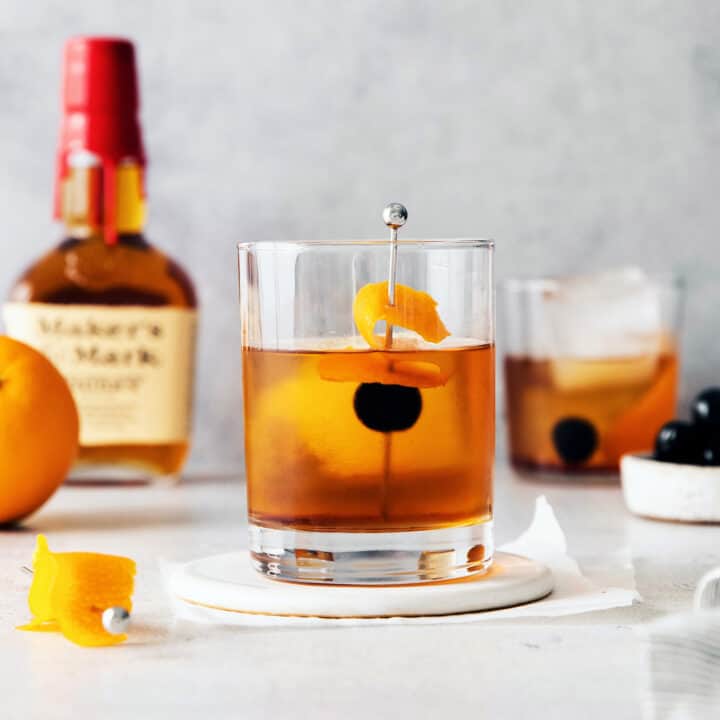 Classic Manhattan
Yield: 1 cocktail
Prep Time: 5 minutes
Total Time: 5 minutes
A Manhattan is a classic, elegant cocktail that takes only 5 minutes to make, with just 3 ingredients. Featuring whiskey, sweet vermouth, and bitters, it's a strong, simple drink that goes down smooth and easy!
Ingredients
3 ounces bourbon whiskey (or use rye whiskey)
1½ ounces sweet vermouth
2 dashes Angostura bitters
Orange peel and Luxardo cherry, for garnish
Instructions
Add the bourbon, vermouth, and bitters to a cocktail shaker with ice and stir for 15 second to chill.
Add a large ice cube to a rocks glass and strain the Manhattan into the glass. Rub the orange peel around the rim of the glass and then garnish with the orange peel and cherry. Enjoy immediately.
Nutrition Information:
Yield: 1
Serving Size: 1
Amount Per Serving:
Calories: 273
Total Fat: 0g
Saturated Fat: 0g
Trans Fat: 0g
Unsaturated Fat: 0g
Cholesterol: 0mg
Sodium: 5mg
Carbohydrates: 8g
Fiber: 1g
Sugar: 4g
Protein: 0g
Nutrition information is automatically calculated by Nutritionix. I am not a nutritionist and cannot guarantee accuracy. If your health depends on nutrition information, please calculate again with your own favorite calculator.