Hot Toddy
This Hot Toddy is the perfect winter drink! It's warm and cozy, with fresh lemon, a bit of sweet honey, and a little kick of spicy ginger. Enjoy this soothing drink as-is, or add a splash of bourbon (or brandy or dark rum)!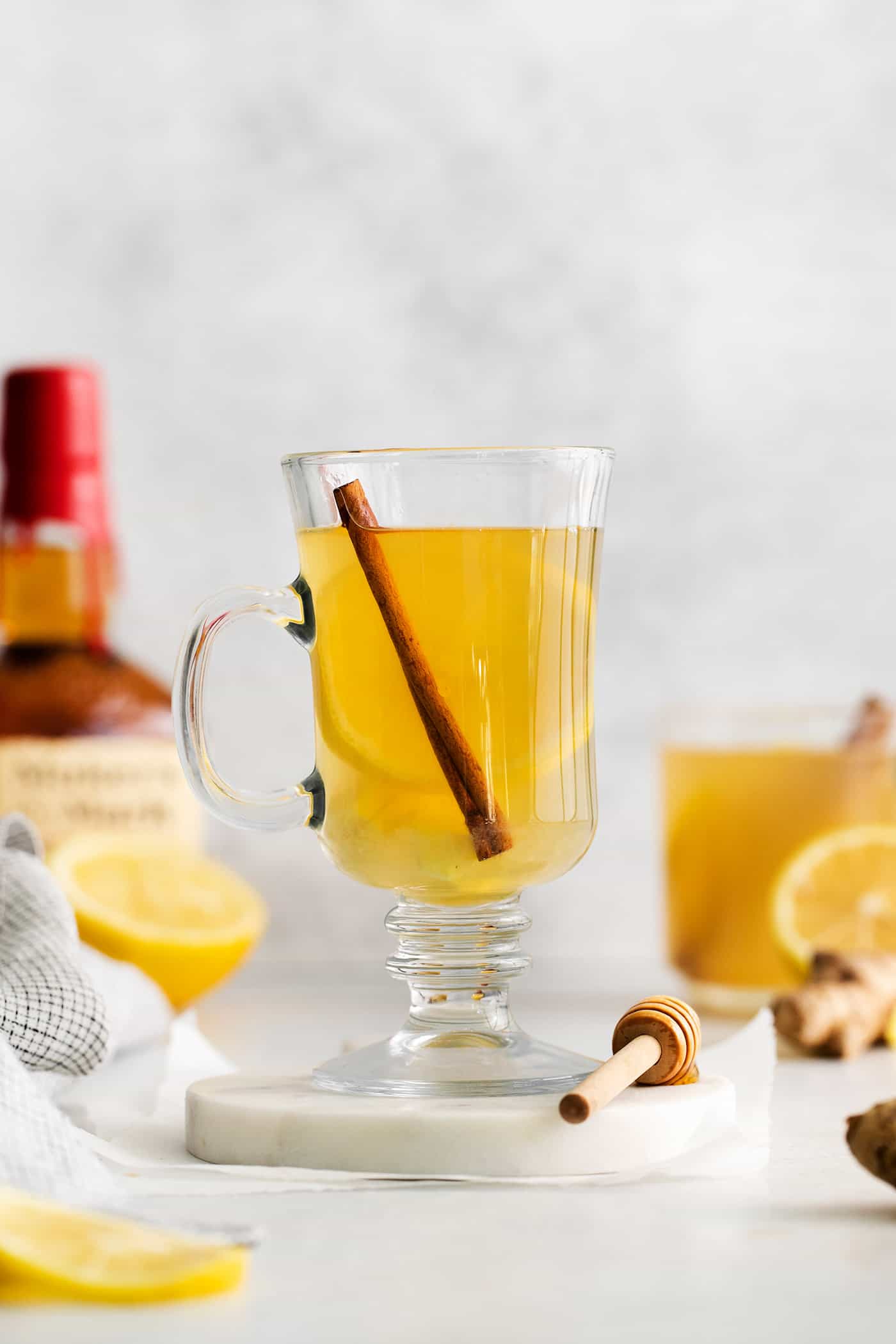 Classic Hot Toddy Recipe
A warm drink on a cold winter's night gives all the cozy feels. And this classic Hot Toddy recipe is here for you!
Consisting mostly of hot water, this soothing drink is meant to take the chill off and get you into evening relaxation zone. It's perfect for sipping on the couch while you watch a movie, when playing an evening game of cards with your family and friends, or for those times when you're just not feeling the greatest.
I want you to think of this hot toddies recipe as a simple guideline. It's meant for you to tweak. If you like it sweeter, add more honey. Want it brighter? Add more lemon. And if spice is your thing, add more ginger (or leave it out completely!).
While my recipe includes bourbon whiskey, I certainly don't always add it. This drink is delicious without alcohol, one that the whole family can enjoy!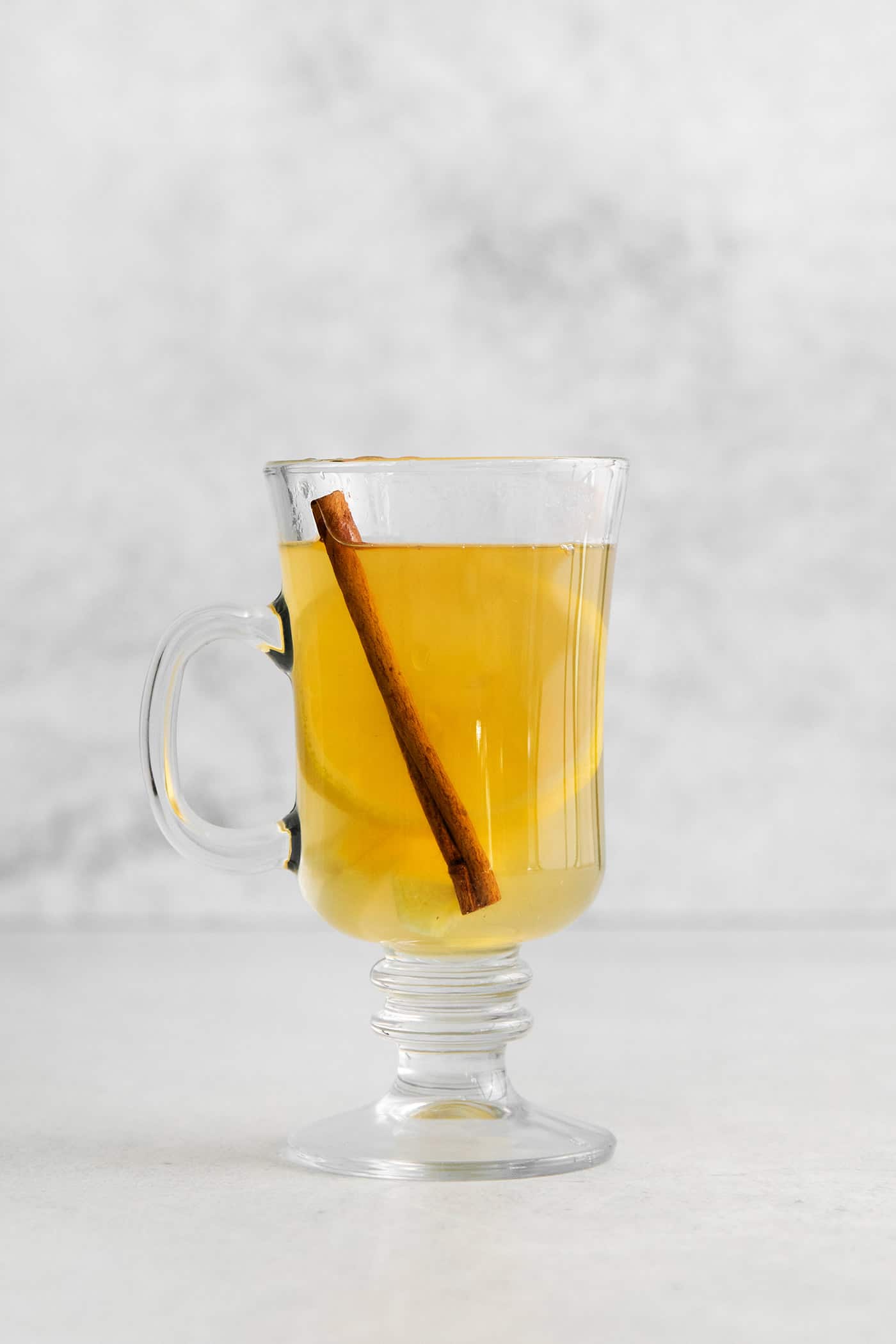 What Is A Hot Toddy?
A hot toddy (sometimes people spell it "hot tottie") is one of those recipes that's been passed down for generations.
It's an alcoholic drink that's served hot and usually made with honey, lemon, and bourbon whiskey. Myself, I like to add ginger for some extra flavor. You'll also see variations using different liquors and other added flavors.
It's a popular drink in the winter and is sometimes known by the wives' tale that it "cures" winter coughs and colds.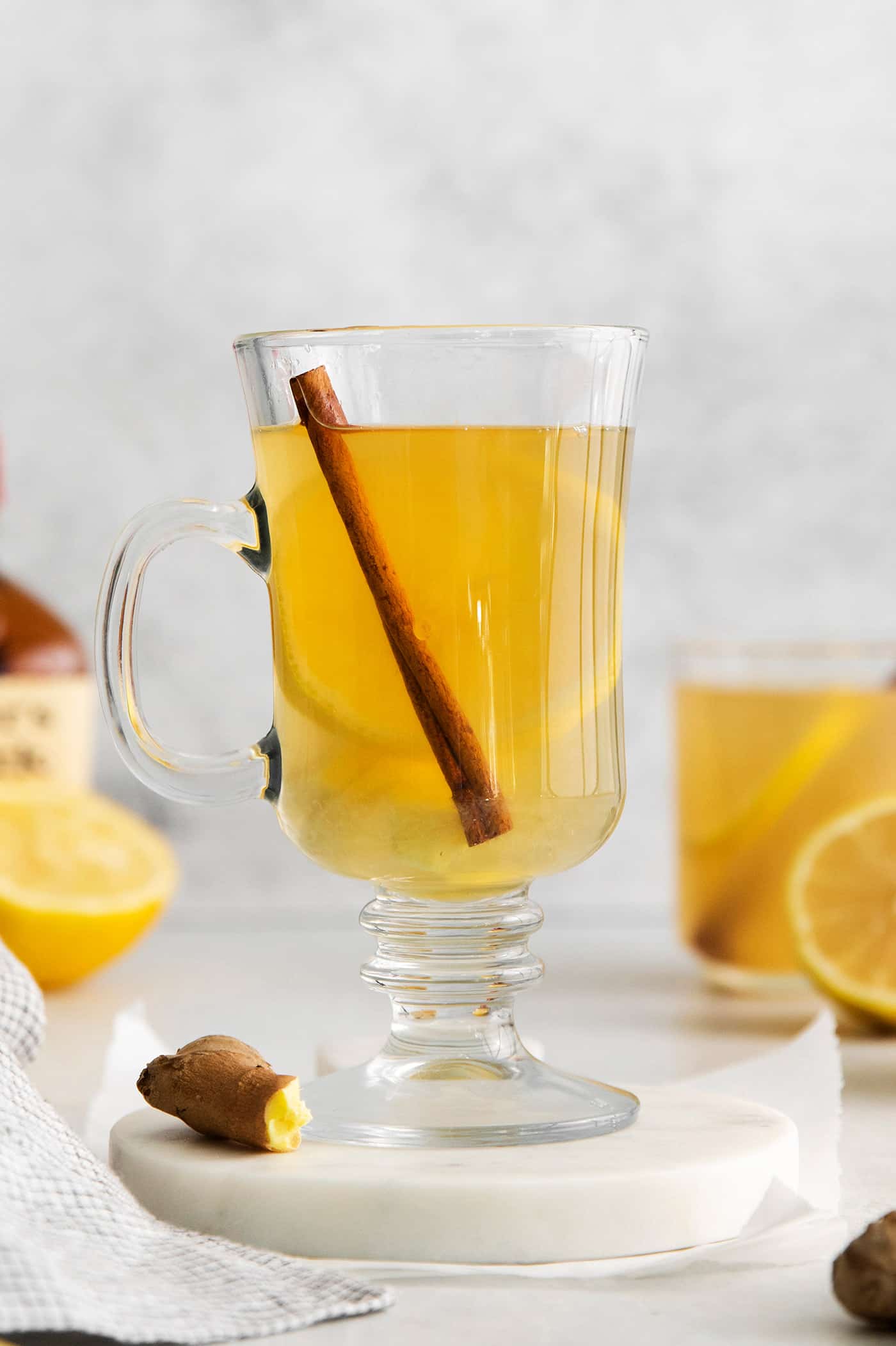 Will A Hot Toddy Really Cure Your Cold and Cough?
I can't verify that this drink actually cures a cold. I think colds just need to run their course.
But, the good news is, that yes, a hot toddy can help alleviate cold symptoms. It's not just an old wives' tale – there's been actual research into the healing properties of a hot toddy. And it simply offers comfort, much like a steaming bowl of ginger chicken soup.
Basically, whiskey helps alleviate symptoms overall – not a big surprise, as I'm a fan of Nyquil when I have a cold, and that contains a bit of alcohol. And the hot water and lemon juice help with decongestion, while honey can help soothe a sore throat. So when I'm feeling a bit under the weather, sipping on this warm drink definitely helps me feel better.
*One important thing to note – alcohol and cold medicine, even over-the-counter cold medicines, should not be mixed. So if you're taking medicine, enjoy your hot toddy without the bourbon.
Can You Make A Hot Toddy Without Alcohol?
The base of this hot drink is meant for everyone to enjoy. You can definitely drink this without alcohol.
Though a "virgin" hot toddy is simply what most people would call "warm lemon water with honey". It still tastes amazing and will warm you up from the inside out!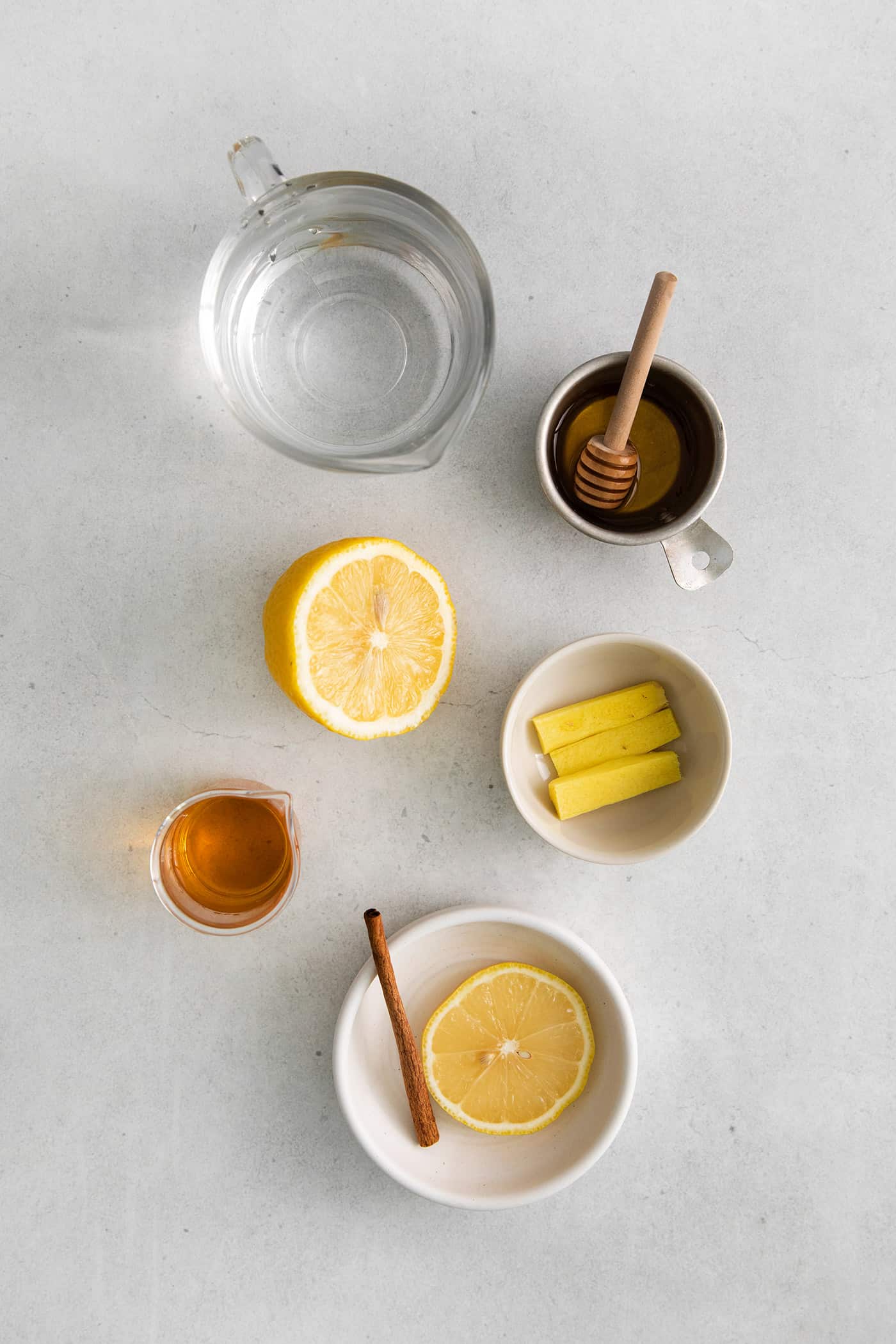 Recipe Ingredients
This classic winter cocktail is made with just 5 ingredients. Scroll down to the recipe card for the measurements.
Boiling water – Water is the base of the hot toddy, and it needs to be very hot so it melts the honey and steeps the ginger.
Honey – Honey sweetens this drink. These cocktails aren't overly sweet, so feel free to add as little or as much as you like. When my throat is particularly sore, I do like to add more. Use a robust local or raw honey for the best flavor.
Ginger – Fresh ginger adds a subtle bite and delicious ginger flavor to the hot toddy.
Bourbon – Bourbon whiskey is often used in hot toddies, and is my favorite. It adds such a lovely, warm flavor that pair beautifully with the honey, ginger, and lemon.
Lemon juice – Freshly squeezed lemon juice adds brightness and a touch of acidity, and gives this drink a refreshing quality.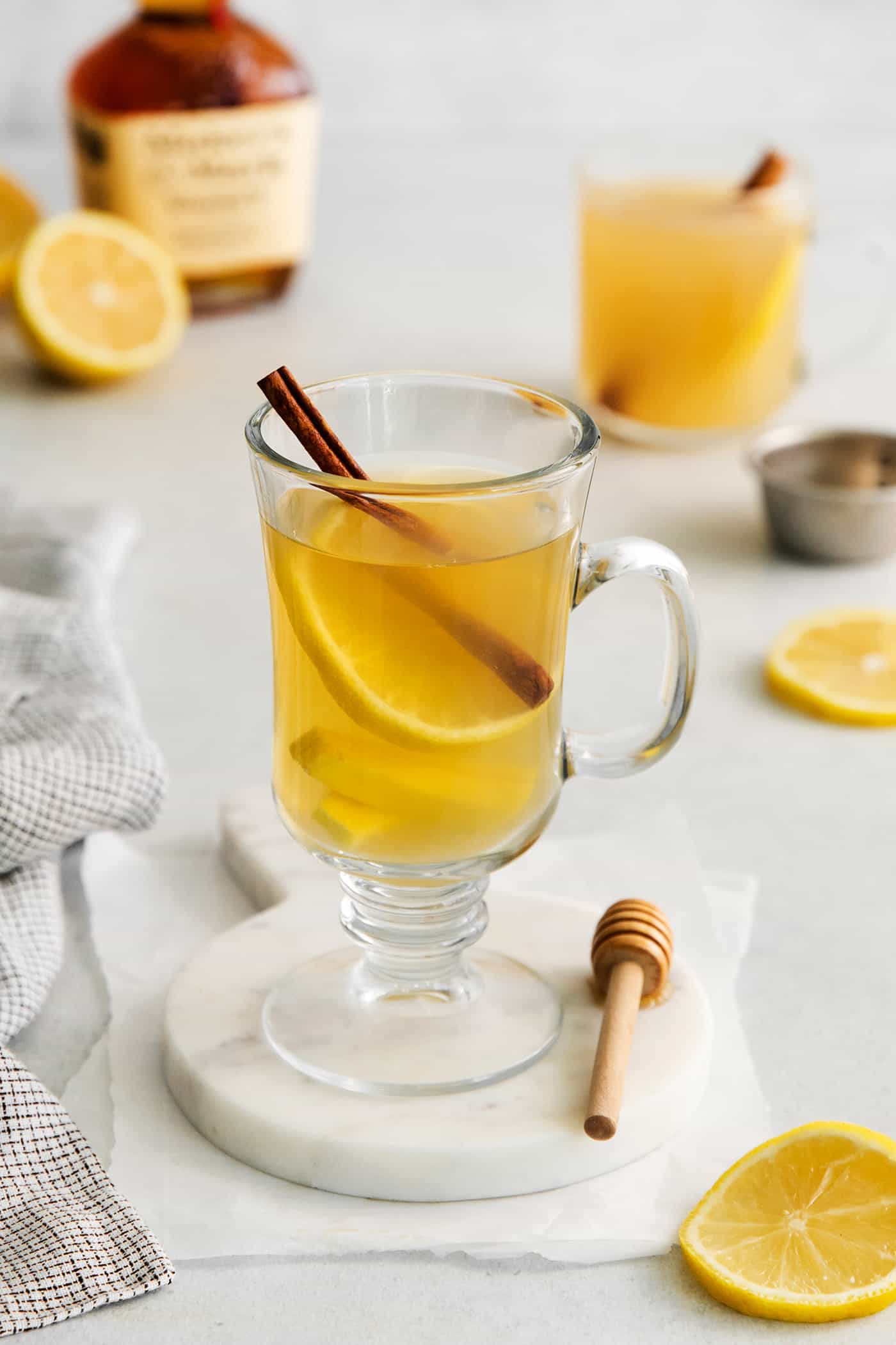 Easy Variations
This is a classic hot toddy recipe, plus the addition of fresh ginger. And there are many ways you can customize it or change the flavor to make it your own.
Skip the ginger. I love the warmth and spice that ginger adds to the hot toddy but feel free to skip it if you prefer.
Try a different sweetener. For a fall twist, use maple syrup instead of honey.
Add more other spices. Try sticking 2-3 whole cloves into the lemon wheel for some additional spiced flavor. Or add a piece of star anise.
Swap out the water. Try using fresh pressed apple cider as a base for your hot toddy instead of water. Or just add a good splash of apple cider!
Use a different liquor. You can also make hot toddies with rum (dark or spiced rum is especially good) or brandy if you're not a fan of bourbon.
Add tea. If you're a tea drinker, you can also steep your favorite tea bag in the hot water – either in place of or in addition to the ginger.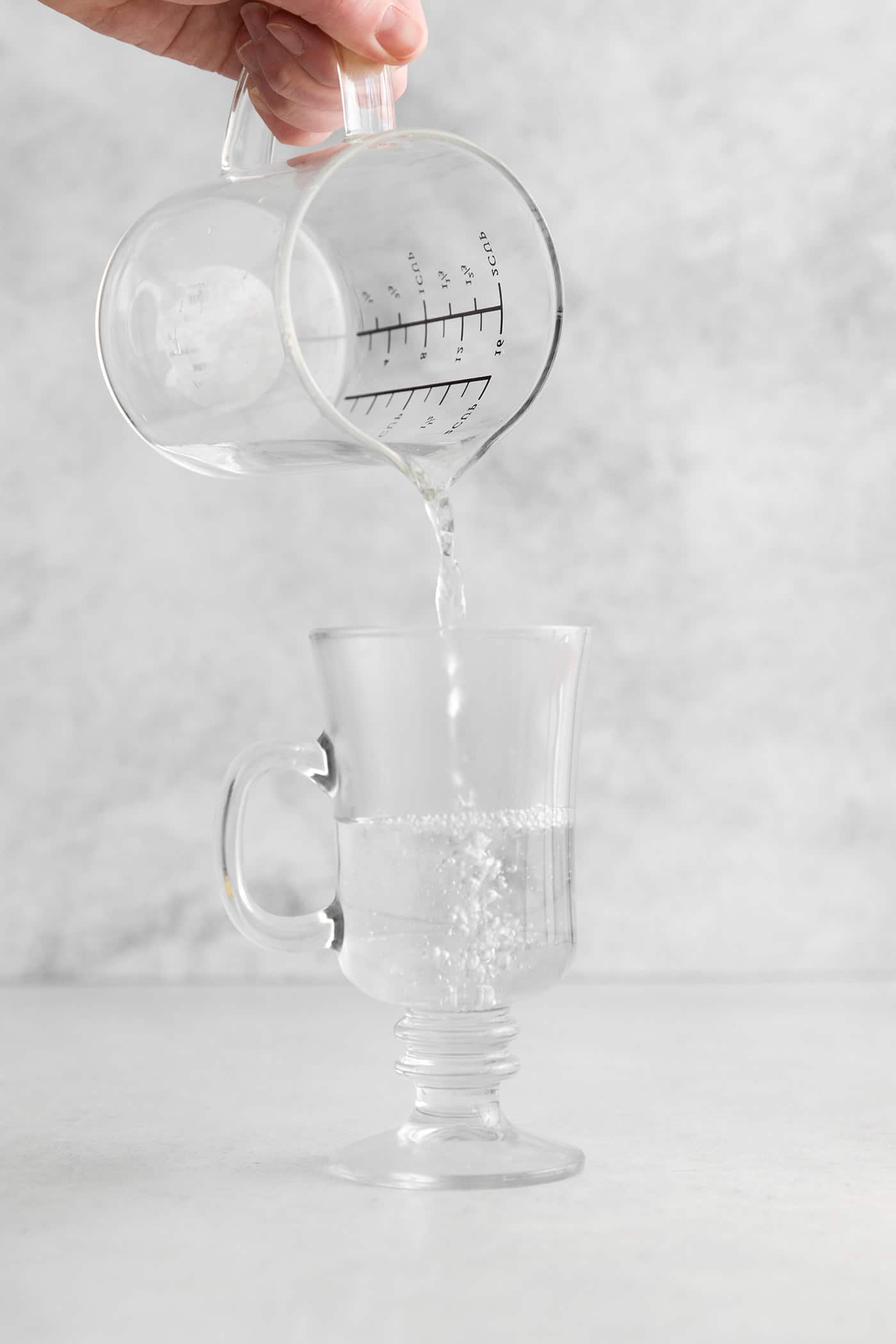 How to Make a Hot Toddy
Here's how to make this cozy and warming drink.
Steep the ginger. Pour the boiling water into a mug. Add ginger and honey. Stir to dissolve the honey, then allow to steep for 10 minutes. To keep the heat in, I like to place a small saucer upside-down on top of the glass.
Add the bourbon. Stir in the bourbon and lemon juice. Remove the ginger if you like (I just leave it in) and add the lemon wheel and cinnamon stick garnishes if desired. Enjoy.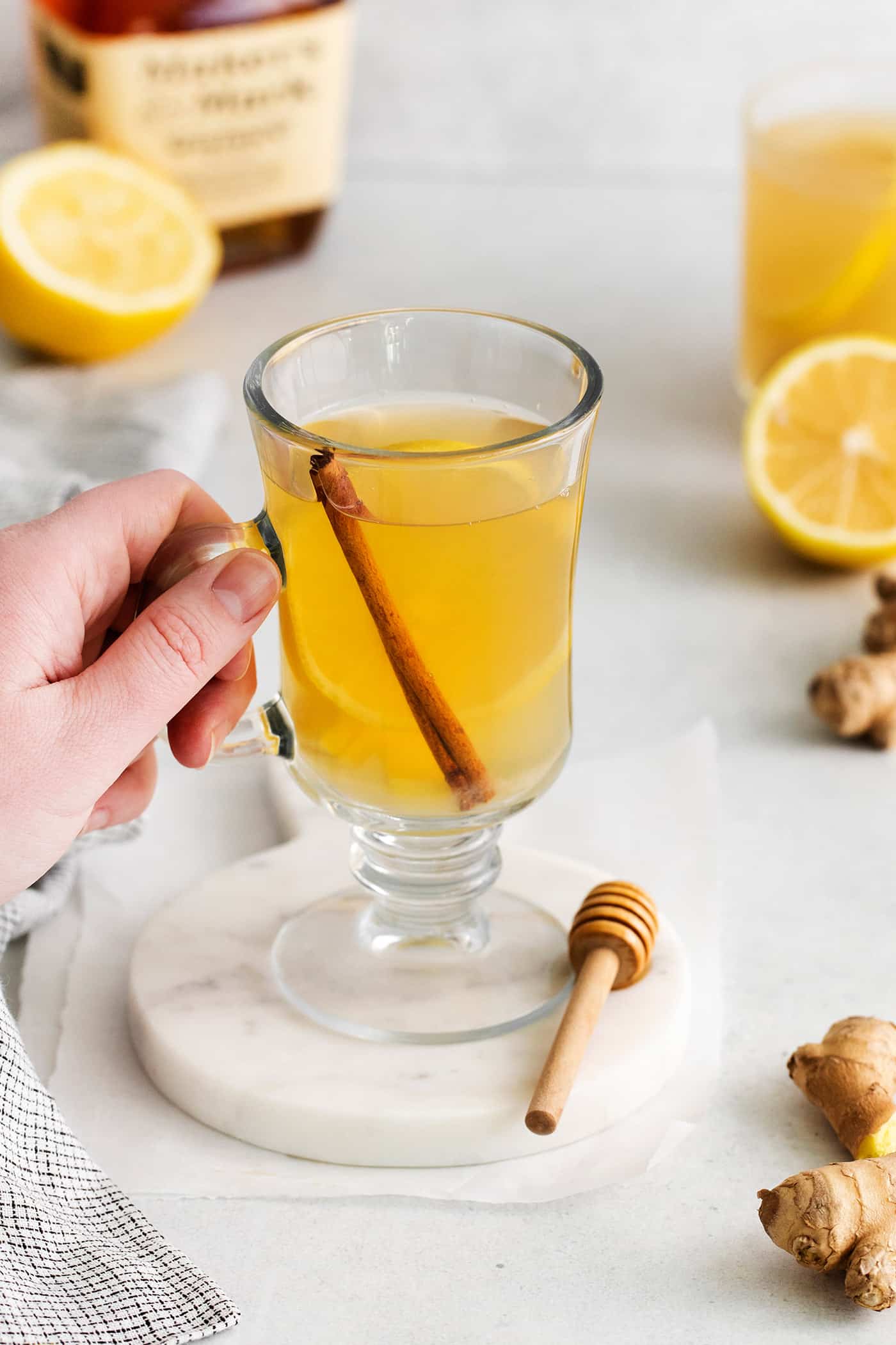 Serving Suggestions
After steeping for 10 minutes, the hot toddy drink should be at a nice warm drinking temperature, especially if you cover the glass while it's steeping.
But if you'd like it cooler, stir it a bit to continue cooling it down. If you'd like it hotter, pop it in the microwave for 15-30 seconds to heat it back up.
I find that slowly slipping this cocktail is the way to go. It's meant to calm and relax you, and is definitely worth savoring!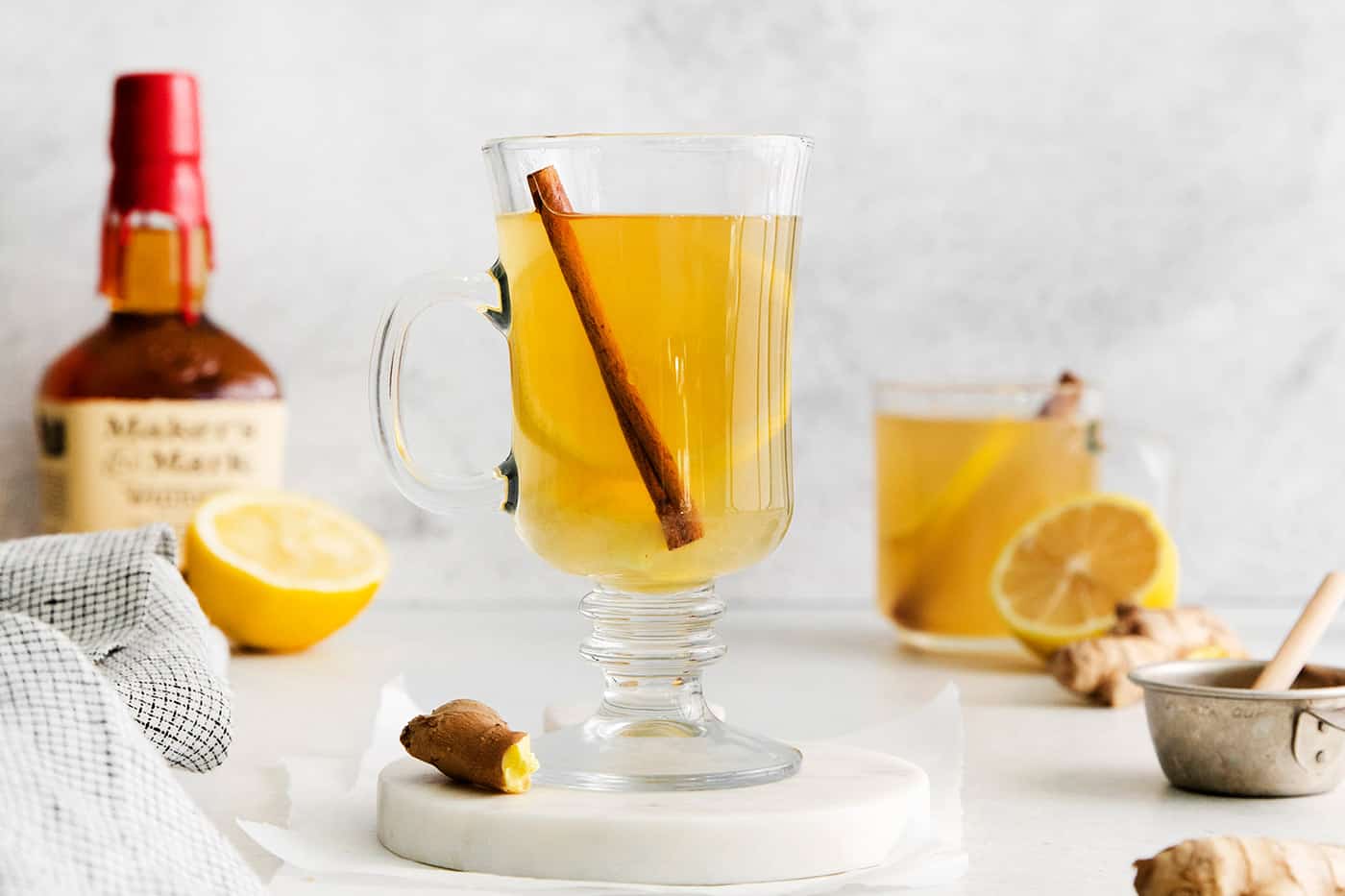 More Winter Cocktails:
Like this recipe? Save it to Pinterest!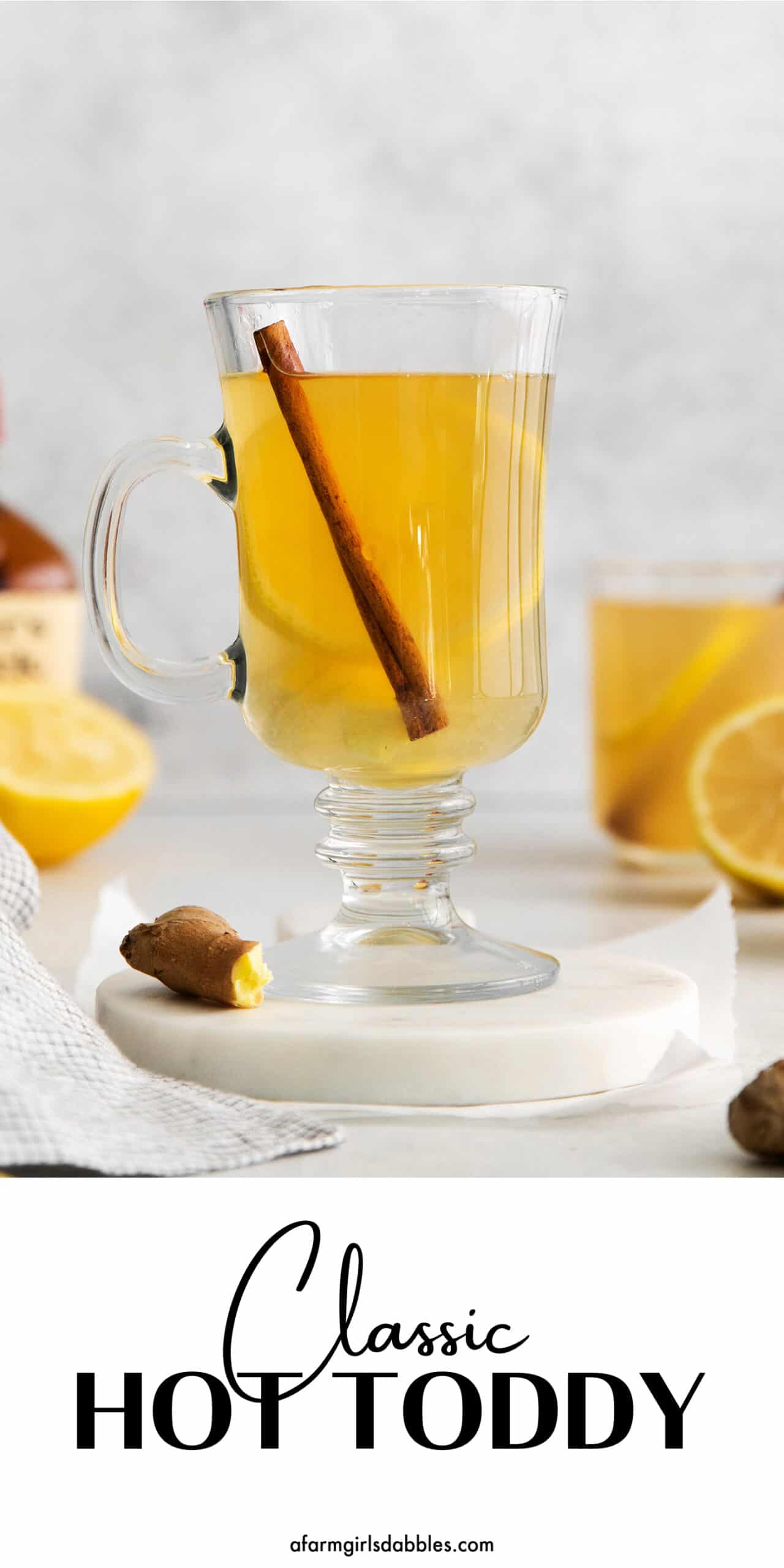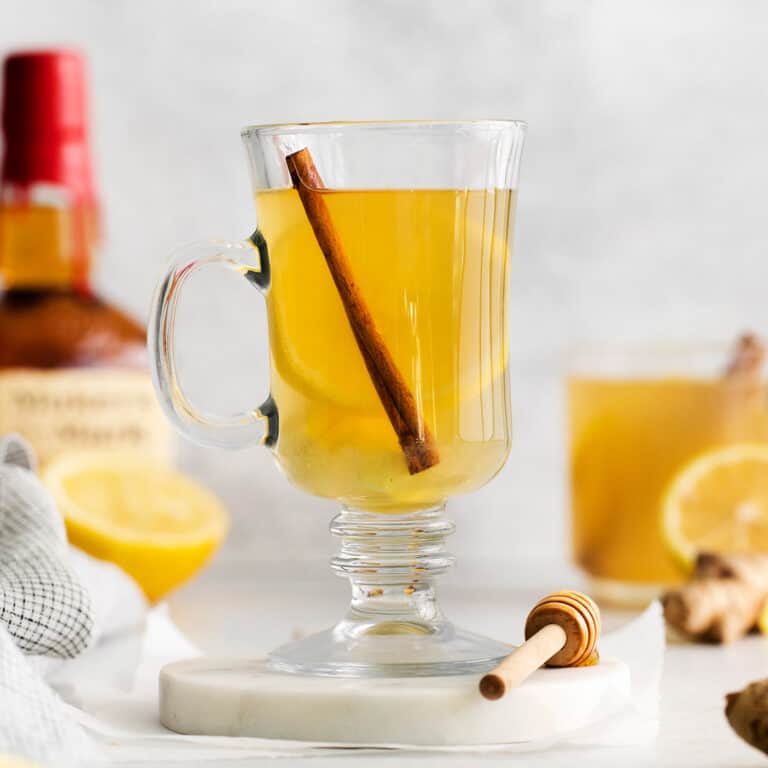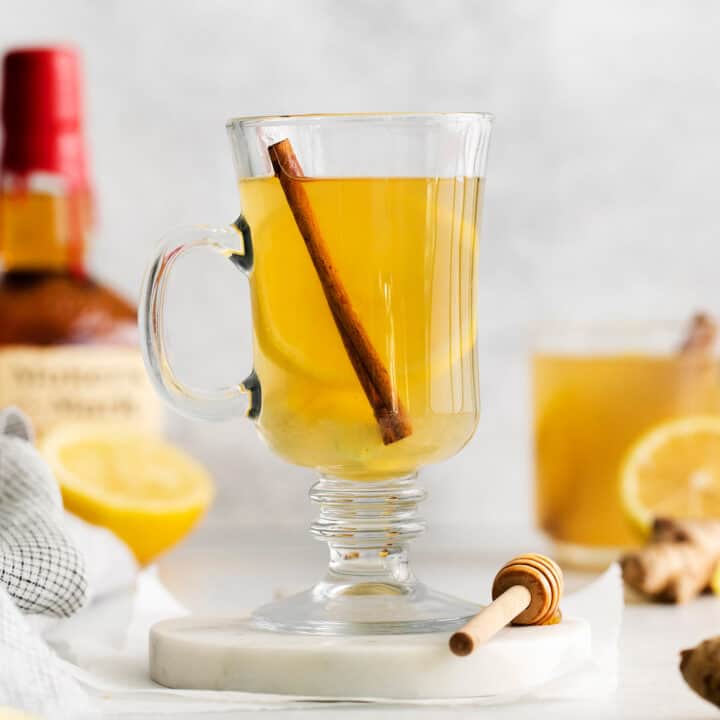 Hot Toddy
Yield: 1 drink
Prep Time: 10 minutes
Total Time: 10 minutes
This Hot Toddy is the perfect winter drink! It's warm and cozy with a hint of earthy honey and spicy ginger. Enjoy this drink as is or with a splash of good bourbon for an extra kick.
Ingredients
½ cup boiling water
2 teaspoons honey, or to taste
3 (¼" thick) slices fresh ginger, peeled
1½ ounces good quality bourbon whiskey
1 tablespoon freshly squeezed lemon juice
Lemon wheel and cinnamon stick, for garnish
Instructions
Add the boiling water, honey, and ginger to a mug. Stir until the honey is dissolved and then set it aside to steep for 10 minutes. I recommend placing a small saucer upside-down on top of the mug to keep the heat in while steeping.
Add the bourbon and lemon juice and stir to combine. Remove the sliced ginger if desired (I just leave it in) and garnish with a lemon wheel and cinnamon stick.
The hot toddy should be a nice warm drinking temperature at this point, but you can always warm it up for 15 seconds in the microwave if desired.
Nutrition Information:
Yield: 1
Serving Size: 1
Amount Per Serving:
Calories: 171
Total Fat: 0g
Saturated Fat: 0g
Trans Fat: 0g
Unsaturated Fat: 0g
Cholesterol: 0mg
Sodium: 11mg
Carbohydrates: 22g
Fiber: 3g
Sugar: 14g
Protein: 1g
Nutrition information is automatically calculated by Nutritionix. I am not a nutritionist and cannot guarantee accuracy. If your health depends on nutrition information, please calculate again with your own favorite calculator.