Whiskey Sour
Made with bourbon whiskey, fresh lemon juice, and simple syrup, this Whiskey Sour is a classic cocktail that's easy to make. Just 3 ingredients and a few minutes is all you need to make this sweet tart drink!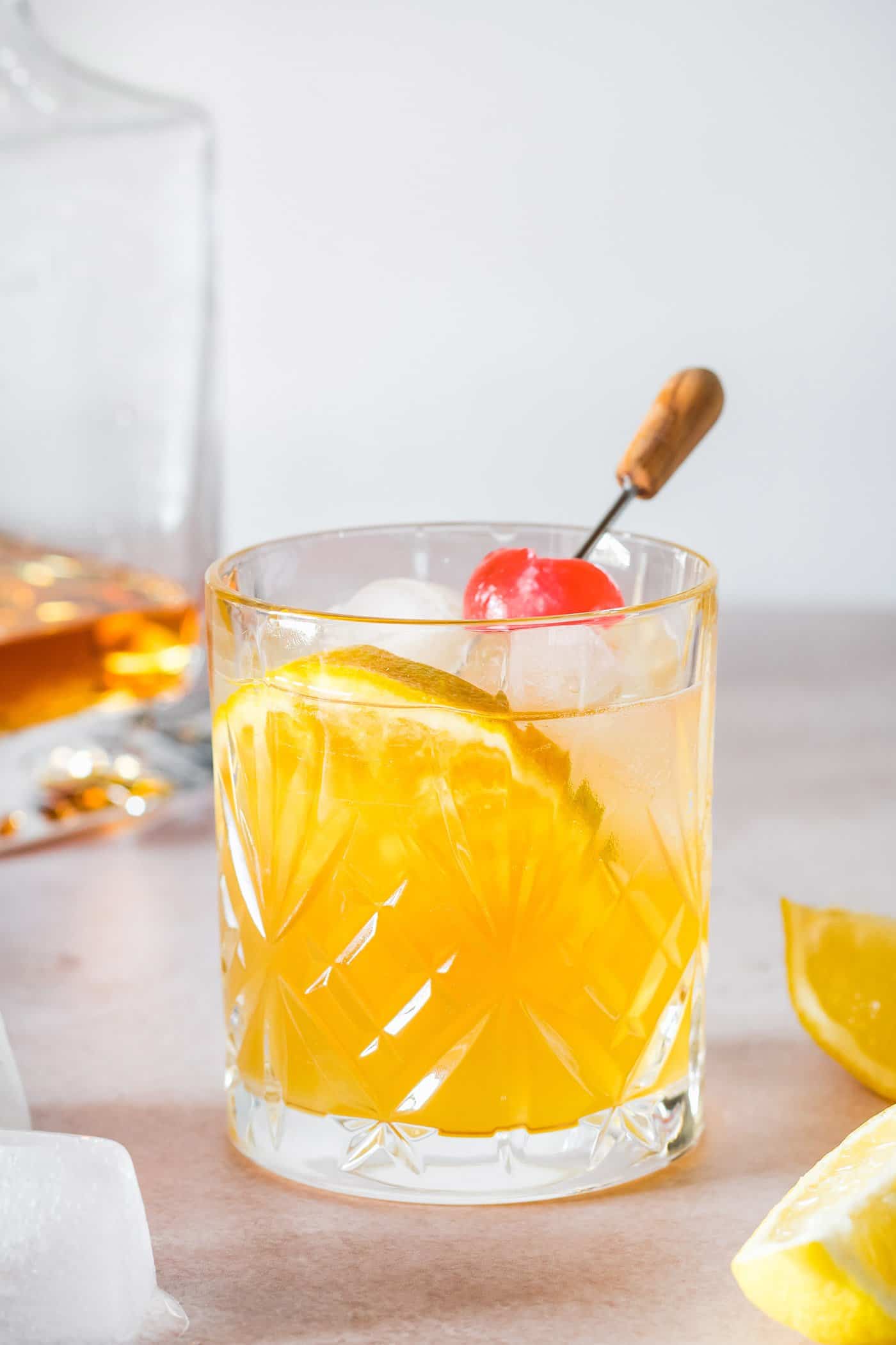 An Easy Whiskey Cocktail
As we steer away from the warm summer months to the cooler fall weather, I find myself reaching less for the refreshing fruity cocktails and margaritas, and more for the drinks that warm you from the inside out. And one of my go-to drinks is a Whiskey Sour.
Sure, you can enjoy this simple whiskey cocktail anytime – but to me, the slow sips of that sweet tart taste with the warmth of whiskey are just perfect for fall. Though super simple to make (just 3 ingredients!), a whiskey sour always feels like a special cocktail.
It's a great drink to serve guests as well. Friends served us this cocktail last fall, before treating us to some awesome pizzas from their outdoor pizza oven. And since we recently flipped the calendar to September, I can't get this beautiful cocktail off my mind!
Some whiskey sours include egg whites but I skipped that and stuck with the traditional bourbon sour – bourbon whiskey, lemon juice, and simple syrup, shaken and served over ice. No unique twists here, just a simple, timeless classic!
Here are a couple more cocktails that are perfect for fall: This Apple Sangria with Bourbon and Thyme is wonderful for an evening around the bonfire. And friends always love this Cranberry Gin and Tonic!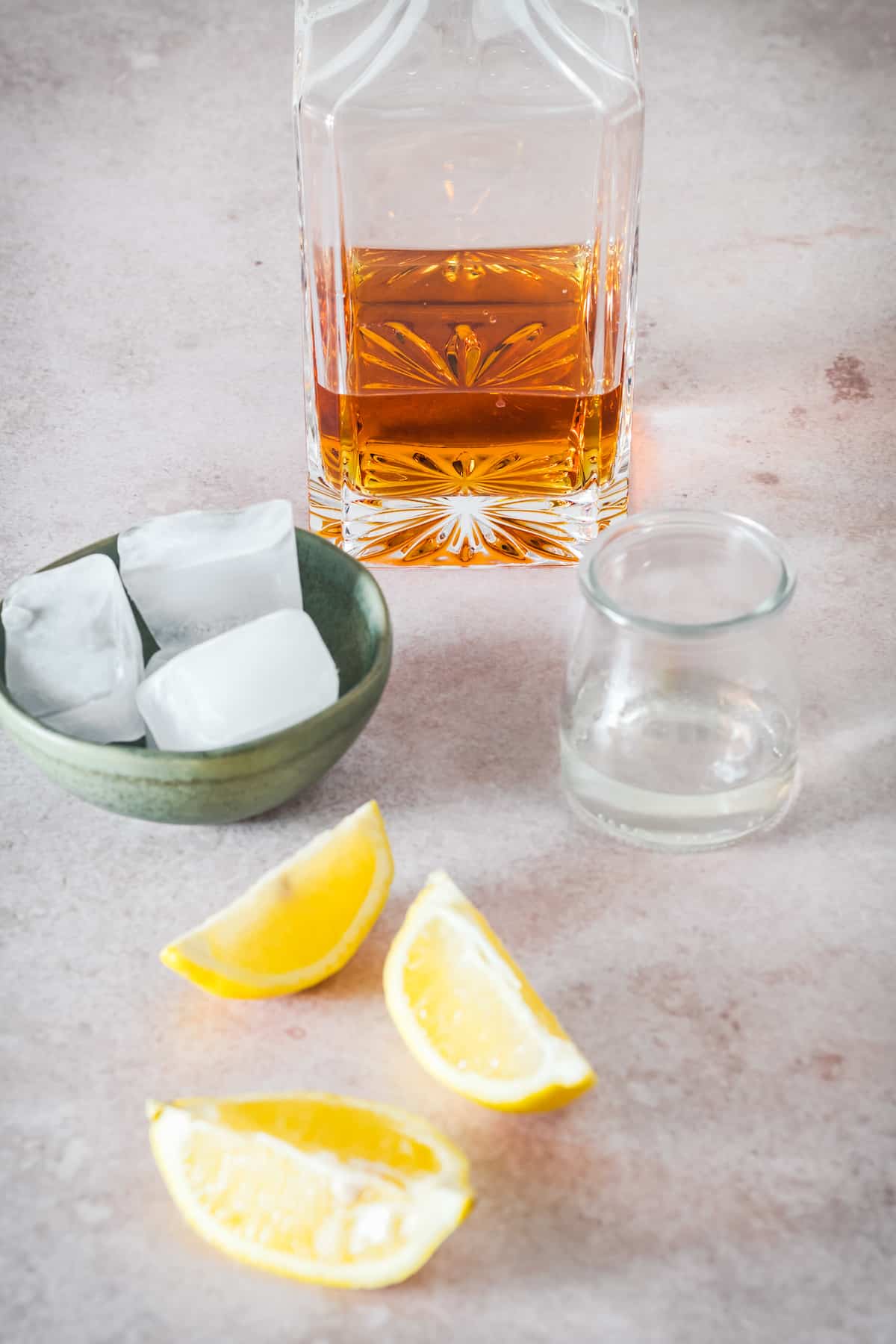 What You'll Need
You need just 3 ingredients plus ice and optional garnishes to make this easy whiskey sour!
Bourbon whiskey – This is the star of the cocktail, so be sure to use a good bourbon.
Lemon juice – You definitely want fresh squeezed lemon juice, not the bottled kind!
Simple syrup – You can buy this at the store or make your own. Maple syrup is also nice!
Ice
Garnishes – Garnishes are optional but cherries and orange slices add a nice touch.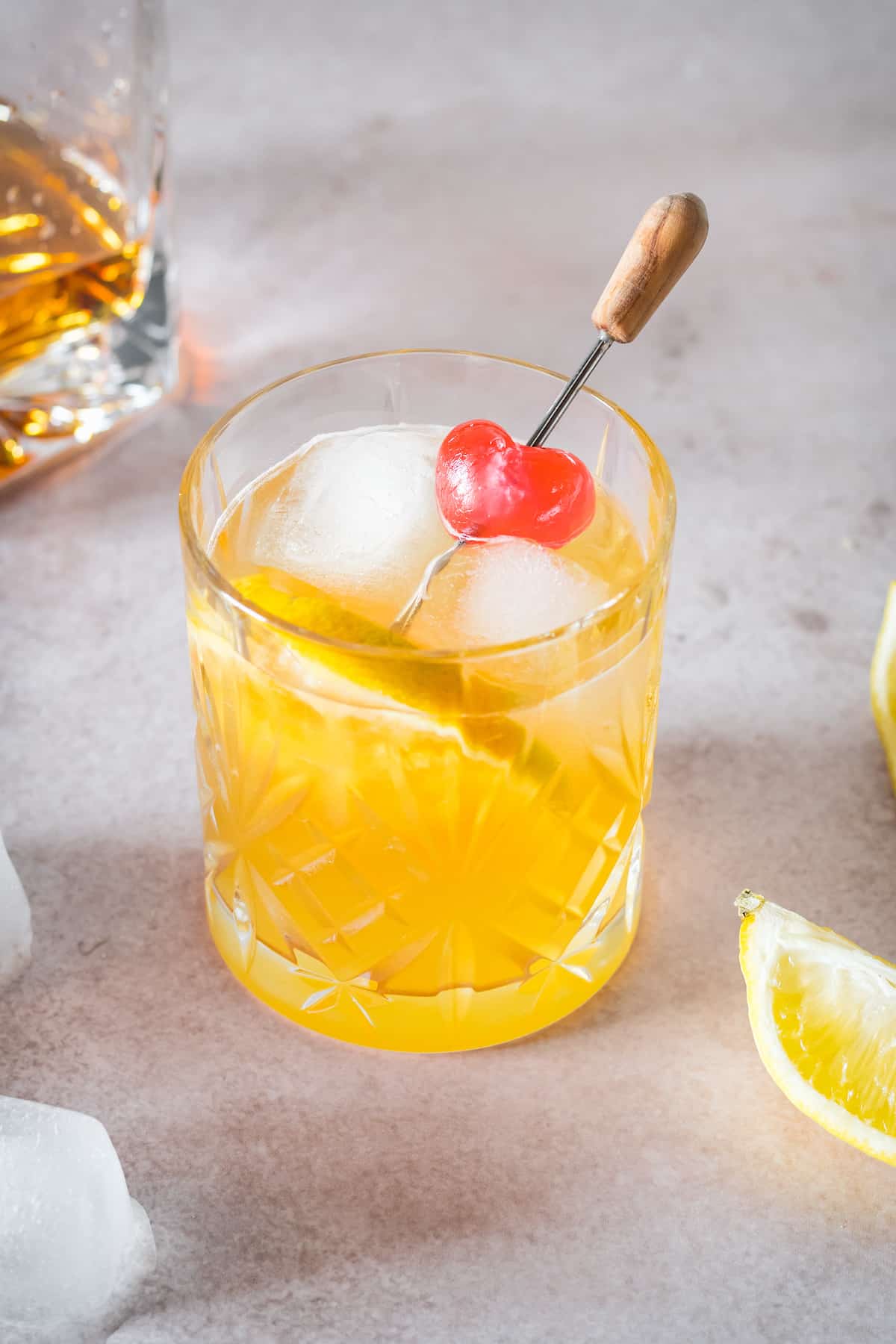 What's the Best Whiskey to Use?
This is a matter of personal preference – you can absolutely use whatever whiskey you normally drink in your cocktail.
But a whiskey sour is typically made with bourbon whiskey (and sometimes called a "bourbon sour"), specifically an 80-proof bourbon. Bourbon is a preferred option as it's slightly sweeter than other whiskeys, usually with a touch of vanilla.
Whatever whiskey you choose, opt for at least a mid-range liquor. A better whiskey will give you a better drink – you will taste the difference!
How to Make a Whiskey Sour
It takes just a few minutes to make a whiskey sour!
Shake. Shake whiskey, lemon juice, and simple syrup in a cocktail shaker with ice cubes for a full minute.
Serve. Strain the drink into a lowball glass. Serve with or without ice and garnished as desired.
Is it Safe to Drink Whisky Sour?
Traditionally a whisky sour will have a raw egg white mixed in to give the drink a silkier texture and frothy top. My whiskey sour recipe does not include an egg, which is why it doesn't look as creamy as a traditional whiskey sour. But it is every bit as delicious!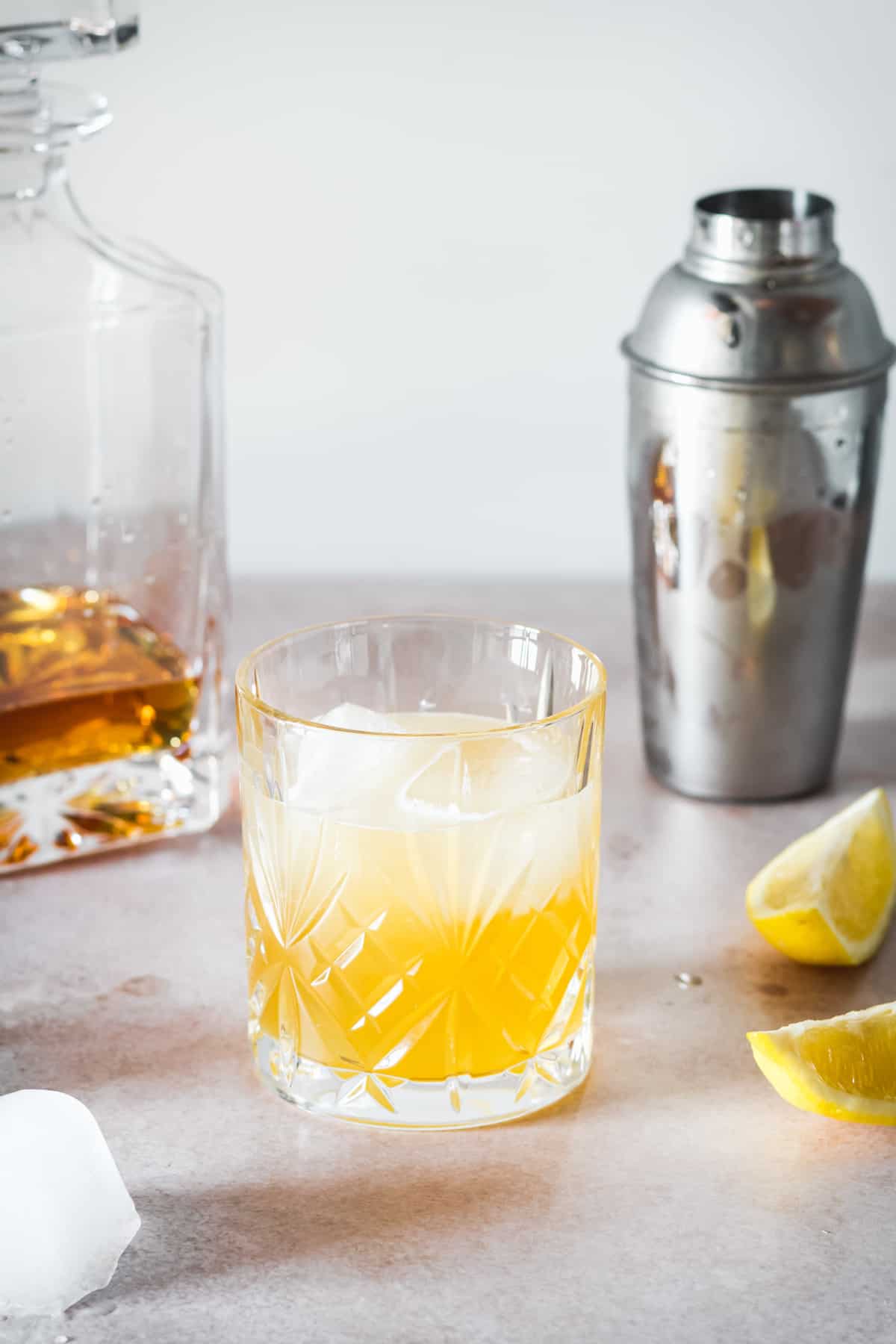 Tips for Success
This cocktail is so easy that there's not much that can go wrong – but here are a few things to keep in mind.
Fresh lemon juice only! Be sure to squeeze your own lemon juice for this cocktail. Bottled juice will not give you the same fresh flavor.
Make your own simple syrup. Simple syrup can be made by boiling equal parts water and sugar until the sugar completely dissolves. It's quick and easy to make; I always have some on hand in our fridge. But you can also buy it at the store.
Serve immediately. Bourbon sours are best enjoyed chilled, immediately after being shaken. So shake it up, strain, and enjoy!
Whiskey Sour with Egg White
This is a fun variation, one that you'll often find when you're out and about, at high-end cocktail bars – a whiskey sour with egg white. It's so pretty with its layered effect, plus it has a fun, full texture!
If you'd like to include this element at home, just shake 1 pasteurized egg white with the whiskey, lemon juice, and simple syrup – without ice, for 15 seconds. This is called a dry shake. Then add the ice and shake again for 30 seconds more.
Strain into a glass, with or without ice, and watch the egg white foam form a layer over the top.
Serving Suggestions
You can serve your whiskey sour with or without ice, but just be sure to serve it super chilled. I prefer to serve mine over ice because it keeps the drink extra chilled and I like how the ice slightly dilutes the whiskey.
For a fancier, garnished drink, add a maraschino or other cocktail cherry and a slice of orange.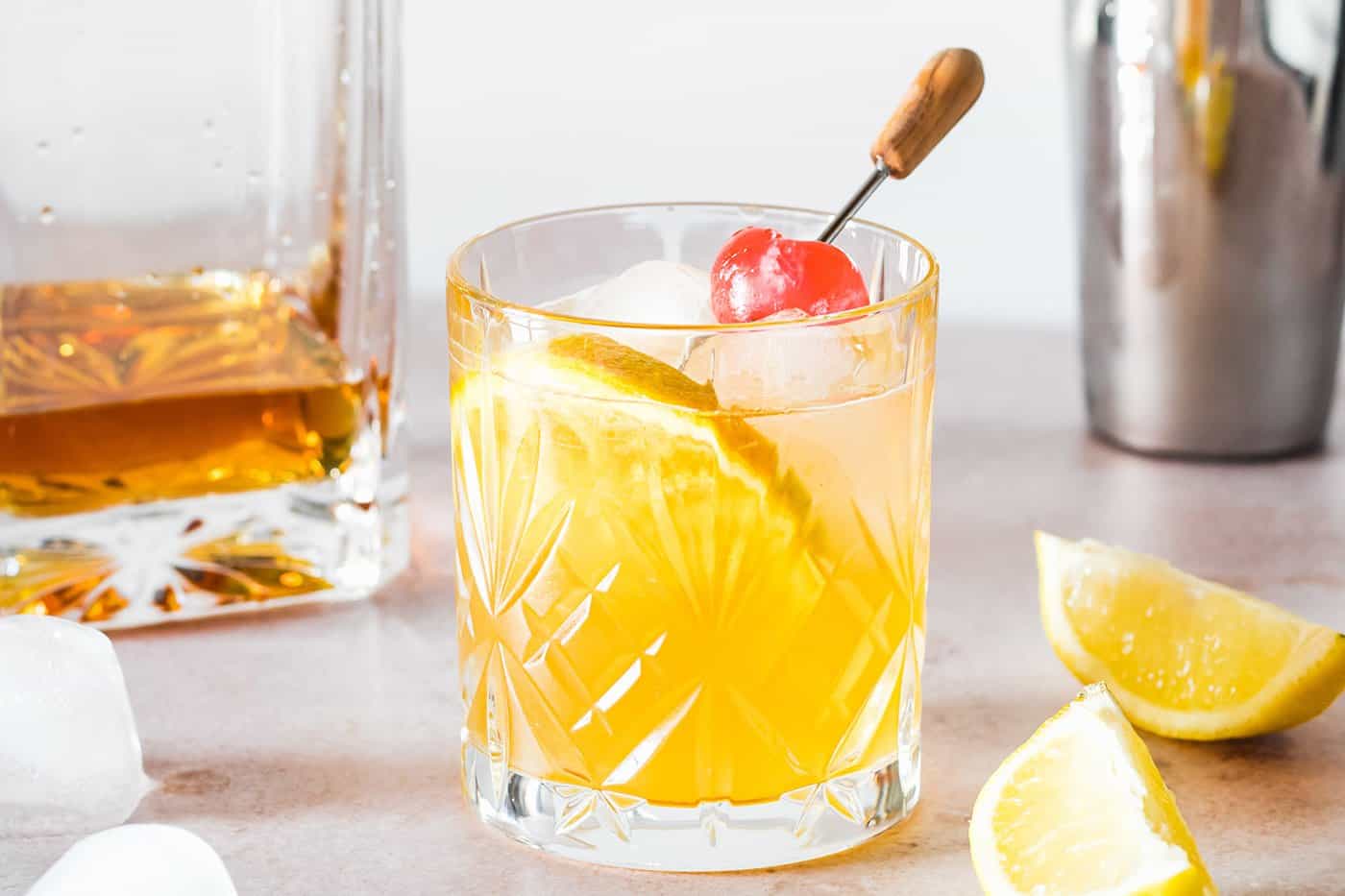 Can I Make This In Advance?
This is a cocktail that should be served immediately after it's shaken, so should not be made in advance. But if you want to serve this cocktail to guests, you could always juice the lemons ahead of time and keep the juice chilled in the fridge. This will speed up the cocktail making after your guests arrive!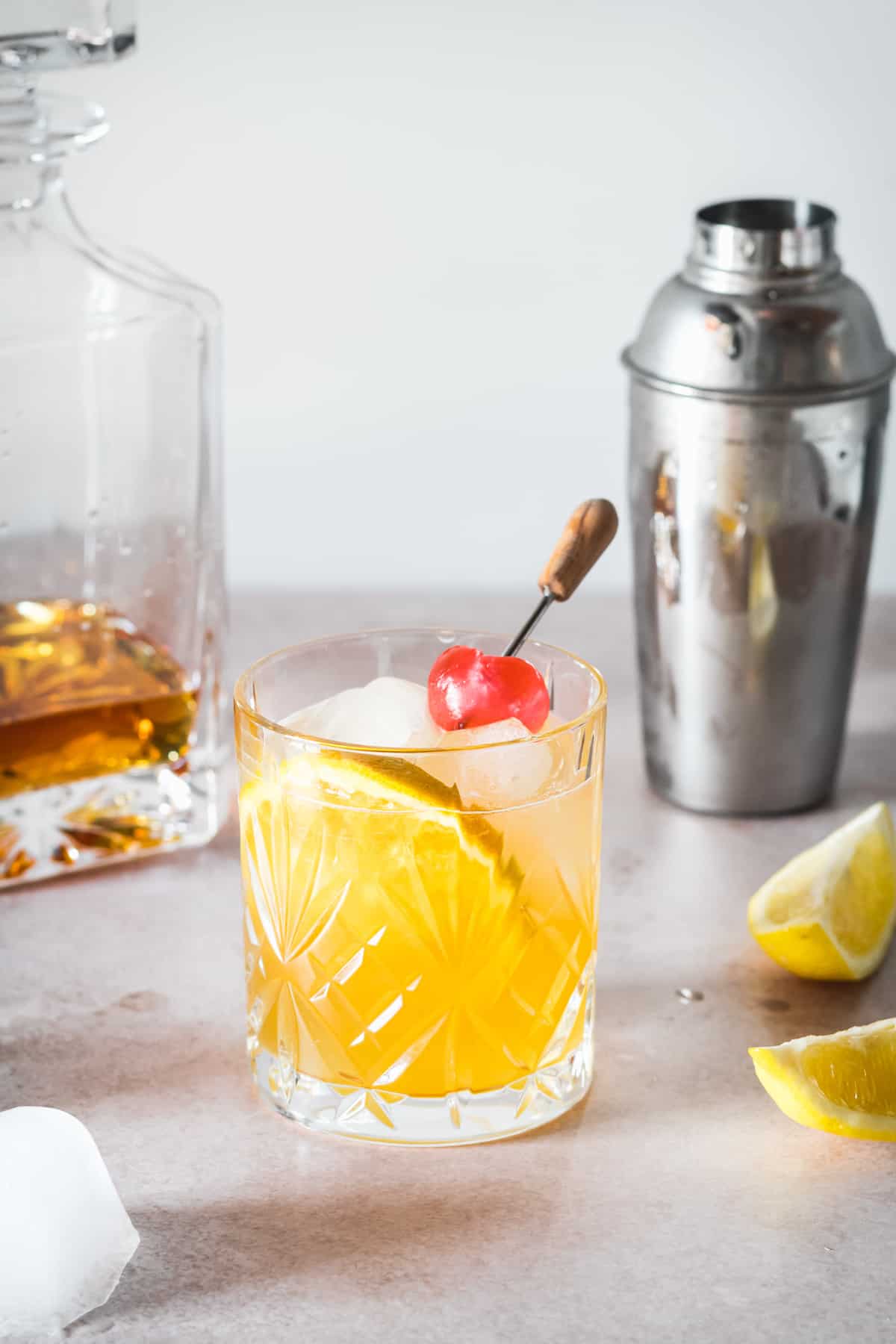 More Easy Cocktail Recipes:
Like this recipe? Save it to Pinterest!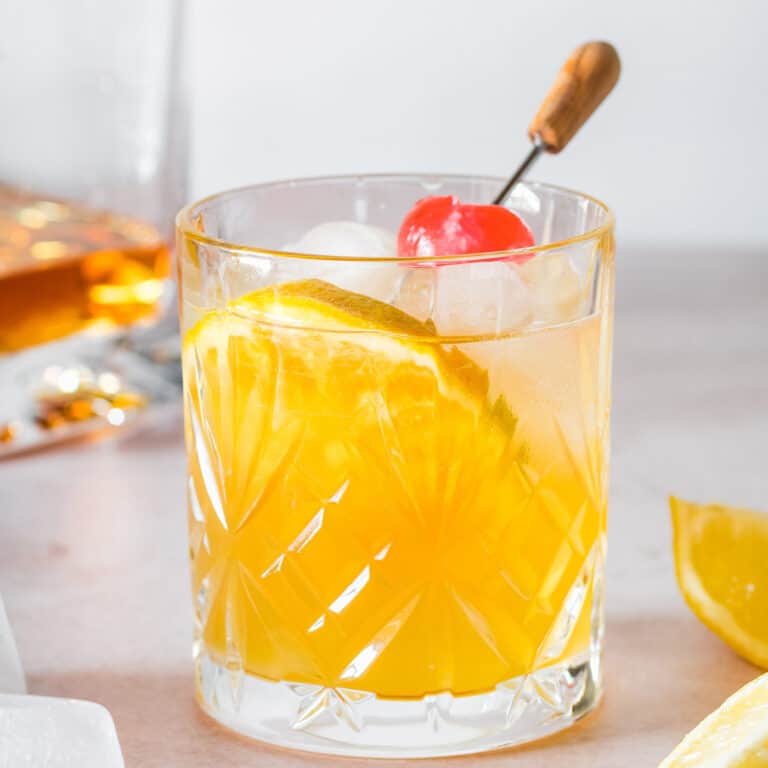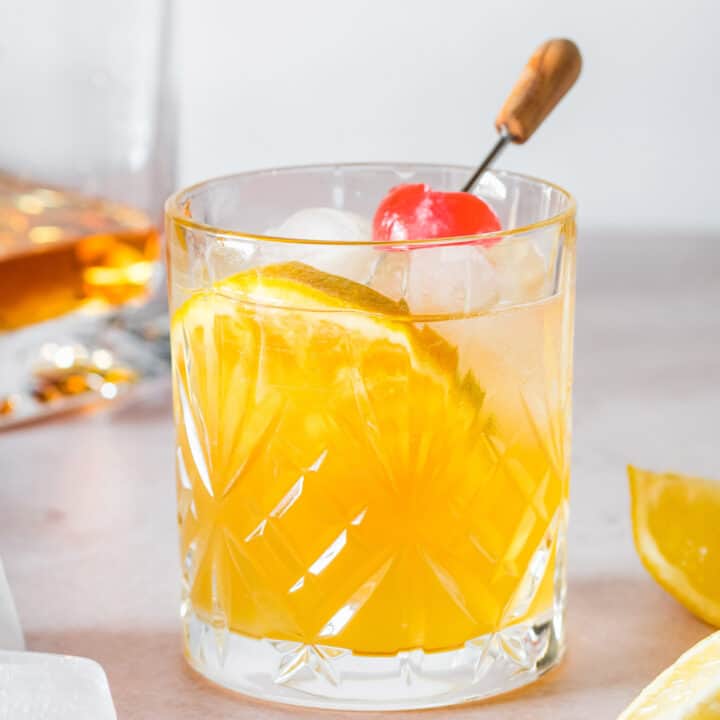 Whiskey Sour
Yield: 1 drink
Prep Time: 10 minutes
Total Time: 10 minutes
Made with bourbon whiskey, fresh lemon juice, and simple syrup, this Whiskey Sour is a classic cocktail that's easy to make. Just 3 ingredients and a few minutes is all you need to make this sweet tart drink!
Ingredients
2 ounces good quality bourbon whiskey
2 ounces fresh squeezed lemon juice
1 ounce simple syrup
ice
cherry and an orange slice, optional garnish
Instructions
Add whiskey, lemon juice, and simple syrup to a cocktail shaker. Add ice cubes. Cover shaker and shake for 1 full minute.
Strain drink into a lowball glass.
Enjoy with or without ice cubes, and with a garnish of cherry (maraschino or other cocktail cherry) and an orange slice if desired.
Notes
Recipe adapted slightly from cocktails shared by friends Seth & Paula Kersten, who used the recipe from a couple cooks.
Nutrition Information:
Yield: 1
Serving Size: 1
Amount Per Serving:
Calories: 266
Total Fat: 0g
Saturated Fat: 0g
Trans Fat: 0g
Unsaturated Fat: 0g
Cholesterol: 0mg
Sodium: 4mg
Carbohydrates: 36g
Fiber: 3g
Sugar: 27g
Protein: 2g
Nutrition information is automatically calculated by Nutritionix. I am not a nutritionist and cannot guarantee accuracy. If your health depends on nutrition information, please calculate again with your own favorite calculator.