Strawberry Gin and Tonic
Strawberry Gin and Tonic – This strawberry cocktail is a summery twist on the classic gin and tonic recipe. With an easy-to-make strawberry syrup, this promises to be your go-to cocktail of the summer!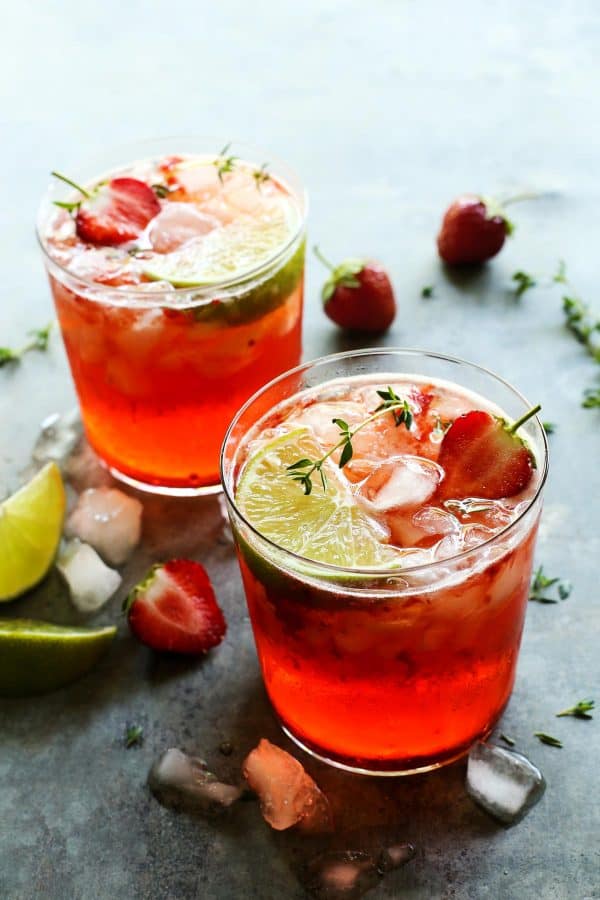 Strawberry Gin and Tonic for Summertime!
Right now.
THIS is the time of year to be enjoying a Strawberry Gin and Tonic!
Our local strawberry patches have just kicked into gear, and the berries are beautiful. They're utter perfection, with the sweetest flavor and luscious texture.
And they make the most incredible strawberry gin cocktail. Won't you please join me in raising a celebratory glass to summer?!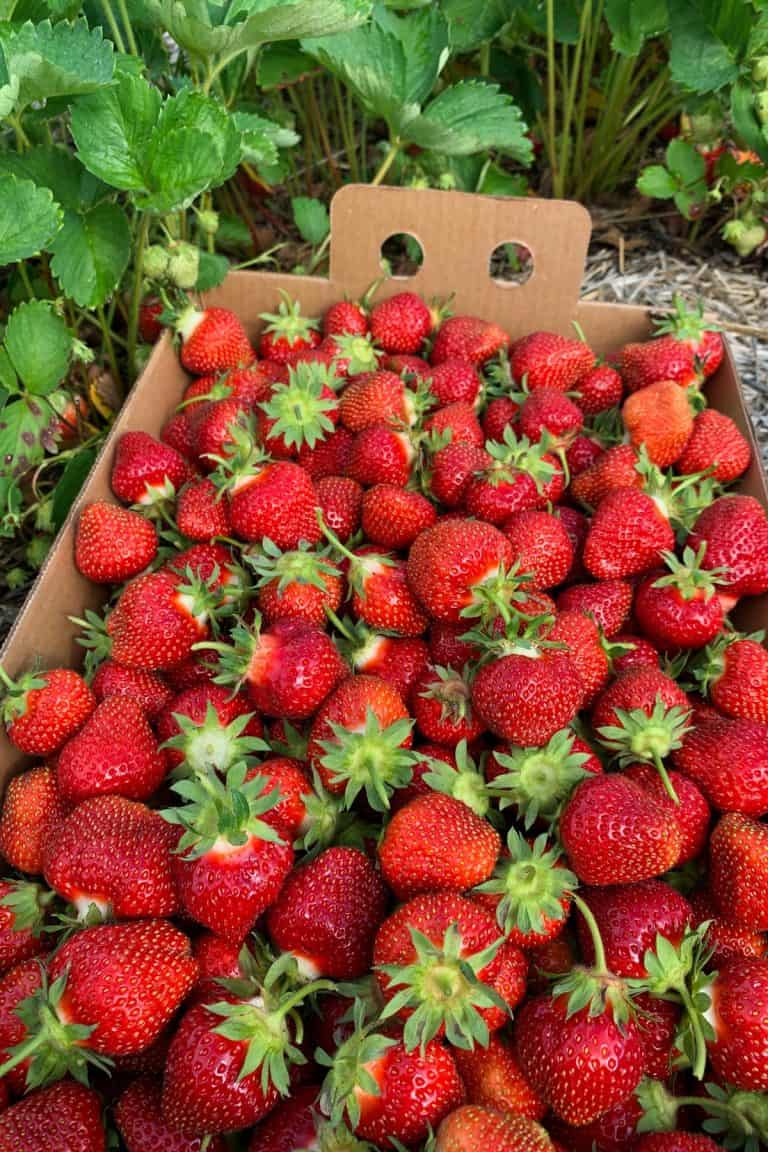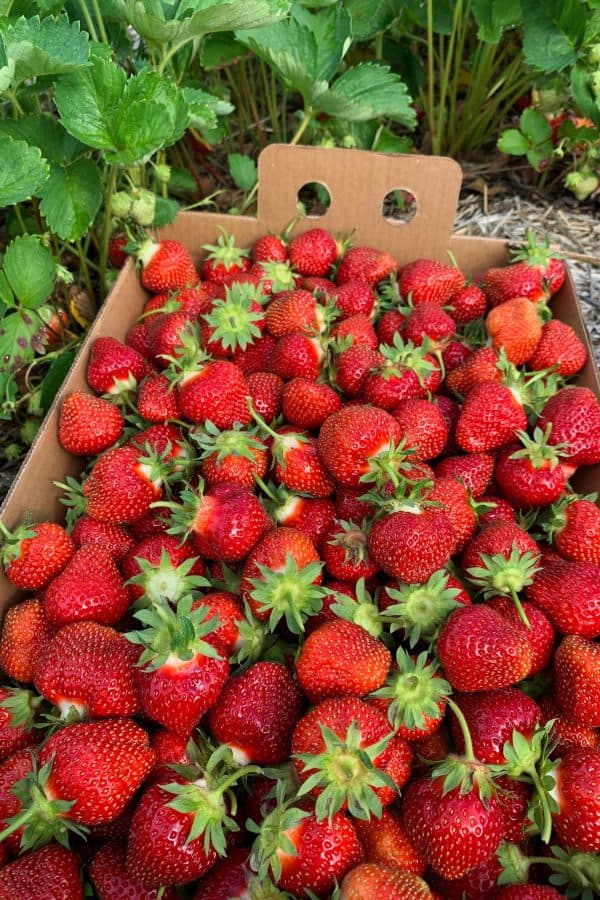 Each year, about now, we make a trip to one of the local strawberry patches. We usually alternate between this one and this one.
I like to get there early in the morning, before it gets crowded and the sun gets high and hot. It's simply a more joyful experience for me.
Also. Sometimes, if you wait until later in the day (even later in the morning), the patches get picked out. And that is no fun at all; to plan an outing, only to go home empty-handed.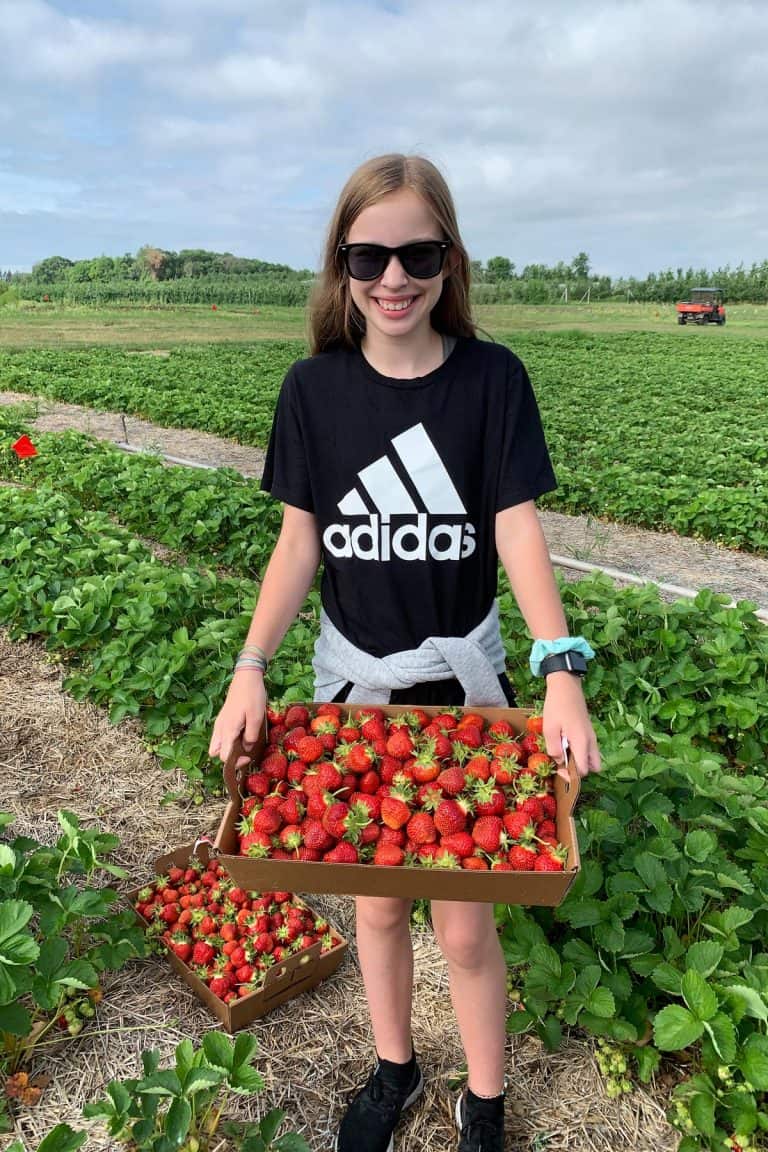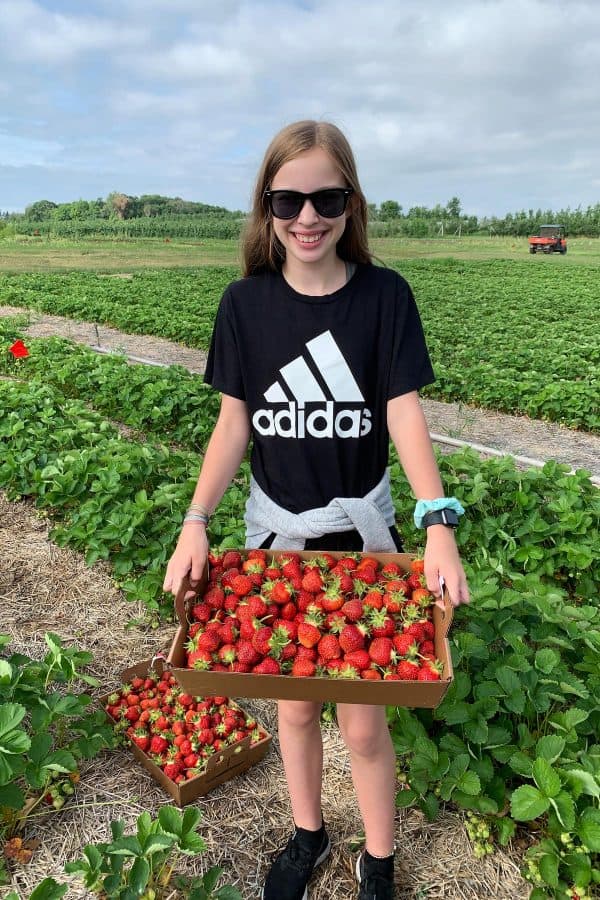 Our girls are never exactly crazy about the actual picking of the strawberries. But they know how wonderful those strawberries taste, picked right from the field, warm from the morning sun. So they make their momma happy and go along.
The girls also know that I'll buy them a strawberry donut dusted with powdered sugar at the checkout if they go with me. Big-time bonus. Those tender, just-baked strawberry donuts are so fun!
Need some strawberry recipe inspiration? How about this Creamy Strawberry Fluff with Fresh Strawberry Sauce. Or Strawberry Rhubarb Crumb Bars. Or Strawberry Rhubarb Crisp. And everyone always adores my aunt Patsy's strawberry pie. I could go on and on!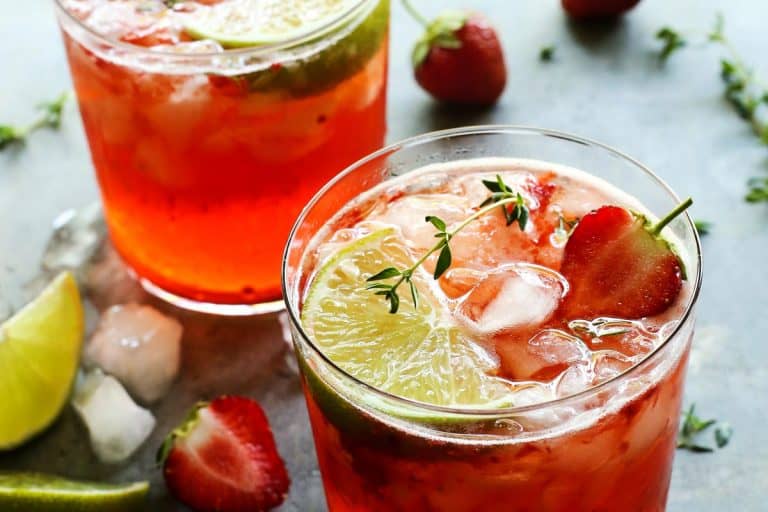 Strawberry Gin and Tonic
For this fun twist on the classic gin and tonic, I start with a homemade strawberry syrup. I simply cook down strawberries with sugar, water, and a squeeze of lemon juice. This leaves me with a beautiful mix-in that keeps well in the refrigerator for a few weeks.
The strawberry syrup works equally well for alcoholic and non-alcoholic drinks…I don't like to leave anybody out. Stir the mix into cocktails, lemonade, or club soda. EVERYONE deserves to indulge in the beautiful strawberries of the season!
Besides the strawberry syrup, there's also gin and tonic water. Of course.
And then to finish, it's all about the strawberry gin and tonic garnish. A ruby red strawberry or two, a fresh lime wedge, and a sprig of fresh thyme.
Beautiful, beautiful, beautiful!
Like this strawberry gin cocktail? Save it to Pinterest!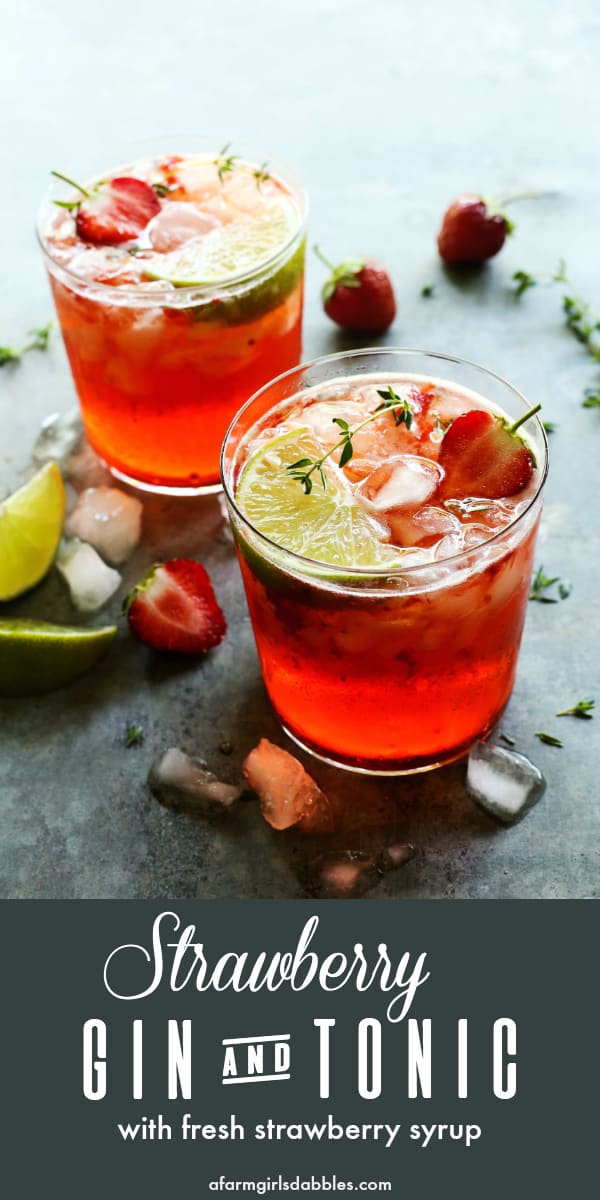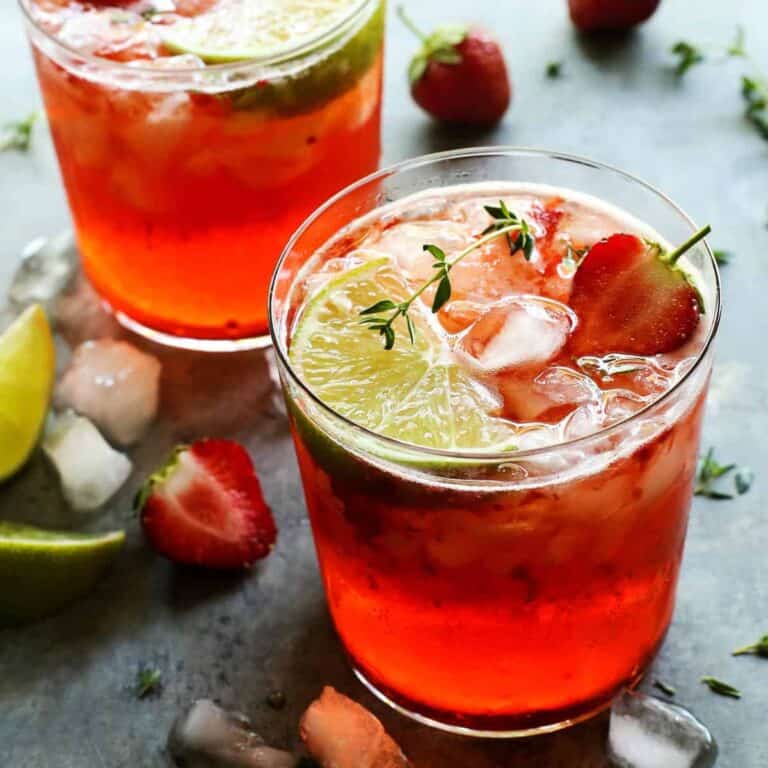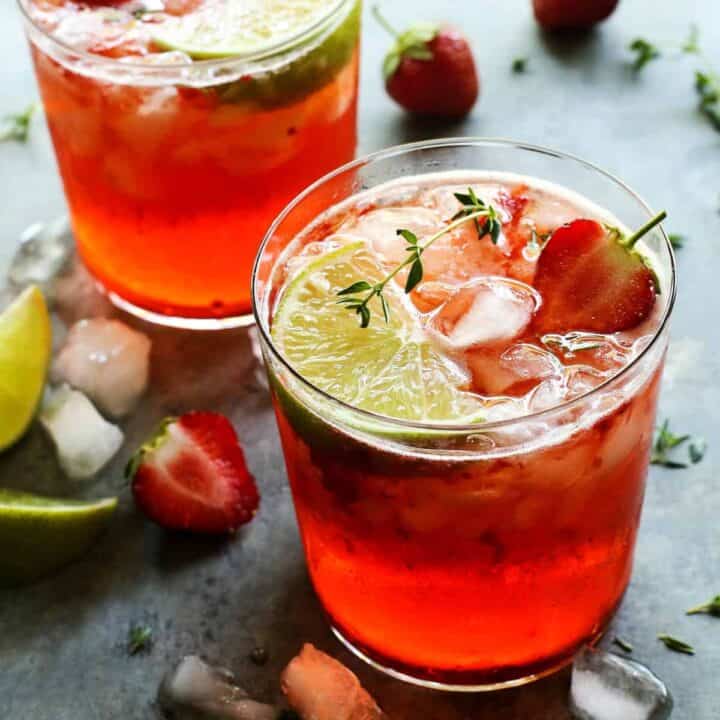 Strawberry Gin and Tonic
Yield: 1 serving
Prep Time: 20 minutes
Cook Time: 10 minutes
Total Time: 30 minutes
A strawberry cocktail that's a summery twist on the classic gin and tonic recipe. With an easy-to-make strawberry syrup, this promises to be your go-to cocktail of the summer!
Ingredients
1 to 2 T. fresh strawberry puree
2 oz. fresh strawberry syrup, chilled
2 oz. gin, chilled
2 oz. tonic water, chilled
1 lime wedge
1 strawberry, halved
1 sprig fresh thyme
Instructions
for the strawberry gin and tonic: Fill a 12-ounce glass half-full with ice.
Add strawberry puree (simply mash a couple strawberries with a fork until you have a very loose mixture), strawberry syrup, gin, and tonic water. Then squeeze a lime wedge over the top.
Give a gentle stir to combine. Taste test, adding more strawberry syrup if desired. Add the lime wedge to the cocktail, along with the strawberry halves and thyme. Enjoy!
Notes
for the strawberry syrup: In a medium saucepan over medium-high heat, combine 2 pounds sweet strawberries (stems removed, halved), 2 cups water, and 1 cup sugar. Bring to a boil. Turn heat down a bit and let cook for 10 to 15 minutes, or until strawberries are soft and light pink in color. Remove from heat and let cool. Place a fine mesh strainer lined with a double layer of cheesecloth over a bowl. Pour strawberry mixture through cheesecloth, allowing juices to drain into bowl beneath. Gather up sides of cheesecloth and gently press on cheesecloth to squeeze out all the delicious strawberry syrup. Discard cheesecloth mixture. Stir 1 tablespoon fresh lemon juice into strawberry syrup. Place in covered container and store in refrigerator. Keeps well for a few weeks. Mix into cocktails, lemonade, and club soda.
Note: The amount of strawberry syrup you'll use will depend on the sweetness of your strawberries and your own personal preference for sweetness.
from a farmgirl's dabbles
Nutrition Information:
Yield: 1
Serving Size: 1
Amount Per Serving:
Calories: 368
Total Fat: 0g
Saturated Fat: 0g
Trans Fat: 0g
Unsaturated Fat: 0g
Cholesterol: 0mg
Sodium: 10mg
Carbohydrates: 62g
Fiber: 3g
Sugar: 54g
Protein: 1g