Harvest Apple Sangria with Bourbon and Thyme
Whether you're sitting around the fire pit or entertaining for Thanksgiving, this Harvest Apple Sangria with Bourbon and Thyme is perfect for fall.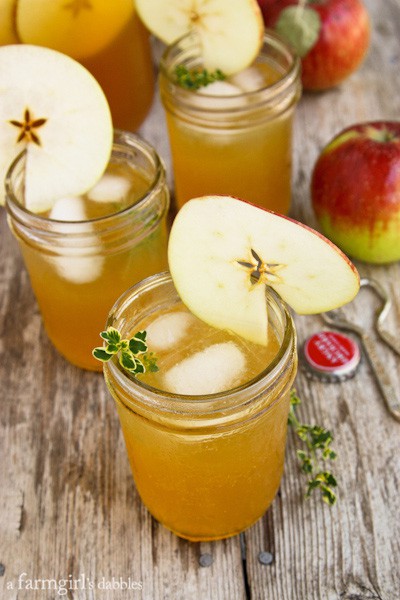 I'm thankful for apples. Not only are these juicy orbs beautiful and tasty, and so fun to cook and bake with, but they also help me to release my clenched grasp on summer. Their sweet crunch allows my heart and my mind to transition more gracefully to the next season. To enjoy the here and now, and to embrace the beauty of fall.
Ever since we went apple picking a couple weeks ago, at a local orchard on a gloriously sunny afternoon, not a day has gone by where I haven't enjoyed a tart-sweet Haralson apple, juicy and crispy and all things fabulous. They are breakfast, lunch, and supper. Baked in an overnight oatmeal or pancakes, pan fried with bites of pork ribs leftover from weekend grilling, or enjoyed in our favorite chunky applesauce, apple bread, and apple peanut butter cookies…I love 'em!
But this is the first recipe I've shared that involves apples in a beverage, and it's a good one. This Harvest Apple Sangria with Bourbon and Thyme is just the bevvy to help you embrace autumn and all its splendor.
[rss-cut]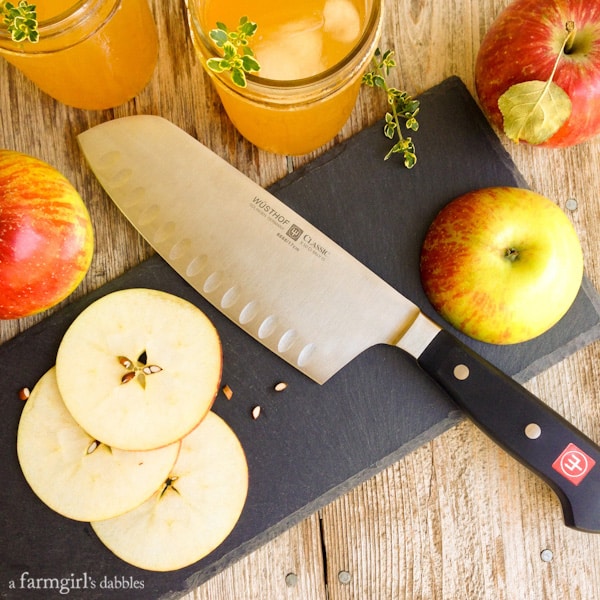 This apple sangria centers around gorgeous slicings of fresh apple rings. I used my new WÜSTHOF CLASSIC 7″ Hollow Edge Chai Dao knife for the job, after winning it in a drawing at New York's Longhouse Food Revival that I attended on behalf of the National Cattlemen's Beef Association a few weeks ago.
This knife is a real work horse, a traditional Chinese-style knife that is shaped like a smaller version of a cleaver. All from our preferred brand in knives, WÜSTHOF. This beauty performs all the functions of a santoku (my very favorite knife is the WÜSTHOF CLASSIC 7″ Santoku!) and a chef's knife, an excellent choice for prepping fruits and veggies. With a wide blade and razor-sharp fine edge, it was so fun to be able to cut apple slices super thin and super straight for this sangria!

Be sure to read to the end of this post for information on how you can win a WÜSTHOF CLASSIC 7″ Hollow Edge Chai Dao knife of your very own!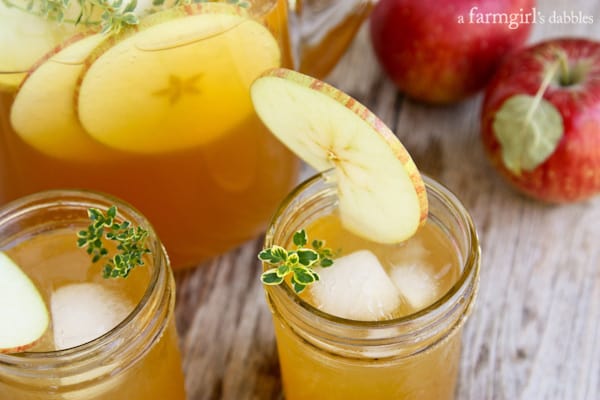 You know how much I love to play with bourbon. I blame that trip to Louisville, Kentucky a couple years ago! Here are a few favorites:
Blake is not a sangria kind of guy, but he has liked every single bourbon-infused sangria I've made. And he says that this is my best sangria yet! Containing so many wonderful ingredients, I'm not surprised. Fresh pressed apple cider (the good stuff, the raw stuff!), bourbon, my top pick for hard cider, my new favorite thing to play with in drinks, and fresh lemon thyme from the herb garden…it's a beautiful concoction in your glass.
We toted this apple sangria over to our friends' home the previous weekend, to enjoy some pizza and then s'mores around the campfire on a warm fall evening. The sangria went down nice and easy, approved by all. I do hope you'll give it a try!
Find the apple sangria recipe below and click here for the WÜSTHOF giveaway!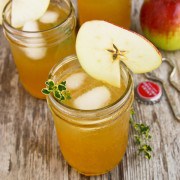 Harvest Apple Sangria with Bourbon and Thyme
Directions:
Add the Chardonnay, apple cider, bourbon, lemon juice, and orange bitters to a large pitcher. Slice apples (do not peel) thinly, crosswise, to get apple rings. Discard seeds and add apple rings to pitcher, along with the 6 sprigs of thyme. Place pitcher in refrigerator to chill and to let the flavors mingle for a couple hours. Right before serving, stir in the hard cider. Adjust sangria according to your own taste by adding a bit more apple cider, bourbon, and/or orange bitters. Pour apple sangria into ice filled glasses, adding an apple slice and a fresh sprig of thyme to each glass.
from a farmgirl's dabbles
©
Disclaimer:  The associated giveaway prize is being provided for by WÜSTHOF, but I have not been paid to write this post. I won the WÜSTHOF CLASSIC 7″ Hollow Edge Chai Dao at the Longhouse Food Revival, and have since received additional WÜSTHOF products for review. I'm proud to say that WÜSTHOF has been in our home since we were first married over 15 years ago. It's a brand we already know and love. All opinions are my own. 
We participate in the Amazon Services LLC Associates Program, an affiliate advertising program designed to provide a means for us to earn fees by linking to Amazon.com and affiliated sites. See our disclosure policy for more info.