Apple Sangria with Bourbon and Thyme
Apple Sangria with Bourbon and Thyme: This fall sangria recipe is perfect for sitting around an autumn fire or entertaining for Thanksgiving!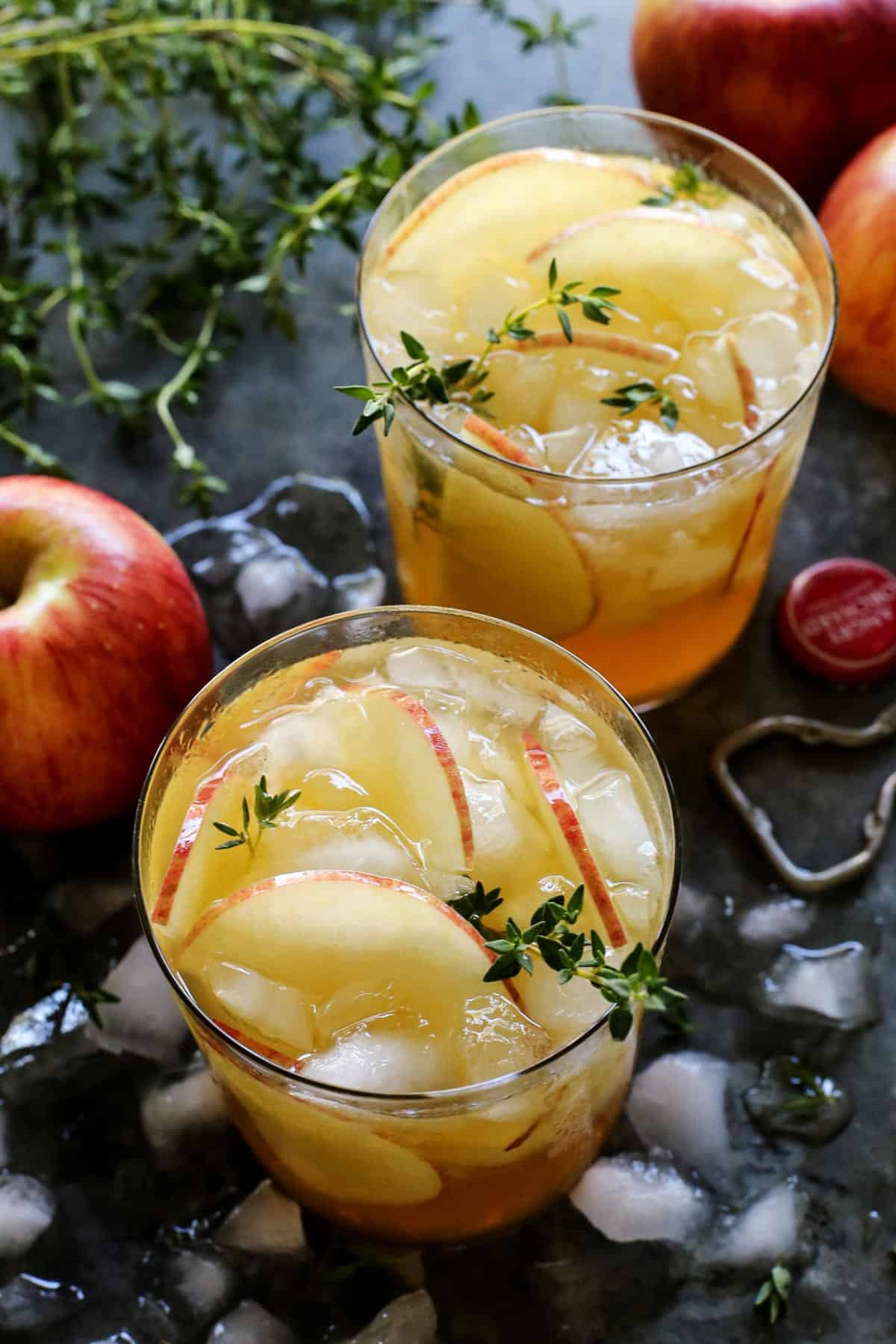 I'm thankful for apples.
Not only are they beautiful and tasty, and so fun to cook and bake with, but they also help me release my clenched grasp on summer.
Their sweet crunch allows my heart and my mind to transition more peacefully to the next season. To enjoy the here and now, and to embrace the beauty of fall.
If you like to sit around a fire on a crisp autumn evening or entertain guests for Thanksgiving, I have just the perfect cocktail for you. Dressed up or down, this Apple Sangria with Bourbon and Thyme was made for celebrating fall!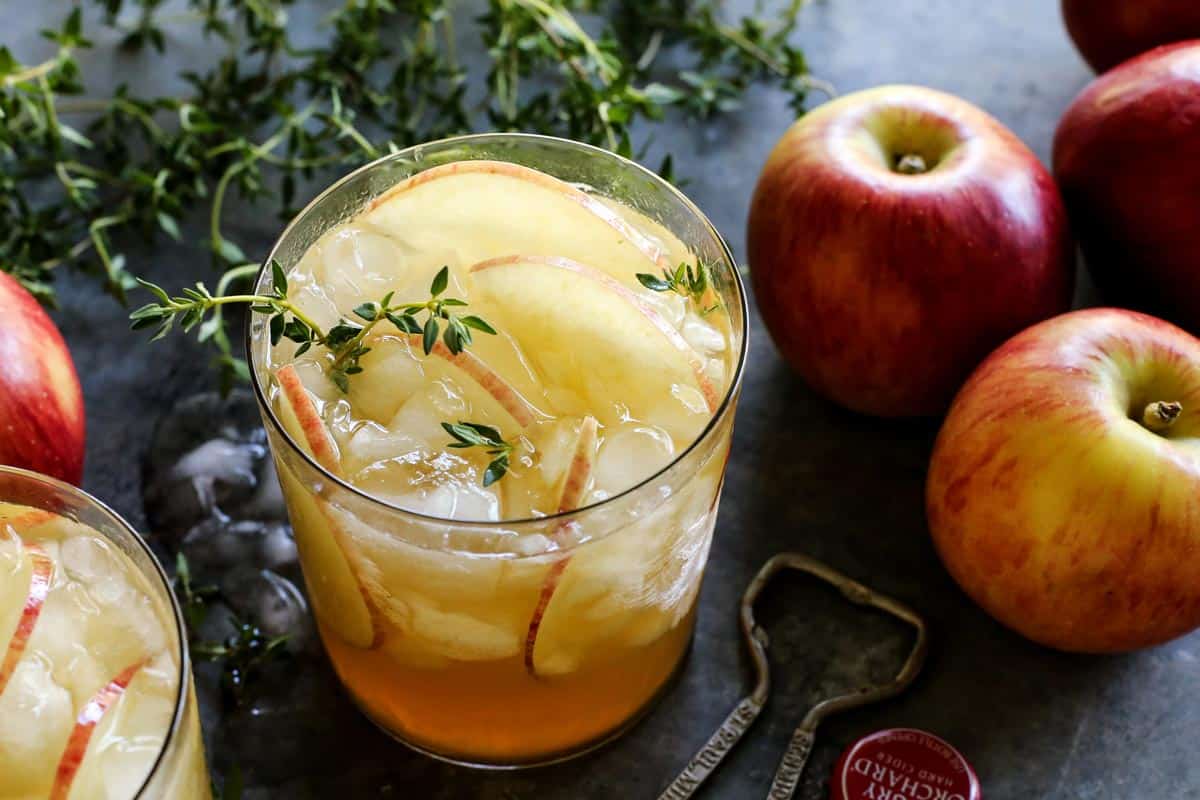 Fall is Apple Season!
Every fall, I keep close tabs on our local apple orchards, waiting for the first one to announce that their Haralsons are ready for picking. This tart apple, juicy and crispy and all things fabulous, is my favorite. It's the variety I grew up with on the farm.
And when the Haralsons are in season, they are my breakfast, lunch, and supper.
Baked in an overnight oatmeal or pancakes, pan-fried with bites of pork ribs leftover from weekend grilling, or enjoyed in our favorite chunky applesauce, apple bread, and apple peanut butter cookies…I love 'em!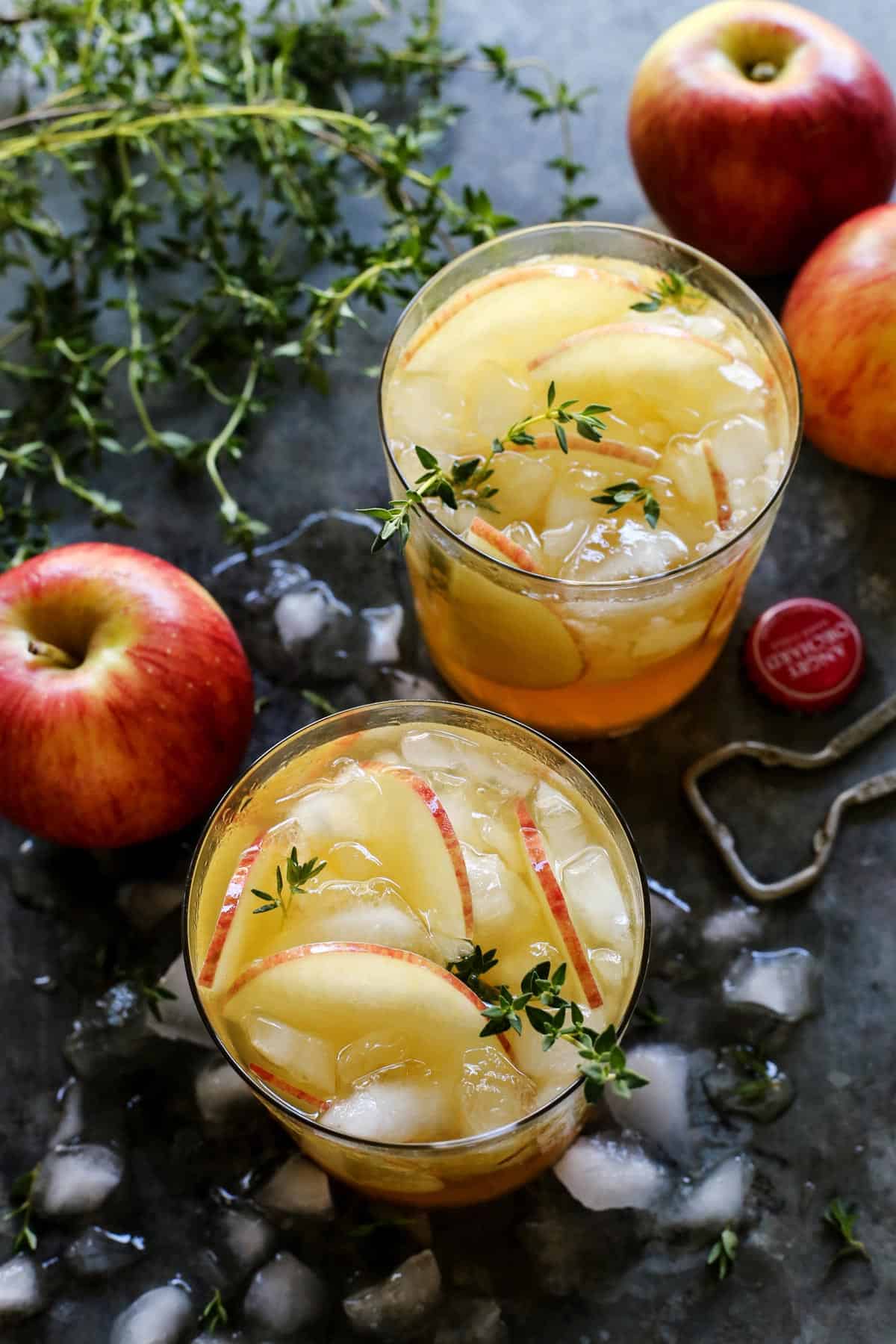 But this is the first recipe I've shared that involves apples in a beverage.
And this fall sangria is a good one!
Apple Sangria
How to make a apple sangria for fall?
I start out with a bottle of Chardonnay, for its fuller body. Look for one that's unoaked, which will have a brighter, fresher flavor.
Then I reach for fresh pressed apple cider. Do not, under any circumstance, buy a bottle of apple juice. This sangria needs the good stuff, the raw stuff. You'll find the fresh pressed apple cider in the fresh produce section of the grocery store during the fall and early winter months, usually with a local apple orchard's label. Orchards will often sell their own cider on-site, too.
Hard cider adds another kick of apple flavor, plus a touch of effervescence. My favorite hard cider is fun to play with when it comes to both food and drink recipes. If you haven't yet made this hard cider pot roast, I suggest you get right on that!
And finally, let's talk bourbon. I give credit to a trip to Louisville, Kentucky a number of years ago, for my increased curiosity with this southern specialty. Since then, I've mixed up a Bacon Bourbon Old Fashioned – and pitchers of Pineapple Mint Julep Sangria and Sangria in Rosé, Bourbon, and Blue. Blake is not a sangria kind of guy, but he has liked every single bourbon-infused sangria I've made. And he says that this is my best sangria yet.
Like this fall sangria? Save it to Pinterest!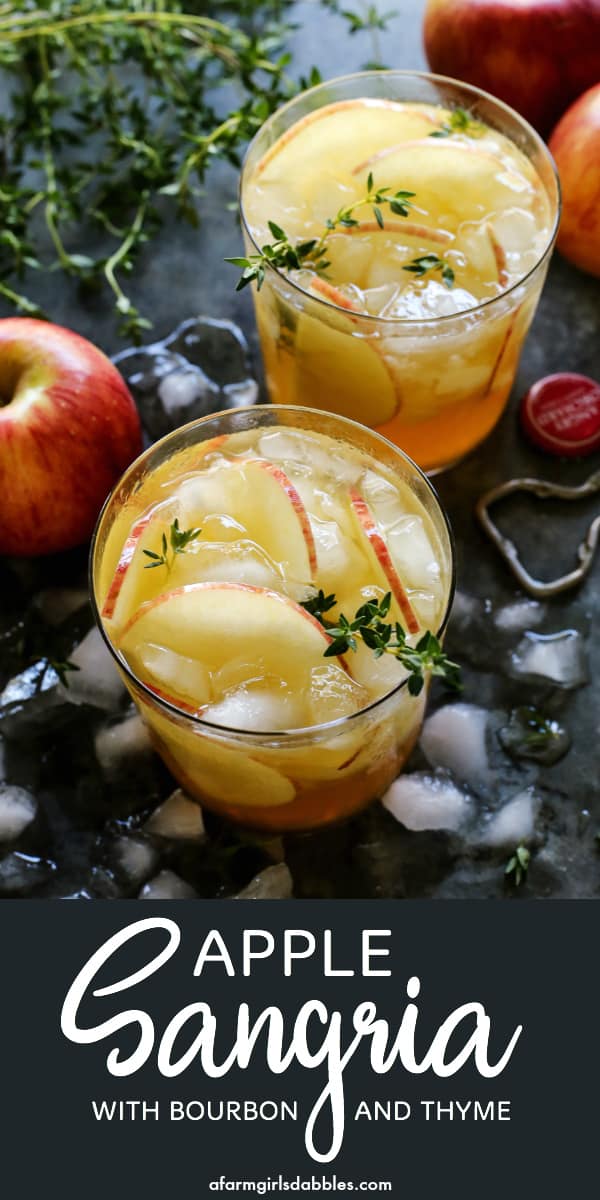 Here are a few more sangria recipes I'd love to try!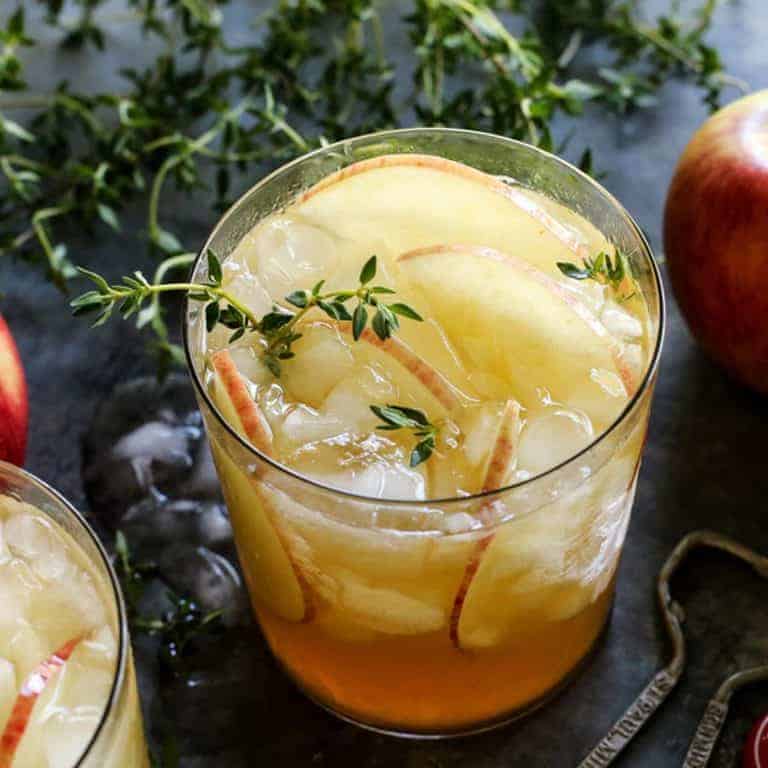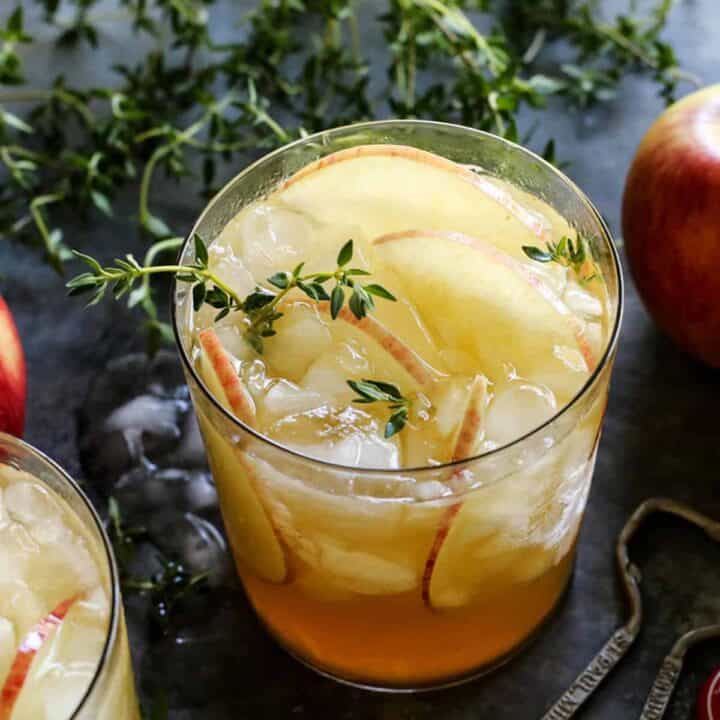 Apple Sangria with Bourbon and Thyme
Yield: 10 servings
Prep Time: 15 minutes
Total Time: 15 minutes
This fall sangria recipe is perfect for sitting around an autumn fire or entertaining for Thanksgiving!
Ingredients
1 750 mL bottle chilled unoaked Chardonnay
2 c. fresh pressed apple cider (not apple juice)
1/2 c. your favorite Bourbon
2 T. freshly squeezed lemon juice
1 tsp. orange bitters - I used Fee Brothers
2 medium-sized firm, tart apples - I like to use Haralson or Honeycrisp
6 sprigs thyme, plus one sprig for each individual drink
2 12-oz. bottles Angry Orchard "Crisp Cider" hard cider
Instructions
In a large pitcher, stir together Chardonnay, fresh pressed apple cider, Bourbon, lemon juice, and orange bitters.
Slice apples (do not peel) thinly, crosswise, to get apple rings. Discard any seeds and then cut rings in half. Add apple slices and 6 thyme sprigs to pitcher. Place pitcher in refrigerator to chill and let flavors mingle for a couple hours.
Right before serving, stir in the hard cider. Taste sangria and adjust if desired - adding more apple cider, Bourbon, and/or bitters, to taste. Fill individual glasses 2/3-full with crushed ice and pour sangria over the ice. Add a few apple slices and a fresh sprig of thyme to each glass.
Notes
from a farmgirl's dabbles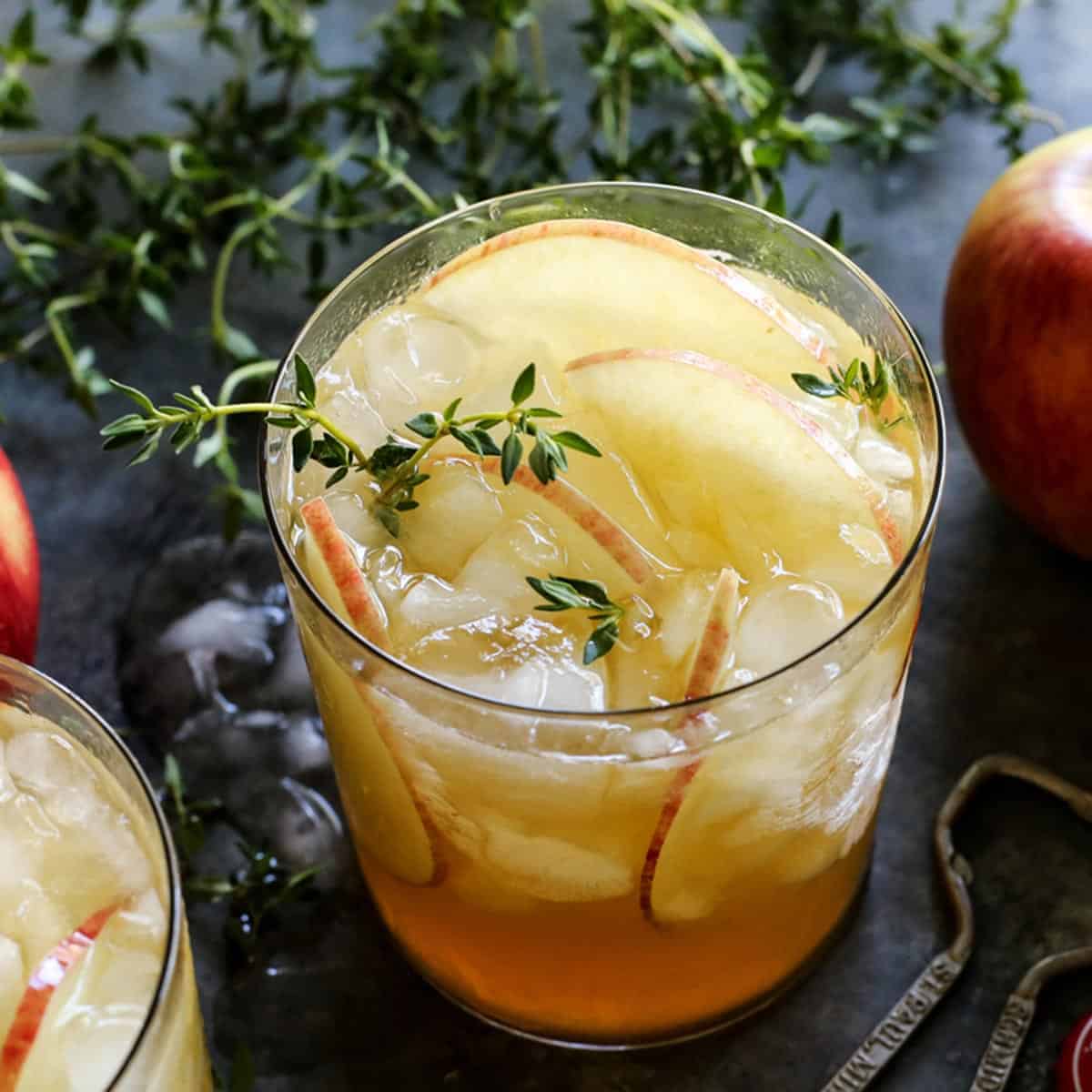 This post was originally published October 2014. I updated photographs and text in September 2019.