Macaroni Salad with Ham and Cheese
Macaroni Salad with Ham and Cheese: The best easy classic macaroni salad recipe. With a tangy, lightly creamy dressing, it pairs with nearly any meal!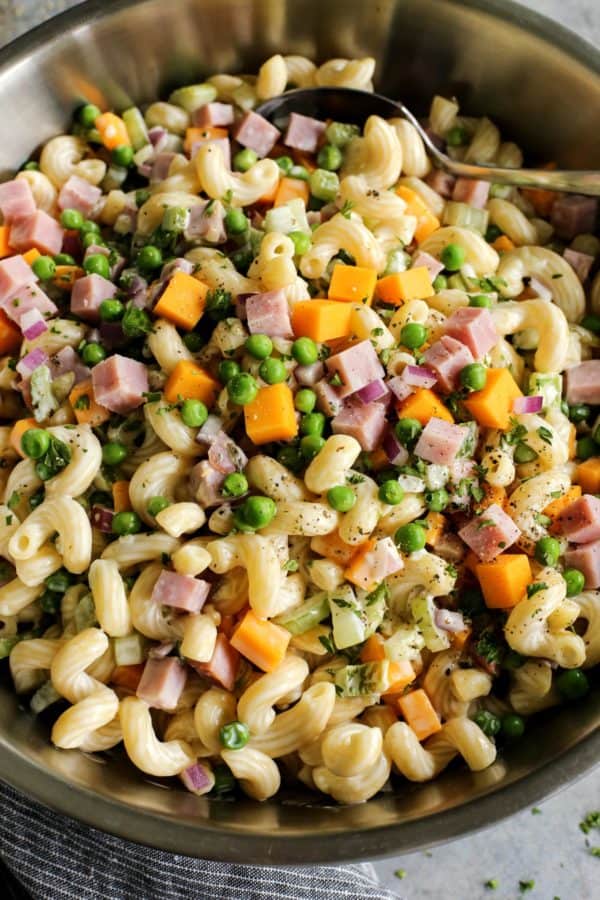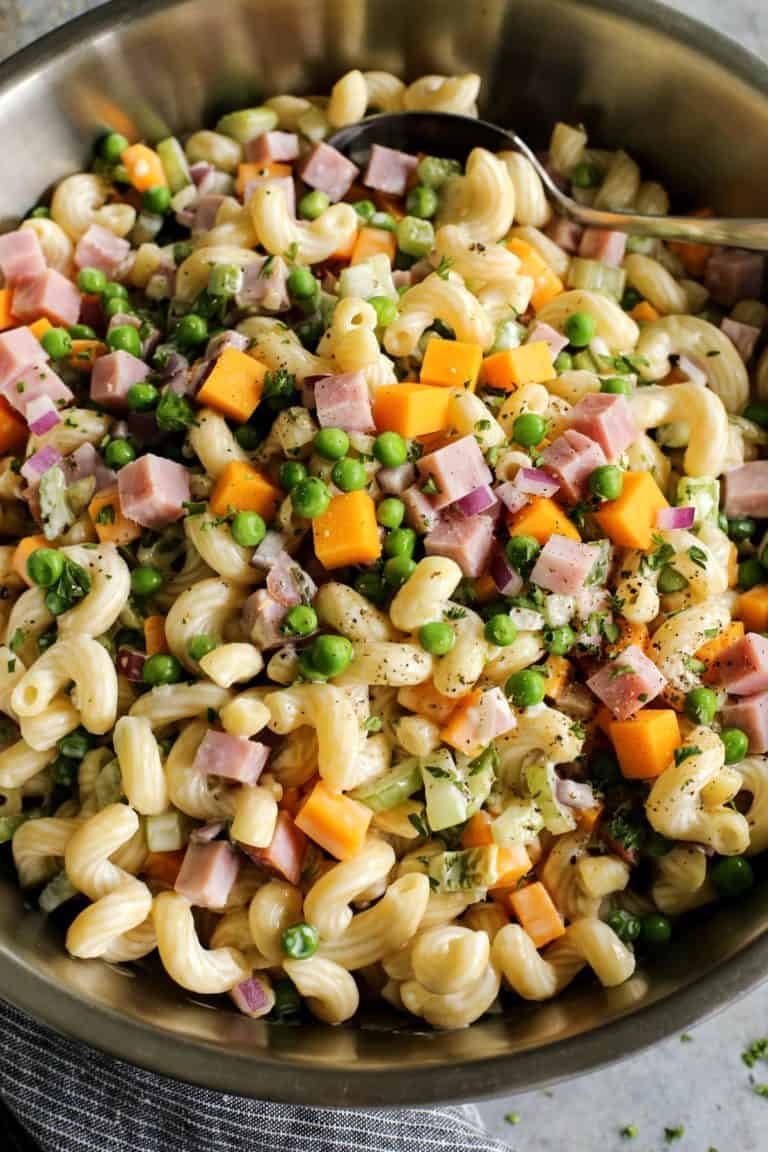 Macaroni Salad with Ham and Cheese
Summer is officially over at our house, as our girls are back to school today. Hatti's a senior, taking classes at both the high school and a local community college. And Tessa's a seventh grader, with volleyball starting up this week as well.
I'm not one of those parents who can't wait to skedaddle their kids off to school each fall. Never have been. I like them too much. So it's certainly bittersweet for me, wanting most of all to watch them grow and learn and thrive, while the momma heart strings are aching to just pull them on back.
I keep reminding myself to find all the ways to create and enjoy all the special moments. And food is a huge part of that for me. It's one of my love languages, for sure. Pair that desire with a special family recipe, and it's like the locking of two puzzle pieces.
My mom's Macaroni Salad with Ham and Cheese has been a part of my life since I was a kid myself. This dish is nostalgic and fun and delicious, all in the same bite. And it fits in perfectly with all those casual gatherings, year-round. It's about time I officially placed this macaroni salad recipe in these archives!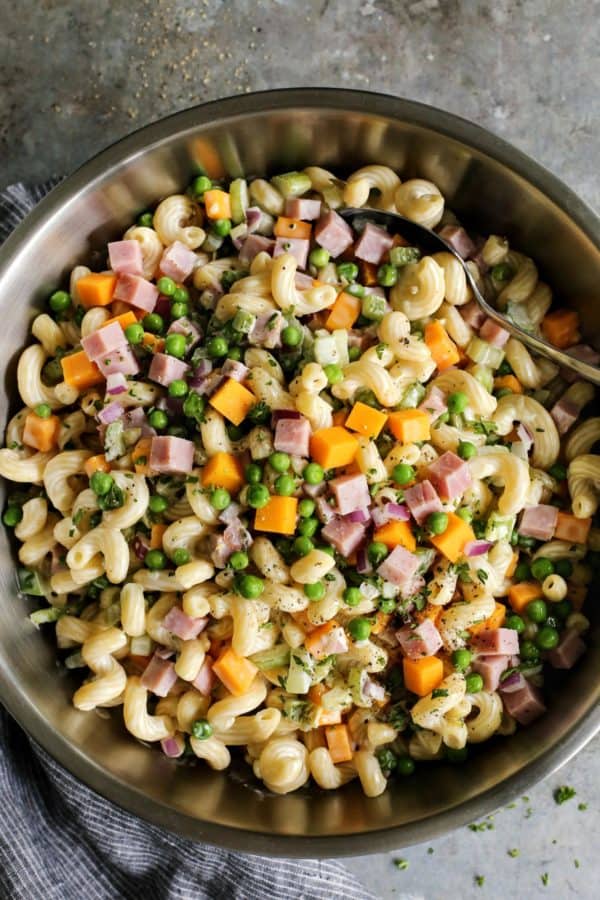 Classic Macaroni Salad
This is a classic macaroni salad. You might already have a recipe in your box that's quite similar, in fact.
It seems that every family has their own special formula, but the basics are the same.
There's pasta dressed with a simple creamy, tangy dressing. Plus ham, cheese, and some fresh crunchy nibbles.
And if you're lucky, there's peas.
Ahhhh, yes. I do love me some macaroni salad with peas!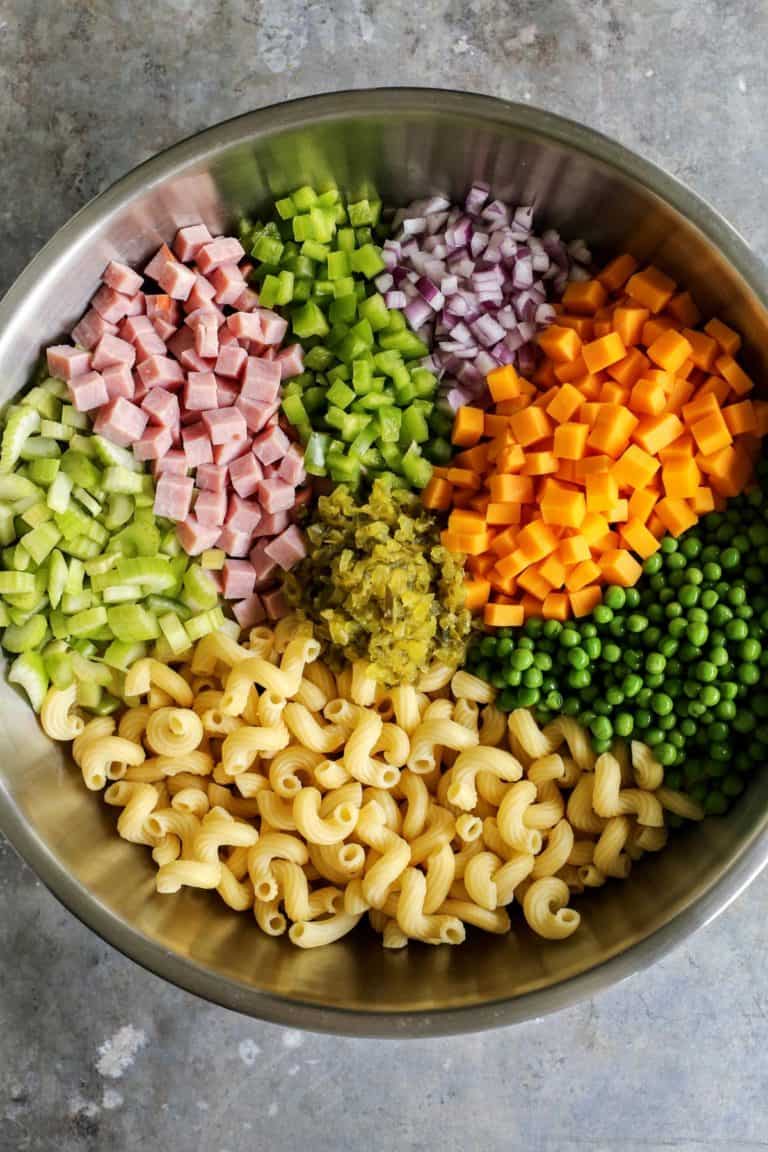 How to Make Macaroni Salad
First, pick a pasta. Mom mostly uses small rings or small shells for this easy macaroni salad, so I often grab one of those. I used cavatappi this time because it's one of our girls' favorite noodles. I also like regular 'ol elbow macaroni and the cuteness of ditalini.
While the pasta is cooking, prepare the rest of the macaroni salad ingredients.
You'll need to cube some ham and cheddar cheese. Dice up green bell pepper and red onion. Thinly slice a bit of celery, for some extra crunch factor. Add a big spoon of sweet pickle relish. And don't forget the beloved green peas.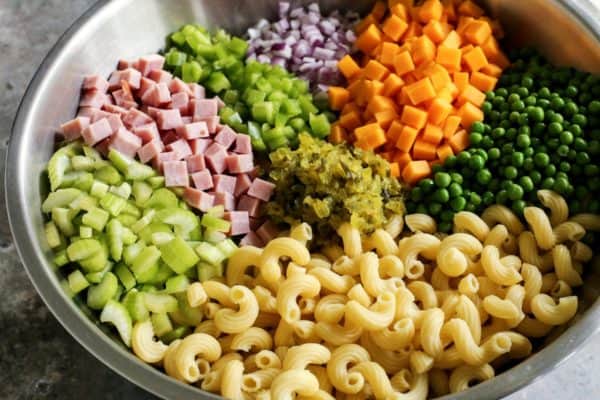 I like to use a large stainless steel bowl for mixing salads such as this. It gives me plenty of elbow room to fold all those glorious ingredients together, without spilling over the edge. And for a super casual meal, I serve salad straight from this bowl.

We received two large stainless steel bowls as wedding gifts – I use them all the time. Here's a link to one that's about the same size.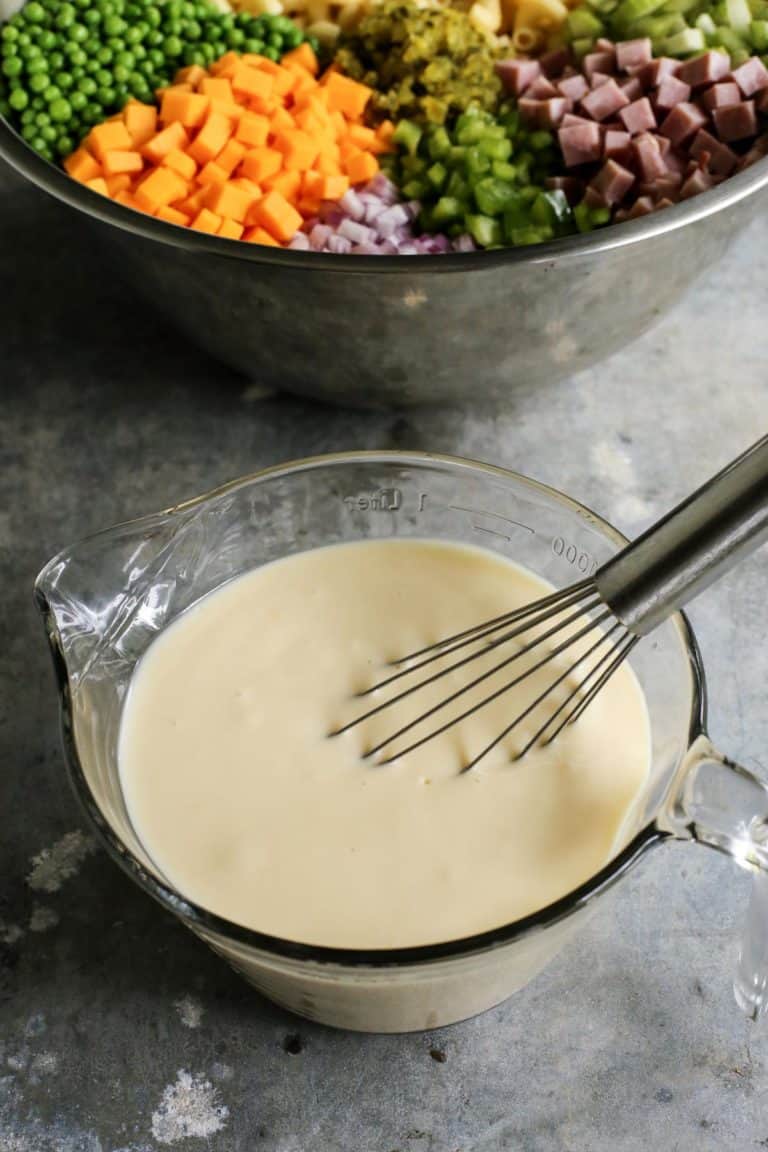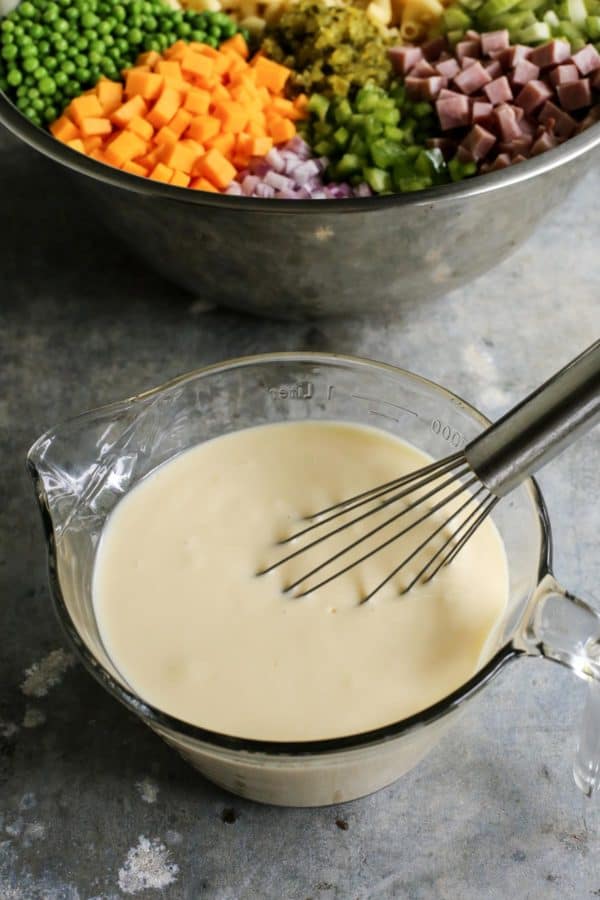 Creamy Macaroni Salad Dressing
The dressing for this pasta salad is sweet and tangy, consisting of mayonnaise (if you're a Miracle Whip fan, use that – it's what my mom uses), sweetened condensed milk, and white vinegar. It contrasts with the savory/salty ham and cheese quite delightfully.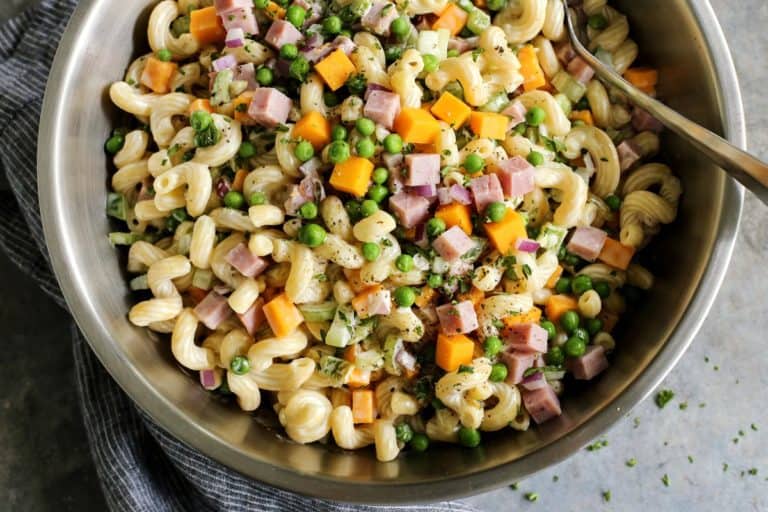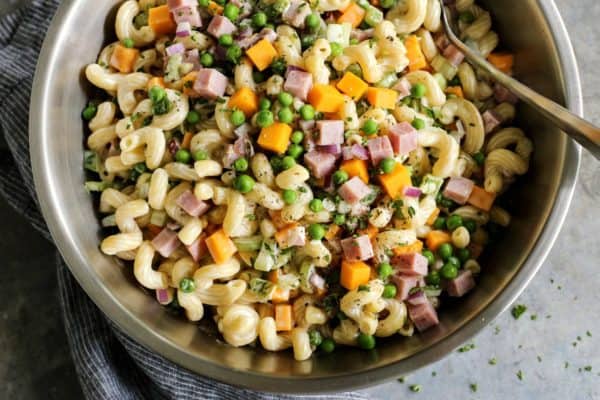 Although the dressing is creamy, it's not goopy or gloppy. It simply coats the salad in a lightly creamy way.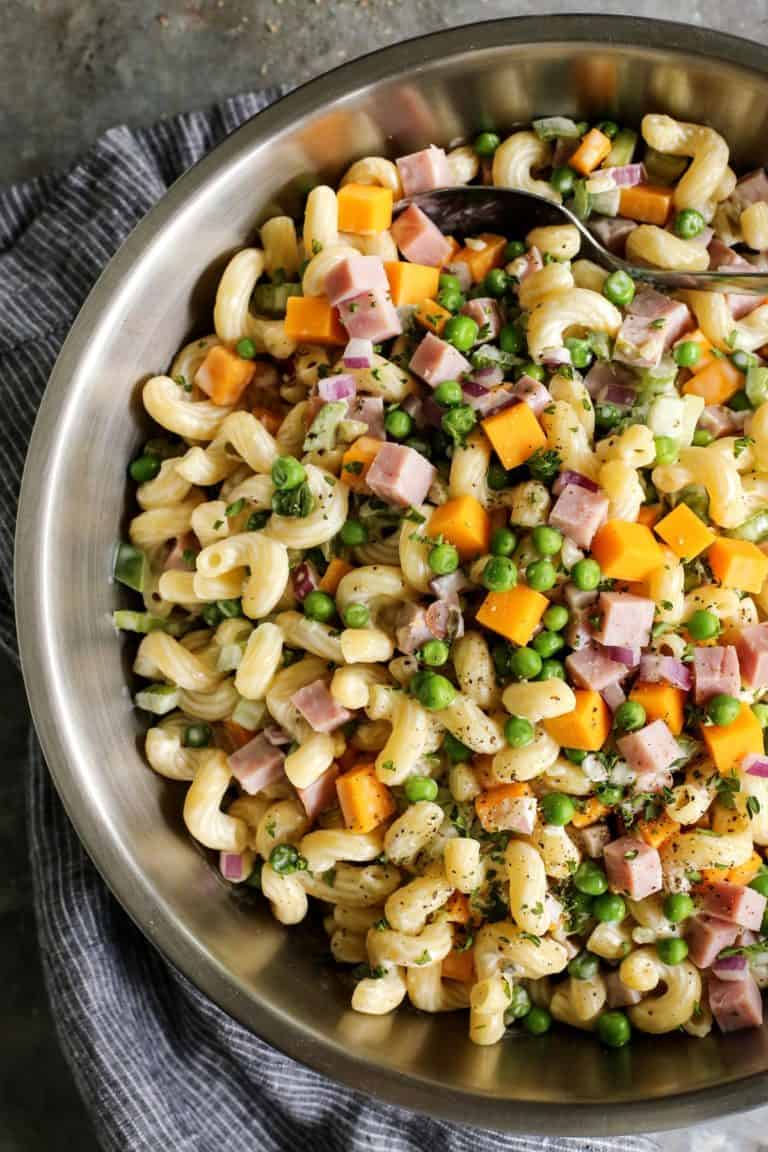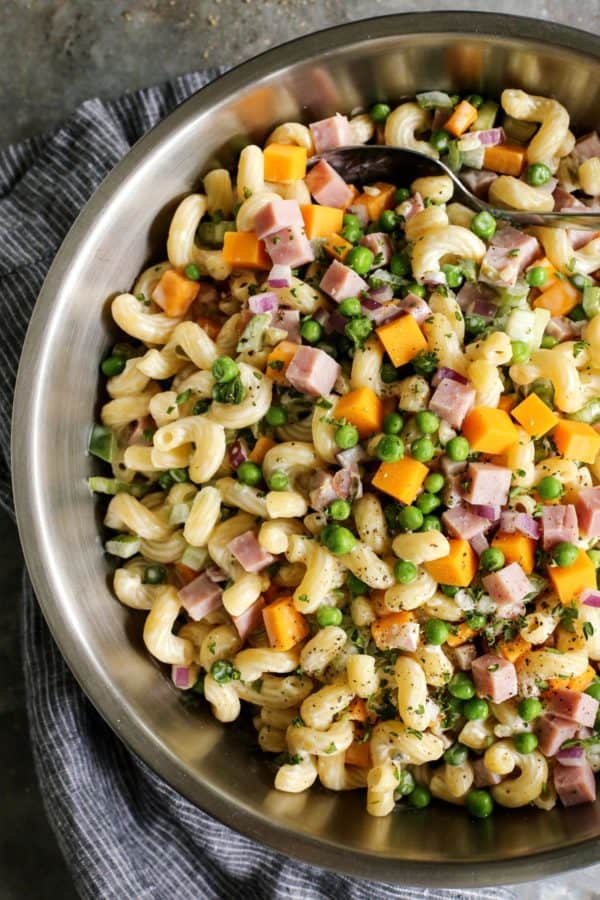 Macaroni salad is the chameleon of salads, fitting into nearly any meal. But I especially recommend it alongside most anything hot off the grill – think super casually with grilled burgers, hotdogs, and brats.
This salad also goes well with grilled fare such as:
chicken thighs and drumsticks slathered in barbecue sauce
a crispy-skinned whole beer can chicken
pork chops (super easy, delicious recipe!)
And beyond the grill, I like to serve Mom's macaroni salad with:
Like this recipe? Save it to Pinterest!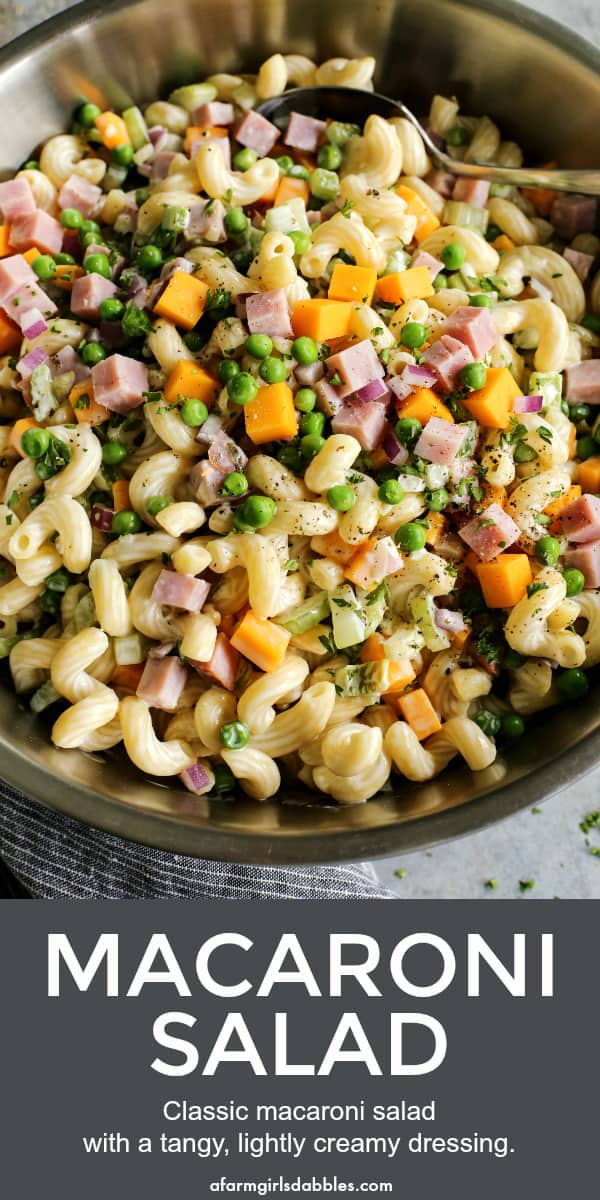 Here are a few more pasta salad recipes you might like: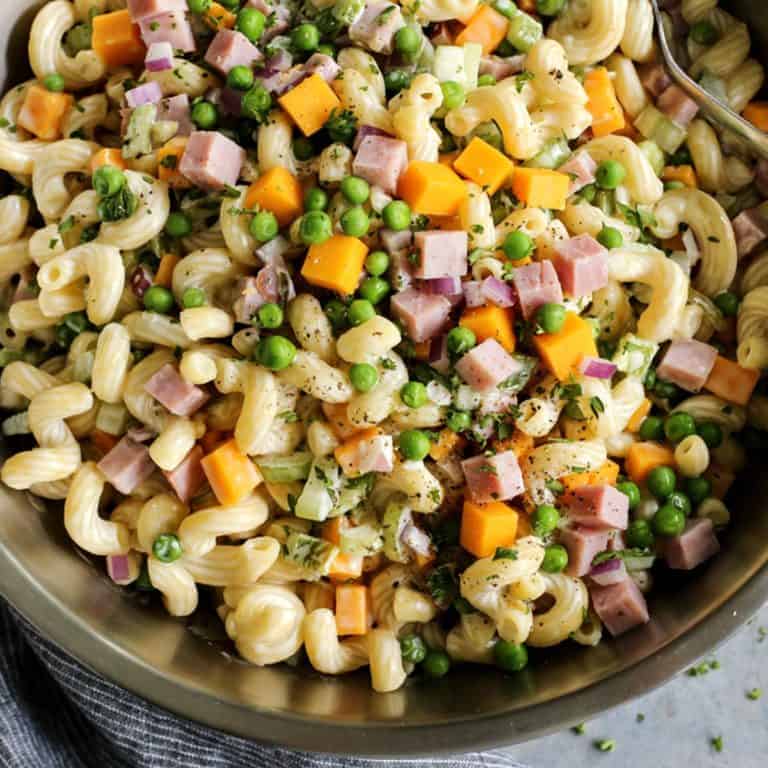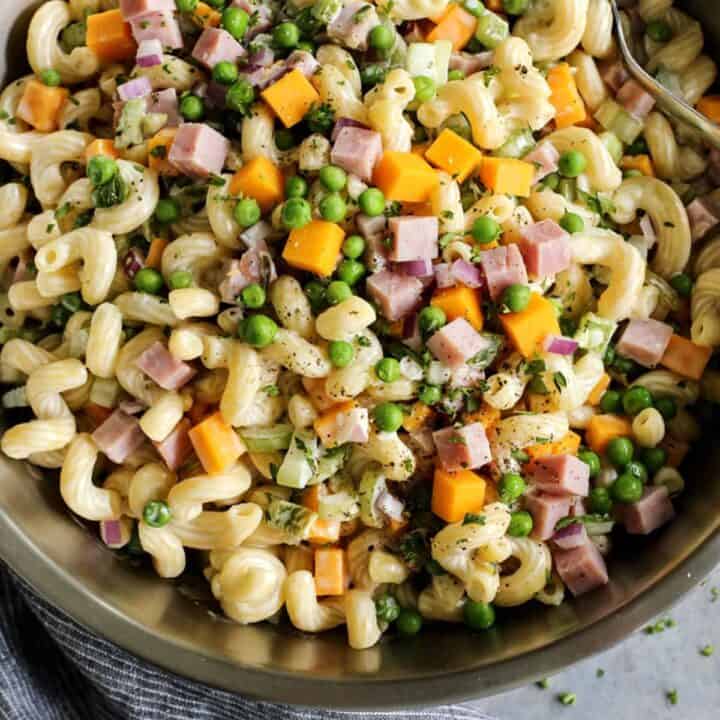 Macaroni Salad with Ham and Cheese
Yield: 12 servings
Prep Time: 20 minutes
Cook Time: 5 minutes
Total Time: 25 minutes
This classic macaroni salad recipe comes from my mom's recipe box. Tossed with a tangy, lightly creamy dressing, it pairs with nearly any meal!
Ingredients
1 lb. pasta - I recommend any of these: small rings or small shells pasta (how my mom usually makes this salad), cavatappi as shown in my photos, elbow, or ditalini
2 c. cubed ham, 3/8" in size
2 c. cubed mild cheddar cheese
2 c. diced celery
2/3 c. diced green bell pepper
1/2 c. diced red onion
1/2 c. sweet pickle relish, drained
1 c. frozen peas
2 c. mayonnaise - if you like the sweeter Miracle Whip, use that
1 can (14 oz.) sweetened condensed milk
1/2 c. white vinegar
1 tsp. kosher salt
freshly ground black pepper
2 T. chopped fresh parsley, optional
Instructions
In a medium sized pot, boil pasta in salted water until just barely al dente. Transfer pasta to a colander and rinse under cold water until chilled. Drain thoroughly.
While pasta is cooking, prepare the rest of the salad. To a large bowl (I like to use a large stainless steel bowl), add ham, cheese, celery, green pepper, onion, pickle relish, peas, optional parsley, and a few good cranks of freshly ground black pepper. Add prepared pasta. Fold gently to combine.
In a medium bowl, whisk together mayonnaise, sweetened condensed milk, vinegar, and kosher salt. Pour dressing over salad ingredients in large bowl. Fold to incorporate. Chill for a couple hours. Fold again right before serving.
Notes
Variation: Use 2 cans (4 oz. each) small shrimp instead of the ham.
Salad can be prepared a couple days ahead of time. Store prepared salad ingredients separate from the dressing in the refrigerator, and then fold altogether right before serving.
from Mom's recipe box
Recommended Products
As an Amazon Associate and member of other affiliate programs, I earn from qualifying purchases.
Nutrition Information:
Yield: 12
Serving Size: 1
Amount Per Serving:
Calories: 259
Total Fat: 10g
Saturated Fat: 4g
Trans Fat: 0g
Unsaturated Fat: 3g
Cholesterol: 38mg
Sodium: 966mg
Carbohydrates: 29g
Fiber: 3g
Sugar: 7g
Protein: 14g