Slow Cooker Sloppy Joes
Keep this tried-and-true recipe for Slow Cooker Sloppy Joes in your back pocket. These sandwiches are super flavorful and cook up easy in the slow cooker. I guarantee you'll be asked for the recipe when you serve them!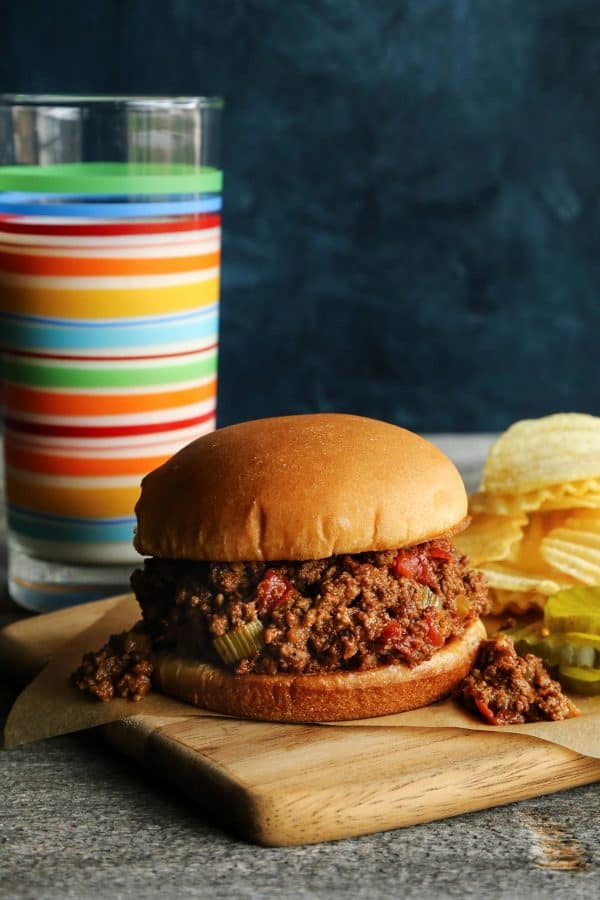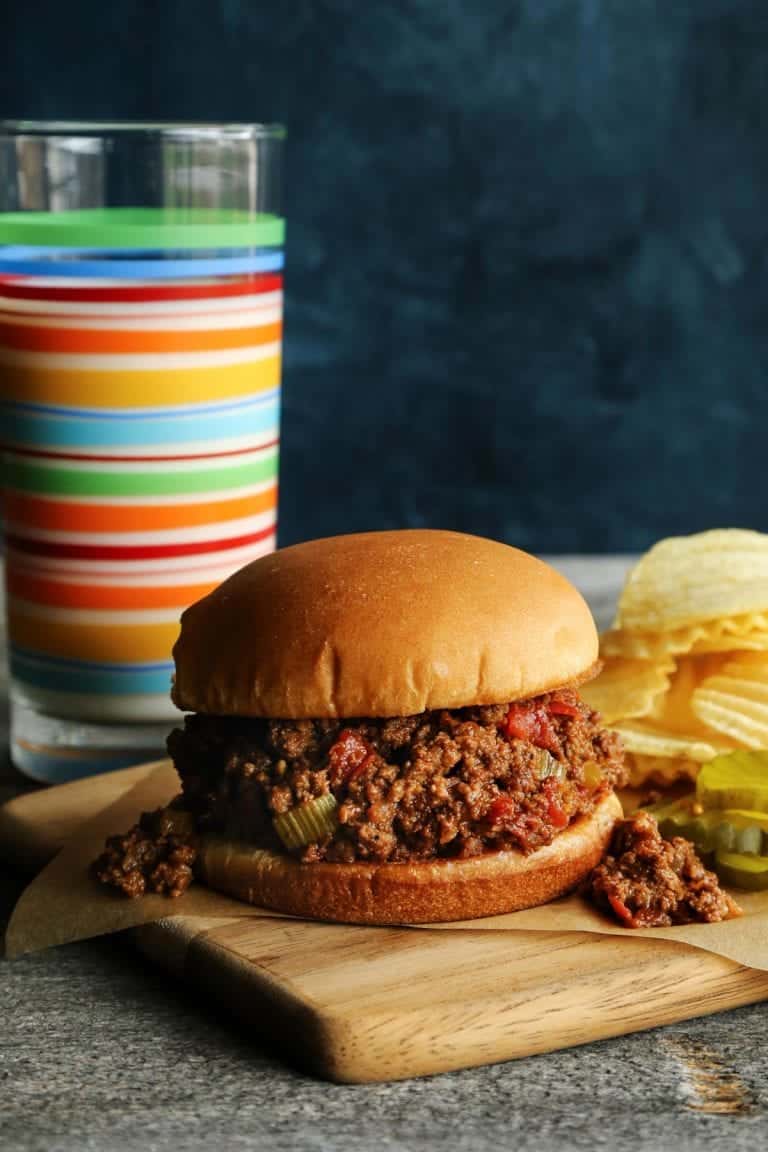 I think my mom makes the best sloppy joes around. Her secret? Tomato juice that she has canned herself, preserving fresh sweet summer tomatoes.
While I've never canned tomatoes myself, I always wish I had a few jars waiting for me in the pantry whenever I'm hungry for awesome just-like-Mom's sloppy joes.
This recipe for Slow Cooker Sloppy Joes is great for casual meals when you're needing to feed a number of people. My slow cooker is even large enough to make a double batch, so that's often what I do.
We've served these sloppy joes for our daughter Hatti's confirmation party and for many other gatherings of friends and family over the years. The sandwiches are super flavorful and always, always, always a hit.
I first published this recipe a number of years ago and it remains one of the more popular recipes on the blog. So I took the opportunity to update this post a bit and to remind you just how wonderful this recipe is. I do hope you'll give it a try!
(This post was previously published November 2012. Photographs and some of the text were updated November 2017.)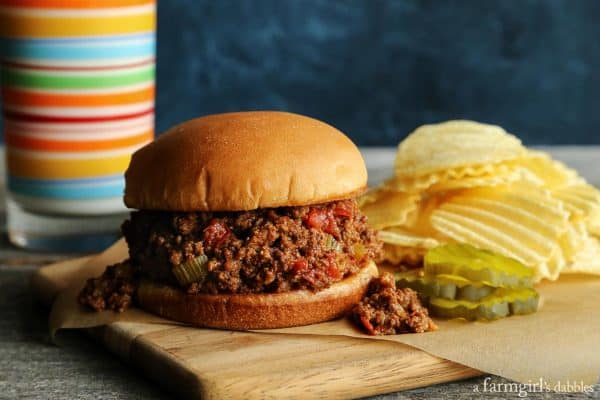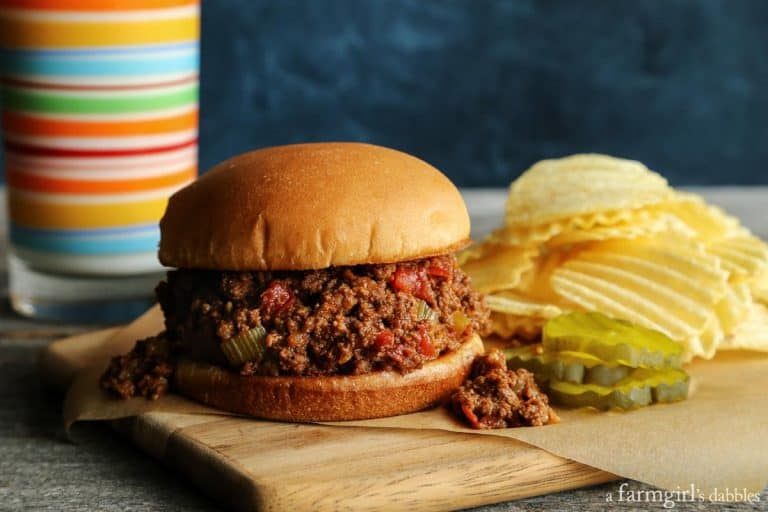 My sloppy joes had never been any kind of consistent. I had always thrown in a bit of this and a bit of that until it came together, all the while wishing I had a recipe written down.
Since we bought this multi-cooker/slow cooker many years ago, following a recommendation from my sister Jessica, I started playing around with perfecting a sloppy joes recipe of my own. I love that I can brown the meat right in the multi-cooker, then add all the other ingredients, switch the setting to slow cook, and let it finish on its own. AND. The multi-cooker is a cinch to clean up. LOVE!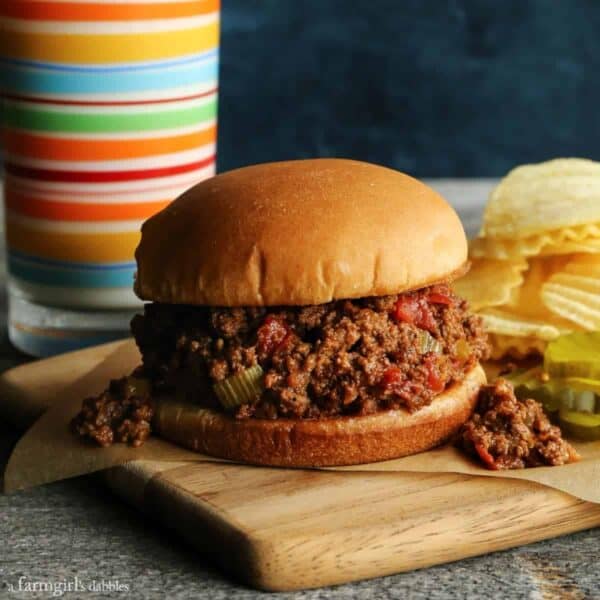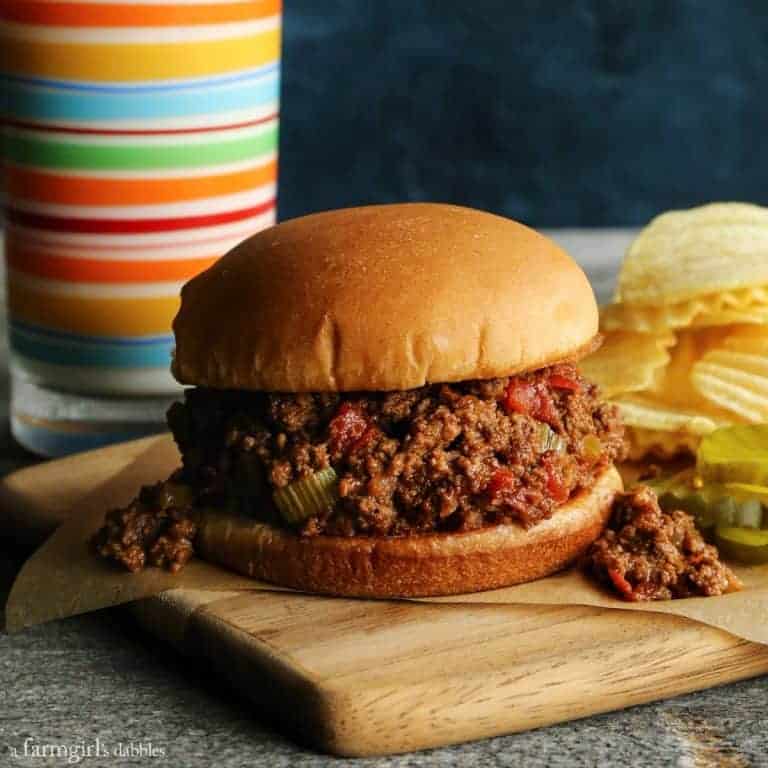 So this is it. This is my slow cooker sloppy joes recipe, the one I now turn to when I'm craving that classic messy sandwich.
I also need to share that sloppy joes leftovers are some of the best leftovers around. They make me hugely happy. So I completely recommend making more than you'll initially need – both for easy meals in the upcoming week and to tuck some away in the freezer.
Grab some potato chips and pickles (I serve both dill pickle chips and Mom's sweet refrigerator dill pickles) – and enjoy!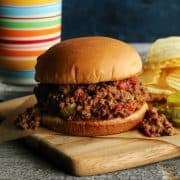 Slow Cooker Sloppy Joes
These sandwiches are super flavorful and cook up easy in the slow cooker. They're great for feeding a crowd. Be prepared to be asked for the recipe!
Yield: 15 to 20 servings
Prep Time:20 minutes
Cook Time:20 minutes to brown + 4 hours to slow cook
Total Time:4 hours, 20 minutes
Calories per serving: 159
Ingredients:
3 lbs. lean ground beef (I also do a combination of ground beef and turkey, usually 2 lbs. beef & 1 lb. turkey)
1 large yellow onion, finely chopped
1-1/2 c. finely chopped celery
6 large cloves garlic, minced
1 (14.5-oz.) can diced fire roasted tomatoes
1 c. chili sauce
1/2 c. ketchup
1/3 c. packed brown sugar
2 T. prepared mustard
1 T. Worcestershire sauce
1/2 T. dry mustard
1 T. medium chili powder
1 T. cumin
1 tsp. garlic powder
1/2 tsp. paprika
1/4 tsp. freshly ground black pepper, or more to taste
additional salt, to taste
Directions:
In a skillet over medium-high heat, brown ground beef and onion together until beef is cooked, breaking up beef with a spatula. (Or just use this awesome multi-cooker, where I simply brown the meat right in the cooker!) Drain off fat and transfer to slow cooker. Break up any remaining larger pieces of meat. Add all remaining ingredients and stir well. Cover and cook on low for 4 to 6 hours.
Serve sloppy joes on buns – I like to offer regular size buns and smaller dinner roll size buns – with pickles (I recommend these easy refrigerator pickles) and potato chips. If you have the time and initiative, butter the buns and toast on a hot griddle – this adds great flavor to the sandwich. I also like to eat sloppy joes without buns, using sturdy potato chips as my "scoops".
Calories do not include buns, chips, or condiments.
from a farmgirl's dabbles
©
Here are a few more recipes you might enjoy, to go with these sloppy joes:
This post was originally published September 2012 and has been a popular reader favorite. Photographs and some of the text were updated November 2017.
Recommended for this post:
We participate in the Amazon Services LLC Associates Program, an affiliate advertising program designed to provide a means for us to earn fees by linking to Amazon.com and affiliated sites. See our disclosure policy for more info.