Fried Pickles
Fried Pickles are one of my favorite eats at the Minnesota State Fair. You'll love my homemade version!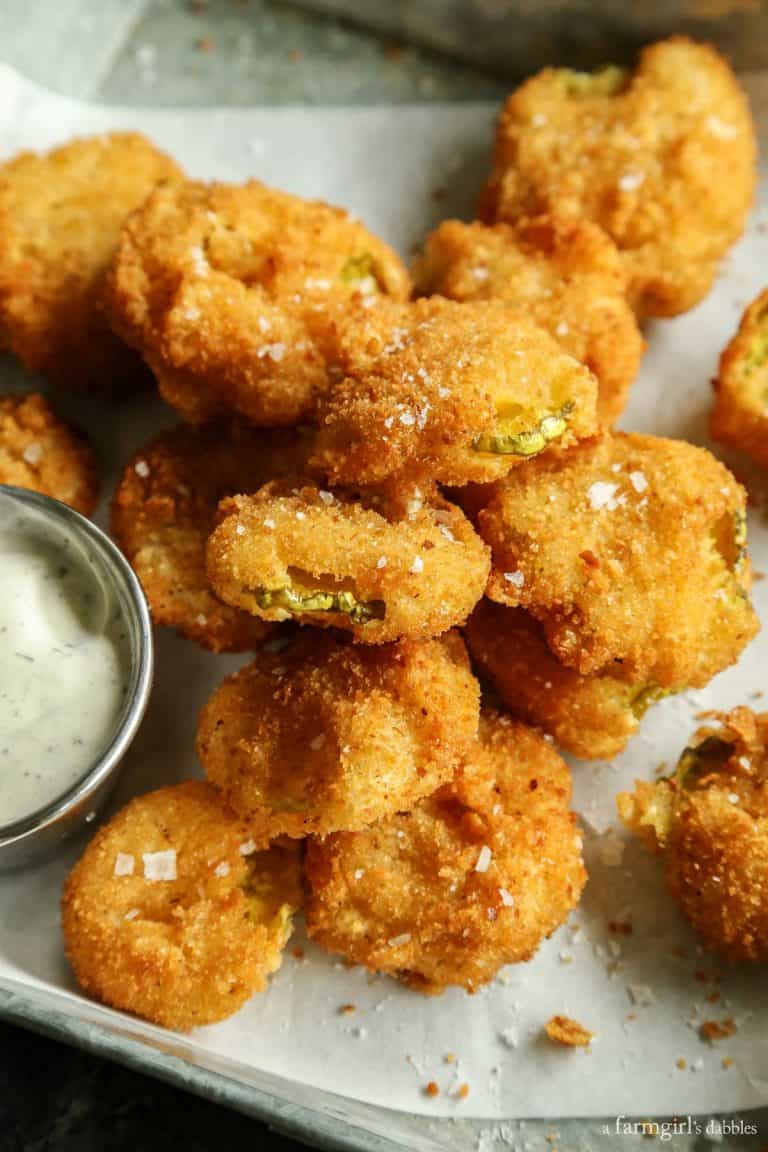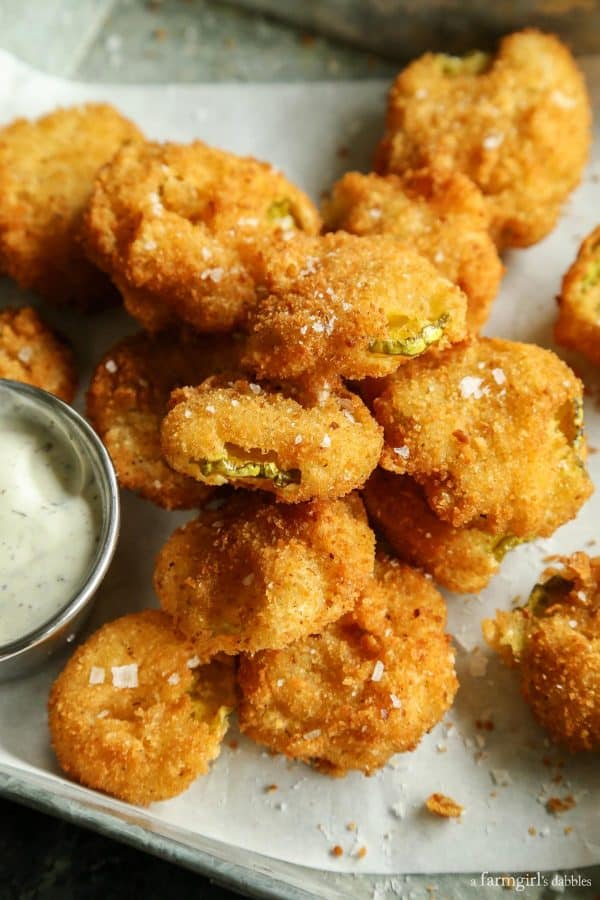 The Minnesota State Fair opens its gates tomorrow. And you know what that means…
FAIR FOOD!!!!
And one of my favorite eats are the Fried Pickles. You are going to love my homemade version…I promise they're just as awesome (and maybe even just a bit better?!) than those you'll find at the fair!
(This post was originally published August 2012. Some of the photographs and text were updated August 2017.)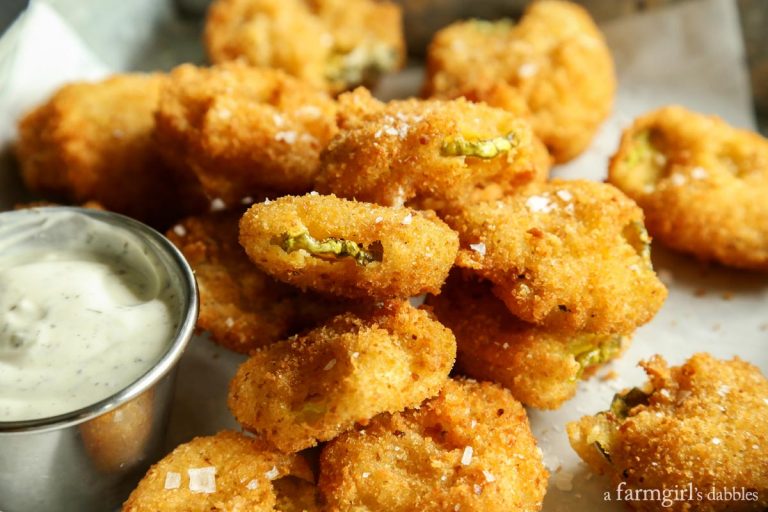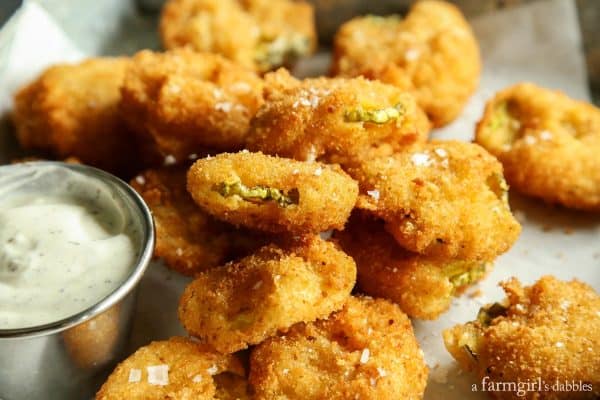 Our family is completely smitten with the Minnesota State Fair. Blake and I made our first visit together when we were dating, and we haven't missed a year since.
Although the food is a major draw for us, there's really so much more that keeps us coming back. Enough, in fact, that sometimes attending just one day each year doesn't cut it. We've been known to spend a full day or two with our girls, and then head back for an evening with friends to snag some additional grown-up browsing, entertainment, and eats and drinks.
(Check out this article from Country Living, which highlights Minnesota's educational exhibits…and Iowa's standout food. I think we need to check out our neighbor's state fair, because we think alot of Minnesota's food offerings!)
In order to taste all the different foods we want to, sharing is a necessity. We usually grab a single item, split it, and then move on, fitting in a food booth every now and then throughout the day.
Only if the food is exceptional will we take out our wallet to buy another round. This has been known to happen with the cheese curds (the ones from the Food Building), Australian batter dipped potatoes, sweet and salty homemade salted nut rolls dipped in chocolate, Dole Whip pineapple float, almost anything at The Blue Barn, Martha's Cookies, and…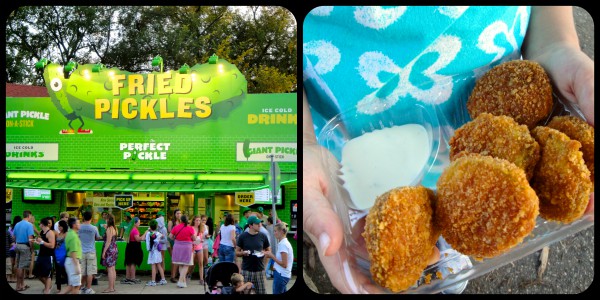 the way awesome fried pickles!
Although The Perfect Pickle has been serving up fried pickles at the fair since 1997, it took me a number of years to try this Southern snack myself. I think it has something to do with their new dill pickle green trailer parked at their new location near the entrance to the Midway. I know I'm a very visual kind of person, but how can that giant green trailer not grab your attention? It just begs you to check it out.
The pickles that come out of that place are perfectly dilly, salty, and crunchy…and then battered and fried to perfection. Dipped in some ranch dressing…ohhhhhhh my! They're so good that our daughters (who don't even like dill pickles) can't resist a few pieces.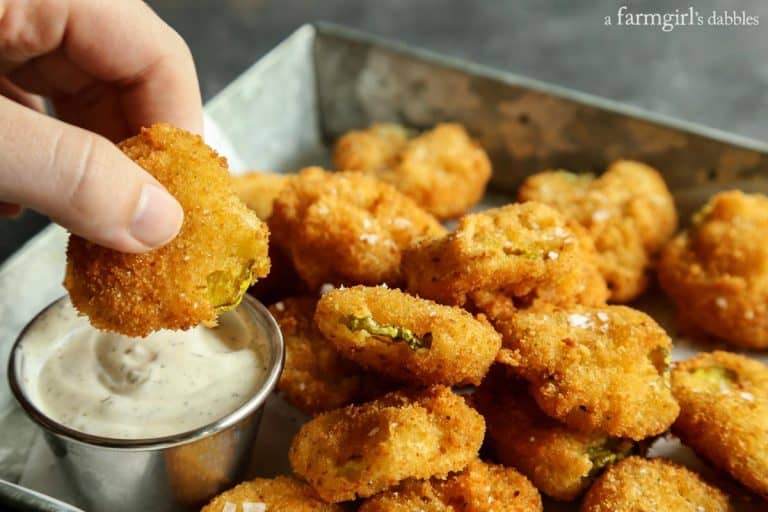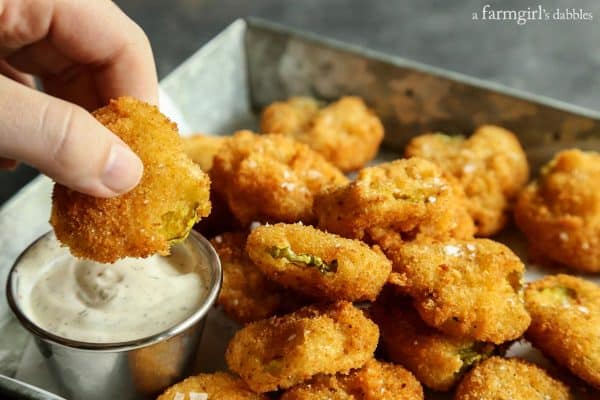 Ever since my first fried pickle eating experience, I've been wanting to try my own hand at frying dills at home. So I dug out the deep fryer wedding gift from its hiding place in the basement. And the rest is homemade fried pickles history.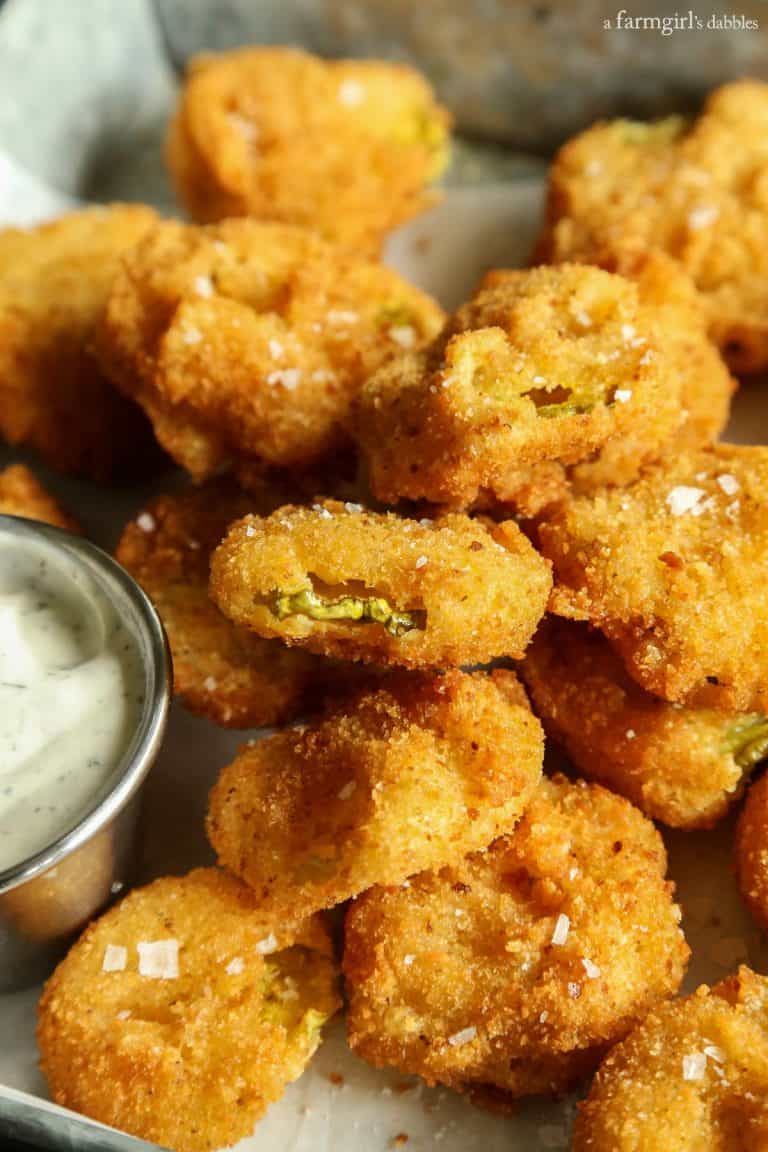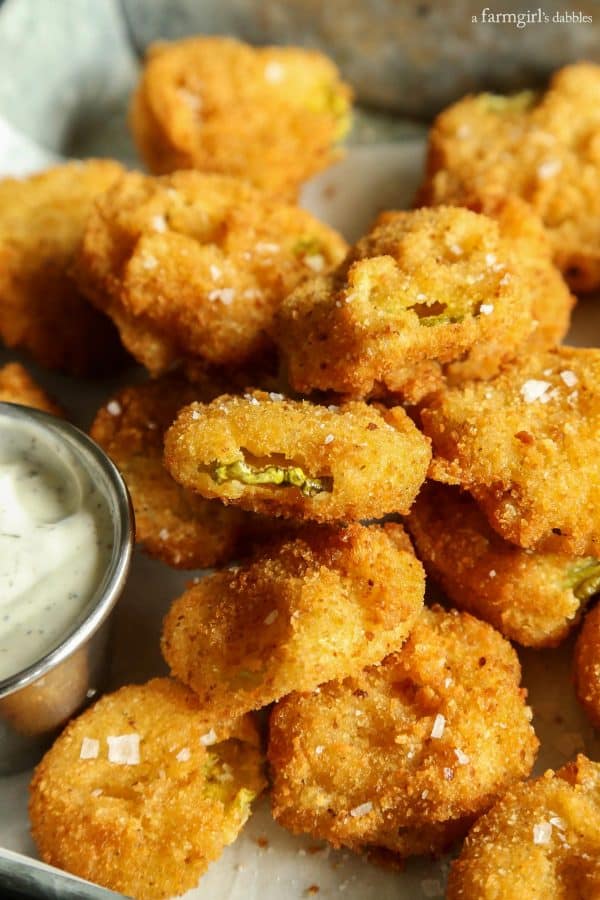 If the thought of fried pickles makes you drool and a trip to the Minnesota State Fair is not on your end-of-summer agenda, I highly recommend frying up some pickles of your own. They're really a fun, puckery treat, especially when dipped into your favorite ranch dressing. We also recommend a few healthy dashes of hot sauce – which isn't served with the pickles at the fair, but a fun way to add a little heat to the affair.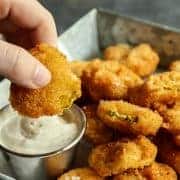 Fried Pickles
Ingredients:
oil for frying (I used canola)
thick cut dill pickle chips
1-1/2 c. all-purpose flour, divided
1/4 c. yellow cornmeal
1/2 T. baking powder
1/4 tsp. kosher salt
1/4 tsp. black pepper
1/8 tsp. cayenne pepper
1 c. beer
1/2 c. fine bread crumbs
recommended dips:
your favorite ranch dressing
your favorite hot sauce
Directions:
Heat oil to 350° F. If using a deep fryer, use the amount of oil specified by the manufacturer. If using a pan on the stovetop, fill oil to about 2" deep. Line a baking sheet with paper towels and set aside, for your finished fried pickles.
Line a separate baking sheet with a layer of paper towel. Set desired number of pickle chips on paper towel to absorb the pickle juice. Pat the tops of the pickles with another paper towel.
For Bowl #1: In a cereal-size bowl, place 1/2 cup of the flour.
For Bowl #2: In a medium bowl, whisk together the remaining 1 cup of flour, cornmeal, baking powder, salt, pepper, and cayenne. Add the beer and stir until all lumps are gone.
For Bowl #3: In a cereal-size bowl, place the bread crumbs.
Add just a few pickles at a time to Bowl #1, tossing to completely coat each pickle with flour. I like to use separate hands for the different coating dips, which helps to keep the multiple dipping process a bit cleaner. So here I use my left hand to coat pickles with flour, and to add them to Bowl #2.
In Bowl #2, turn floured pickles to completely coat with batter, again using my left hand. This coating will be wet/messy – and then lightly shake off excess batter and transfer pickle to Bowl #3.
In Bowl #3, lightly coat each pickle with bread crumbs, using a fork to flip the pickle. With your clean right hand, very carefully release the coated pickle into the hot oil. Cook until golden brown on both sides, about 1 to 2 minutes per side. Using a large fork or metal spatula, lift pickle up out of the oil, resting it up against the side of the fryer to drain excess oil for a couple seconds, and then remove pickle to prepared paper towel lined pan. I like to do 4 to 5 pickles at a time, rotating them in and out of the fryer.
Enjoy immediately – fried food is always best when eaten right away! Serve with your favorite ranch dressing and/or hot sauce.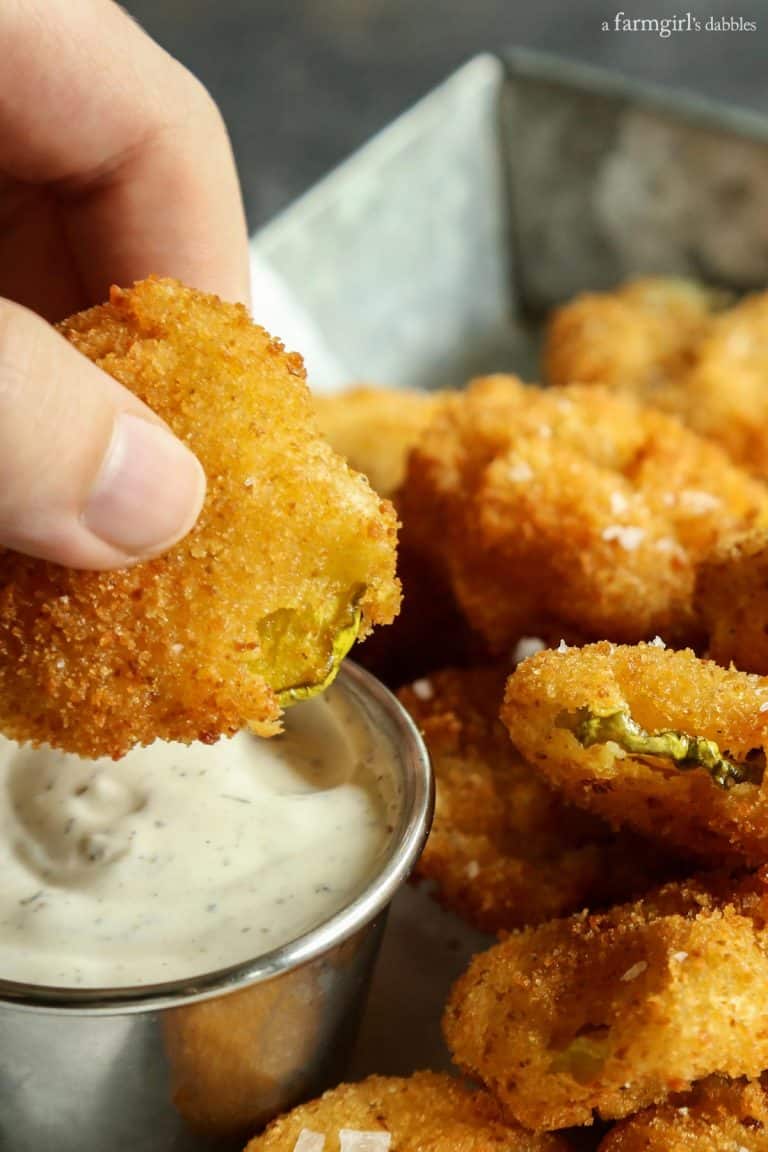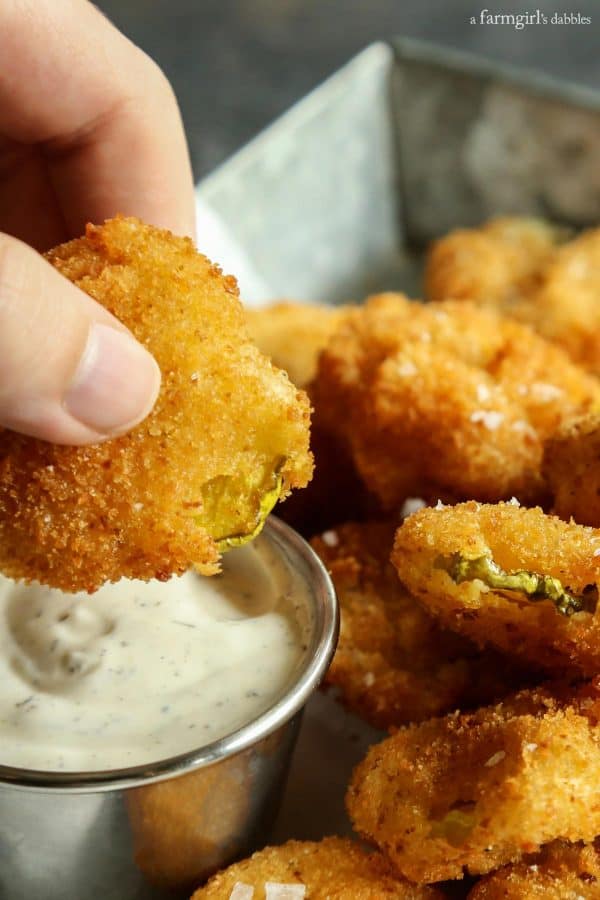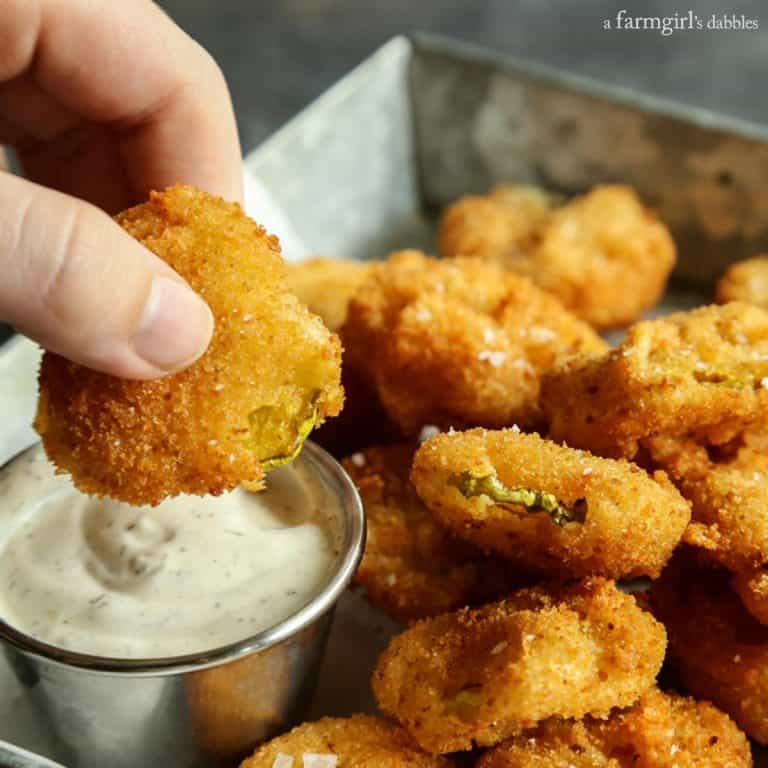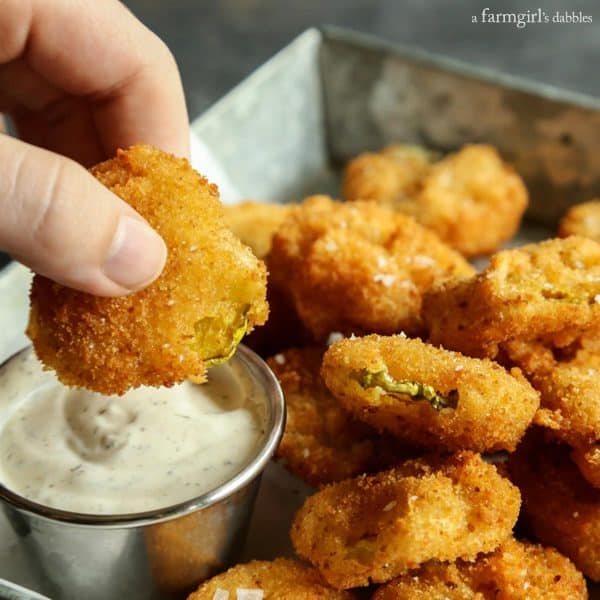 This post was originally published August 2012. Some of the photographs and text were updated August 2017.
We participate in the Amazon Services LLC Associates Program, an affiliate advertising program designed to provide a means for us to earn fees by linking to Amazon.com and affiliated sites. See our disclosure policy for more info.