Fried Pickles
This easy Fried Pickles recipe features juicy dill pickle slices dipped in a perfectly seasoned batter and fried to crispy perfection. Enjoy this favorite fair food at home, any time you want, dunked in some creamy ranch dressing!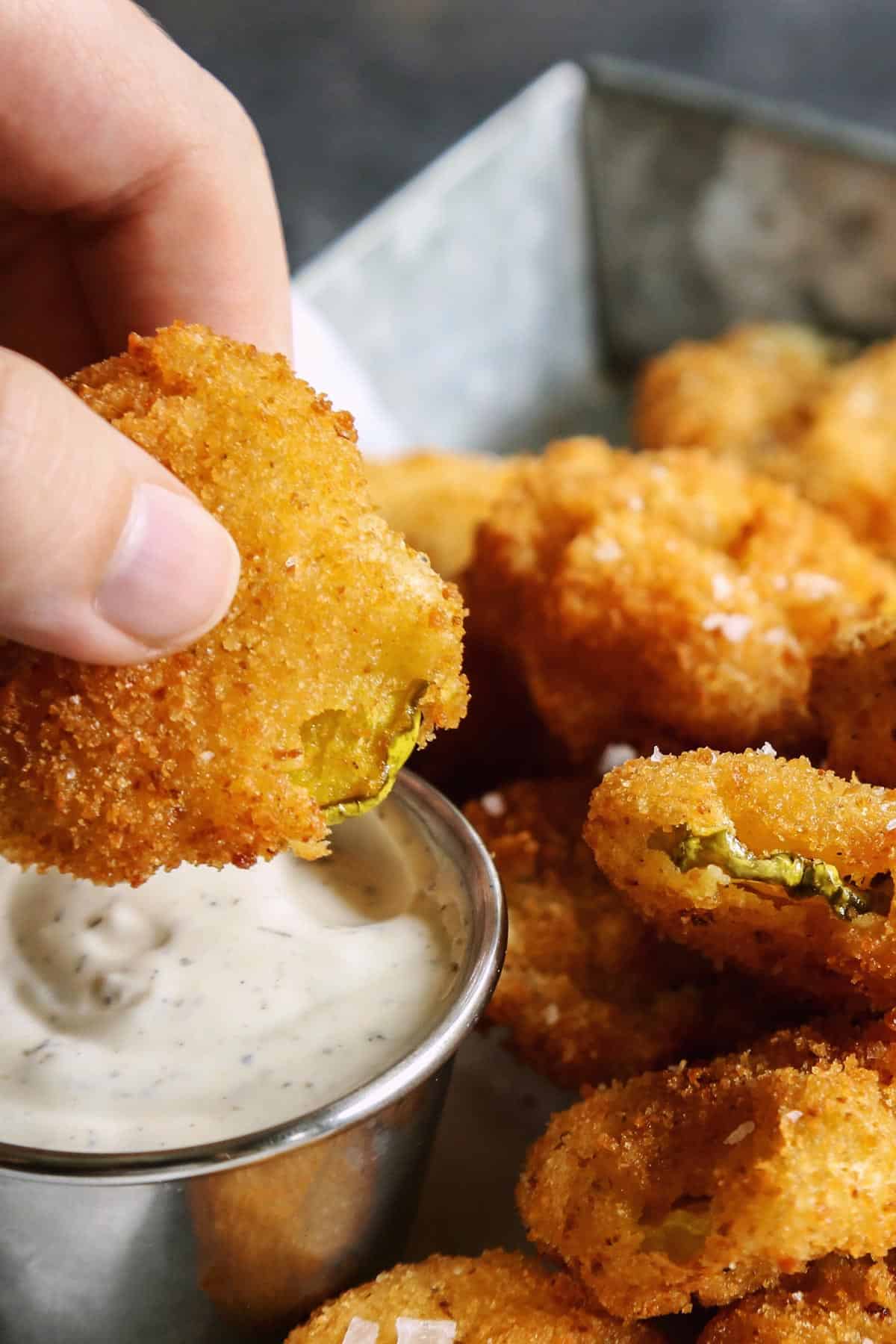 The Best Deep Fried Pickles
Fried Pickles definitely makes our Best Minnesota State Fair Food list. And you're going to love my homemade version – I promise they're just as awesome (and maybe even just a bit better?!) than those you'll find at the fair!
With just a handful of ingredients and very basic seasonings, these deep fried dill pickles are perfectly dilly, salty, and crunchy.
Just imagine juicy dill pickle slices dipped in batter, fried to crispy perfection, and then dunked in some ranch dressing…ohhhhhhh my! They're so good that our daughters – who don't even like dill pickles – can't resist them!
What You'll Need
This homemade fair food has a simple ingredients list. See the recipe box for instructions.
What Pickles Are Best For Frying?
When it comes to deep fried pickles, you'll most often see that dill pickles are used. This type of pickle has a strong, clean flavor that goes well with being battered and fried. And it also pairs well with a variety of dips.
However, you can also deep fry bread & butter pickles or any other favorite pickle. I love bread & butter pickles, but I personally think dills win when frying!
For this recipe, I use round dill pickle slices, sometimes call dill pickle chips. I like to use thicker slices that are crinkle-cut. And I recommend staying away from thin-cut pickles as you'll just end up with more breading than pickle.
You can also deep fry pickle spears and the long slices as well, just adjust the frying time accordingly.
How to Make Fried Pickles
These fried dill pickles are easy and fun to make. Let's go!
Then enjoy! Grab your favorite dipping sauces and start dunking!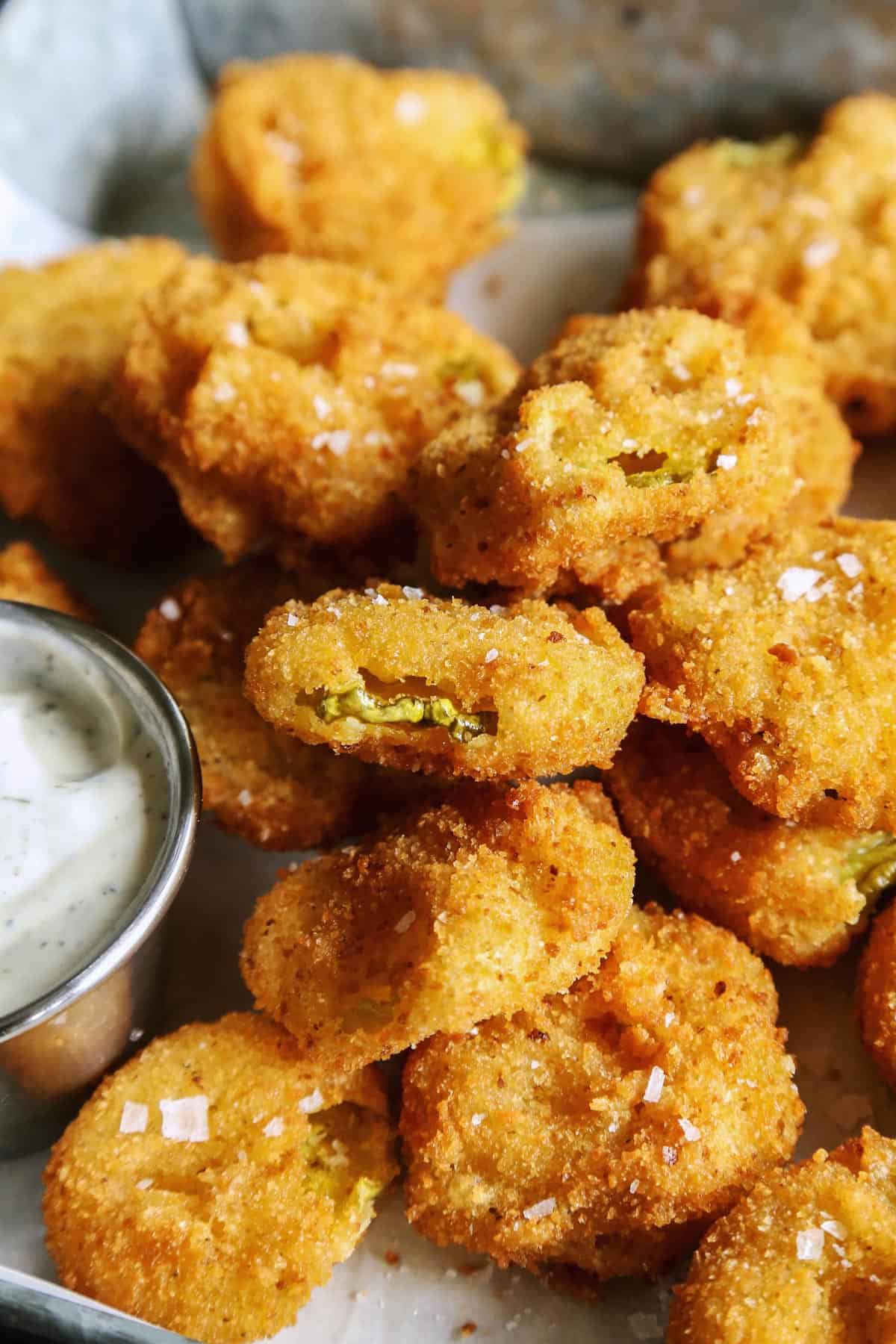 Tips for Crispy Fried Dill Pickles
Here are a few tips to ensure you get perfectly crispy fried pickles every time.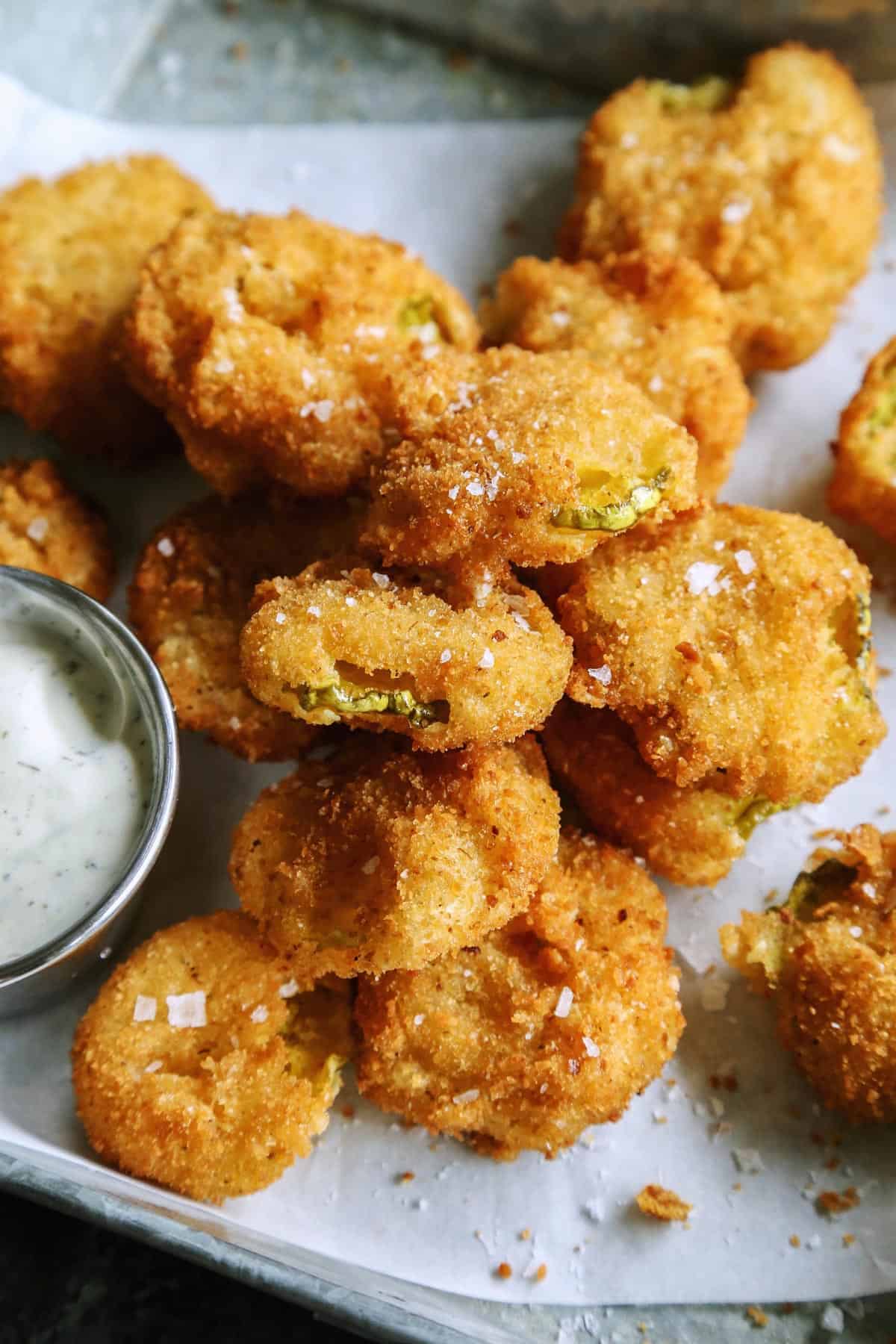 Serving Suggestions
Deep fried pickles should be served immediately, while they're still hot and crispy. Dunk them in your favorite dipping sauce, like ranch dressing, hot sauce, or barbeque sauce.
Besides just dipping and enjoying, these are also super fun on burgers, wraps, and other sandwiches.
As for what to drink with fried pickles, I think a crisp, cold beer is perfect. If you lean more to wine, try a crisp white sparkling wine, such as prosecco.
How to Store Leftovers
As I mentioned, I highly recommend enjoying these immediately. But if you do have leftovers, store them in an airtight container in the fridge for a day or two.
To reheat, pop them in the air fryer for a few minutes or place under a broiler in the oven. Note that they'll likely still have a softer texture, but these methods will help crisp them up just a bit.
More Dill Pickle Recipes:
Like this recipe? Save it to Pinterest!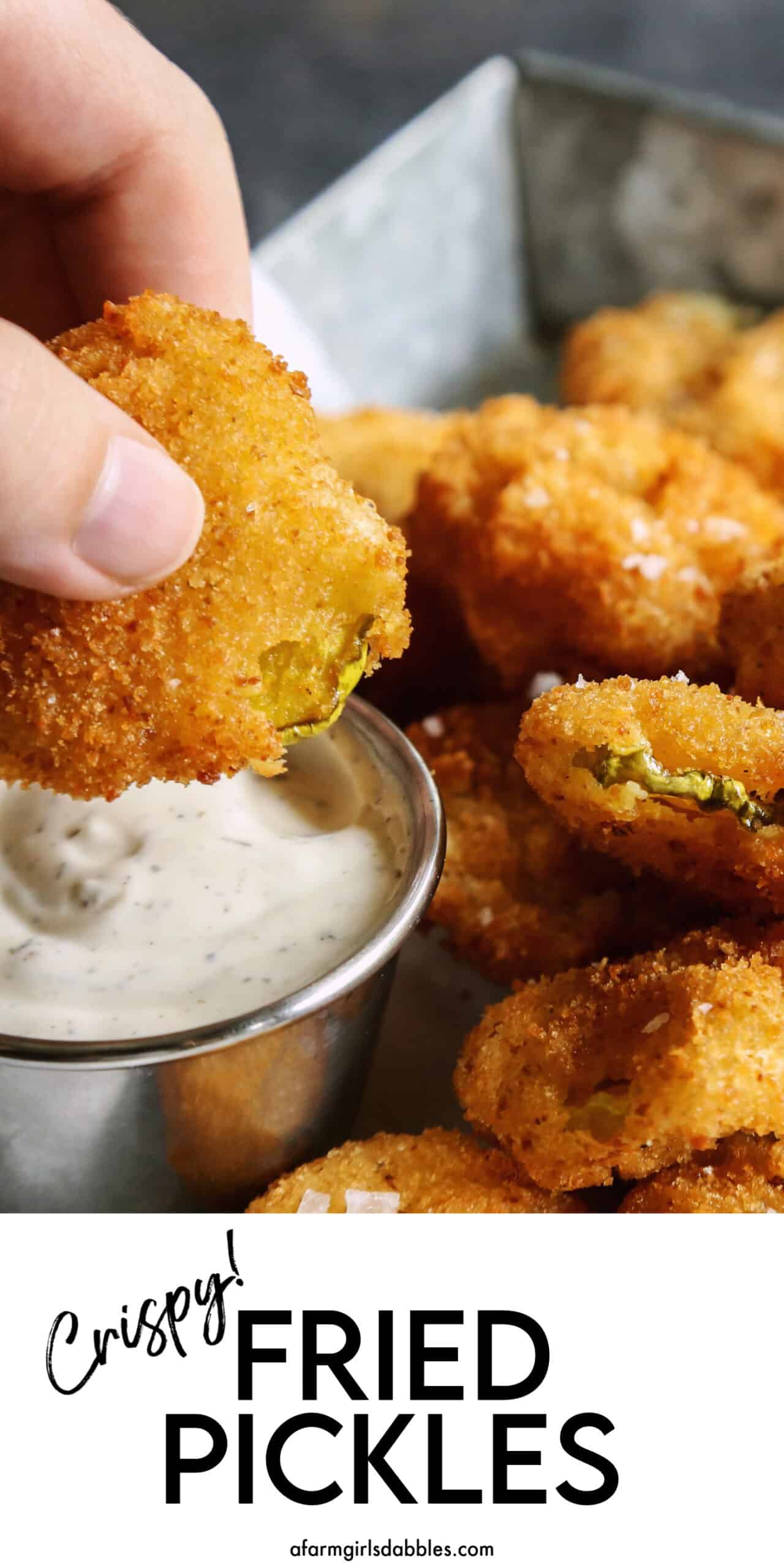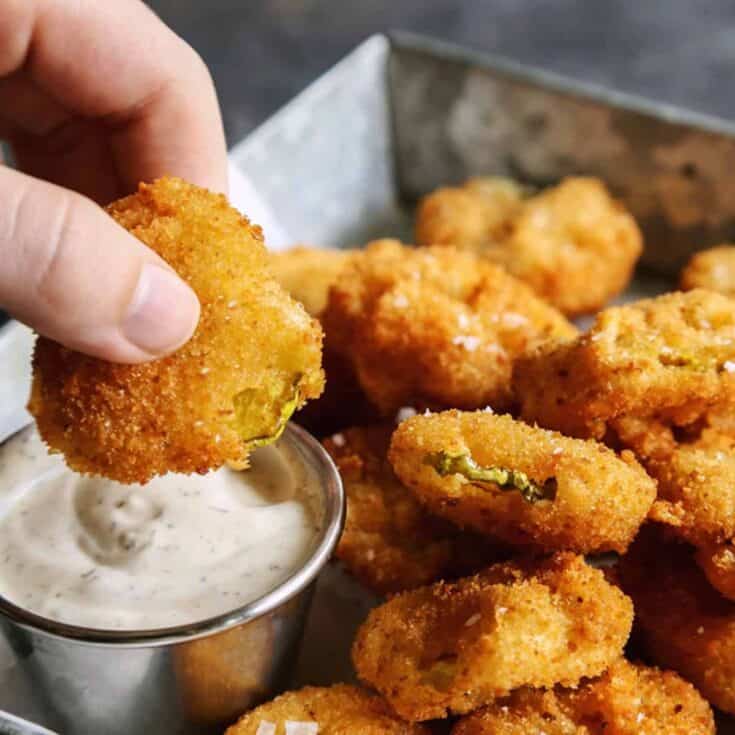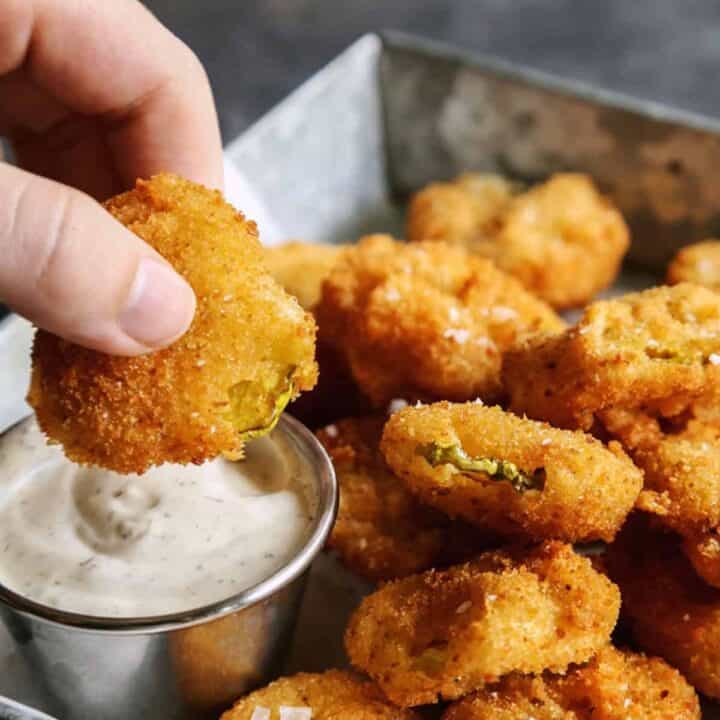 Fried Pickles
Yield: 6 servings
Prep Time: 15 minutes
Cook Time: 25 minutes
Total Time: 40 minutes
This easy Fried Pickles recipe features juicy dill pickle slices dipped in a perfectly seasoned batter and fried to crispy perfection. Enjoy this favorite fair food at home, any time you want, dunked in some creamy ranch dressing!
Ingredients
canola oil for frying
40 thick-cut dill pickle slices
1½ cups all-purpose flour, divided
¼ cup yellow cornmeal
½ tablespoon baking powder
¼ teaspoon Morton kosher salt
¼ teaspoon black pepper
⅛ teasoon cayenne pepper
1 cup light flavored beer
½ cup fine bread crumbs
Instructions
Heat oil to 350° F. If using a deep fryer, use the amount of oil specified by the manufacturer. If using a heavy-bottomed pot on the stovetop, fill oil to about 2'' deep. Monitor oil temperature with a cooking thermometer. Line a baking sheet with paper towels and set aside, for your finished fried pickles.
Line a separate baking sheet with a layer of paper towel. Set pickle chips on paper towel to absorb the pickle juice. Pat the tops of the pickles with another paper towel.
For Bowl #1: In a cereal-size bowl, place ½ cup of the flour.
For Bowl #2: In a medium bowl, whisk together the remaining 1 cup of flour, cornmeal, baking powder, salt, pepper, and cayenne. Add the beer and stir until all lumps are gone.
For Bowl #3: In a cereal-size bowl, place the bread crumbs.
Add just a few pickles at a time to Bowl #1, tossing to completely coat each pickle with flour. I like to use separate hands for the different coating dips, which helps to keep the multiple dipping process a bit cleaner. So here I use my right hand to coat pickles with flour, and add them to Bowl #2.
In Bowl #2, turn floured pickles to completely coat with batter, now using my left hand. This coating will be wet/messy - and then lightly shake off excess batter and transfer pickle to Bowl #3.
In Bowl #3, lightly coat each pickle with bread crumbs, using a fork in my right hand to gently flip the pickle. Then, using the fork, carefully release the coated pickle into the hot oil. Cook until golden brown on both sides, about 1 to 2 minutes per side. Using a kitchen spider or large slotted spoon, lift pickle up out of the oil, letting excess oil drain away for a couple seconds, and then remove fried pickle to prepared paper towel-lined pan. I like to do 4 to 5 pickles at a time, rotating them in and out of the fryer.
Enjoy immediately. Fried food is always best when eaten right away! Serve with your favorite ranch dressing, hot sauce, or BBQ sauce.
Recommended Products
As an Amazon Associate and member of other affiliate programs, I earn from qualifying purchases.
Nutrition Information:
Yield: 6
Serving Size: 1
Amount Per Serving:
Calories: 167
Total Fat: 3g
Saturated Fat: 0g
Trans Fat: 0g
Unsaturated Fat: 2g
Cholesterol: 0mg
Sodium: 570mg
Carbohydrates: 28g
Fiber: 1g
Sugar: 1g
Protein: 4g
Nutrition information is automatically calculated by Nutritionix. I am not a nutritionist and cannot guarantee accuracy. If your health depends on nutrition information, please calculate again with your own favorite calculator.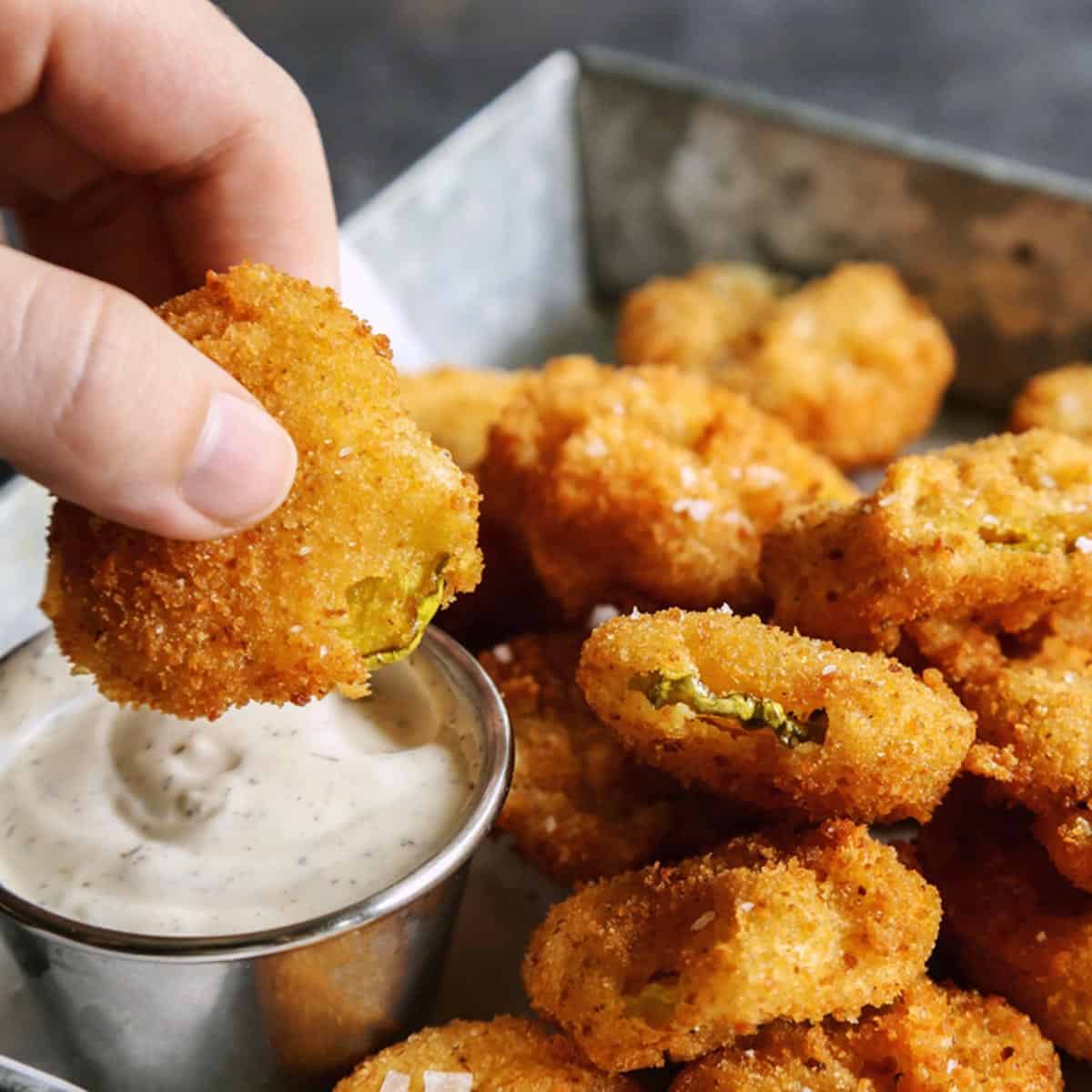 This post was originally published August 2012 and updated in 2023.