Goat Cheese Stuffed Turkey Burgers
Goat Cheese Stuffed Turkey Burgers – This turkey burger recipe is flavorful with fresh lemon, rosemary, and thyme. A bit of goat cheese adds creamy tang, and the sundried tomato spread sends these burgers over the top!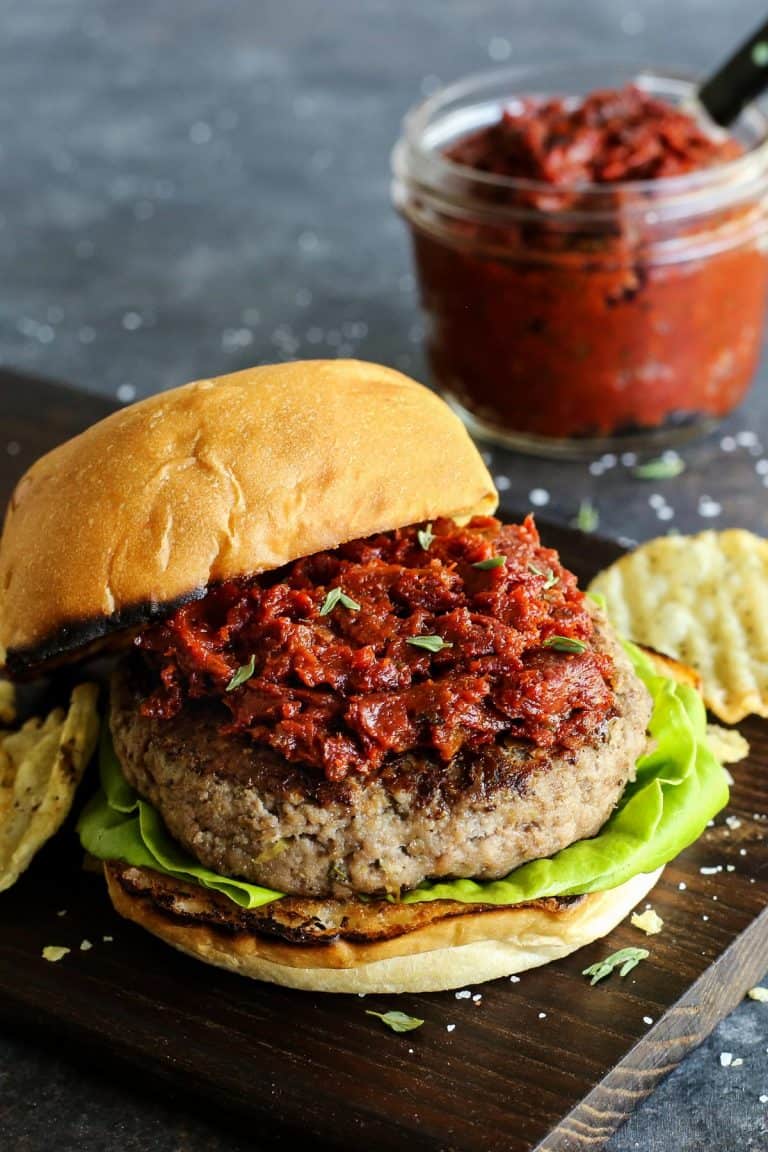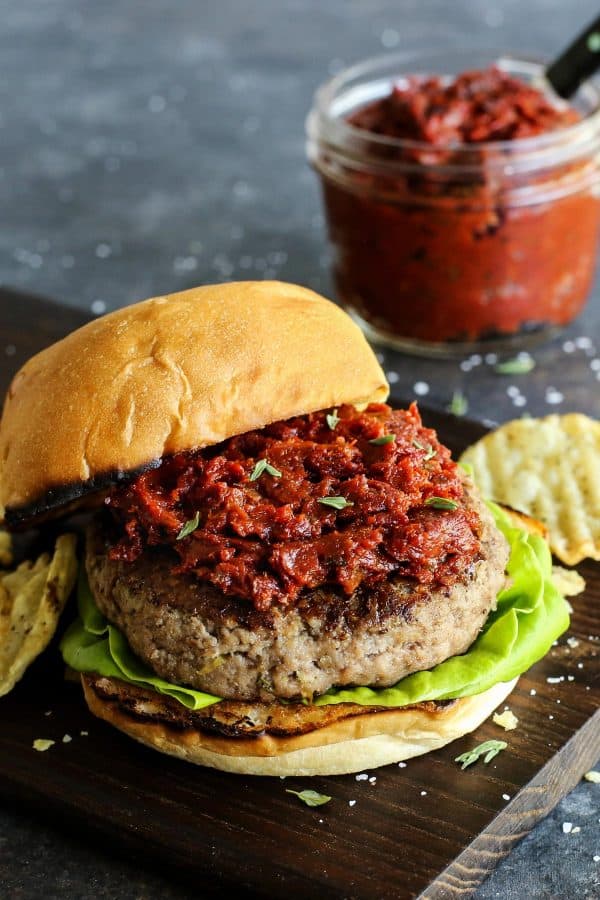 We're in our first week of summer vacation, and boy does it feel good to have the sunshine and warmer temperatures to match up with it. After an extra cold and snowy winter followed by a disappointingly wet and chilly spring, we deserve
every.
last.
second.
of this glorious weather.
Our girls just finished up with their junior and sixth grade school years, which means we officially have a high school senior in the house. Ack. Where does the time go?!
I'll be trying my darndest to live in the moment this summer, to enjoy both Hatti and Tessa still living under our roof. To gather friends and family around the backyard table and firepit, and just plain be together.
And one of the meals we'll be making is this turkey burger recipe. These Goat Cheese Stuffed Turkey Burgers are juicy and flavorful, and have become a fast favorite for our family.
* This is a sponsored post, created in partnership with Minnesota Turkey, to celebrate Turkey Lovers' Month in June!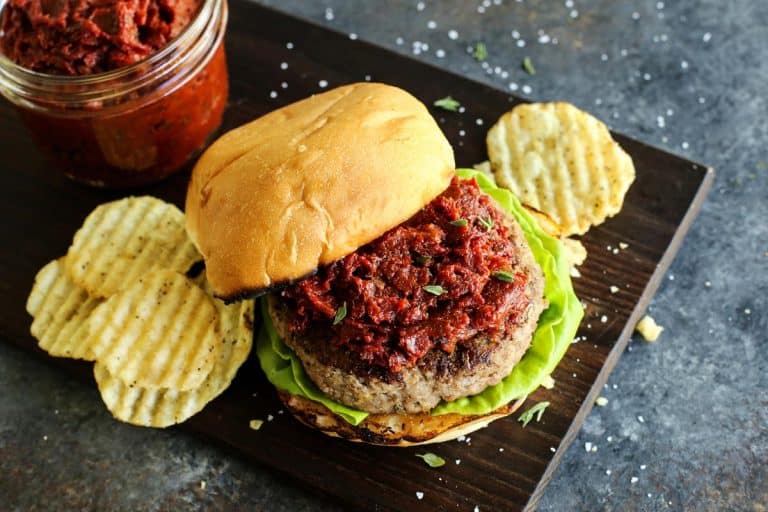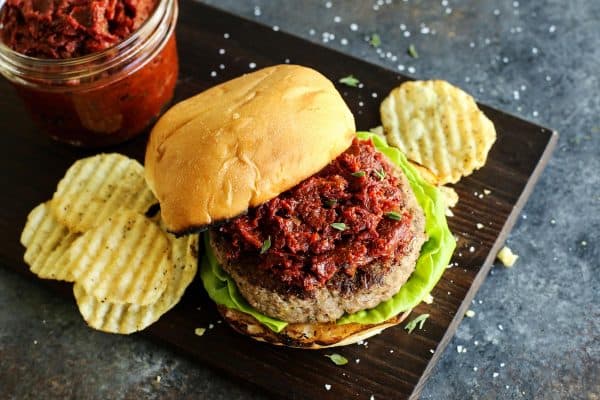 I'm happy to be partnering with our local Minnesota Turkey again this year, celebrating their 80th anniversary!
Minnesota ranks No. 1 nationally in turkey farming, with 450 turkey farm families raising 46 million turkeys each year. Meet these Minnesota families in these videos created in partnership with Minnesota Soybean.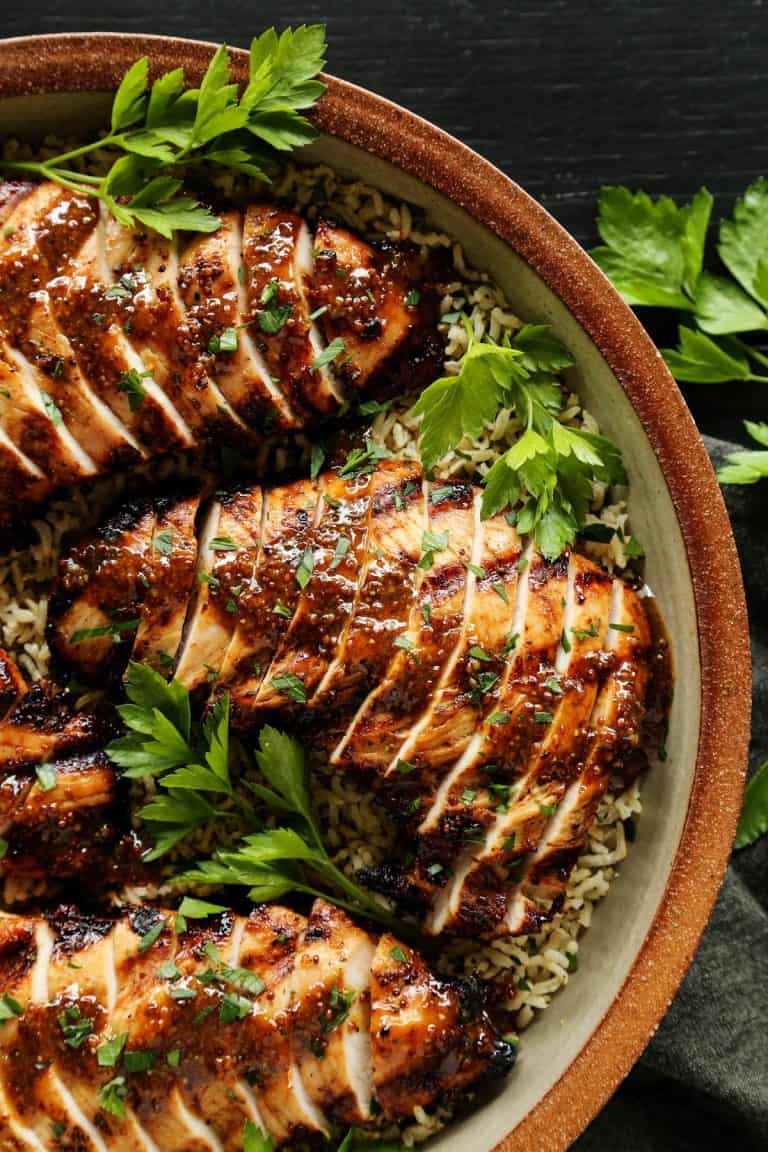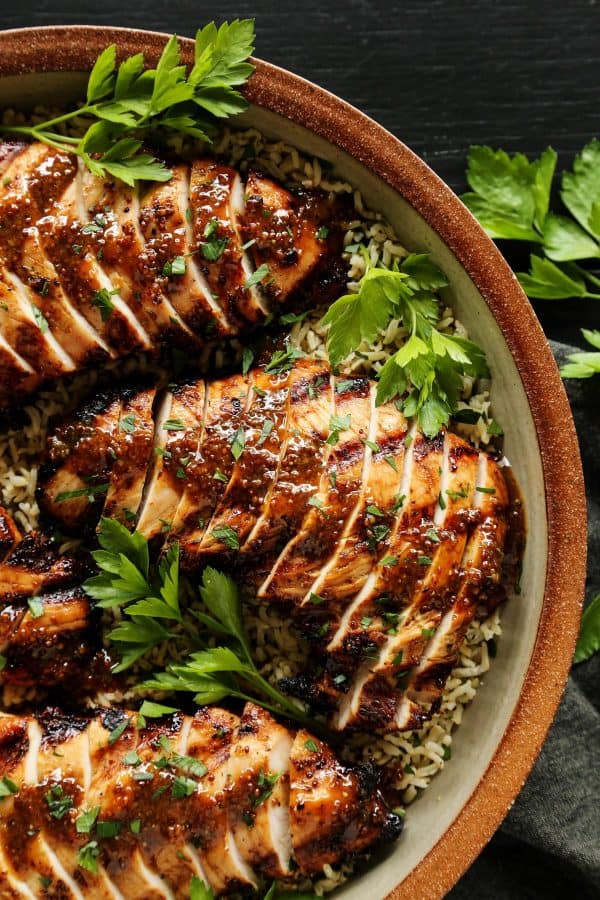 June is Turkey Lovers' Month, and the absolute perfect time to fire up the grill.
Turkey is naturally low in fat and provides immune-boosting nutrients like iron, zinc and potassium. It's also packed with lean protein, something I aim to incorporate in the majority of our weekly meals.
Besides this new grilled turkey burger recipe, you might also like: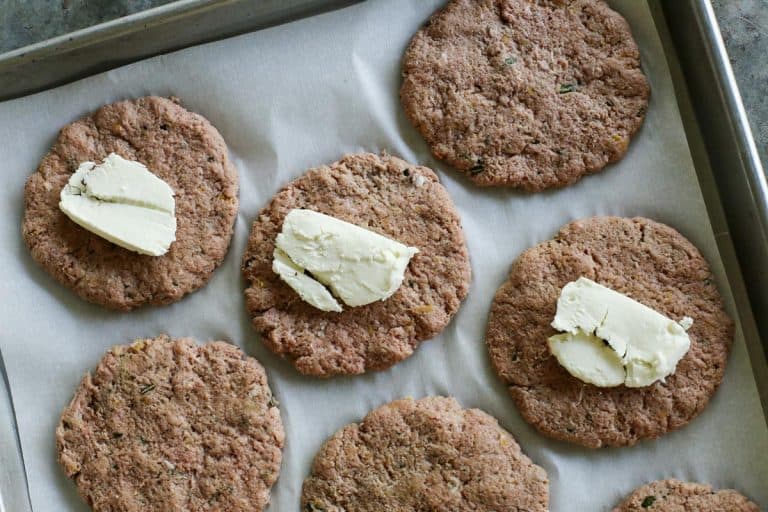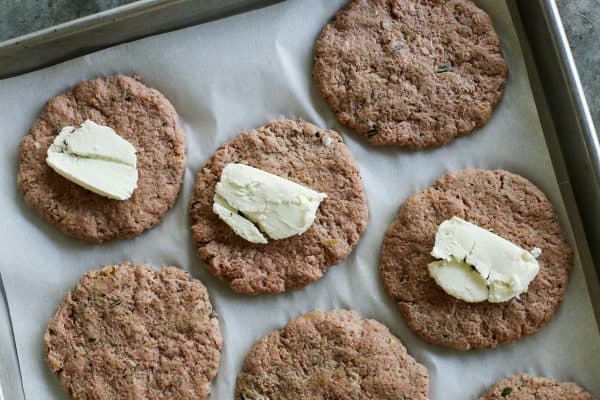 How to make turkey burgers
And here's the big question:
How do you make turkey burgers stick together?
There. I said it.
I've always had a little more trouble getting turkey burgers to stick together (versus beef burgers). And that seems to be the most common thing I hear from others when it comes to making turkey burgers.
So I played around with a turkey burger recipe that friends made for us a number of summers ago. Our family had liked its flavors, so I knew this would be a great starting point.
To ensure that grilled turkey burgers won't fall apart, here are the key things I came away with:
add bread crumbs and some egg to the turkey mixture
chill the formed burgers for 30 minutes prior to grilling
oil the clean grill grates – or use a flat griddle on the grill or stovetop
do not move the burgers at all during the first 5 minutes on the grill grates or griddle
This recipe features goat cheese stuffed inside the turkey burgers. I simply cut a slice from a small goat cheese log and seal it between two turkey patties. The goat cheese gets all warm and super creamy from the heat of the grill – it's heavenly. Our oldest daughter considers this to be the best turkey burger recipe!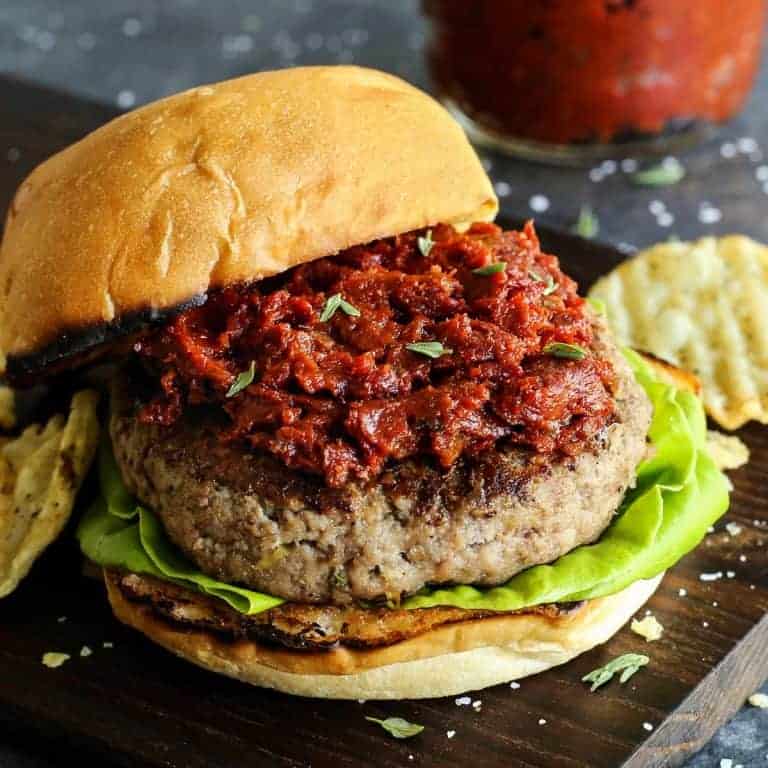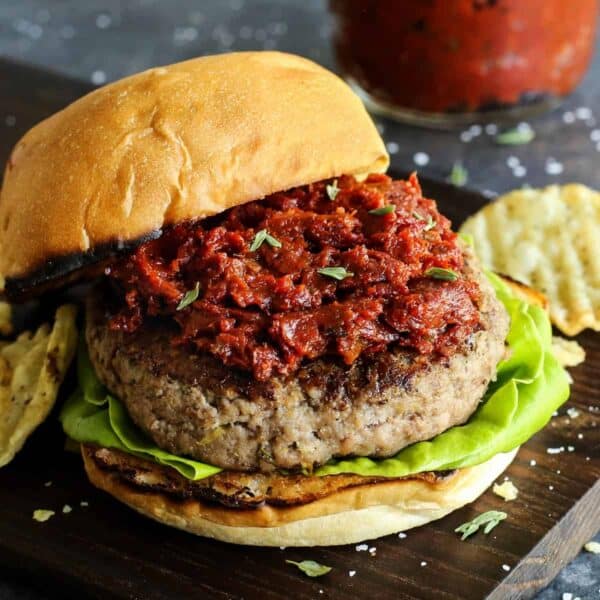 Turkey Burger Recipe
These turkey burgers are juicy and excellently flavored. I love the fresh lemon juice and zest in the turkey mixture.
And I take every opportunity to utilize our herb garden spring through fall, so you'll also find minced fresh rosemary and thyme in these burgers.
All of these flavors, along with the goat cheese, marry perfectly with the sundried tomato spread slathered over the finished burgers.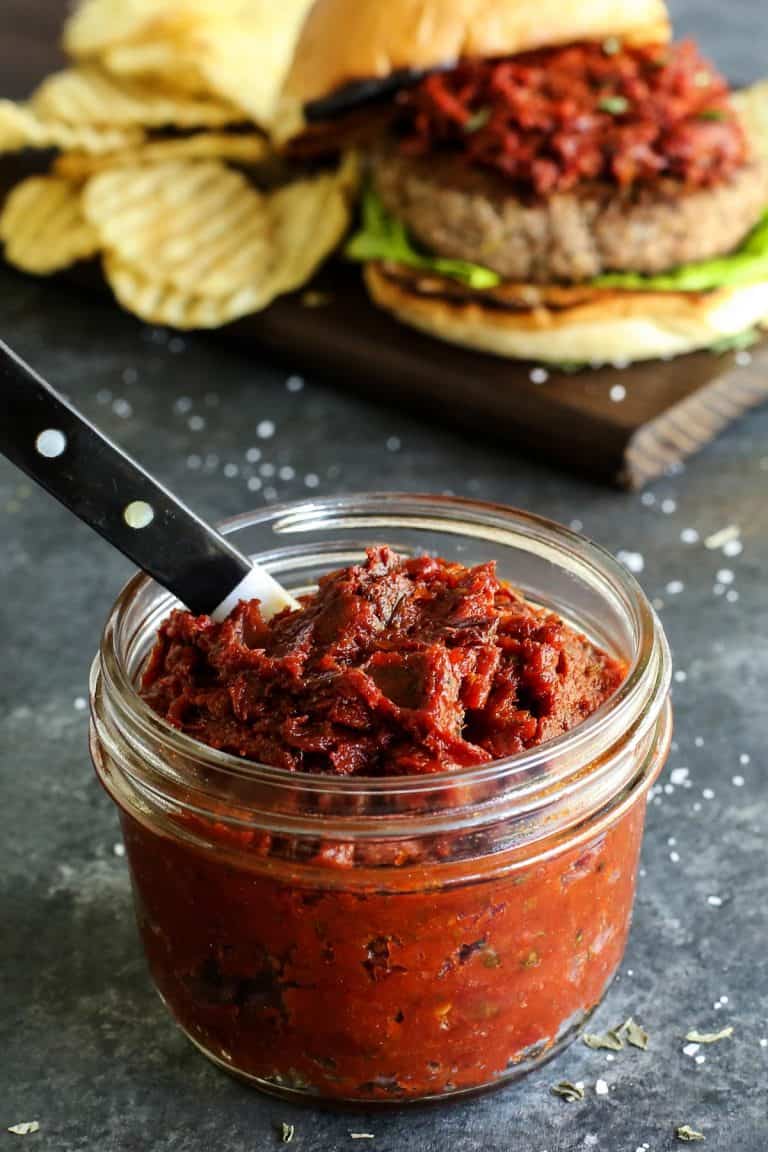 For these burgers, I resurrected a recipe I shared many years ago.
This sundried tomato spread has been a longtime favorite schmear for bagels and turkey sandwiches at our house. Our girls are happy to have another excuse to see this sweet and savory spread in our fridge!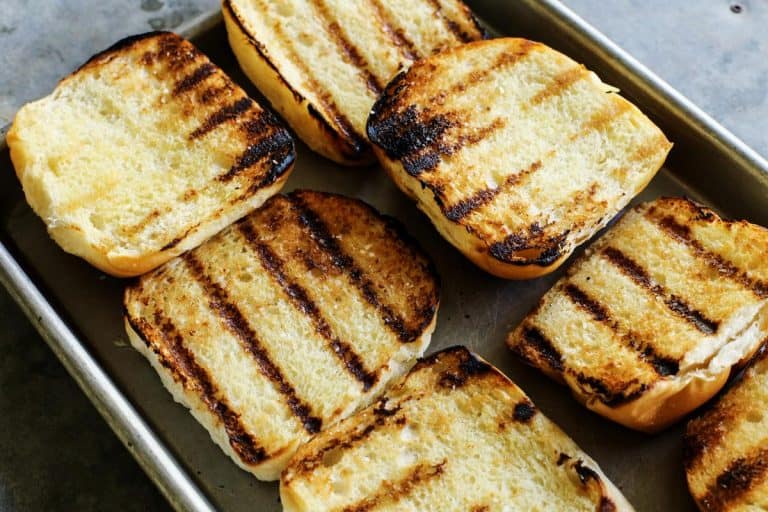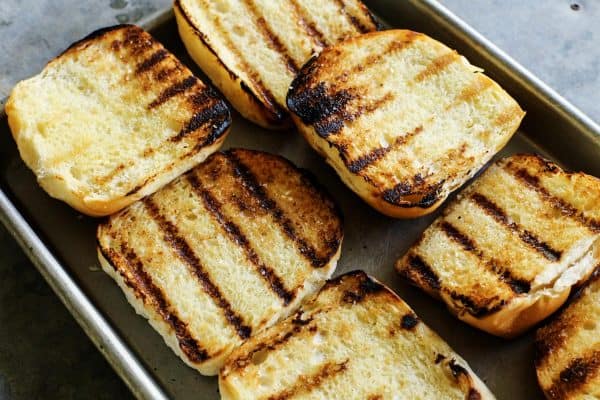 Grilled buns always give burgers an edge. Setting the buns on the hot grill grates adds not only flavor, but also texture. And it takes very little effort, and just a little bit of time. It's not a requirement, but definitely a strong suggestion.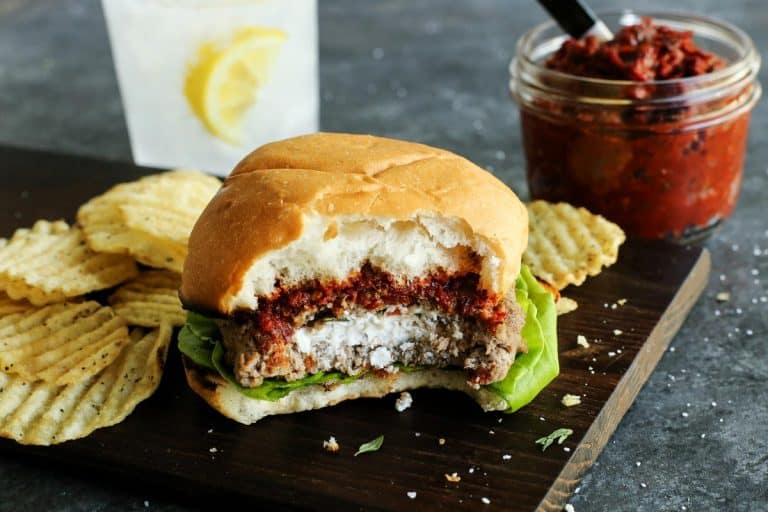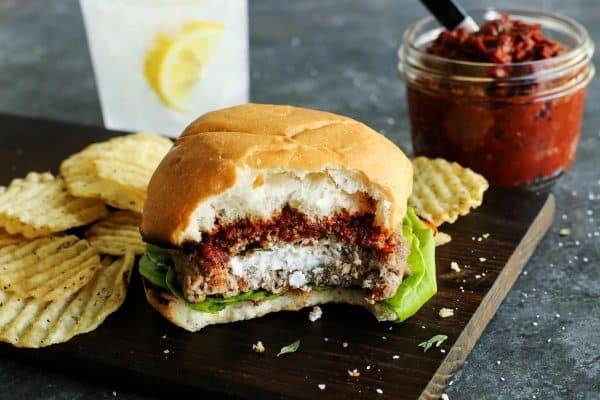 Serve the stuffed turkey burgers with a fresh salad, some grilled vegetables, or a handful of crunchy potato chips.
Hello Summer!
Like these turkey burgers? Pin it!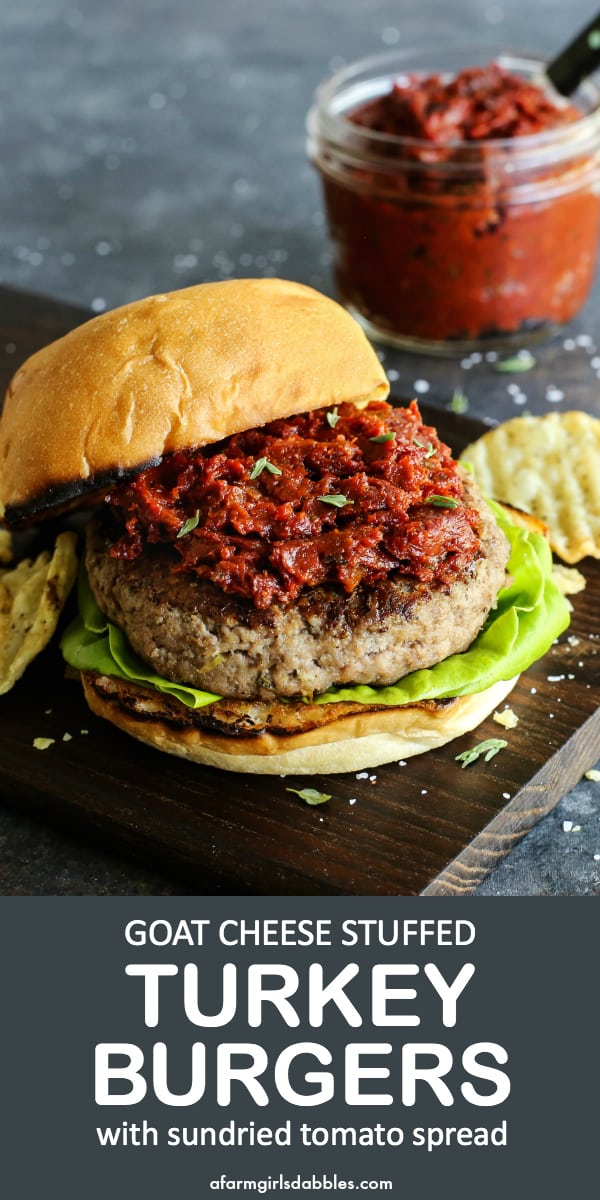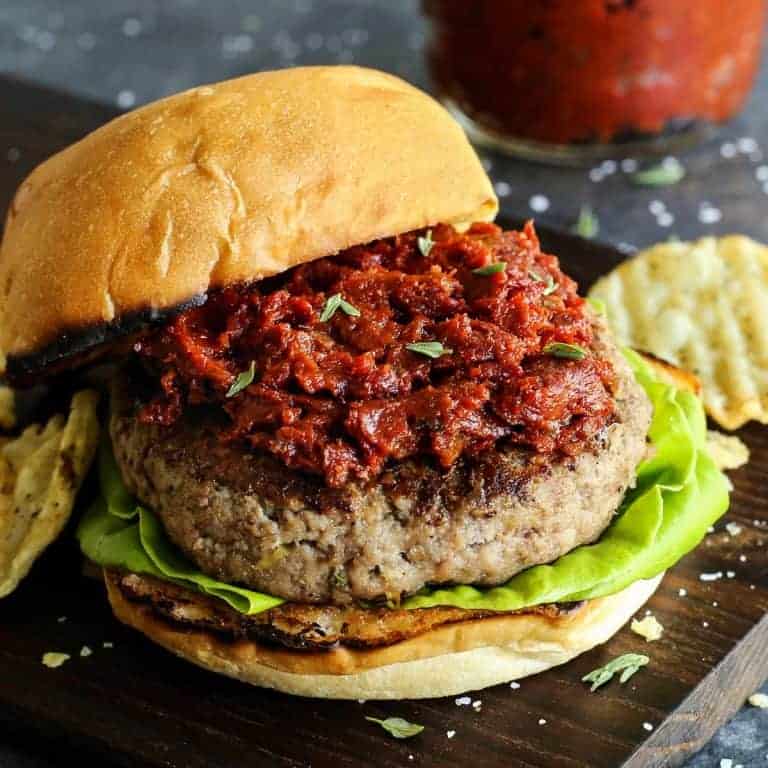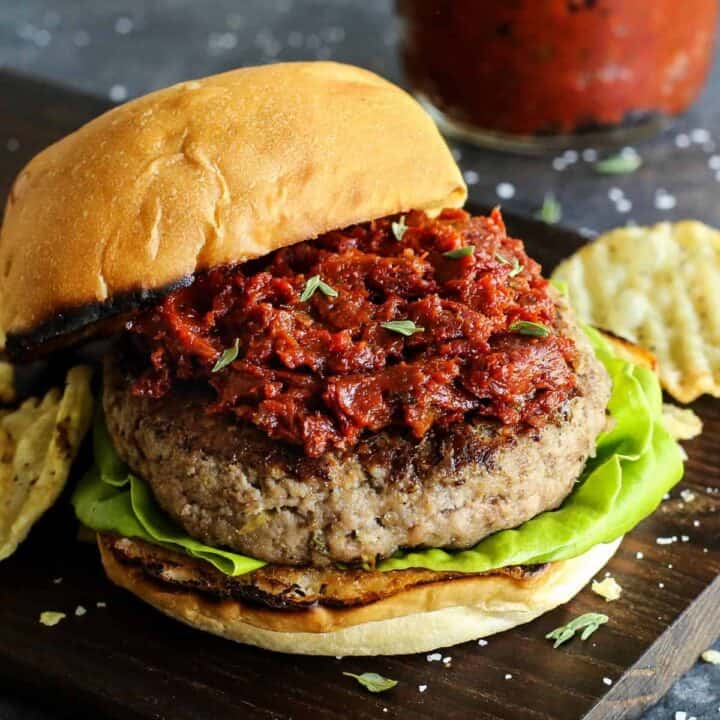 Goat Cheese Stuffed Turkey Burgers
Yield: 6 servings
Prep Time: 25 minutes
Cook Time: 12 minutes
Additional Time: 30 minutes
Total Time: 1 hour 7 minutes
These turkey burgers are flavorful with fresh lemon, rosemary, and thyme. A bit of goat cheese adds creamy tang, and the sundried tomato spread sends these burgers over the top!
Ingredients
1-1/2 lbs. lean ground turkey
1/3 c. bread crumbs
2 T. well-whisked egg
1 T. freshly squeezed lemon juice
1 T. grated lemon zest (I like this zester)
1 tsp. minced fresh rosemary
1 tsp. minced fresh thyme
1 tsp. kosher salt, plus more for sprinkling over burger
1/2 tsp. ground black pepper, plus more for sprinkling over burger
4 T. goat cheese
4 soft hamburger buns
4 large pieces butter lettuce
1/2 c. sundried tomato spread
Instructions
To a medium-large bowl, add turkey, bread crumbs, whisked egg (just whisk a large egg in a small bowl until well combined, then measure out 2 tablespoons to add to turkey), lemon juice, lemon zest, rosemary, thyme, 1 teaspoon salt, and 1/2 teaspoon black pepper. Mix well. I like to just use my hands, for quickest and best overall mixing of ingredients.
Divide mixture into six equal portions, and then divide each of those portions in half, to equal twelve portions. Form each portion into a 4" patty and place on a wax paper-lined rimmed pan.
Place goat cheese on centers of six turkey patties, a strong 1/2-tablespoon of goat cheese each. I like to use a small (4-oz. size) goat cheese log and slice off coin-shaped pieces that equal a bit more than 1/2 tablespoon of goat cheese. Place a bare turkey patty on top of each patty with goat cheese, and then pinch edges together to seal patties and enclose cheese. Sprinkle a bit more kosher salt and black pepper over tops of finished burgers. Cover and refrigerate for 30 minutes.
Preheat grill to medium/medium-high heat, and then oil cleaned grates. If you have a griddle for your grill, that works great. Or heat a large griddle over medium/medium-high heat on the stovetop. Turkey burgers are generally more loose than beef burgers, but the breadcrumbs, eggs, and refrigerator chilling helps to keep these burgers together. If you have any issues keeping these together, stick to using a griddle on the grill or stovetop. Place burgers on hot griddle or oiled grill grates and let cook for 5 minutes without moving. Gently flip burgers over and cook for 5 to 7 minutes more, or until burgers are cooked through to an internal temperature of 165° F.
If desired, grill hamburger buns cut side down and lightly brushed with olive oil, until lightly toasted. Place a lettuce leaf on bottom half of each bun, followed by a grilled turkey burger. Top with sundried tomato spread and top half of bun. Serve hot.
Notes
Adapted from Bon Appétit, first shared with us at a summer meal made by Sandra Velte.
Recommended Products
As an Amazon Associate and member of other affiliate programs, I earn from qualifying purchases.
Nutrition Information:
Yield: 6
Serving Size: 1
Amount Per Serving:
Calories: 625
Total Fat: 30g
Saturated Fat: 10g
Trans Fat: 0g
Unsaturated Fat: 17g
Cholesterol: 221mg
Sodium: 991mg
Carbohydrates: 30g
Fiber: 1g
Sugar: 3g
Protein: 58g
Nutrition information is automatically calculated by Nutritionix. I am not a nutritionist and cannot guarantee accuracy. If your health depends on nutrition information, please calculate again with your own favorite calculator.


For more information about the Minnesota Turkey Growers Association, including recipes and nutritional information, visit their web site. Find them on these social media channels: Facebook, Twitter, and Pinterest, and join in on the conversation using #ServeTurkey and #TryTurkey.
Also catch their new podcast called "What The Cluck!", which talks about turkey from farm to fork and everything in between. Find it on iTunes and pretty much wherever you find your podcasts.
This post is sponsored by our local Minnesota Turkey. All opinions are 100% my own. Thank you for supporting the brands that help make this site possible.