Buttermilk Mashed Potatoes
Buttermilk Mashed Potatoes is an easy, classic side dish. Buttermilk adds creaminess plus a hint of tangy flavor to the potatoes, while butter and simple seasonings give richness and extra flavor. Ideal for weeknight meals as well as special holiday dinners!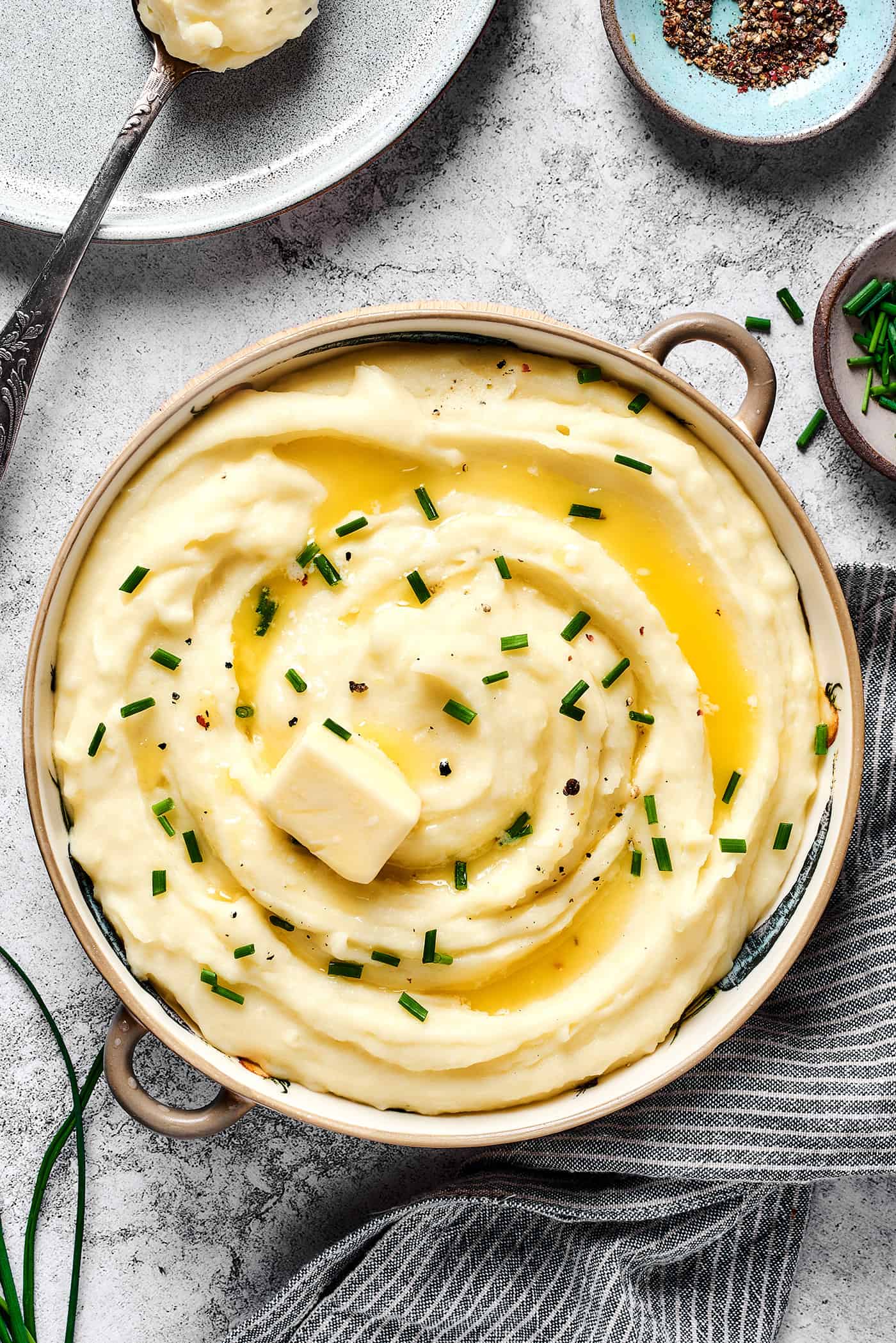 Easy Mashed Potatoes Recipe
I think that buttermilk is a great addition to so many recipes. And these Buttermilk Mashed Potatoes are no exception!
Buttermilk mashed potatoes is an easy, classic side dish. Buttermilk adds creaminess plus a hint of tangy flavor to the potatoes, while butter and simple seasonings give richness and extra flavor.
You'll only need a few basic ingredients for this recipe. Just boil the potatoes until tender, then mash with the other ingredients until smooth and creamy. That's it. Really!
Buttermilk potatoes are an incredibly versatile side dish. They're ideal for weeknight dinners like Italian meatloaf muffins and grilled pork chops – and for fancier meals like Steak Diane, stuffed pork chops, and Swedish meatballs (I hesitate to call Swedish meatballs "fancy", but this is always a special meal for us, our family adores it!).
These potatoes also make a great side for the holidays – perfect for Thanksgiving, Christmas, Valentine's Day, and Easter!
Why Use Buttermilk?
Why use buttermilk in your mashed potatoes? The answer is simple – flavor and texture!
Buttermilk adds a bit of tangy flavor as it's high in lactic acid. It also lends a creamy and slightly thicker texture. It's a lovely little twist to your classic creamy mashed potatoes.
We often have buttermilk on hand for making buttermilk pancakes, buttermilk waffles, caramel buttermilk syrup, and buttermilk ranch dressing. Yes, we love buttermilk around here!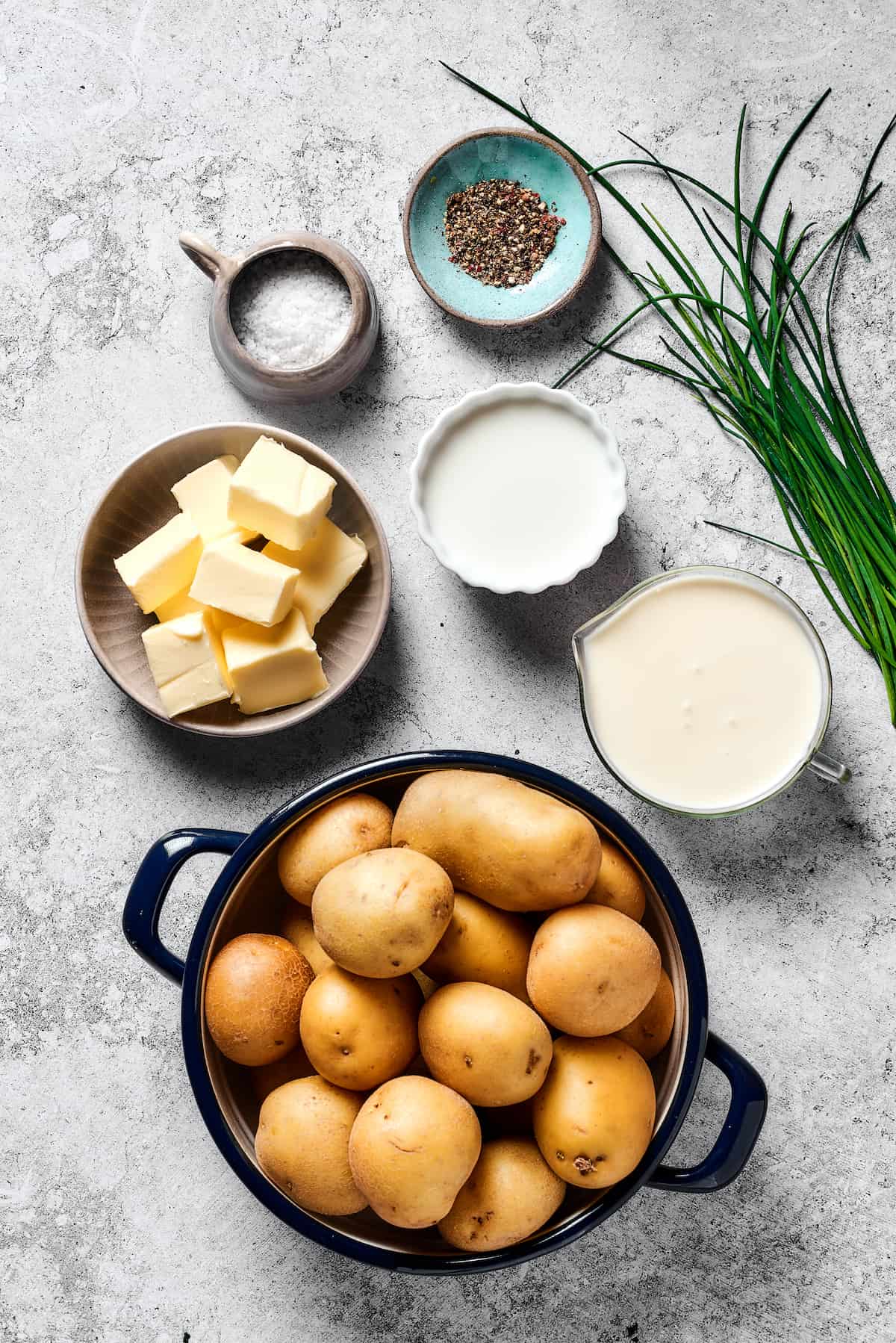 Recipe Ingredients
You'll need just a handful of basic ingredients to make this easy side dish. See the recipe card below for measurements.
Potatoes – See notes below.
Whole buttermilk – Allow it to sit at room temperature first.
Milk – In addition to the buttermilk, you'll need a bit of regular milk as well.
Salt & pepper – This dish is best when it's seasoned super simply!
Chives – Add a pop of color and a little fresh onion-y flavor to the potatoes.
What Potatoes Are Best For Mashed Potatoes?
For these buttermilk mashed potatoes, I recommend either Yukon Gold potatoes or Russet. You want potatoes that are fairly starchy, so avoid red potatoes.
Yukon Golds add a nice naturally buttery flavor which is why I prefer them in my traditional mashed potatoes recipe, and I use them here as well. Russets will give you a little fluffier, drier texture. Just use what you like best.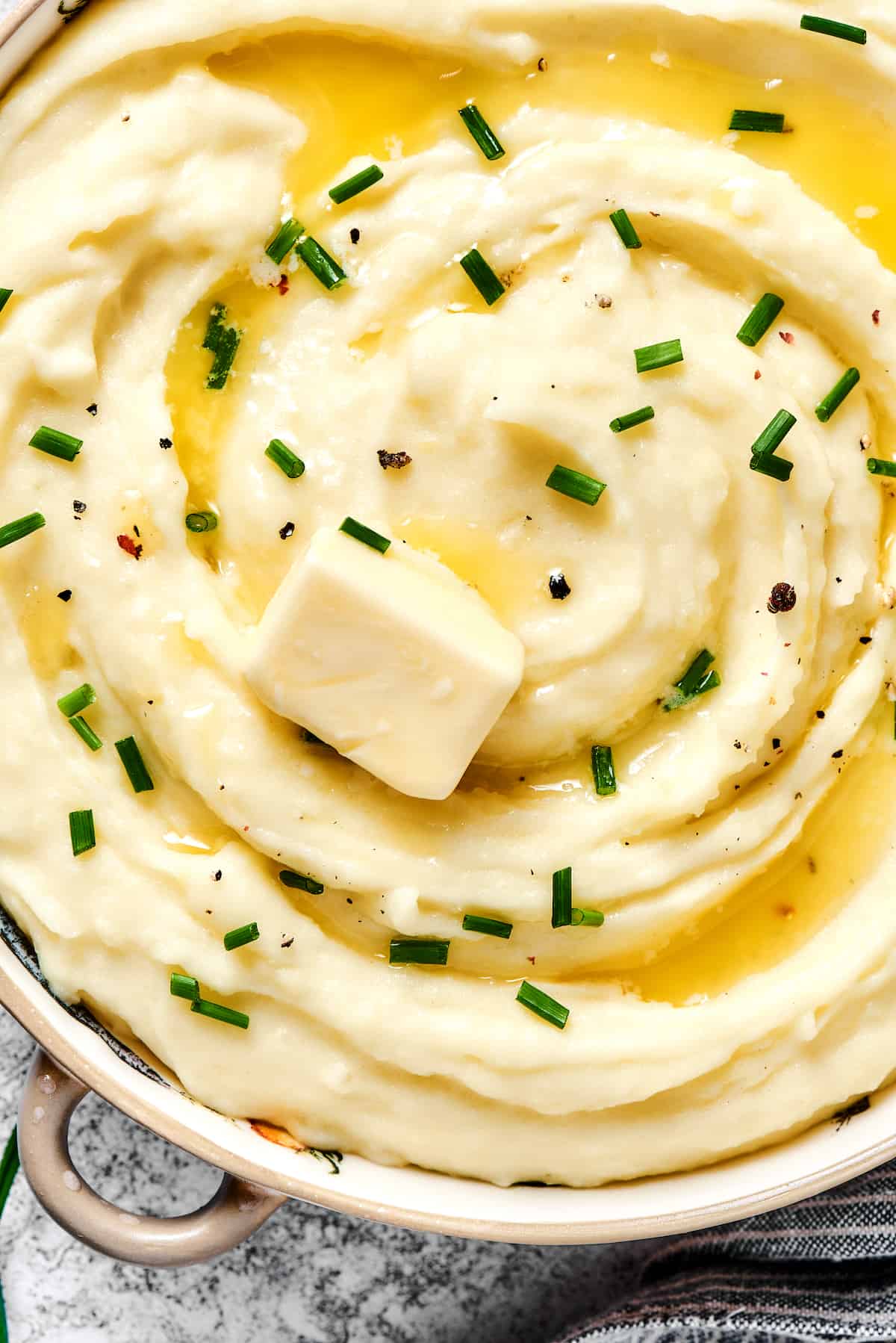 Make Your Own Buttermilk
Since these creamy mashed potatoes use a decent amount of buttermilk, I 100% recommend picking up some buttermilk at the store. I just think the texture and flavor is superior to making your own.
But if you're hard-pressed to eat buttermilk mashed potatoes and don't have buttermilk… here's how to make your own buttermilk:
add two tablespoons of vinegar or lemon juice to a scant 2 cups of regular milk
let it sit for a few minutes to curdle, then stir to incorporate
This method will make more than you need for this recipe, but you can use the leftovers for pancakes, waffles, etc.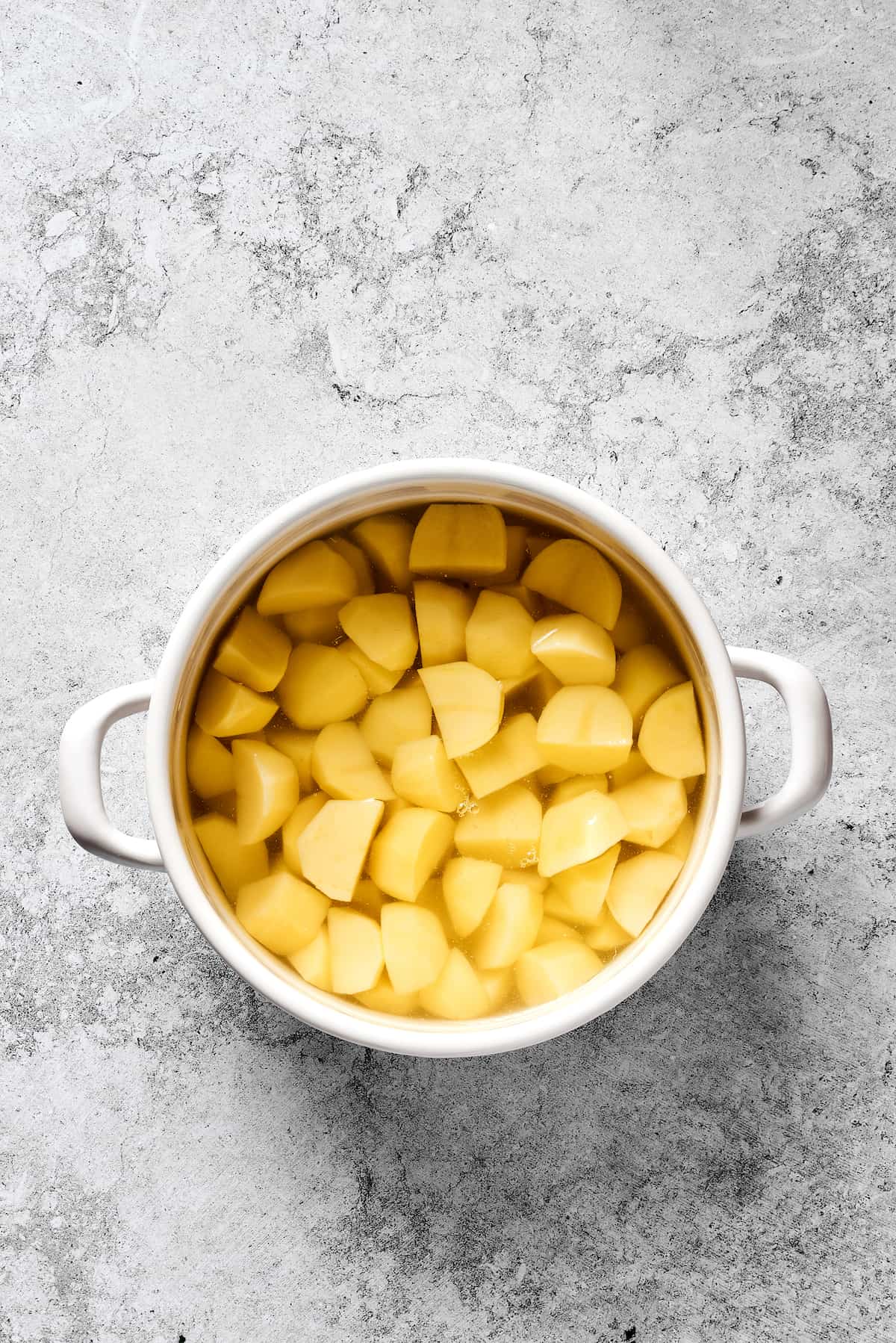 How to Make Buttermilk Mashed Potatoes
Here's how to make this simple and easy side dish.
Cook the potatoes. Cut peeled potatoes into 1″-2″ chunks. Cover with cold water in a pot and season with salt. Bring to a boil, then reduce to a simmer for 15-20 minutes, or until the potatoes are super tender and easily pierced with a fork. Drain the potatoes and return them to the pot.
Mash the potatoes. Add the butter to the potatoes and mash until smooth. Add the buttermilk, milk, salt, and pepper. Combine until the mixture is well incorporated and to your desired consistency. Leave it a bit chunky or mash until it's completely smooth, whatever you personally like.
Enjoy. Serve immediately, garnished with more butter and herbs (we love fresh chives!) if desired.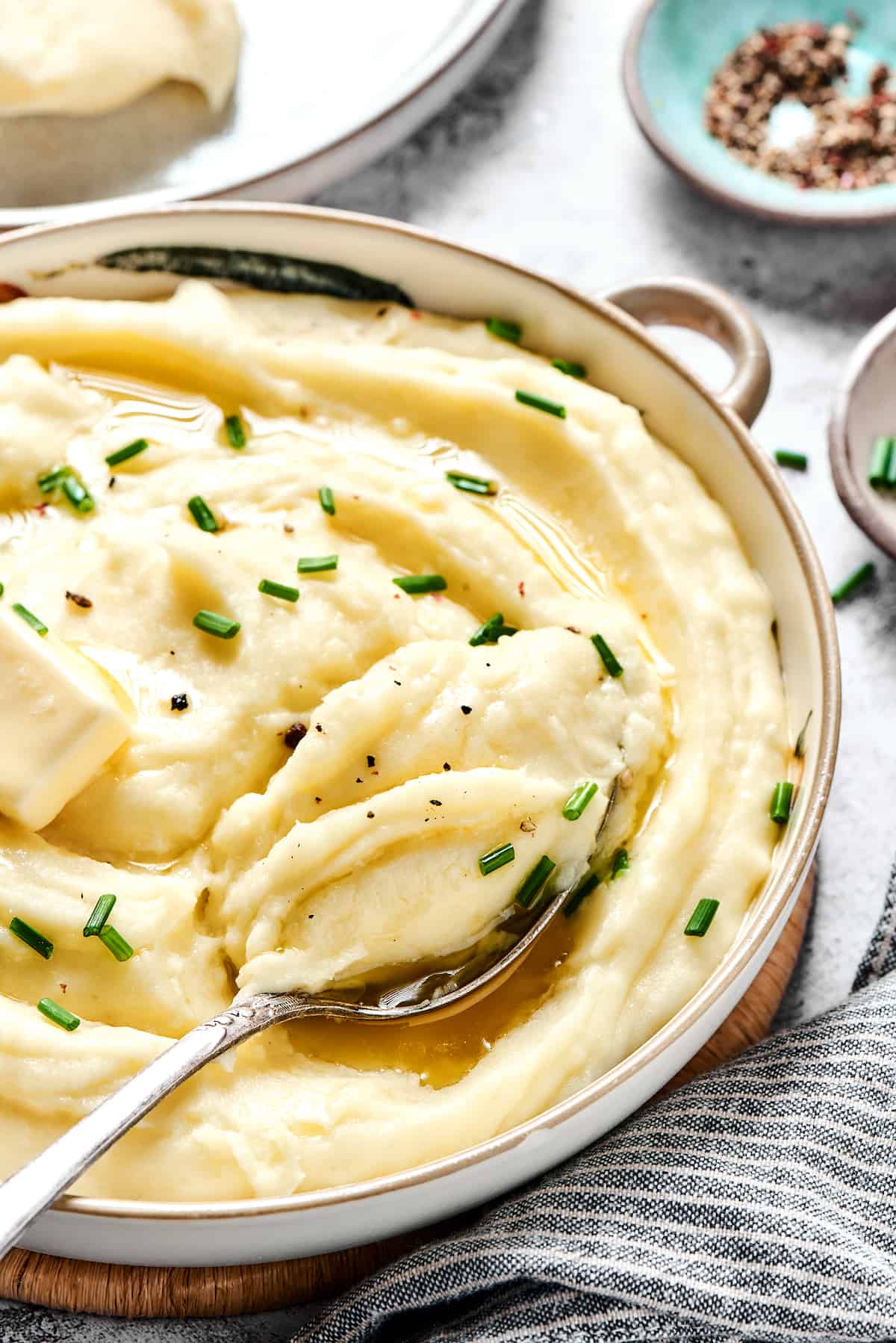 Tips for Success
This side dish is very straightforward but here are a few tips for creamy and smooth mashed potatoes.
Use starchy potatoes. As mentioned above, you'll want to use starchy potatoes like Yukon Gold or Russet, instead of less starchy varieties, like red potatoes. Yukon Golds are less starchy than Russet, which gives them a little softer, buttery texture and flavor.
How do I know when the potatoes are done? The easiest way to tell when your potatoes are ready to mash is to poke them with a fork. If the fork easily pierces the potatoes, they're done.
Adjust the seasoning before serving. After all ingredients have been added and combined, I always like to give my potatoes a little taste test and add more salt or pepper as needed.
Buttermilk alternatives. I highly recommend using buttermilk. But if you don't have buttermilk on hand, you can make your own with the instructions I gave above. Or you can try substituting sour cream or Greek yogurt, which provide a similar tanginess (though they're thicker and creamier).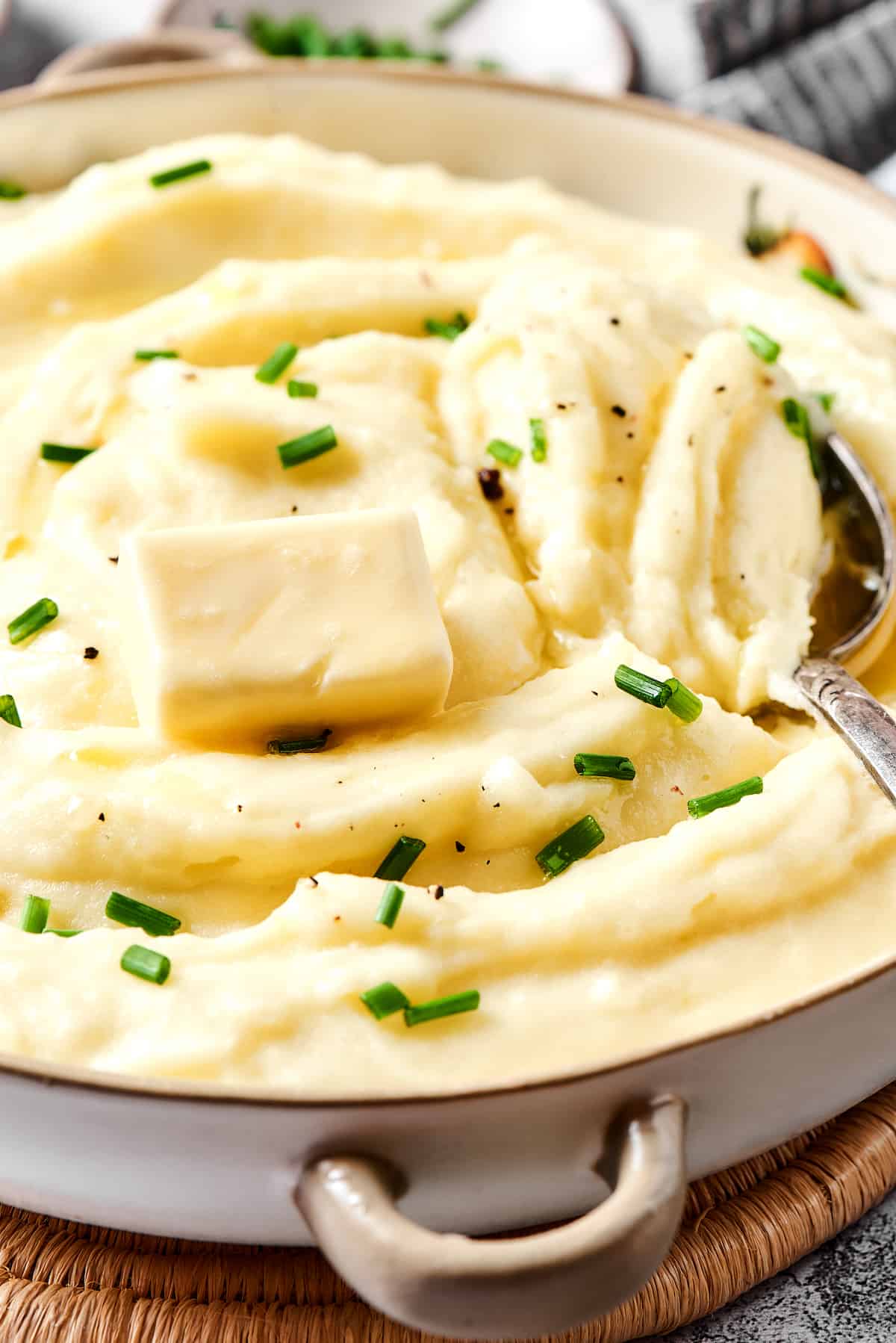 Serving Suggestions
Buttermilk potatoes can be served as a side dish with a variety of main dishes, including chicken, steak, or pork chops. And they're a natural go-to for any meatballs or meatloaf meal.
They're also great for the holidays as a twist on classic mashed potatoes too.
And one of our most recent favorite pairings is with Steak Diane. The tanginess in these potatoes matched with the rich, creamy Diane sauce is perfect. I'll be sharing that recipe with you SOON, so hold tight!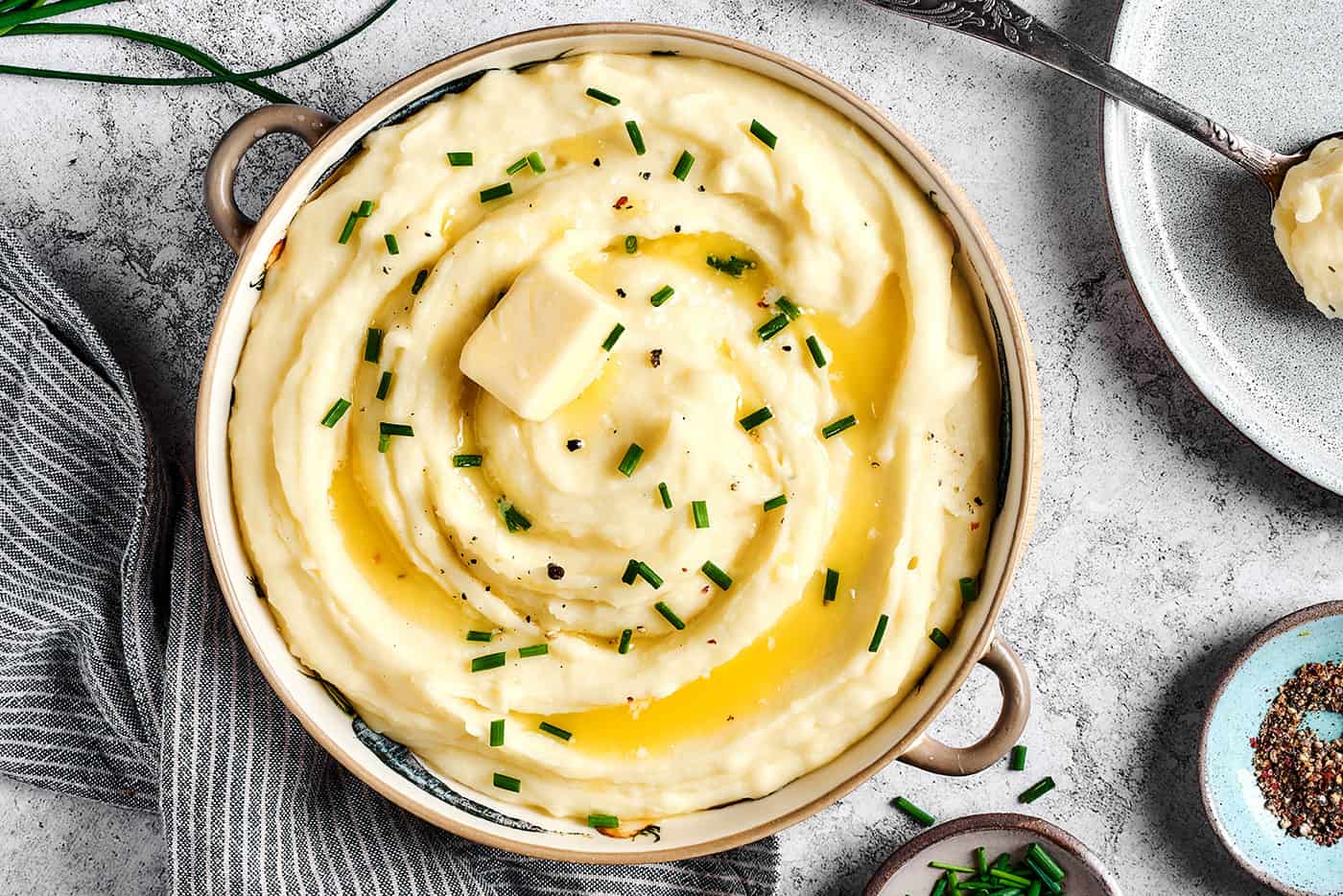 How to Store Leftovers
Leftover mashed potatoes will keep well, stored in the refrigerator in an airtight container, for up to 4 days.
Reheat in the microwave or on the stovetop. You may want to add a bit of milk or butter to loosen them up again.
Can You Freeze Homemade Mashed Potatoes?
Yes, you can also freeze these buttermilk potatoes.
Allow them to cool completely, transfer to a freezer-safe container, and freeze them for up to 3 months. Thaw overnight in the fridge, then reheat as directed above.
More Easy Potato Recipes:
Like this recipe? Save it to Pinterest!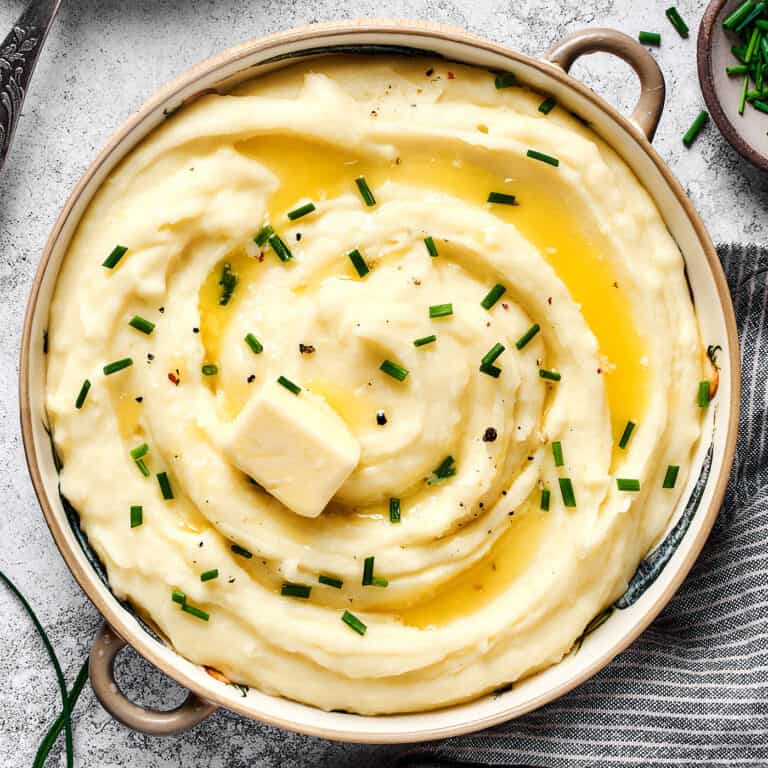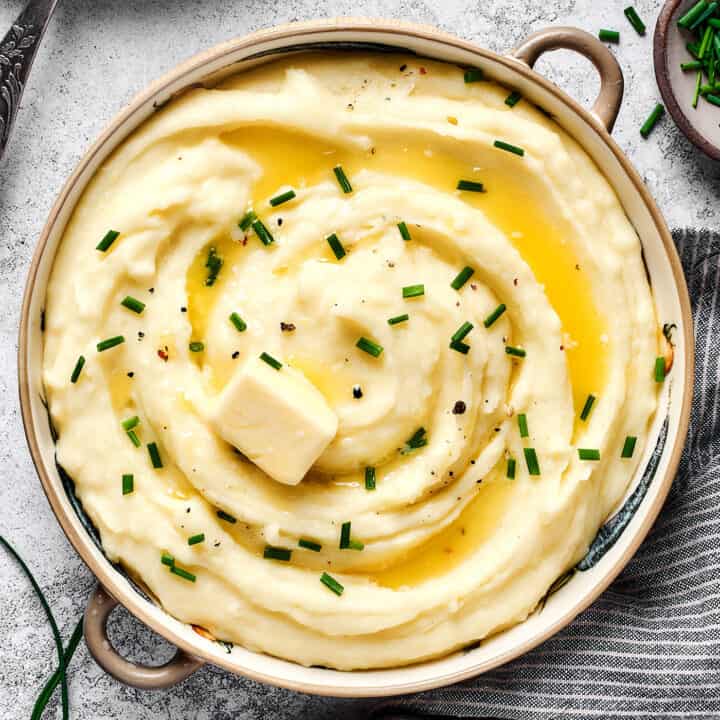 Buttermilk Mashed Potatoes
Yield: 4 servings
Prep Time: 10 minutes
Cook Time: 25 minutes
Total Time: 35 minutes
These Buttermilk Mashed Potatoes are perfectly creamy and slightly tangy. They make an ideal side dish for everything from pork chops to steak, and even a holiday turkey or ham.
Ingredients
2 pounds potatoes (such as Yukon Gold or Russet), peeled and cut into 1"-2" chunks
6 tablespoons unsalted butter, plus 2 tablespoons for garnish
⅔ cup whole buttermilk, at room temperature
2 tablespoons milk
½ teaspoon kosher salt
Freshly ground black pepper, to taste
3 tablespoons chopped fresh chives, plus 1 tablespoon for garnish
Instructions
Place prepared potatoes in a large pot and cover with cold water. Season the
water with salt.
Bring the water to a boil over high heat, then reduce the heat to medium-low and simmer until the potatoes are tender when pierced easily with a fork,
about 15-20 minutes.
Drain the potatoes and return them to the pot.
Add 6 tablespoons butter to the potatoes and mash with a potato masher until
smooth and creamy. Then add buttermilk, milk, salt, and pepper. Combine until mixture is fully incorporated.
Taste the potatoes and adjust the salt and pepper as needed. Stir in 3 tablespoons of chopped fresh chives.
Serve the mashed potatoes hot, garnished with additional butter and chives,
if desired. Enjoy!
Nutrition Information:
Yield: 4
Serving Size: 1
Amount Per Serving:
Calories: 395
Total Fat: 19g
Saturated Fat: 12g
Trans Fat: 0g
Unsaturated Fat: 6g
Cholesterol: 51mg
Sodium: 229mg
Carbohydrates: 51g
Fiber: 5g
Sugar: 5g
Protein: 8g
Nutrition information is automatically calculated by Nutritionix. I am not a nutritionist and cannot guarantee accuracy. If your health depends on nutrition information, please calculate again with your own favorite calculator.