Steak Diane
Steak Diane is a classic beef tenderloin recipe with pan-cooked steak in a rich, creamy mushroom sauce. Elegant yet simple, it's perfect for a special occasion or date-night-in, and on the table in just 40 minutes!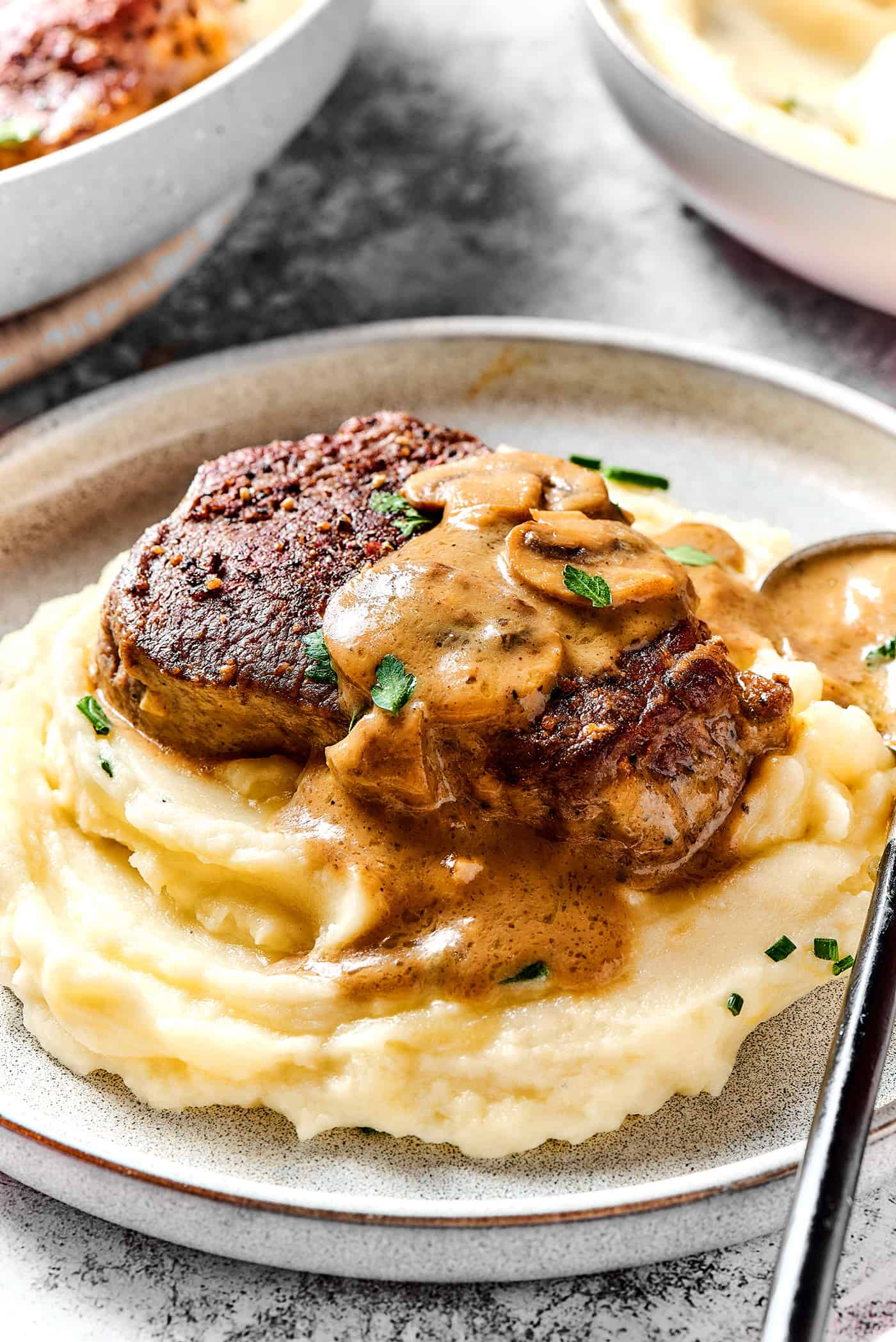 Easy and Elegant Steak Dinner
This Steak Diane recipe is high on my list of "elegant but easy" dinner ideas. And it's packed with gorgeous, savory flavors. I can't ask for more than that when making a special meal!
This steak recipe kicks a simple pan-fried steak up a notch or two. It features beef tenderloin steaks covered in a rich, creamy sauce. It's an old-school steak house recipe that's not only amazing to eat, but also fun to make!
This steak recipe appears fancy, but don't let that fool you. I promise you don't need any particular skill – just follow the recipe card's easy instructions. Other favorite dishes that fall into this fancy-yet-easy category are grilled lobster tails, seared scallops, and bacon wrapped scallops – have you tried any of these yet?!
Steak Diane, served over creamy buttermilk mashed potatoes, is a great choice for a date-night-in or a small, intimate dinner party. It's a special meal, for your special people. Think Valentine's Day or a small dinner during the holidays. It's perfect for celebrating a birthday, anniversary, or momentous event. Enjoy!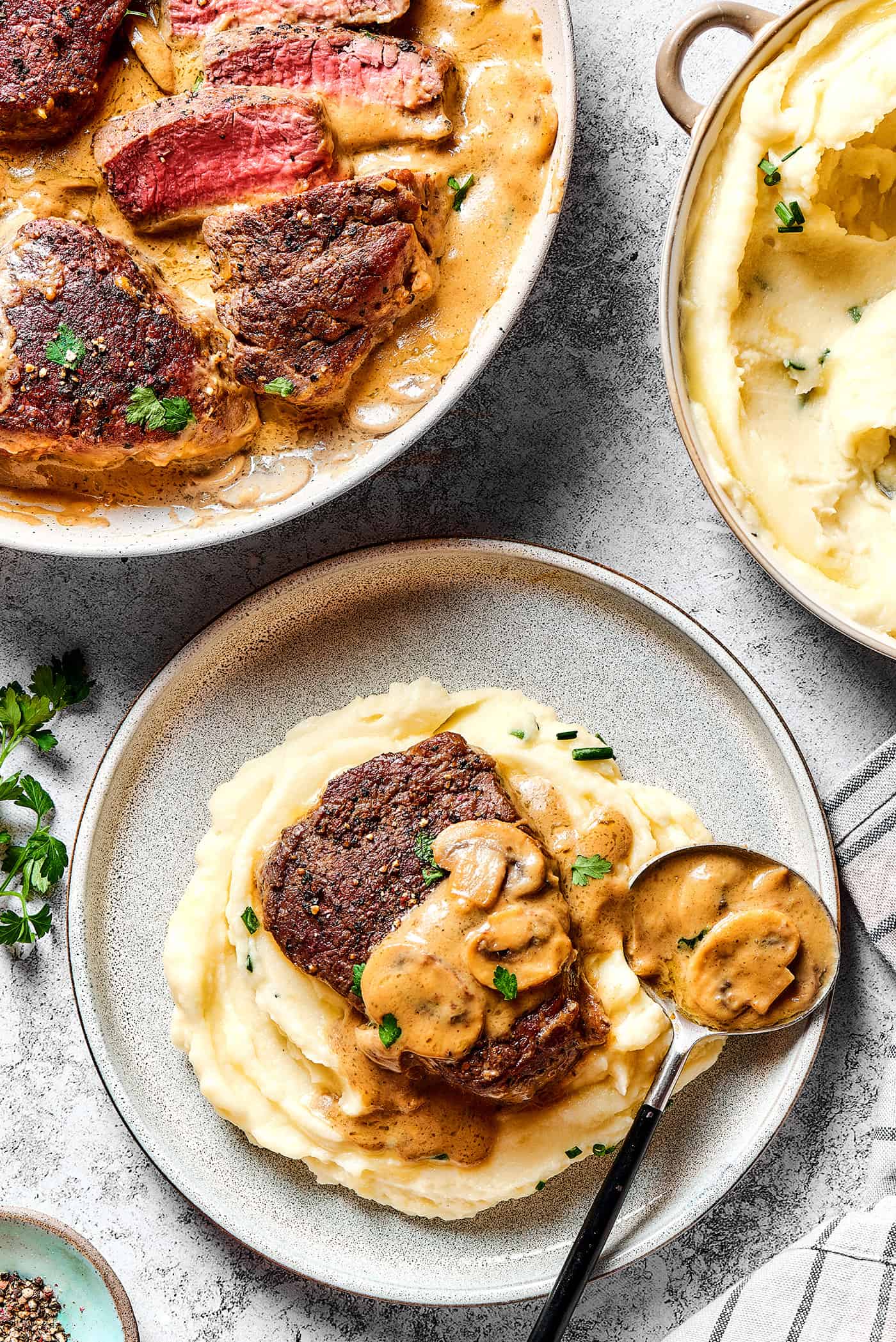 What Is Steak Diane?
Steak Diane is a classic dish that's made by pan-frying beef steaks and then making a flavorful sauce that incorporates the pan juices with cognac or brandy, beef broth, and heavy cream.
The steaks are typically cooked to a medium-rare or medium doneness, depending on your preference, and have a tender, juicy texture. The creamy sauce is rich and super flavorful, with a slightly tangy taste from the mustard and Worcestershire sauce.
Why Is It Called Steak Diane?
There are a few different theories as to the origin of Steak Diane. The most common refers to the Roman Goddess of hunting and animals, Diana. It's said that in the 19th century a "Diane sauce" was created as an ode to her, with cream, mushrooms, and peppers, and they typically served it with red meat.
The other idea is that it began in 1938 at Tony's Grill in London, and was named after Lady Diana Cooper.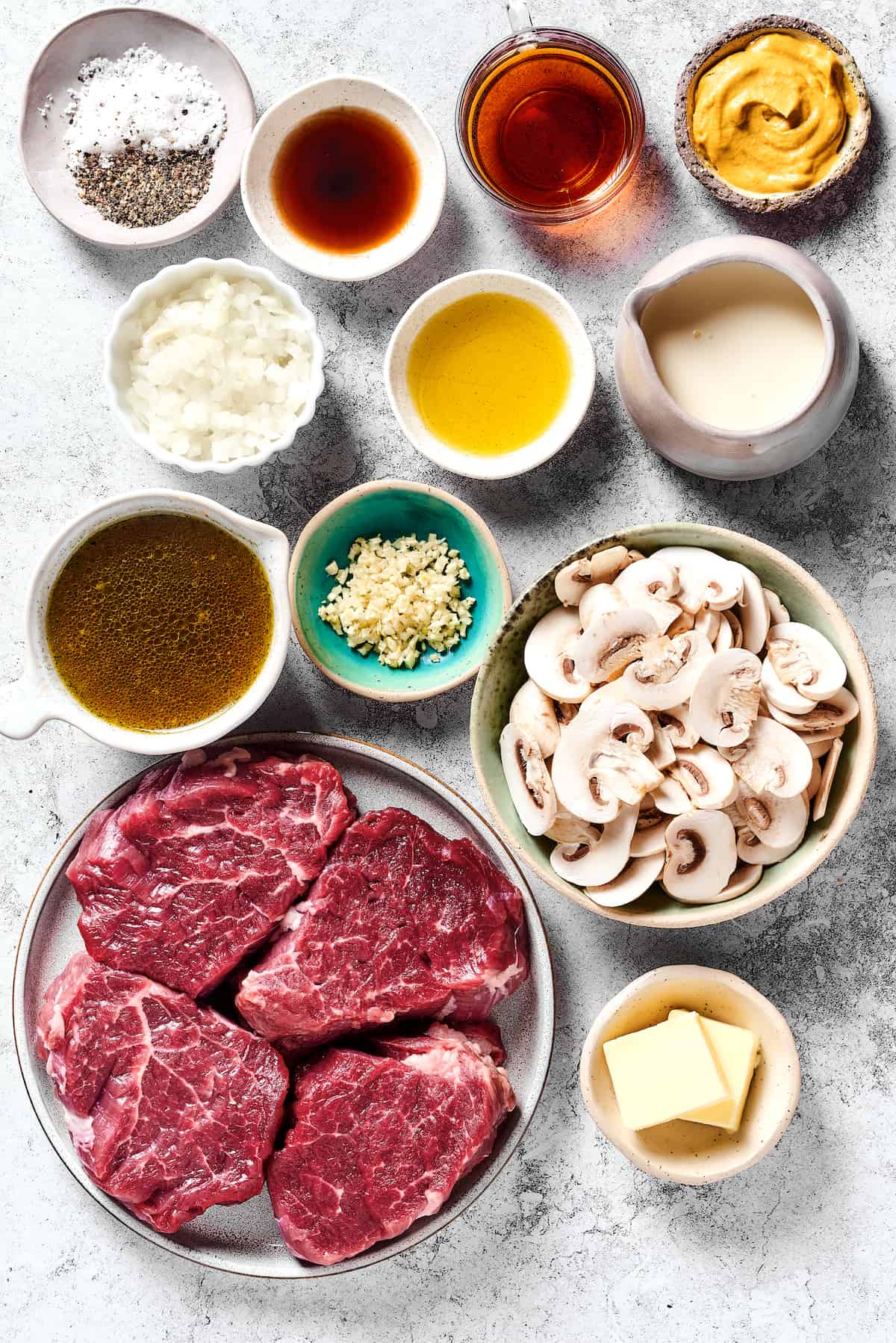 Recipe Ingredients
This beef tenderloin recipe is packed with flavor. I completely enjoy making this dish and watching it all come together!
Olive oil
Steaks – We use beef tenderloin for this recipe.
Kosher salt & black pepper
Butter – Adds rich flavor and texture to the sauce.
Shallots & garlic – These round out all the savory flavors.
Mushrooms – Use either white button mushrooms or cremini mushrooms.
Cognac or brandy – This adds wonderful rich flavor to the sauce that's hard to duplicate. Leave it out if you must, but I HIGHLY recommend it. (I promise, your sauce won't taste like alcohol once it's finished!) If you don't have either of these, white wine will work in a pinch.
Worcestershire sauce – Adds another layer of umami flavor to the sauce.
Beef broth – The base of the sauce.
Dijon mustard – Adds depth to the flavor of the sauce.
Heavy cream – A key ingredient to make the sauce rich and creamy.
Fresh parsley – Fresh chives also work. A little fresh, herby garnish is always welcome at my table!
What's The Best Steak To Use?
Steak Diane is typically made with beef tenderloin and that's what we use in this recipe.
However, if you're looking for a more budget-friendly version of this famous dish – since beef tenderloin can be quite pricy – you could also make it with top sirloin or New York strip.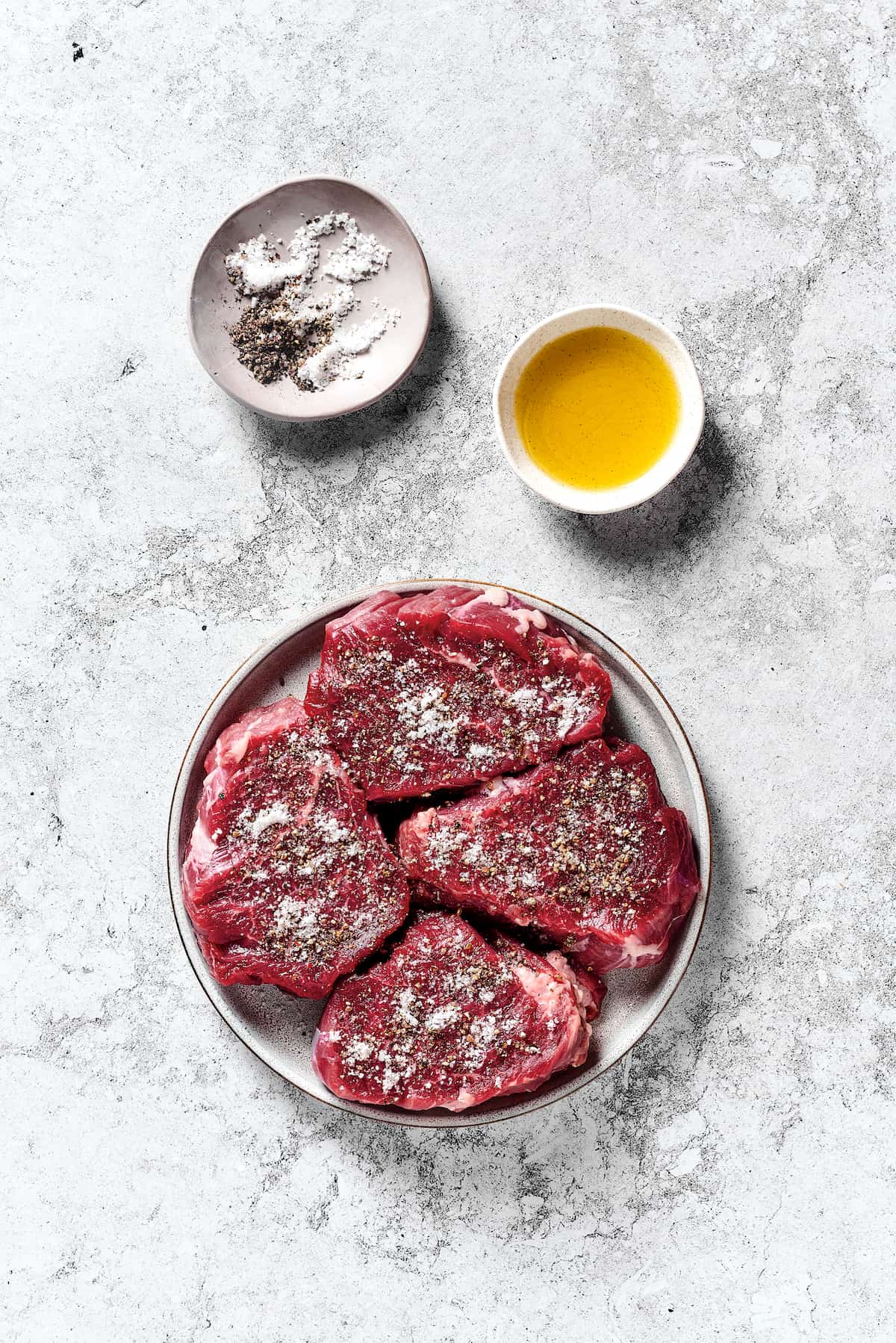 How to Make Steak Diane
It's easy to make this elegant steak recipe at home. Here's how:
Cook the steak. Season the steaks with salt and pepper. Warm the olive oil in a skillet over medium-high heat. Add steaks to the hot skillet, plus 2 tablespoons of butter. Cook 4-5 minutes per side, until nicely browned. Transfer steaks to a plate and set aside.
Saute the shallot & garlic. Add the remaining butter to the skillet. Cook the onion and garlic until softened.
Cook the mushrooms. Add the mushrooms and cook until tender, about 2-3 minutes.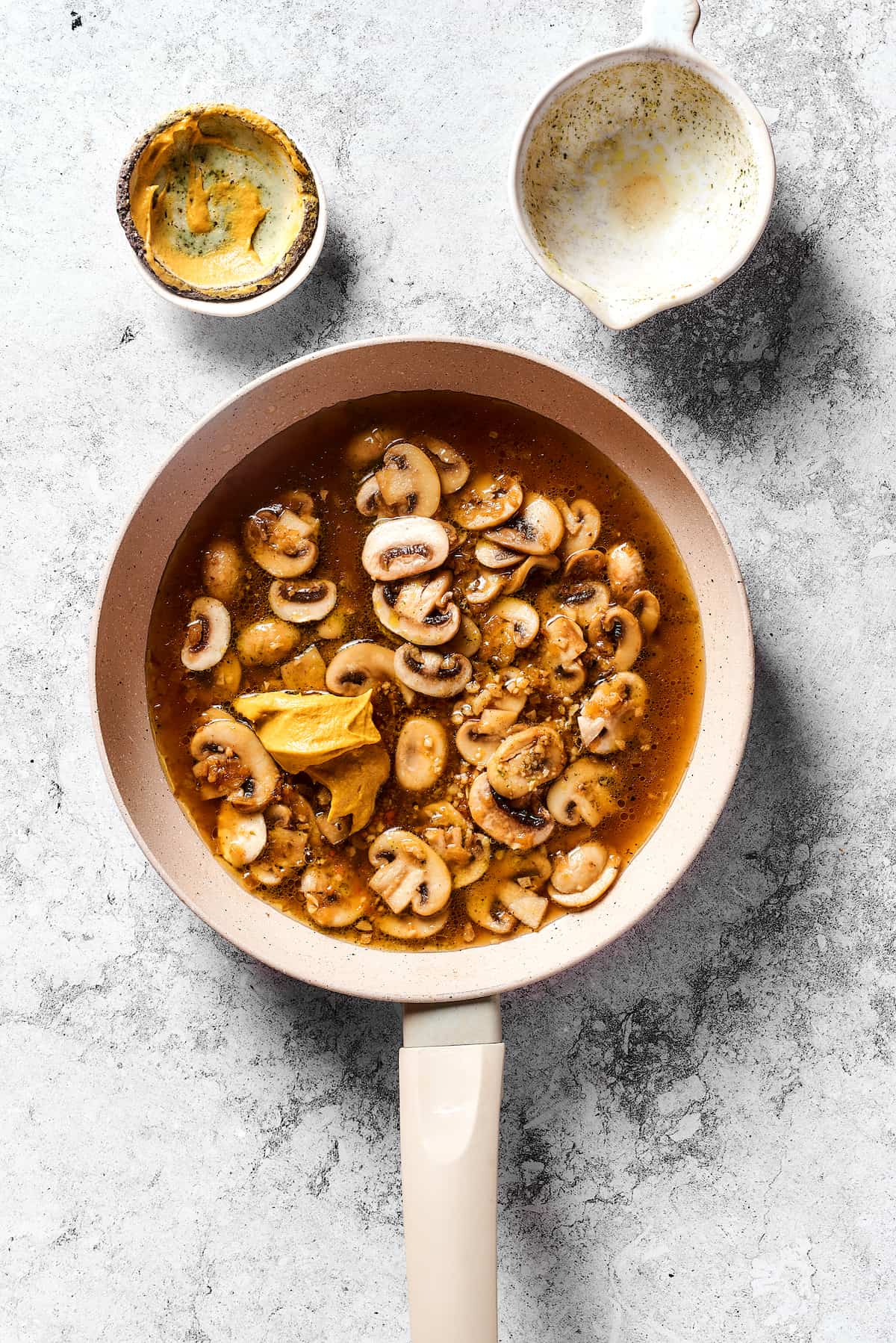 Add the cognac. Add the cognac. With a wooden spoon, scrape the browned bits of food off the bottom of the pan. Cook for 1-2 minutes, until the alcohol evaporates.
Add broth and flavorings. Add the beef broth, Dijon mustard, and Worcestershire sauce. Bring to a boil, then reduce heat to low. Simmer for 3-5 minutes to slightly thicken the sauce.
Add the heavy cream. Stir in the heavy cream and let simmer for 2-3 minutes.
Return steak to the pan. Add the steaks to the sauce and cook through for about 2 minutes to warm.
Enjoy. Serve steaks and sauce immediately, with buttermilk mashed potatoes.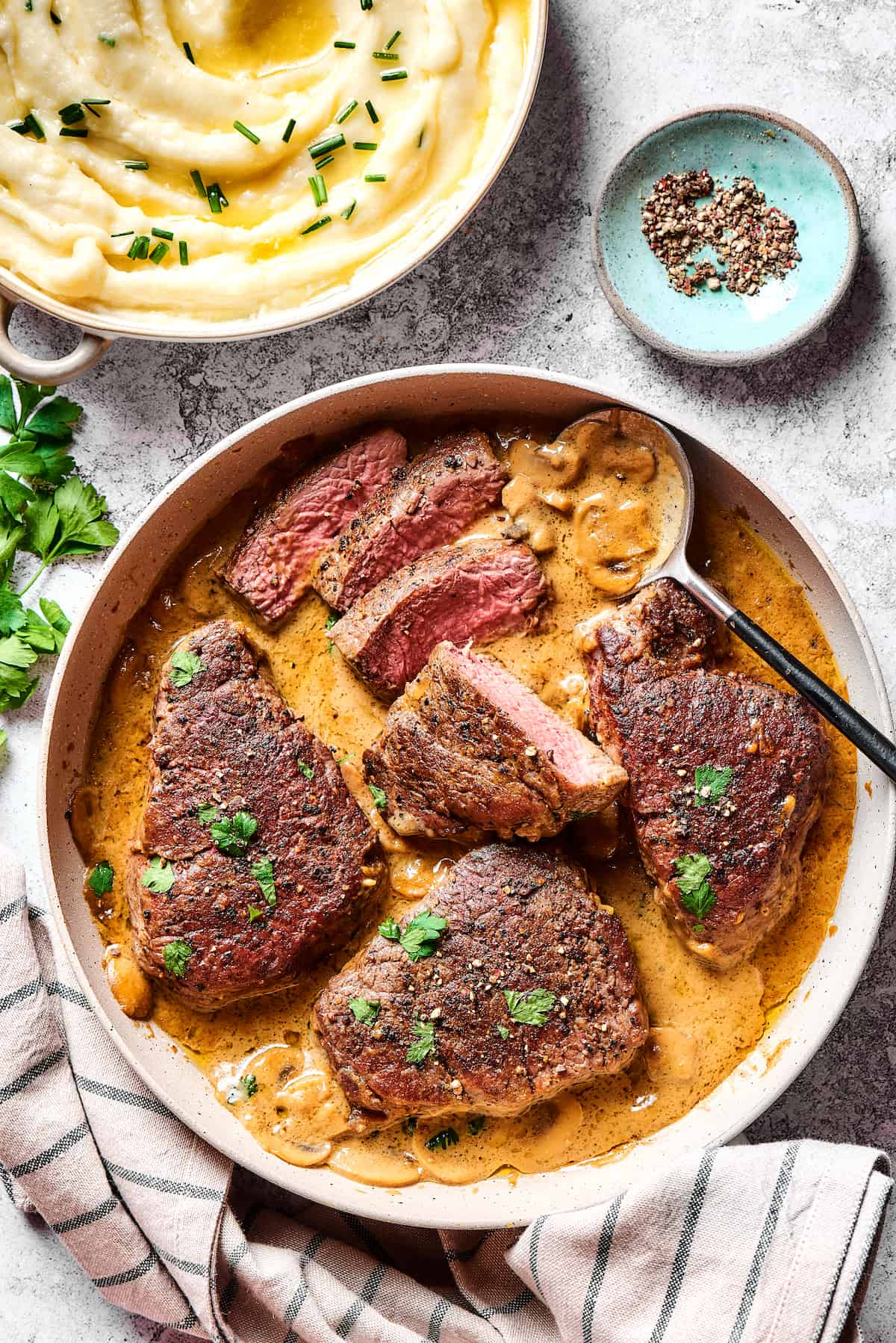 Tips for Success
Here are a few tips for making your steak with Diane sauce.
Use steaks equal in size. To ensure that everything cooks properly, you'll want steaks that are all an equal thickness and size.
Prep everything ahead of time. Once you get started, this recipe goes pretty quickly. Clean and slice the mushrooms in advance, cut the shallots and garlic, etc so that you don't have to try to do it between steps.
Don't overcook the steak. While you don't have to serve your steak medium-rare if you prefer it more done – do keep in mind that the steak will continue to cook as it rests while you're making the pan sauce, and will cook again when added back into the Diane sauce at the end. We absolutely prefer medium-rare steak, as it's much more tender and flavorful.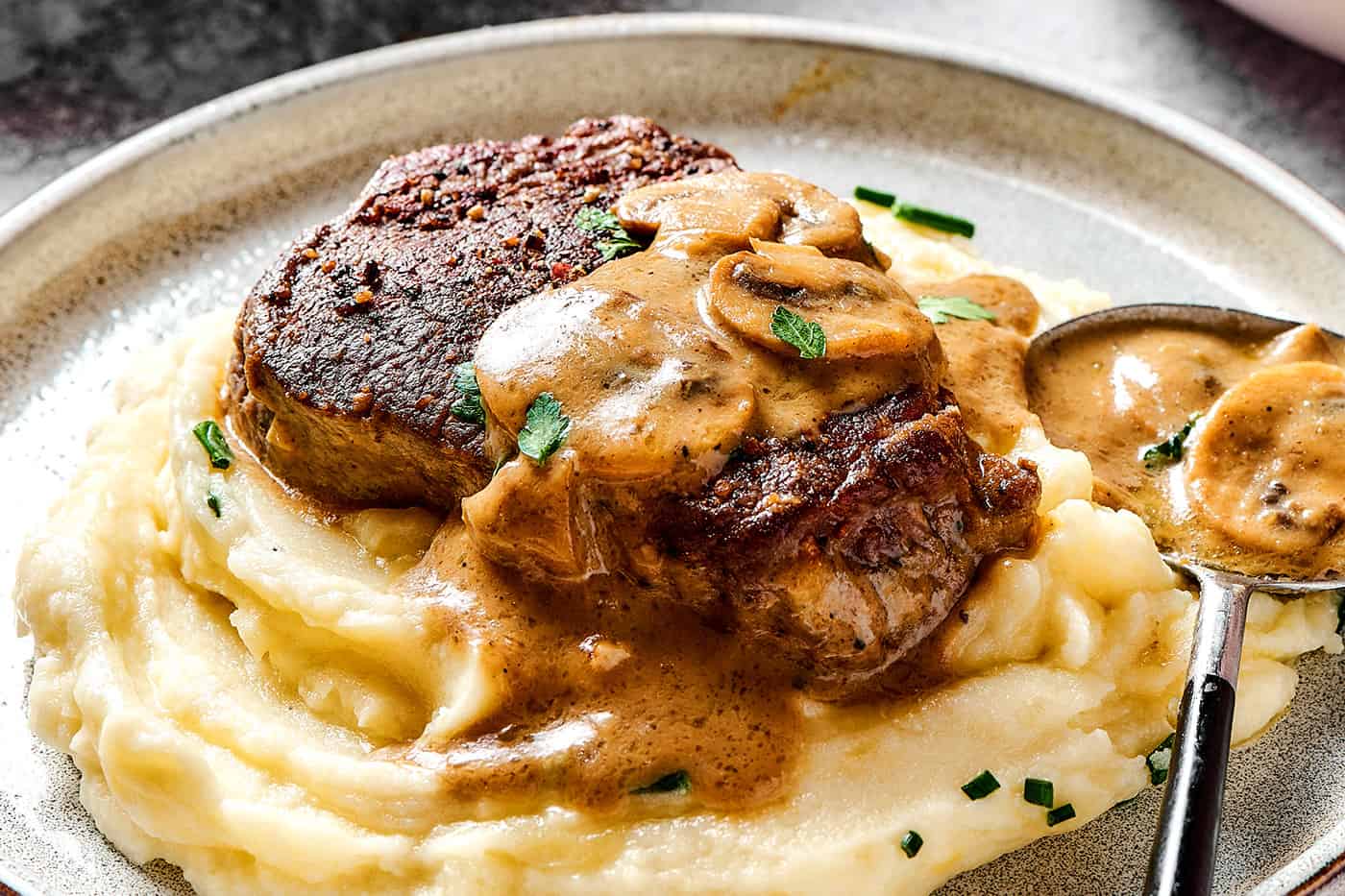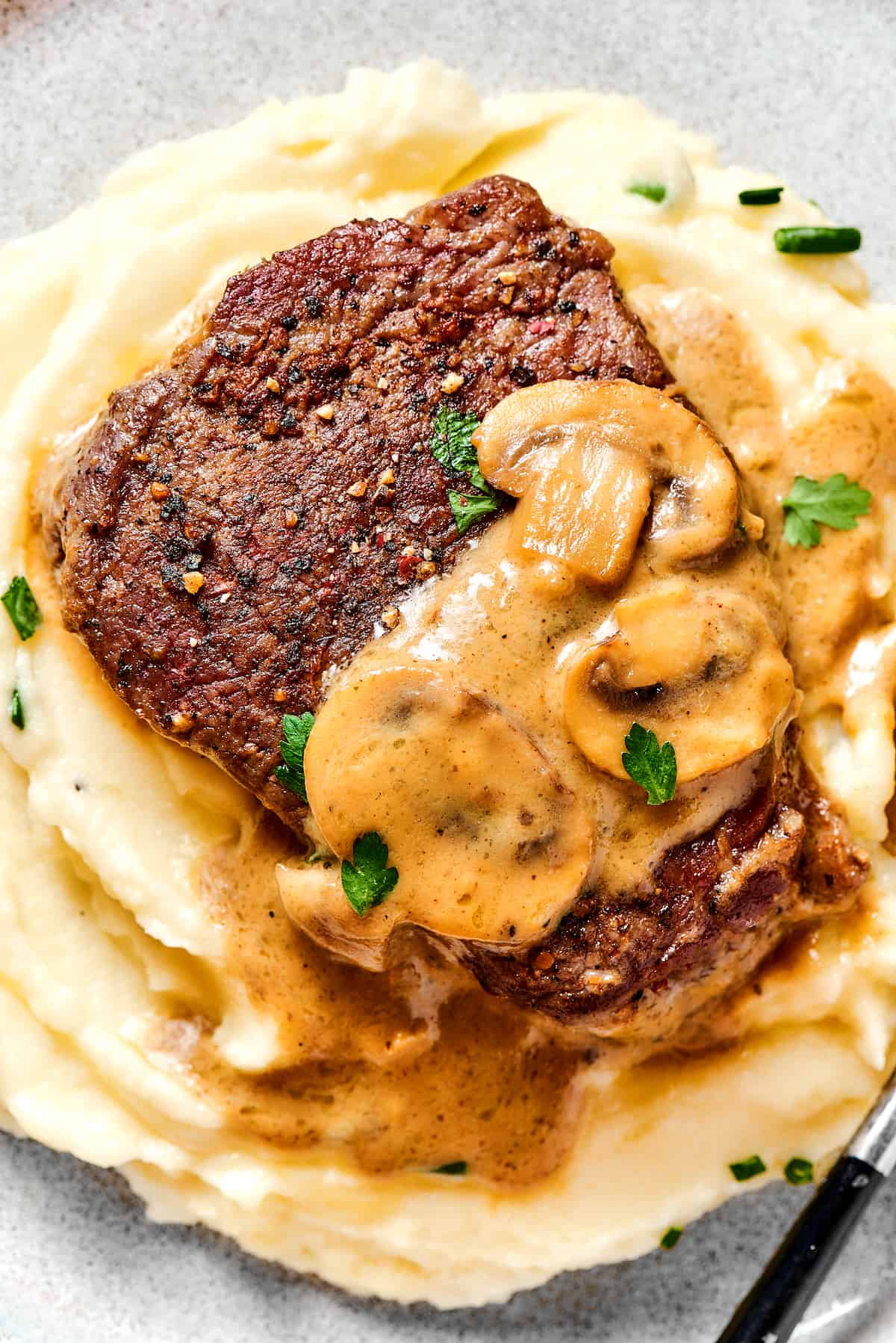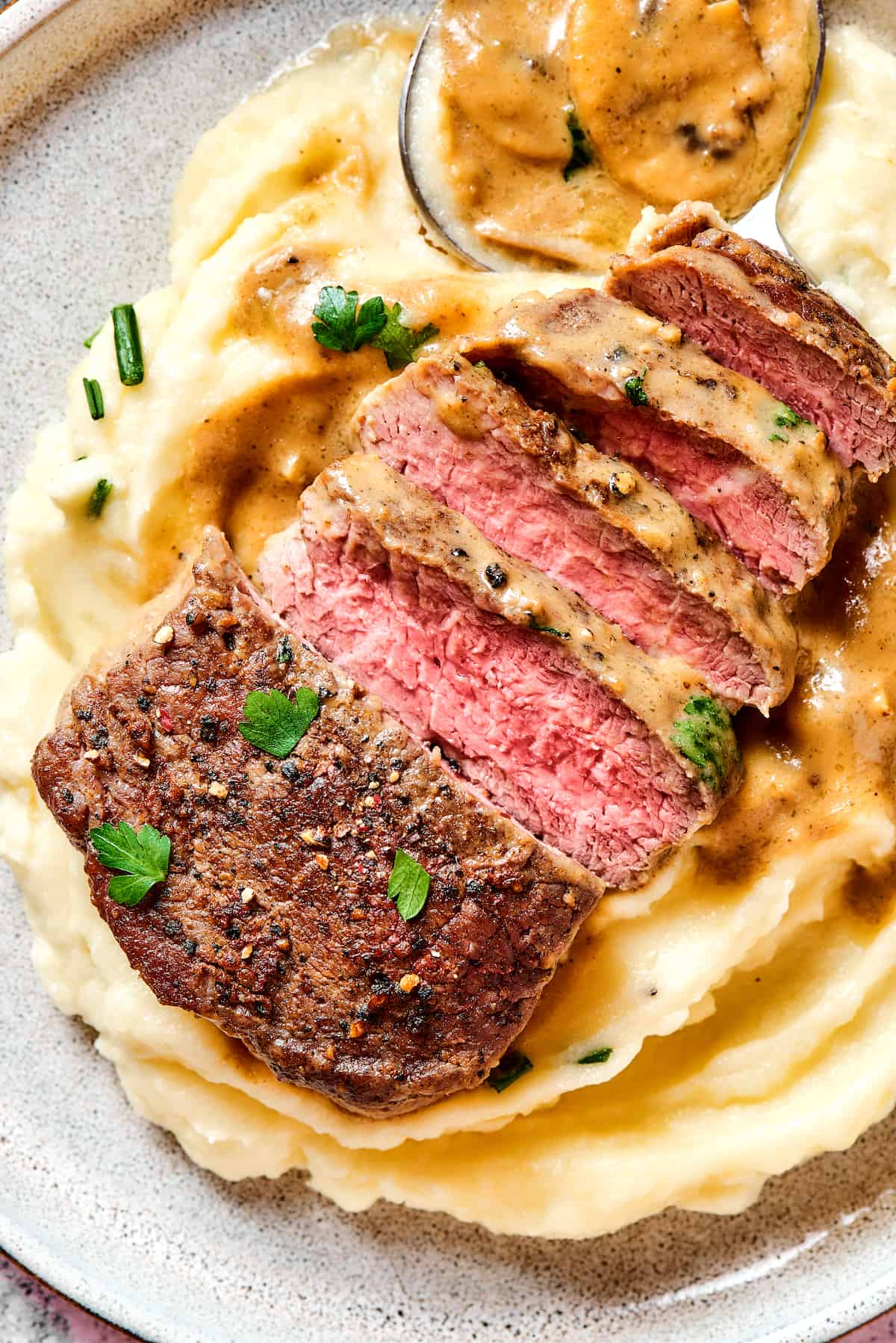 Serving Suggestions
I love to pair Steak Diane with creamy homemade buttermilk mashed potatoes. It's the perfect match. But regular mashed potatoes, or even parsnip puree, would also be great. If you're more of a baked potato fan, go for that instead!
Since Diane sauce is quite rich and decadent, I also like to add a simple green vegetable, whether it's a fresh garden side salad or some roasted asparagus. The asparagus, when plated with the steak and buttermilk potatoes, is especially beautiful!
How to Store Leftovers
Steak Diane is best served immediately.
However, any leftovers can be stored in an airtight container in the fridge for up to 3 days. Reheat gently on the stovetop, keeping in mind that the steak will continue to cook and may become well-done.
More Elegant but Easy Dinner Recipes:
Like this recipe? Save it to Pinterest!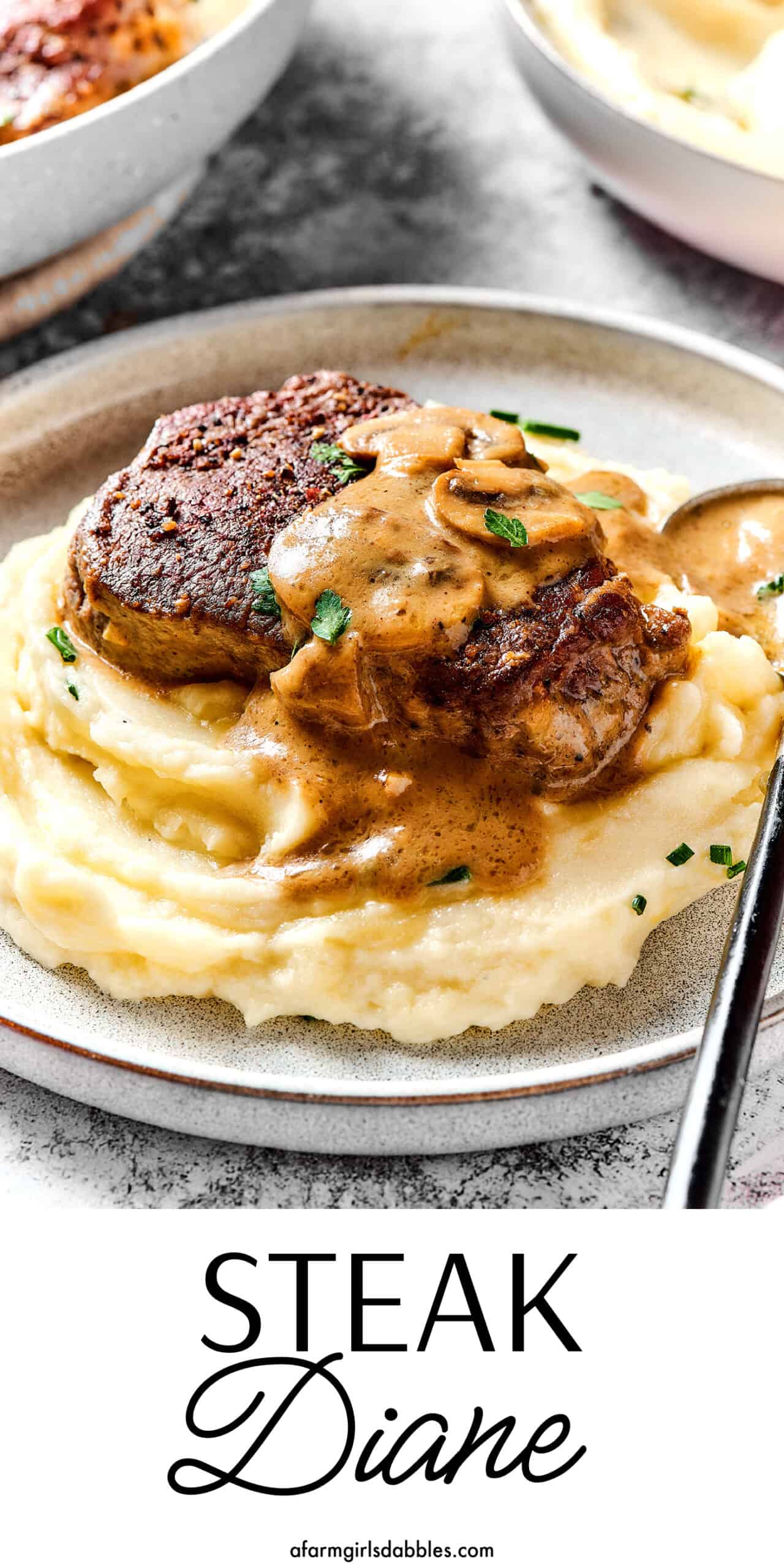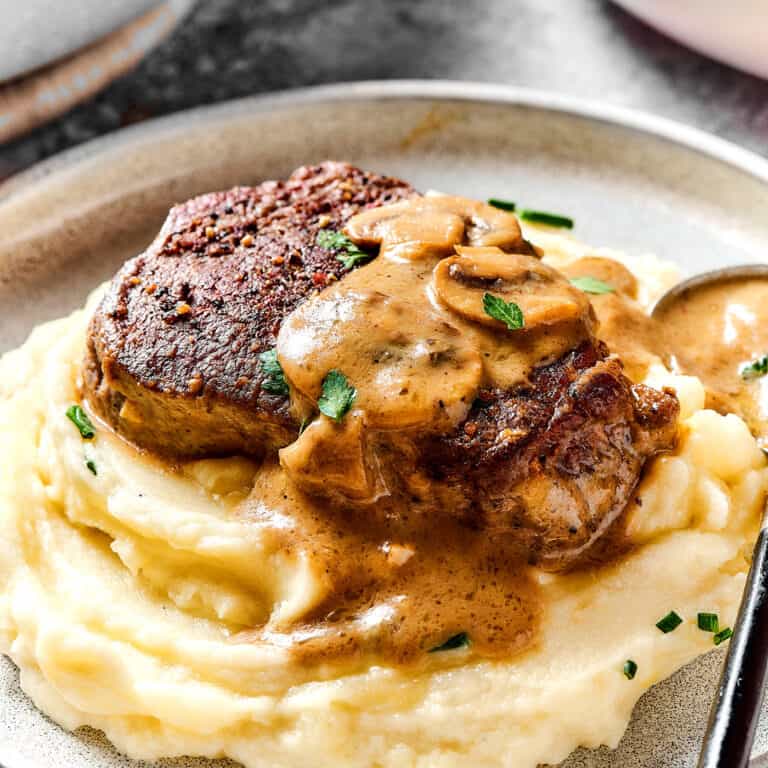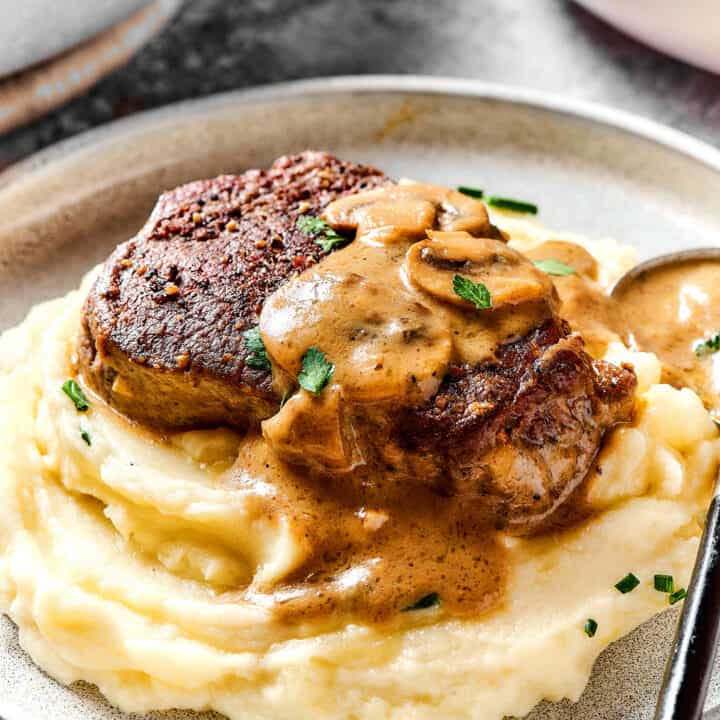 Steak Diane
Yield: 4 servings
Prep Time: 10 minutes
Cook Time: 30 minutes
Total Time: 40 minutes
Steak Diane is a classic beef tenderloin recipe with pan-cooked steak in a rich, creamy mushroom sauce. Elegant yet simple, it's perfect for a special occasion or date-night-in, and on the table in just 40 minutes!
Ingredients
2 tablespoon olive oil
4 (about 2 pounds total) beef tenderloin, or filet mignon, steaks
2 teaspoons Morton kosher salt
1 teaspoon freshly ground black pepper
4 tablespoons unsalted butter
3 tablespoons diced shallots
3 large cloves garlic, minced
8 ounces white button mushrooms or cremini mushroom, sliced
¼ cup cognac or brandy
1 tablespoon Worcestershire sauce
½ cup low-sodium beef broth
2 tablespoon Dijon mustard
⅔ cup heavy cream
1 tablespoon chopped fresh parsley or chives
Instructions
Season steaks on both sides with salt and pepper.
Heat a large skillet over medium to medium-high heat. Add olive oil. Once oil is shimmering, place steaks in the hot skillet. Add 2 tablespoons of the butter and cook the steaks for about 4-5 minutes on each side, or until they are nicely browned. Remove the steaks from the skillet and set aside on a plate.
Turn heat down slightly, to medium. If skillet is scorching hot, let it cool a bit, off the heat. Return skillet to heat, then add the remaining butter. Once melted, add shallots and cook for 2 minutes, stirring often. Then add garlic and cook for 1 more minute, or until shallot is translucent. If the shallot and garlic start to brown, turn down the heat - you only want to soften these ingredients.
Add in the sliced mushrooms to the skillet and cook for another 2-3 minutes, or until they are tender. If the skillet gets too dry, add in a bit more butter.
Slowly add the cognac to the skillet and use a wooden spoon to scrape any browned bits off the bottom of the pan. Cook for about 1-2 minutes, or until the alcohol has evaporated.
Add the beef broth, Dijon mustard, and Worcestershire sauce to the skillet and bring the mixture to a boil. Reduce heat to low and simmer for 3-5 minutes, or until the sauce has thickened slightly.
Add the heavy cream to the skillet and stir to combine. Allow the sauce to simmer for 2-3 minutes to thicken. Increase the heat a bit, if needed to help with the thickening.
Bring steaks back into the skillet and let them warm through in the sauce, about 2 minutes. Serve steaks with the pan sauce immediately, over buttermilk mashed potatoes. Garnish with fresh parsley. Enjoy!
Nutrition Information:
Yield: 4
Serving Size: 1
Amount Per Serving:
Calories: 513
Total Fat: 42g
Saturated Fat: 21g
Trans Fat: 0g
Unsaturated Fat: 18g
Cholesterol: 114mg
Sodium: 976mg
Carbohydrates: 9g
Fiber: 2g
Sugar: 4g
Protein: 15g
Nutrition information is automatically calculated by Nutritionix. I am not a nutritionist and cannot guarantee accuracy. If your health depends on nutrition information, please calculate again with your own favorite calculator.