Pan Seared Scallops
With a simple lemon garlic butter sauce, these Pan Seared Scallops are guaranteed to be the highlight of any dinner. This recipe is easy to make, with just a few ingredients – and it's ready in 20 minutes!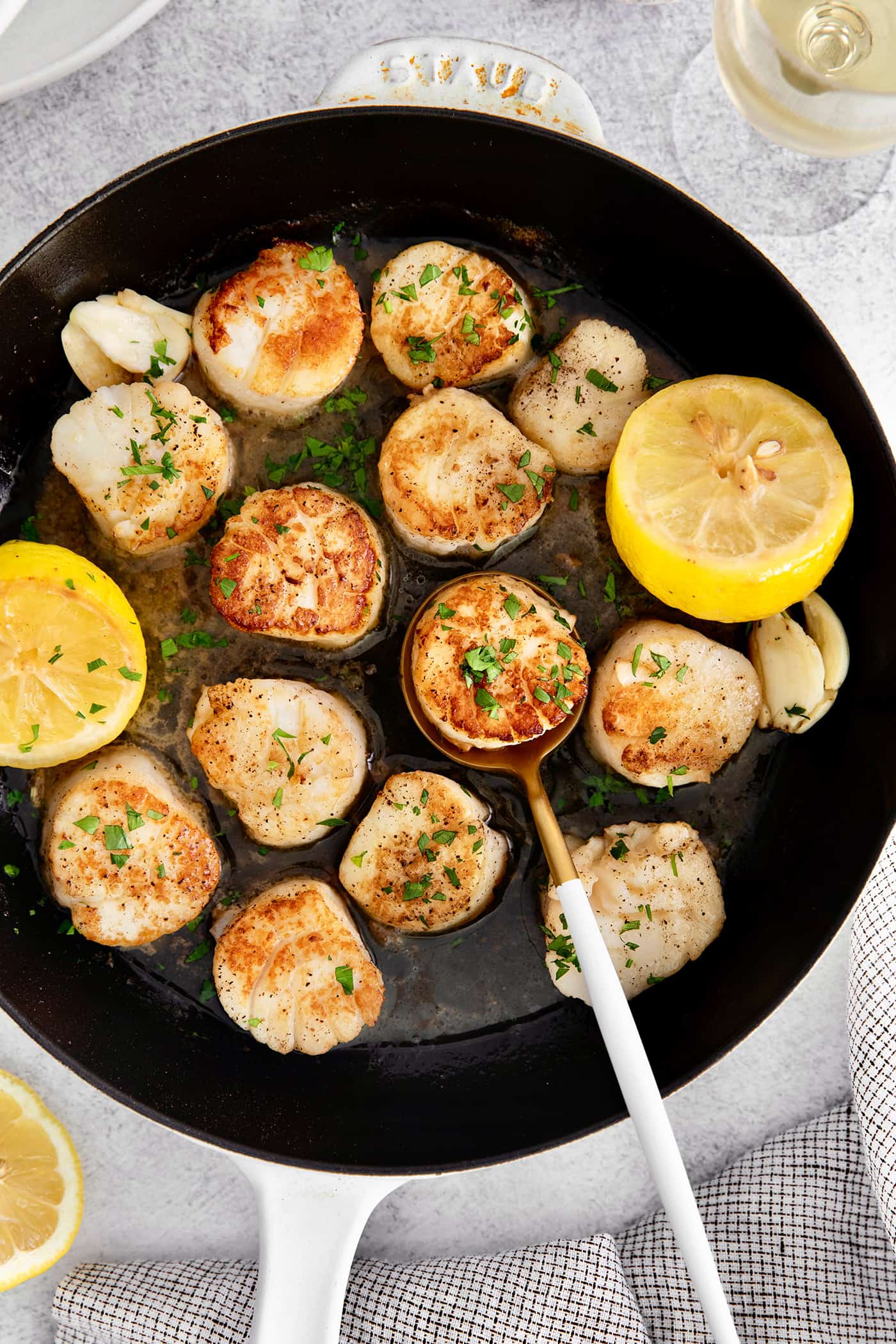 The Best Lemon Garlic Scallops Recipe
Pan Seared Scallops are quick and easy to make, and taste perfectly delicious with just a few ingredients. For a seafood lover such as myself, this recipe is a big-time homemade seafood meal win!
Scallops are often associated with fancy meals at restaurants, but making them at home couldn't be easier. These scallops are tender and juicy on the inside, with a delicate crisp on the outside. Simply flavored with fresh garlic and lemon, plus butter, this recipe lets that fresh seafood flavor shine.
Serve these lemon garlic scallops on their own as an appetizer or add some roasted potatoes and asparagus for a restaurant-quality main course. This recipe is versatile and, either way, impressive and oh-so-good!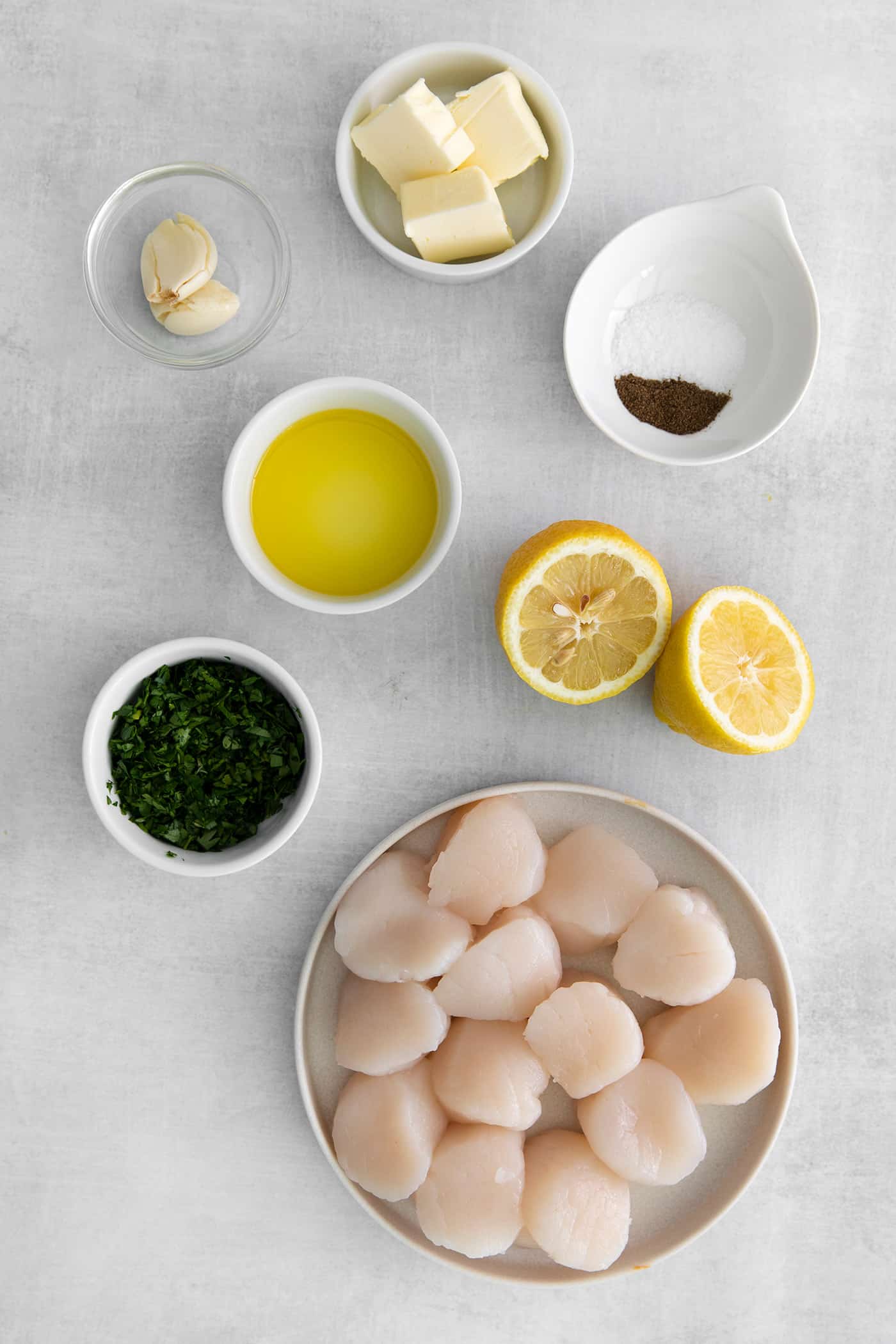 What You'll Need
The great thing about cooking scallops is you only ever need just a few ingredients, as the goal is always to enhance the flavor of the scallops themselves. Scroll down to the recipe box for full measurements.
Scallops – Large sea scallops work best in this recipe. Use only scallops that are super fresh. For those of us who don't live near fresh seafood, frozen is absolutely fine.
Salt & pepper – Salt and pepper season the scallops super simply. I recommend a coarse kosher salt and freshly cracked black pepper.
Olive oil – Olive oil sears the scallops so they get a crisp, golden brown crust.
Butter – Butter adds delicious flavor and helps create a sauce to baste the scallops with.
Garlic – Garlic is a classic flavor pairing for scallops. Keeping the garlic whole (rather than mincing it) helps prevent it from burning, while still imparting its garlicky goodness to the dish.
Lemon – Lemon adds a bit of brightness and acidity. Searing the lemon in the pan with the scallops concentrates the flavor so it's even more delicious!
Parsley – Parsley is always a great earthy green garnish with seafood, but you could garnish with anything you like – chives, scallions, cilantro, etc.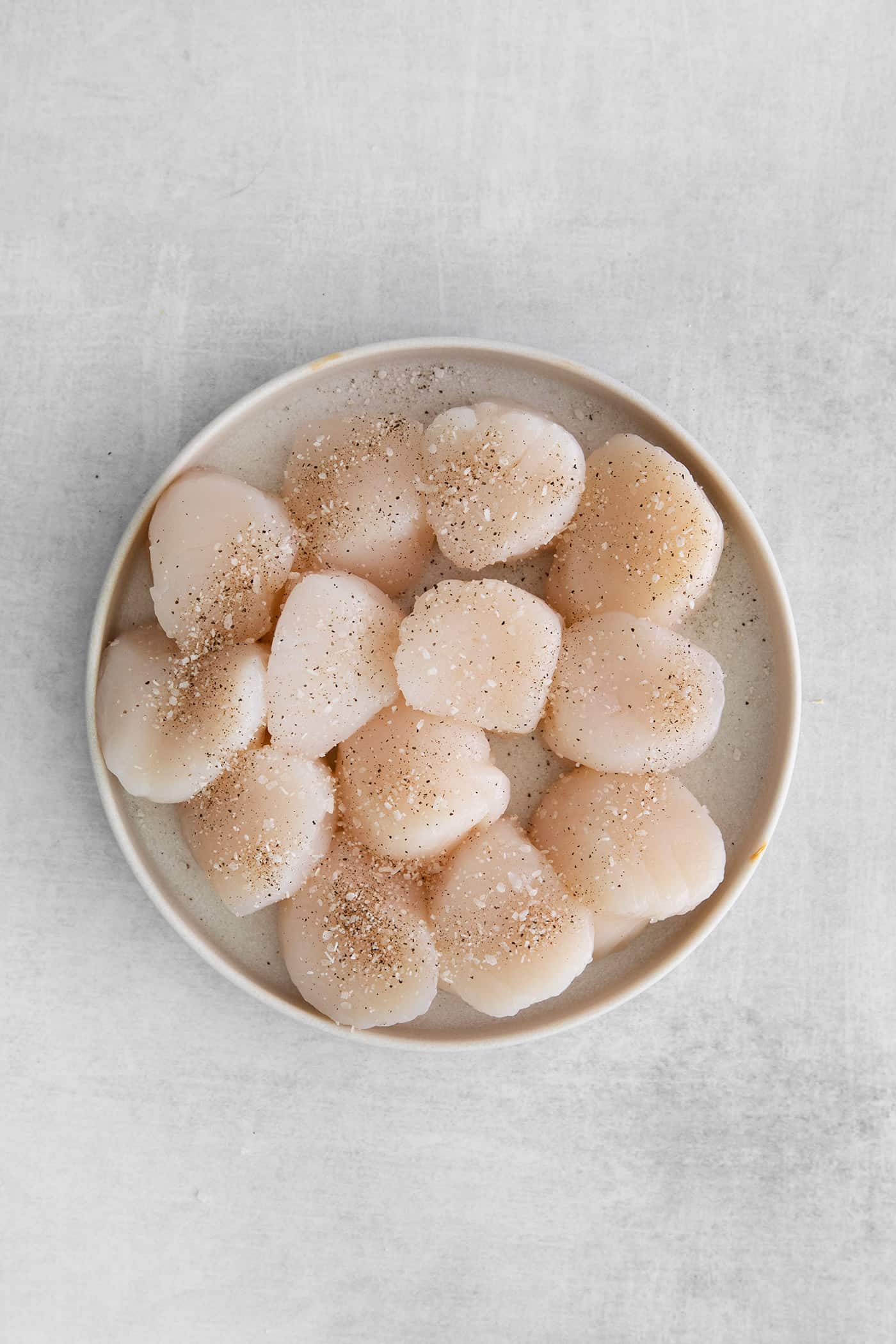 Buying Scallops
There are two different types of scallops that you may come across at the store – bay scallops and sea scallops. For this pan seared scallops recipe, you will want to use sea scallops.
Bay scallops are quite small (and more expensive!) so they're typically added to soups. For a dish like this, larger sea scallops are always the best option.
Look for scallops that are dry packed and not packaged in any liquid. Scallops packed in liquid will absorb the liquid, which prevents a nice sear from forming in the hot skillet.
I also recommend buying your scallops no more than a day in advance, if buying from a fresh seafood counter. They should have a briny, fresh salt water smell. If the scallops smell overly "fishy" or just plain "off", that's a sign that they've spoiled.
If buying frozen sea scallops, let them thaw in the fridge prior to cooking.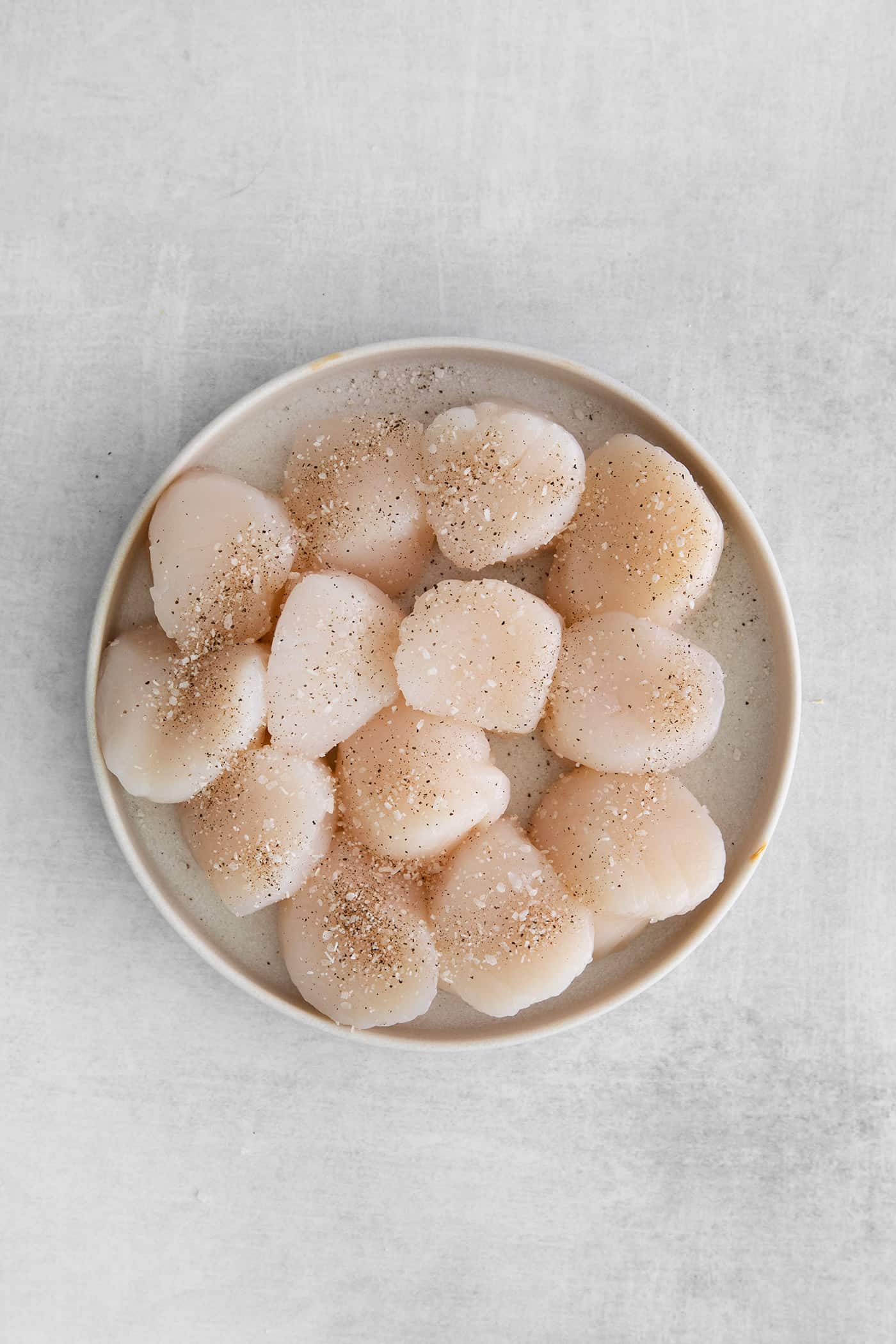 How to Make Pan Seared Scallops
Lemon garlic scallops may seem like a fancy meal but they take just a few minutes to prepare.
Prepare the scallops. Pat the scallops dry and remove the adductor muscle if it's still attached. Season both sides with salt and pepper.
Sear the scallops. Heat the olive oil in a heavy-bottomed skillet. When hot, add the scallops flat side down. Sear for 2-3 minutes, until golden brown.
Add the garlic butter. Flip the scallops. Add the butter and garlic. Place the lemon cut side down on the pan. Cook until the scallops are opaque and firm to the touch.
Remove from heat. Transfer the scallops to a plate. Baste with the butter from the pan. Squeeze the seared lemon over the top and garnish with parsley if desired.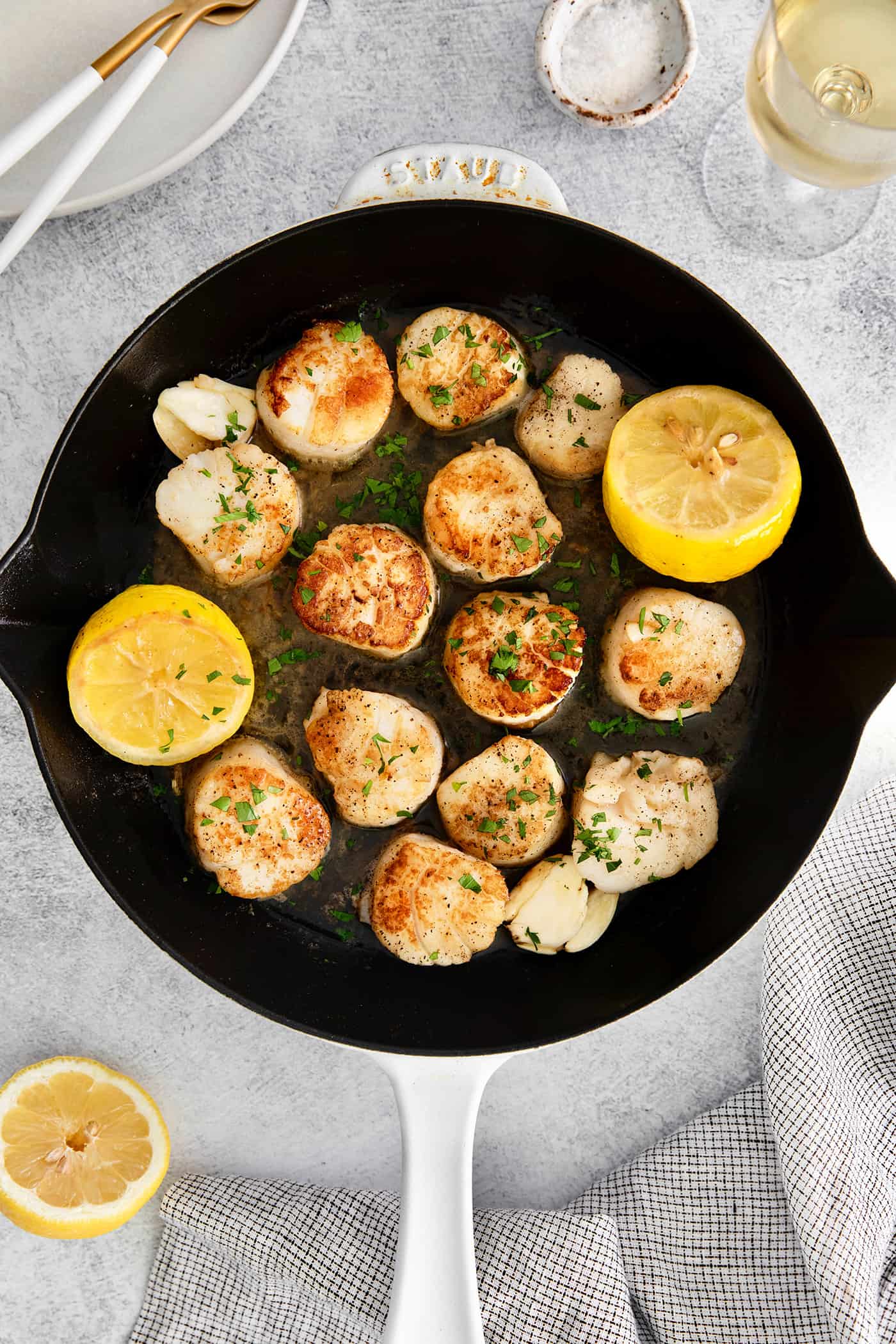 Recipe Tips
For the perfect pan seared scallops, keep these tips in mind.
Do not overheat the oil. The oil should be hot when the scallops are placed in the pan, so they begin to cook and sear immediately. However, the oil should not be smoking. If the oil is too hot, it can cause the scallops to burn.
Do not flip the scallops too soon. When the scallops are perfectly seared, they will release from the pan naturally. If you try to flip them before that and pull on them, the scallops can tear.
How do you know when scallops are done? Scallops are fully cooked when they are opaque and no longer translucent. They should also be firm to the touch.
Enjoy immediately. Scallops should be served immediately after cooking. They can become tough and rubbery after cooling and reheating.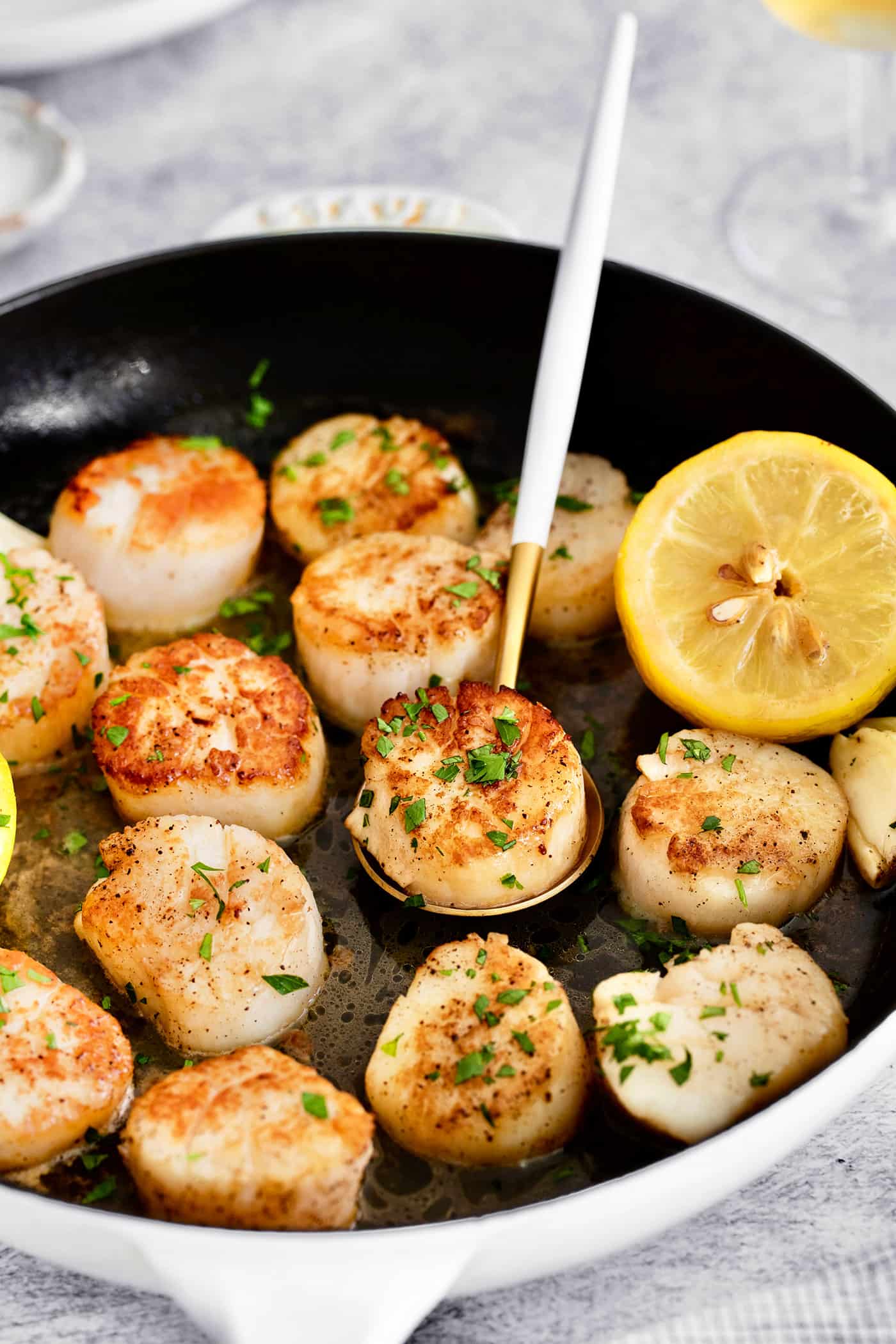 Serving Suggestions
There are so many ways to serve these pan-seared scallops, either as an appetizer or the main course.
I especially like to serve the scallops as the main course with roasted potatoes or baked potatoes, plus roasted asparagus. Or with a heartier arugula salad.
For a Mexican-inspired twist, we've enjoyed these seared scallops atop taco salad & rice bowls. So good!
Scallops also make a wonderful light meal for date night. Easy to prepare, and super delicious, all you need to do is chill some white wine. It's the perfect way to wind down on a Friday night!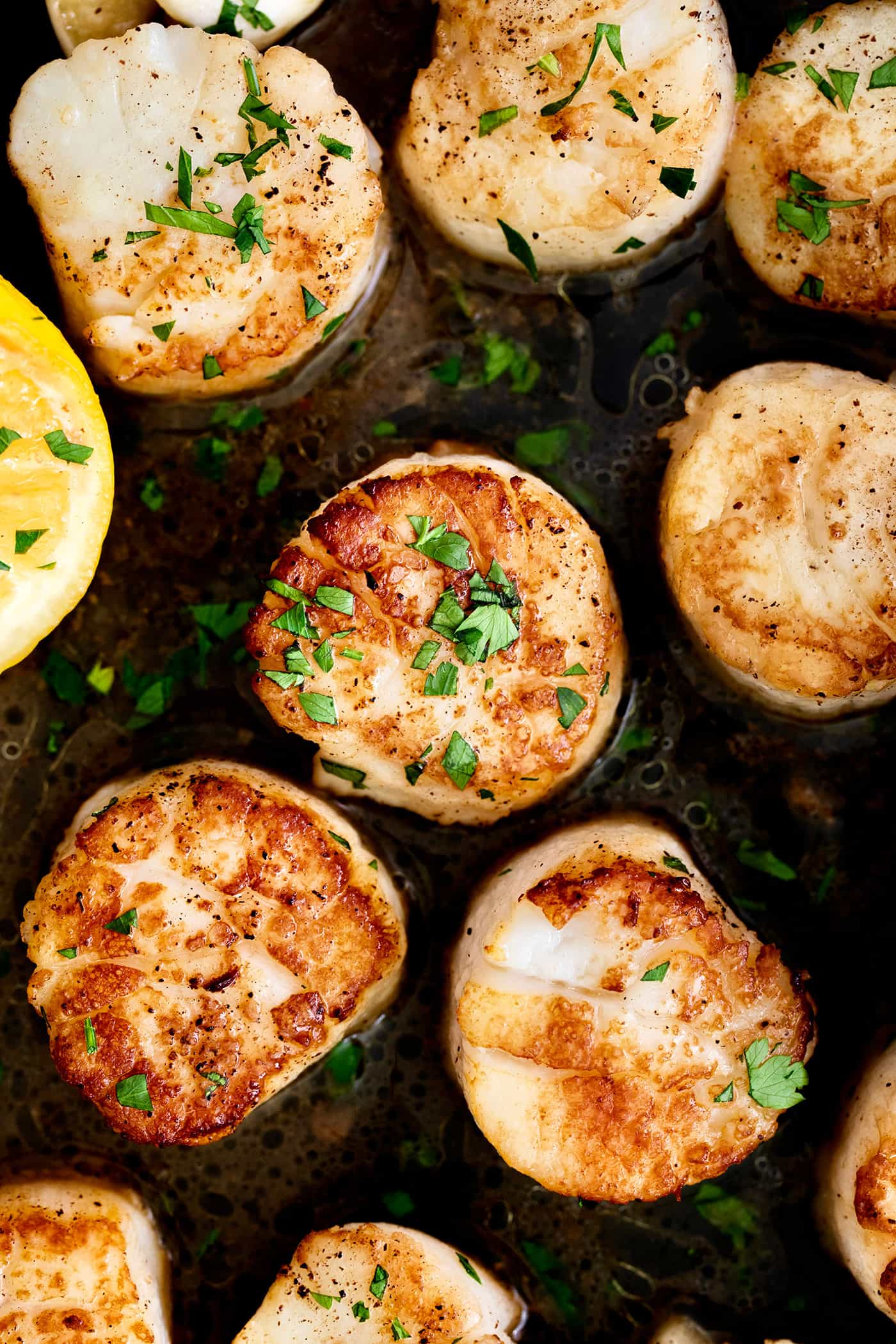 Can Cooked Scallops Be Refrigerated?
Technically, yes, you can store seared scallops in the fridge for up to 2 days. However, I try to avoid having leftovers as they do not reheat all that well. They can turn rubbery and a bit tough, no matter how they're reheated.
Yet, I never throw any away if there actually are leftovers. I recommend either gently microwaving them or giving them a quick sear in a hot skillet with a bit of olive oil and/or butter.
If you do have leftovers, keep them in an airtight container for no more than 2 days and throw them out if they have a fishy smell or slimy texture.
More Seafood Recipes:
Like this recipe? Save it to Pinterest!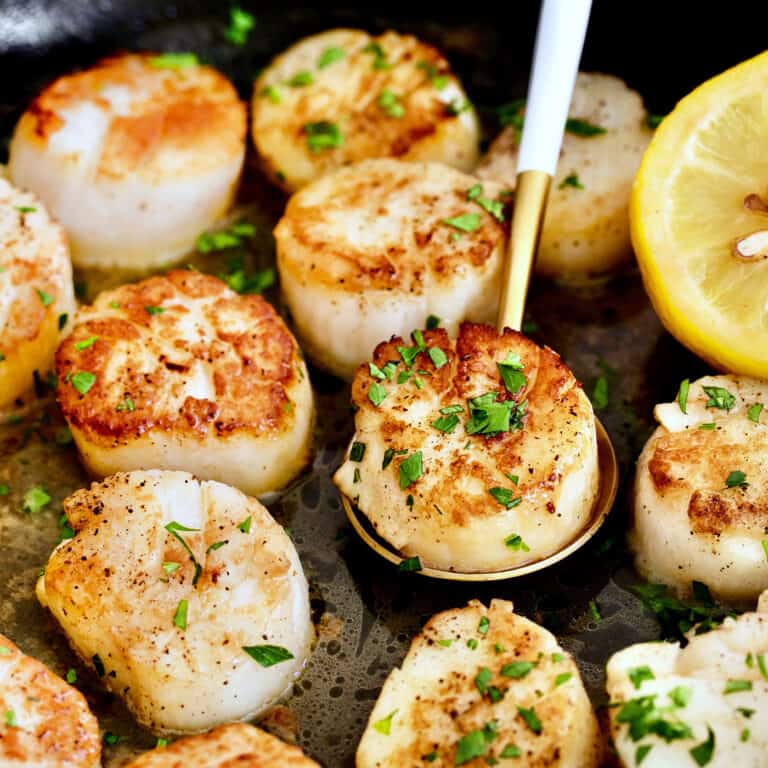 Pan Seared Scallops
Yield: 4 servings
Prep Time: 10 minutes
Cook Time: 10 minutes
Total Time: 20 minutes
Made with a simple lemon garlic butter sauce, these Pan Seared Scallops are guaranteed to be the highlight of any dinner. Though they may look fancy, they are actually simple to make with just a few ingredients. Ready in 20 minutes!
Ingredients
1 pound large sea scallops
1 teaspoon kosher salt
½ teaspoon freshly cracked black pepper
2 tablespoons olive oil
3 tablespoons unsalted butter
2 large cloves garlic, smashed and peeled
1 lemon, halved
Fresh chopped parsley, for garnish
Instructions
Pat scallops dry with a paper towel. If the scallops still have the adductor muscle (the little square piece on the side of the scallop) attached, gently pull it off and discard. Season scallops on both sides with salt and pepper.
Heat a large heavy bottomed skillet over medium-high heat. When warm, add the olive oil and allow it to heat until hot (but not smoking).
Add the scallops flat side down and sear for 2-3 minutes, or until golden brown. When the scallops are ready to flip, they will release naturally– don't pull on them or they may rip.
Flip scallops and add the butter and garlic. Place the lemon cut side down on the skillet. Cook for an additional 2-3 minutes or until the scallops are opaque and firm to the touch.
Remove skillet from the heat and baste scallops with butter from the pan.
Squeeze the grilled lemon over the top and garnish with chopped parsley. Enjoy immediately.
Notes
Scallops can be served as an appetizer, on a salad, over polenta, or in a rice bowl.
Nutrition Information:
Yield: 4
Serving Size: 1
Amount Per Serving:
Calories: 271
Total Fat: 16g
Saturated Fat: 7g
Trans Fat: 0g
Unsaturated Fat: 9g
Cholesterol: 69mg
Sodium: 1074mg
Carbohydrates: 9g
Fiber: 1g
Sugar: 1g
Protein: 24g
Nutrition information is automatically calculated by Nutritionix. I am not a nutritionist and cannot guarantee accuracy. If your health depends on nutrition information, please calculate again with your own favorite calculator.