Roasted Asparagus
The best Roasted Asparagus is made with just a few simple ingredients and ready in under 20 minutes. It's a fresh and delicious vegetable side dish that's super easy to make!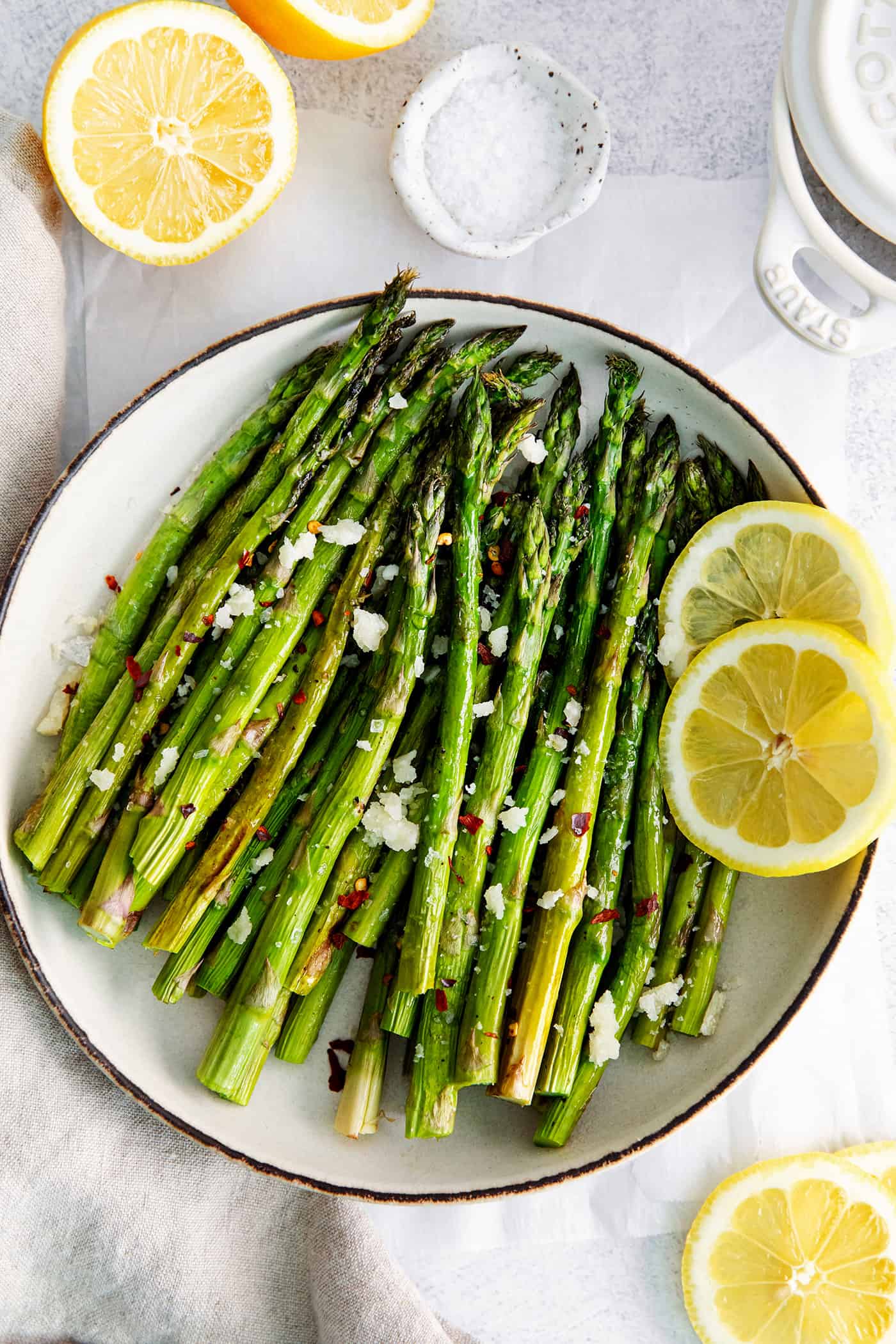 The Best Oven Roasted Asparagus
Asparagus is one of my top favorite veggies. So this time of year, when it's plentiful and extra wonderful tasting (and not to mention, less money!), I serve it at least once a week. Which means I need to have variety in cooking it, to keep my family from getting bored. Cue my easy, go-to recipe for Roasted Asparagus!
This is a super simple recipe that delivers big. You only need fresh asparagus plus 3 everyday pantry ingredients – olive oil, salt, and pepper. With the perfect cooking temperature and timing, this recipe delivers a roasted asparagus side dish with a delightfully softened-yet-still-crisp texture. Exactly how I like it!
If you'd rather cook the asparagus on the grill, check out my easy grilled asparagus recipe!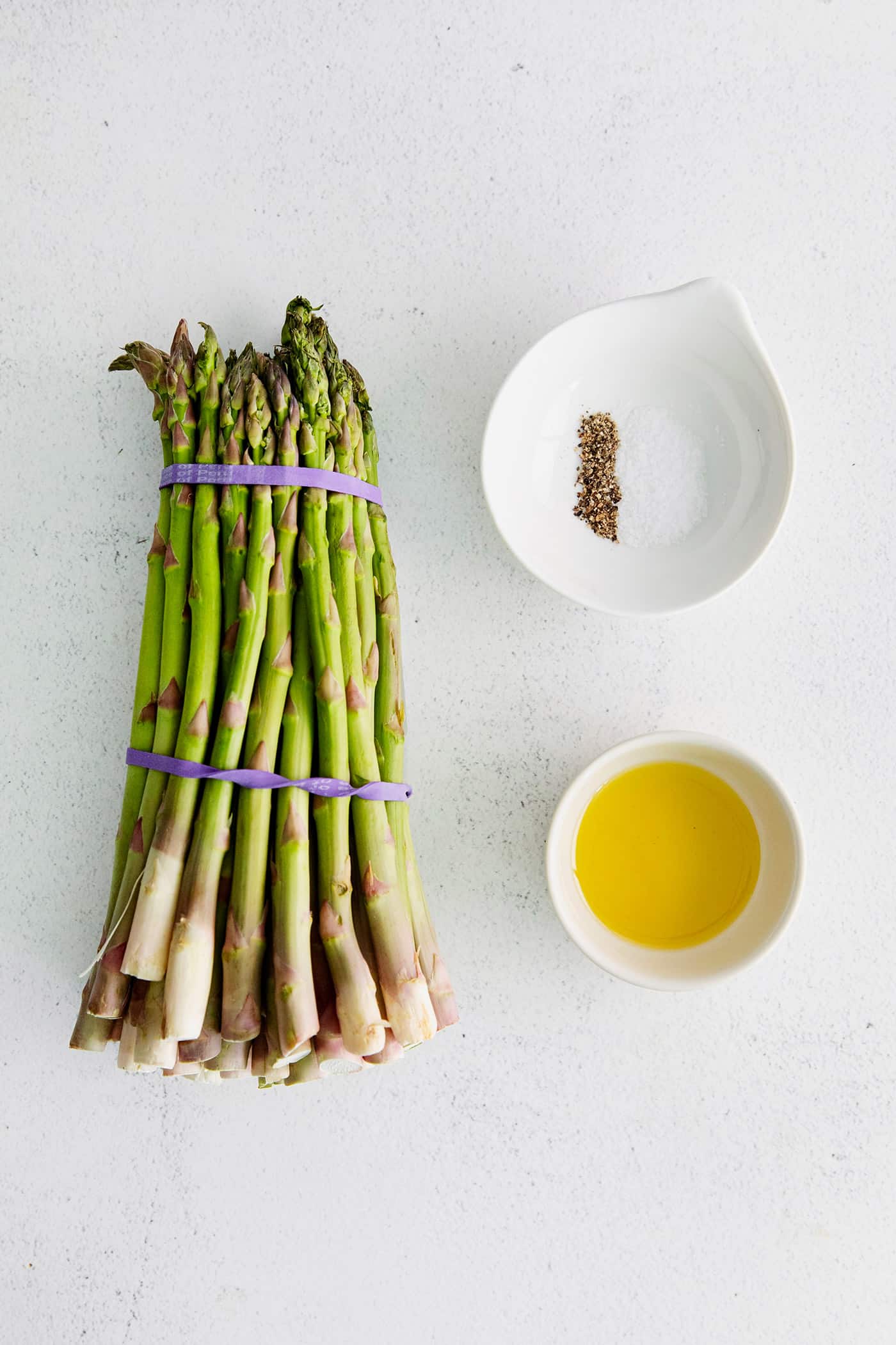 What You'll Need
Recipes don't get much simpler than this – so few ingredients!
Asparagus – With this recipe, I like to use spears with a medium thickness – not too thin but not too fat either.
Olive oil – Lightly coats the asparagus so the seasoning sticks, plus helps to caramelize it while roasting (which means MORE FLAVOR!).
Salt & pepper – The only two seasonings you need. Really!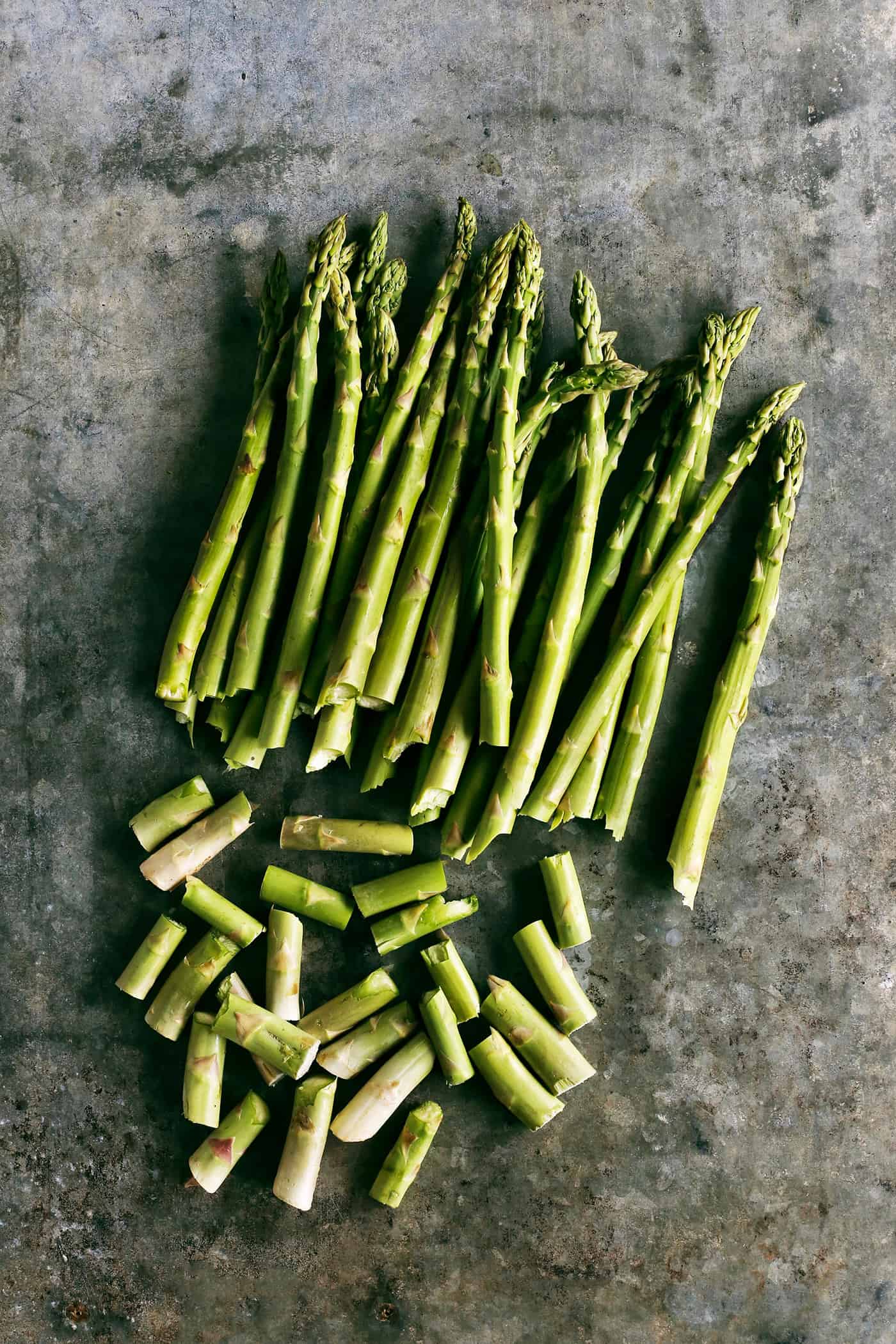 How to Trim Asparagus
The ends of asparagus are always tough and should be snapped off before preparing it for any recipe. To do this, just bend the asparagus sharply at the base and it will automatically snap in the right spot. You can then trim the ends with a knife for a straight cut and more refined look (great for a fancier meal). Or just leave them as-is, which is what I almost always do!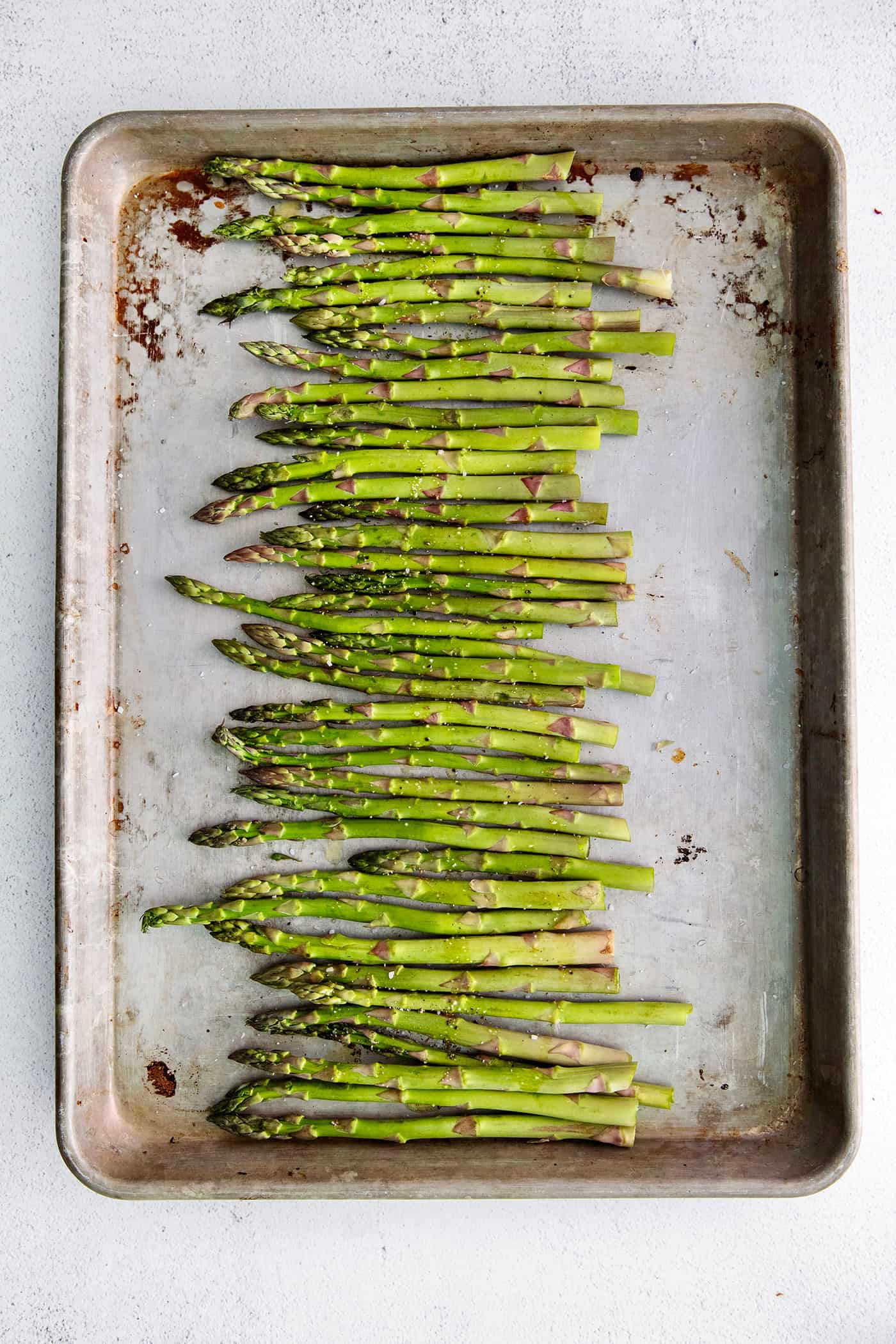 How to Make Roasted Asparagus
Here are just 2 quick & easy steps to making asparagus in the oven.
Season the asparagus. Toss the asparagus with olive oil, then sprinkle with salt and pepper.
Roast. Arrange the asparagus in a single layer on a rimmed pan, then roast until they pierce semi-easily with a fork. Done!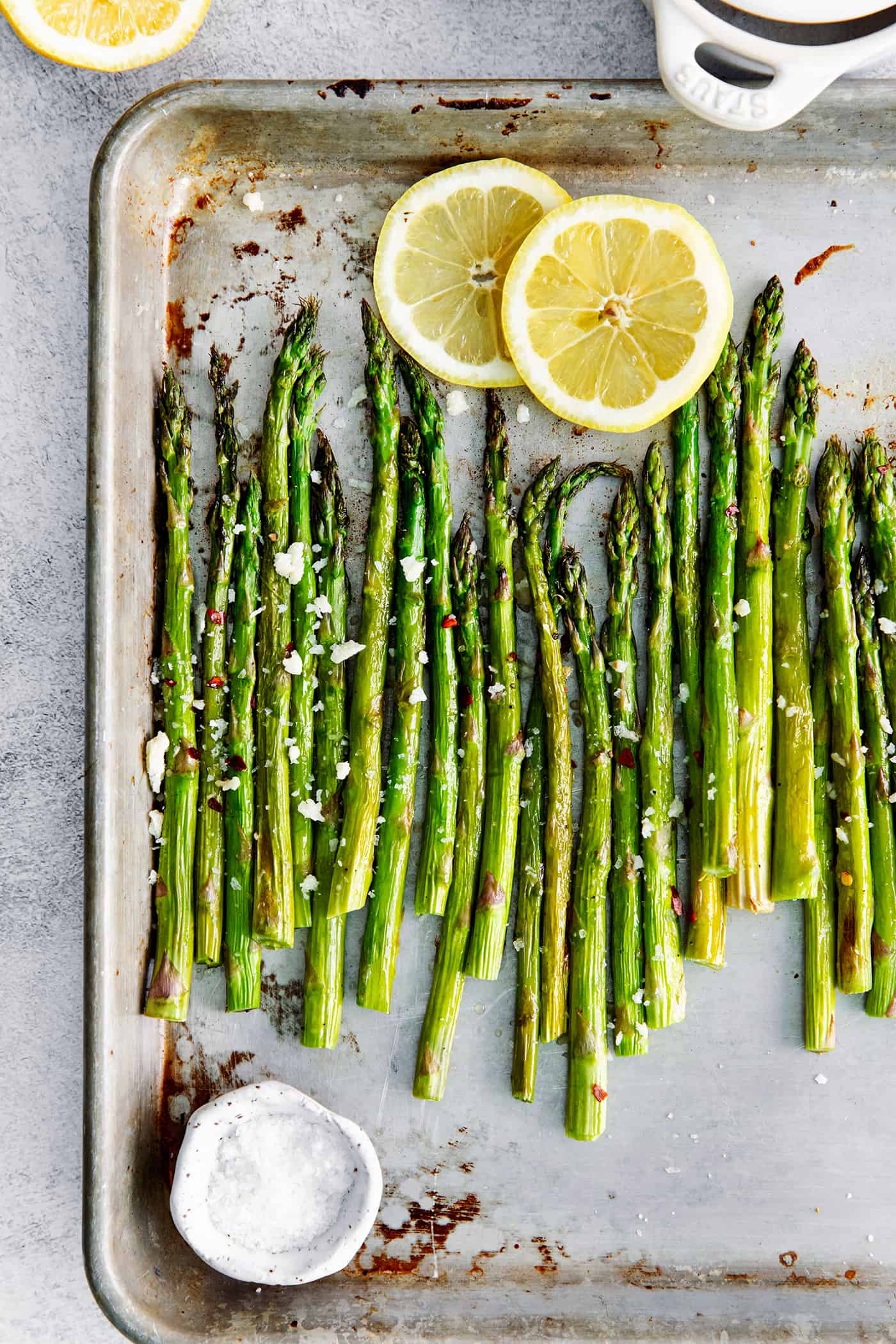 How Long Do You Need to Cook Asparagus?
The amount of time it takes to roast the asparagus will depend on the thickness of the spears. For medium thickness, it usually takes about 9 to 12 minutes. If you use thin spears, they'll likely be done in 6 to 7 minutes, while thicker spears will take a bit longer.
And, of course, if you like your asparagus fully softened or extra crisp, you will need to adjust for more or less cook time. My recommended timing is for softened asparagus that has just a slight amount of crisp to it.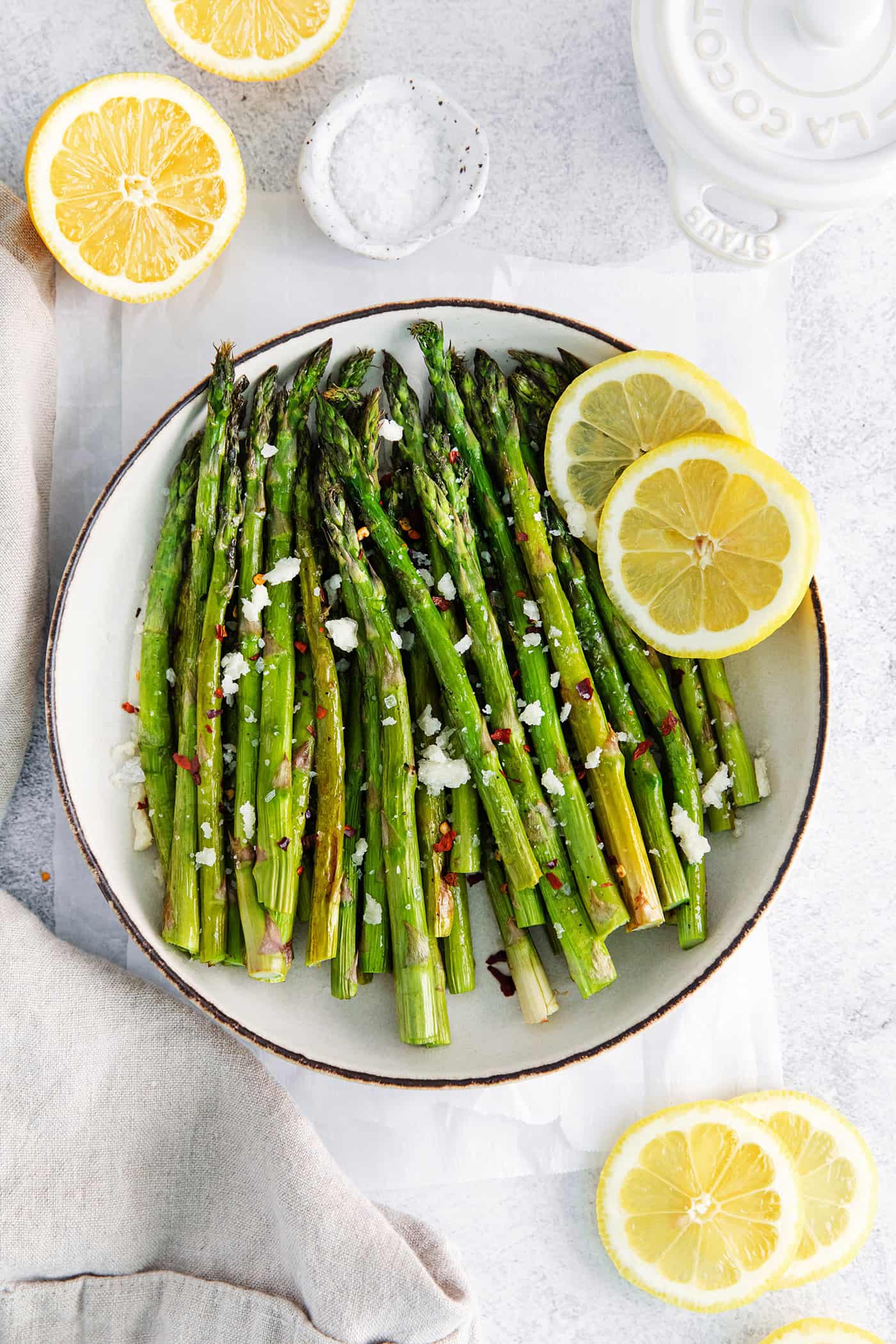 Tips & Variations
Here are a few tips for the best roasted asparagus.
Use spears of similar size. When selecting asparagus spears, choose ones of similar size, so they all bake evenly. Also note that especially thin spears will become soft and limp much more easily.
Always snap off the ends. Nobody likes to bite into the tough root ends of asparagus – so just do everybody a favor and snap off those ends before you start!
Make sure the asparagus is dry. While you should wash the asparagus before cooking, make sure to dry it well. Any moisture can create "steam" which will prevent a crispy outside to the asparagus.
Adjust the seasoning. While I keep this recipe super simple with just salt and pepper, feel free to add other desired seasonings to the asparagus before baking.
Make sure the oven is fully pre-heated. Ensure you're placing the asparagus in a hot oven so it begins cooking immediately. This helps create a slightly crispy outside as well.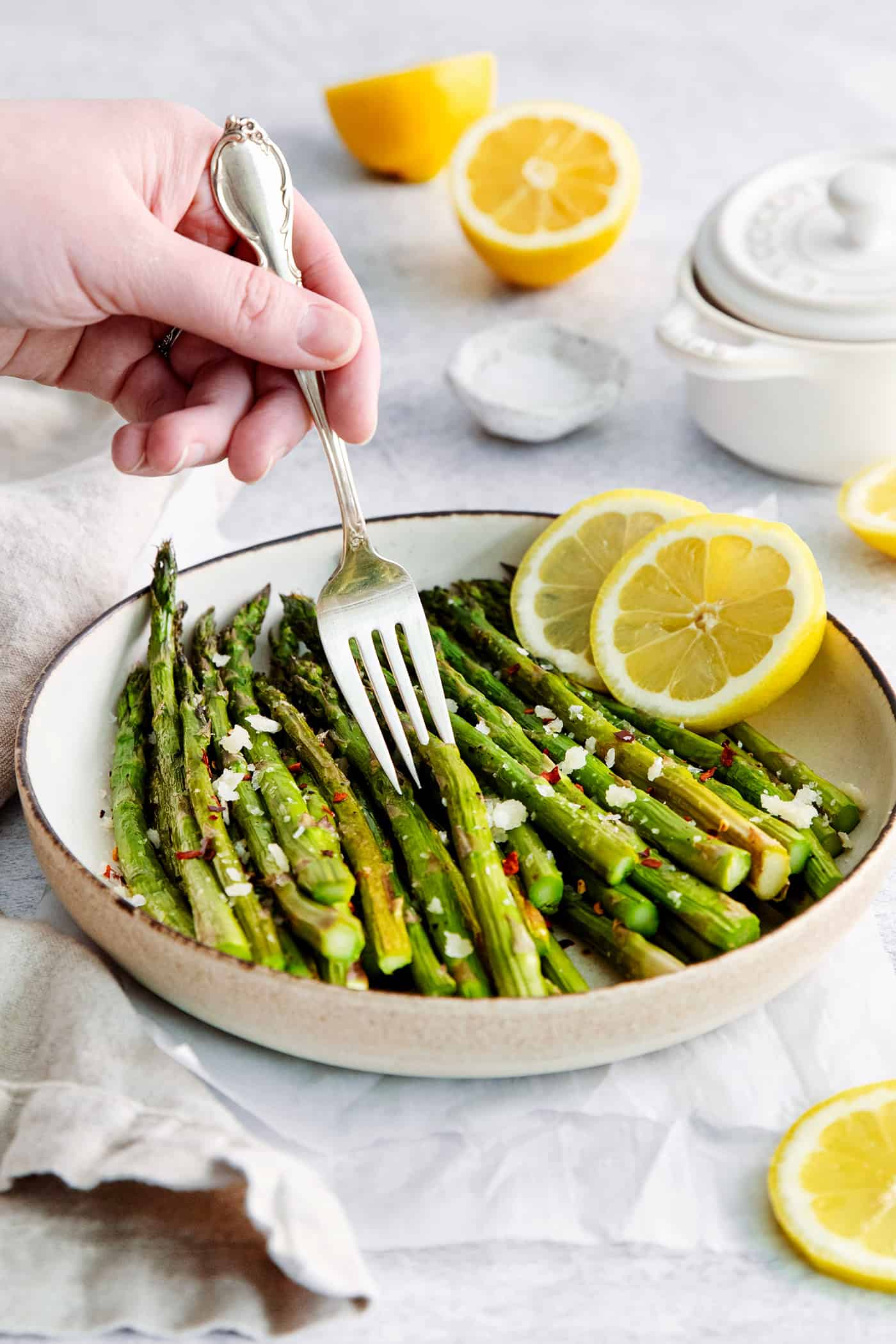 Serving Suggestions
Most of the time, I serve roasted asparagus super simply, with only salt & pepper for seasoning. I also tend to serve it straight from the roasting pan, especially when it's just our family. When we have guests, I like to serve it on a platter.
But when I'm needing to mix it up, I like to squeeze fresh lemon juice over the top of the asparagus, with a sprinkle of lemon zest. Freshly shaved parmesan is also great, as is a pinch of red pepper flakes. Sometimes I add all 3 at the same time!
And while asparagus is pretty great with almost anything, I absolutely love pairing roasted asparagus with chicken, steak, or salmon. For a more special (yet easy!) meal, this asparagus pairs beautifully with mustard pork loin roast, stuffed pork chops, and Swedish meatballs!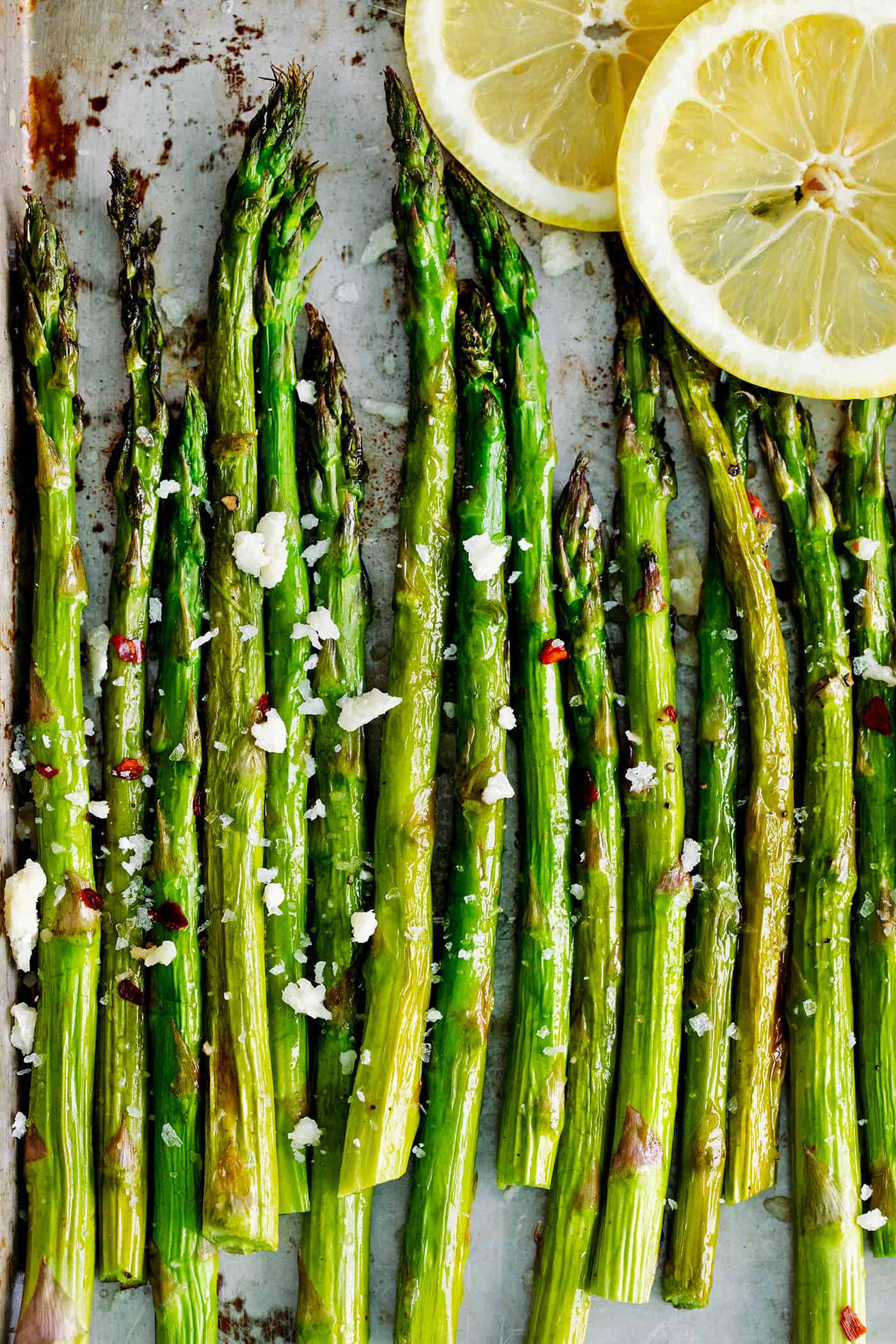 How to Store Leftovers
Roasted asparagus is best enjoyed right after cooking, for the best texture.
But any leftovers can be refrigerated for up to 4 days. I recommend eating it cold, like in a salad, or at room temperature. Or reheat gently in the microwave. I especially like to eat leftover asparagus with eggs the next day!
More Asparagus Recipes:
Like this recipe? Save it to Pinterest!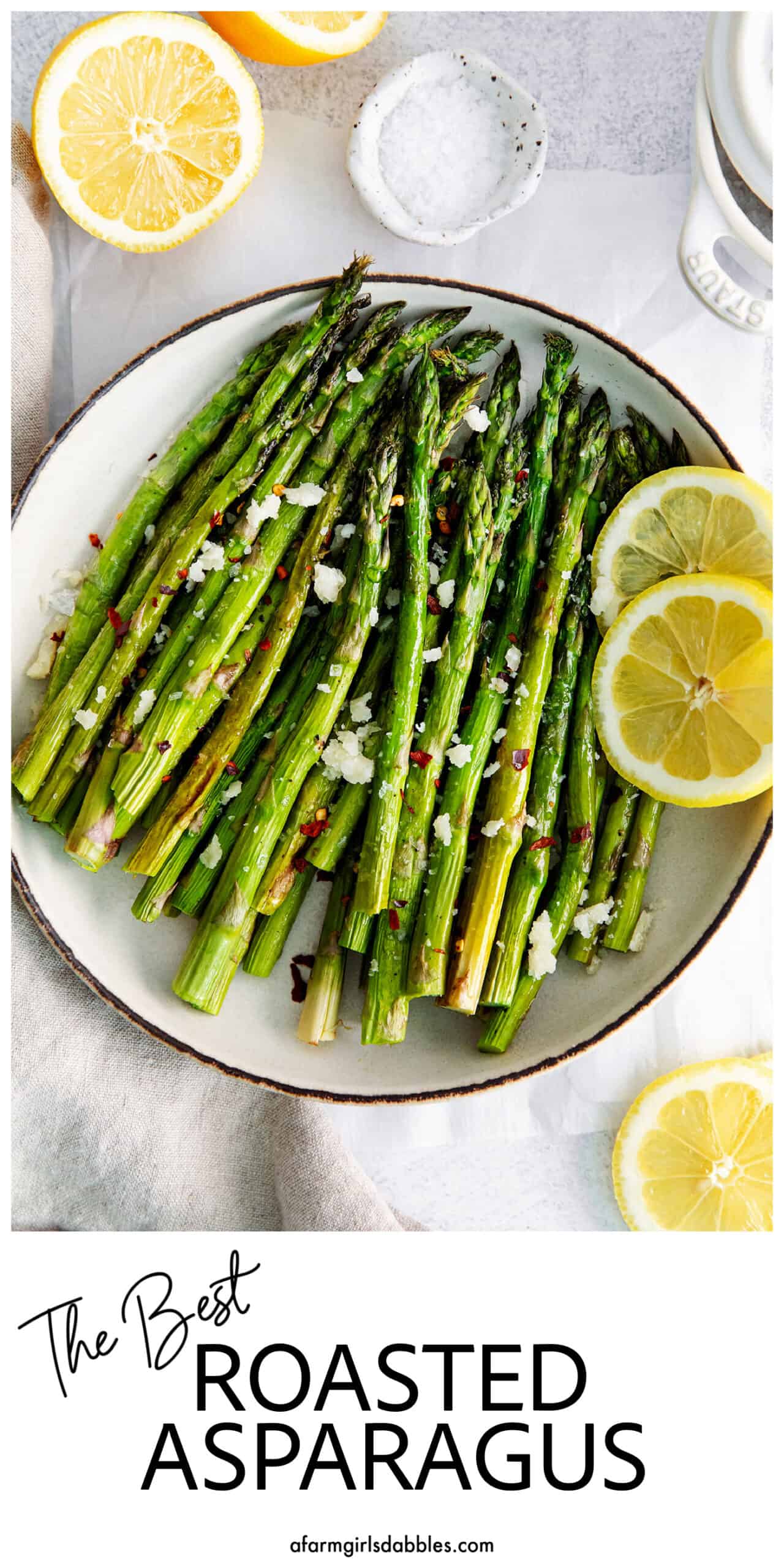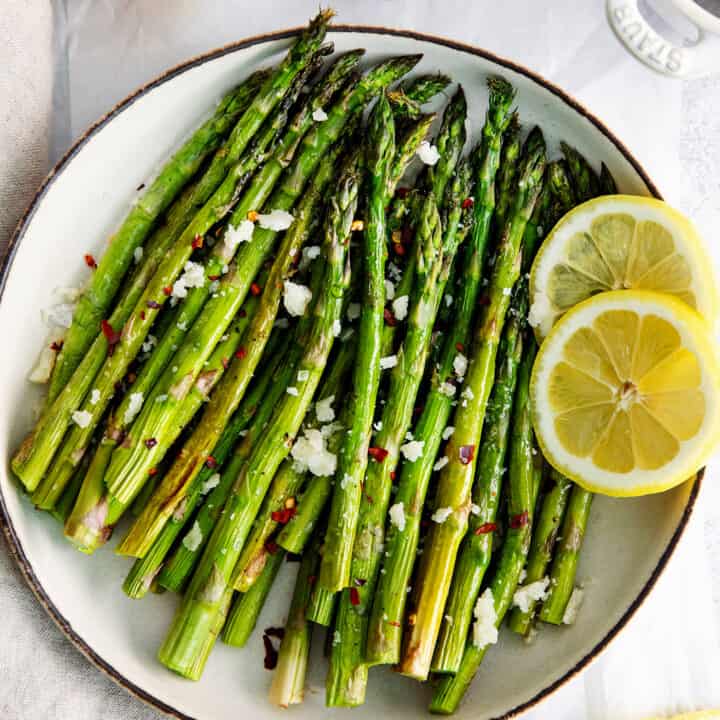 Roasted Asparagus
Yield: 4 servings
Prep Time: 5 minutes
Cook Time: 12 minutes
Total Time: 17 minutes
The best Roasted Asparagus is made with just a few simple ingredients and ready in under 20 minutes. It's a fresh and delicious vegetable side dish that's super easy to make!
Ingredients
1 pound fresh asparagus, medium thickness
1 to 2 teaspoons olive oil
½ teaspoon kosher salt
¼ teaspoon freshly ground black pepper
Instructions
Preheat oven to 450° F. Snap off tough ends of the asparagus (bend the asparagus sharply at the base and it will snap at just the right place) and discard the ends. Trim the ends with a knife for a more refined look, or just use as-is.
Place asparagus on a rimmed sheet pan and drizzle with enough olive oil to just lightly coat the asparagus. Sprinkle with salt and pepper, and then fold until all asparagus is lightly coated with oil. Spread asparagus in a single layer on the pan.
Roast in the oven until the bases of the thickest asparagus spears pierce semi-easily with a fork. Take care to not over-cook. I prefer asparagus that is a medium thickness, which takes 9-12 minutes. Thinner asparagus will take less time, thicker asparagus will take more time.
Serve roasted asparagus straight from the sheet pan or transfer to a platter. Season with additional salt & pepper if desired.
Notes
Sometimes I squeeze fresh lemon juice over the top of the roasted asparagus, plus a sprinkle of lemon zest. Or I add freshly shaved Parmesan or a pinch of red pepper flakes. And sometimes I add all of these at the same time!
Nutrition Information:
Yield: 4
Serving Size: 1
Amount Per Serving:
Calories: 45
Total Fat: 3g
Saturated Fat: 0g
Trans Fat: 0g
Unsaturated Fat: 2g
Cholesterol: 0mg
Sodium: 173mg
Carbohydrates: 5g
Fiber: 2g
Sugar: 1g
Protein: 3g
Nutrition information is automatically calculated by Nutritionix. I am not a nutritionist and cannot guarantee accuracy. If your health depends on nutrition information, please calculate again with your own favorite calculator.