Blueberry Basil Lemonade
This Blueberry Basil Lemonade tastes and smells like summer! It's bright and refreshing with tart lemon, sweet blueberries, and a hint of earthy basil. Enjoy this as is – or add a splash of vodka for a fun summer cocktail!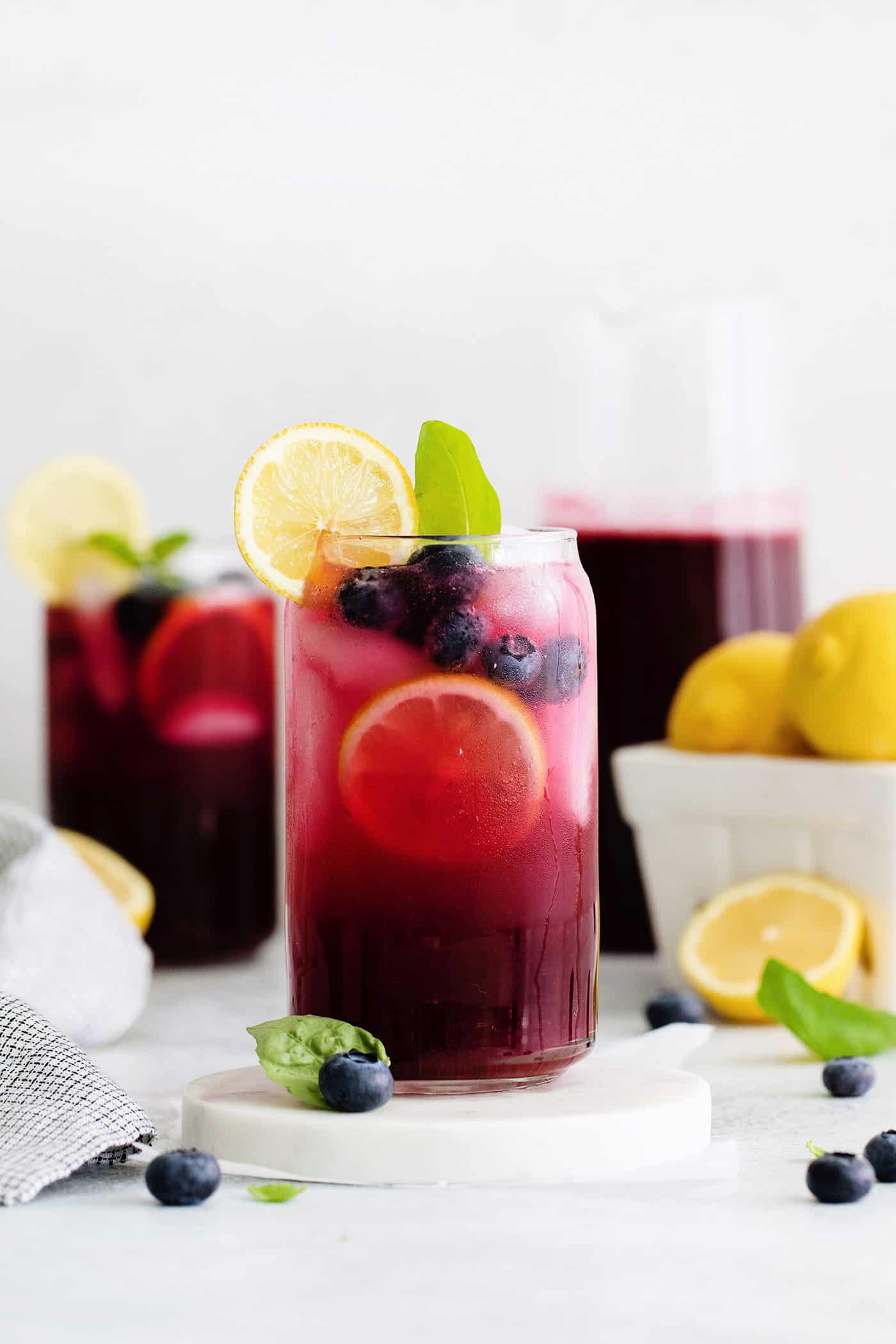 Light & Refreshing Blueberry Lemonade
This Blueberry Basil Lemonade recipe is my own riff on a favorite drink at the Minnesota State Fair, and it's a whole-family favorite. We order it every single year at the fair, and now we have our own recipe to make at home all year 'round!
Lemonade itself is always lovely in the summer but add some perfectly ripe blueberries and earthy basil…and wow, it becomes a real treat!
This blueberry lemonade is a beautiful balance of sweet and tart, with some sparkling water added for a bit of bubbliness. This is truly the perfect summer drink!
Prefer a cocktail? Just add vodka to turn this into the best blueberry vodka lemonade you've ever had!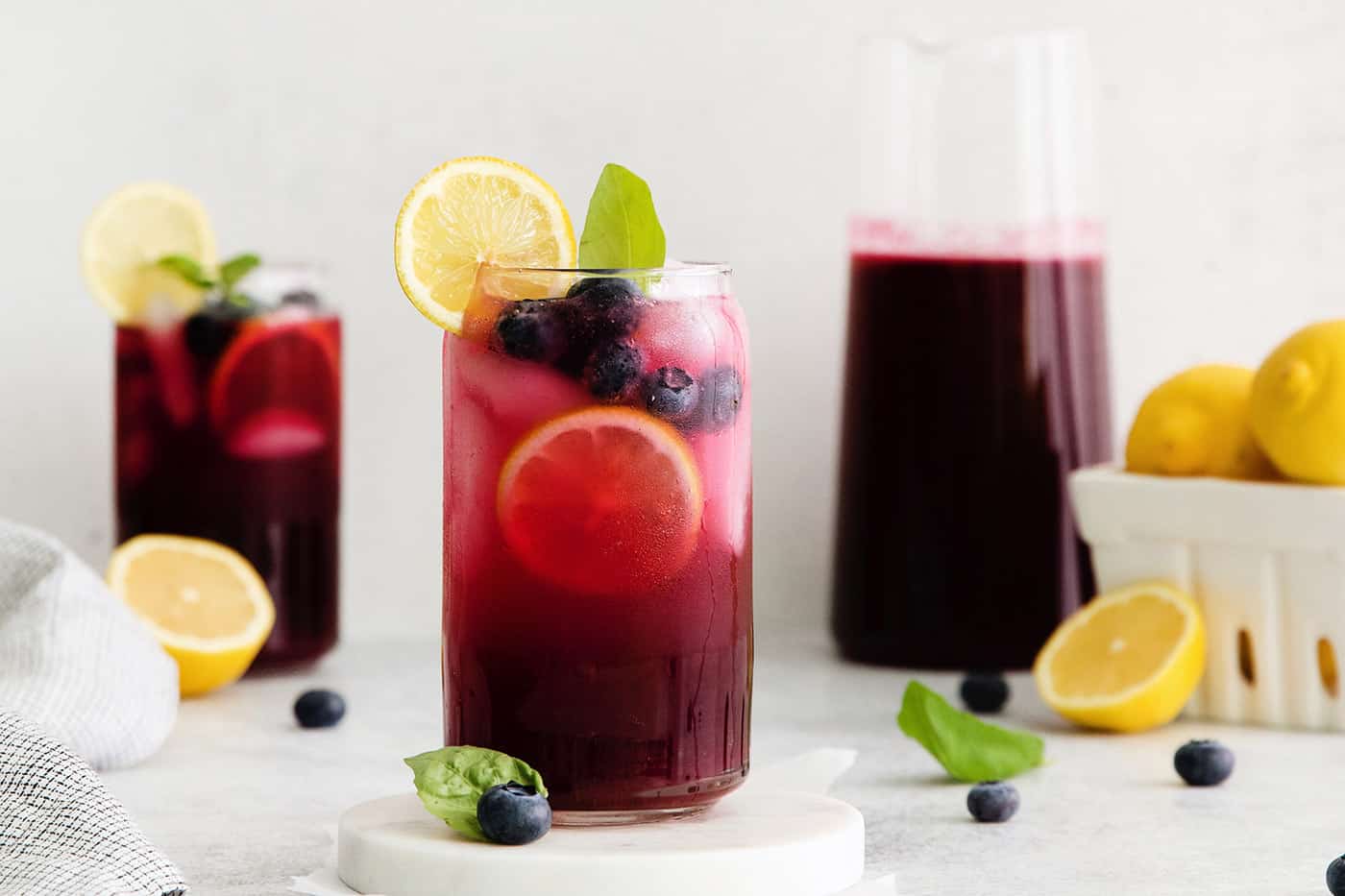 A Minnesota State Fair Favorite
As I just mentioned, our love for this blueberry basil lemonade began at the Minnesota State Fair. We've attended the fair every year for the last 22 years (!!), first just Blake and I and then as a family of 4. Our daughters haven't missed a fair year either!
Fair food is, of course, a huge draw (my main draw!) to the fair – and each year we try out as many new fair foods as possible, while still fitting in our favorites from years past. We have quite the growing list of favorite fair food!
This Blueberry Basil Lemonade is most definitely on the list. It's actually one of the most popular drinks at the fair! It's offered by the Blue Barn, a favorite food stand with fairgoers, especially "foodies".
If you're ever in Minnesota at the end of August, I definitely recommend checking out our state fair!
In the meantime, I've got you covered with a few Minnesota State Fair copycats, like this lemonade recipe, Fried Dill Pickles, and Chocolate Dipped Salted Nut Roll Bars!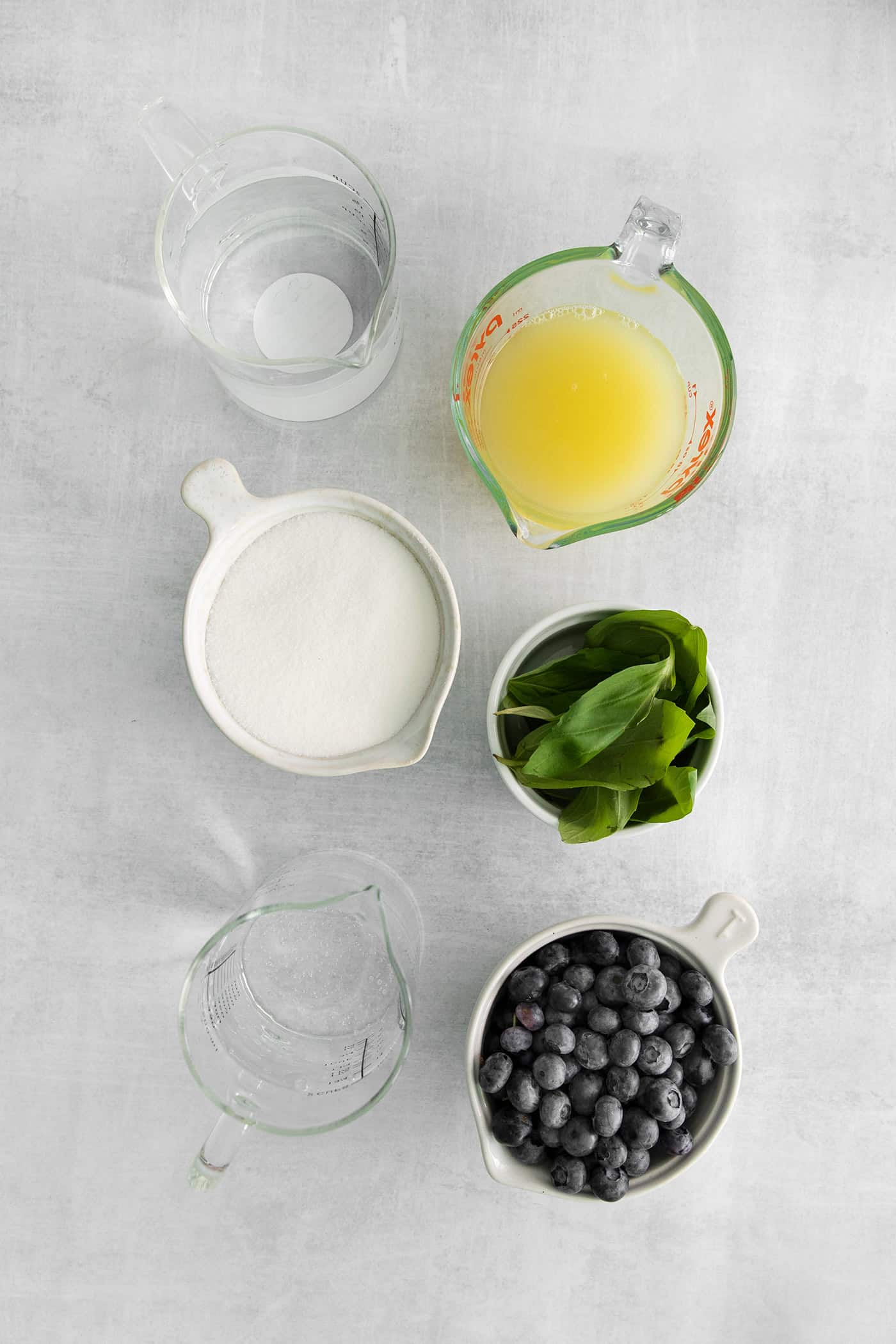 What You'll Need
This blueberry basil lemonade is a very simple recipe, with only 6 ingredients!
Water – Water is the base of the blueberry basil simple syrup that flavors this lemonade.
Sugar – Sugar sweetens the lemonade.
Fresh blueberries – Fresh blueberries are the key to the bright fruity flavor and beautiful color. Make sure to use the best, freshest, sweetest blueberries you can find.
Fresh basil leaves – Basil gives the lemonade a fresh earthy flavor and it pairs so well with lemon and blueberries.
Lemon juice – Lemon juice is what makes this lemonade! Right?! Freshly squeezed lemon juice is essential for the brightest lemon flavor.
Cold sparkling water – This adds volume and bubbly body to the lemonade. The fair's blueberry lemonade uses still water, but we're a bubbles family at heart. If you're not a fan of carbonation simply swap it for still water.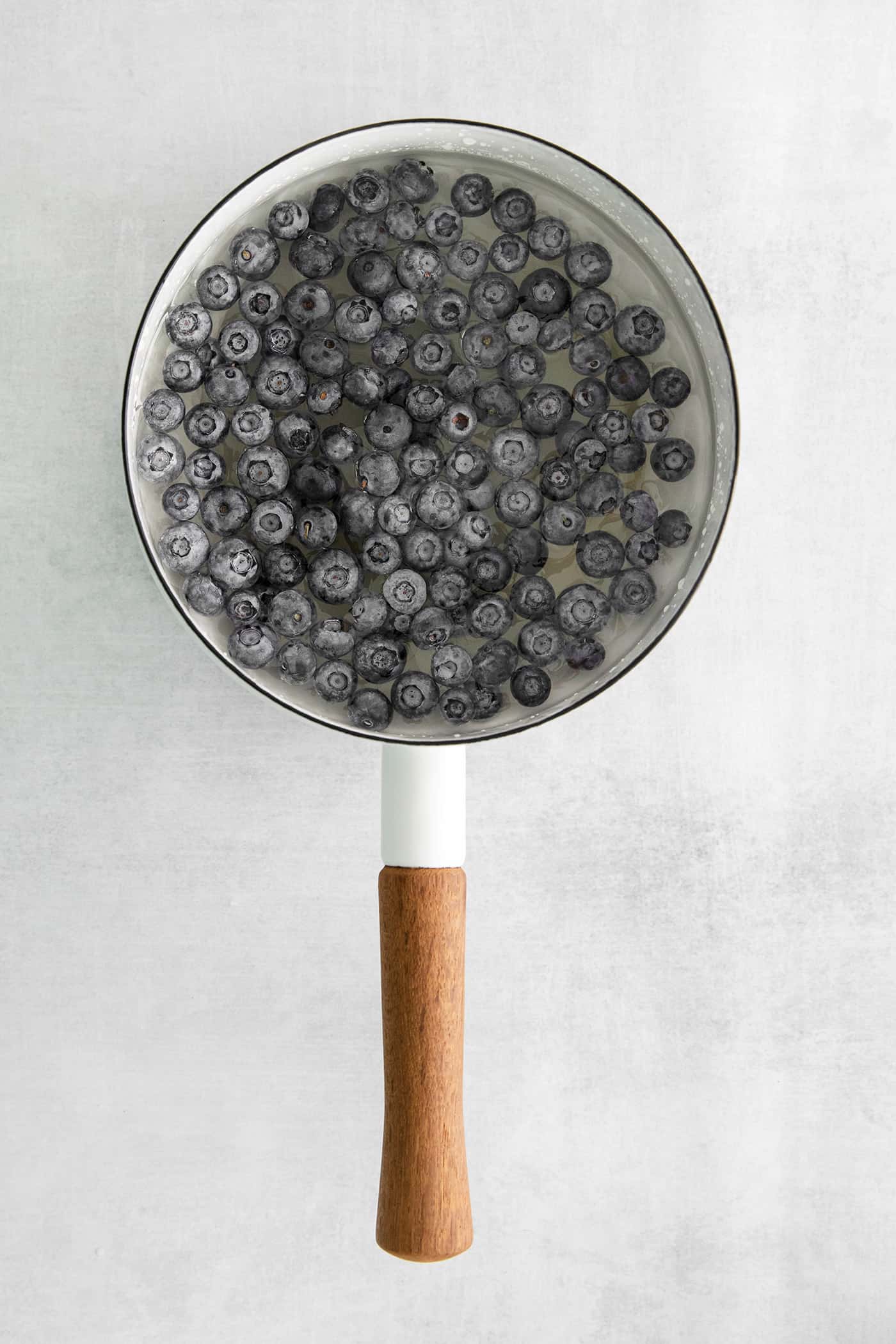 How to Make Blueberry Basil Lemonade
Here's how to make this refreshing summer drink at home.
Make the simple syrup. Bring the water, sugar, and blueberries to a boil. Cook until the sugar has dissolved and the blueberries burst.
Add basil. Remove from heat, add the basil, and cover for 20 minutes. Then strain through a fine mesh sieve and discard the solids. Pour blueberry basil syrup into a pitcher.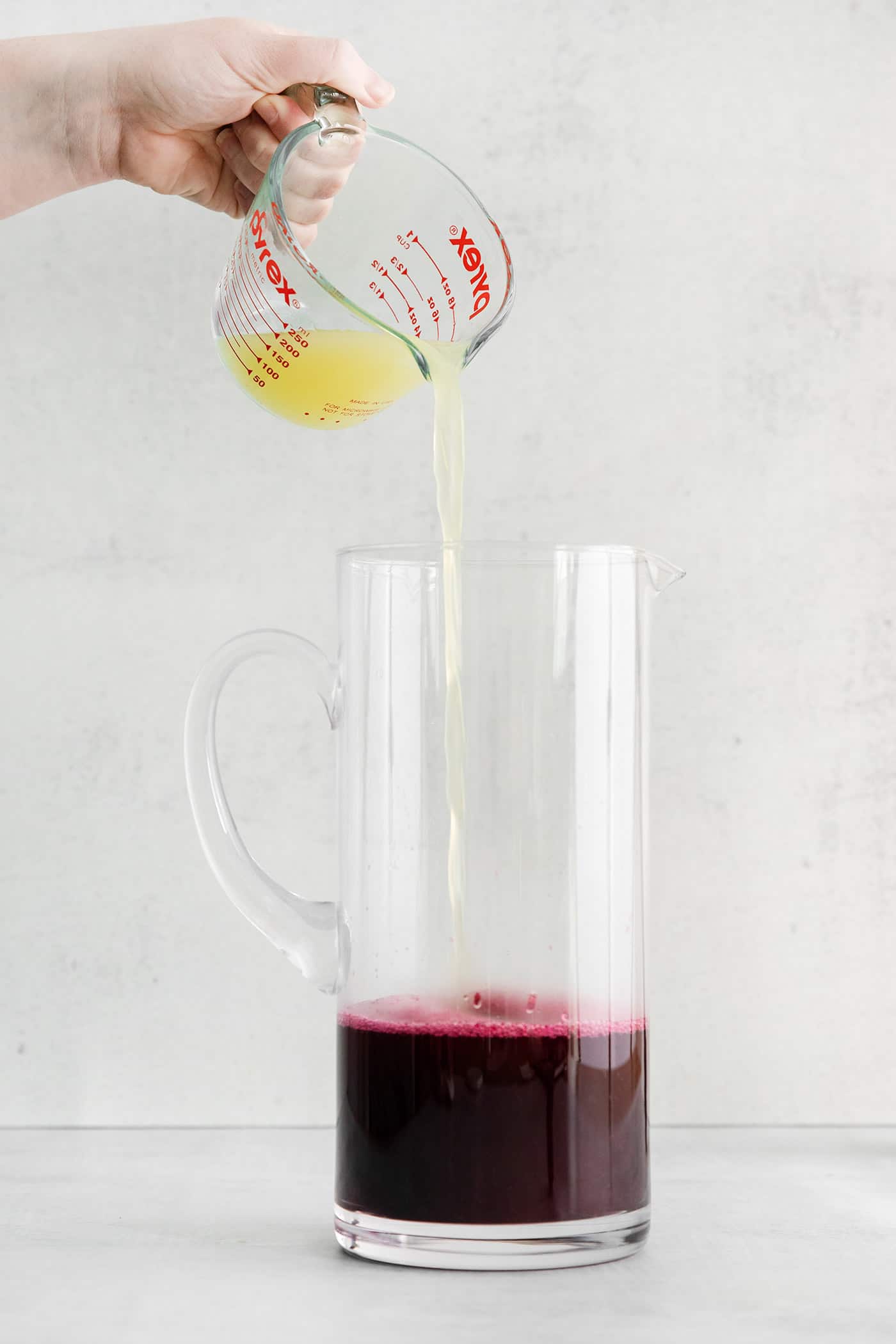 Add remaining ingredients. Add the lemon juice and sparkling water, then stir to combine.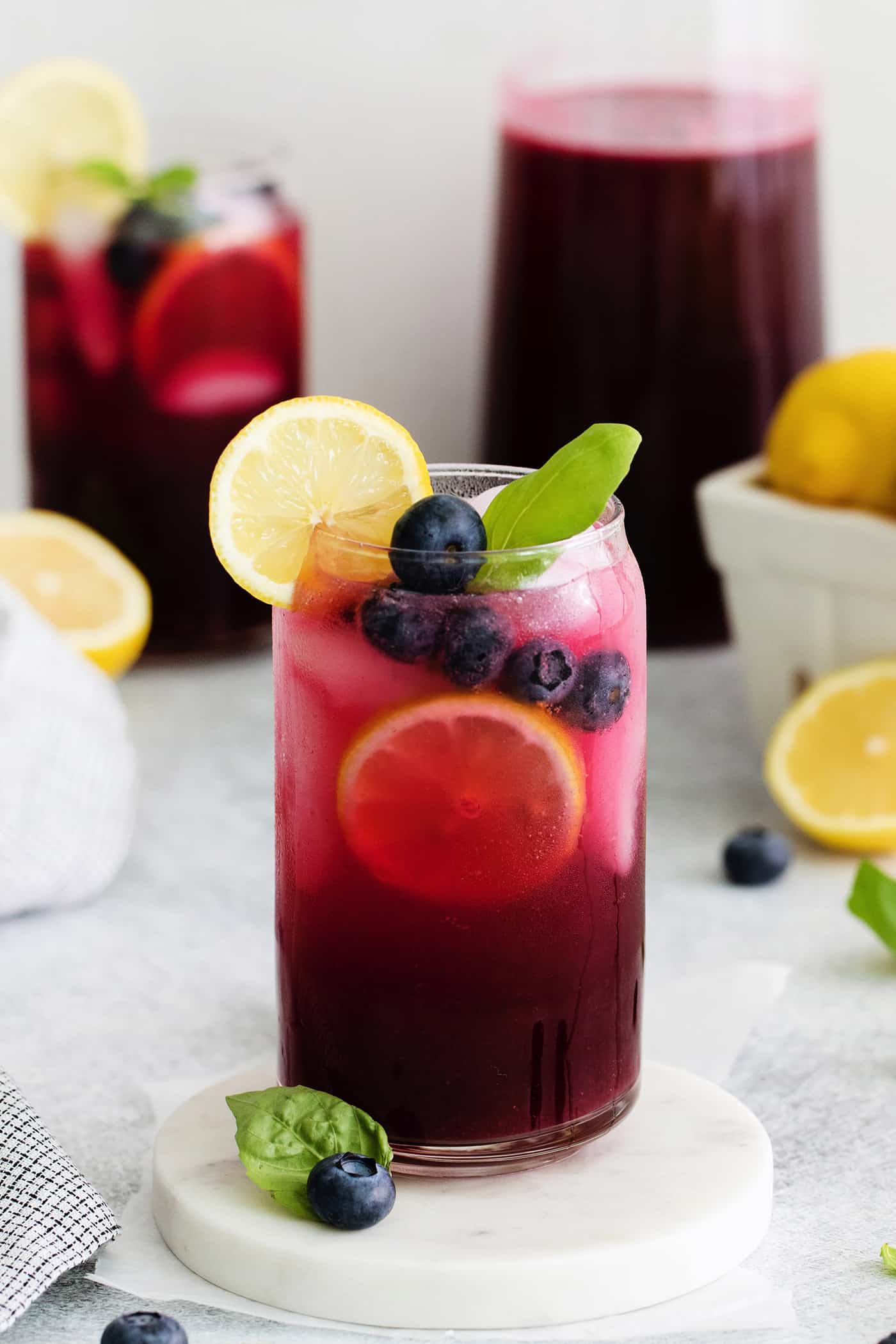 Serve. Pour over ice. Garnish with lemon wheels, blueberries, and a basil leaf or two, if desired. Enjoy!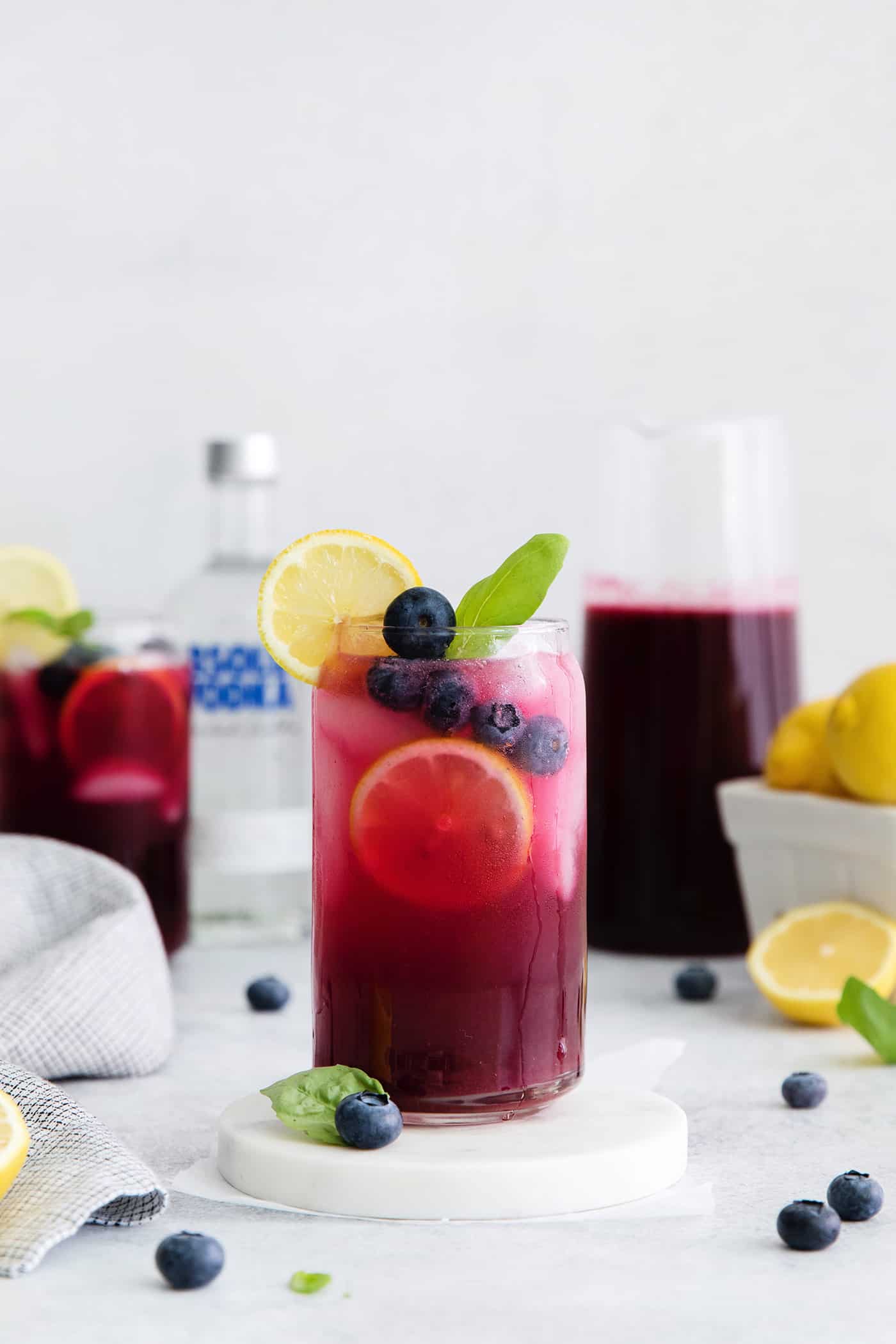 Tips & Easy Variations
Want to turn this into a cocktail? Or maybe you're missing an ingredient? Here's my #1 tip plus a few ways to switch up this summer drink!
Use the best blueberries. This is my #1 tip. For the best, most flavorful blueberry lemonade, use blueberries that are ripe and sweet.
Make a cocktail out of it. To make a blueberry vodka lemonade, add vodka to taste (I recommend about ½ cup per pitcher but feel free to add as much or as little as you like). Rum is also a great option. You could also swap out the sparkling water for sparkling wine if you prefer!
Don't have any basil on hand? This lemonade would still be delicious without it, or you could swap the basil leaves for 10 sprigs of fresh thyme.
Want to switch up the citrus? Try this as a limeade by using fresh lime juice instead of fresh lemon juice.
Don't like sparkling water? No problem. Just use plain still water, the same amount.
Serving Suggestions
This blueberry lemonade is just the thing when you need a family-friendly beverage on a hot summer day. You can double the recipe to fill up a large pitcher for barbecues and picnics, or to keep it in your fridge as a thirst quencher throughout the summer.
I like to serve my blueberry basil lemonade over ice and add some fresh blueberries, lemon slices, and/or basil as a garnish.
Can I Make This in Advance?
I recommend enjoying your homemade lemonade within 2 to 3 days of using it. If you want to do all of the prep of making the simple syrup in advance, that can be stored in the fridge for up to a week.
One thing to note, if making a big pitcher of this blueberry lemonade in advance, is to wait to add the sparkling water. I recommend adding it just before serving or to the individual glasses, to keep the effervescent body and appearance.
More Refreshing Summer Drinks:
Like this summer drink recipe? Save it to Pinterest!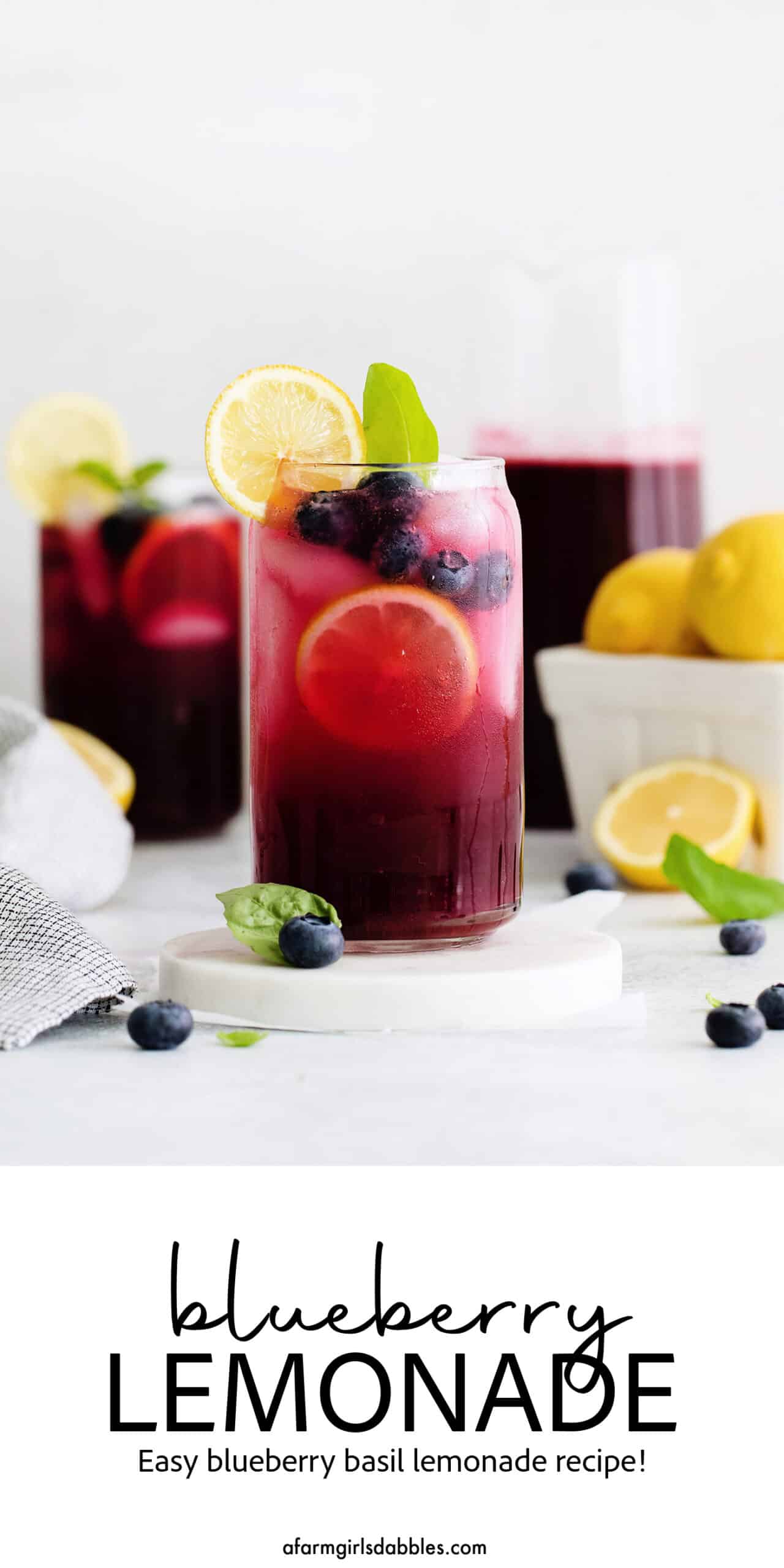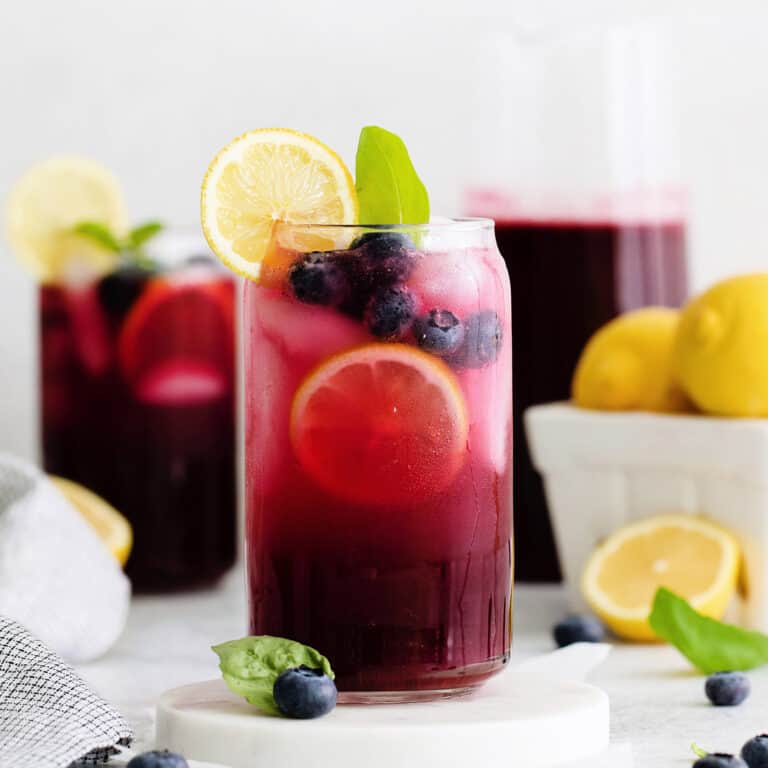 Blueberry Basil Lemonade
Yield: 6 servings
Prep Time: 10 minutes
Cook Time: 5 minutes
Additional Time: 20 minutes
Total Time: 35 minutes
This Blueberry Basil Lemonade tastes and smells like summer! It's bright and refreshing with tart lemon, sweet blueberries, and a hint of earthy basil. Enjoy this as is – or add a splash of vodka for a fun summer cocktail!
Ingredients
2 cups water
1 cup granulated sugar
1 cup fresh blueberries
18 large fresh basil leaves
1 cup freshly squeezed lemon juice
2 cups cold sparkling water (or additional water if you don't want it sparkling)
Instructions
Place the water, sugar, and blueberries in a medium saucepan set over medium to medium-high heat. Bring the mixture to a boil and cook for 5 minutes, or until the sugar has dissolved and the blueberries have burst. Mash the blueberries a bit, to release more flavor and color.
Remove saucepan from heat and stir in the basil. Cover with a lid and steep for 20 minutes.
Strain the syrup through a fine mesh sieve, pressing on the solids a bit to release more flavor and color. Discard solids.
Add blueberry syrup, lemon juice, and sparkling water to a pitcher. Stir to combine.
Enjoy this lemonade over ice, garnished with lemon, blueberries, and/or basil leaves.

Notes
Store this lemonade covered in the fridge for up to 3 days. If not serving right away, wait to add the sparkling water until right before serving.
Nutrition Information:
Yield: 6
Serving Size: 1
Amount Per Serving:
Calories: 150
Total Fat: 0g
Saturated Fat: 0g
Trans Fat: 0g
Unsaturated Fat: 0g
Cholesterol: 0mg
Sodium: 14mg
Carbohydrates: 39g
Fiber: 1g
Sugar: 36g
Protein: 0g
Nutrition information is automatically calculated by Nutritionix. I am not a nutritionist and cannot guarantee accuracy. If your health depends on nutrition information, please calculate again with your own favorite calculator.