Chocolate Dipped Salted Nut Roll Bars
This post may contain Amazon or other affiliate links. As an Amazon Associate I earn from qualifying purchases.
These Chocolate Dipped Salted Nut Roll Bars are the perfect combination of salty and sweet. If you love traditional Salted Nut Roll candy bars you're going to love this homemade recipe!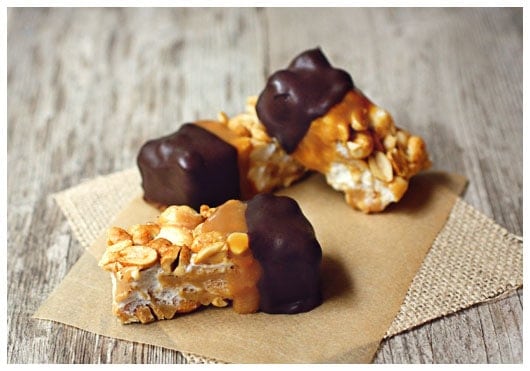 Chocolate Dipped Salted Nut Roll Bars
The Minnesota State Fair is something my family talks about and looks forward to all year long. Opening its gates for 12 days, ending on Labor Day, the fair is the sweet cherry that tops our summer adventures.
If you've never been to the Minnesota State Fair, my friend Angela offers some good tips and humor on planning a day with your family (can you find me in her article?). There's just one point that I disagree on. You must never skip the animal barns! But, hey, that's advice coming from a farmgirl. Angela, who grew up in the big city, once referred to our friendship as City Mouse meets Country Mouse. And it's so very true. I love that city girl for her bigger vision and says-it-like-she-sees-it advice. So I give her extra credit for even trying to steer her family in the direction of those sweet smelling barns. :smile: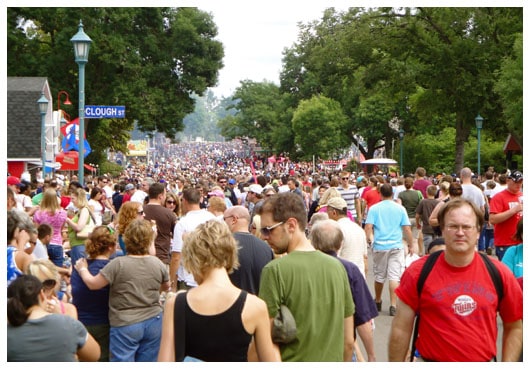 Our family made its annual trek to the fair last Sunday, along with 171,685 others that day. That's about the very same number as the South Dakota State Fair's entire attendance last year! I'm not disrespecting my home state's fair. Definitely not. I have way too many fond childhood memories from that fair. I am simply trying to illustrate the magnitude of Minnesota's fair, as it boasts of the largest average daily attendance of any state fair in the United States.
You could probably already guess this from our family, but the food at the Minnesota State Fair is the highlight of our trip. Although we love visiting each and every animal barn, walking through the horticulture building to look at the latest crop art, and perusing all the gizmos and gadgets being hawked underneath the grandstand, it's the food that provides the pace for the day.
Our favorite eats include fried pickle chips, Australian battered potatoes, apple cider freeze pops made from Minnesota apple varieties, cheese curds from the Food Building (with a cold beer from the nearby Leinie Lodge to wash them down), and the oh-so-awesome handmade salted nut rolls.

Pearson't Salted Nut Rolls. Are you a fan of this Minnesota born candy bar? Because if you are, the fair's version is spectacular!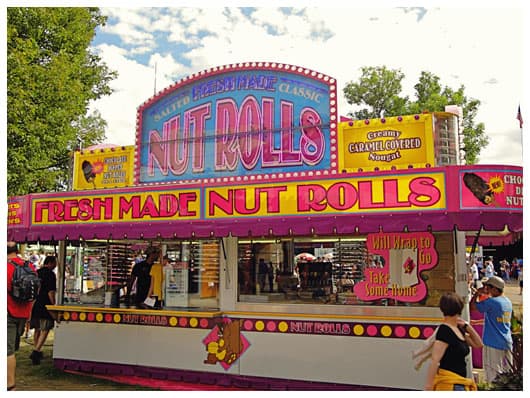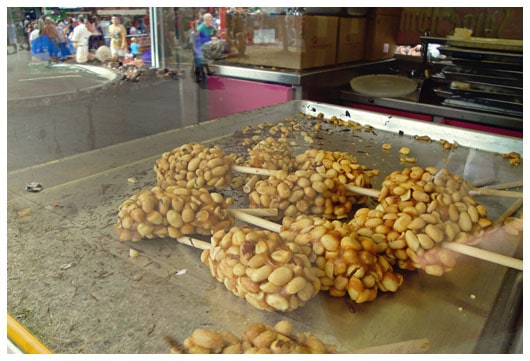 Here's the stand to look for at the fair.Of course, you'll find this treat on a stick. Tender sweet nougat dipped in caramel and then rolled in the traditional salty peanuts – OR cashews, pecans, or sliced almonds!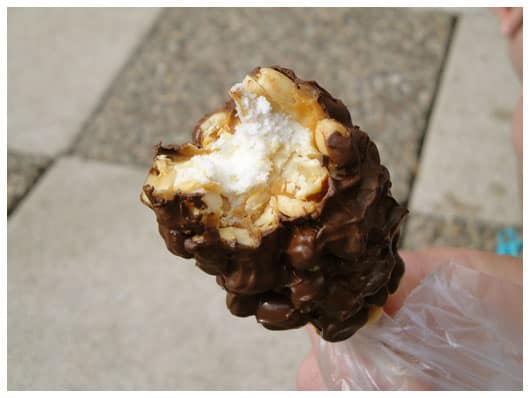 As if that wasn't enough for options, you can also order yours dipped in chocolate. Oh, yes, you can!
…………………………………………………….
Salted Nut Rolls Are One Of My Dads Favorite Candy Bars
Whenever I see a Salted Nut Roll, I think of Dad. This candy bar has always been one of his favorites. And Mom whips up a homemade bars version to satisfy that sweet and salty craving. The recipe is insanely easy.
But, of course, I had to go and complicate it…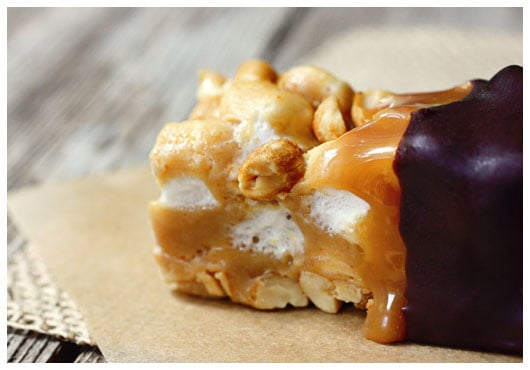 These Salted Nut Rolls Can Be Made With Or Without Chocolate
This is my little rendition of State Fair meets Mom's Baking: Chocolate Dipped Salted Nut Roll Bars
If you're a traditionalist and prefer a salted nut roll without the chocolate, I will not be offended in the least. All you'll need are the 5 ingredients listed for the salted nut roll bars and about 15 minutes in the kitchen. Although they aren't comprised of a center log of nougat like Pearson's and the State Fair shack's, this recipe's ingredients hit the flavors and textures pretty well for being so darn easy to make. These bars are excellent, and they're the ones you'll find my dad enjoying at home.
However, if you're feeling adventurous and have some time on your hands, give this dipped version a try. (Read my cheater version in the recipe below.) Yes, they are definitely more labor intensive. But they are also ridiculously fabulous.
You might even be so inclined to poke a stick in them and pretend you're at the fair…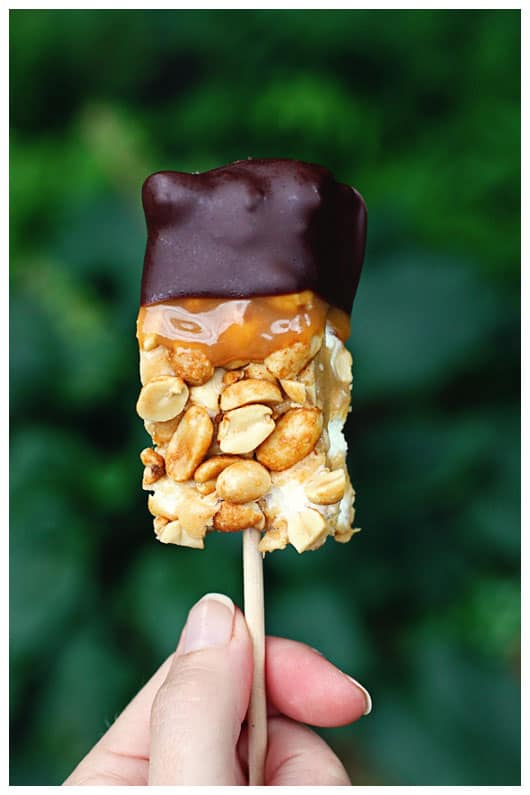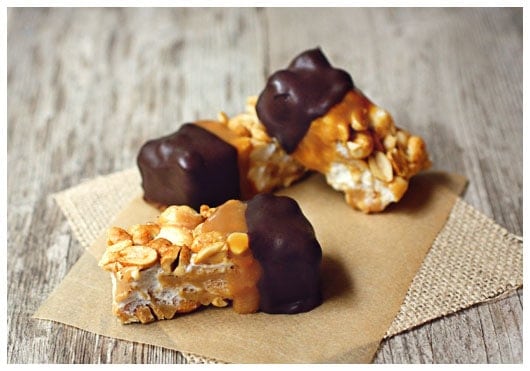 Chocolate Dipped Salted Nut Roll Bars
Yield: 15 to 18 nut roll bars
Prep Time: 50 minutes
Cook Time: 25 minutes
Total Time: 1 hour 15 minutes
These Chocolate Dipped Salted Nut Roll Bars are the perfect combination of salty and sweet. If you love traditional Salted Nut Roll candy bars you're going to love this homemade recipe!
Ingredients
For the salted nut roll bars:
1 14-oz. jar lightly salted peanuts (I used lightly salted dry roasted peanuts, just because I like them alot!)
1 10-oz. package peanut butter chips
1 14-oz. can sweetened condensed milk
3 T. butter
1 10-oz. bag miniature marshmallows
For the caramel dip:
1 14-oz. bag Kraft caramels
2 T. butter
1 T. milk
For the chocolate dip:
8 oz. semi-sweet chocolate chips (I like Guittard.)
1 tsp. shortening
Instructions
For the salted nut roll bars:
First, prepare the salted nut roll bars. Spread half the peanuts in a 9'' x 13'' pan. In a medium pan over medium heat, melt the peanut butter chips, sweetened condensed milk, and butter. Once melted, add the marshmallows and quickly fold together. The goal is to still have the marshmallows intact, so don't stir too much as it will break them up and cause them to melt into the peanut butter mixture. Spread this over the peanuts. Then sprinkle the other half of the peanuts over the top and press in with the flat side of a spatula or large spoon. If you like the Salted Nut Roll candy bar, without chocolate, eat these just like they are. Just refrigerate to set, then cut into bars. If you want to try the caramel and chocolate dipped version, read on. (And I highly recommend that you do!)
For the caramel dip:
In a medium bowl, microwave the caramels, butter, and milk. Check and stir the mixture regularly and don't allow the mixture to scorch. Transfer caramel to a small bowl that will allow the salted nut roll to be dipped into it sufficiently. I used a 1-cup ramekin with sides 2'' tall.
Cut the pan of salted nut roll into your desired size and shape pieces. Mine were about 3'' x 1-1/2'' each, mimicking the elongated candy bar shape. From a short edge of the pan, cut 1-1/2'' rows, and then cut each row into 3 pieces.
Lay a piece of parchment paper (don't use wax paper!) on each of 2 cookie sheets or jelly roll pans.
Dip the cut bars halfway in the caramel. Use a spoon to aid your caramel covering, if needed. Let excess caramel run back into the bowl and lightly slide the bottom of the caramel dipped bar along the edge of the bowl, to help remove excess caramel. Set on parchment paper and repeat until you are done dipping in caramel. Place pan in the refrigerator to set up the caramel. Once set, if the caramel has pooled around the base of the bar, you can easily trim the caramel with a knife, if desired.
For the chocolate dip:
In a small bowl, microwave the chocolate chips and shortening on low heat. Check and stir the mixture regularly, taking care to not let it scorch. Once the chocolate chips are a little more than halfway melted, just stir until they melt all the way. Let cool until just barely warm and transfer to another small diameter bowl or ramekin for dipping. Then dip your caramel dipped salted nut roll bars into the chocolate, leaving a bit of the caramel showing. Gently shake off any excess chocolate and lightly slide the bottom of the fully dipped bar along the edge of the bowl, to help remove excess chocolate. Set on parchment paper and repeat until you are done dipping in chocolate. Place in the refrigerator to set.
Cheater Version: If you want the added caramel and chocolate, but don't want to go through the dipping/cooling/dipping/cooling process, I offer you this… Make a half recipe each of both the caramel dip and the chocolate dip. Then drizzle each one over the top of the pan of bars. I did this for a pan of bars and it's an easy compromise, with considerably less work.
Notes
Salted nut roll bar recipe from Mom's recipe box, originally from Kathy Mackner. The caramel and chocolate dipped portion of the recipe was inspired by the Salted Nut Rolls shack at the Minnesota State Fair.
Nutrition Information:
Yield: 15
Serving Size: 1
Amount Per Serving:
Calories: 641
Total Fat: 33g
Saturated Fat: 12g
Trans Fat: 1g
Unsaturated Fat: 18g
Cholesterol: 25mg
Sodium: 314mg
Carbohydrates: 79g
Fiber: 4g
Sugar: 64g
Protein: 15g
Nutrition information is automatically calculated by Nutritionix. I am not a nutritionist and cannot guarantee accuracy. If your health depends on nutrition information, please calculate again with your own favorite calculator.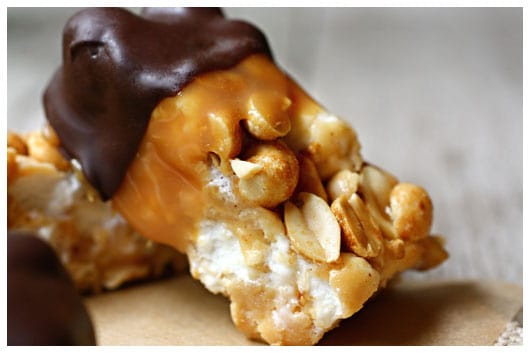 We participate in the Amazon Services LLC Associates Program, an affiliate advertising program designed to provide a means for us to earn fees by linking to Amazon.com and affiliated sites. See our
disclosure policy
for more info.