Peach Pie
This Homemade Peach Pie is stuffed with sweet, juicy peaches that are perfectly spiced with cinnamon and nutmeg. Topped with a flaky, golden brown lattice crust, it's the best peach pie recipe!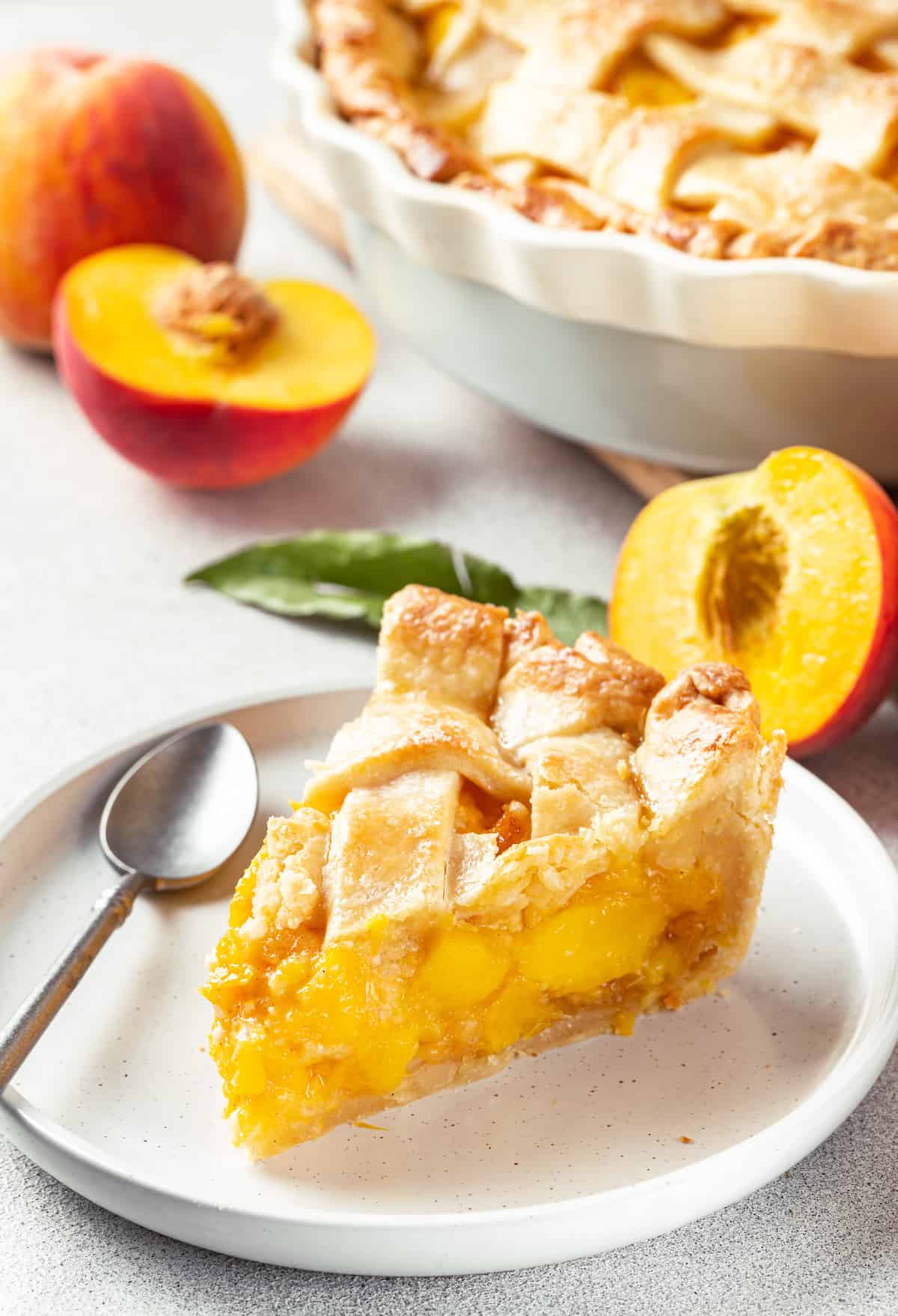 The Best Peach Pie Recipe
If you were to ask me what pie is my favorite pie, I'd definitely, positively, 100% say, "my mom's Peach Pie". Mom makes The Best Peach Pie In The World, no contest – and here's her recipe!
What makes this fresh peach pie so special? First, it requires minimal pie-making ingredients, making it an easy peach pie recipe. Second, this pie is stuffed with sweet, juicy peaches, hugged by the warmth of cinnamon and nutmeg. And third, the lattice crust bakes up beautifully golden brown and flaky, absolutely irresistible!
Hand me a warm slice of Mom's peach pie, topped with a scoop of vanilla ice cream, and I am one happy girl!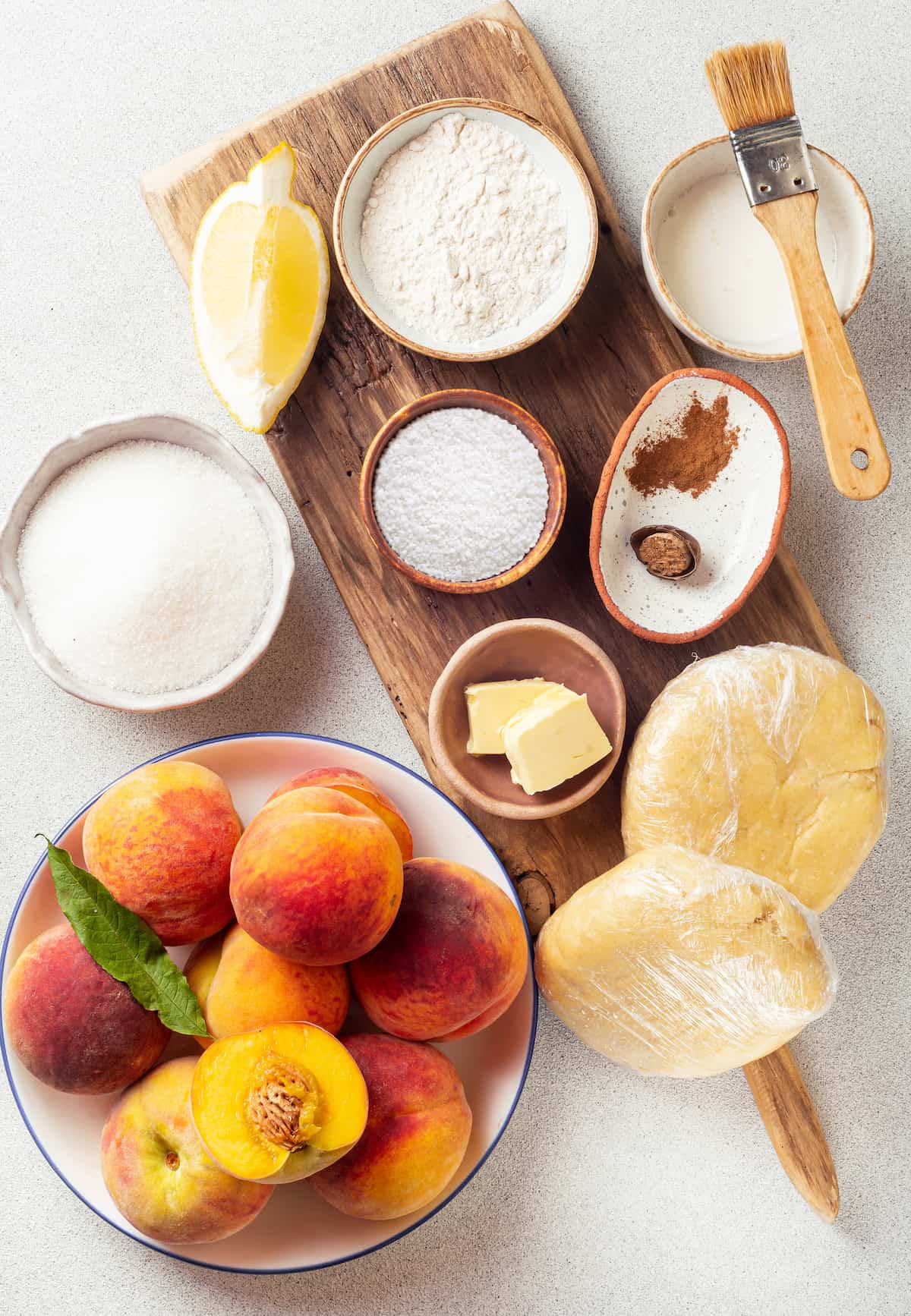 What You'll Need
You'll need just 10 ingredients to make this homemade peach pie. It's that easy! Scroll down to the recipe card for the measurements.
Peaches – See below for tips on selecting the best peaches.
Lemon juice – This helps prevent the peaches from turning brown. While you won't taste "lemon" in the pie, it does add a bit of brightness to the filling.
Granulated sugar – Besides sugar in the filling, Mom dusts the lattice crust as well. This gives another layer of texture to the golden baked pastry, plus it adds a little sparkle.
All-purpose flour
Instant tapioca – Tapioca works as the thickening agent in this pie recipe. I've always liked how Mom uses tapioca!
Cinnamon & nutmeg – These spices give the pie a warm flavor and scent.
Unsalted butter – I love a flaky, buttery pie crust!!
Milk – For washing the lattice crust so it browns nicely.
Pastry – I'm sharing a simple pastry dough crust but, of course, you're free to make your own homemade pie crust if you already have a favorite.
Can I Use Canned or Frozen Peaches?
While fresh peaches are always best, if you're making this peach pie recipe when they're out of season (or you want a shortcut), you can use canned or frozen peaches.
Frozen peaches are the best option. You'll need need to thaw them completely, then pat them slightly dry to remove any excessive moisture.
If you use canned peaches, you'll want to drain the liquid from them completely. Note that your filling will be much softer and potentially a bit runny. If the filling mixture looks too runny, add a little extra thickening agent.
In the end, the only way this pie is going to taste like my mom's peach pie, though…is if you use sweet, juicy fresh peaches!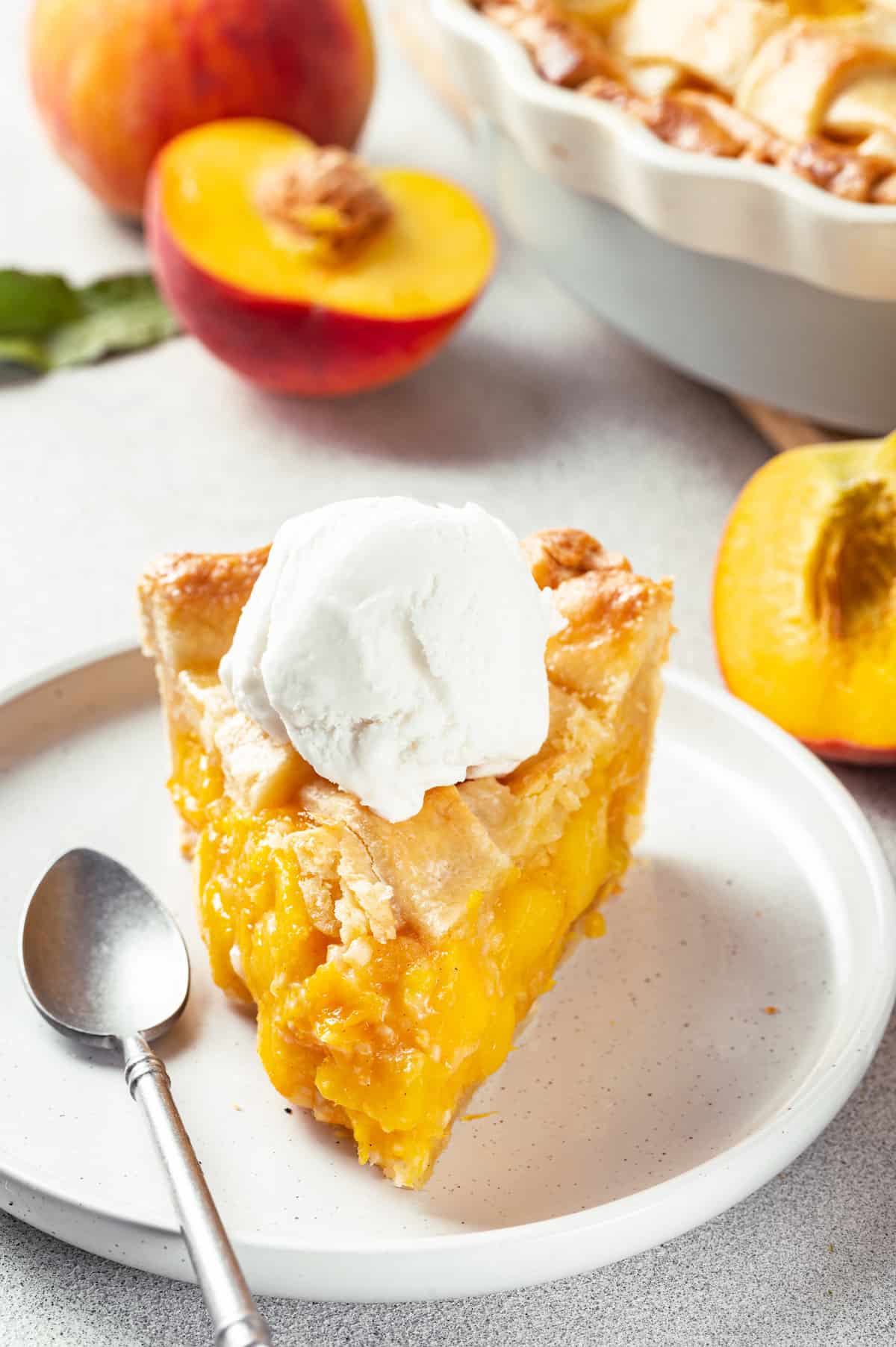 Do You Have To Peel Peaches For a Pie? (And Tips for How!)
I prefer to peel peaches when making a pie. Though the peach skin does soften during baking, it still has a texture to it and can sometimes even have a slightly bitter flavor. So I personally just think it's better to peel the peaches before making the pie, though technically you don't have to.
To easily peel peaches, there are a few methods. The easiest is to quickly blanch them in boiling water. Bring a pot of water to a boil, drop the peaches in for just 30 seconds then immediately place them in a bowl of ice water. Once they've cooled, the skins should just rub off.
Alternatively, you can use a vegetable peeler or a knife. If using a knife, it's easiest to make a shallow X on the peach and then pull off the skin from there.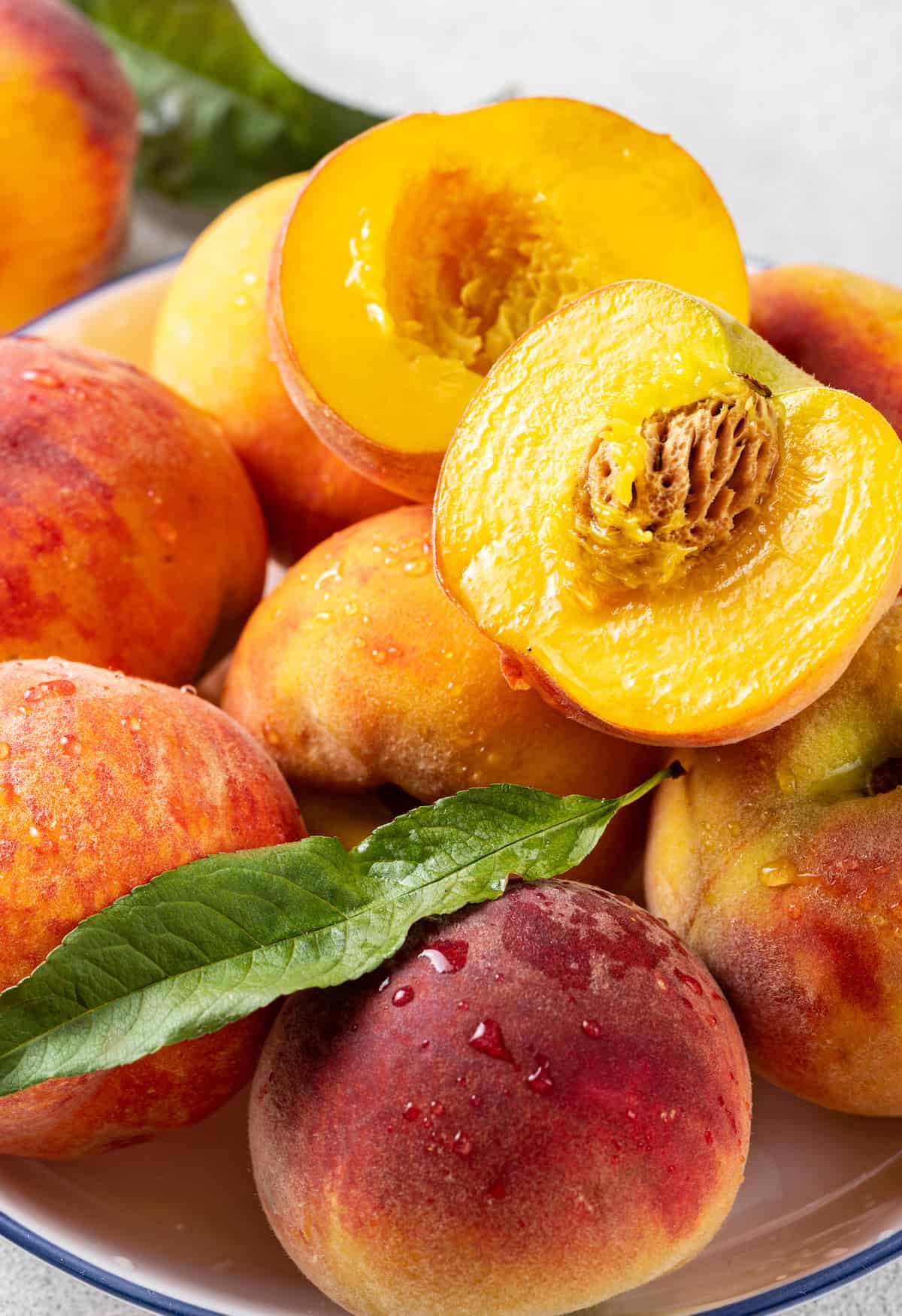 How to Pick Ripe Peaches
You want peaches that are perfectly ripe to make your peach pie. This means they are firm but not hard, and give slightly when you squeeze but do not have any soft spots or brown spots.
When choosing your peaches in the store, look for ones labeled "freestone" (vs "clingstone") as it'll be easier to pull the flesh from the pit. Also, pay attention to the things noted above and select peaches that give just a bit and have no bruises, soft spots, or wrinkles. They should be fragrant as well – if they're noticeably sweet smelling, that's a good thing!
If you can't find perfectly ripe peaches at the store, buy some that are still a bit unripe and place them in a paper bag on the counter to ripen. Once they're ripe, keep them in the fridge until you make your pie.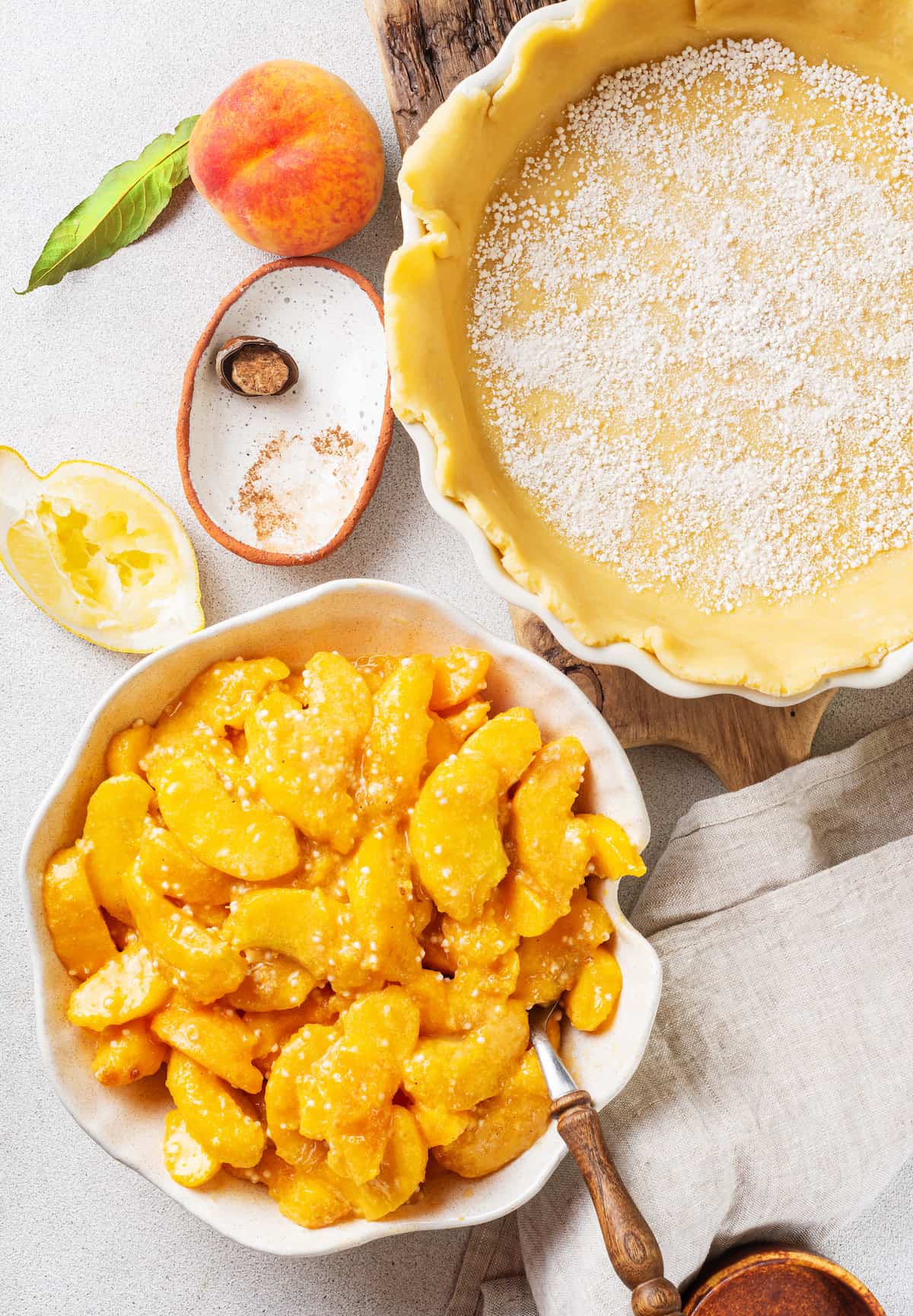 How to Make Peach Pie
Making a homemade peach pie is not as difficult as you may expect! Here are the few steps you'll need to make it.
Prepare the bottom crust. Roll the bottom crust out and place in the pie pan. Sprinkle 1/2 tablespoon of tapioca on the bottom of the crust.
Make the filling. In a large bowl, combine the sliced peaches, lemon juice, sugar, flour, remaining tapioca, cinnamon, and nutmeg. Add this to the pie crust. Add dots of butter to the top.
Create the lattice crust. Roll the top crust out, then cut into strips. Weave a lattice crust over the peach filling. Brush with milk and sprinkle with additional sugar.
Bake. Bake for 40 minutes, or until golden brown.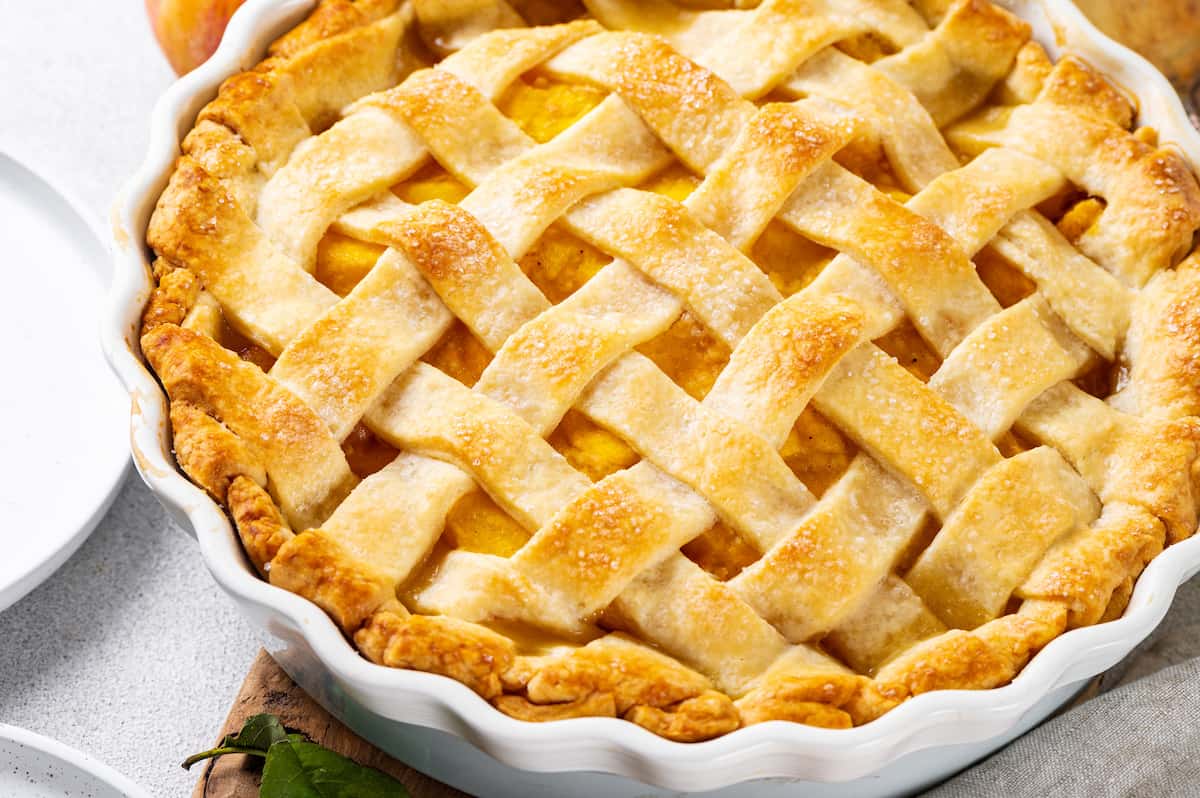 Tips for a Lattice Pie Crust
A lattice or a criss-cross pie crust is a popular design for peach pie and other homemade pie recipes because it allows you to see the yummy filling beneath. (And makes it easier to see when it's finished cooking!)
While it may look fancy, a lattice crust is actually quite easy to make. Here are a few tips if it's your first time.
Cut the strips into equal widths. Some people use a ruler but others just eyeball it. Strips around 1″ or even 1/2″ inch work well.
Place the longer strips in the center. Any strips that are longer should be used for the middle of the pie, while shorter ones are best for the edges.
Start with the vertical strips. Lay the vertical strips down first, then criss-cross the horizontal strips.
Create the lattice pattern. The easiest way to do this is to fold every other vertical dough strip back, lay a horizontal strip, then unfold the strips over it. Repeat by folding back the strips that originally were not and repeat.
Seal the edges. Once all of the pie dough strips have been woven over and under, pinch the ends of each strip into the bottom pie crust to seal the pie.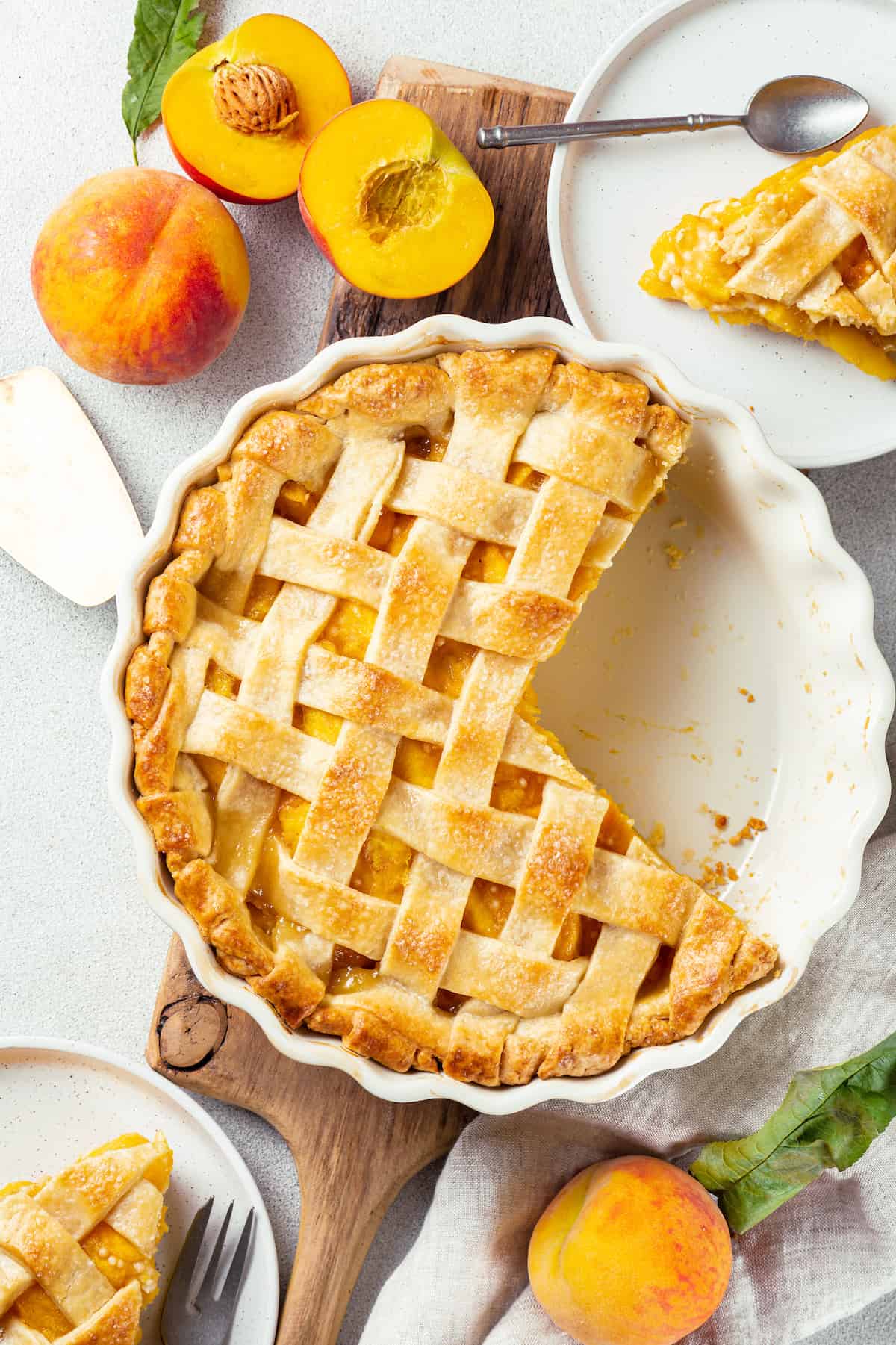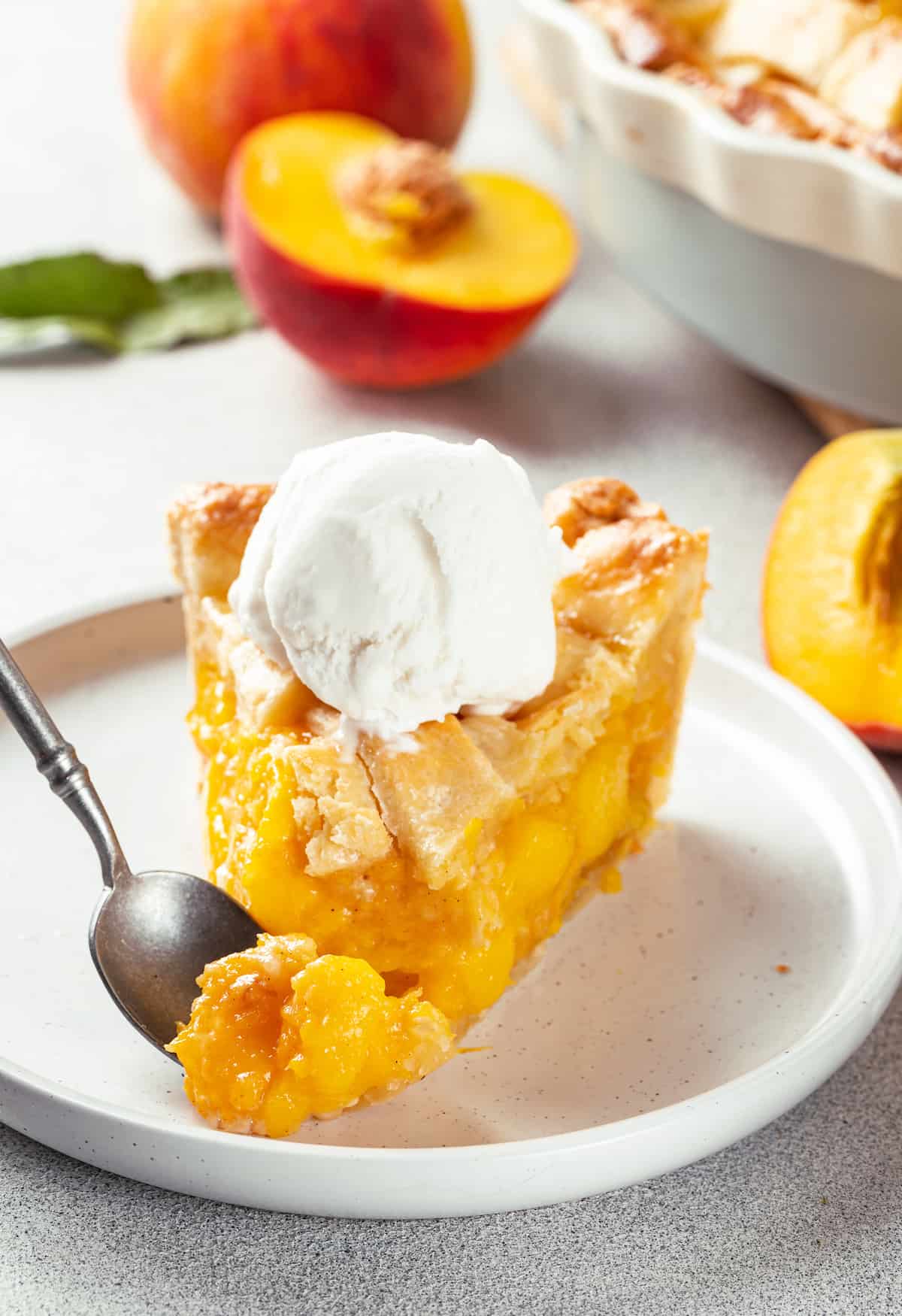 Peach Pie Serving Suggestions
My favorite way to enjoy peach pie is while it's still just the very slightest bit warm, with a scoop of vanilla ice cream. It's the perfect combination for dessert on a summer day! Whipped cream is another great topping if you don't have any ice cream.
Note that, for the cleanest slices, you should let the pie cool completely. This will give the filling time to thicken up. I'm just not good at being patient with peach pie, and love to eat that first piece just a bit warm!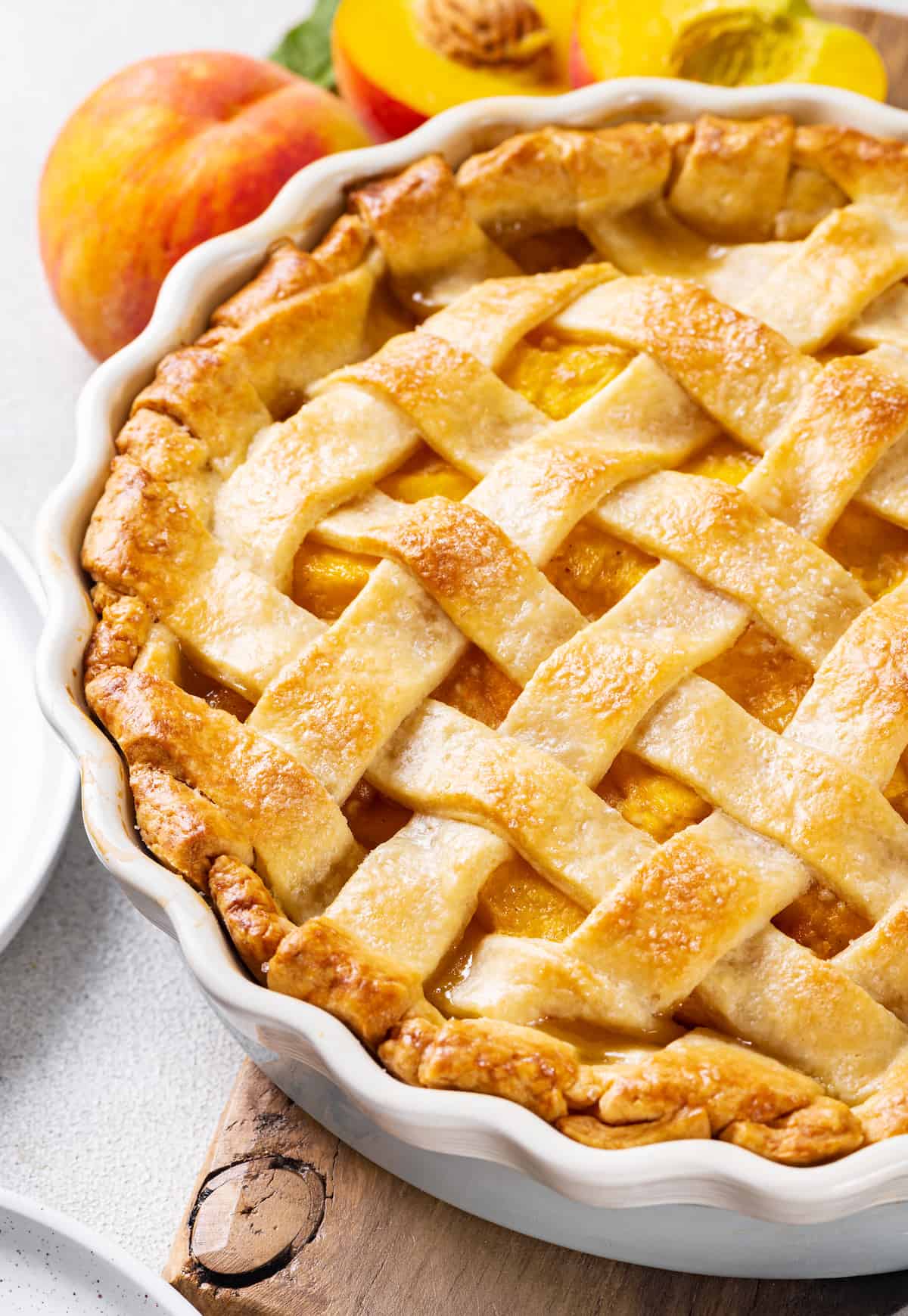 How to Store & Freeze
Leftover peach pie can be stored either at room temperature or in the refrigerator for up to two days. It's best to cover the pie – an overturned bowl works in a pinch. After that, the crust can get mushy.
I do not recommend making this pie more than a day in advance, although the night before can work well. But pie will always have the best overall textures and flavors on the day it's made.
Peach pie can be frozen for up to 3 months. Once it has cooled completely, place it uncovered in the freezer until it's frozen through. Then wrap tightly in plastic wrap, and then foil, and place back in the freezer for up to 3 months. Thaw in the fridge, then bring to room temperature on the counter before serving. If you'd like to warm it up, place foil over the pie (so the crust doesn't get too dark) and reheat at 375° until warm.
More Pie Recipes:
Like this recipe? Save it to Pinterest!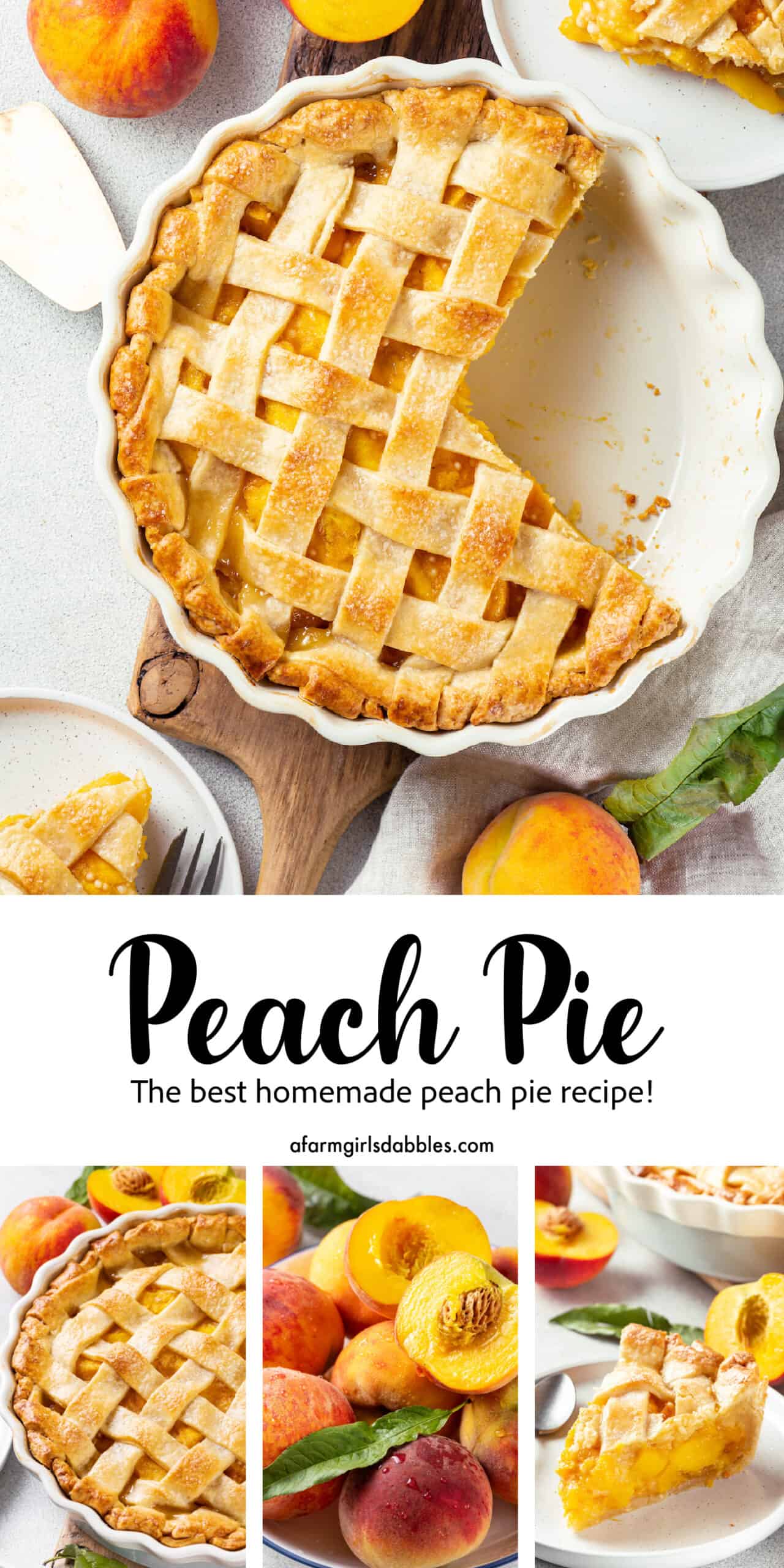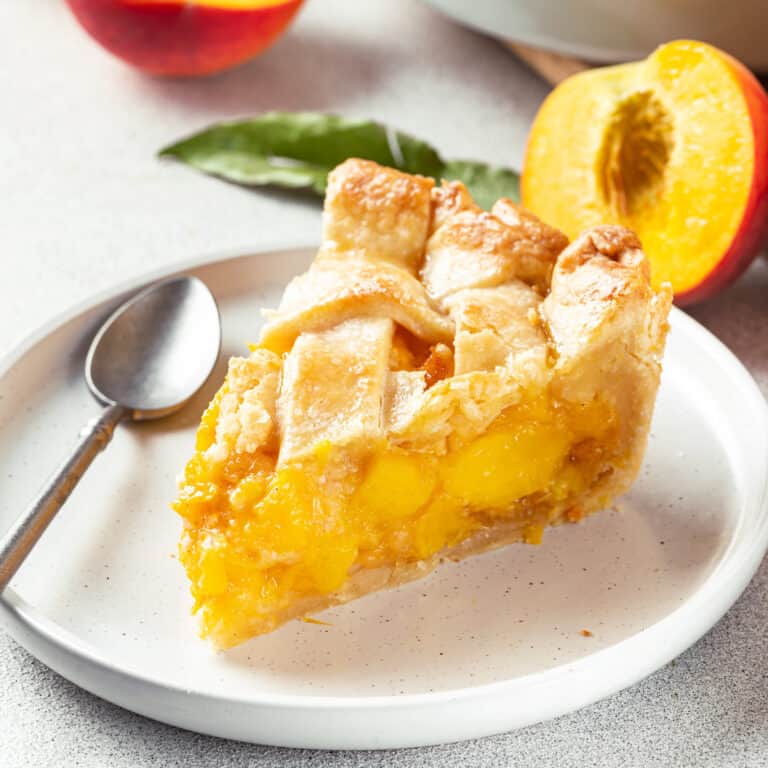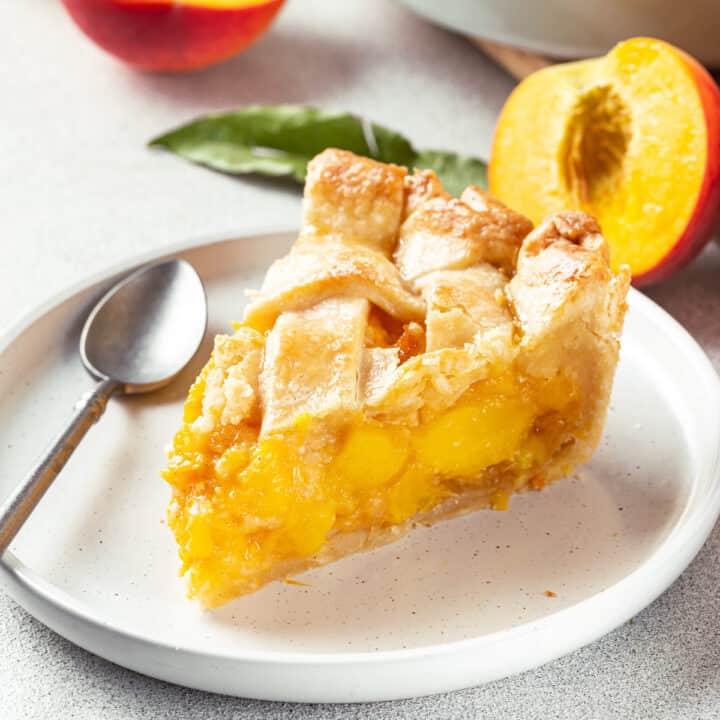 Peach Pie
Yield: serves 8
Prep Time: 10 minutes
Cook Time: 40 minutes
Total Time: 50 minutes
My mom's Peach Pie is stuffed with sweet, juicy peaches that are perfectly spiced with cinnamon and nutmeg. Topped with a flaky, golden brown lattice crust, it's the best peach pie recipe!
Ingredients
5 cups peeled & sliced fresh peaches
1 teaspoon fresh lemon juice
1 cup granulated sugar, plus more for the lattice crust
1 tablespoon all-purpose flour
3½ tablespoons instant tapioca, divided
¼ teaspoon cinnamon
pinch of nutmeg
2 tablespoons unsalted butter
milk for washing lattice crust
pastry for 9″ two-crust pie
Instructions
Roll out bottom crust and sprinkle 1/2 tablespoon tapioca on bottom of crust.
Place sliced peaches in large bowl. Stir in lemon juice, sugar, flour, the remaining 3 tablespoons tapioca, cinnamon, and nutmeg. Add peach mixture to the bottom pie crust. Dot with the butter.
Roll out top crust and cut into strips. Top peaches with lattice crust, weaving the pastry strips as needed. Brush lattice lightly with milk and then sprinkle with additional sugar.
Bake at 375° F for about 40 minutes, or until crust is golden brown and the filling is bubbling a bit. Remove to a baking rack to cool completely and let the filling set. (Although I can't resist cutting a slice while the pie is still just a bit warm!)
Notes
adapted from Betty Crocker's Pie and Pastry Cookbook, 1968 edition
Nutrition Information:
Yield: 8
Serving Size: 1
Amount Per Serving:
Calories: 290
Total Fat: 9g
Saturated Fat: 4g
Trans Fat: 0g
Unsaturated Fat: 4g
Cholesterol: 15mg
Sodium: 114mg
Carbohydrates: 51g
Fiber: 2g
Sugar: 41g
Protein: 3g
Nutrition information is automatically calculated by Nutritionix. I am not a nutritionist and cannot guarantee accuracy. If your health depends on nutrition information, please calculate again with your own favorite calculator.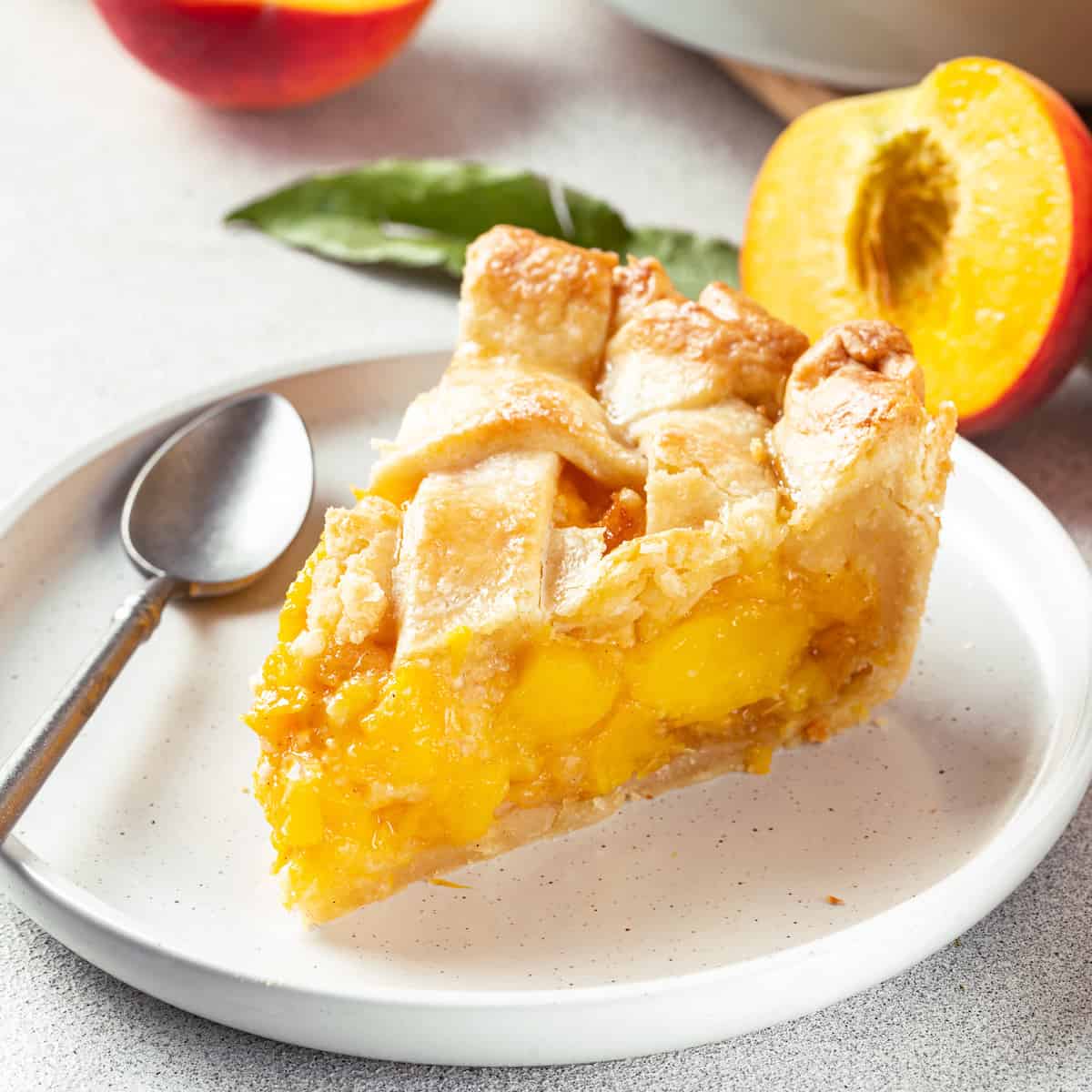 This post was first published in 2010, then updated in 2022.