Sweet Cherry Pie
Made with fresh cherries and an easy homemade pie crust, this Sweet Cherry Pie is one of the best homemade pie recipes you'll ever make. It's bursting with fresh cherry flavor, all wrapped up in a delightfully flaky, buttery lattice crust. You'll never make pie with canned cherries again!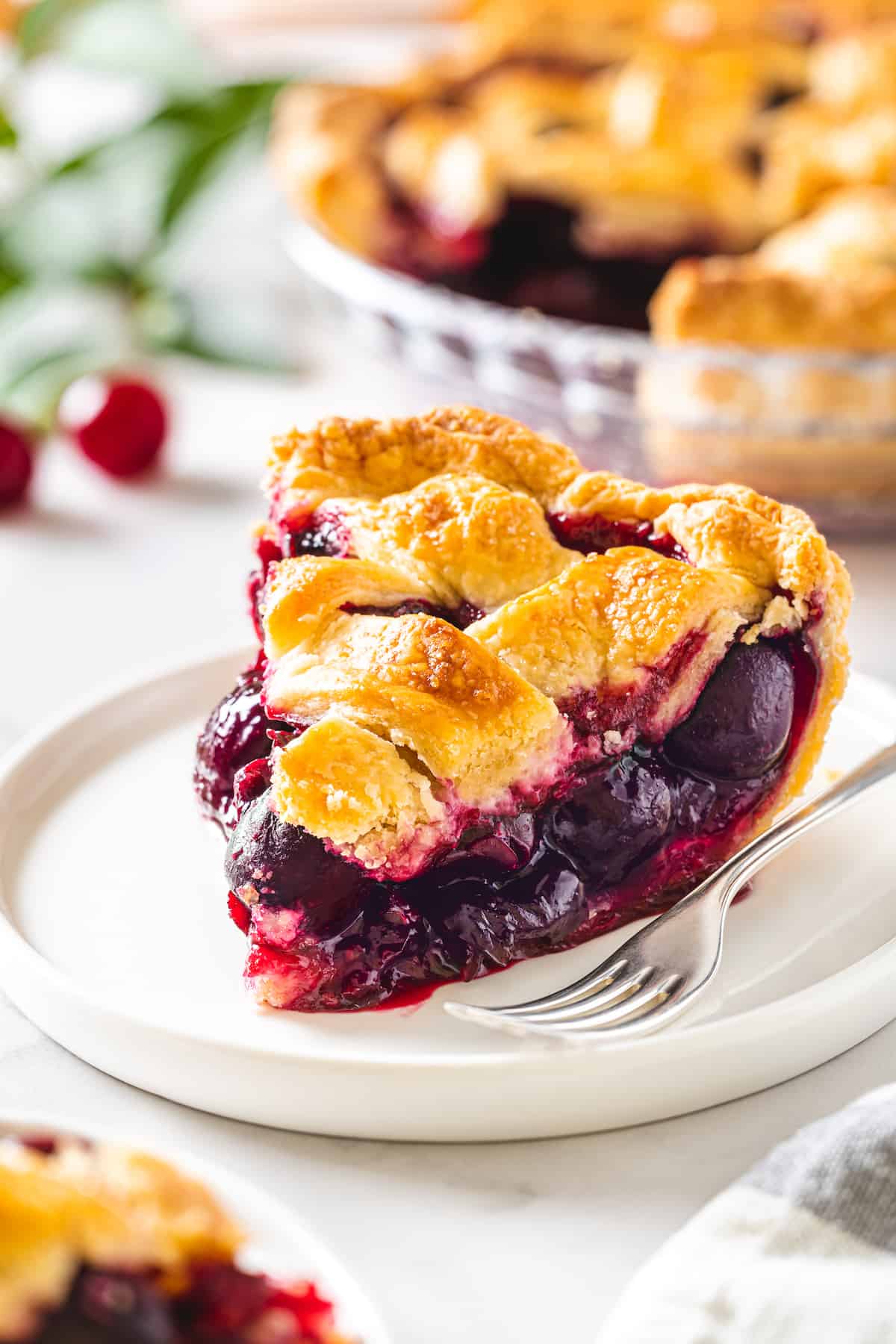 Fresh Cherry Pie with Homemade Crust
This fresh Sweet Cherry Pie was made for summer. Featuring the season's sweetest dark cherries and an easy-to-make crust that's flaky and buttery, it truly is the best cherry pie recipe I've ever had!
Thanks to our daughter Hatti, this homemade cherry pie has been a longtime summer favorite in our family. She first requested we make a fresh cherry pie when she was only 6 years old…and she's now 20!
If you've never made cherry pie with anything but canned cherries, you are in for one fantastic treat. The fresh cherry filling in this pie is thick and syrupy and absolutely luscious. The cherries are pitted and left whole, and soften slightly in the oven – they are bursts of pure happiness in the mouth!
Another summer pie favorite? My mom's peach pie is my all-time favorite pie in the whole wide world!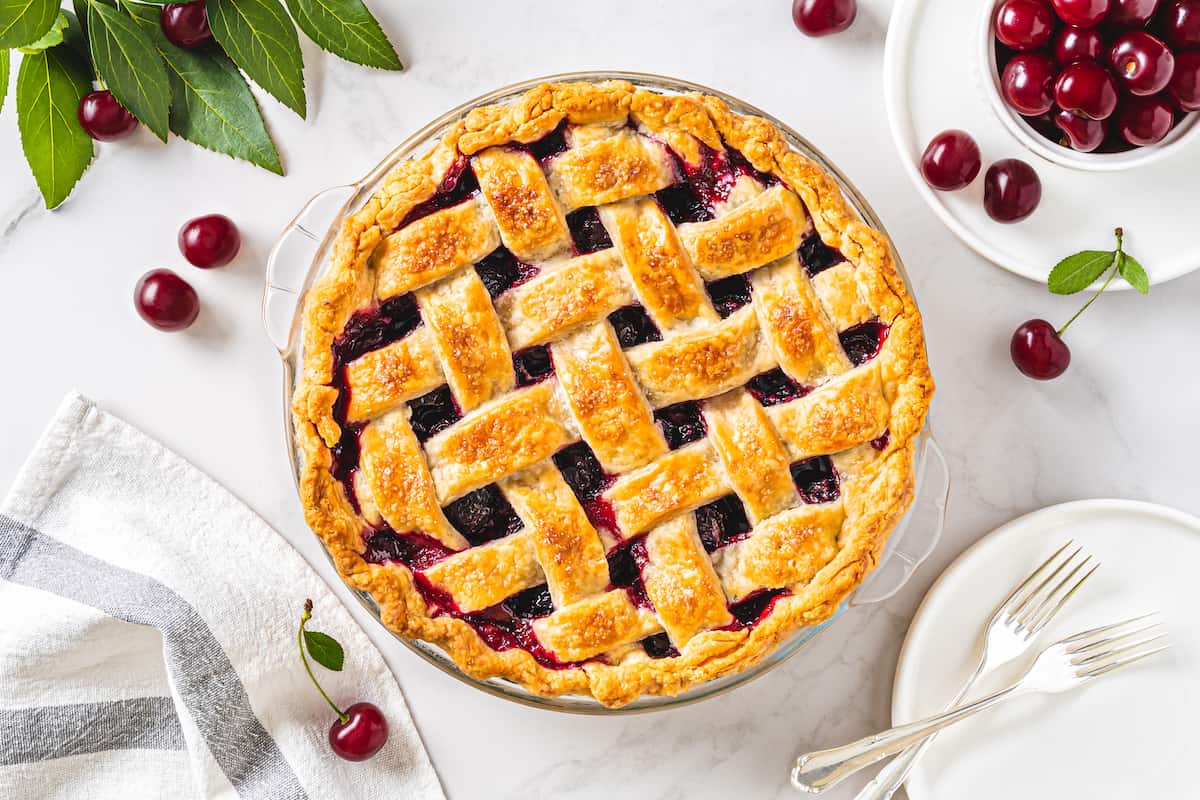 Why This Is The Best Cherry Pie Recipe
I promise you, this is the only cherry pie recipe you will ever need in your life. Here's why.
Made with REAL cherries. Forget those bright red canned cherries swimming in syrup – with this pie you're getting the much better taste of fresh sweet cherries!
Flaky, buttery crust. We're whipping up a simple homemade pie crust for this, which results in the flakiest, most tender, and buttery pie crust.
It's not difficult to make. Any pie is a labor of love, but this fresh cherry pie is definitely one of the easier ones! The filling is simple to make and the pie crust only needs to chill for 30 minutes.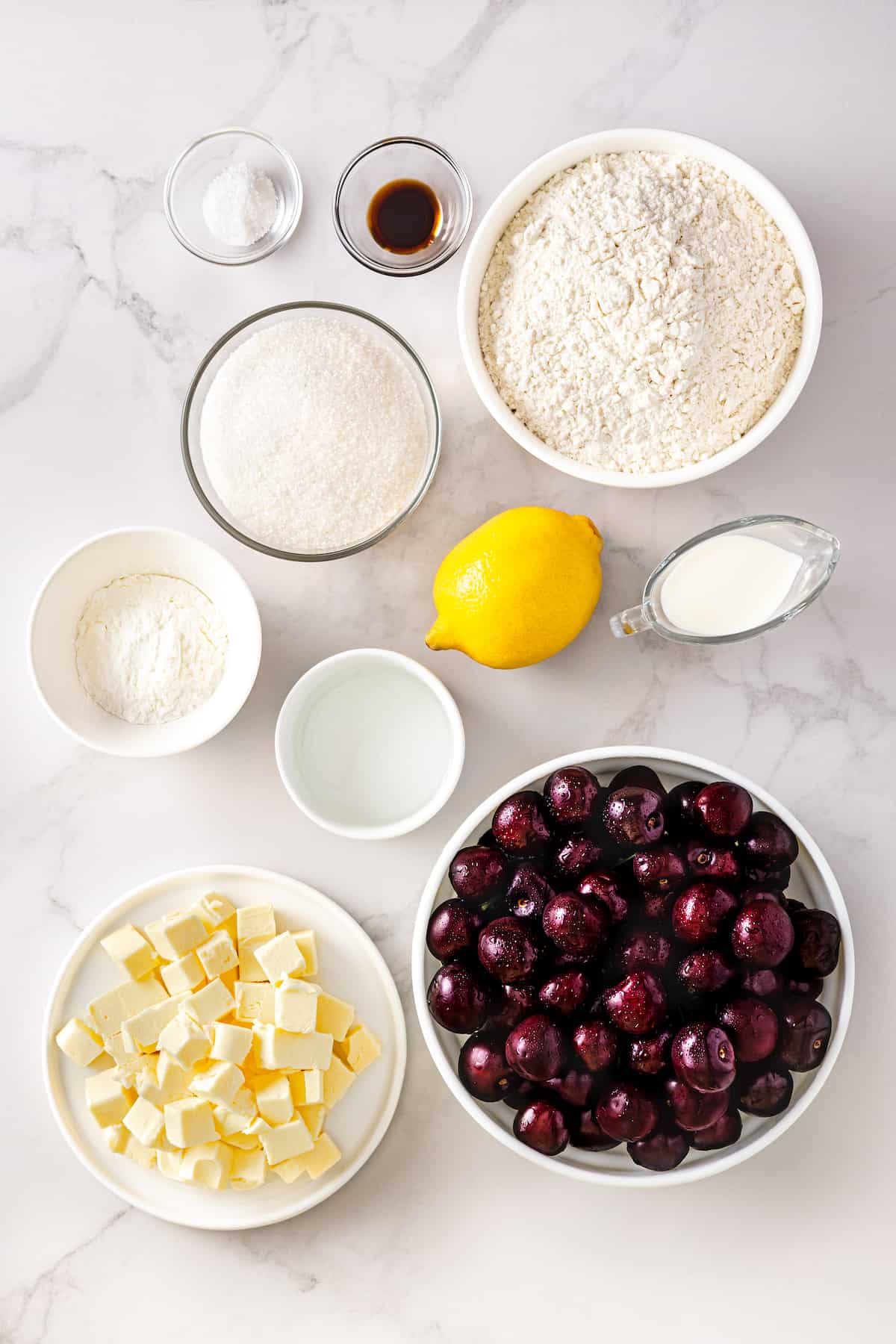 What You'll Need
This cherry pie recipe is made with basic pantry staples, like sugar, flour, and butter. Scroll down to the recipe card for measurements.
For the Crust
All-purpose flour
Granulated sugar
Salt
Unsalted butter – It should be chilled and cut into 1/2″ cubes.
Ice water – Aim to keep the butter, water, and milk very cold. This will create the buttery pockets in the pastry crust, which gives the irresistible flakiness to the crust.
Milk – Used to brush the top crust so it turns a lovely golden brown.
For the Filling
Sugar – It is a sweet pie, after all.
Cornstarch – Thickens the filling.
Salt
Dark sweet cherries – You'll need about 2 pounds of whole unpitted cherries to make the 5 cups of pitted cherries required for this recipe.
Fresh lemon juice
Pure vanilla extract
Unsalted butter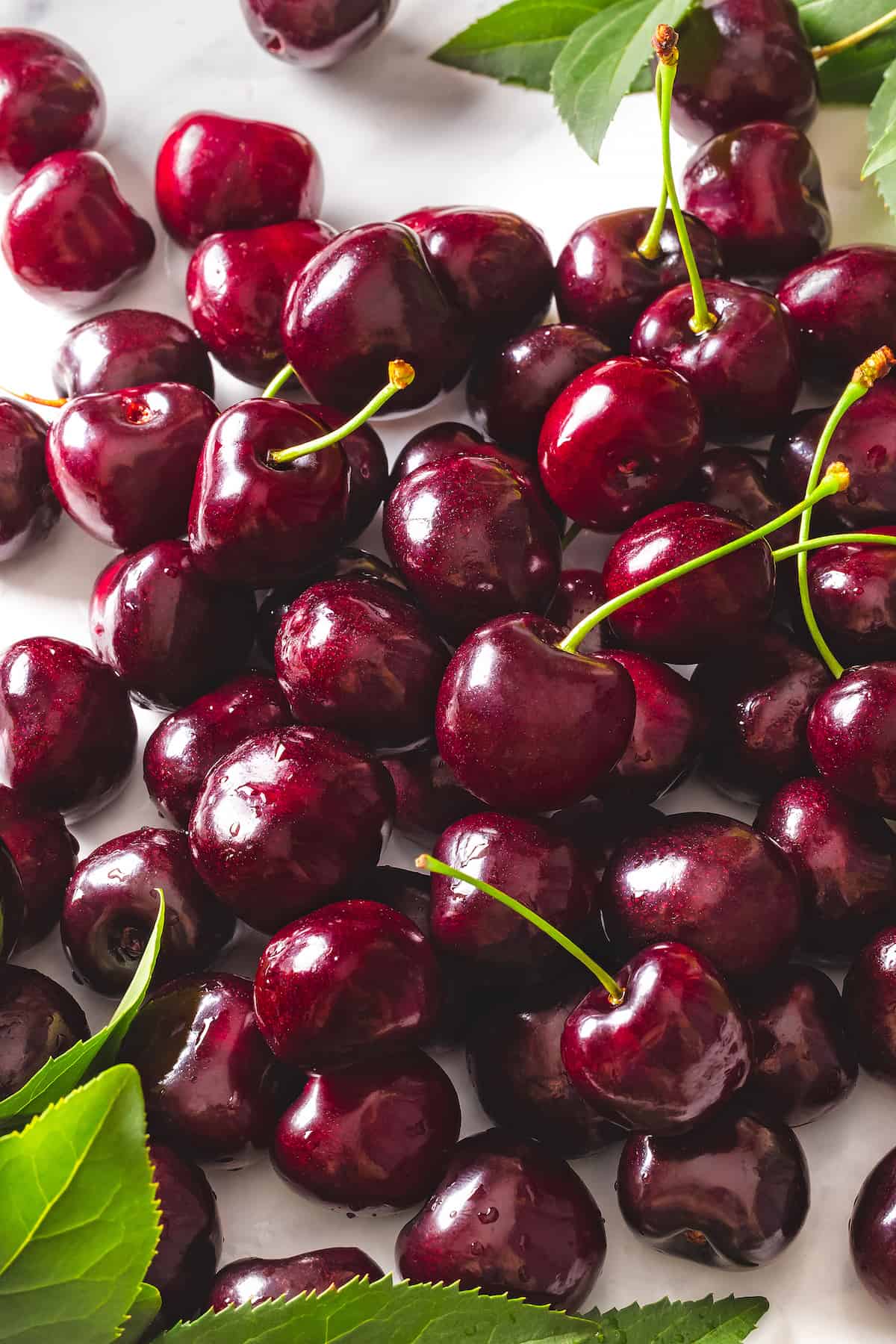 How to Pit Cherries for Pie
Pitting cherries can be a bit time-consuming and tedious, so I definitely recommend using a cherry pitter. It's one gadget well worth having in your kitchen drawer!
However, if you don't have a cherry pitter, there are ways to remove the pit. The easiest way is with a metal straw or decorating tip, which can be used to push the pit out. Be sure to remove the stem first!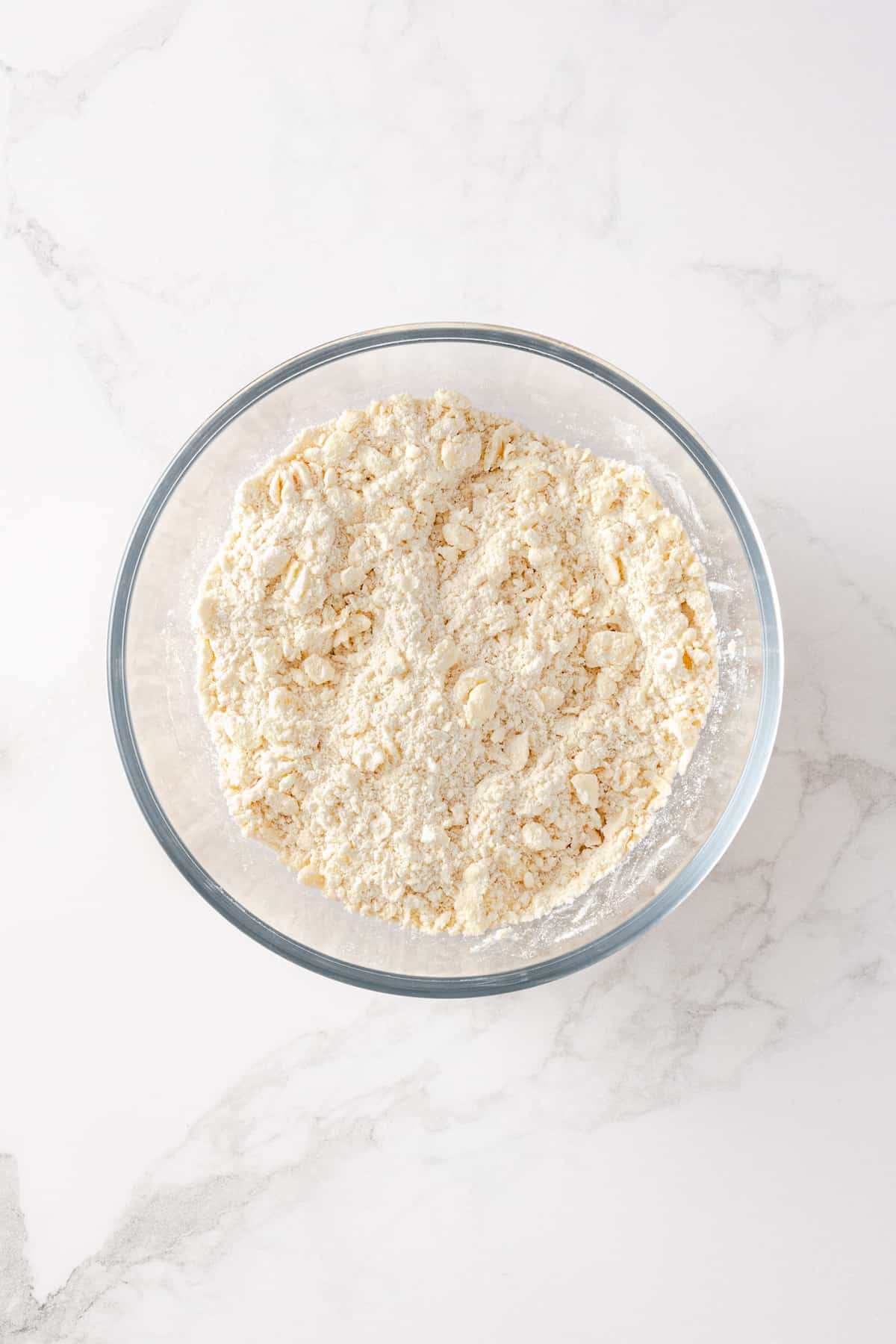 How to Make Homemade Cherry Pie
Your sweet cherry pie is just a few steps away from your enjoyment!
Make the dough. Whisk together flour, a tablespoon of sugar, and salt. Cut in the butter until pea-size clumps form. Mix in the ice water until the dough holds together. Add more water as necessary if the dough is dry.
Chill the dough. Form the dough into two equal-sized balls, flatten them into discs, and wrap each one in plastic. Refrigerate for 30 minutes before rolling out.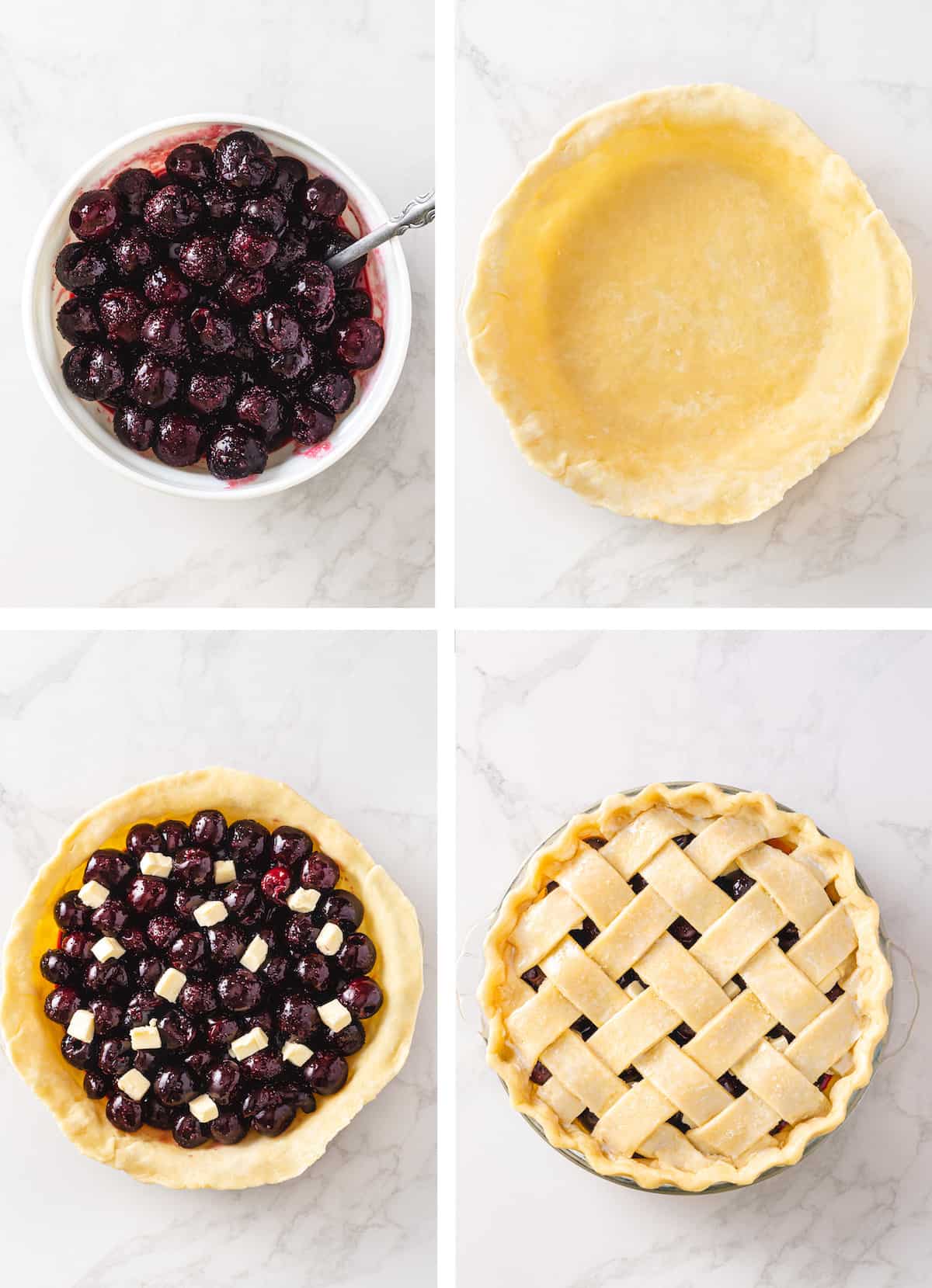 Make the filling. Whisk together the sugar, cornstarch, and salt. Add the cherries, lemon juice, and vanilla.
Roll out the dough. Roll the first dough disc into a 12″ circle and place in a 9″ glass pie dish. Trim the edges. Roll out the second disc and cut ten 3/4″-wish strips.
Assemble the pie. Transfer the cherry filling to the pie crust and dot with butter. Top with the pie strips in a lattice pattern and crimp the edges to seal. Brush the lattice crust with milk and sprinkle with sugar.
Bake. Bake for 15 minutes. Reduce the oven temperature to 375° F and bake until the filling is bubbling. If the crust browns too quickly, add foil loosely over the top.
Serve. Allow the pie to cool completely before slicing. Serve individual pieces with a scoop of vanilla ice cream if desired (so good!).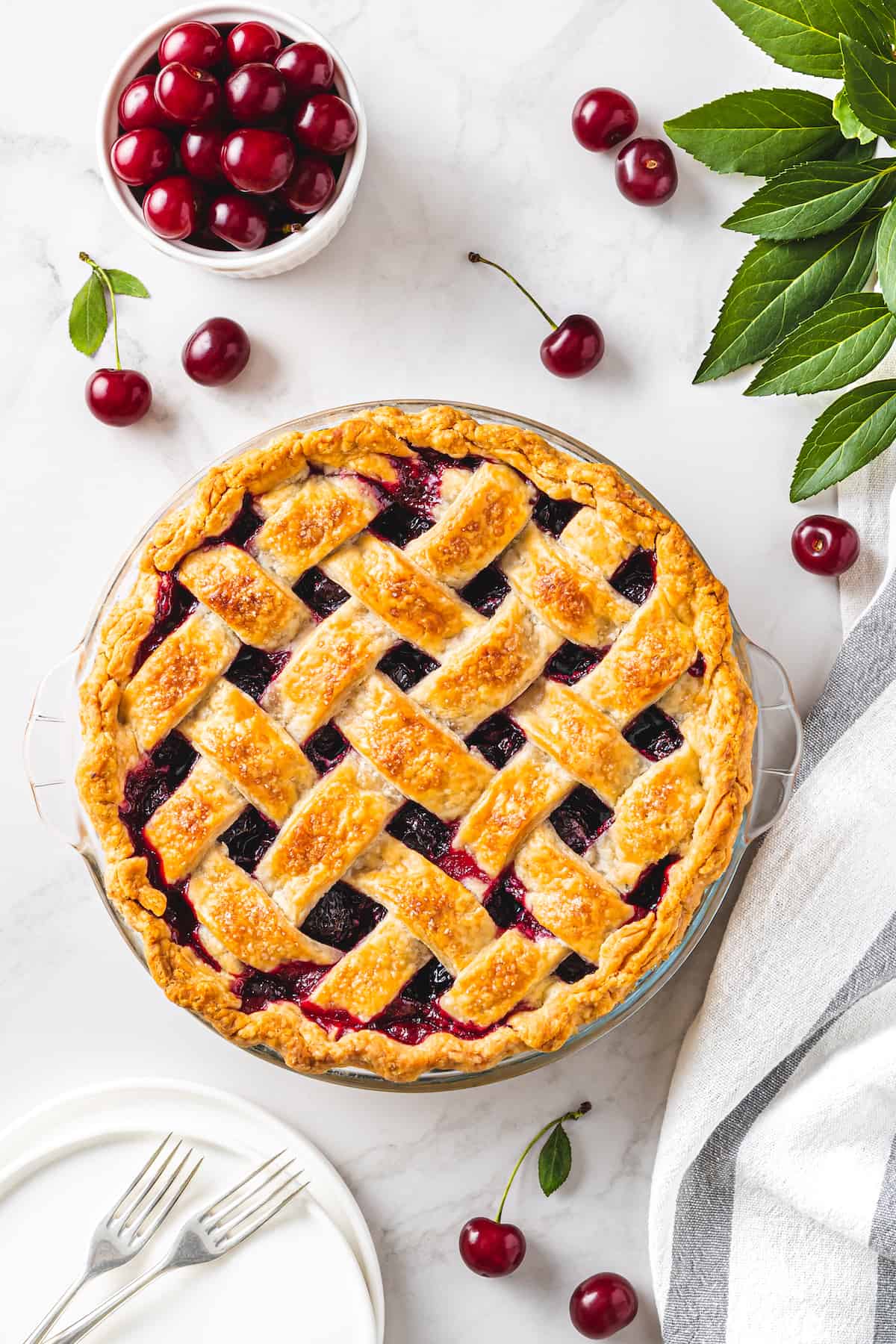 How to Make a Lattice Pie Crust
Never made a lattice crust before? Don't worry – while it looks fancy, it's actually quite easy!
Cut the dough into equal strips. Once the dough is rolled out, cut it into equal 3/4″ thick strips. You can use a ruler if it's helpful. (I keep a dedicated kitchen ruler in our utensils drawer)
Place the longer strips in the center. Some of the strips will be a bit longer and they should go in the center of the pie, with shorter strips on the edges.
Start with the vertical strips. Lay out half of the strips vertically on the pie.
Weave over-under. The easiest way is to fold back every other strip of dough, place a horizontal strip, then switch which vertical strips are folded before adding the next horizontal strip.
Seal the edges. Crimp the edges of the top and bottom pie crust together to seal the pie.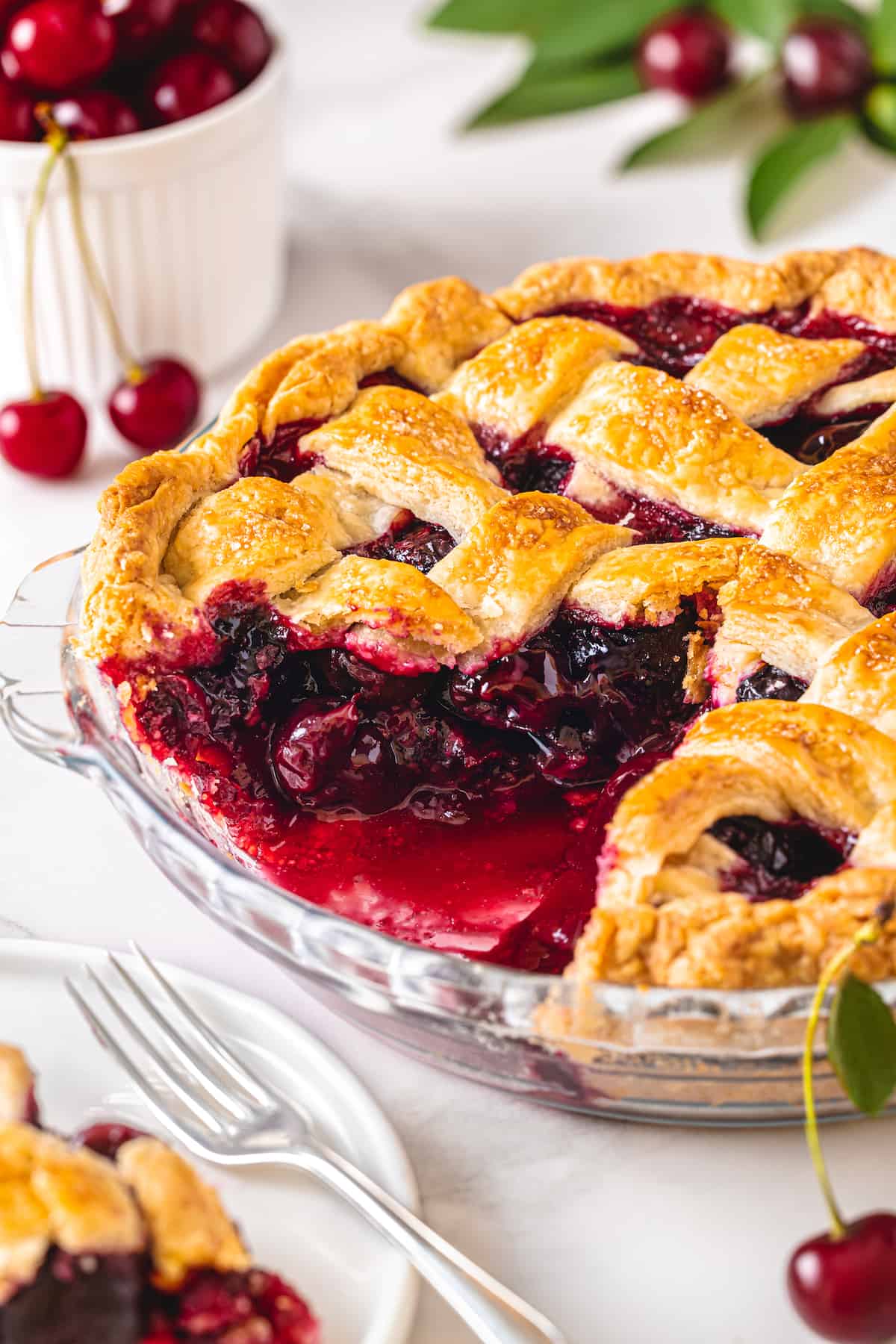 Tips for Success
Here are a few tips and suggestions for making the best homemade cherry pie.
Make the dough in advance. If you know you'll be short on time, you can make the pie crust dough up to 2 days in advance.
Seal the crust edges. Once you've completed your over-under lattice pattern, be sure to wrap the part of the bottom crust hanging over the edges over the strips and press down/crimp them to avoid the cherry filling leaking out the sides.
Don't burn the pie crust edges. If it looks like the pie crust is browning faster than the insides are cooking, place foil loosely over the pie.
Cool before slicing. The pie should cool completely (or very close to it) before slicing, to allow the filling to set up. Otherwise, it will run everywhere when you try to slice it.
Serving Suggestions
My favorite way to enjoy this sweet cherry pie is with a big scoop of vanilla ice cream on top. (In fact, it's my favorite way to enjoy any pie!) Of course, if whipped cream is your preference, you can use that too.
Cherry pie is best served at room temperature, so if I store it in the fridge, I'll set it out on the counter for a bit before serving. I also admit to cutting into the pie when it's still just a bit warm, but mostly set. I can't resist fresh fruit pies that are still warm from the oven!!
How to Store & Freeze
Homemade cherry pie can stay at room temperature for 3 days or in the fridge for 5 days. In either case, cover the top tightly with plastic wrap.
This pie can also be frozen for up to 3 months. Allow the baked pie to cool completely, then wrap in plastic wrap followed by a layer of heavy-duty foil. Thaw overnight in the fridge, then bring to room temperature on the counter before serving.
More Pie Recipes:
Like this recipe? Save it to Pinterest!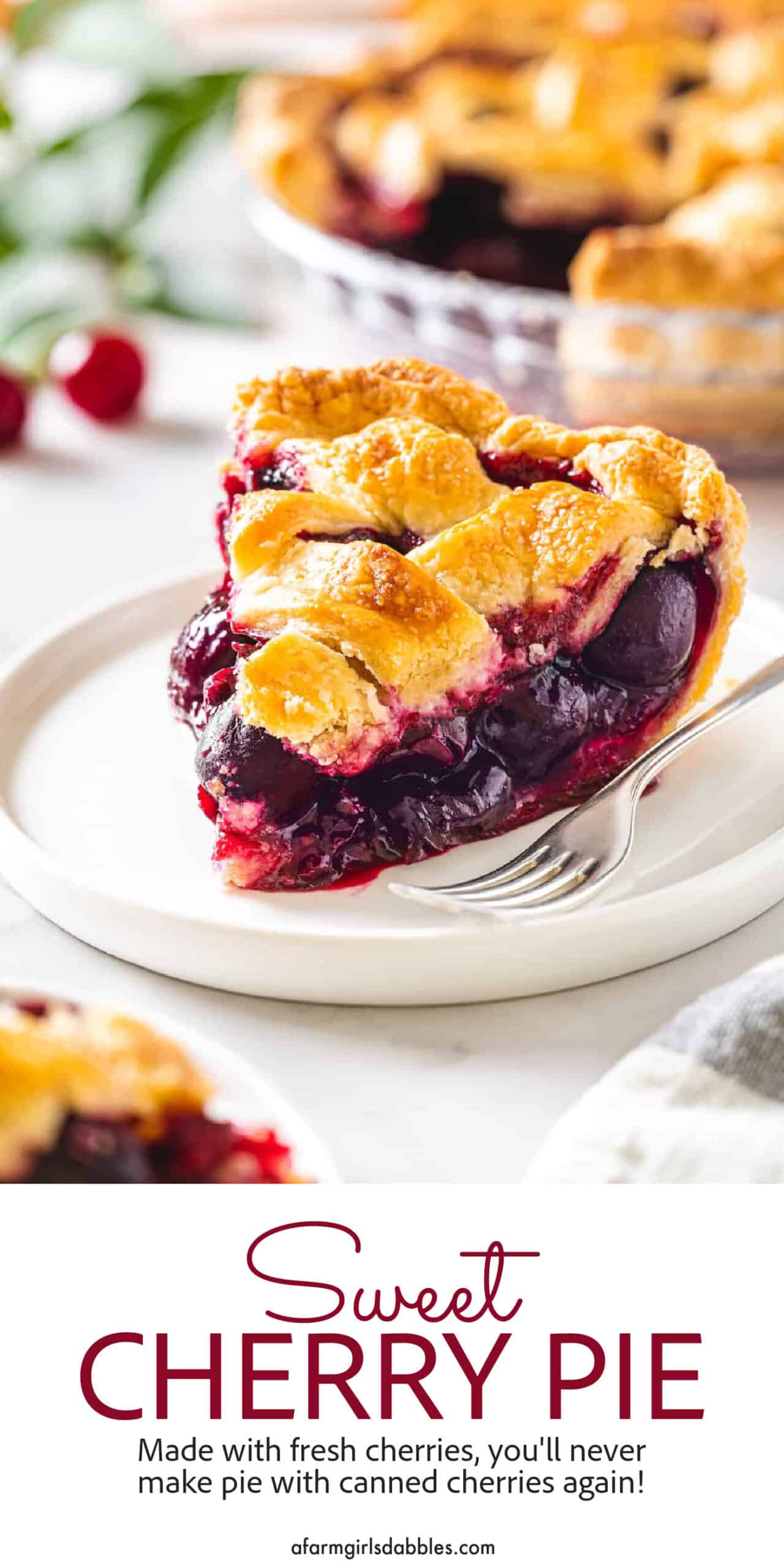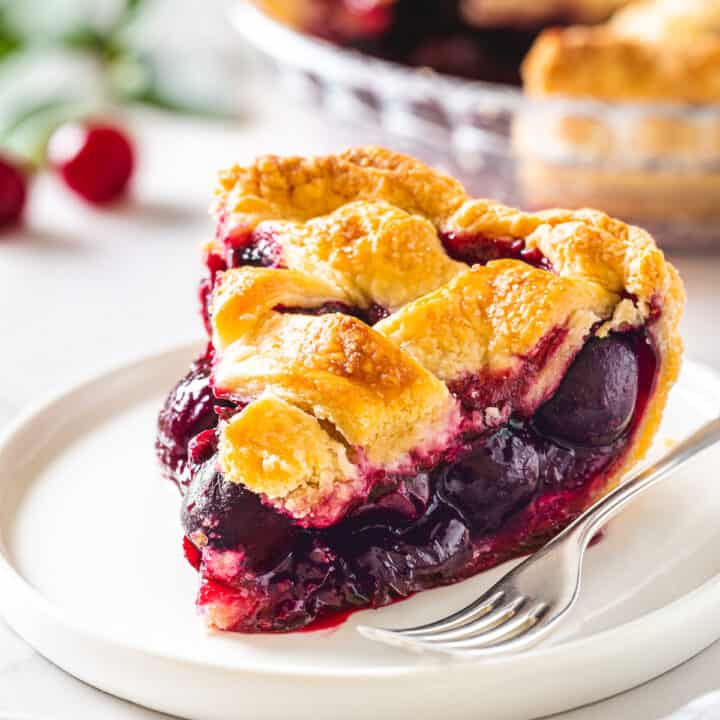 Sweet Cherry Pie
Yield: 12 servings
Prep Time: 30 minutes
Cook Time: 1 hour 15 minutes
Additional Time: 30 minutes
Total Time: 2 hours 15 minutes
Made with fresh cherries and an easy homemade pie crust, this Sweet Cherry Pie is one of the best homemade pie recipes you'll ever make. It's bursting with fresh cherry flavor, all wrapped up in a delightfully flaky, buttery lattice crust. You'll never make pie with canned cherries again!
Ingredients
FOR THE CRUST:
2½ cups unbleached all-purpose flour
2 tablespoons granulated sugar, divided
¾ teaspoon kosher salt
1 cup (2 sticks) chilled unsalted butter, cut into 1/2″ cubes
5 tablespoons (or more) ice water
milk for brushing lattice crust
FOR THE FILLING:
1 cup sugar
3 tablespoons cornstarch
¼ teaspoon kosher salt
5 cups whole pitted dark sweet cherries (about 2 pounds whole unpitted cherries)
3 tablespoons fresh lemon juice
½ teaspoon pure vanilla extract
2 tablespoons unsalted butter, cut into 1/2″ cubes
Instructions
For the crust: Whisk flour, 1 tablespoon of the sugar, and salt in large bowl. Add butter and cut in with pastry knife or fingers until small pea-size clumps form.
Add 5 tablespoons ice water; mix lightly with fork until dough holds together when small pieces are pressed between fingertips, adding more water by teaspoonfuls if dough is dry. Gather dough together and divide into 2 pieces. Form each piece into a ball, then flatten into disks and wrap separately in plastic. Refrigerate at least 30 minutes. (This can be done 2 days ahead.) Keep chilled. Let dough soften slightly before rolling out.
For the filling: Position rack in lower third of oven and preheat to 425° F. Whisk 1 cup sugar, cornstarch, and salt in medium bowl to blend. Stir in cherries, lemon juice, and vanilla; set aside.
Roll out 1 chilled dough disk on floured surface to 12″ round. Transfer to 9″ glass pie dish. Trim dough overhang to 1/2″. Roll out second dough disk on floured surface to 12″ round. Using large knife or pastry wheel with fluted edge, cut ten 3/4″-wide strips from dough round.
Transfer cherries filling to dough-lined dish, mounding slightly in center. Dot with butter. Arrange dough strips atop filling, forming lattice; trim dough strip overhang to 1/2″. Fold bottom crust up over ends of strips and crimp edges to seal. Brush lattice crust (not edges) with milk. Sprinkle lattice with remaining 1 tablespoon sugar.
Place pie on rimmed baking sheet and bake 15 minutes. Reduce oven temperature to 375° F. Bake pie until filling is bubbling and crust is golden brown, covering edges with foil collar if browning too quickly, about 50 to 60 minutes longer. Transfer pie to rack and cool completely. Cut into wedges and serve with vanilla ice cream.
Notes
Adapted from bon appetit magazine, June 2008 edition
Nutrition Information:
Yield: 12
Serving Size: 1
Amount Per Serving:
Calories: 250
Total Fat: 4g
Saturated Fat: 2g
Trans Fat: 0g
Unsaturated Fat: 1g
Cholesterol: 9mg
Sodium: 120mg
Carbohydrates: 51g
Fiber: 2g
Sugar: 28g
Protein: 4g
Nutrition information is automatically calculated by Nutritionix. I am not a nutritionist and cannot guarantee accuracy. If your health depends on nutrition information, please calculate again with your own favorite calculator.
This post was first published in 2010 and then updated in 2022.