Peanut Butter Pie with Mississippi Mud Fudge
This post may contain Amazon or other affiliate links. As an Amazon Associate I earn from qualifying purchases.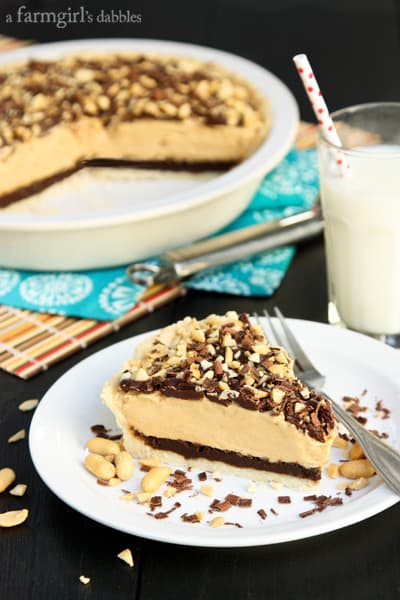 Hello, hello! And welcome to the new home of a farmgirl's dabbles! Isn't it lovely?! Thanks to the uber talented team (Lindsay & Taylor) at Purr Design, we now have this fabulous new space to call our own. And I couldn't be more thrilled!
Please take some time to look around the place. We're still wiping off some of the construction dust, and have a bit to tidy up. But mostly, everything's in great shape. If you can't find something, just holler!
And then, my friends…sink your eyes upon a piece of this Peanut Butter Pie with Mississippi Mud Fudge. It's one of those treats that will have everyone fighting for the last piece. Well, at least that's what happened around here!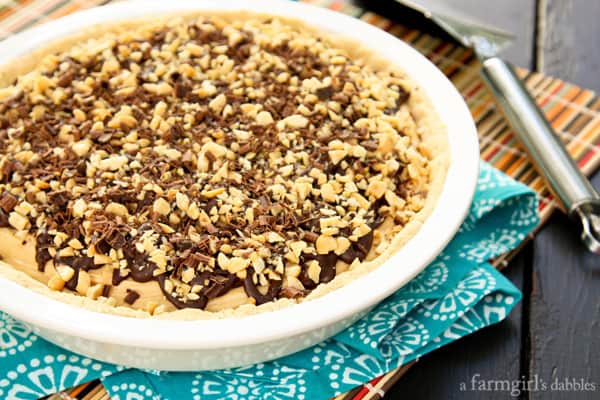 Peanut butter pie has been on our agenda since July, when I took our girls and one of their friends to pick blueberries over in Wisconsin. As is our tradition when we're done picking berries, we headed to the quaint little village of Stockholm for lunch on the shady patio at Bogus Creek Cafe & Bakery. And then we walked across the street to The Stockholm Pie Company, where the pies are made fresh each day and completely from scratch, with flaky tender crusts and scrumptious fillings. Just like Mom makes. Really, they're that good.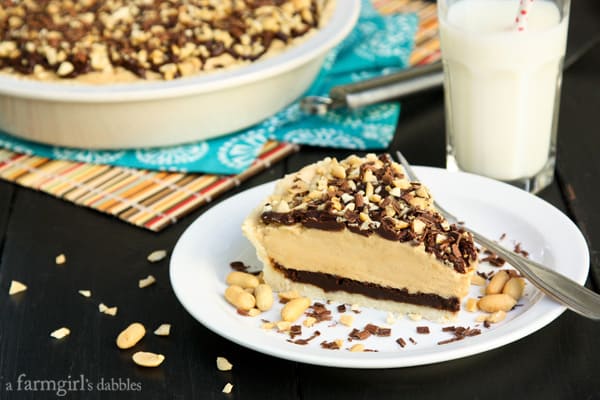 It was there that we shared a gigantic piece of their amazing peanut butter fudge pie this past summer. And it was then that we fell in love, and knew we needed to recreate this masterpiece at home.
I found a recipe for my grandma's peanut butter pie in my recipe box, so that's what my own peanut butter filling is based upon. It's thick and creamy, and oh so wonderful. Then I added a layer of dark fudgy brownie below it and, unlike the pie in Stockholm, added a good amount of espresso powder to the brownie for a nod to Mississippi mud pie. Oh how I love that chocolate and coffee flavor combo!
The pie is baked up in an easy pressed-in crust and topped with a heavy drizzle of chocolate glaze, and then a sprinkling of salty chopped peanuts and dark chocolate curls. I'm really not kidding when I said there was a battle for the last piece. This recipe's a keeper!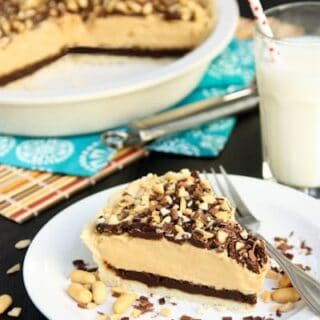 Peanut Butter Pie with Mississippi Mud Fudge
Yield: 1 pie
Prep Time: 25 minutes
Cook Time: 36 minutes
Total Time: 1 hour 1 minute
It's one of those treats that will have everyone fighting for the last piece.
Ingredients
for the crust:
1.25 c. all-purpose flour
1/4 c. sugar
pinch of salt
1/2 c. unsalted butter, at room temperature
for the mississippi mud fudge brownie layer:
2 T. unsalted butter, diced
1 oz. unsweetened chocolate, chopped
1/3 c. sugar
1 large egg
1 tsp. instant espresso powder
1 tsp. pure vanilla extract
1/8 tsp. kosher salt
3 T. all-purpose flour
for the peanut butter layer:
1 c. heavy whipping cream
8 oz. cream cheese, at room temperature
1 c. creamy peanut butter
1 T. unsalted butter, softened
1 c. powdered sugar
1 tsp. pure vanilla extract
1/8 tsp. kosher salt
to finish the pie:
3 T. heavy whipping cream
1/2 c. semi-sweet chocolate chips
1/4 c. chopped salted peanuts
1 oz. dark chocolate curls (use a vegetable peeler to shave chocolate bar into curls)
Instructions
for the crust:
Preheat oven to 325° F.
Combine the flour, sugar, and salt in a medium bowl. With a pastry blender, cut in the butter until crumbly. Then quickly mix with hands until it forms a dough. Don't worry if it seems a bit dry.
Press dough evenly onto the bottom and up the sides of a 9″ pie pan. Aim for a uniform thickness on all surfaces and don't press the dough in too hard.
Bake the crust for 15 to 18 minutes, or just until lightly browned. Set on wire rack to cool.
for the mississippi mud fudge brownie layer:
Leave the oven set to 325° F.
In a small saucepan over low heat, stir the butter and chocolate until chocolate is melted. Remove from heat and whisk in the sugar, and then the egg. Then add the espresso powder, vanilla, and salt, and whisk again. Sift the flour over the chocolate mixture and stir to blend well. Spread evenly over pie crust and return pan to oven.
Bake for 18 minutes, until the chocolate layer is slightly puffed and dry-looking. Let cool completely on a wire rack.
for the peanut butter layer:
In a medium bowl with an electric mixer, whip the cream until stiff. In a separate medium bowl, beat the cream cheese until smooth and then beat in the peanut butter and butter. Add the powdered sugar, vanilla, and salt, and mix until smooth.
Gently fold in the whipped cream until the mixture is consistent. Spread peanut butter mixture evenly over the Mississippi mud fudge brownie layer.
to finish the pie:
Create a chocolate glaze by combining cream and chocolate chips in a small saucepan over medium-low heat. Stir constantly until chocolate is melted and mixture is smooth.
Cool for 10 to 20 minutes, stirring occasionally until glaze is thickened, but still pourable. Stir chocolate glaze until completely smooth, then drizzle over the top of the peanut butter layer. Immediately, sprinkle with chopped peanuts and dark chocolate curls.
Place pie in refrigerator to set. It is best to let it chill for at least two hours before serving.
Notes
From a farmgirl's dabbles, with help from Grandma Renelt's recipe box and inspiration from The Stockholm Pie Company in Stockholm, WI.
Nutrition Information:
Yield: 12
Serving Size: 1
Amount Per Serving:
Calories: 585
Total Fat: 42g
Saturated Fat: 21g
Trans Fat: 0g
Unsaturated Fat: 18g
Cholesterol: 90mg
Sodium: 248mg
Carbohydrates: 45g
Fiber: 3g
Sugar: 27g
Protein: 10g
Nutrition information is automatically calculated by Nutritionix. I am not a nutritionist and cannot guarantee accuracy. If your health depends on nutrition information, please calculate again with your own favorite calculator.
We participate in the Amazon Services LLC Associates Program, an affiliate advertising program designed to provide a means for us to earn fees by linking to Amazon.com and affiliated sites. See our
disclosure policy
for more info.