Easiest Roasted Red Potatoes Ever!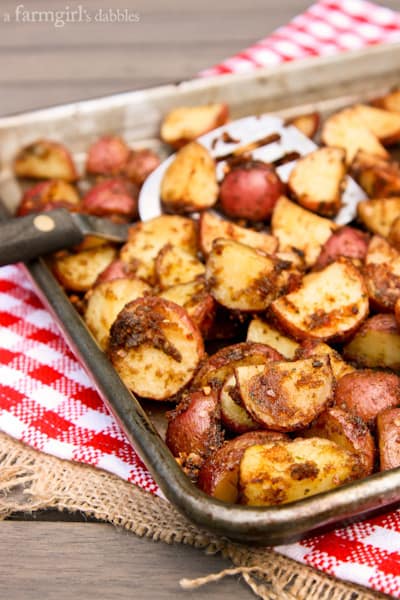 OhMyGoodness, these roasted red potatoes are awesome good! And so easy. So easy, in fact, that my post today doesn't even include a recipe. Whaaaaaat?! They truly are the Easiest Roasted Red Potatoes Ever. And I'm so excited to tell you about this new product from my friends at Black Gold Farms!
Do you remember when I visited Black Gold Farms last year during their potato harvest? I was completely impressed to learn how the Halverson family has grown their fourth generation family-owned business, from its roots in North Dakota, to a global company. And I'm thankful to them for sponsoring this post today, so I can tell you about how they've recently teamed up with McCormick to provide the easiest, most delicious, roasted potatoes ever!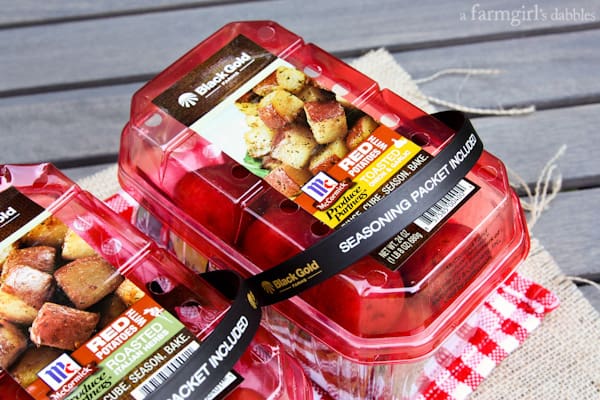 I don't know exactly what I was expecting when I was told that some of these new roasted red potato packs would be delivered to our doorstep. But I will say that as soon as I saw them, I was pleasantly surprised. Impressed, even. Such a sweet little clamshell package, complete with everything you need to make a pan of really awesome roasted potatoes.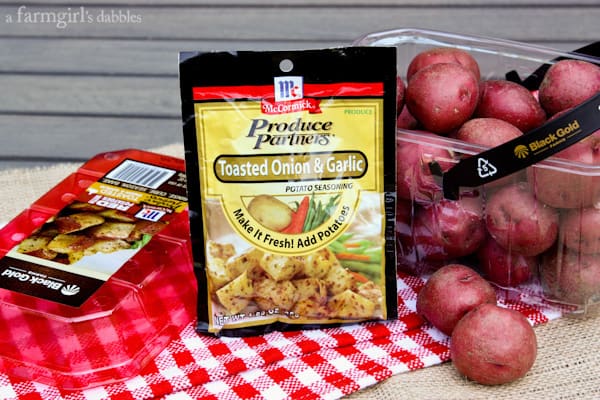 Inside the pack are small fresh red potatoes from Black Gold Farms and a McCormick seasoning packet. Instructions are included, but it basically amounts to this… Rinse. Cube. Season. Bake. It just couldn't be more simple. You can read more about them at Better With Reds, a site dedicated to the goodness of red potatoes.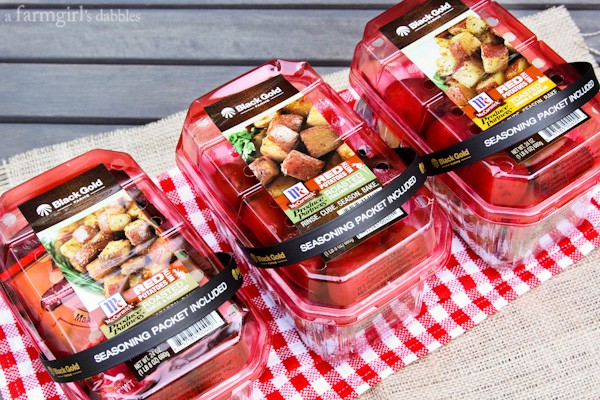 The packs are available in three flavors:
Roasted Garlic and Rosemary
Roasted Italian Herbs
Roasted Onion and Garlic
They are the perfect quick and easy side dish, full of flavor and beautifully crispy. It would be hard to choose a favorite. My family loves them all!
My husband was the first to make a pan of these perfectly seasoned potatoes, and had them roasted and ready to eat as I got home from work one evening. I've told you before how great Blake is, right?! When I walked into the house, the aroma from the kitchen was amazing. And Blake's first words were, "These potatoes taste awesome!". While our family ate supper together, we all came to that very same conclusion, too. They certainly are awesome!
After supper, as I held one of the potato packs in my hands, all I could say was how genius the whole thing is. Black Gold Farms and McCormick really have a wonderful product here. It's so simple. There's no picking up multiple items at the store to accomplish a wonderful pan of fresh roasted potatoes. They're ultra easy to make; a pan comes together in just a few minutes. And they are just plain delicious.
My friends, keep your eyes peeled at the grocery store for these red potato packs from Black Gold Farms and McCormick. They are a fairly new product, still rolling out to stores, and mostly available right now in about 30-some states across the southern Midwest. I'm definitely waiting for them to venture north to Minnesota. Once you get the chance to try them, please report back to me. I'd love to know what you think!
---
Disclosure: A big thank you to Black Gold Farms for sponsoring this post and for providing the giveaway prize. I only work with brands I love – and I'm proud to work with the Halversons, a farm family from Grand Forks, ND, and their business with fresh red potatoes. All opinions are always my own.