Dark Chocolate Peppermint Buttercream Cookies
These Dark Chocolate Peppermint Cookies are perfect for Christmas or when you're just feeling festive! Chocolate shortbread cookies are filled with peppermint buttercream for the ultimate holiday cookie.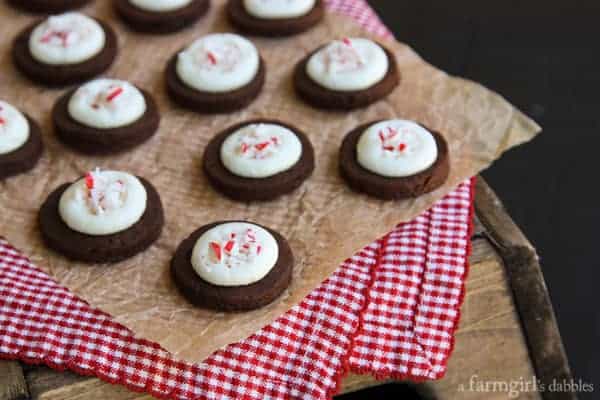 An Easy Chocolate Peppermint Cookie Recipe
As I write this post, I'm finding two things very hard to believe:
That Christmas is just around the corner, and it's time to start my holiday baking.
And we're already on Kitchen Conversation #4 with Land O'Lakes, our final hurrah for 2013!
Where did this year go?!
Being a part of the Kitchen Conversations group with Land O'Lakes this past year has been an amazing experience. It's been rewarding to work alongside so many great people, all of us sharing our love of butter. To see what we've been up to this past year and to find some great recipes using butter, check out the hashtag #KitchnConvo on Twitter, Pinterest, and Instagram.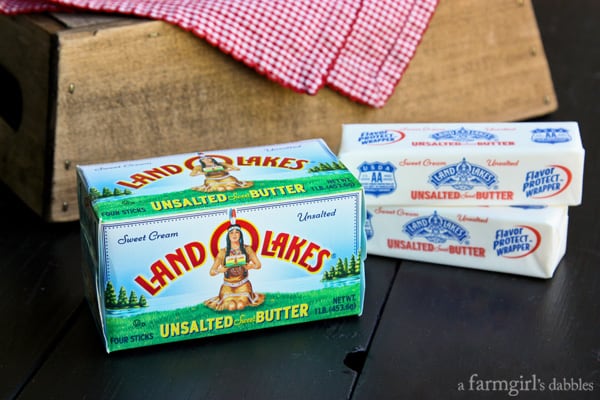 Our fourth Kitchen Conversation is all about baking and entertaining for the holidays. Where would I be without Land O Lakes® Butter for all my Christmas treats?!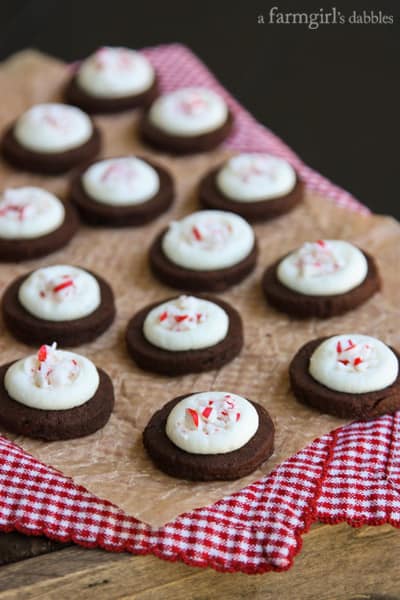 I created these Dark Chocolate Espresso Shortbread Bites with Peppermint Buttercream with adult taste buds in mind (although it surely didn't deter our 11-year-old from wanting them!).
I love when my husband and I are able to gather with friends for a relaxing evening during the always hectic holidays, sans kids, to enjoy each other's company. Those few precious hours together have a way of highlighting the magic of this wonderful time of year and the special relationships between us. We are left feeling warmed and blessed, and equipped to brave whatever crazy scheduling the rest of the holiday season may bring our way.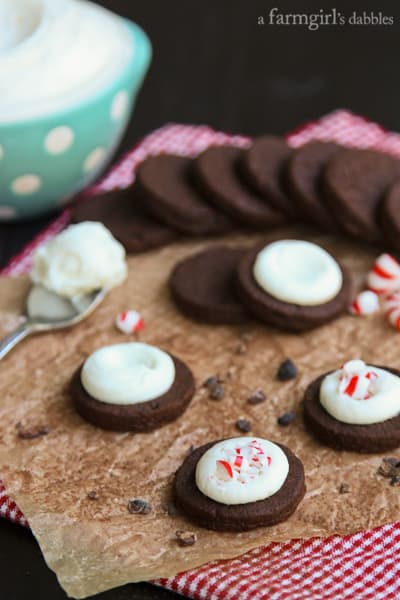 This bite-sized cookie is a beauty.
On the bottom is a small round of buttery shortbread flavored with cocoa and a nice amount of espresso powder. Adding to that goodness is the lovely, lovely flavor and soft crunchy texture of cacao nibs, which are pure chocolate deliciousness with a side of fun. The cookies are topped with a fluffy little dollop of buttercream frosting, generous with peppermint flavoring (our kids absolutely loved this frosting!). And a sprinkle of pretty crushed peppermint candies tops it all off.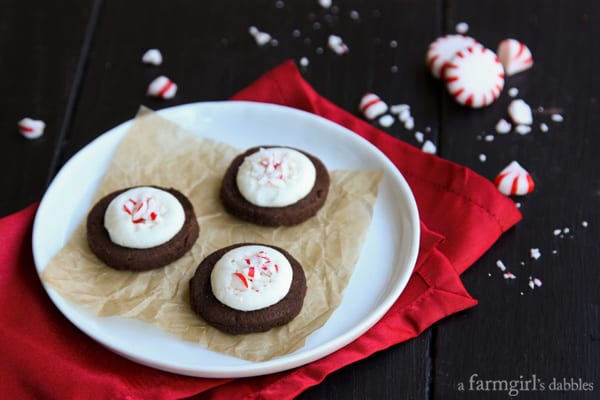 These festive little cookies, full of big rich flavors, are perfect for celebrating the twinkle of the holidays. Make up a pretty tray of these shortbread bites, put on your favorite holiday music, and invite your friends over for an evening. 'Tis the season!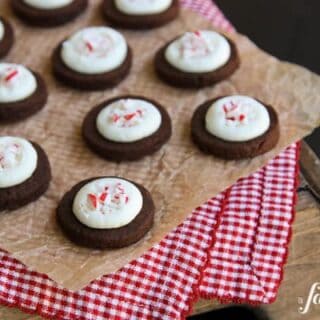 Dark Chocolate Peppermint Shortbread Cookies
Yield: 60
Prep Time: 1 hour
Cook Time: 12 minutes
Additional Time: 1 hour
Total Time: 2 hours 12 minutes
These dark chocolate peppermint cookies elevate shortbread to the next level! A perfect cookie recipe for Christmas or for when you're feeling festive.
Ingredients
for the dark chocolate espresso shortbread bites:
1 c. all-purpose flour
3/4 c. unsweetened cocoa powder
2 tsp. espresso powder
1 tsp. kosher salt
1/4 c. cacao nibs, crushed
1/2 c. sugar
1 tsp. pure vanilla extract
for the peppermint buttercream:
1 3/4 c. powdered sugar
1 T. heavy cream
2 tsp. pure peppermint extract
crushed peppermint candy
Instructions
for the dark chocolate espresso shortbread bites:
In a medium bowl, whisk together flour, cocoa powder, espresso powder, salt, and cacao nibs. Set aside.
In the bowl of a stand mixer, cream together the butter and sugar on medium speed for 5 minutes, until pale and fluffy, scraping down the bowl as needed. Add vanilla and mix to incorporate. Add half the flour mixture and mix on low speed until incorporated. Scrape down the sides of the bowl, add remaining flour mixture, and mix again. Then turn mixer up to medium speed and mix for 2 minutes.
Lay a 15" square piece of parchment paper on a baking sheet and place shortbread dough in the center. The dough will be very soft (buttery!). From the bottom side of the parchment (so your hands don't touch the dough), gently form the dough into a rough shaped ball. Top dough with another 15" square piece of parchment and use the bottom of a pan to gently press down on the parchment covered dough, until dough is 1/4" thick and about 11" in diameter. Use a rolling pin to gently even out any difference in thickness. Place pan with dough into refrigerator to chill for at least 1 hour.
Preheat oven to 325°. Prepare two baking sheets with parchment paper and set aside.
Remove top layer of parchment paper from chilled dough and set aside. Try to work quickly, as the dough gets softer the longer it is out. Cut dough into rounds with a small round cookie or biscuit cutter (mine is 1-3/8" in diameter). If your cookie cutter starts to get sticky, dip the edges in a small plate of cocoa powder in between cuts. Place rounds on prepared cookie sheet about 1" apart and bake for 12 to 14 minutes, or until firm. Let cool on pan 1 to 2 minutes and then remove to wire rack to cool completely.
While first pan of shortbread rounds are in the oven, form the remaining dough into a ball again, with your hands on the underside of the parchment. Place saved piece of parchment on top of the dough and flatten again to 1/4" thickness. Place in refrigerator to chill again. Cut and bake according to previous instructions.
for the peppermint buttercream:
In the bowl of a stand mixer fitted with a paddle attachment, whip butter on medium speed until pale and fluffy, about 5 minutes, occasionally scraping down sides of bowl. Add powdered sugar, heavy cream, and peppermint extract, and mix on low until combined. Increase mixer speed to medium-high and beat until very light and fluffy, about 3 to 5 minutes, occasionally scraping down the sides of the bowl.
to assemble the shortbread bites:
For a neat and tidy dollop of buttercream on the shortbread rounds, use a piping bag fitted with a large plain tip to place buttercream onto the center of each round, about 1 teaspoon of buttercream each. Then use the back side of a small spoon to place an indentation in the center of the frosting. Fill indentation with crushed peppermint candy. If you prefer to not use a piping bag, simply use a small spoon or spatula to spread buttercream onto each shortbread round, and then sprinkle with crushed peppermint candy.
Nutrition Information:
Yield: 60
Serving Size: 1
Amount Per Serving:
Calories: 91
Total Fat: 7g
Saturated Fat: 4g
Trans Fat: 0g
Unsaturated Fat: 2g
Cholesterol: 17mg
Sodium: 40mg
Carbohydrates: 8g
Fiber: 0g
Sugar: 5g
Protein: 1g
Nutrition information is automatically calculated by Nutritionix. I am not a nutritionist and cannot guarantee accuracy. If your health depends on nutrition information, please calculate again with your own favorite calculator.
Disclosure: I've partnered with Land O'Lakes for an exclusive endorsement of Land O Lakes® Butter for their Kitchen Conversation blogger program. Thank you to Land O'Lakes for sponsoring this post! All opinions are my own.