Mini Phyllo Cups with Whipped Goat Cheese, Grapes, and Thyme
I've always had a thing for soft tangy cheeses and fresh fruit. It's a classic pairing. I can't count the times that I've quickly assembled a little plate of Sweet-and-Salty Honey-Cheese Spread before a meal; it's a favorite here for our family. So this pretty little appetizer of Mini Phyllo Cups with Whipped Goat Cheese, Grapes, and Thyme was a very natural way to enjoy the same flavor idea…in a whole new perfectly poppable way!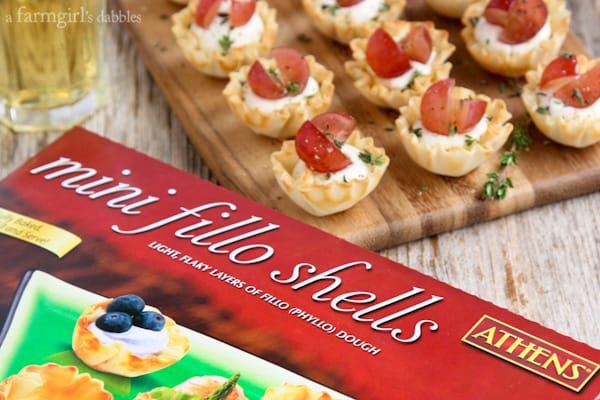 The Athens Mini Fillo Shells make it sooooooooo easy to offer fabulous looking appetizers to your guests this holiday season and all throughout the year. The flaky little pastry shells come already baked and carefully packaged, ready to be filled with whatever your heart desires, sweet or savory. Crackers and dip will always be a great appetizer, undeniably so. But having a pretty platter of mini phyllo shells, already assembled and looking smart, definitely scores bonus points for the maker!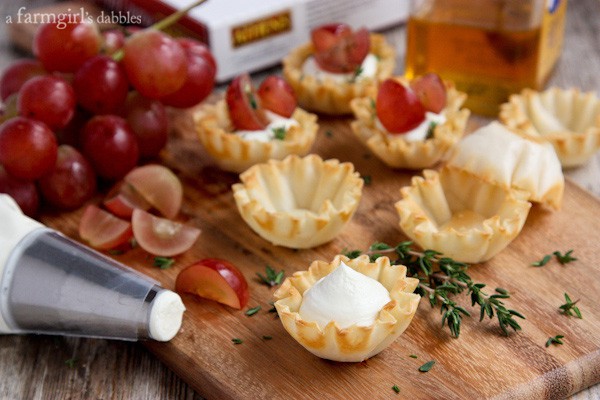 Can I tell you how absolutely wonderful whipped goat cheese is?! So fluffy and creamy and tangy, it's just plain delightful. And it makes the perfect little flavorful pillow for juicy grapes, drizzled with a bit of sweet honey, and then sprinkled with fresh thyme and cracked black pepper. With just a few ingredients, this appetizer holds a beautiful range of textures and flavors. The recipe comes to you fully approved by every single person in our family. It was a hit!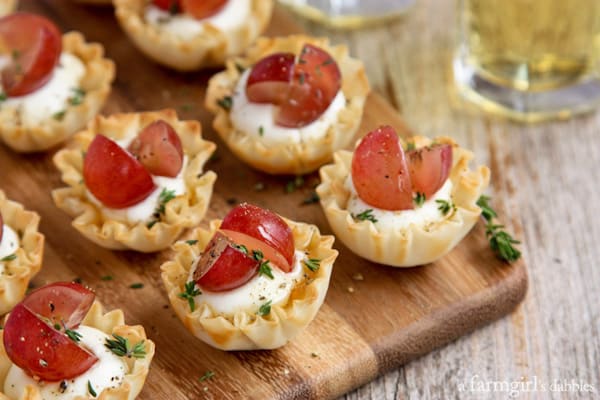 Easy to make. Incredibly tasty and fun to eat. These little phyllo shell appetizers are begging to attend your next gathering!
For more great recipes using mini phyllo shells, head over to Phyllo.com!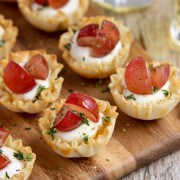 Mini Phyllo Cups with Whipped Goat Cheese, Grapes, and Thyme
Ingredients:
2 boxes Athens Mini Fillo Shells (3o shells total)
6 oz. goat cheese
4 oz. cream cheese, at room temperature
2 T. half and half
15 large red seedless grapes, quartered
2 T. honey
1 T. chopped fresh thyme
freshly ground black pepper
Directions:
Remove Athens Mini Fillo Shells from boxes and set on counter, with the phyllo shells still in their protective tray.
With an electric mixer, whip goat cheese and cream cheese in a medium bowl on high speed. Once incorporated, add the half and half, and then whip for a minute or two, until smooth and fluffy. Place mixture in a pastry bag fitted with a large plain tip. Pipe a dollop of the mixture into the bottom of each phyllo shell. Gently press two pieces of grape into the top of each whipped goat cheese dollop. If serving immediately, drizzle the grapes with a bit of honey. Then sprinkle a little thyme and black pepper over the top. If serving later in the day, place trays of phyllo shells, with whipped goat cheese and grapes only, into the refrigerator. When ready to serve, drizzle on the honey and then add the thyme and black pepper.
(If you don't have pastry bags and tips, simply use a small spoon to fill the phyllo cups with whipped goat cheese. Or place whipped goat cheese in a ziplock baggie, snip off a corner of the baggie, and pipe goat cheese into the phyllo shells.)
from a farmgirl's dabbles
©
Disclosure: Thank you to Athens Foods for sponsoring this delicious post. All opinions are my own.
We participate in the Amazon Services LLC Associates Program, an affiliate advertising program designed to provide a means for us to earn fees by linking to Amazon.com and affiliated sites. See our disclosure policy for more info.