Peppermint Swirl Marshmallows
These Peppermint Swirl Marshmallows are sweet and puffy peppermint joy!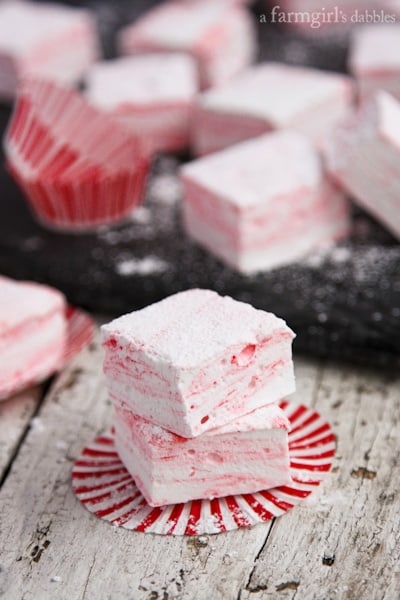 Our oldest daughter has been asking for peppermint marshmallows ever since I first starting whipping up my own homemade batches a number of years ago. Every time I say that I'm making marshmallows, Hatti asks, "Peppermint??" And, like a broken record, I tell her, "Not this time."
So, needless to say, when Hatti came home from school to find these Peppermint Swirl Marshmallows waiting for her…she was nothing but pure happy. With a great big smile, a little happy dance, and a mouthful of sweet and fluffy peppermint joy…she was one delighted girl.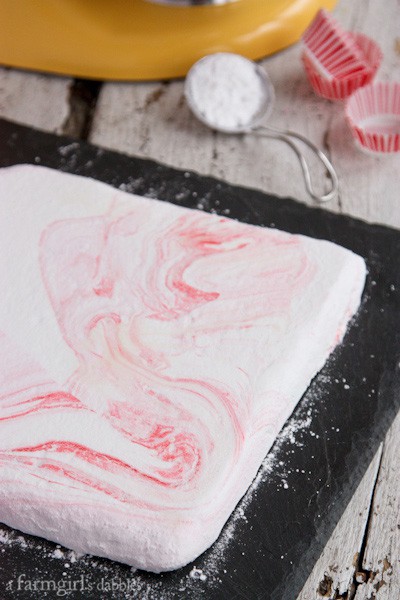 Previously, I had never added any flavoring but vanilla to my marshmallows. And they've been nothing but pure white. So this was a fun experiment for me in both flavor and color. I'm glad Hatti never gave up on me!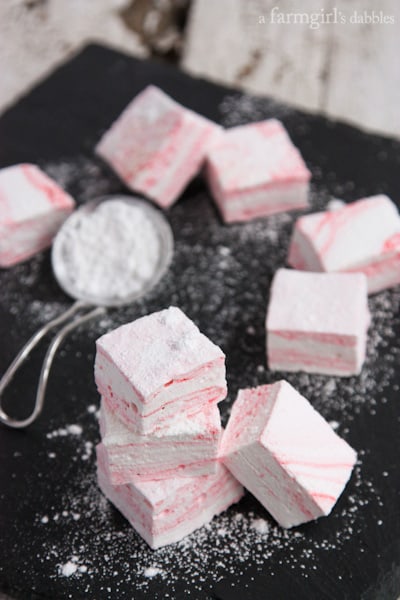 I love how the red coloring is swirled so delicately throughout the marshmallow. It's so very pretty.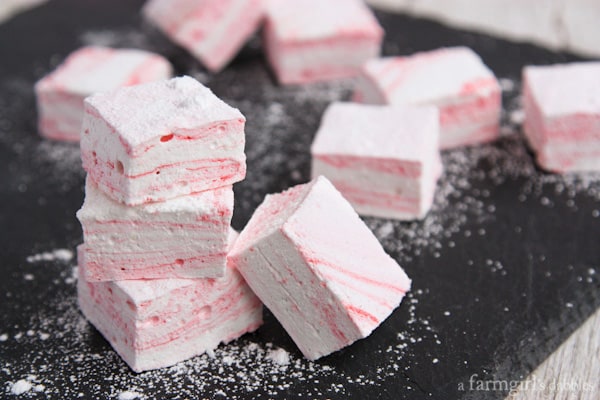 Really, what could be more fun than a tower of sweet pillowy marshmallows, made from scratch? It's the ultimate in kitchen play!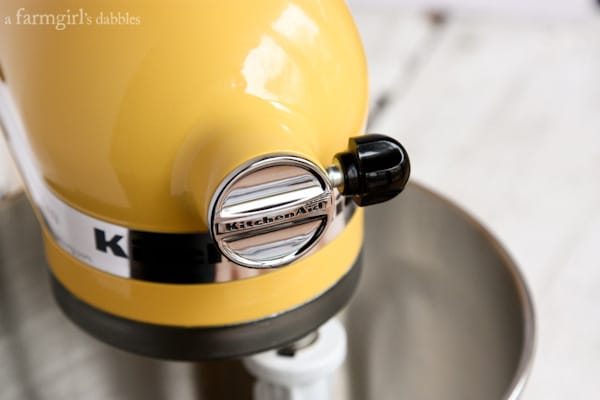 But I'd be nowhere in my marshmallow experimenting without the help of my KitchenAid stand mixer. Just ask my aunt Patsy, who made marshmallows from my very first marshmallow post. She had her old mixer smoking. For real!
Making homemade marshmallows requires a strong dependable stand mixer. The marshmallow gets super thick and sticky in the bowl, and needs to be beaten for about 10 minutes to get the right consistency. Human arms are just not cut out for the job. At least my arms aren't.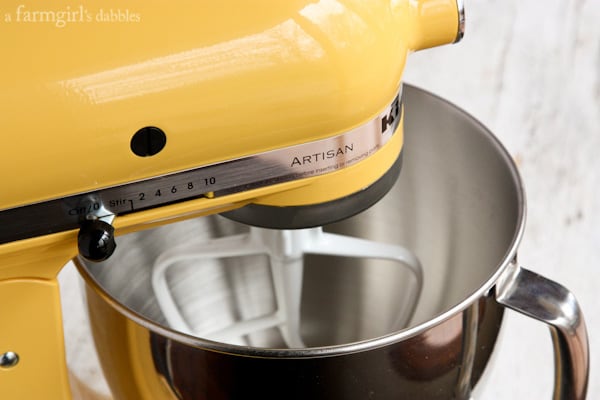 Blake and I bought our first KitchenAid stand mixer shortly after we were married. In red, it was the pride of our newlywed countertop.
Now, more than 14 years later, I can say that the KitchenAid stand mixer is an appliance I wouldn't want to live without. It gets used several times each and every week, sometimes several times in the very same day. It's a workhorse and a time saver, and a piece of equipment that allows me to accomplish so much more in the kitchen.
I'm thankful to KitchenAid for providing me with this new yellow stand mixer. Please say hello to Buttercup!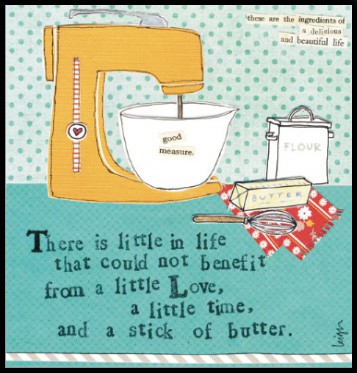 While I've always loved our red stand mixer, I was feeling the need for a change. I looked to a piece of Curly Girl artwork hanging in our kitchen for inspiration. The yellow mixer spoke to me. Or was it my love for butter and its beautiful hue? Or that yellow is our youngest daughter Tessa's favorite color?
Whatever the reason…Buttercup was meant to be part of our family.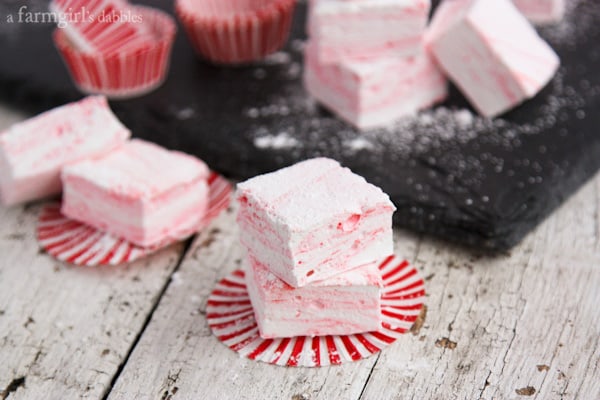 Do you make homemade marshmallows? If you haven't tried it yet, I really want to encourage you to do so. Homemade marshmallows are just the best treat, and are definitely superior to the ones found in the baking aisle at the grocery store. They make the most awesome s'mores. And just imagine what one of these peppermint swirl marshmallows would do to a mug of hot chocolate!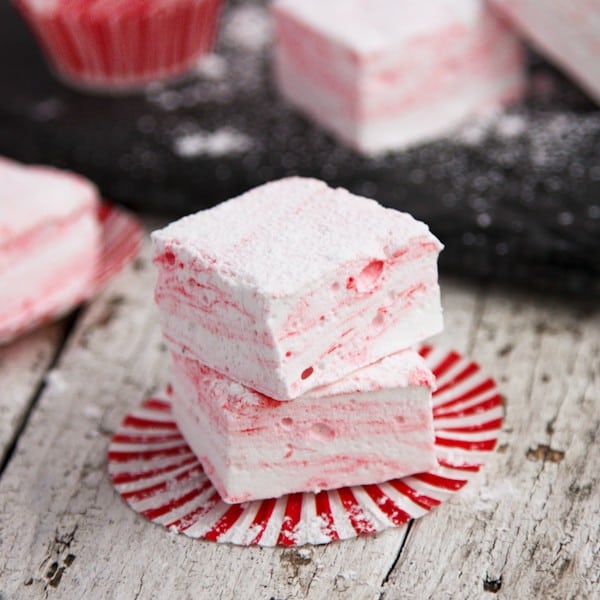 Peppermint Swirl Marshmallows
Yield: 1 8"x8" pan of marshmallows
Prep Time: 15 minutes
Cook Time: 10 minutes
Total Time: 25 minutes
These Peppermint Swirl Marshmallows are sweet and puffy peppermint joy!
Ingredients
2/3 c. water, divided
3 (1/4 oz.) envelopes unflavored gelatin (found by the Jell-O at the grocery store)
1 c. granulated sugar
1 c. light corn syrup
pinch of kosher salt
1 c. powdered sugar
2 tsp. pure peppermint extract, for a good amount of peppermint flavor
10 drops red food coloring
Instructions
Lightly spray the inside of an 8''x8'' pan with vegetable cooking spray. Sprinkle with 1/2 cup of the powdered sugar and tilt the pan until there is a thick coating of powdered sugar on the bottom and sides of the pan. Gently shake out any loose powdered sugar and discard. Set pan aside.
Pour 1/3 cup of the water into the bowl of a stand mixer. Sprinkle the gelatin over the water and stir briefly to incorporate and soften. Let stand for about 10 minutes, or until the gelatin has softened.
In a medium saucepan, off the heat, combine the remaining 1/3 cup of water and the granulated sugar, corn syrup, and salt. Place the pan over medium-high heat. Clip a candy thermometer on the inside of the pan, making sure it doesn't touch the bottom. Cook the mixture without stirring until reaches 240° F.
With your mixer on low speed, very slowly and carefully add the hot syrup to the softened gelatin. Increase the speed to high. The mixture will start out clear, but quickly turns very white. Beat for about 7 minutes, or until the marshmallow gets very thick and sticky, and starts to pull away from the sides of the bowl, in string-like pieces. Add peppermint extract and beat 2 more minutes. In random drops, add red food coloring over the top of the marshmallow. On low speed, give the marshmallow just a couple of turns with the mixer blade, until you see swirls of red and white.
Spread the mixture into the prepared pan using a lightly oiled spatula. With wet hands, press the batter evenly into the corners of the pan. Just keep rewetting your hands to help with the stickiness. Set aside for at least 1 hour, or until the mixture is firm and cool. Sprinkle a little more of the remaining powdered sugar evenly over the top.
Run a wet knife around the edge of the cooled pan to loosen the marshmallow. Remove the marshmallow from the pan, onto a cutting board covered with parchment paper. Cut into squares, using a pizza cutter wheel. This is a sticky job, but just have patience. It's worth it! I like to cut each pan into 36 squares, which gives you marshmallows that are about 1-1/4'' square, but feel free to cut them into whatever size you like. Toss each marshmallow in the remaining powdered sugar until completely coated.
Store marshmallows in a single layer, or in layers separated by wax paper. They will keep very well for quite a long time (a couple weeks!) when stored airtight at moderate temperature. They also keep well in the freezer. Eat plain, dipped in chocolate, or in hot chocolate!
Notes
from a farmgirl's dabbles
Nutrition Information:
Yield: 36
Serving Size: 1
Amount Per Serving:
Calories: 63
Total Fat: 0g
Saturated Fat: 0g
Trans Fat: 0g
Unsaturated Fat: 0g
Cholesterol: 0mg
Sodium: 10mg
Carbohydrates: 16g
Fiber: 0g
Sugar: 16g
Protein: 0g
Nutrition information is automatically calculated by Nutritionix. I am not a nutritionist and cannot guarantee accuracy. If your health depends on nutrition information, please calculate again with your own favorite calculator.
A great big thank you to KitchenAid for providing me with Buttercup, an Artisan Series 5-quart stand mixer.