Jessica's Banana Apple Bran Muffins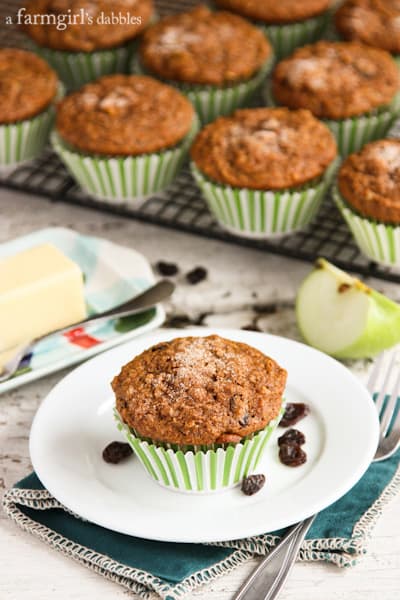 My sister Jessica is a great judge of recipes for the home cook and baker. She always has a nice lineup of go-to meals and baked goods that appeal to a wide audience of eaters. Her food is consistently delicious, never fussy. So when she passed along this muffins recipe to me last year, saying they made a healthy and tasty breakfast, I knew I had to hold onto it.
Coming away from the holidays, laden with oh so many rich eats, I have been searching out food that's healthier, trying to get back to a more normal daily eating routine. Jessica's Banana Apple Bran Muffins were the perfect place to start!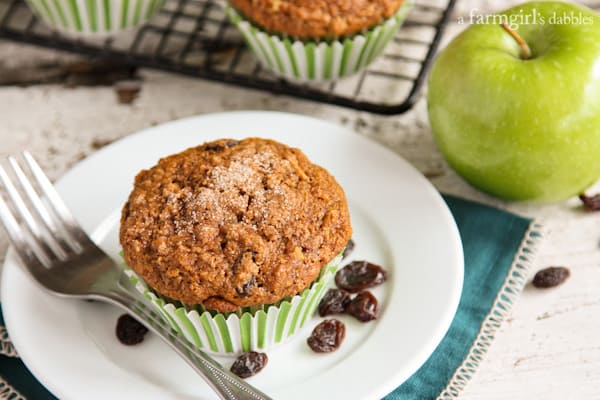 If it weren't for Jessica's recommendation, I'm pretty sure I would never have tried this recipe. The list of ingredients doesn't really shout out to me (the only bran I enjoy eating is Raisin Bran), except that I know how much I love banana and shredded apple in baked goods. This recipe is a keeper, though. I'm so glad I tried it!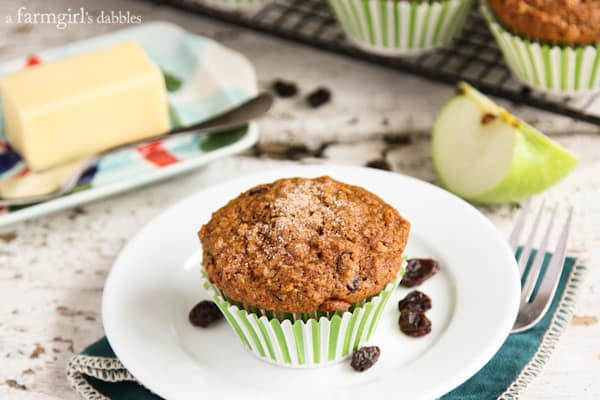 These muffins are super moist, with a surprisingly light texture. They are lightly fruity from the banana and apple, and have just the right amount of raisins. I'm not a huge fan of raisins, but do like them in "just the right dosage" when added to dishes and baked treats. The specified half cup was spot-on for my tastes. And the bran? Well, that was good, too!
When I first tried these apple bran muffins, I knew immediately that I liked them. A second opinion is always required, though, to make it into these recipe archives. That did not prove to be a problem, as our girls totally embraced them, too. Next time I'm going to swap out the raisins for dried blueberries or cranberries, to change it up. You can bet that these muffins will be in regular rotation for breakfast around here.
Happy New Year to you!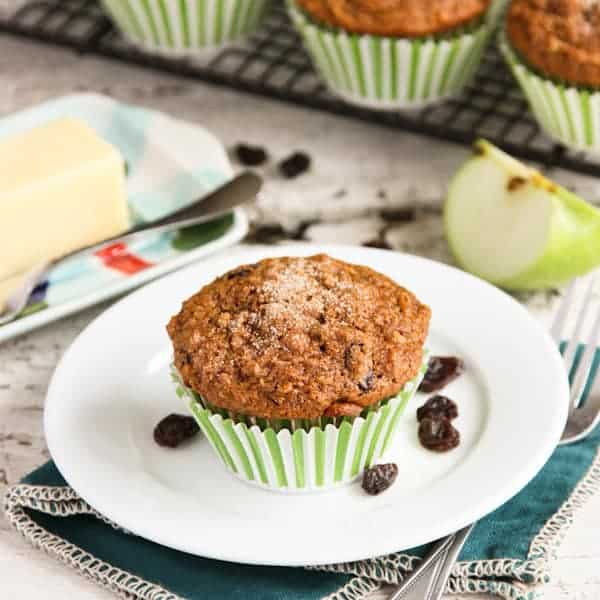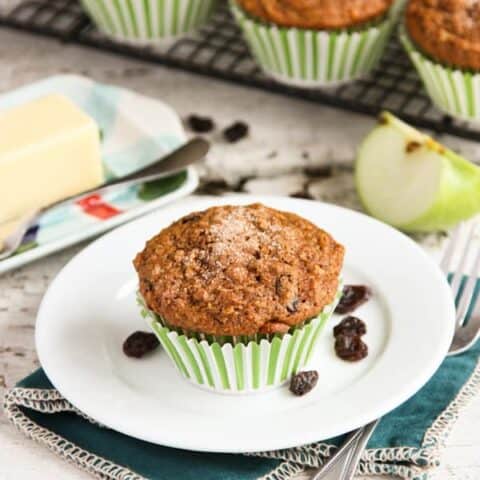 Jessica's Banana Apple Bran Muffins
Yield: 12 muffins
Prep Time: 20 minutes
Cook Time: 18 minutes
Total Time: 38 minutes
These muffins are super moist, with a surprisingly light texture. They are lightly fruity from the banana and apple, and have just the right amount of raisins.
Ingredients
for the banana apple bran muffins:
1/2 c. raisins (or dried blueberries or cranberries)
1 large egg
3/4 c. milk
1.5 c. bran cereal (I used Kellogg's All-Bran Original)
2 T. unsalted butter, melted
3/4 c. shredded Granny Smith apple (from 2 small or 1 extra large apple)
1 large ripe banana
1/2 c. honey
1 tsp. pure vanilla extract
1 c. whole wheat flour
1 tsp. baking soda
1/4 tsp. kosher salt
2 tsp. cinnamon
for the cinnamon sugar sprinkle:
1 T. sugar
1/2 tsp. cinnamon
Instructions
Preheat oven to 400° F.
Spray a muffin tin with non-stick spray or line with paper cupcake liners. Set aside.
Place raisins in a small bowl and add enough water to cover. Microwave for 1 minute to plump them up. Drain and set aside.
In a large bowl, beat the egg with the milk, and then stir in the bran cereal. Let mixture stand for 5 minutes, until cereal absorbs the liquid and breaks down. Fold in the raisins, butter, apple, banana, honey, and vanilla. Then add the flour, baking soda, salt, and cinnamon, stirring to combine completely. Divide batter evenly between the prepared muffin cups.
In a small bowl, stir together the cinnamon sugar sprinkle ingredients. Sprinkle over the muffin batter.
Bake for 18 to 20 minutes, or until toothpick inserted into the center comes out clean. Let cool in pan for 5 minutes before removing to wire rack to cool.
Notes
Adapted from my sister Jessica's recipe box, originally from allrecipes.com.
Nutrition Information:
Yield: 12
Serving Size: 1
Amount Per Serving:
Calories: 167
Total Fat: 3g
Saturated Fat: 2g
Trans Fat: 0g
Unsaturated Fat: 1g
Cholesterol: 22mg
Sodium: 189mg
Carbohydrates: 35g
Fiber: 4g
Sugar: 20g
Protein: 4g
Nutrition information is automatically calculated by Nutritionix. I am not a nutritionist and cannot guarantee accuracy. If your health depends on nutrition information, please calculate again with your own favorite calculator.