Grandma Renelt's Rhubarb Custard Pie
This post may contain Amazon or other affiliate links. As an Amazon Associate I earn from qualifying purchases.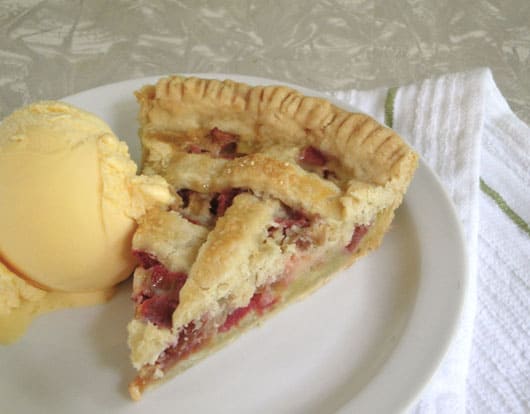 Yep, another rhubarb recipe! This one comes from my Grandma Renelt, and is my dad's favorite rhubarb pie. Due to the custard filling, it is very mellow, and not tart like alot of rhubarb pie recipes. The rhubarb custard mixture is extremely simple to make, sets up nicely for easy cutting and serving, and is very tasty.
I just wish I had more luck with pie crust. As all these (good & not-so-good) traits get passed down from my grandma and mom, I keep asking myself why I can't grab hold of their solid pie crust making abilities?! But that's an entirely whole other chapter that I'm not going to get into right now…
Notice the marbled gray table top in the upper portion of the picture? That was also my Grandma Renelt's, a chrome table and chairs set purchases back in the 50's. It graced my grandpa and grandma's South Dakota farm kitchen, where my Uncle Franny & Aunt Karen now live.
After Grandpa died in 2001, Grandma held an auction sale. This dining table and chairs was to be auctioned off, and it caught my eye. When the set hadn't been sold before I needed to leave, I asked Dad to bid on it for me if it didn't go too high. Then, at the last minute, I told him not to bother, explaining that I really didn't have the room for it anyway. And I left.
The day after the sale, I got a call from Dad. He bought the table and chairs and was going to store them for me on the farm until I had space for them. Wow! What a dad!
So, when we moved a few years later to a home with more stretching space, Dad hauled the set from the farm to our new home. It did need some work. But with some elbow grease and steel wool, the chrome was shining again. While I was replacing the worn seats and backs with new vinyl material, I discovered miscellaneous handwritten notes my grandma had made under the seat bottoms. Notes about the crops in the field, a random day's temperature, and Uncle Ron's birth.
Grandma also told me about the hundreds of rolls she kneaded at that table, because the countertops were just too tall for her to work at comfortably. And she wondered how she ever squeezed her family of 8, plus 3 hired men, around that table for a meal during harvest. She also reminisced how each of the table top's blemishes occurred. The big scratch was from when Grandpa brought home a wooden crate of peaches. Sliding the crate across the table, a nail poking out the bottom laid its trail. And the burn marks? Oh, that was just one of the kids running through the house with a sparkler!
I just eat up all that nostalgia. And it makes this dining set priceless to me.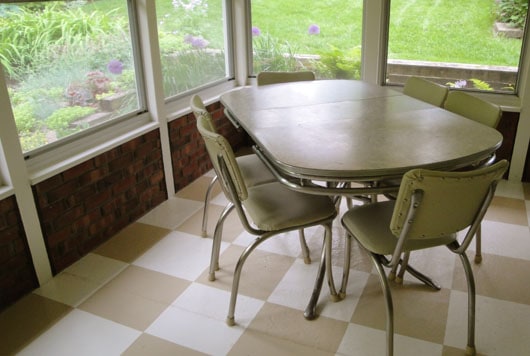 The dining set as it now graces our sunroom.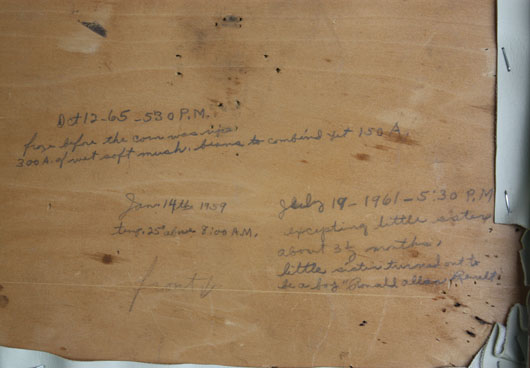 Some of Grandma's notes from a chair bottom…
October 12, 1965 at 5:30 pm – 300 acres of wet soft mush in the field, due to the corn freezing before it was ripe, plus 150 acres of beans yet to combine.
January 14, 1959 – temperature was 25° above at 8:00 am.
July 19, 1961 at 5:30 pm – expecting a little sister to join her 5 other children in about 3-1/2 months. (Note was later added to this, saying the little sister actually turned out to be a boy…Ronald.)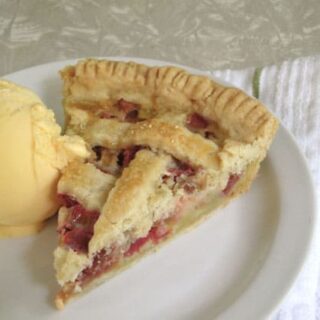 Grandma Renelt's Rhubarb Custard Pie
Yield: 8 servings
Prep Time: 15 minutes
Cook Time: 45 minutes
Total Time: 1 hour
Grandma Renelt's Rhubarb Custard Pie is a sweet, and not too tart, homemade pie recipe. This rhubarb custard combination is a dessert you don't want to miss out on, trust me!
Ingredients
2 c. diced rhubarb
1 c. sugar
2 T. flour
3 eggs
dash of nutmeg
dash of salt
2 T. butter
pastry crust for a double-crust pie
milk for brushing pie crust
2 T. course sugar
Instructions
Preheat oven to 350°.
Line pie plate with bottom pie crust and spread rhubarb over the bottom. Mix well the sugar, flour, salt, and nutmeg. Add eggs and mix slightly. Pour this over the rhubarb. Dot with butter. Cut second crust into strips and make a lattice top. Brush lattice strips with milk and sprinkle with course sugar. Bake for 40 to 45 minutes.
Nutrition Information:
Yield: 8
Serving Size: 1
Amount Per Serving:
Calories: 363
Total Fat: 15g
Saturated Fat: 6g
Trans Fat: 0g
Unsaturated Fat: 7g
Cholesterol: 85mg
Sodium: 244mg
Carbohydrates: 53g
Fiber: 2g
Sugar: 33g
Protein: 6g
Nutrition information is automatically calculated by Nutritionix. I am not a nutritionist and cannot guarantee accuracy. If your health depends on nutrition information, please calculate again with your own favorite calculator.
We participate in the Amazon Services LLC Associates Program, an affiliate advertising program designed to provide a means for us to earn fees by linking to Amazon.com and affiliated sites. See our
disclosure policy
for more info.