Rhubarb Custard Pie
This Rhubarb Custard Pie recipe is very special to me, from my grandma's recipe box. Featuring a flaky crust filled with a rich egg custard and tart rhubarb, you'll love this sweet spring and summer treat!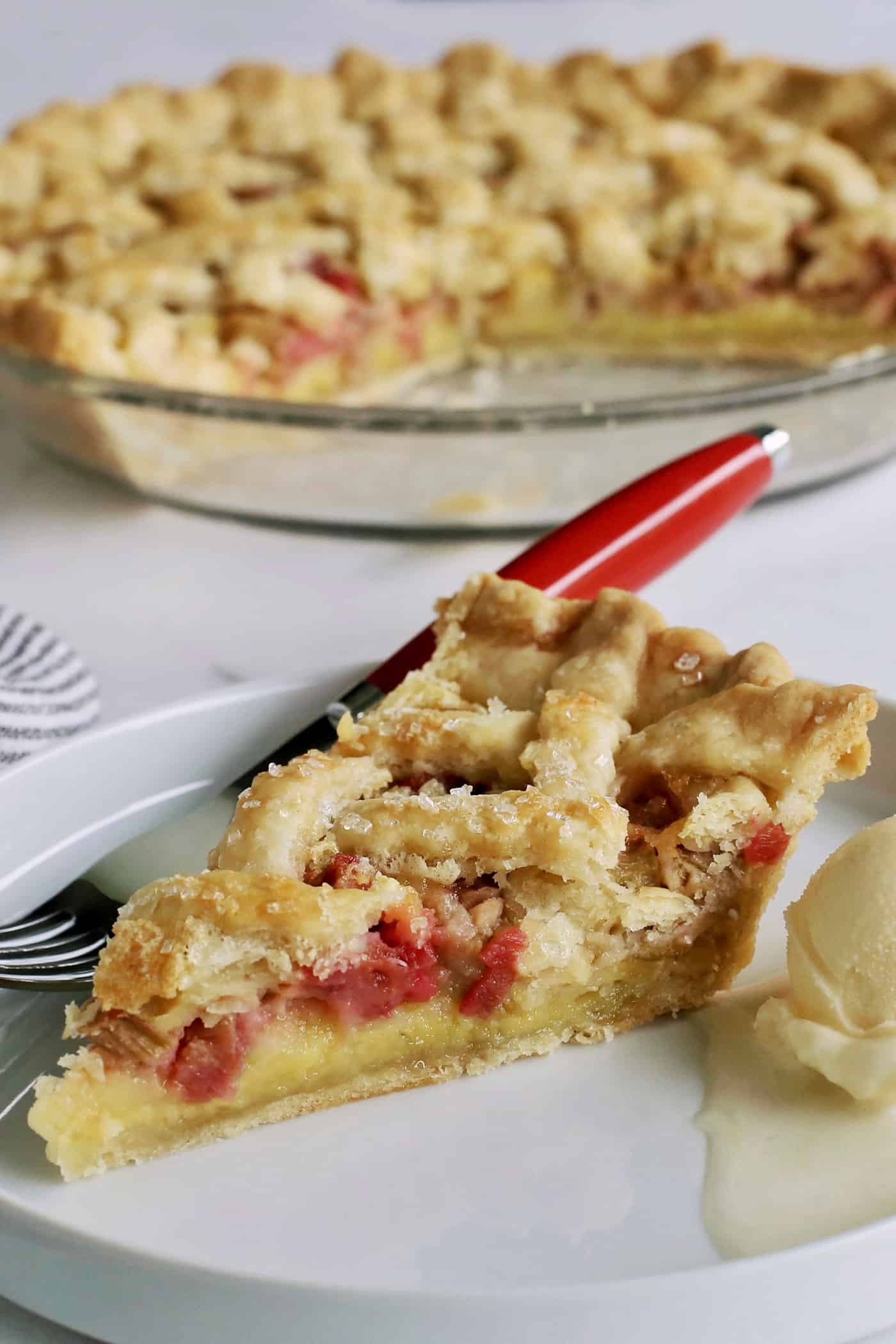 My Grandma's Rhubarb Custard Pie
I never tire of rhubarb recipes. Especially ones with happy memories attached. This Rhubarb Custard Pie recipe comes from my Grandma Renelt, and is my dad's favorite rhubarb pie.
Because of the rich custard filling, this rhubarb pie is not as forwardly tart as most rhubarb dessert recipes. The custard mixture is super easy to make, and sets up so nicely for easy cutting and serving.
This rhubarb custard pie is a delicious way to enjoy rhubarb, in a beautiful, somewhat old-fashioned kind of way. I do hope you enjoy my grandma's pie!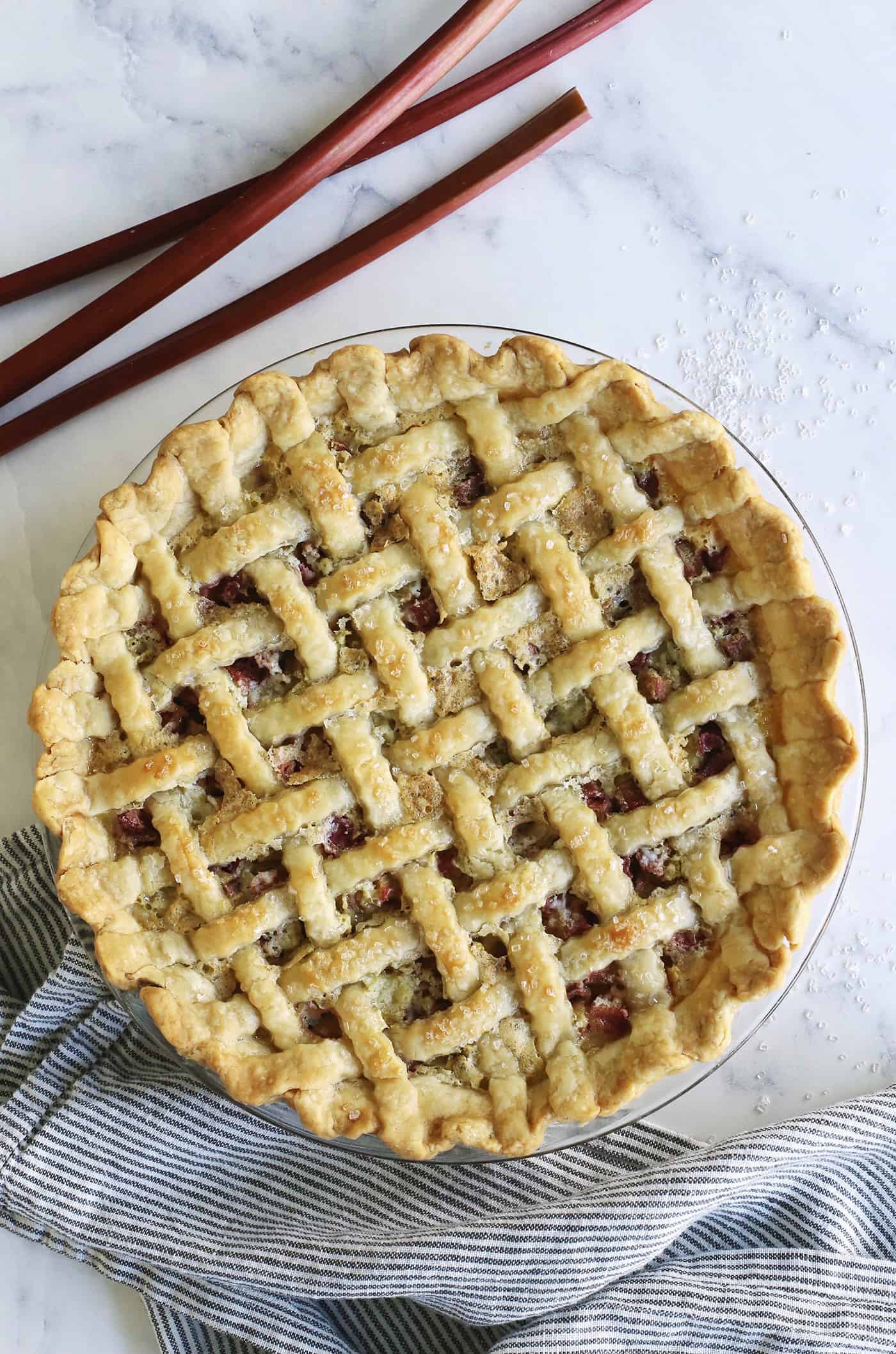 I first shared this recipe here way back in 2010, just two months after I started this blog. And since my beloved Grandma Renelt passed away this spring, I wanted to update this post in her honor.
While Dad and Mom were staying with us after my surgery last month, I asked Mom if she would bake the pie so I could photograph it. I just didn't have the energy to do it all myself in one day! Of course, Mom was happy to oblige. And we had such a beautiful time together, making and photographing her mom's recipe.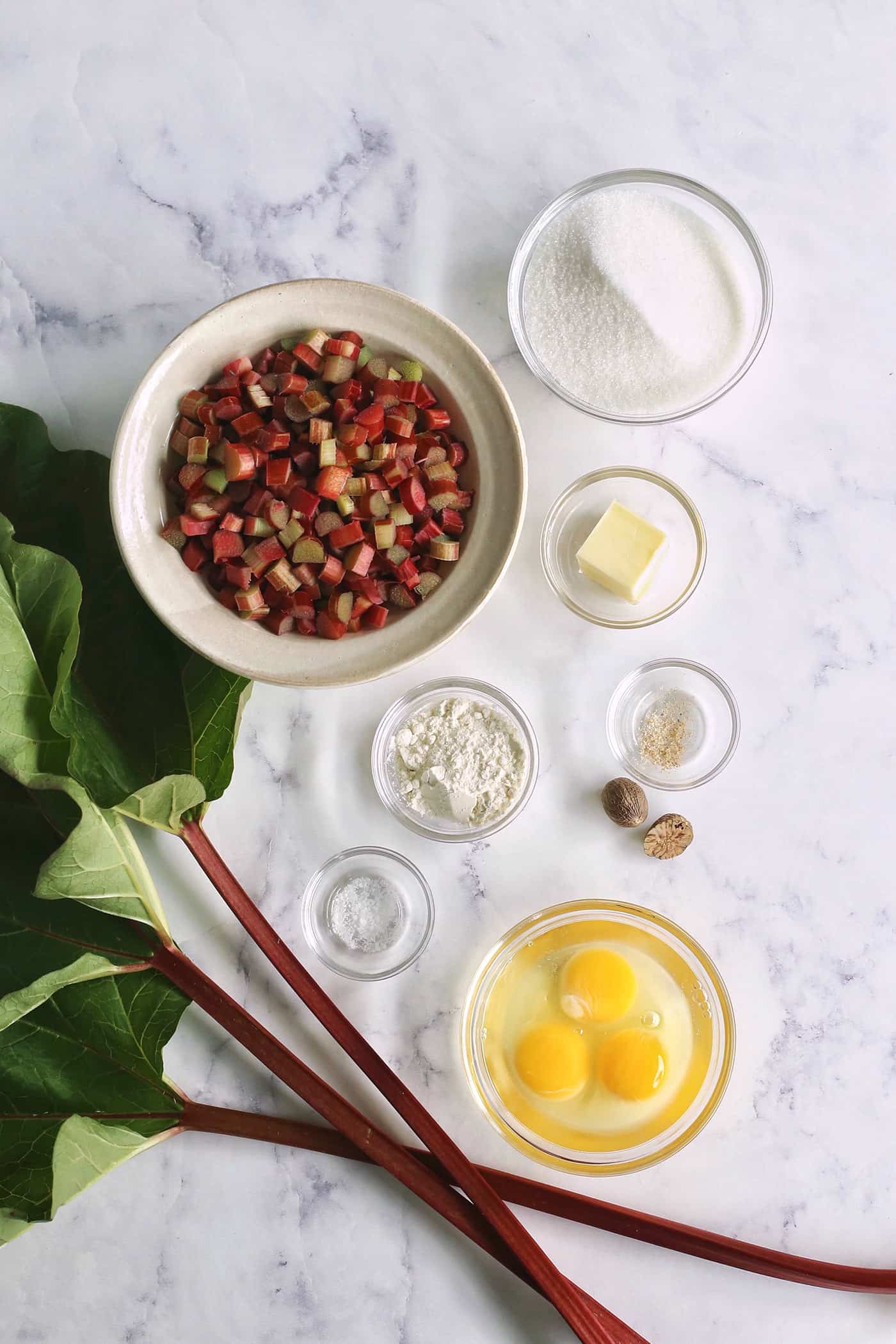 Ingredients For This Custard Pie With Rhubarb
With just a few ingredients, this rhubarb custard pie filling is AMAZING!
Here's what you'll need:
Rhubarb – I use rhubarb from our garden, but most grocery stores carry it in spring and summer.
Granulated sugar – Used to sweeten up that tart rhubarb and to help the custard set up.
All-purpose flour – Add a little bit to help the custard set up.
Large eggs – An essential ingredient in custard!
Nutmeg – Just a bit adds a lovely warm flavor and fragrance.
Kosher salt – A little salt is almost always welcome in whatever treats I make!
Unsalted butter – For added richness to the pie filling.

And of course, let's talk about pie crust. Mom is a great pie maker, and she's always relied on Betty Crocker's pie crust recipe. It's easy to make, easy to work with, and beautifully flaky. I won't go into depth about the pie crust here, but just use that recipe or your own favorite homemade or frozen pie crust.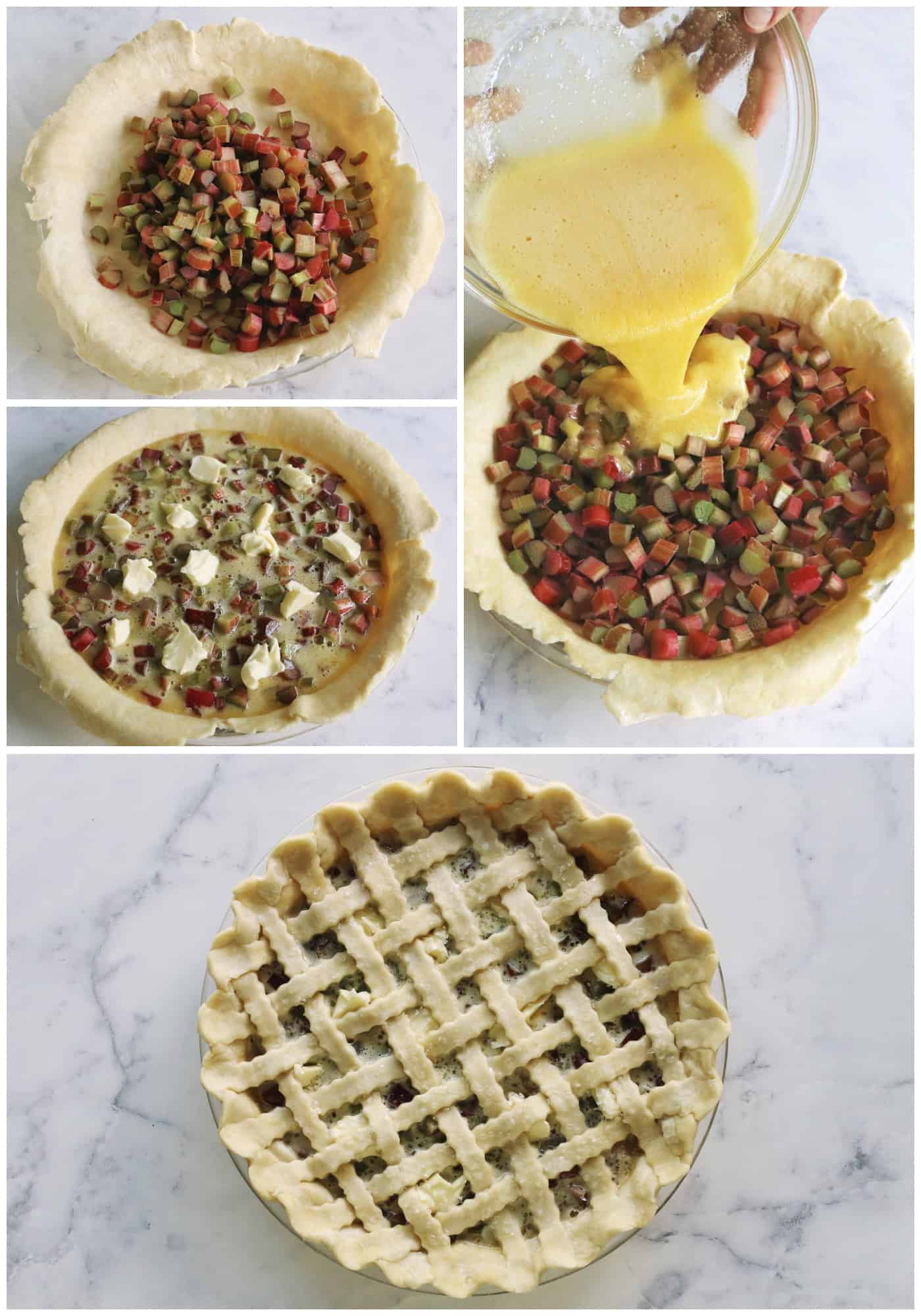 How To Make Rhubarb Pie
You will not believe how easy it is to make an unforgettable rhubarb custard pie!
Preheat oven – Position oven rack one level lower than the center of the oven, and then preheat oven to 350° F.
Make pie crust – Follow Betty Crocker's recipe (what my mom uses) or use your own favorite homemade or frozen pie crust.
Add bottom pie crust & rhubarb – Line a 9″ pie plate with the bottom pie crust and spread chopped rhubarb over the bottom.
Create the custard – Stir together the sugar, flour, salt, and nutmeg in a bowl. Mix in the eggs. Then pour the custard mixture over the rhubarb.
Dot with butter – Nothing fancy here. The butter will melt into the pie filling, so just divide up the butter and place it on top of the filling.
Top with lattice pie crust – Cut second pie crust into strips and make a lattice top over the pie filling. Brush lattice strips with milk for prettier browning. And then sprinkle with course sugar for another pretty effect that also adds a nice texture.
Bake – Place in oven and bake for 45 to 60 minutes, or until crust is nicely browned.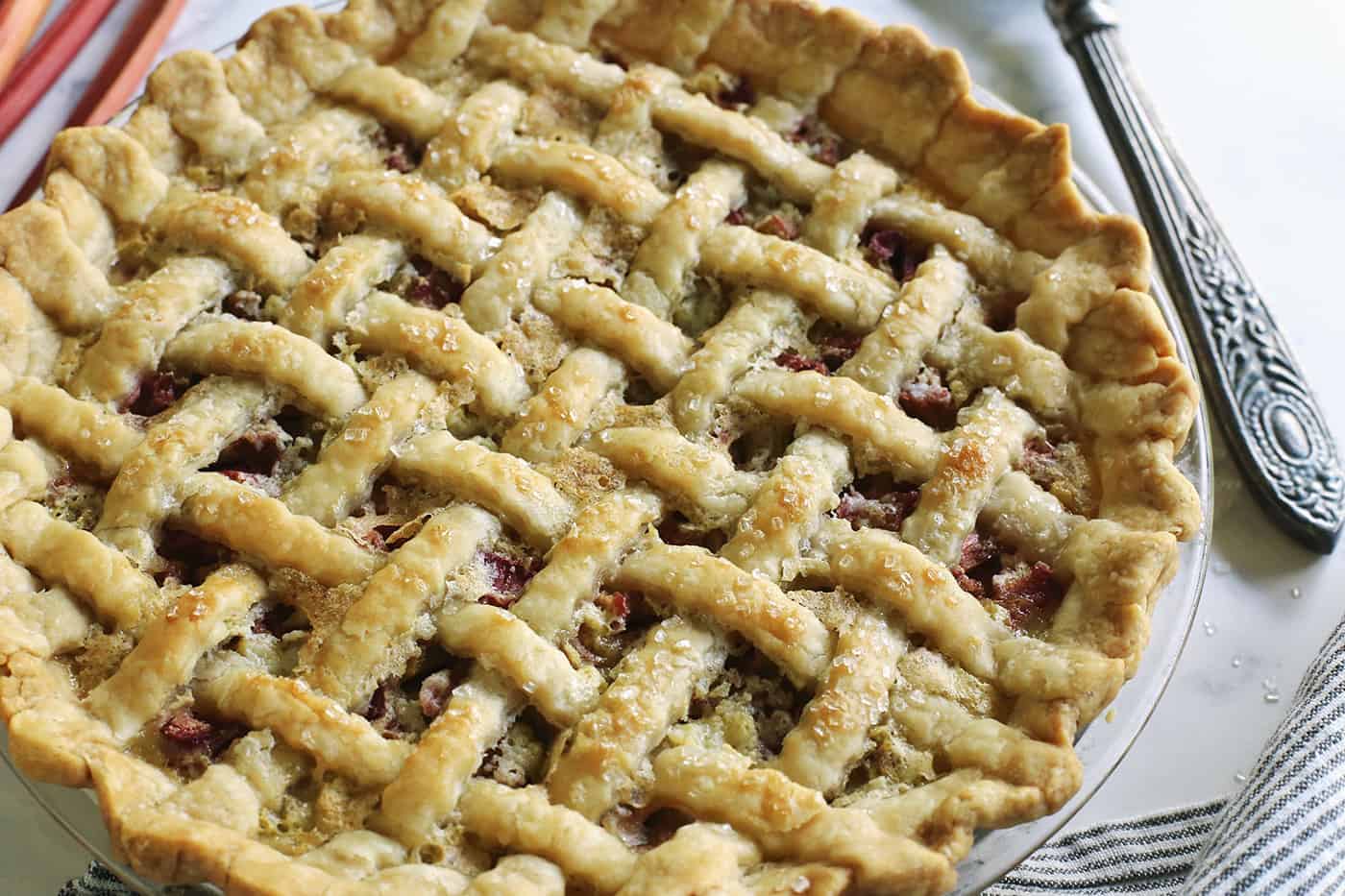 The pie bakes up so pretty! (Thanks, Mom!!)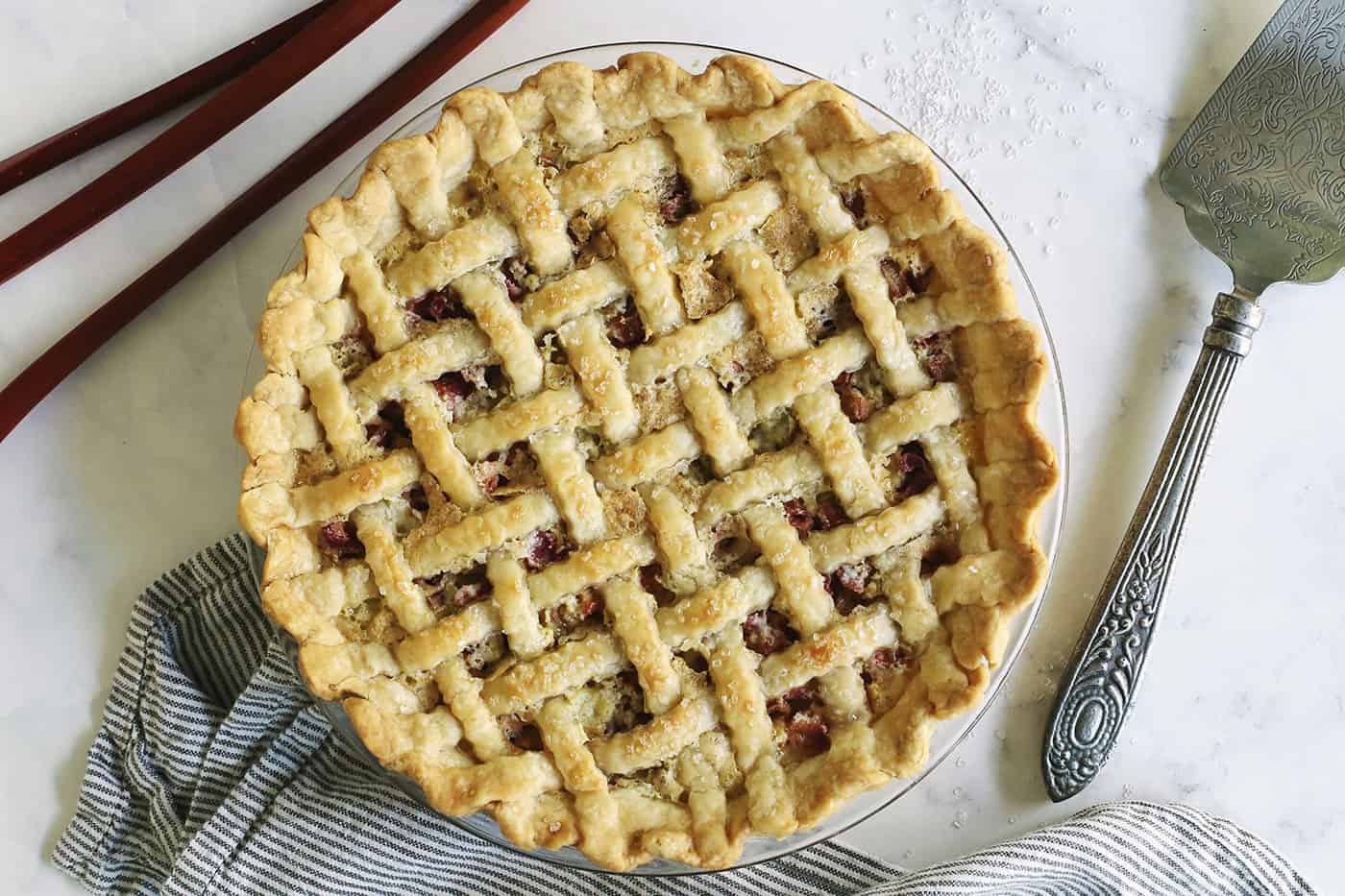 Mom's Best Tips
Here are a few tips from my mom, for the best pie!
Chill! – Betty Crocker's pie crust calls for chilled shortening and butter, plus ice water. Your pastry crust will be flakier and easier to work with if you chill these items!
Rhubarb – Mom always prefers to use the smaller stalks of rhubarb, and ones that are more red than green. The smaller stalks will be more tender, while the red color is just plain prettier in the pie.
Oven rack – My mom also prefers to bake her pies just a bit lower than the center of the oven, saying that the crust bakes up firmer.
Brush with milk – She also likes to brush the top of her pie pastry with a bit of milk, which helps to add a pretty browned effect with a little shine. Some people like to brush the crust with a beaten egg or egg yolk mixed with a teaspoon of water, which lends a more glazed appearance.
Sprinkle with sugar – After brushing the top crust with milk, Mom always adds some sugar. This adds a little sparkle, plus a fun texture. Sometimes she uses plain granulated sugar, but most often you'll see her sprinkling her pies with a coarse sparkling sanding sugar.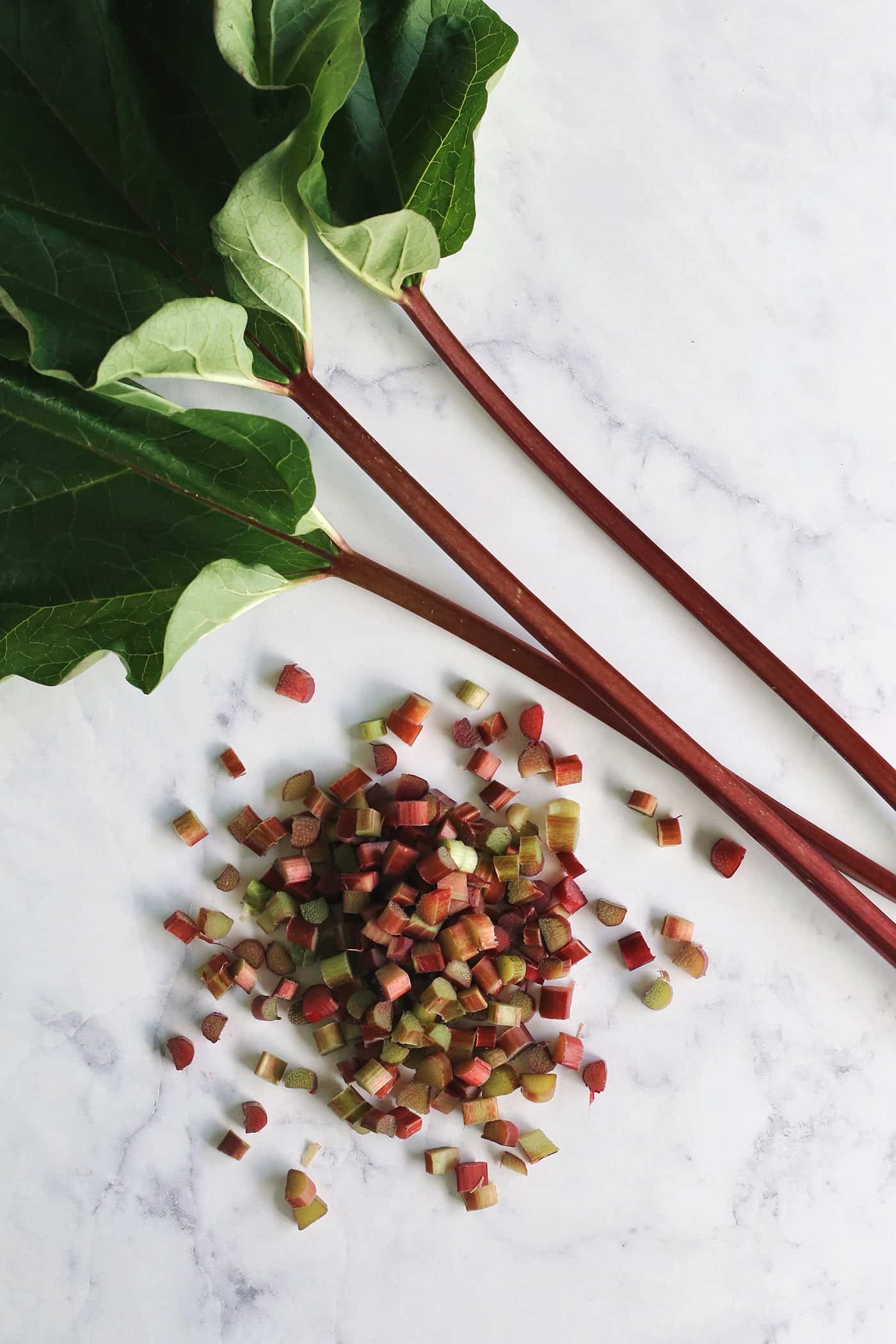 Can I Use Frozen Rhubarb?
I get this question a lot with rhubarb recipes. And while I absolutely prefer fresh rhubarb, for the very best texture, I do think that this pie would do well with frozen rhubarb.
I aim to make most of my rhubarb recipes by mid-summer, to take advantage of the most tender stalks. Mom always says she likes baking from my rhubarb plants, as the stalks never seem to get overly large anyway. I preserve enough for a couple recipes during the winter, simply by chopping it and placing it in freezer-safe containers or baggies.
To use frozen rhubarb for this pie, here's what I suggest:
Thaw the frozen rhubarb.
Drain the rhubarb and pat it dry.
Then toss the rhubarb with a tablespoon of flour. This will help to absorb extra moisture.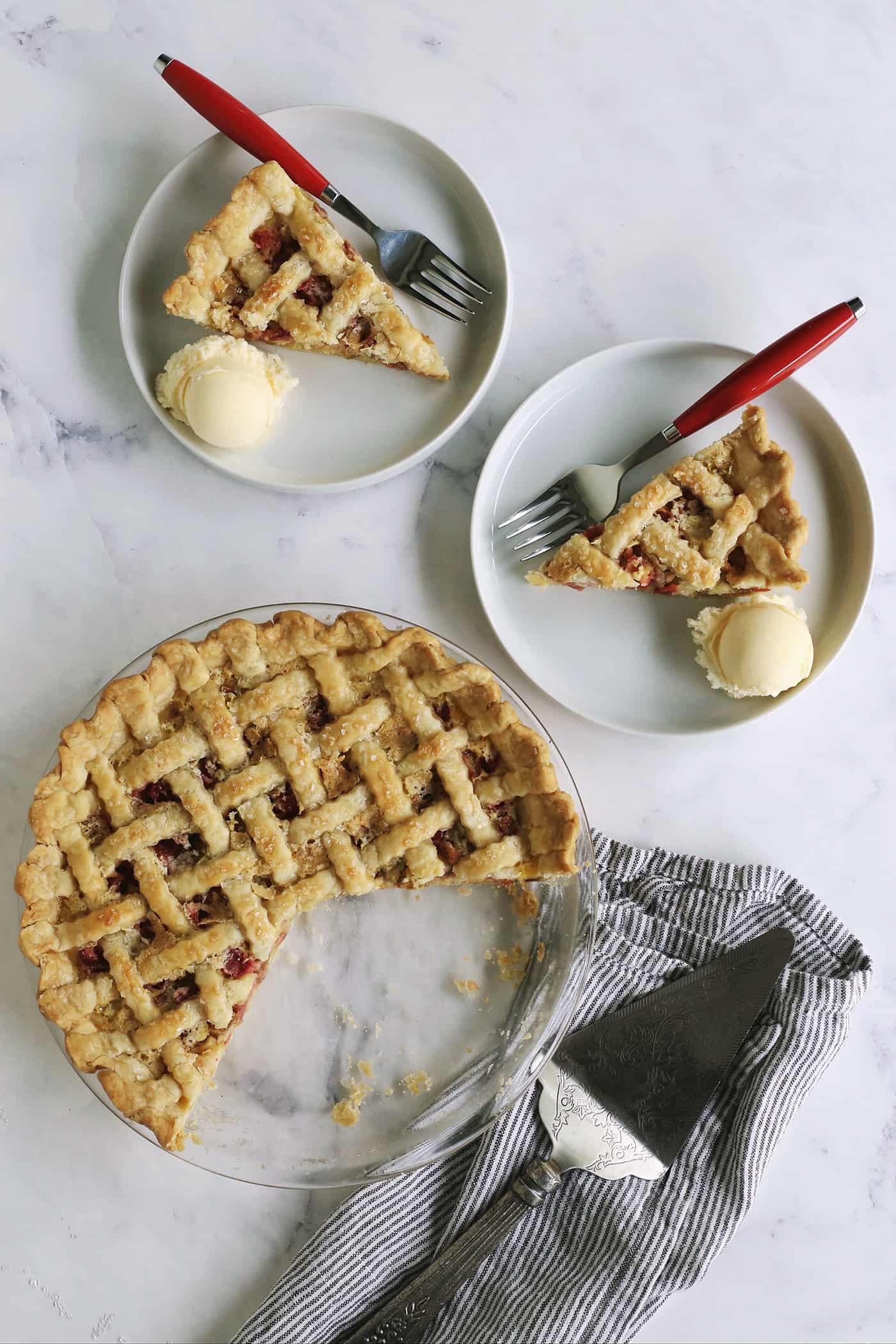 How To Store Rhubarb Custard Pie
I like to make pie when I know all – or most – of it will be eaten on the same day it's made. It's flakiest and most tender then, at its utmost enjoyable best!
But sometimes this just isn't possible, and some pie remains. In that case, do refrigerate the leftovers.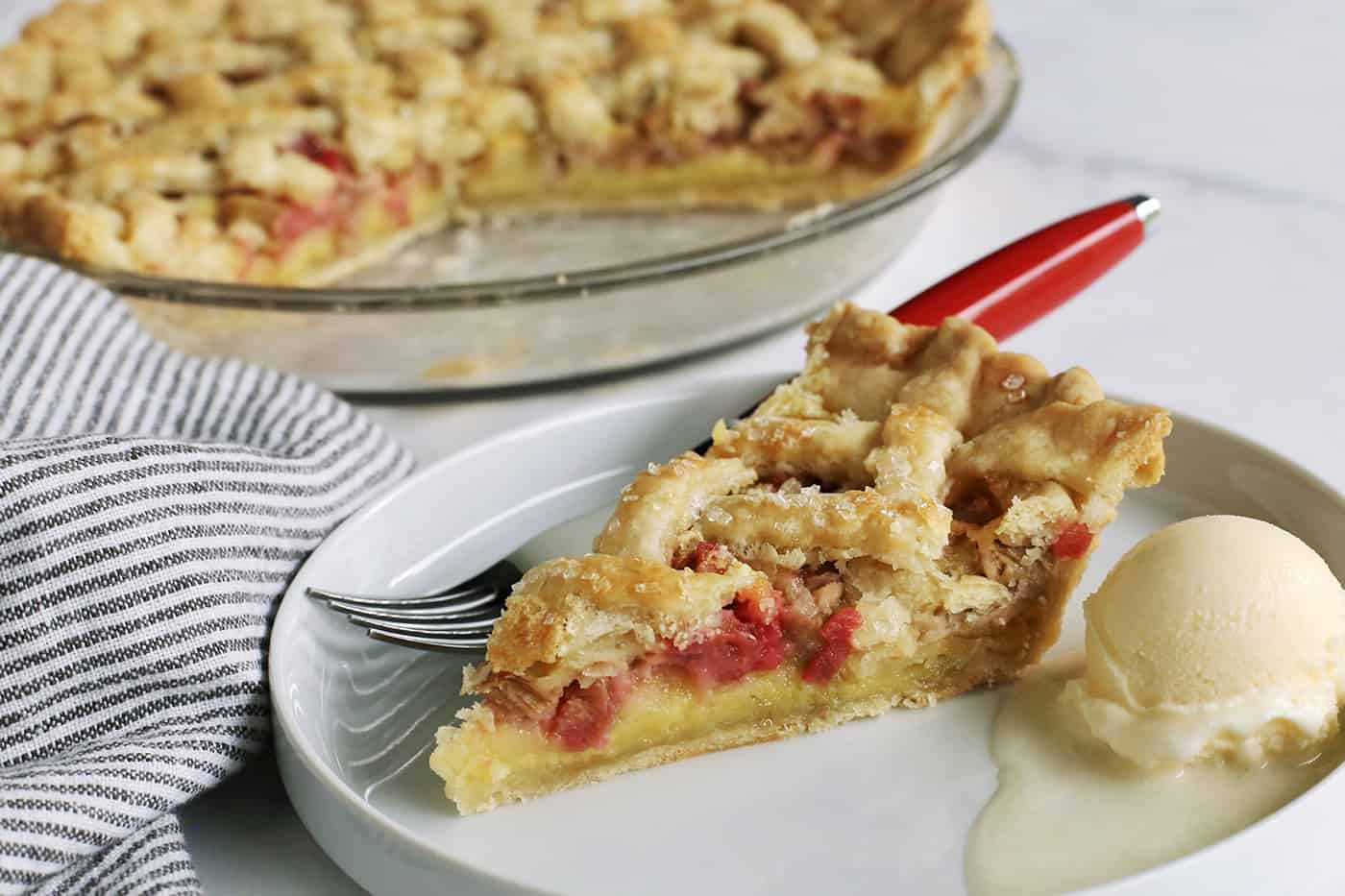 More Rhubarb Desserts, Drinks, Etc.
Like this recipe? Save it to Pinterest!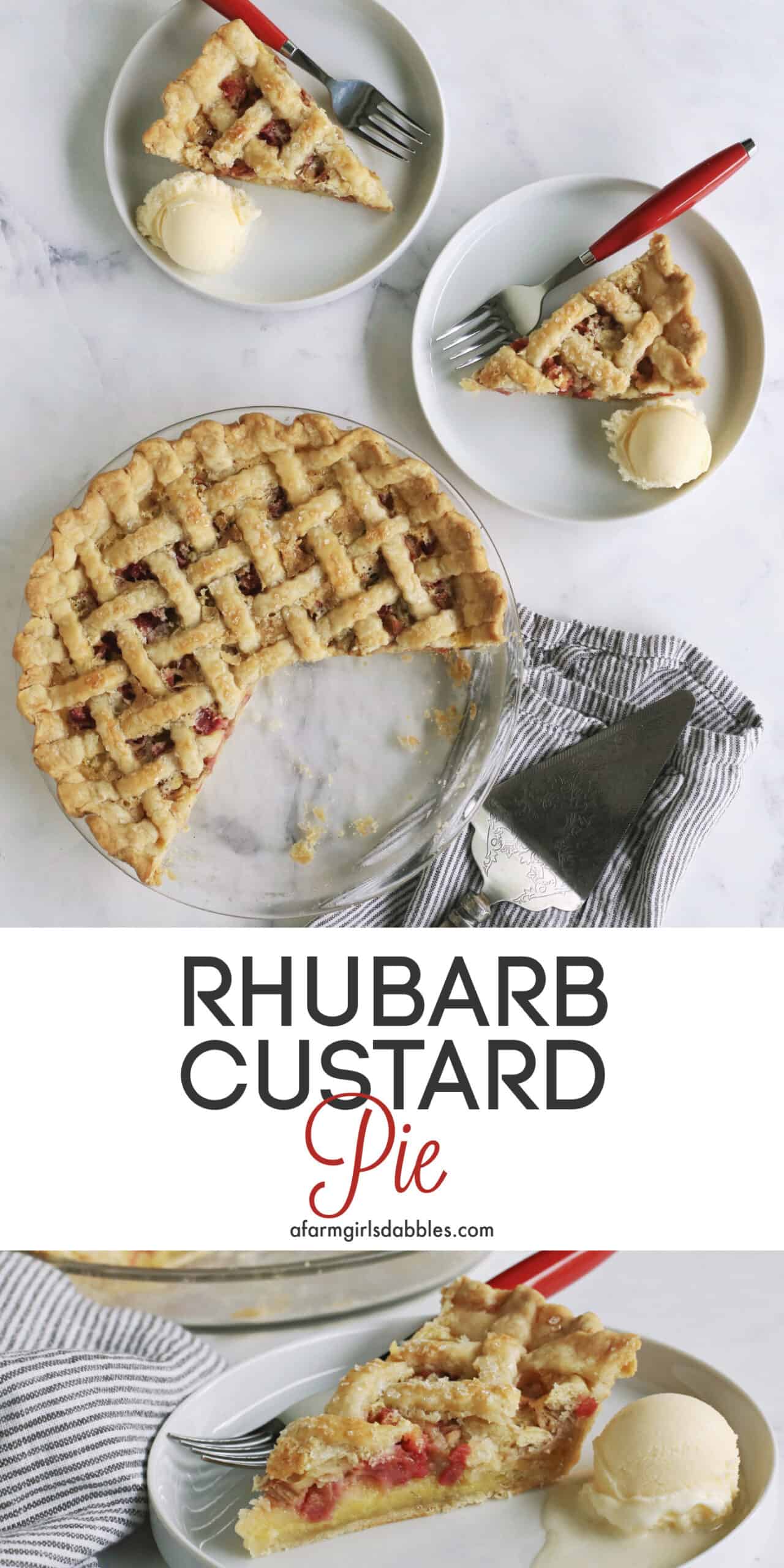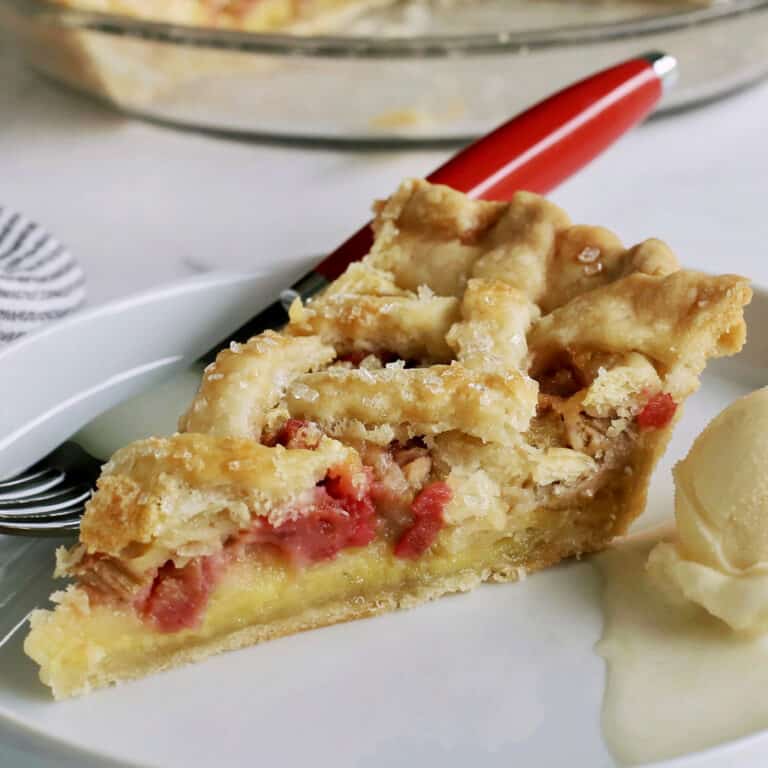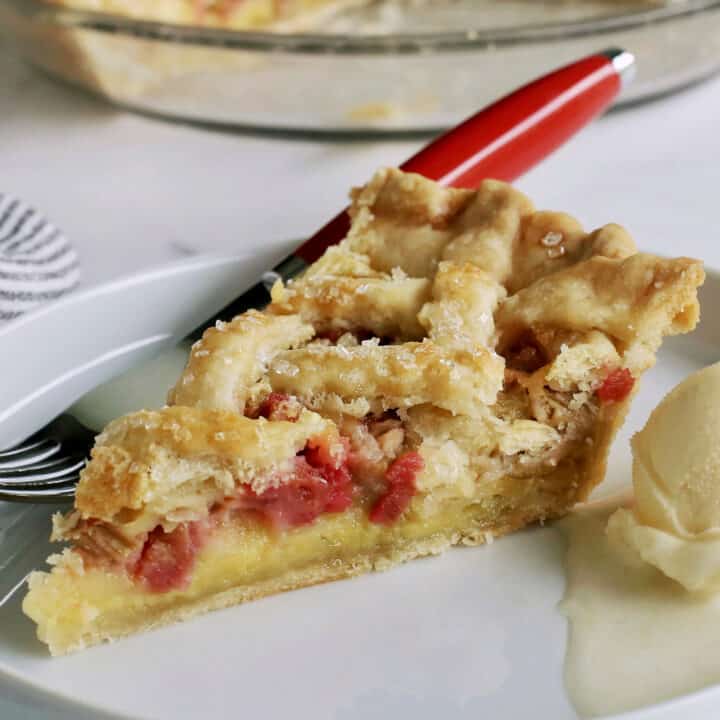 Rhubarb Custard Pie
Yield: 8 servings
Prep Time: 15 minutes
Cook Time: 45 minutes
Total Time: 1 hour
My Grandma Renelt's Rhubarb Custard Pie recipe is very special to me. It features a flaky crust filled with a rich egg custard and tart rhubarb. You'll love this sweet spring and summer treat!
Ingredients
2 cups diced rhubarb
1 cup sugar
2 tablespoons all-purpose flour
3 large eggs
1/8 teaspoon nutmeg
1/4 teaspoon salt
2 tablespoons unsalted butter
pastry crust for a double-crust pie
milk for brushing pie crust
2 tablespoons course sugar - I like to use this sparkly large-grain sugar
Instructions
Place oven rack one position lower than the center of the oven. Then preheat oven to 350° F.
Line a 9" pie plate (just a regular pie plate, not a deep dish one) with bottom pie crust and spread rhubarb over the bottom.
In a medium bowl, stir together the sugar, flour, salt, and nutmeg. Add eggs and mix slightly. Pour mixture over the rhubarb and then dot with butter over the top.
Cut second pie crust into strips and make a lattice top. Brush lattice strips with milk and sprinkle with course sugar. Place in oven and bake for 45 to 60 minutes, or until crust is nicely browned.
Notes
from my Grandma Renelt's recipe box
Nutrition Information:
Yield: 8
Serving Size: 1
Amount Per Serving:
Calories: 364
Total Fat: 15g
Saturated Fat: 6g
Trans Fat: 0g
Unsaturated Fat: 7g
Cholesterol: 85mg
Sodium: 268mg
Carbohydrates: 54g
Fiber: 2g
Sugar: 34g
Protein: 6g
Nutrition information is automatically calculated by Nutritionix. I am not a nutritionist and cannot guarantee accuracy. If your health depends on nutrition information, please calculate again with your own favorite calculator.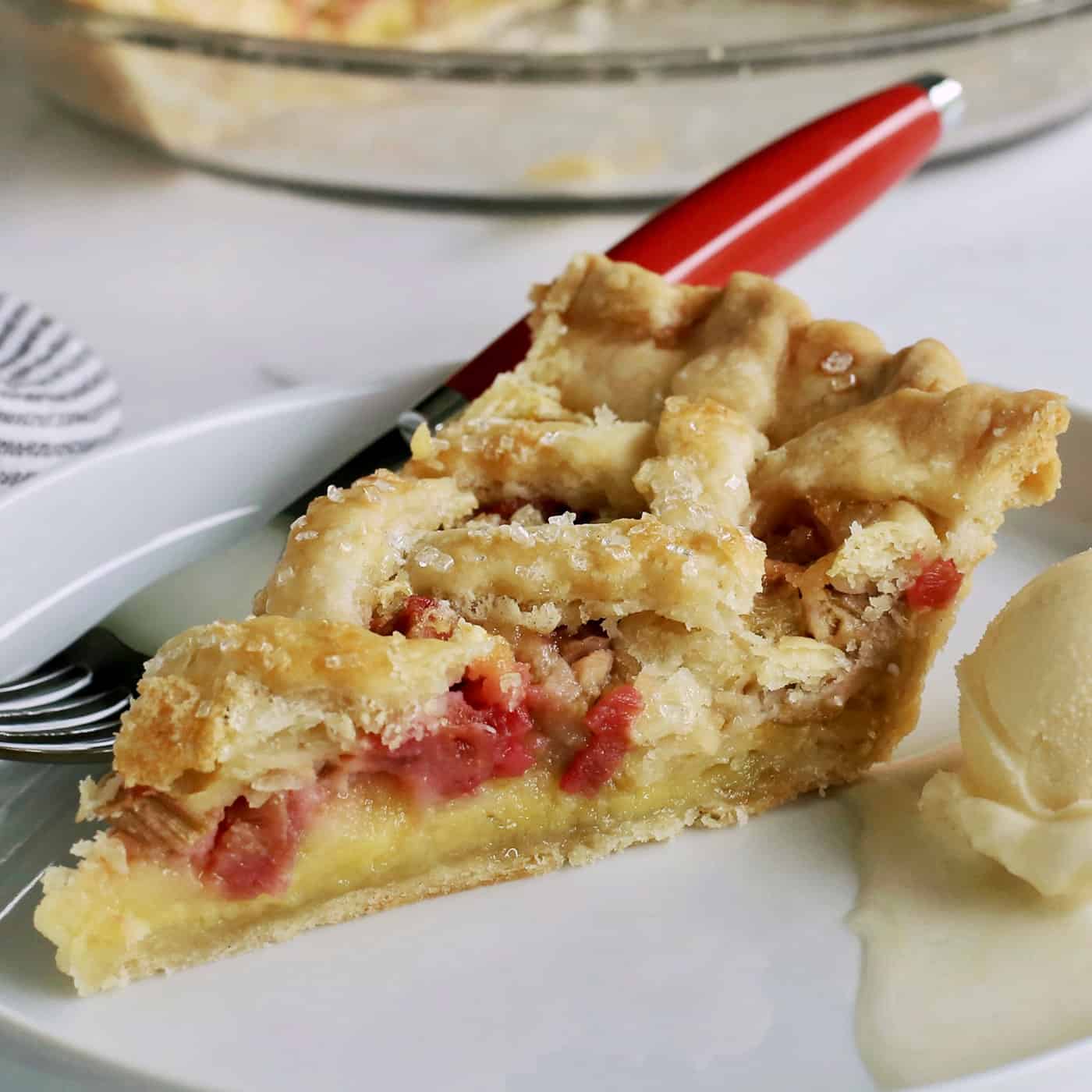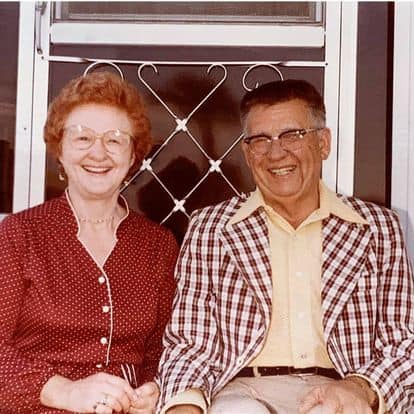 Memories of Grandma Renelt
All of this next text is from my original 2010 post, where I showed Grandma's rhubarb custard pie sitting on Grandma's old table…
Notice the marbled gray table top in my picture? That was also my Grandma Renelt's, a chrome table and chairs set purchases back in the 50's. It graced my grandpa and grandma's South Dakota farm kitchen, where my Uncle Franny & Aunt Karen now live.
After Grandpa died in 2001, Grandma held an auction sale. This dining table and chairs was to be auctioned off, and it caught my eye. I had always liked it. When the set hadn't been sold before I needed to leave, I asked Dad to bid on it for me if it didn't go too high. Then, at the last minute, I told him not to bother, explaining that I really didn't have the room for it anyway. And I left.
The day after the sale, I got a call from Dad. He bought the table and chairs and was going to store them for me on the farm until I had space for them. Wow! What a dad!
So, when we moved a few years later to a home with more stretching space, Dad hauled the set from the farm to our new home. It was well used , and did need some work. But with some elbow grease and steel wool, the chrome was shining again. While I was replacing the worn seats and backs with new material, I discovered miscellaneous handwritten notes my grandma had made under the seat bottoms. Notes about the crops in the field, a random day's temperature, and Uncle Ron's birth.
Grandma also told me about the hundreds of rolls she kneaded at that table, because the countertops were just too tall for her to work at comfortably. And she wondered how she ever squeezed her family of 8, plus 3 hired men, around that table for a meal during harvest. Grandma also reminisced how each of the table top's blemishes occurred. The big scratch was from when Grandpa brought home a wooden crate of peaches. Sliding the crate across the table, a nail poking out the bottom laid its trail. And the burn marks? Oh, that was just one of the kids running through the house with a sparkler!
I just eat up all that nostalgia. And it makes this dining set priceless to me.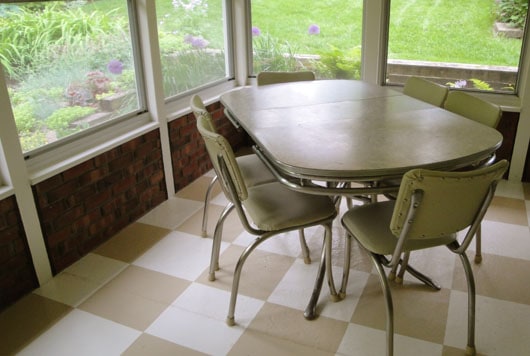 The dining set as it now graces our sunroom.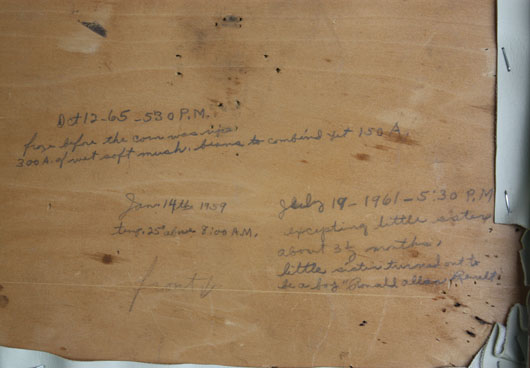 Some of Grandma's notes from a chair bottom…
October 12, 1965 at 5:30 pm – 300 acres of wet soft mush in the field, due to the corn freezing before it was ripe, plus 150 acres of beans yet to combine.
January 14, 1959 – temperature was 25° above at 8:00 am.
July 19, 1961 at 5:30 pm – expecting a little sister to join her 5 other children in about 3-1/2 months. (Note was later added to this, saying the little sister actually turned out to be a boy…Ronald.)