Lemon Rhubarb Scones with Vanilla Bean Glaze
This post may contain Amazon or other affiliate links. As an Amazon Associate I earn from qualifying purchases.
These Lemon Rhubarb Scones with Vanilla Bean Glaze are a springtime pastry perfection! This easy scones recipe is perfect for using up fresh lemons and rhubarb.
If you love making homemade scone recipes you should also try my Cranberry Orange Scones with Orange Nutmeg Glaze and my Strawberry Shortcake Scones!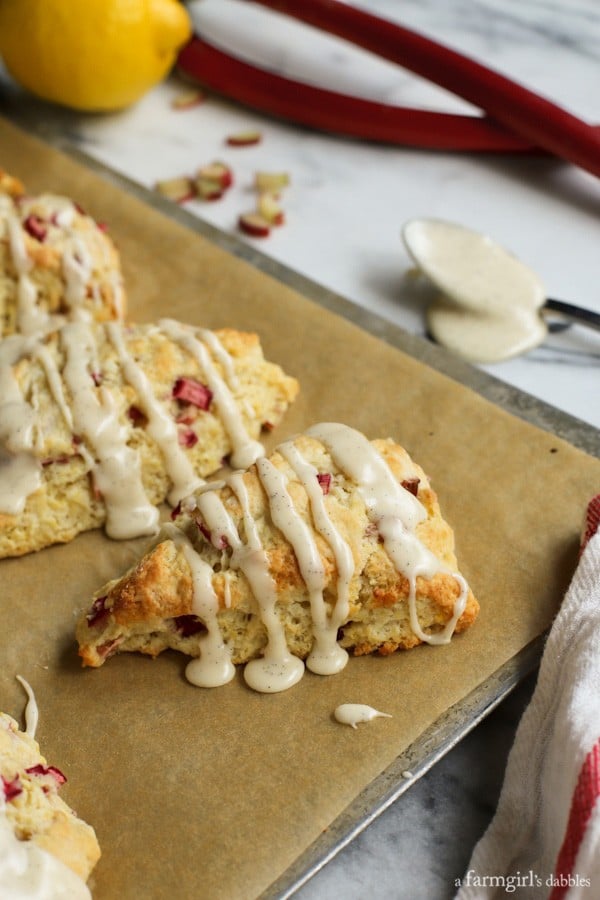 My Family Loves Baking Desserts With Fresh Rhubarb
Rhubarb season is starting to wane here in the Midwest and I'm grabbing every opportunity I can find to celebrate it, in all its tart glory. This past weekend, when my sister's family stayed with us, I mixed up rhubarb mojitos for us to sip alongside the fire in the back yard. Those ice cold bevvies were a hit with us adults, for sure. And watching the kids' water gun war, full of sneaky tactic and laughter, was the finest summer entertainment.
We're also loving the baking that goes along with the rhubarb of springtime. I still have on my agenda, when I can get my hands on some fresh local strawberries, to bake a strawberry rhubarb crisp. When served warm, with scoops of cold vanilla ice cream, it's extremely hard to resist. Just like these beautiful Lemon Rhubarb Scones with Vanilla Bean Glaze. Until the rhubarb runs out, we can't stop. We won't stop!
[rss-cut]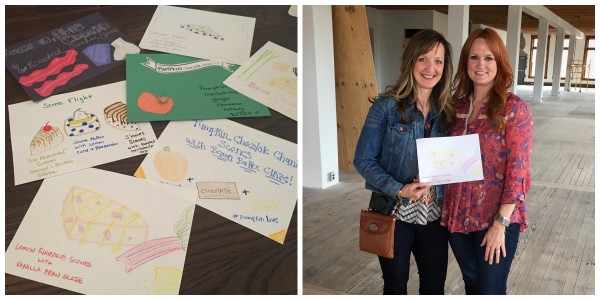 My Lemon Rhubarb Scones Recipe Won A Scones Contest
This lemon rhubarb scones concept has been on my mind for a few months, a baking project for the blog. But my idea was brought out of the closet when I entered it in a scones design contest while visiting The Pioneer Woman's ranch with Land O'Lakes last month. And my scones idea was chosen by Ree as one of the scones that will be featured at The Building's coffee shop. Coolio, huh? I am truly honored. And I canNOT wait to visit Ree's mercantile store and enjoy a cup of coffee and a scone!
Many of you have asked for this recipe. So I've been workin' on it, still determined to fulfill my recipe to-do list. You'll find it below. And if you want to learn more about the time we spent at The Ranch, just go here and here.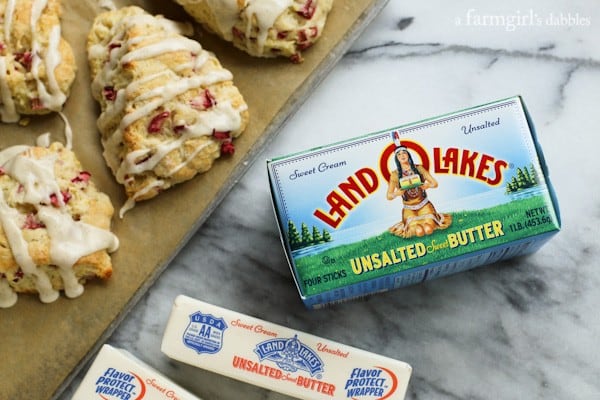 Of course, my scones recipe has Land O'Lakes butter at its heart. Cold butter is cut into the dry ingredients, lending pockets of delicious, buttery flakiness when the heat hits it in the oven.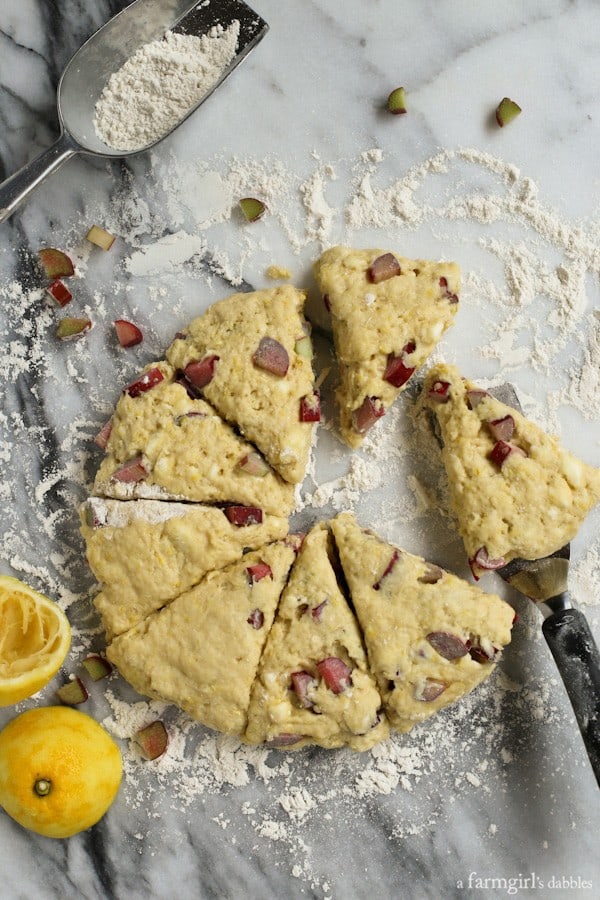 How To Make A Perfectly Shaped Scone
There are many ways to shape a scone. But the method I return to most often is the pie-shaped one. I simply pat out the finished dough into a smallish-sized circle, cut it into wedges, and transfer the triangular shapes to a baking sheet lined with parchment paper.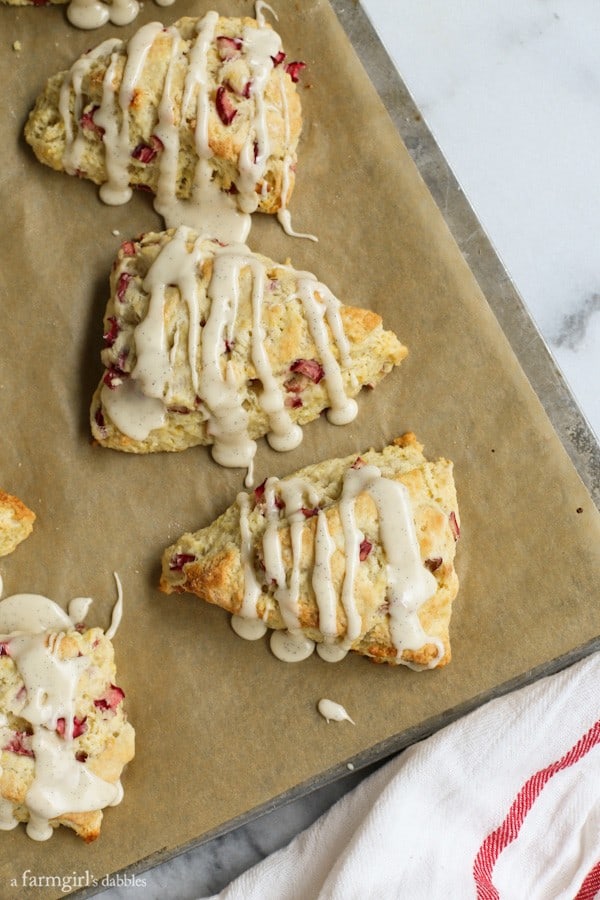 Once the lemon rhubarb scones have cooled a bit, I whisk up a simple vanilla bean glaze and drizzle it over the top of each piece of pastry.
Are Lemon Rhubarb Scones Moist?
These scones are moist on the inside, with a delicate, crispy exterior. No dry, hockey puck scones are allowed out of our kitchen!
Bright with lemon and tart with bits of ruby rhubarb, the scones are sweetened with the loveliest vanilla glaze. If there's ever a way to punch up the flavor and beauty of vanilla's subtlety, scraping some fresh vanilla beans into the recipe is a sure bet.
Quick, before rhubarb season departs, make these scones. I'd love to know what you think of them!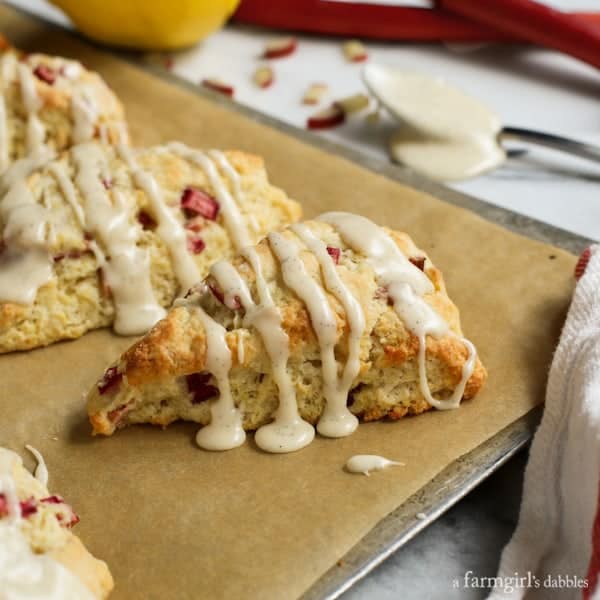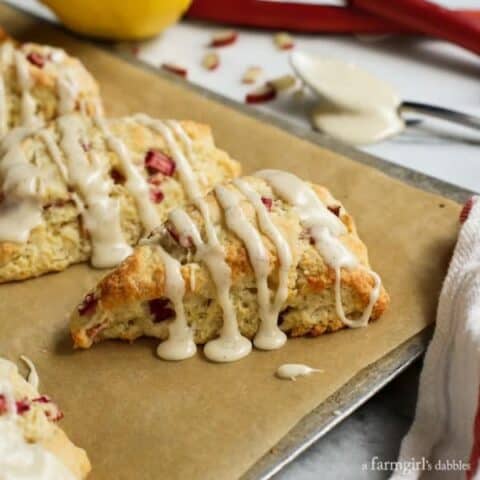 Lemon Rhubarb Scones with Vanilla Bean Glaze
Yield: 8 scones
Prep Time: 15 minutes
Cook Time: 12 minutes
Total Time: 27 minutes
These Lemon Rhubarb Scones with Vanilla Bean Glaze are a springtime pastry perfection! This easy scones recipe is perfect for using up fresh lemons and rhubarb.
Ingredients
for the lemon rhubarb scones:
2 c. all-purpose flour
2 tsp. baking powder
1/4 tsp. baking soda
1/2 tsp. kosher salt
1/3 c. sugar
zest from 2 large lemons
1/2 c. cold, unsalted butter, cut into small pieces
1/2 c. buttermilk (do not substitute)
(do not substitute)
1 T. freshly squeezed lemon juice
1 tsp. pure vanilla extract
1 large egg, lightly beaten
1 scant c. small chopped rhubarb (about 1/4" size) 
for the vanilla bean glaze:
2 c. powdered sugar
3 T. half and half
1 tsp. pure vanilla extract
vanilla beans scraped from half of a vanilla bean
Instructions
for the lemon rhubarb scones:
Preheat oven to 425° F. Line a baking sheet with parchment paper and set aside.
In a medium bowl, stir together flour, baking powder, baking soda, salt, sugar, and lemon zest, breaking up any clumps of lemon zest. With a rigid pastry blender or two knives, cut in butter until mixture resembles coarse meal. Make a well in the center, and then add buttermilk, lemon juice, vanilla, and egg. Stir just until combined, taking care to not over mix. Gently fold in rhubarb, just until barely combined.
Transfer dough to a lightly floured work surface and gently knead 2 or 3 times to bring it all together. Pat dough into a 7'' diameter circle and cut into 8 wedges. Transfer wedges to prepared baking sheet.
Bake until scones are puffed and golden brown, 12 to 14 minutes. Remove pan from oven and let scones sit on baking sheet for a couple minutes before removing to a wire rack.
for the vanilla bean glaze:
While scones are still slightly warm, prepare the glaze. In a small bowl, whisk together all glaze ingredients until smooth. If the glaze is a bit stiff, add another teaspoon of vanilla extract or half and half. Drizzle the vanilla bean glaze over the scones using a spoon. Allow icing to set completely, then serve.
Scones are best eaten on the day they are baked. To revive leftover scones' flaky texture the following day, preheat a cooking stone to 300° in the oven. Place any number of scones on the stone and warm for 5 minutes.
Nutrition Information:
Yield: 8
Serving Size: 1
Amount Per Serving:
Calories: 397
Total Fat: 13g
Saturated Fat: 8g
Trans Fat: 0g
Unsaturated Fat: 5g
Cholesterol: 56mg
Sodium: 352mg
Carbohydrates: 66g
Fiber: 2g
Sugar: 39g
Protein: 5g
Nutrition information is automatically calculated by Nutritionix. I am not a nutritionist and cannot guarantee accuracy. If your health depends on nutrition information, please calculate again with your own favorite calculator.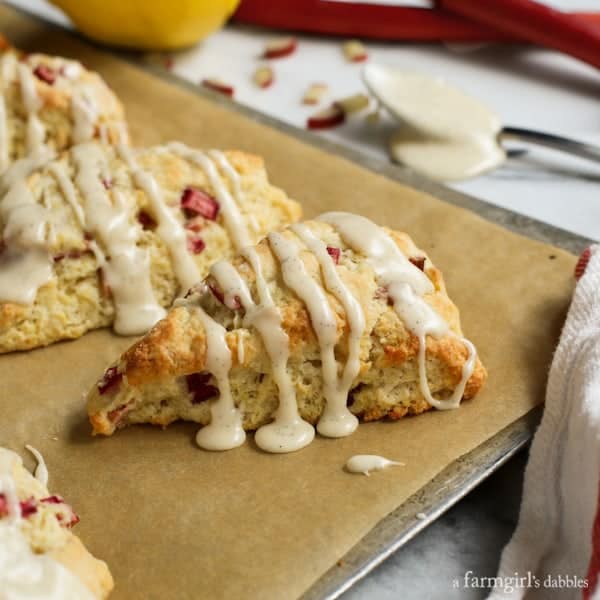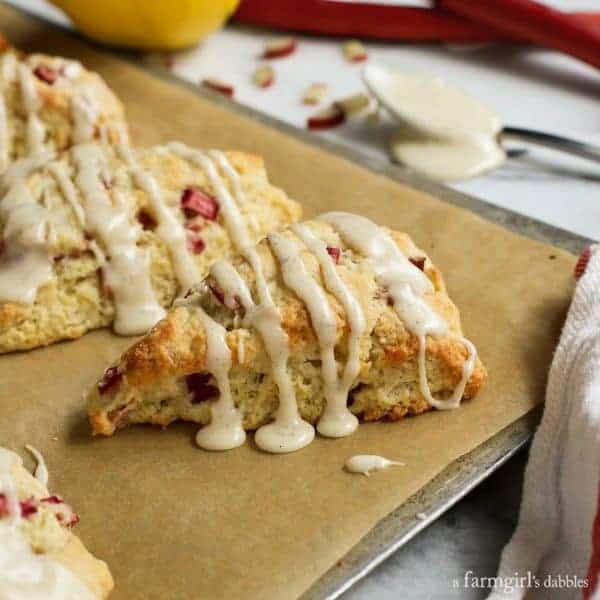 We participate in the Amazon Services LLC Associates Program, an affiliate advertising program designed to provide a means for us to earn fees by linking to Amazon.com and affiliated sites. See our
disclosure policy
for more info.