Strawberry Rhubarb Cobbler
This easy Strawberry Rhubarb Cobbler turns fresh rhubarb and strawberries into a tart but sweet dessert, topped with biscuit-like dough. Serve with vanilla ice cream or whipped cream for the perfect summer dessert.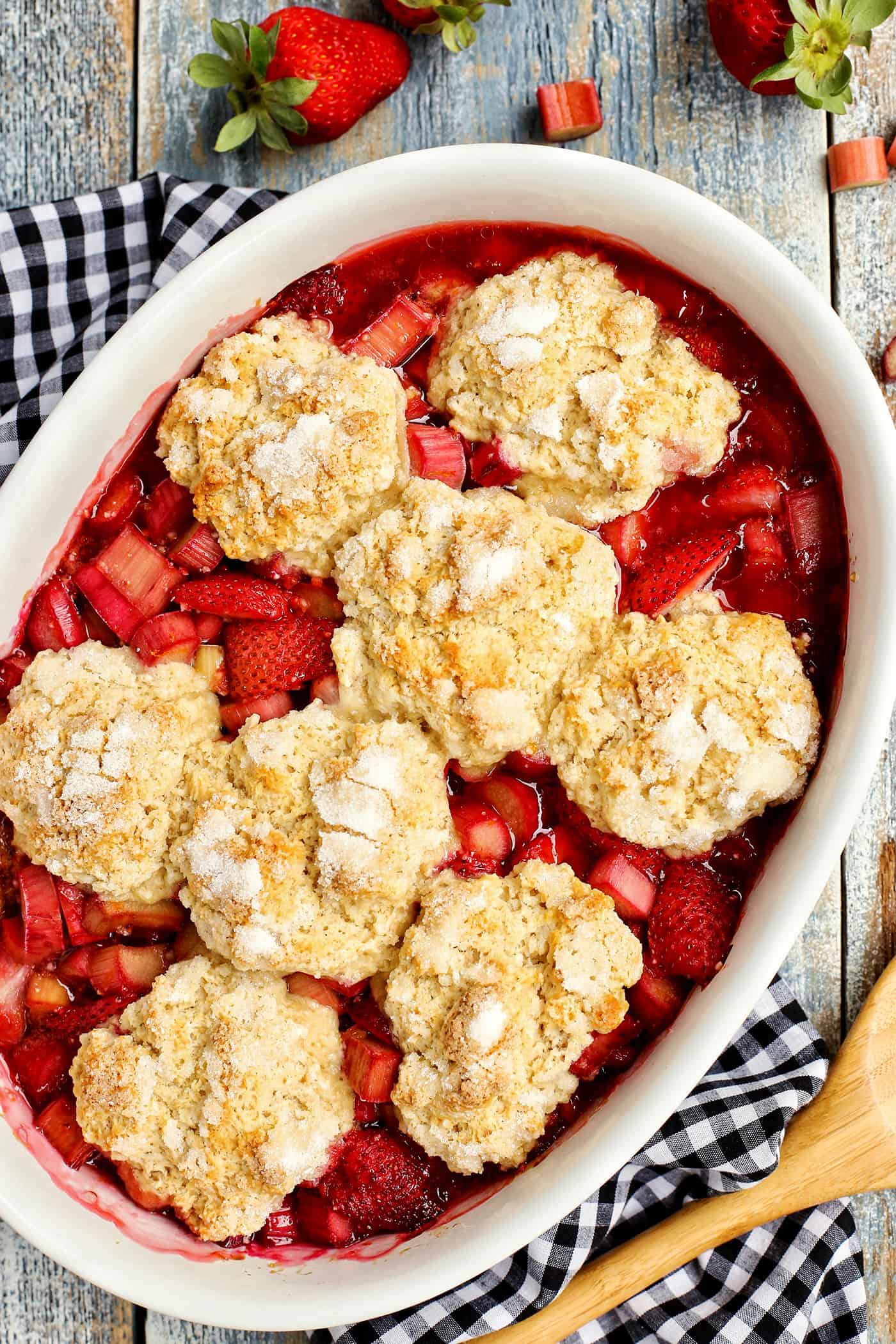 A Sweet & Easy Summer Dessert
Macaroni and cheese. Peanut butter and jelly. Peaches and cream. These are all food pairings that come to mind easily. But there are few combinations as heavenly as strawberry and rhubarb.
Yes, I'm just a bit partial to my beloved rhubarb. But I make no excuses for it. I simply love its tartness and texture. And when combined with sweet, juicy strawberries…now that's one magical food pairing. If you haven't yet tried it, this Strawberry Rhubarb Cobbler would be an excellent place to start!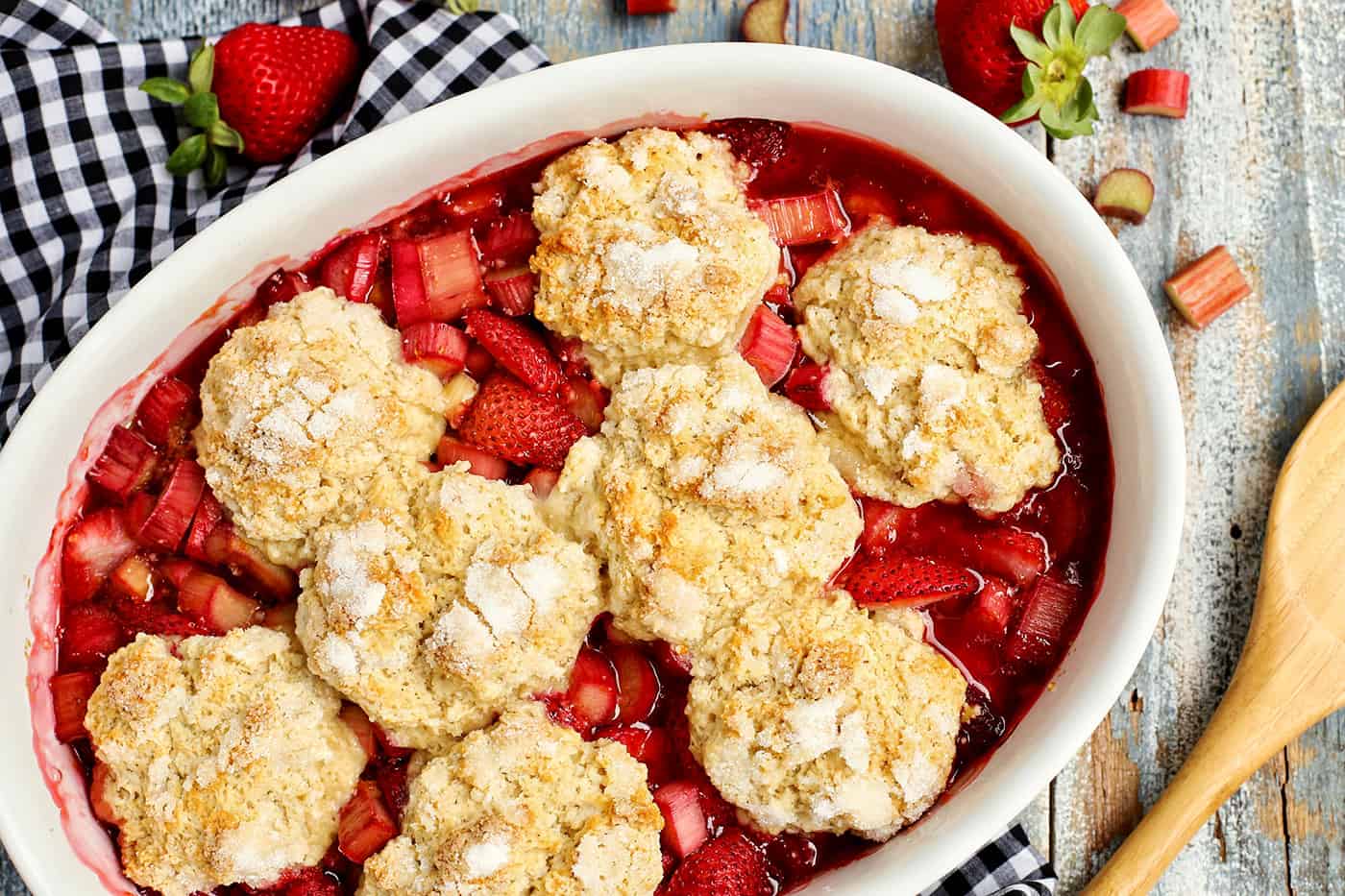 Why I Love This Cobbler
It's no secret that rhubarb is one of my favorite summer ingredients to cook with. Those few months when rhubarb is plentiful are some of my favorite baking months. And I love this easy strawberry rhubarb cobbler.
First off, it has my beloved strawberry and rhubarb flavor combination. There really are few flavors that complement each other like these two! This cobbler is brightened up with a small amount of fresh orange juice and zest – the citrus is so lovely with tart rhubarb and sweet strawberry. It's a bit of an unexpected flavor but really makes the cobbler that much better.
Second, this cobbler is so easy to make. There are just 5 steps, impossible to mess this up!
With this strawberry rhubarb cobbler, you get the flavors of strawberry rhubarb pie, without all the work! If you've never made a rhubarb dessert, this cobbler is a great place to start!
What You'll Need
There's a short list of ingredients for both the strawberry rhubarb filling and the dough topping. The dough topping is made entirely of pantry staples too!
For the Strawberry Rhubarb Filling
Rhubarb – Slice into 1/2 inch pieces.
Strawberries – These should be hulled and quartered. The sweeter, the better!
Sugar – Balances the tart flavor of the rhubarb.
Cornstarch – Thickens the juices.
Instant Tapioca – Another thickening agent for the filling.
Orange Juice – Freshly squeezed is essential.
Orange Zest – Adds more citrus flair to the dessert.
For the Dough
Flour – All-purpose flour is what I use.
Brown Sugar – The tablespoons should be packed.
Baking Powder – Allows the dough to rise.
Kosher Salt – Just a little bit!
Unsalted Butter – Chilled and diced to stir into the mixture.
Milk – Any dairy milk will do.
Sugar – Helps create a sweet, crunchy topping.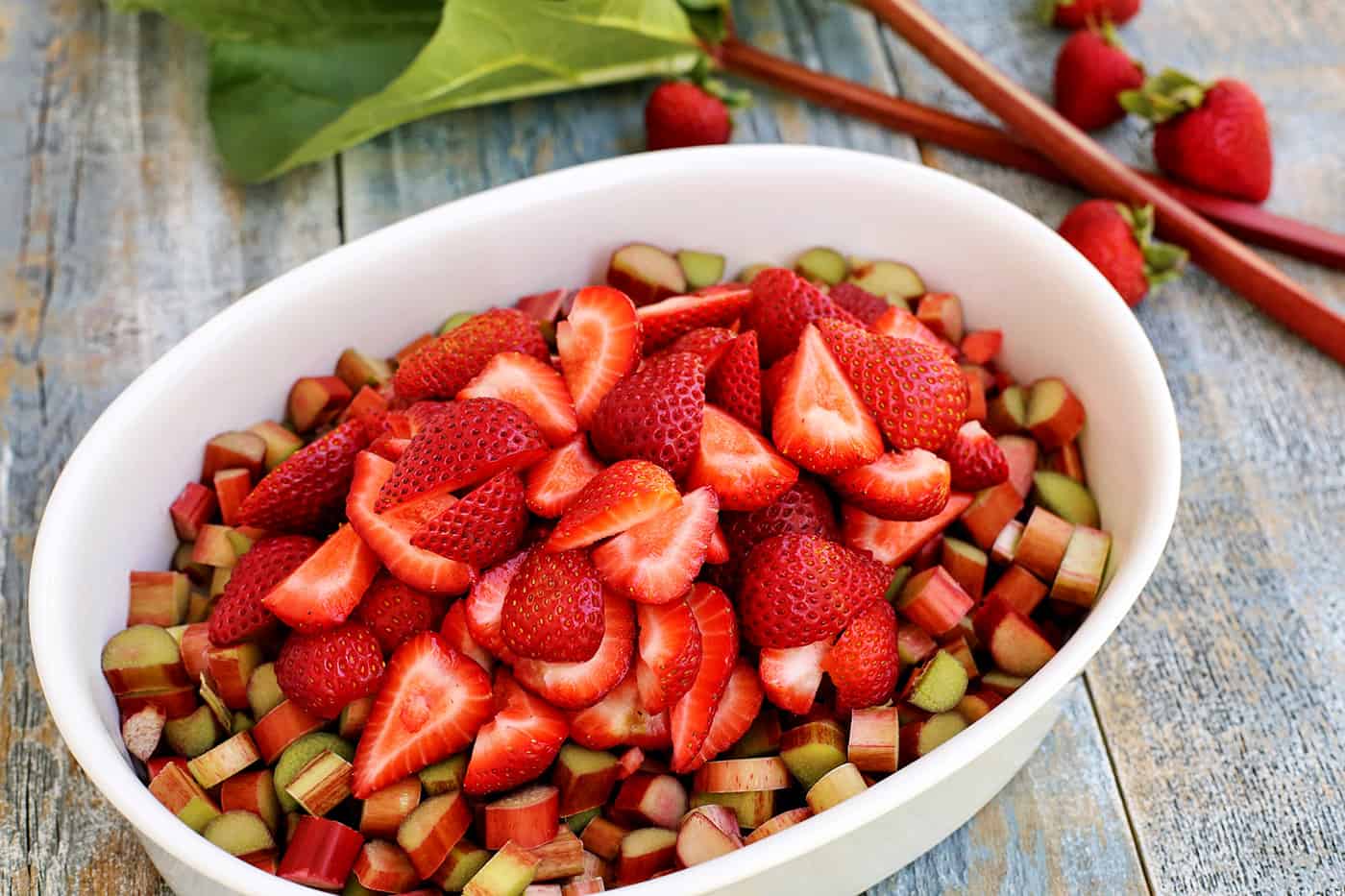 How To Make Strawberry Rhubarb Cobbler
There's just 5 steps to the perfect cobbler!
Preheat oven. Preheat oven to 375° F.
Prepare the strawberry rhubarb filling. Toss the rhubarb, strawberries, and other filling ingredients in a bowl. Let sit for 15 minutes, stirring every 5 minutes.
Make the dough topping. Whisk together all dough ingredients except for the milk, butter, and white sugar. Cut butter into dry mixture with a fork, until crumbly. Drizzle milk over the top and stir until just evenly moist.
Assemble the cobbler. Transfer the strawberry rhubarb filling to a baking dish. Drop spoonfuls of dough on top, in 8 equal mounds. Sprinkle sugar over mounds.
Bake and serve. Bake uncovered for 40 minutes. Biscuits should be browned and juices thickened and bubbling. Allow to cool for 30 minutes, then serve.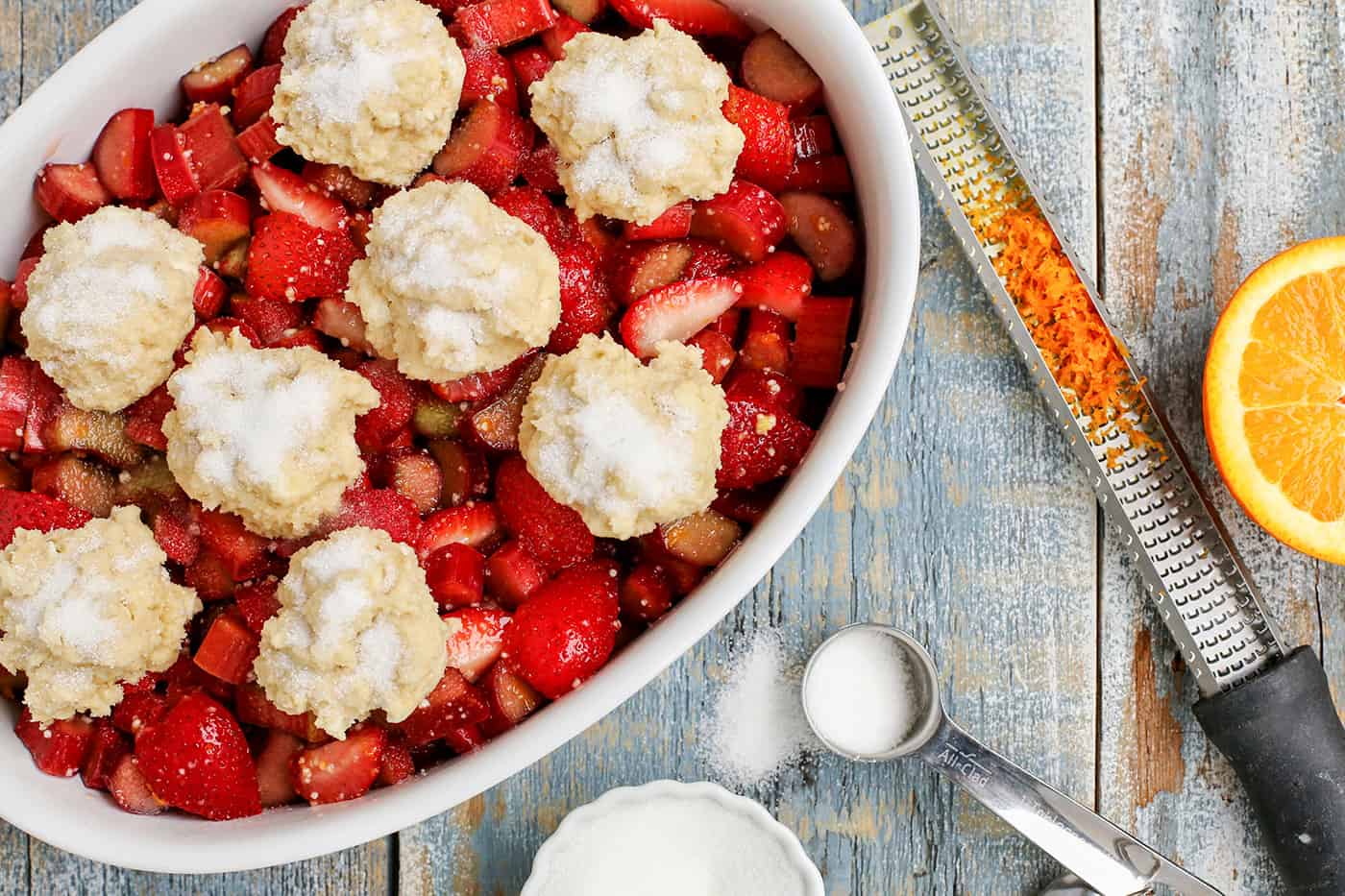 Tips for Success
One of the reasons this rhubarb cobbler is my favorite is because it's virtually impossible to mess up. That said, here are a few tricks I've learned for the absolute best strawberry rhubarb cobbler.
Do not overmix the dough. After pouring in the milk, stop after it is lightly combined.
Don't be afraid to add sugar to the dough mounds. Topping the mounds with sugar is part of what gives the crisp, crunchy texture to the cobbler at the end.
Frozen rhubarb works in a pinch. If you don't have access to fresh rhubarb, no worries. This cobbler can also be made with frozen chopped rhubarb – just be sure to add it to the recipe while it's still frozen.
Allow to cool before serving. As tempting as it might be to dive in the minute it comes out of the oven, I recommend allowing the cobbler to cool for 30 minutes or so. It will still be warm but the sauce will thicken and it will be easier to cut and serve.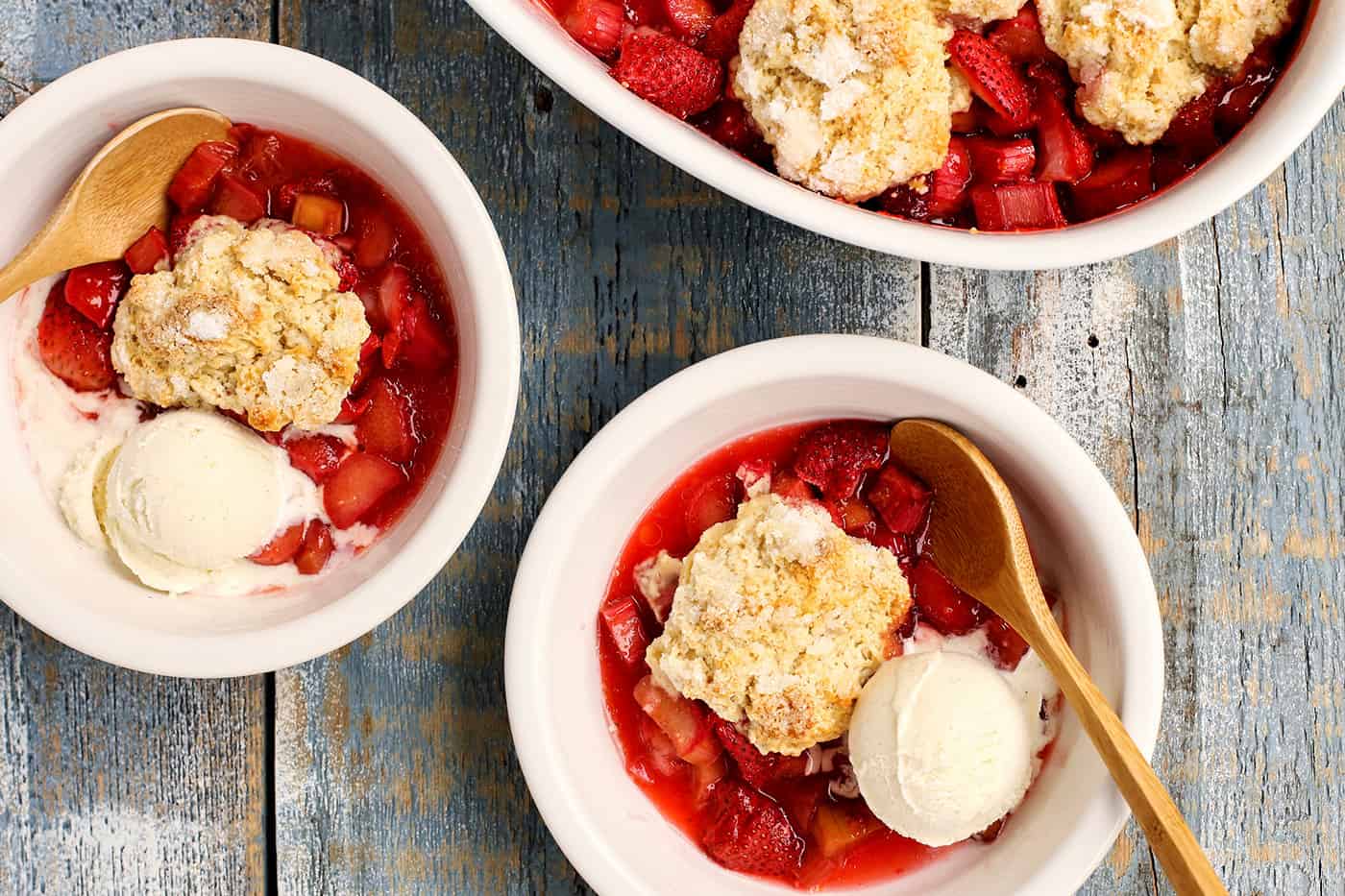 Serving Suggestions
This strawberry rhubarb cobbler is best eaten when still just a bit warm, after resting on the countertop.
My personal preference is to serve the cobbler in low, wide bowls, to hold the juices, with scoops of vanilla bean ice cream. I love how the ice cream starts to melt into the warm strawberry rhubarb mixture, creating pretty swirls of white through the vibrant red.
You can also serve this with a dollop of whipped cream or a splash of cream.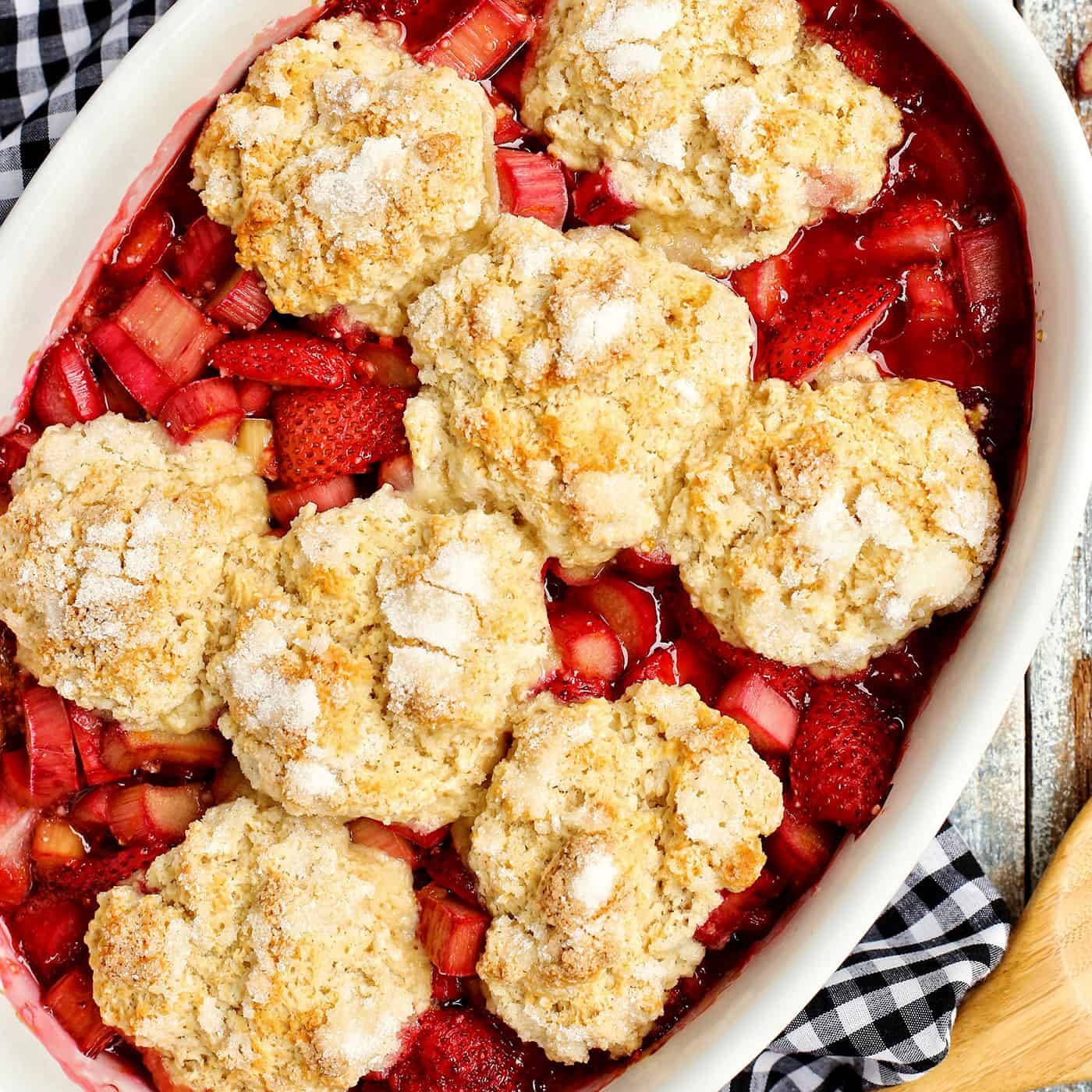 How to Store Leftovers
This dessert will always be best on the day it's made. But you can store this strawberry rhubarb cobbler at room temperature for a couple days or in the fridge for up to 4 days. I recommend reheating it in the microwave or oven.
The biscuit topping will soften and soak up the juices the longer it sits, but the sweet and tart flavor will remain.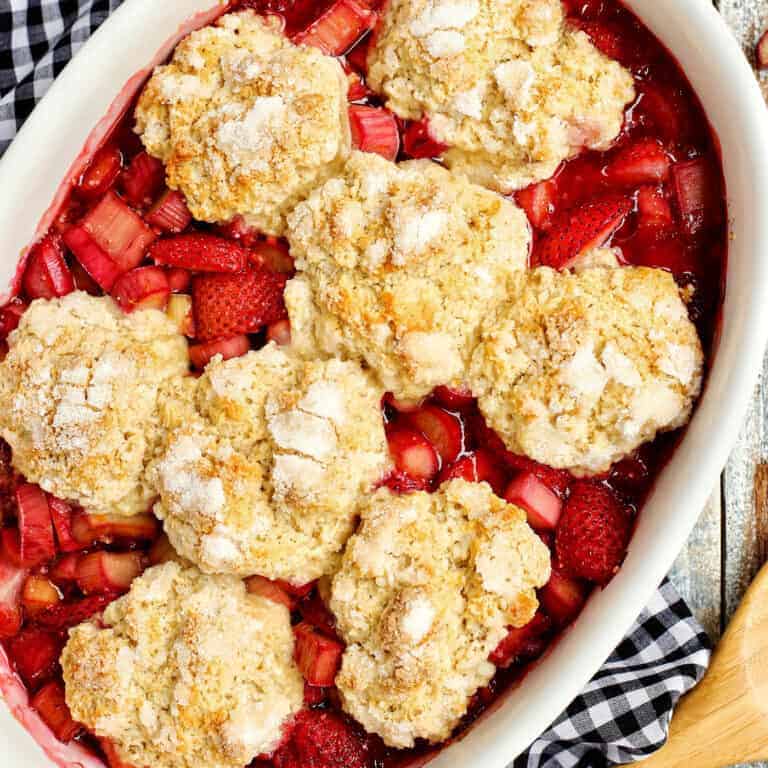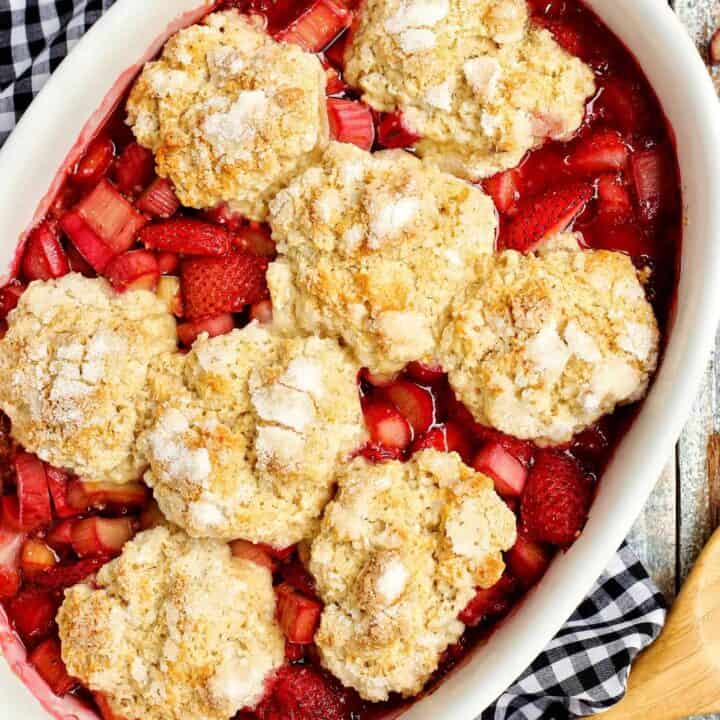 Strawberry Rhubarb Cobbler
Yield: 8 servings
Prep Time: 25 minutes
Cook Time: 20 minutes
Total Time: 45 minutes
This easy Strawberry Rhubarb Cobbler turns fresh rhubarb and strawberries into a tart but sweet dessert, topped with biscuit-like dough. Serve with vanilla ice cream or whipped cream for the perfect summer dessert.
Ingredients
For the Strawberry Rhubarb Filling:
1.5 pounds rhubarb, sliced into 1/2" pieces
1 pound strawberries, hulled and quartered
3/4 cup sugar
2 tablespoons cornstarch
2 tablespoons instant tapioca
1 tablespoon freshly squeezed orange juice
1 teaspoon orange zest
for the biscuit dough:
1 cup all-purpose flour
3 tablespoons packed brown sugar
2 teaspoons baking powder
1/4 teaspoon kosher salt
3 tablespoons unsalted butter, chilled and diced
1/3 cup milk
2 tablespoons sugar
Instructions
Preheat oven to 375° F.
For the strawberry rhubarb filling: In a medium bowl, toss rhubarb and strawberries with sugar, cornstarch, tapioca, orange juice, and orange zest. Let stand for 15 minutes, stirring every 5 minutes.
For the biscuit dough: In a large bowl, whisk together flour, brown sugar, baking powder, and salt. With a rigid pastry blender or a fork, cut butter into dry mixture until incorporated and crumbly. Drizzle milk evenly over the top of the mixture and then stir together just until evenly moistened. Do not overmix. Dough will be thick.
To assemble: Transfer strawberry rhubarb filling to a deep baking dish (the oval dish shown in my photos is about 9 x 11 inches, with tall sides). Using a spoon, drop dough onto top of strawberry rhubarb filling, dividing evenly into 8 dough mounds. Sprinkle the 2 tablespoons of sugar evenly over the dough mounds.
Bake, uncovered, for about 40 minutes, until biscuits are browned and filling juices are thickened and bubbling nicely. Remove from oven to a cooling rack. Let cool for about 30 minutes before serving. This is great with a scoop of vanilla bean ice cream—or a dollop of whipped cream, or a splash of cream.
Notes
from a farmgirl's dabbles
Nutrition Information:
Yield: 8
Serving Size: 1
Amount Per Serving:
Calories: 254
Total Fat: 5g
Saturated Fat: 3g
Trans Fat: 0g
Unsaturated Fat: 2g
Cholesterol: 12mg
Sodium: 172mg
Carbohydrates: 51g
Fiber: 3g
Sugar: 30g
Protein: 3g
Nutrition information is automatically calculated by Nutritionix. I am not a nutritionist and cannot guarantee accuracy. If your health depends on nutrition information, please calculate again with your own favorite calculator.
More Rhubarb Recipes:
This post was originally published in 2016, and then updated in 2021. You can also find my recipe over at The Pioneer Woman!