Rhubarb Sour Cream Coffee Cake
This tender Rhubarb Sour Cream Coffee Cake is studded with tart bites of rhubarb and topped with a thin and crispy sugar baked crust. Every coffee cake recipe deserves sour cream in the batter!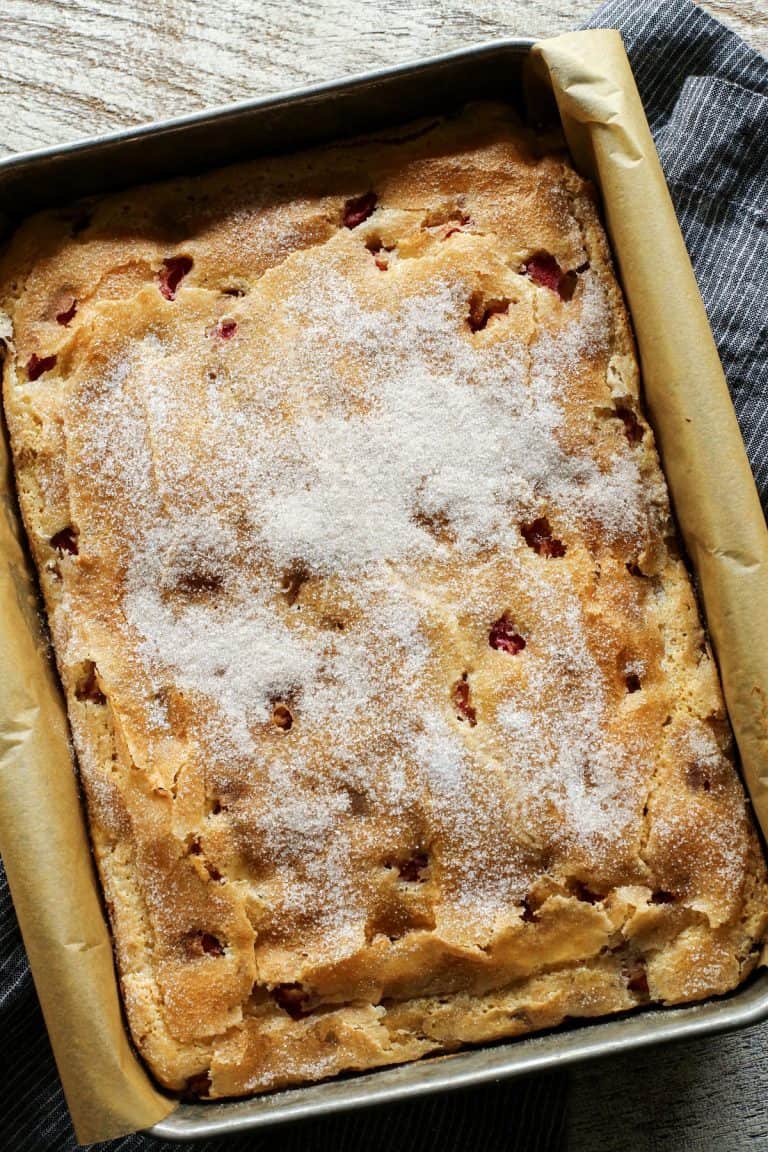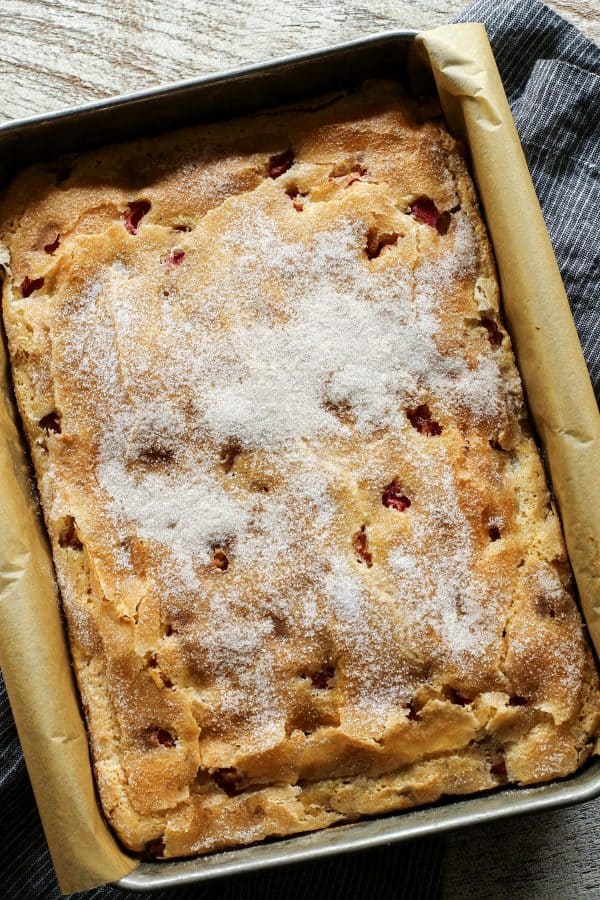 There's no coffee in this Rhubarb Sour Cream Coffee Cake.
Is that confusing, that there isn't actually coffee in a coffee cake recipe? Because I continue to be surprised by comments I get from people when I post a coffee cake recipe here on the blog or on social media, asking me where the coffee is in the cake.
I grew up eating coffee cake, so it's a term that has been in my vocabulary since childhood. But "coffee cake" simply refers to a cake you'd serve with coffee.
Or not with coffee. Ha. Now that IS confusing. But not everybody enjoys a cup of coffee. I know I surely didn't when I was eating coffee cake as a kid. Back then, a glass of cold milk was my choice.
Simply put, coffee cake is one of my favorite easy-to-make cakes. Usually topped with an irresistible crispy sugar baked crust, it goes beautifully from weekend brunch to afternoon coffee to weekday breakfast. I've enjoyed it every which way. There's no wrong time to eat coffee cake. And there are no requirements to drink coffee with it.
Just make this rhubarb sour cream coffee cake – and then relax and enjoy it, whenever and however you like!
*Here are a few more rhubarb recipes I'm loving right now: my mother in-law's Rhubarb Nut Coffee Cake, this Cinnamon Rhubarb Bread with Brown-Butter Glaze, and these Lemon Rhubarb Scones with Vanilla Bean Glaze.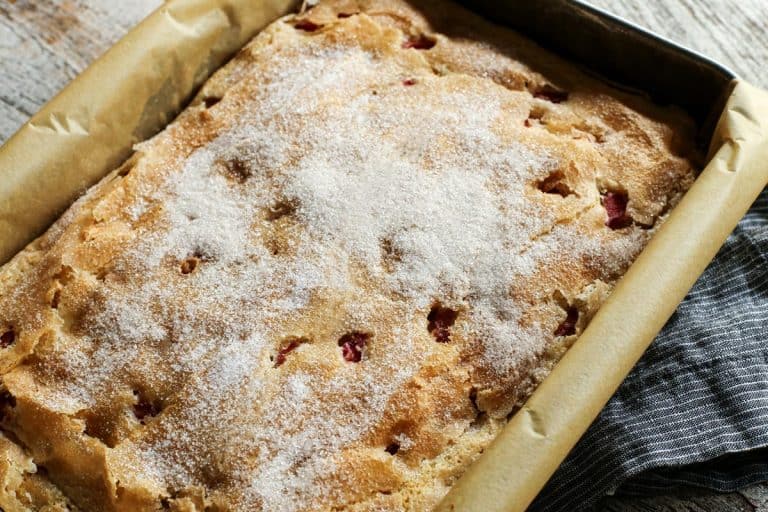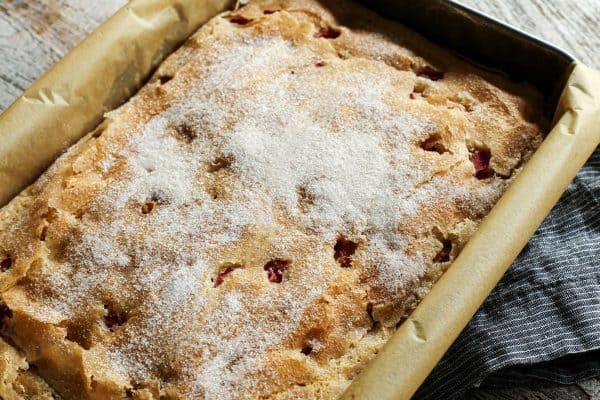 Rhubarb sour cream coffee cake in a 9″ x 13″ pan
A coffee cake baked in a tube pan or Bundt pan, with a gorgeous cinnamon ripple through its center will always be a dazzler at brunch. But there's just something so comfort-inducing about serving a coffee cake from a 9″ x 13″ pan.
It's kinda like slipping on a favorite pair of jeans. It just feels good.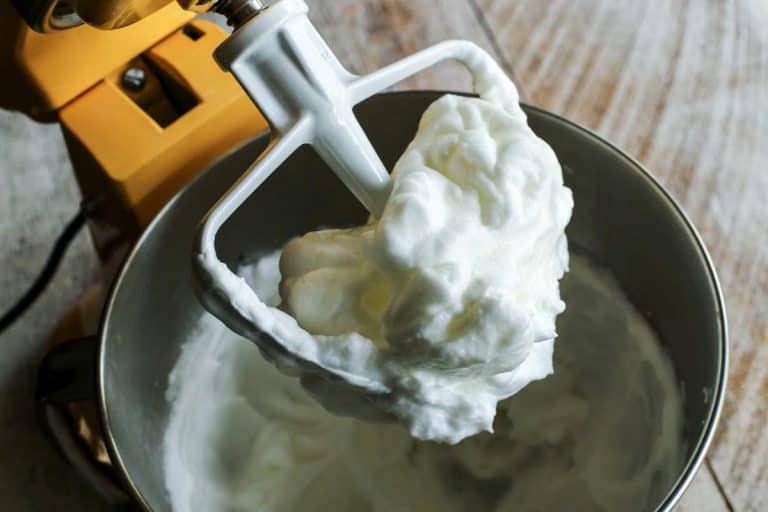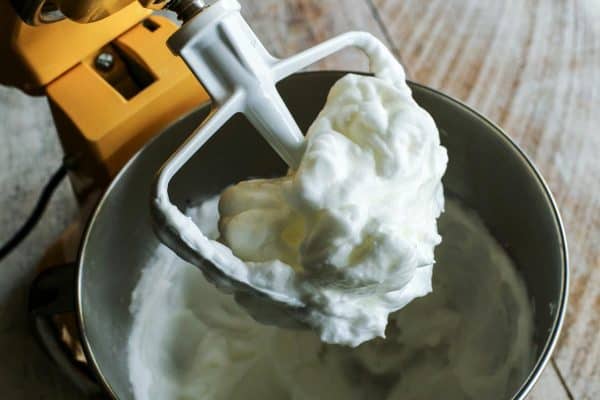 This coffee cake recipe is a little different than most, due to stiffly whipped egg whites getting folded into the batter.
When I first made Smitten Kitchen's recipe for chocolate chip sour cream coffee cake, I was fascinated by its texture and flavor. I loved the chocolate, of course. But I immediately started dreaming about this same recipe procedure utilizing fresh spring rhubarb.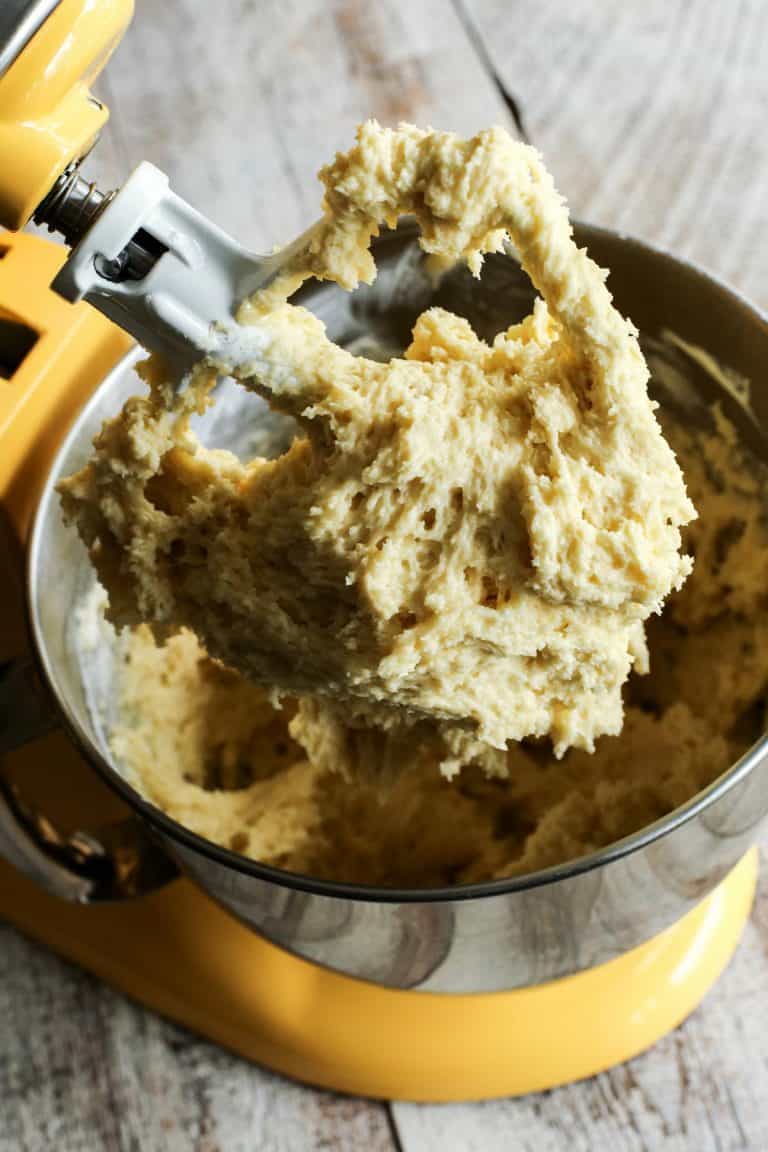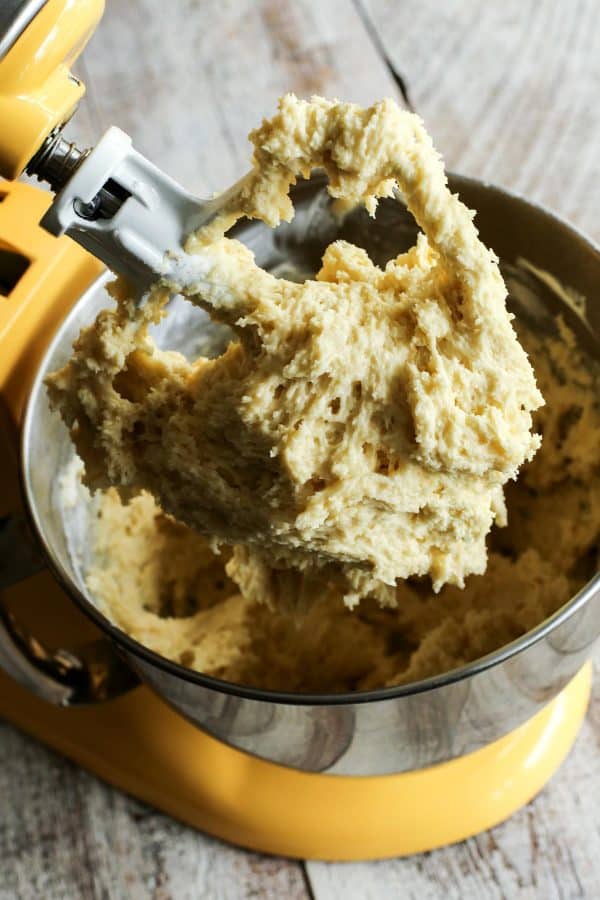 A sour cream cake is always welcome here
The whipped egg whites get folded into a very thick batter, rich and tangy with a generous amount of sour cream. I bet you won't be able to help yourself from sneaking a swipe of it!
Another way we like to incorporate sour cream in our baking is with this recipe for Sour Cream Banana Bread. It's a longtime favorite.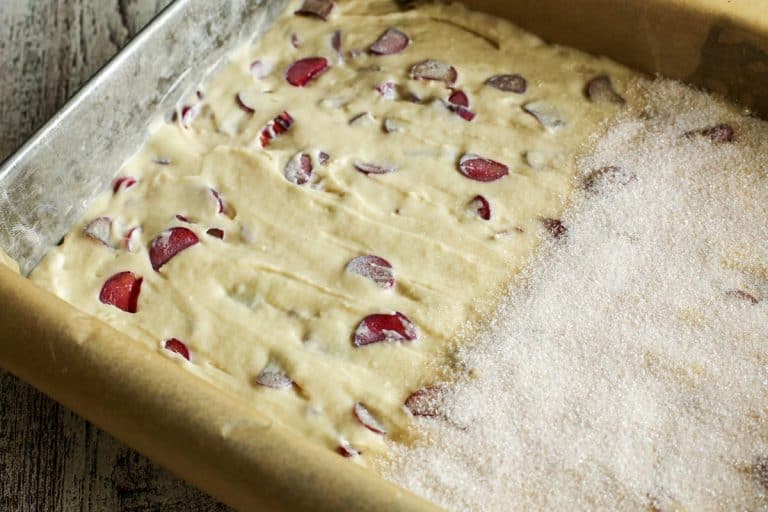 Rhubarb coffee cake with a crispy sugar topping
Then thin slices of rhubarb are folded into the batter, and the batter is spread into the pan.
A simple mixture of sugar and a little bit of cinnamon are sprinkled over the top. I know the sugar amount seems slightly excessive, and you might be tempted to reduce it, but please don't. It's essential to creating that signature sugar crunch on the top of a coffee cake.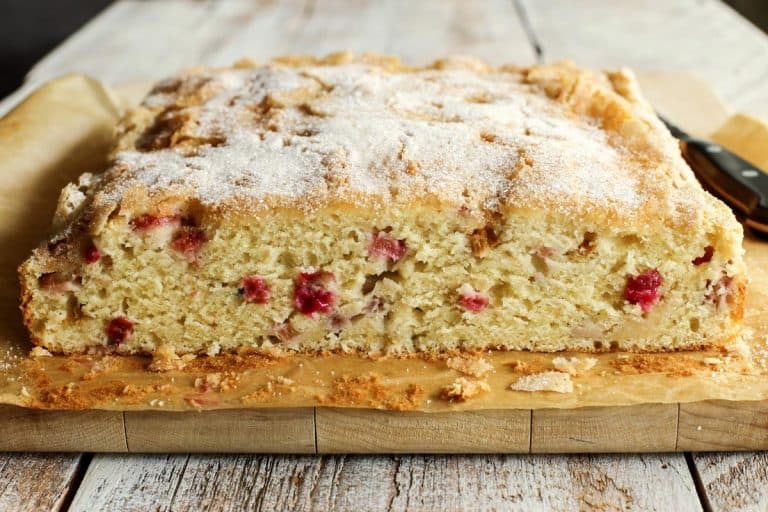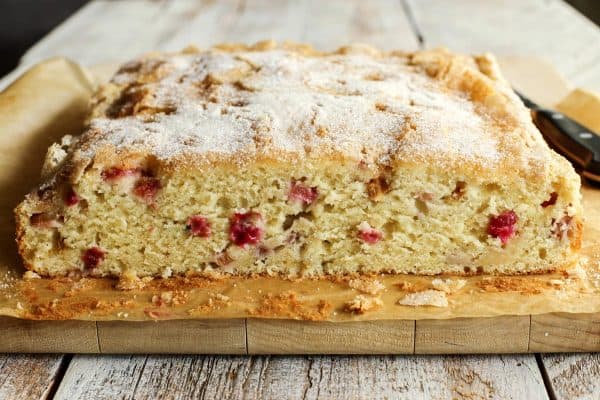 Why make a coffee cake recipe with sour cream?
The rhubarb sour cream coffee cake bakes up perfectly. Perfectly!
Moist is a controversial word when used in the kitchen, but I don't know another word or term that suffices. Possibly "not dry"?
All I know for sure is that sour cream was meant to be in coffee cake. It ensures that the cake is tender and "not dry", plus it adds wonderful tangy flavor. It's absolutely beautiful with the tart pieces of rhubarb and the crisp sugar topping.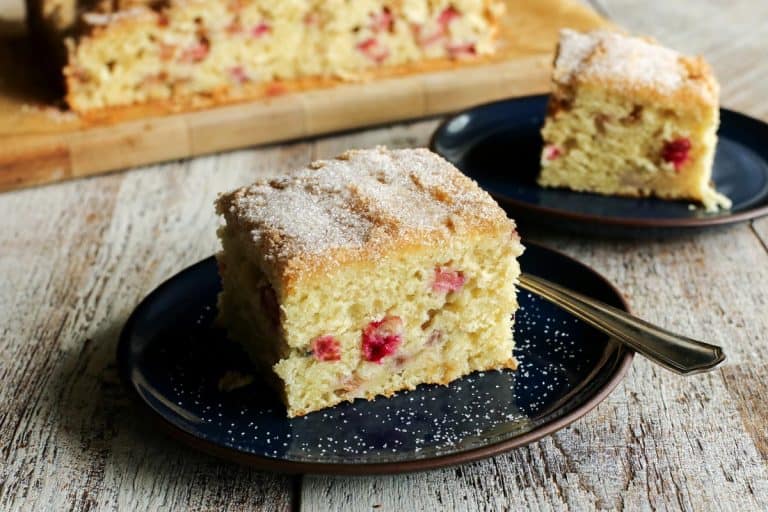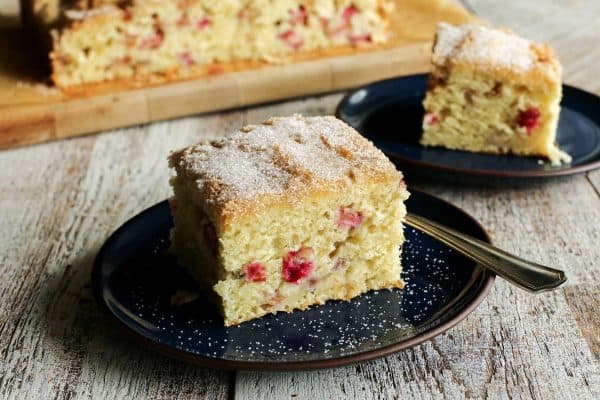 Rhubarb cake will always be a springtime winner
I just never tire of baking with rhubarb, and feel that there could never be too many rhubarb recipes. Do you agree?
This lovely rhubarb cake recipe promises to be your next rhubarb win. I hope you love it as much as we do!
Like this rhubarb coffee cake? Pin it!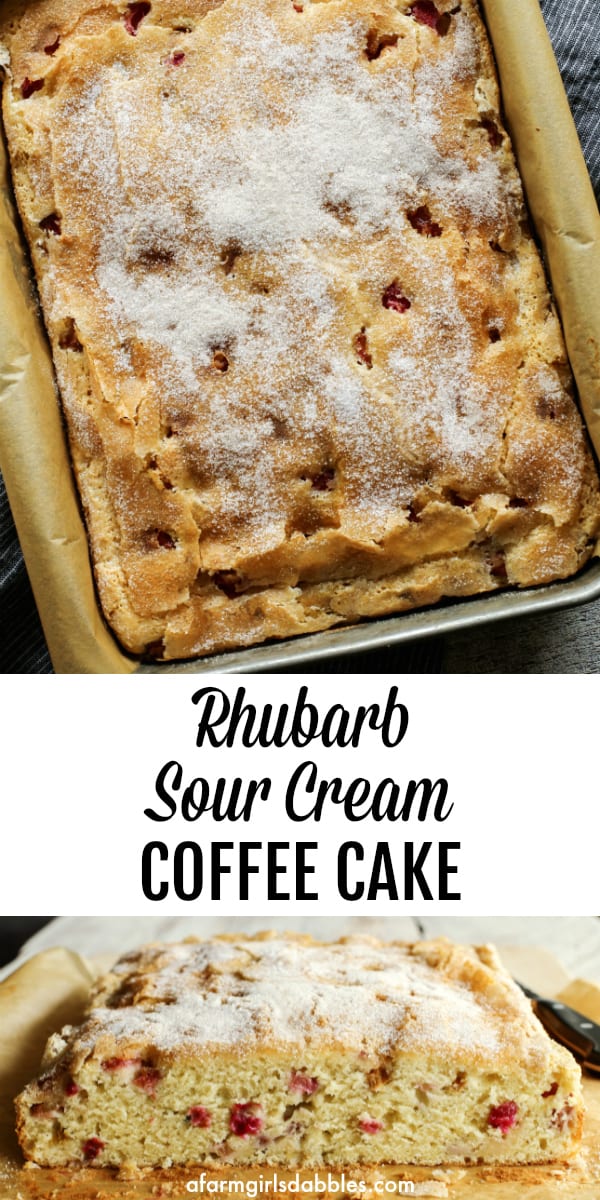 *Here are a few more rhubarb recipes I'd like to try: Classic Rhubarb Pie with a Lattice Crust from That Skinny Chick Can Bake, Rhubarb Sherbet from Pint Sized Baker, Triple Berry Rhubarb Crisp from Barbara Bakes.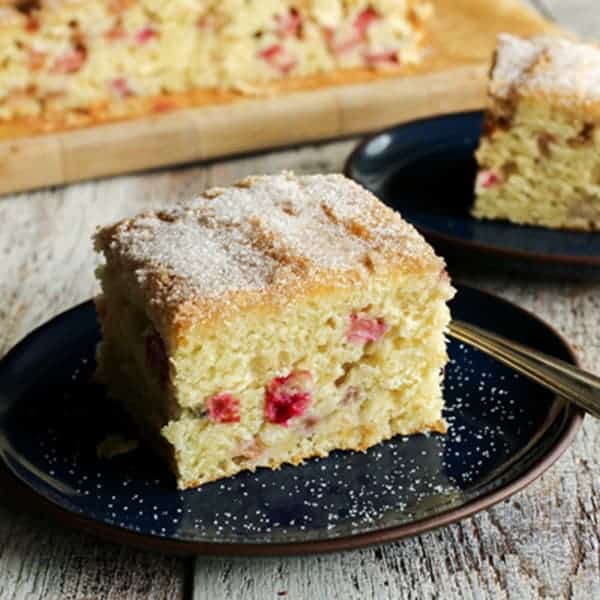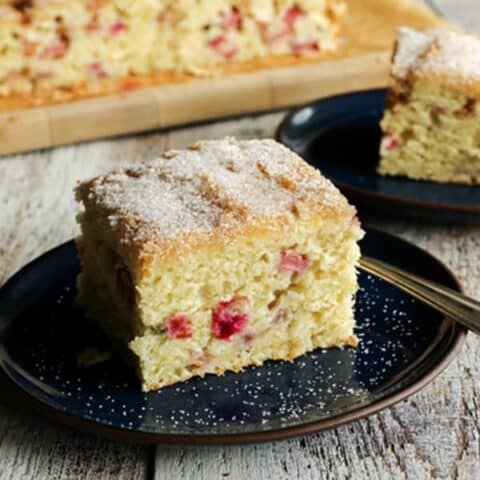 Rhubarb Sour Cream Coffee Cake
Yield: 20 servings
Prep Time: 25 minutes
Cook Time: 40 minutes
Total Time: 1 hour 5 minutes
This tender coffee cake is studded with tart bites of rhubarb and topped with a thin and crispy sugar baked crust. Every coffee cake recipe deserves sour cream in the batter!
Ingredients
3 c. all-purpose flour
1.5 tsp. baking soda
1 tsp. baking powder
3/4 tsp. kosher salt
3/4 tsp. cinnamon, divided
3 large eggs, separated
1/2 c. unsalted butter, at room temperature
2 c. sugar, divided
1 T. pure vanilla extract
2 c. sour cream
2.25 c. thinly sliced rhubarb, divided
Instructions
Preheat oven to 350° F. Very lightly spray a 9" x 13" baking pan and line the bottom with parchment paper, letting the paper extend over the long sides of the pan - if you want to be able to remove the whole cake from the pan for cutting. Otherwise just lightly spray a baking pan and forgo the parchment paper. Set pan aside.
In a small to medium sized bowl, whisk together flour, baking soda, baking powder, salt, and 1/2 teaspoon of the cinnamon. Set aside.
In the bowl of a stand mixer, beat egg whites until stiff. Gently transfer whipped egg whites to a separate bowl and set aside.
Return bowl to stand mixer (no need to wash the bowl first, just get as much of the egg whites out as possible) and add butter and 1-1/2 cups of the sugar; cream together for two minutes. Beat in egg yolks and vanilla. Alternately mix sour cream and flour mixture into butter mixture in 2 additions each. Mix until batter is incorporated and smooth - it will be very thick. Gently fold in whipped egg whites until incorporated. Then fold in 2 cups of the rhubarb.
With a rubber spatula, spread batter into bottom of prepared pan, smoothing the top. Sprinkle top of batter with remaining 1/4 cup of rhubarb. Then run the spatula very lightly over the top of the batter to gently press the exposed pieces of rhubarb into the batter just a bit, leaving rhubarb pieces exposed as much as possible.
In a small dish or cup, combine remaining 1/2 cup of the sugar and remaining 1/4 teaspoon of the cinnamon. Sprinkle mixture evenly over top of batter.
Place pan in oven and bake for 40 to 45 minutes, or until a tester inserted into center of cake comes out clean. Remove to cooling rack to cool completely. Store on the counter for up to a couple days. To keep that crackly sugar topping's crisp texture, do not cover the pan.
Recommended Products
As an Amazon Associate and member of other affiliate programs, I earn from qualifying purchases.
Nutrition Information:
Yield: 20
Serving Size: 1
Amount Per Serving:
Calories: 244
Total Fat: 10g
Saturated Fat: 5g
Trans Fat: 0g
Unsaturated Fat: 3g
Cholesterol: 53mg
Sodium: 225mg
Carbohydrates: 36g
Fiber: 1g
Sugar: 21g
Protein: 4g
Nutrition information is automatically calculated by Nutritionix. I am not a nutritionist and cannot guarantee accuracy. If your health depends on nutrition information, please calculate again with your own favorite calculator.