Chopped Ramen Noodle Salad with Grilled Teriyaki Turkey
This Chopped Ramen Noodle Salad with Grilled Teriyaki Turkey is loaded with texture and the perfect contrast of sweet and savory.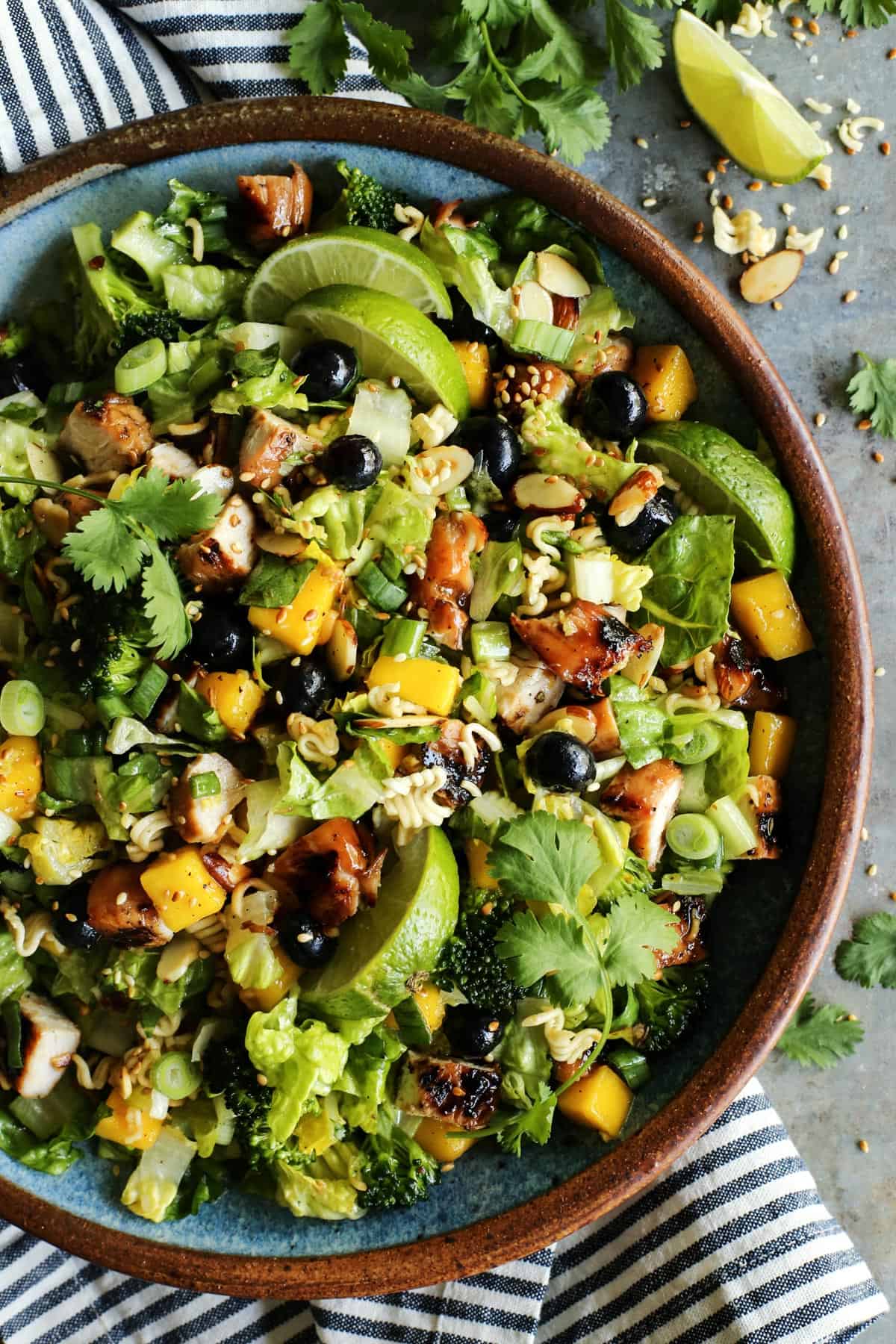 Our Favorite Ramen Noodle Salad
Loving Minnesota in the summertime is easy. With all its opportunities for enjoying the outdoors + (mostly) incredibly awesome weather from late April through early November, it's nearly an effortless ask. I'm pretty certain that summer is the very reason that Minnesotans tolerate winter so well.
The only negative to summer, if you can even call it that, is trying to cram in all the freshness and outdoor dining of the season. I always have a stack of recipes on the ready, for salads, grilling, cocktails, and entertaining in general. It's a never-ending attempt to squeeze in all that deliciousness! Sometimes I'll even double down on the Asian-inspired recipes and make poke bowl to serve with this ramen noodle salad.
Every summer, it seems that we add at least a few new recipes to our list of regular repeats. And this Chopped Ramen Noodle Salad is destined for that list. There's so much good stuff going on here, I just know you're going to love it too!
*Here are a few more salad recipes I'm loving right now: this gorgeous Grilled Zucchini Salad with Lemon-Herb Vinaigrette, this fresh chopped Fattoush Salad, and my Individual Caprese Pasta Salads.
* This is a sponsored post, created in partnership with Minnesota Turkey, to celebrate Turkey Lovers' Month in June!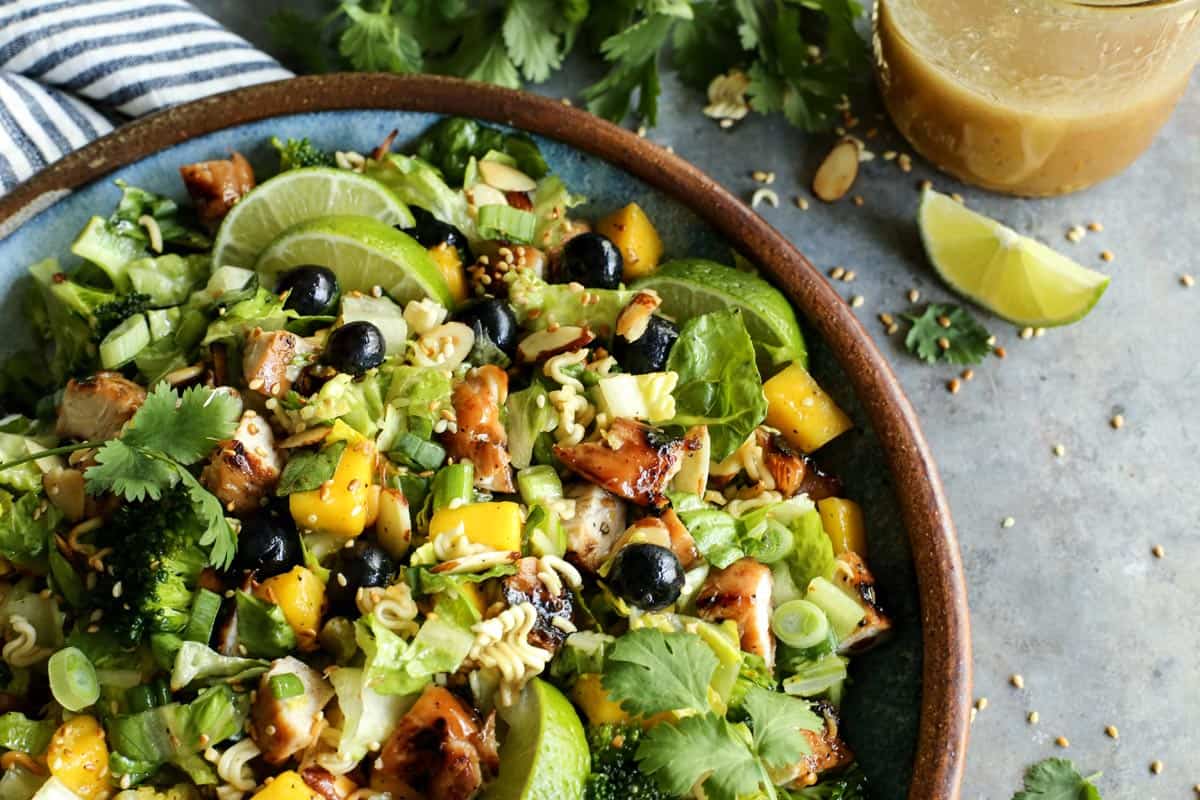 Growing up, one of my favorite salads was one made with chopped bok choy, broken ramen noodles, and an awesome Asian dressing. I'm guessing you know exactly the one I'm talking about, as it seemed to appear at nearly every potluck.
Well this chopped ramen noodle salad is my grown-up twist on that old favorite. This new recipe adds beautiful fruits, plus protein in the form of grilled teriyaki turkey. The salad is light and refreshing, yet filling. It's a meal that's built especially for summer.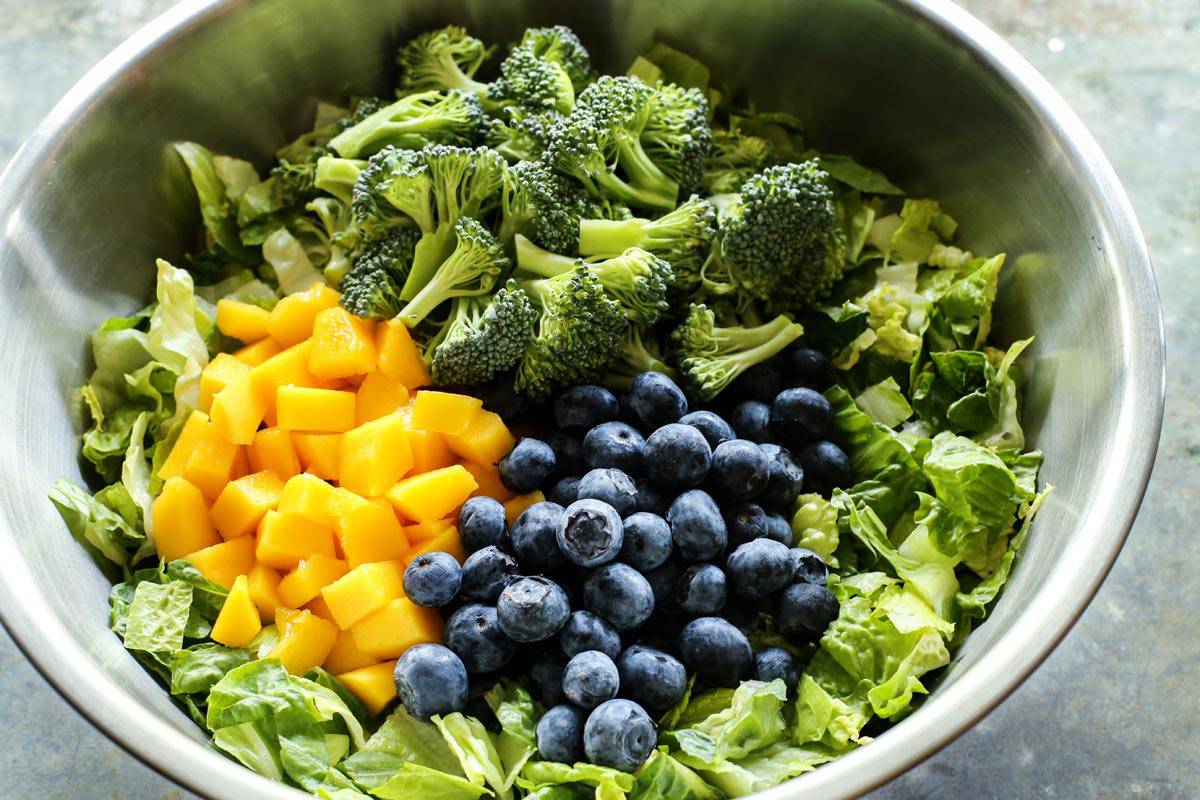 Why We Love this Recipe
There's no cabbage in this ramen noodle salad recipe. That's very different from the recipe I grew up on, and the countless variations of ramen salad you'll find elsewhere in a quick search. Instead, I rely on the fresh green sturdiness of crunchy romaine lettuce and bite-size broccoli florets.
Add to that some sweet, colorful blueberries and mango bites. Plus a fun mixture of crunchy, toasted ramen noodles, sliced almonds, and sesame seeds. And I'm pretty much in salad heaven.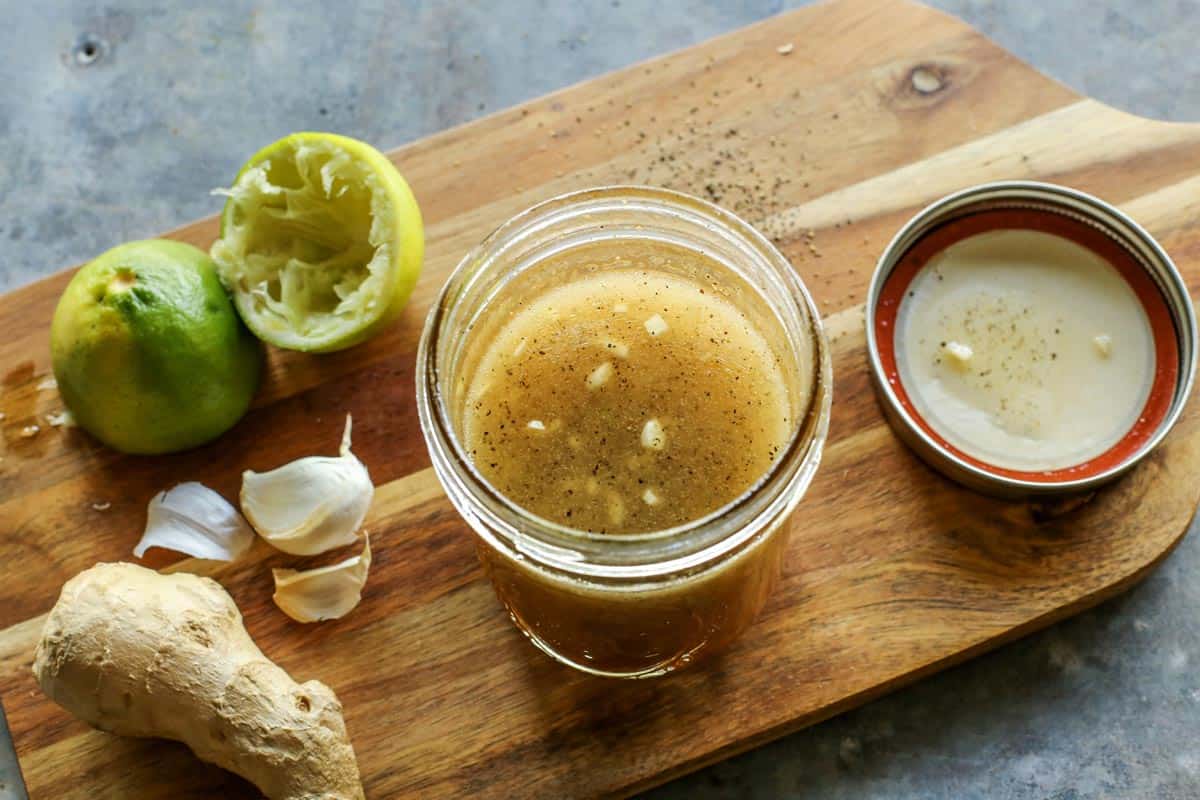 Homemade Dressing Adds So Much Flavor!
The dressing for this Asian noodle salad is bright and tangy with fresh lime juice and rice vinegar. A touch of sesame oil offers that lean on Asian flavors that I find completely addictive. And fresh ginger and garlic…well, I can't imagine this dressing without it!
I like to add all the ingredients to a pint jar, cover it, and shake vigorously to bring it all together.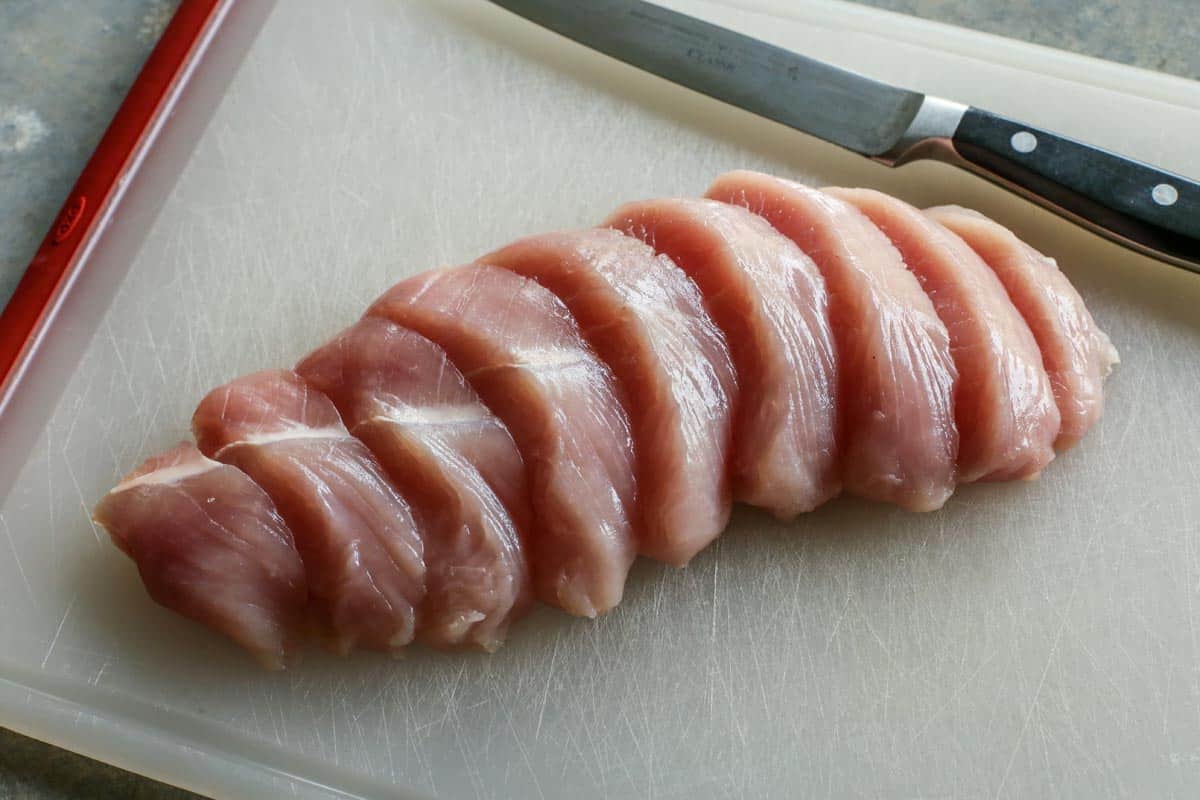 Grilled Turkey Breasts Adds Flavorful Protein
Turkey breast tenderloins have become one of our favorite options when we grill. They're a great source of lean protein and can take on rich, bold seasonings and marinades very easily. Maybe you remember our recipes for Grilled Brown Sugar and Whole Grain Mustard Turkey Tenderloin and Grilled Chipotle Orange Turkey Kebabs >>> both of these, so good!
For this recipe, I slice the tenderloin about 3/4″ thick to create smaller "turkey steaks". This allows the teriyaki marinade to cover more surface area than if I were to leave the tenderloin whole >>> delivering more flavor per bite.
And another bonus? These smaller pieces cook up super quick and easy!
I am partnering with Minnesota Turkey again this year to share new turkey recipes with you. Minnesota ranks No. 1 nationally in turkey farming, with 450 farm families committed to raising healthy flocks. These farmers provide barns where the turkeys are free to roam (they are never in cages), while being protected from weather and predators. They also abide by the FDA's ruling from the 1950's that declared growth hormones and steroids illegal in poultry.

Want more info about how turkeys are raised? These Turkey Truths videos can provide you with more facts.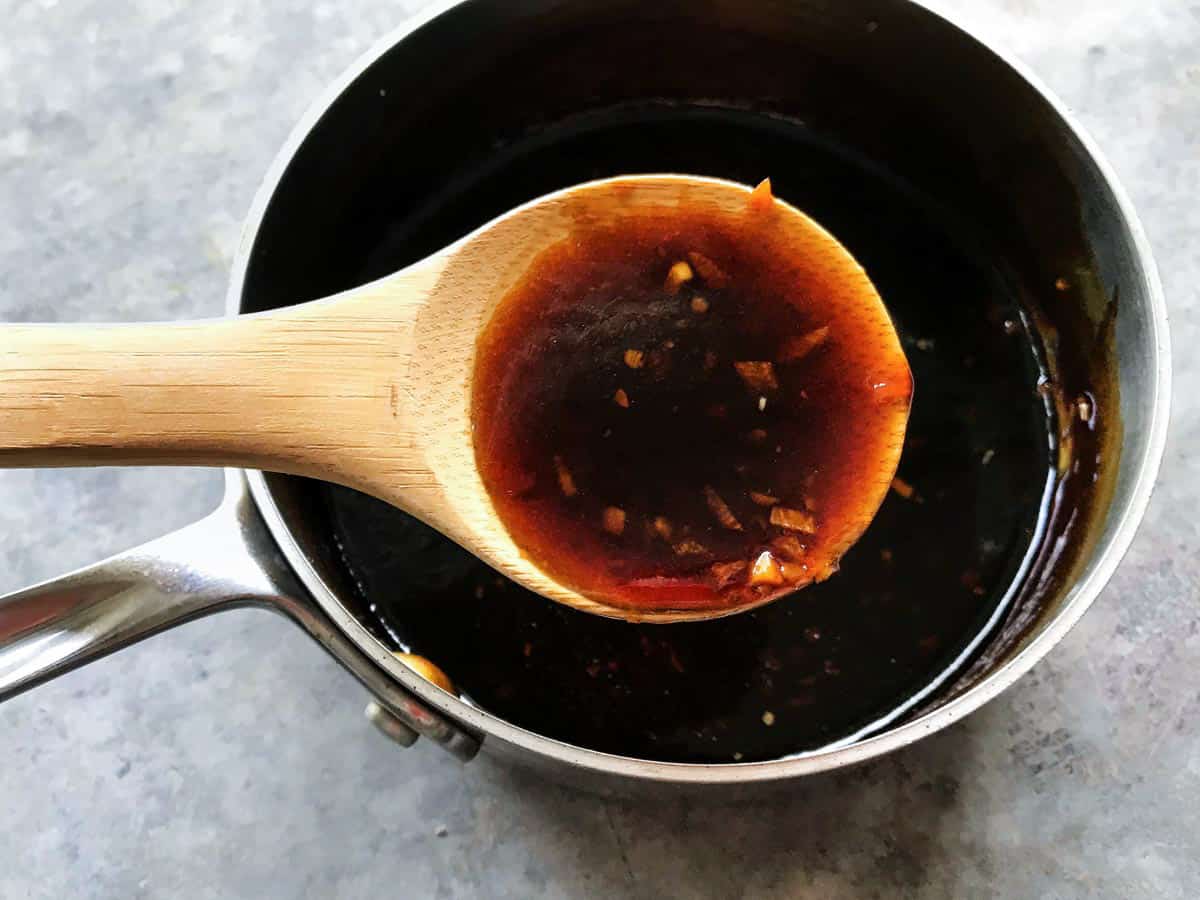 How to Make the Teriyaki Sauce for Grilling the Turkey
Making my own teriyaki sauce provides me with an almost unreal amount of joy. It's probably because I never even thought of the possibility of making my own until I was in my 40's.
I love to create this famously flavorful sauce using simple ingredients from our pantry, with soy sauce at the heart of it all. It comes together easily, with added beauty from fresh ginger and garlic (those ingredients show up again here!). The teriyaki sauce makes a great marinade and basting sauce for the turkey pieces.
Of course, if you're looking to shave some time off of this recipe and already have a bottle of teriyaki sauce that you love, feel free to use it. I won't get all judgy on you.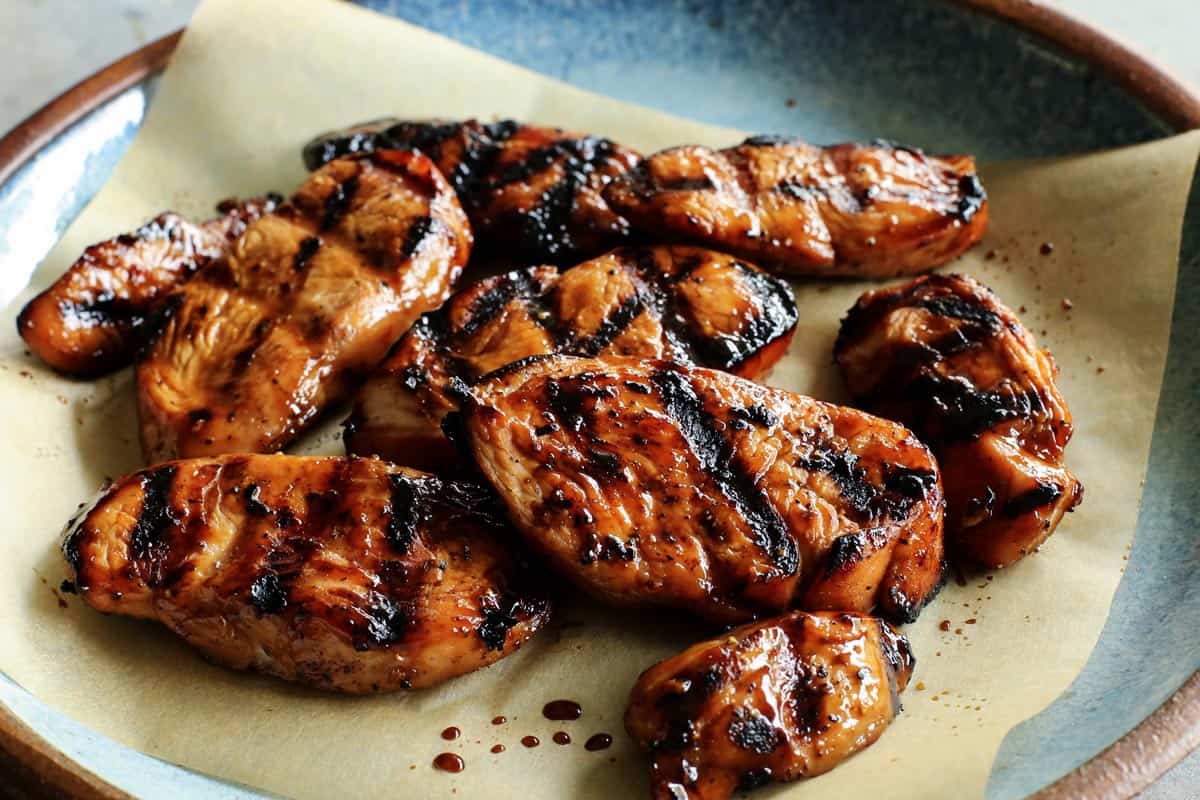 Marinate the turkey pieces in the homemade teriyaki sauce to infuse them with flavor. And then give them a second blast of teriyaki while they cook on the grill, with a final brushing of reserved sauce.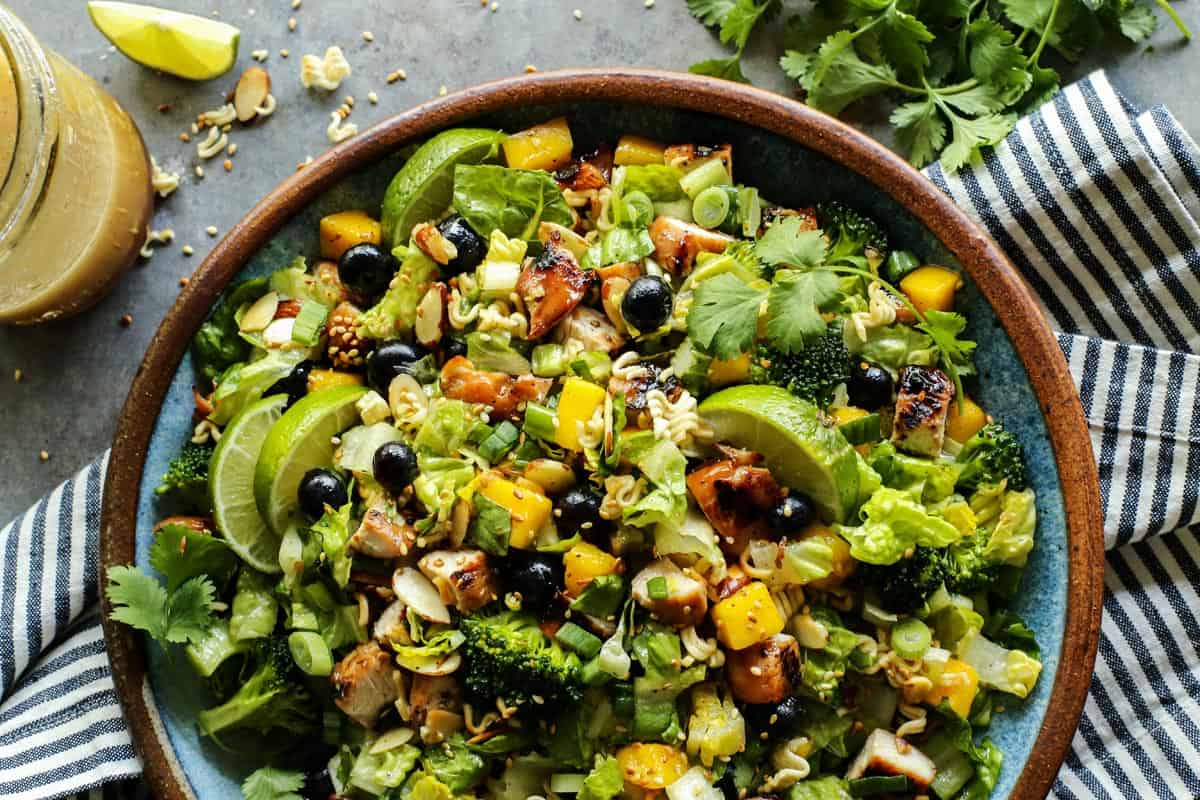 How to Make Ramen Noodle Salad
To serve this ramen noodle salad, I simply toss all the fresh ingredients together, along with a mixture of toasted ramen noodles, almond slices, and sesame seeds. I simply adore all that crunch!
Then I fold in the grilled teriyaki turkey.
Oftentimes I'll drizzle some of the dressing over the salad and give it another toss. Other times I like to serve the dressing on the side, for everyone to add to their own individual salad as they please. And I highly recommend offering fresh lime wedges for squeezing over the top, right before eating. That final squeeze of fresh lime zing is just the perfect ending to this salad story!
When a salad delivers the ying and yang of sweet and savory, it's always a win-win for me. And this chopped ramen noodle salad with grilled teriyaki turkey is very clearly a winner.
If you like this recipe, you might like:
*Here are a few recipes I'd like to try: this California Cobb Salad from Fifteen Spatulas, Bruschetta Orzo Pasta Salad (our kids LOVE orzo!) from Rachel Cooks, and this Summer Italian Spaghetti Salad from Reluctant Entertainer looks very fun!
Like this recipe? Pin it for later!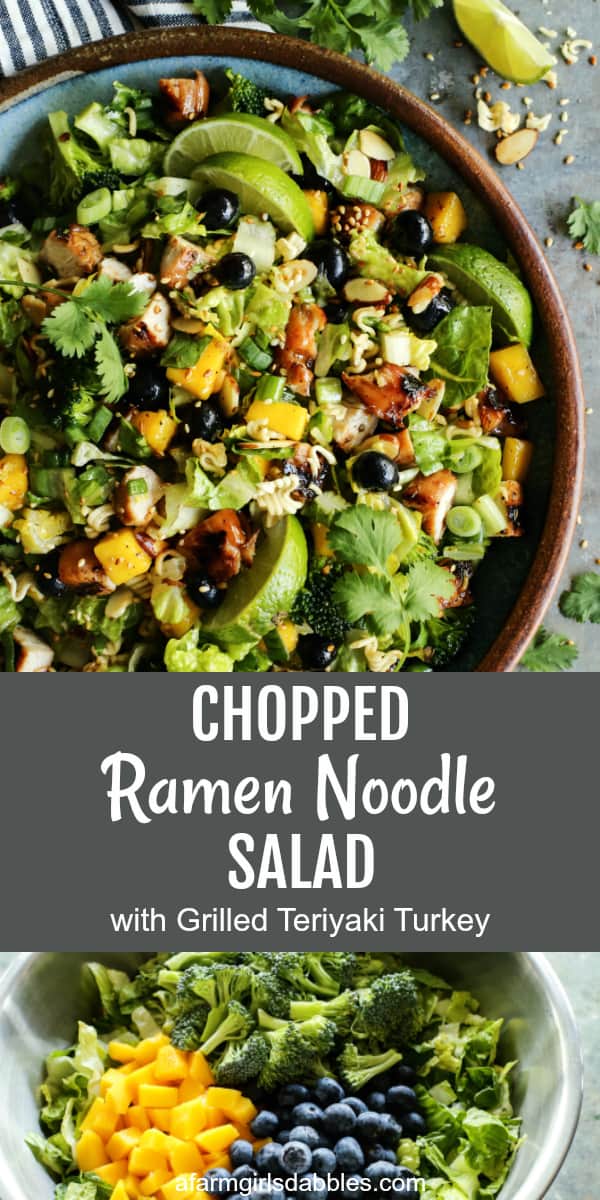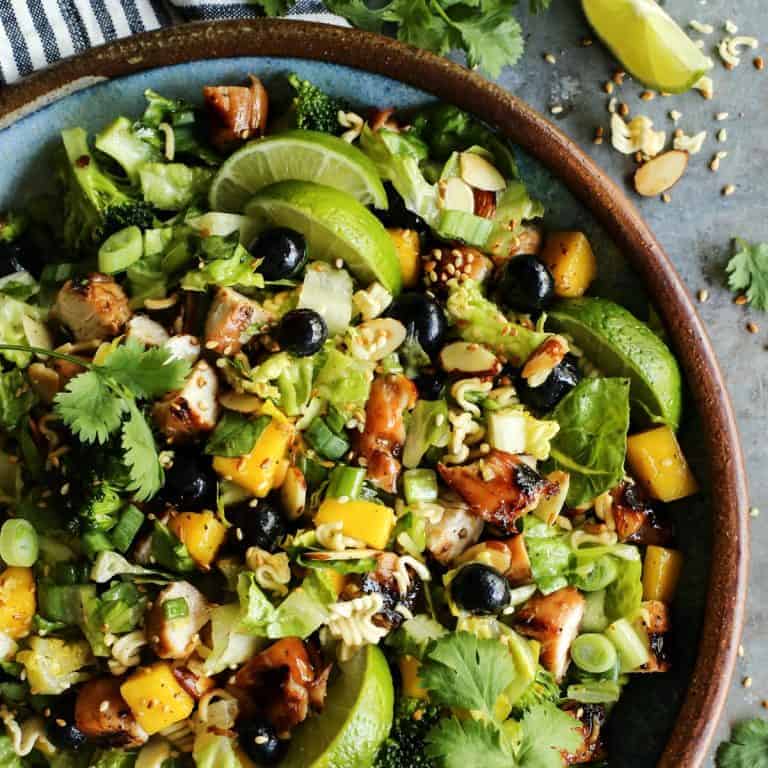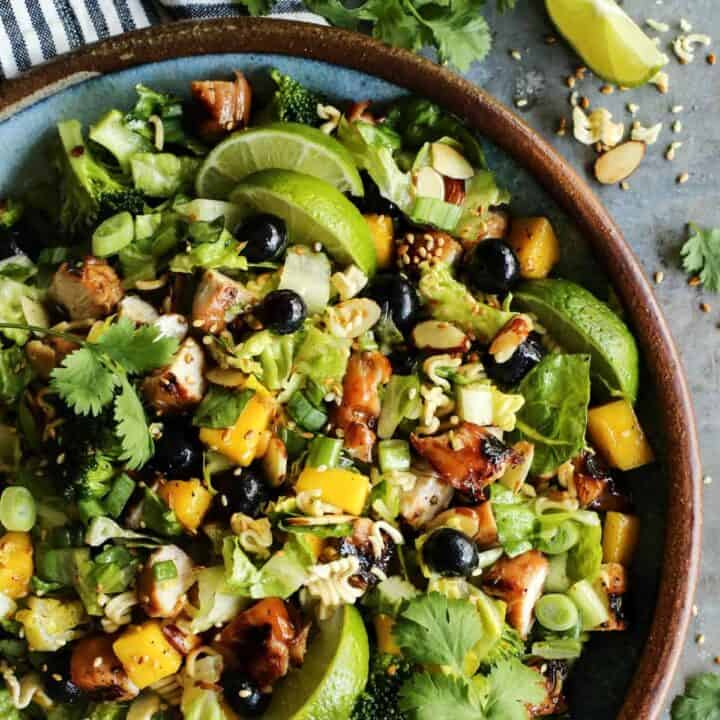 Chopped Ramen Noodle Salad with Grilled Teriyaki Turkey
Yield: 8 servings
Prep Time: 40 minutes
Cook Time: 25 minutes
Total Time: 1 hour 5 minutes
This salad is loaded with flavor and texture, providing both sweet and savory notes. And with the addition of grilled turkey, it's truly a meal all on its own.
Ingredients
for the teriyaki marinade and grilled turkey:
1/2 c. soy sauce
3 T. honey
2 T. packed brown sugar
2 T. sesame oil
2 T. rice vinegar
2 large cloves garlic, minced
1 T. finely minced fresh ginger
1/4 c. cold water
1 T. cornstarch
1 lb. turkey breast tenderloin, cut into 3/4"-thick slices (see photo in post)
for the chopped ramen noodle salad:
2 T. unsalted butter
1 (3-oz.) package ramen noodles, flavor packet saved for another use and noodles broken into small-ish pieces
1/2 c. sliced almonds
1/2 tsp. sesame seeds
8 c. chopped romaine
4 green onions, sliced
2 c. small broccoli florets
1.5 c. cubed mango (1/2" size)
1.5 c. blueberries
1/2 c. roughly chopped cilantro leaves
fresh lime wedges
for the vinaigrette:
3/4 c. vegetable oil
1/4 c. freshly squeezed lime juice
1/4 c. rice vinegar
1/4 c. honey
1 T. sesame oil
1 T. soy sauce
2 T. finely minced fresh ginger
1 large garlic clove, finely minced
1/2 tsp. black pepper
Instructions
for the teriyaki marinade and grilled turkey - small saucepan over medium-high heat, stir together soy sauce, honey, brown sugar, sesame oil, rice vinegar, garlic, and ginger. Bring to a boil.
In a small bowl, whisk together water and cornstarch. While whisking the soy sauce mixture, slowly pour cornstarch mixture into soy sauce mixture. Turn heat down to medium to medium-low and simmer until thickened, about 5 minutes or so. Let teriyaki marinade cool to room temperature.
Reserve 1/4 cup of the teriyaki marinade. Place the remaining marinade in a low, wide bowl and add the turkey pieces, turning to completely coat each piece. Cover and refrigerate for 4 to 6 hours.
Heat grill to medium-high heat. Make sure grates are scrubbed clean and then oiled. (To oil the grates, add some canola oil to a small bowl. Then fold a heavy paper towel a few times to make a smaller square. With tongs, grasp the folded paper towel and dip it into the oil until the paper towel is drenched. Then run the paper towel over the grates, repeating until all grill grates are thoroughly oiled.) Place marinated turkey slices onto hot oiled grates and grill for about 3 to 4 minutes per side, brushing each side once with reserved teriyaki marinade. Turn turkey with tongs or a spatula (piercing the meat will let juices escape!), until each side is nicely charred and internal temperature reaches nearly 165° F. Remove turkey pieces from grill and let rest to reach 165° F.
for the chopped ramen noodle salad - In a skillet over medium heat, melt the butter. Add broken ramen noodles and almonds stirring to coat. After about 1 minute, stir in the sesame seeds. Stir mixture periodically, until lightly browned. Remove to a plate to cool completely.
In a large serving bowl or platter, toss together romaine, green onions, broccoli, mango, blueberries, and cilantro.
for the vinaigrette - Combine vegetable oil, lime juice, rice vinegar, honey, sesame oil, soy sauce, ginger, garlic, and black pepper in a pint jar. Cover jar and shake vigorously, until mixture comes together and emulsifies. It should look completely cloudy, no longer separated.
to serve the salad - Chop the grilled teriyaki turkey into bite sized pieces and fold into the salad mixture. Either drizzle the salad with the prepared dressing or offer the dressing on the side, for everyone to add as they please. Offer fresh lime wedges to squeeze over the top right before eating, for an extra punch of bright freshness.
Notes
Note:
The homemade teriyaki marinade is awesome good - but if you have a favorite teriyaki sauce from the store, feel free to use that to save some time.
from a farmgirl's dabbles
Recommended Products
As an Amazon Associate and member of other affiliate programs, I earn from qualifying purchases.
Nutrition Information:
Yield: 8
Serving Size: 1
Amount Per Serving:
Calories: 582
Total Fat: 36g
Saturated Fat: 6g
Trans Fat: 1g
Unsaturated Fat: 28g
Cholesterol: 62mg
Sodium: 1074mg
Carbohydrates: 42g
Fiber: 5g
Sugar: 27g
Protein: 26g
Nutrition information is automatically calculated by Nutritionix. I am not a nutritionist and cannot guarantee accuracy. If your health depends on nutrition information, please calculate again with your own favorite calculator.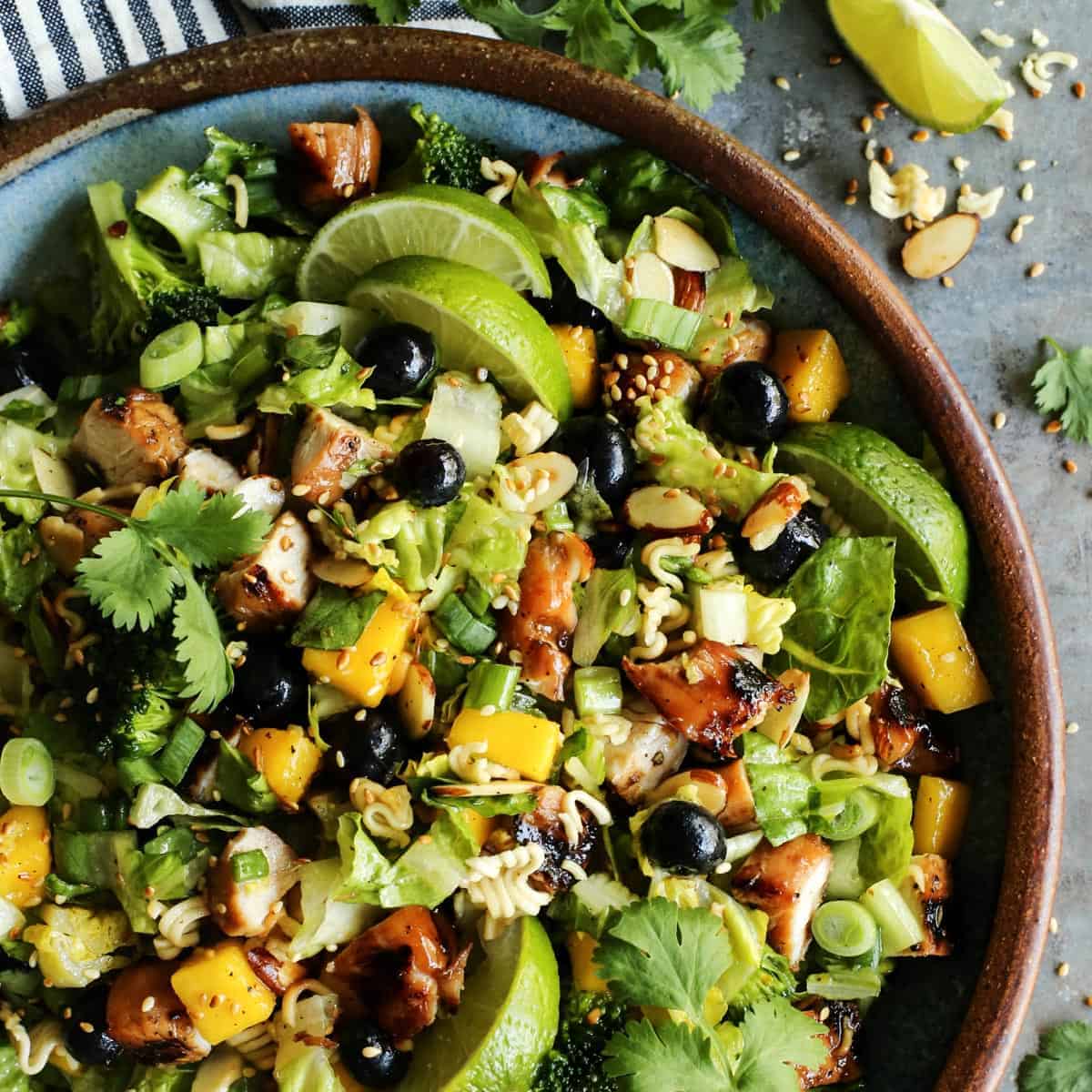 For more information about the Minnesota Turkey Growers Association, including recipes and nutritional information, visit their web site. Also follow along on these social media channels: Facebook, Twitter, and Pinterest. Join in on the conversation using #ServeTurkey and #TryTurkey.
This post is sponsored by our local Minnesota Turkey. All opinions are 100% my own. Thank you for supporting the brands that help make this site possible.