Coleslaw Dressing
Coleslaw Dressing – My mom's recipe for sweet onion coleslaw dressing is bright and tangy with vinegar (no mayo!). A sprinkling of celery seeds adds great flavor and texture. Watch the video!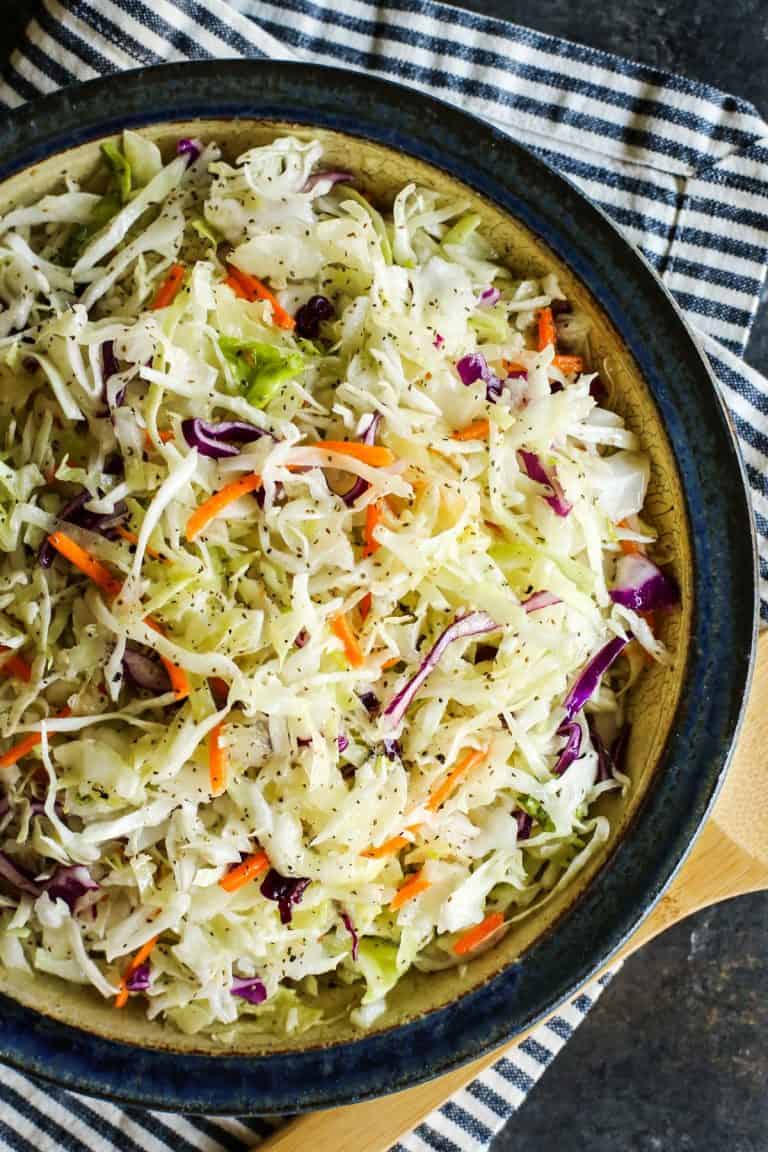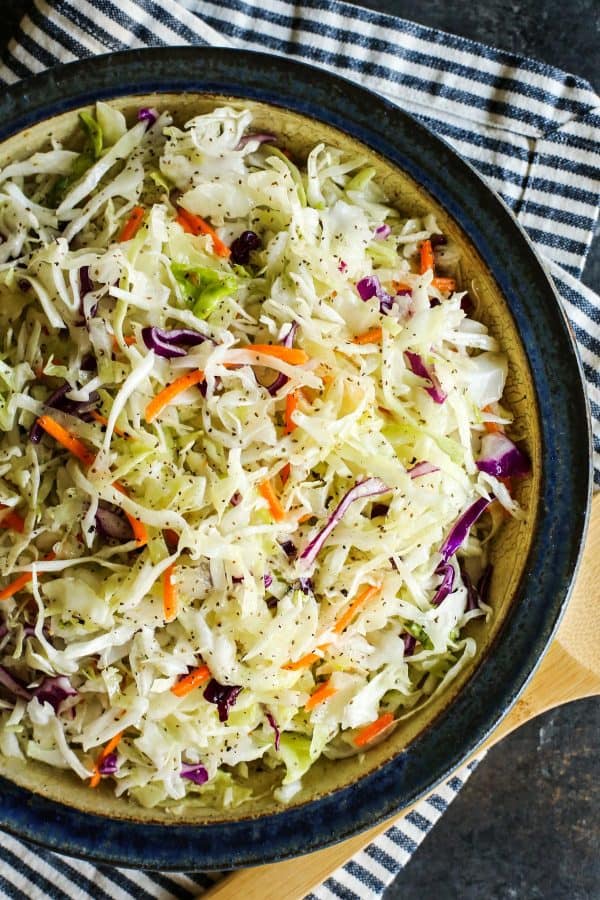 Summer and all of its fabulous outdoor picnics and potlucks and backyard gatherings is coming right up. I love the warmer weather, longer days, and looser family schedule that lend a friendlier hand to inviting friends and family over to share a meal together.
A cold drink in hand, with Blake at the grill and kids playing in the yard…it's my happy, happy summer place.
The people and conversation around our summer table will always be the most important factors, but great eats are also a must. And that includes a shredded cabbage salad with coleslaw dressing.
Mom's Sweet Onion Coleslaw Dressing recipe has been a longtime favorite of mine, a vinegar based dressing (no mayo!). It makes a quick and delicious side dish for easy entertaining.
*Here are a few more recipes I'm loving right now: this flavorful Herby Ham Salad, my Grilled Romaine and Tomato Salad with Homemade Buttermilk Ranch Dressing, and Pickled Red Onions (a super popular recipe on this site!)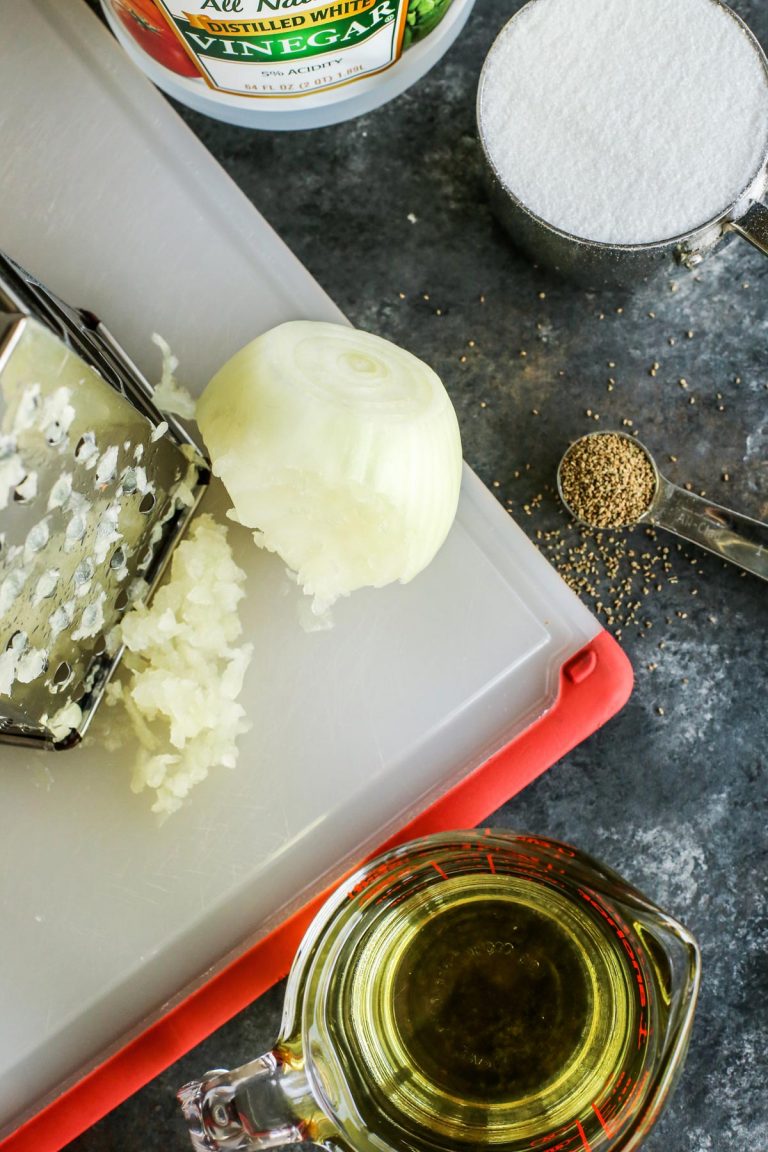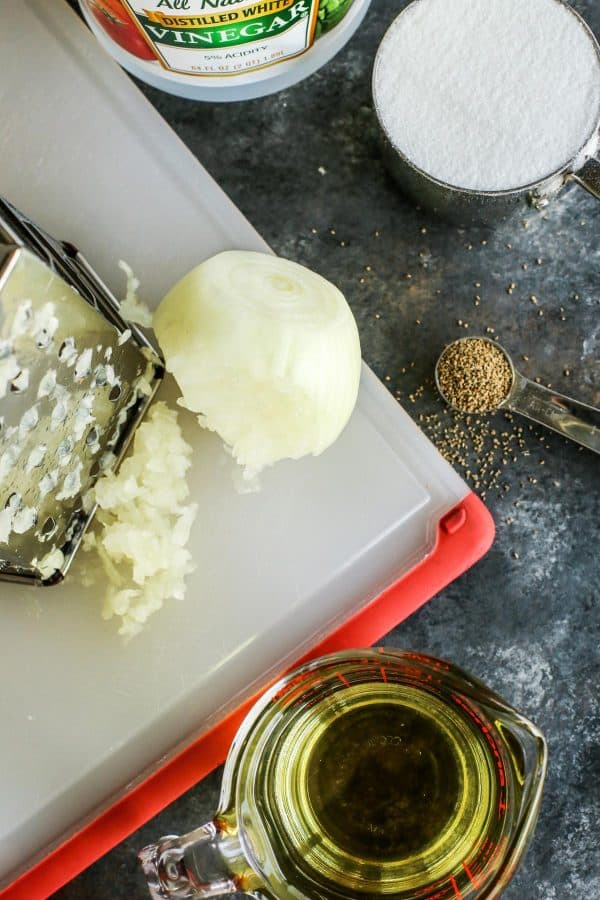 How to make coleslaw dressing
This coleslaw dressing recipe from my mom comes together quick and easy – with just four simple ingredients, plus a bit of fresh onion that has been grated on a box grater, and a sprinkling of salt and pepper.
The ingredient that adds an extra element of fun is the itty bitty celery seed. I don't use celery seeds very often, but they are a must to have on hand for this salad alone. I love the earthy, slightly bitter flavor, and wonderful little bits of texture that these tiny seeds give to this salad dressing recipe.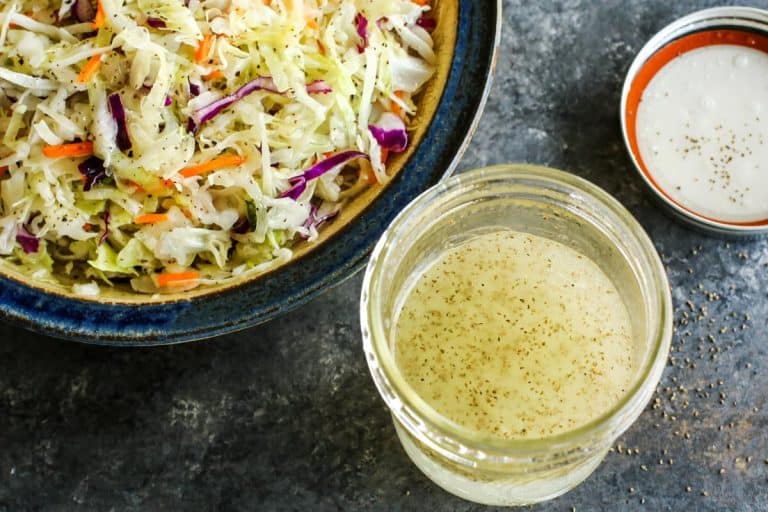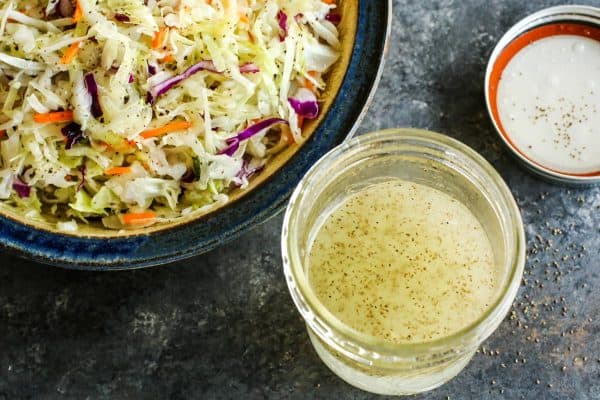 I like to place all the ingredients in a quart jar, twist on the lid, and then shake, shake, shake. This emulsifies the liquids, thickening the dressing and bringing it altogether.
Then I simply fold the dressing into a big bowl of fresh shredded cabbage (pre-shredded bags from the store work great), and the coleslaw salad is done!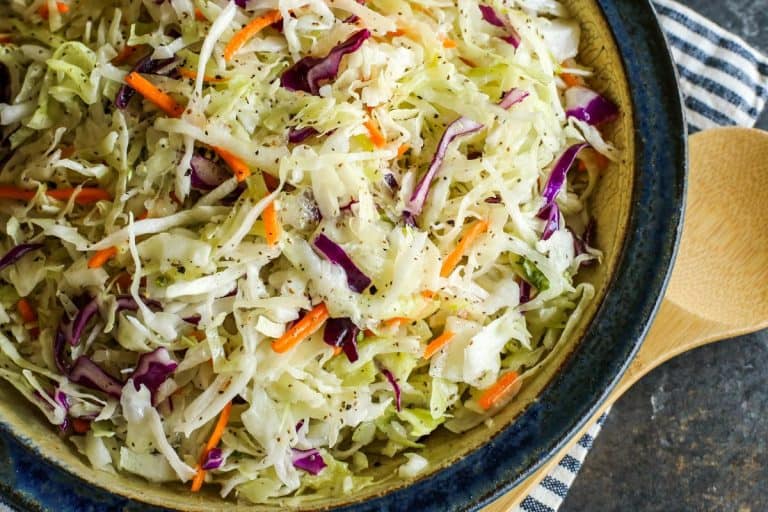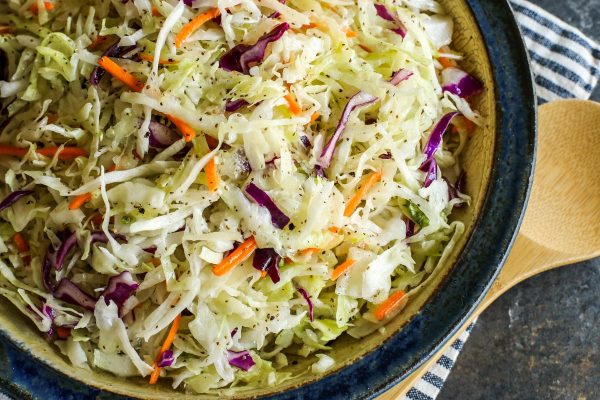 This is also a great make-ahead dish. I appreciate that aspect immensely when we're entertaining.
This vinegar dressing for coleslaw can be made the day prior to serving the salad; just keep it in the refrigerator. And then about 30 minutes prior to meal time, fold the dressing into the shredded cabbage. Once combined, place the salad back in the refrigerator to chill until you're ready to eat. Then fold the salad a couple times before placing it on the table.
For a great summer cocktail in big-batch form (also great for entertaining), check this recipe out.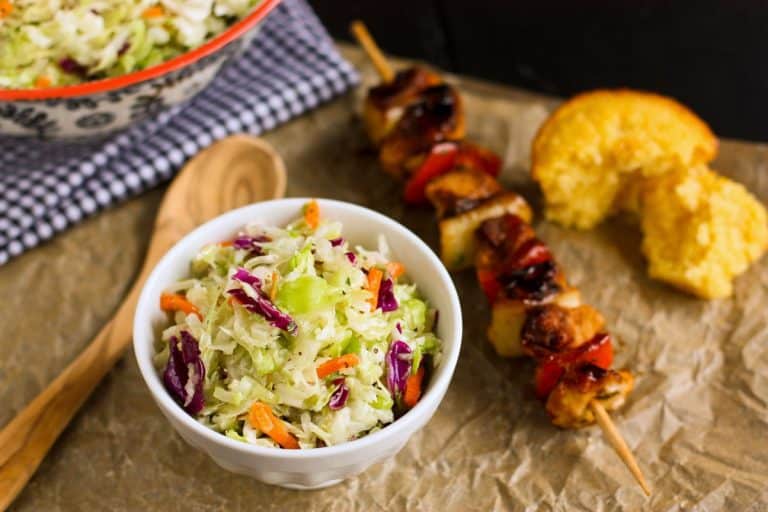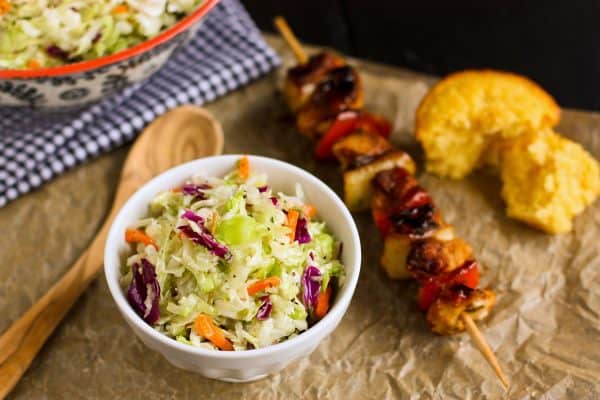 What to serve with this sweet coleslaw recipe?
The dressing is sweet and oniony, and bright and tangy with vinegar. With a sprinkling of little celery seeds, this simple dish packs alot of flavor without overpowering the main course.
I like to serve this cold salad with our favorite sloppy joes, and with main entrees that are hot off the backyard grill.
It works especially great with recipes utilizing your favorite barbecue sauce or most any other flavorful sauce or marinade. Imagine the coleslaw salad alongside grilled honey chipotle chicken kebabs (shown above) or grilled sriracha honey mustard beef kebabs.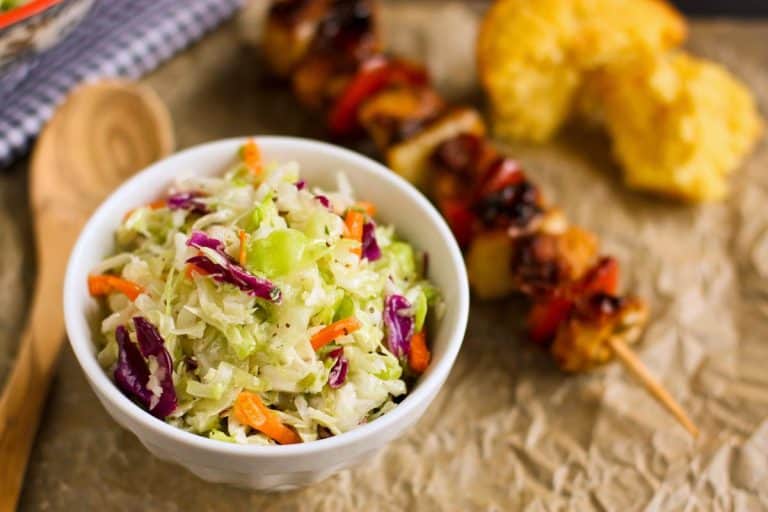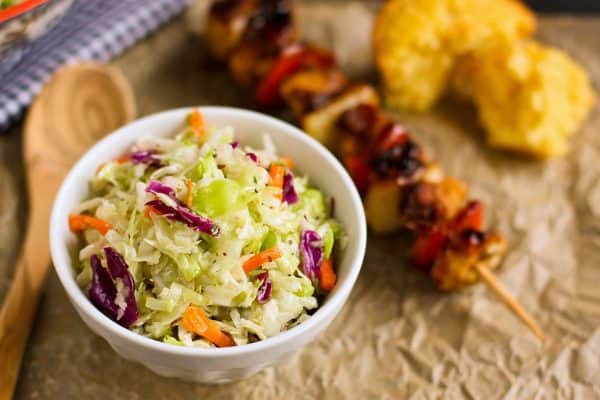 This coleslaw dressing is a longtime family favorite
My mom has been making this coleslaw dressing recipe for as long as I can remember. She calls it her "go to" salad dressing, and says that Dad always likes to see it on their table. And it looks like I have followed suit.
Before I let you go, I need to mention one more thing. Another recipe we like to serve with grilled meats and coleslaw salad is this one for honey cornbread muffins. Our girls absolutely love these sweet muffins. They're perfect for swiping up every last drop and morsel on your plate from a great outdoor meal.
Just try these dishes together. You won't be sorry!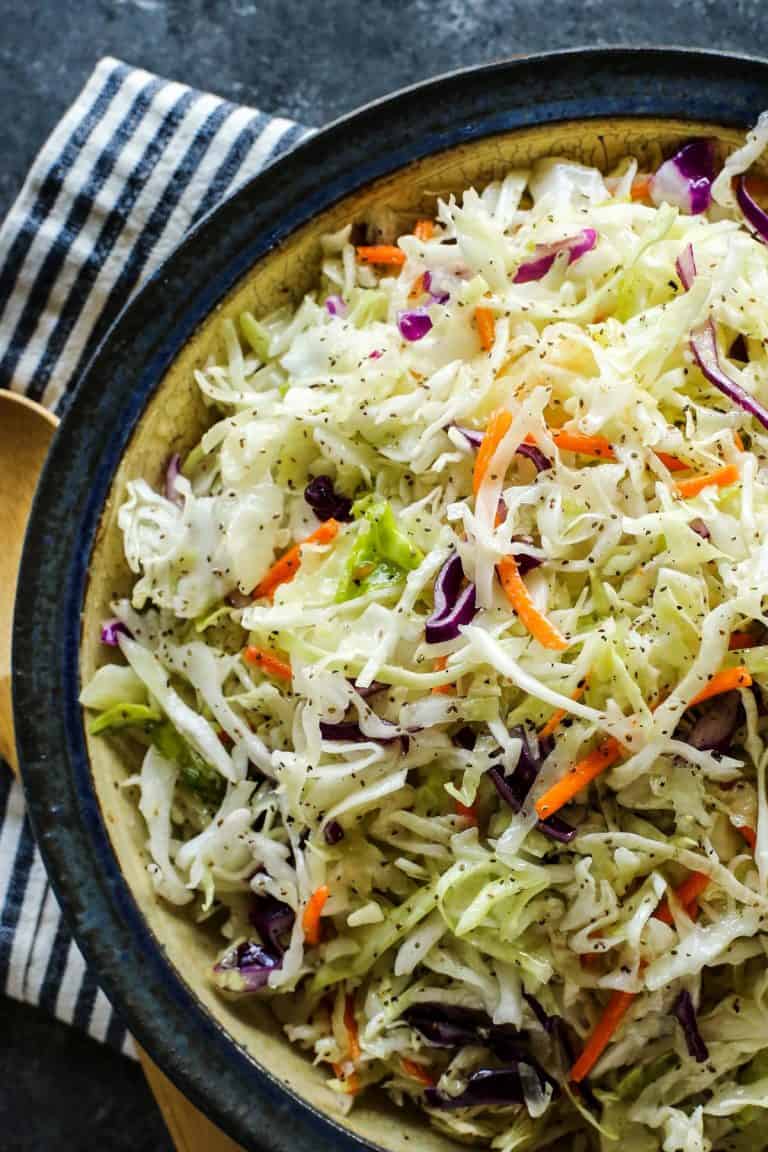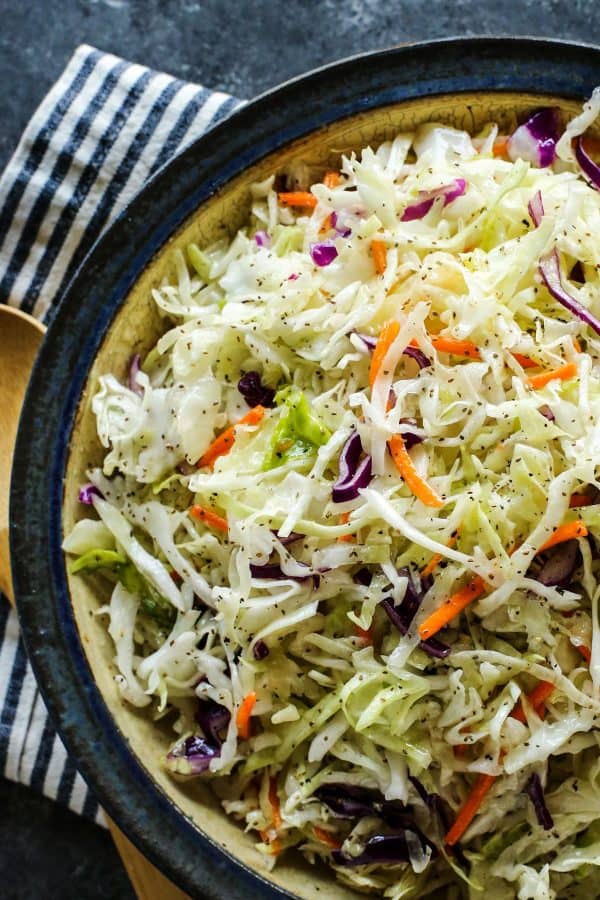 If you like this coleslaw dressing recipe…
*Here are a few recipes I'd like to try: Creamy Poppy Seed Dressing from Barefoot in the Kitchen, Blue Cheese Dressing – Super Chunky! from Mama Loves Food, and Roasted Tomato Dressing from Boulder Locavore. And if you haven't yet tried this taco salad dressing, it's easy and creamy and delicious!
Like this coleslaw dressing recipe? Pin it!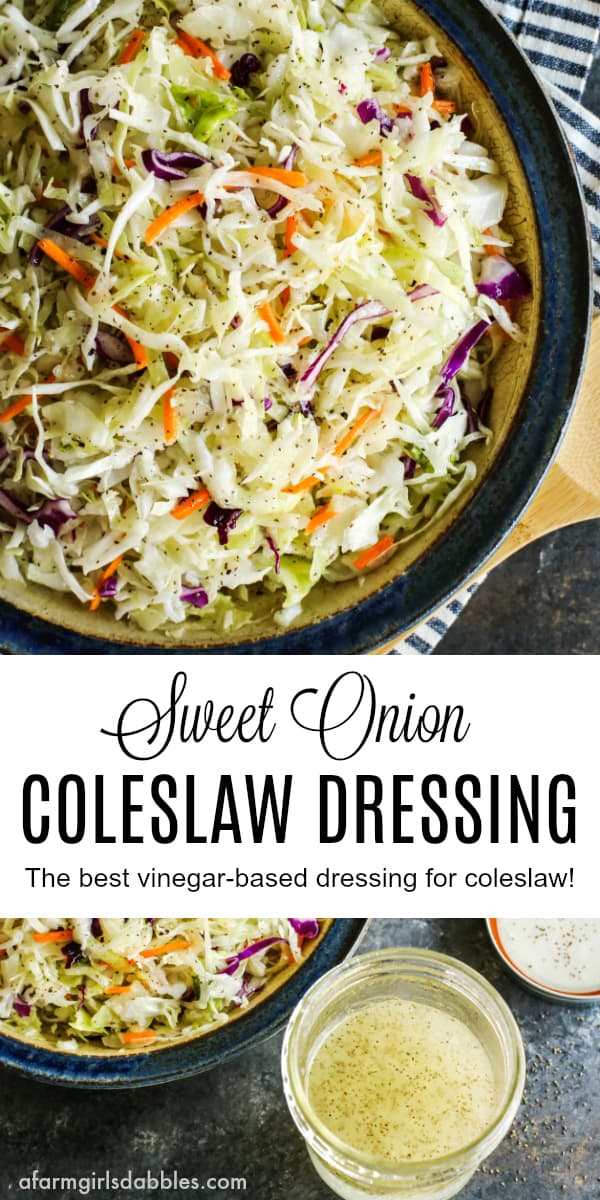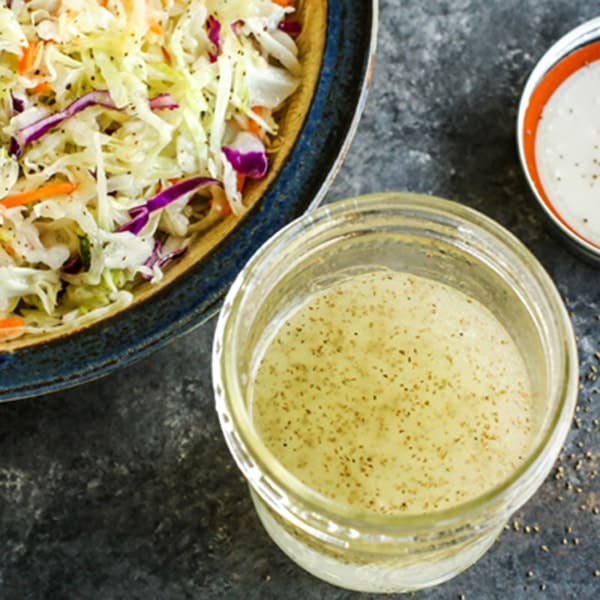 Mom's Sweet Onion Coleslaw Dressing
This simple homemade dressing is sweet and oniony, and bright and tangy with vinegar. With a sprinkling of little celery seeds, this simple dish packs alot of flavor without overpowering the main course.

Yield: 24 servings

Prep Time: 10 minutes

Cook Time: 5 minutes

Total Time: 15 minutes
Ingredients
1 c. sugar
1/2 c. white vinegar
1 c. vegetable oil
1 tsp. whole celery seeds
grated sweet white or yellow onion, to taste (I use the large holes on a box grater to grate the onion, and usually use 1/4 to 1/3 cup of grated onion for this recipe. If the onion is especially mild, I may add more. If it's stronger than normal, I use less.)
kosher salt and freshly ground black pepper, to taste
Instructions
In a medium saucepan over medium-high heat, stir sugar and vinegar until sugar dissolves. Remove saucepan from heat and add remaining ingredients, stirring to combine. Let cool and then transfer to a 1-quart jar with a lid, or use a similarly sized container. The dressing will appear layered and separated, which is fine. Refrigerate to cool completely. This can be made the day before serving the salad. Whisk dressing vigorously to emulsify, or simply place in a jar with a lid and shake, shake, shake, until the dressing appears cloudy.
Drizzle over your favorite shredded cabbage or coleslaw mix. Or use a box grater to grate a head of cabbage. The amount of dressing used will depend on how much shredded cabbage you are using. Fold to coat completely. Do this about 30 to 60 minutes prior to serving to let the flavors mingle. Just refrigerate during that time, and fold to incorporate right before serving.
This recipe makes enough dressing for at least two 16-oz. bags of pre-shredded coleslaw mix. Dressing keeps well in the refrigerator for a few days.
Recommended Products
As an Amazon Associate and member of other affiliate programs, I earn from qualifying purchases.
Nutrition Information:

Amount Per Serving: Calories: 195

Nutrition information is automatically calculated by Nutritionix. I am not a nutritionist and cannot guarantee accuracy. If your health depends on nutrition information, please calculate again with your own favorite calculator.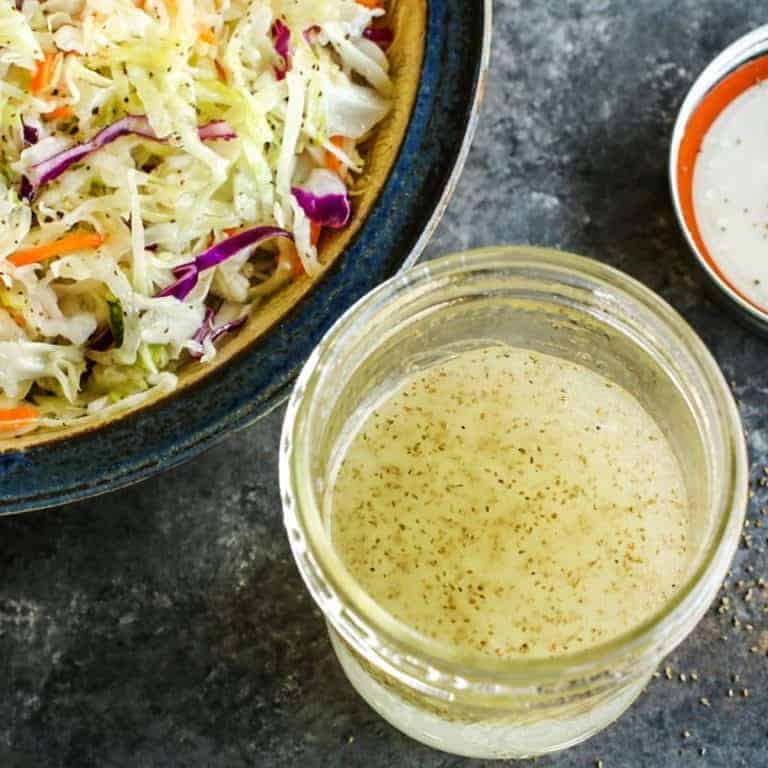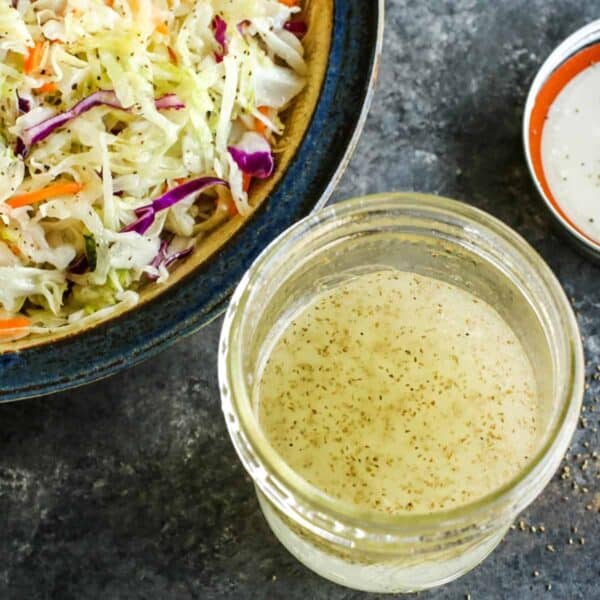 (This post was originally published August, 2013. Some of the photos and text were updated in 2018.)
We participate in the Amazon Services LLC Associates Program, an affiliate advertising program designed to provide a means for us to earn fees by linking to Amazon.com and affiliated sites. See our disclosure policy for more info.