Cucumber Salad
This easy Cucumber Salad recipe combines thinly sliced cucumbers and onion with a tangy vinegar dressing. It's a refreshing summertime side dish that goes with absolutely EVERYTHING – perfect for any picnic, potluck, or backyard gathering!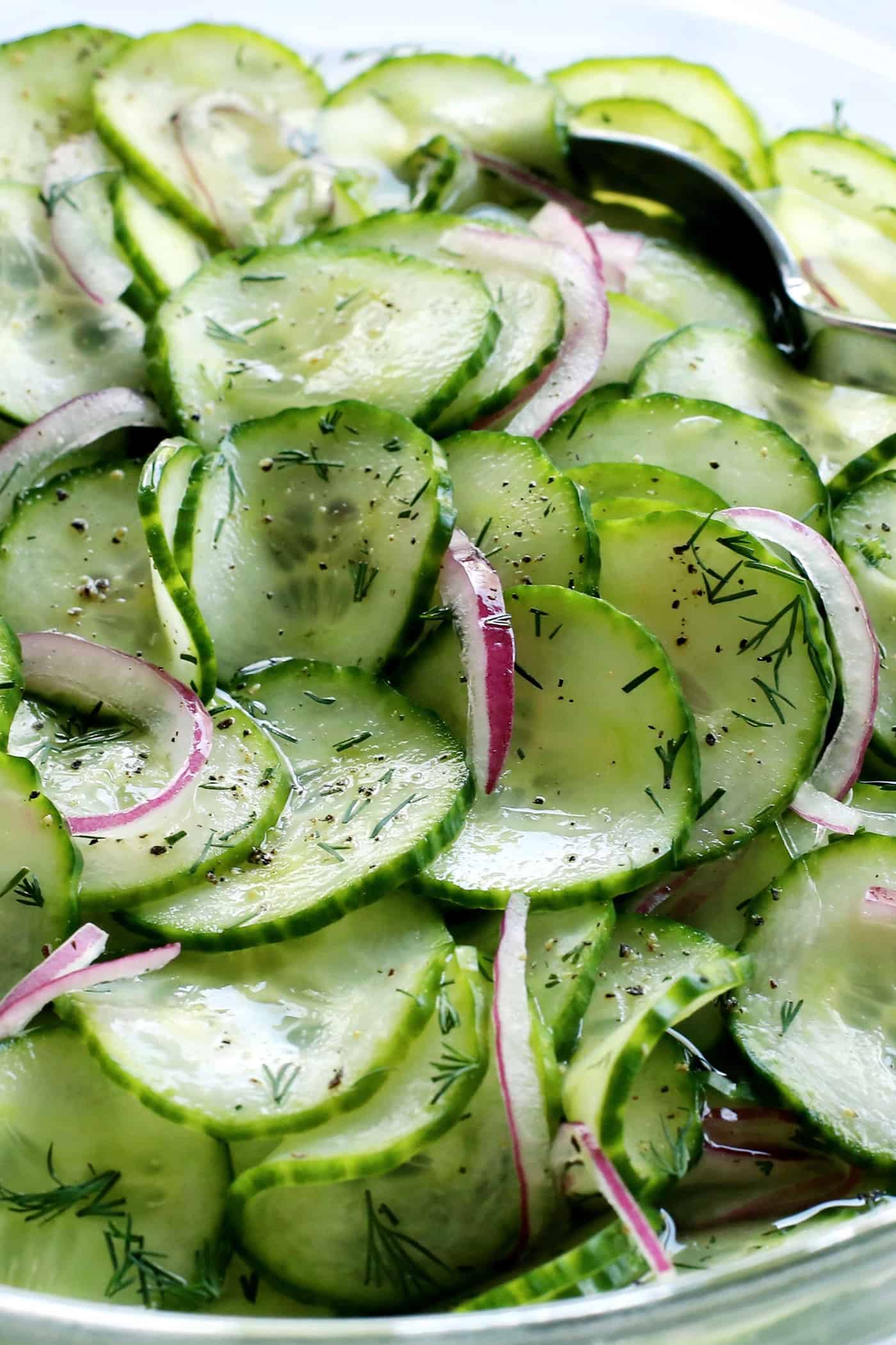 My Favorite Cucumber Salad Recipe
This is one of those recipes that I'd love to have in our fridge at ALL times. I adore a fresh, tangy Cucumber Salad!
My favorite cucumber salad recipe is this one that uses vinegar. It's light and refreshing, incredibly easy to make, and goes with absolutely EVERYTHING – which makes it the perfect summer side dish!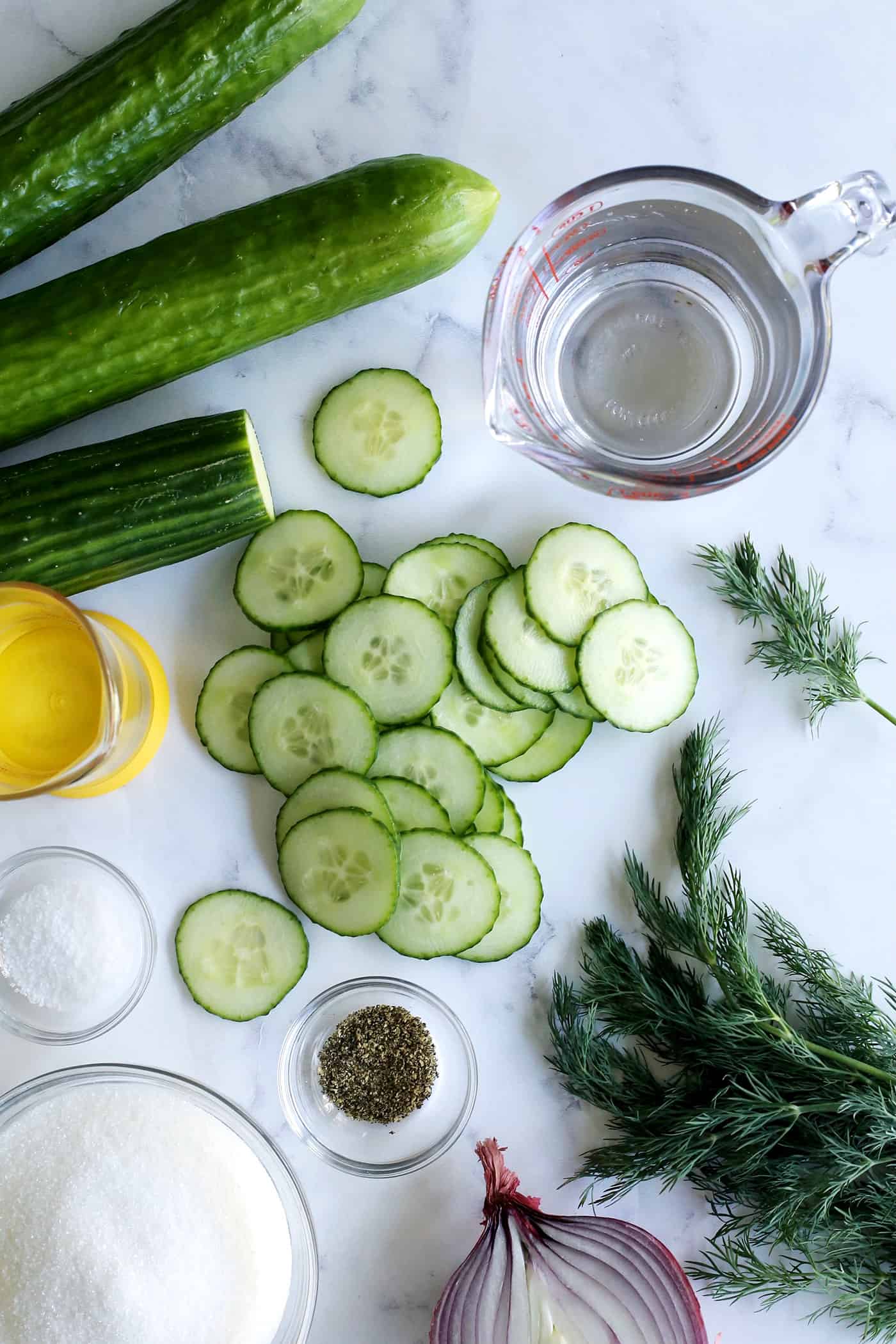 Where Does Cucumber Salad Come From?
Cucumber salad – whether it's made with vinegar or with a creamy sour cream dressing – comes from Germany, where it's called Gurkensalat. This helps to explain why I feel like I grew up on it, as I have strong German heritage on both sides of my family. Mom made it regularly during the summer, and it could often be found at potlucks and family gatherings.
And speaking of German recipes, have you tried my German Potato Salad? It's SO GOOD!
Ingredients
Our girls are proficient in the kitchen, and I often task them with making this quick cucumber salad. I love how the recipe requires only fresh cucumbers, onion, and dill – and the remaining few ingredients are common pantry items!
Grab the following ingredients: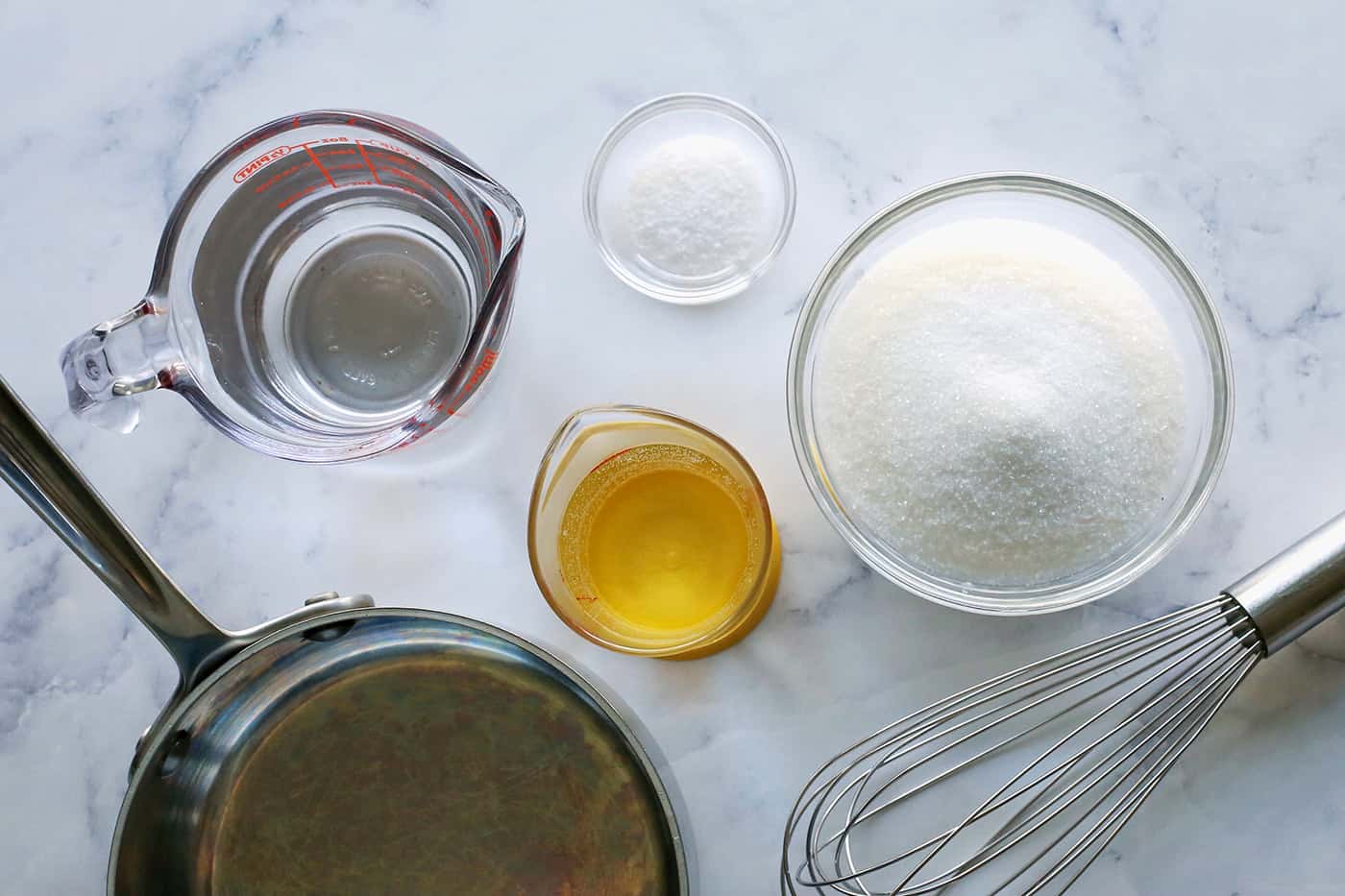 How To Make Cucumber Salad With Vinegar
This salad is simply made of cucumbers marinating in a vinegar based dressing, similar to a quick pickle. So much alike, in fact, that I often top my burgers and sandwiches with these delicious cucumbers!
Here's how to make this salad:
Make vinegar dressing – Combine vinegar, water, and sugar in a small saucepan and place over high heat. Whisk vigorously until sugar dissolves. Remove from heat and let cool while you prepare remainder of salad.
Slice cucumbers and onion – Aim for thin, even slices. Place slices in a large bowl.
Marinate together – Pour vinegar dressing over the cucumber and onion slices. Add dill. Stir to incorporate. Then cover and refrigerate for at least an hour before serving.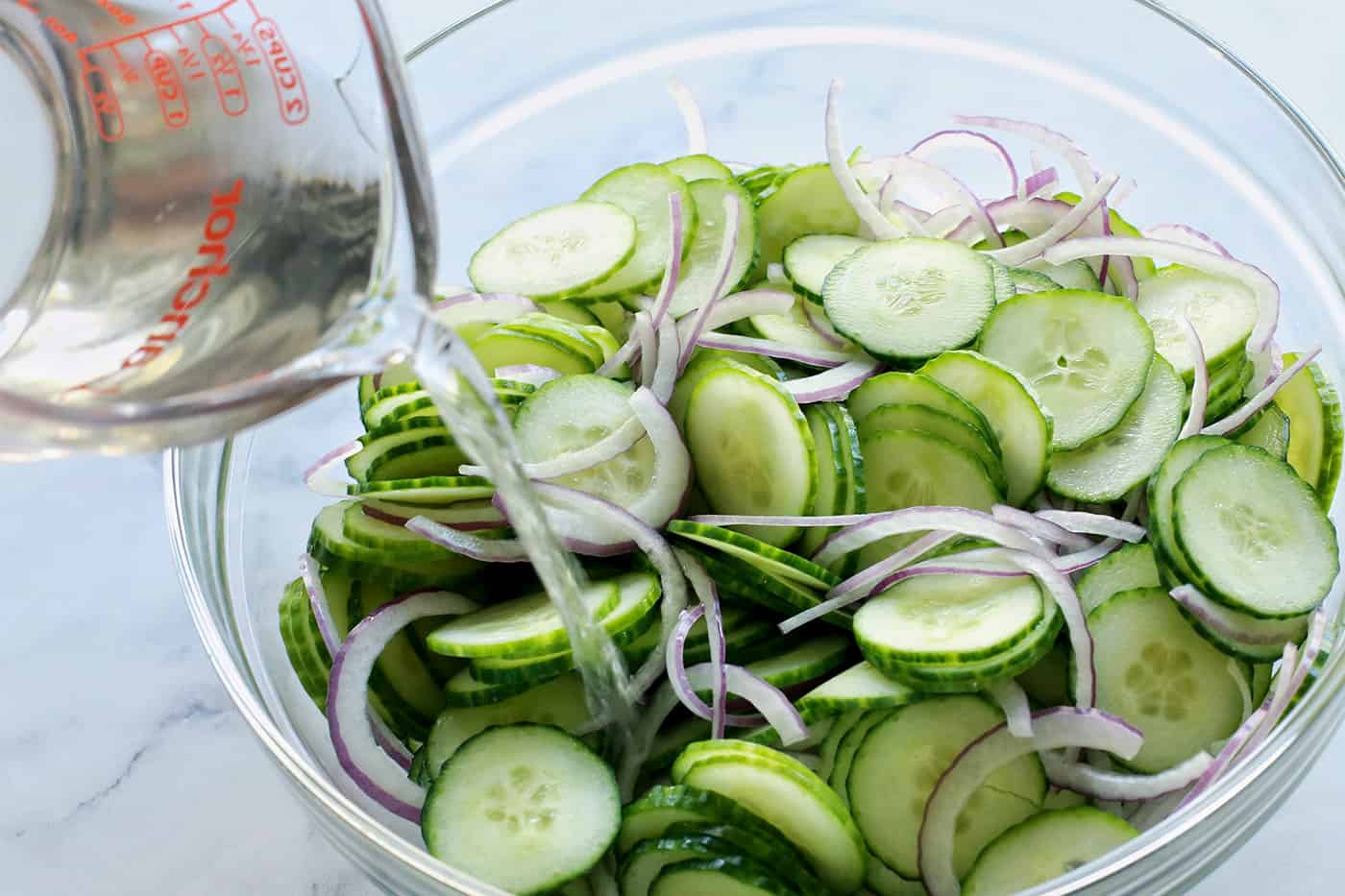 My #1 tip for this salad: Slice the cucumbers and onion very thin, and both the same size.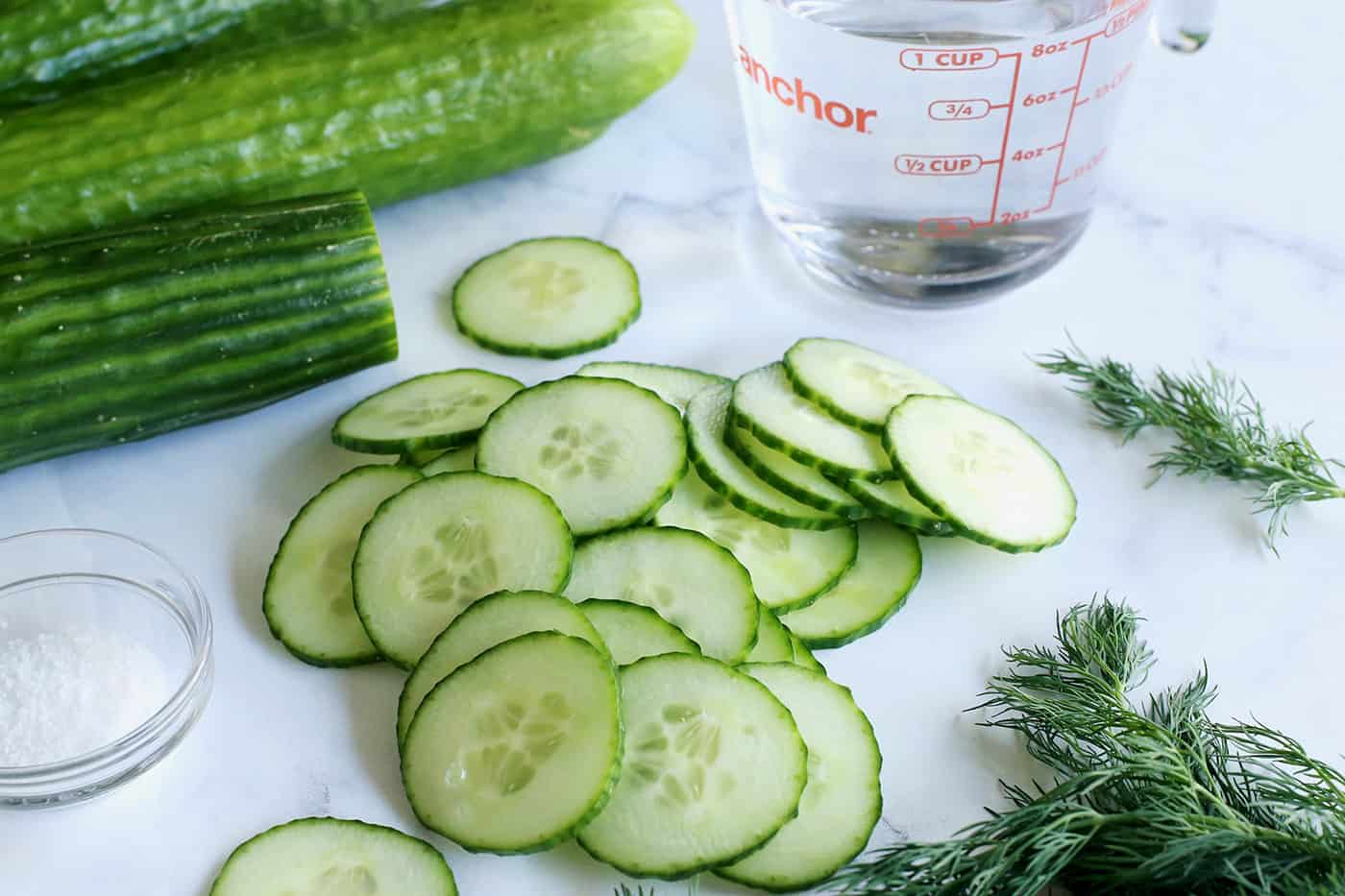 Take a look at the cucumber slices above. For geeking-out purposes, I even measured my slices for you! I think these are the perfect thickness for this cucumber vinegar salad, between 1/16″ and 1/8″.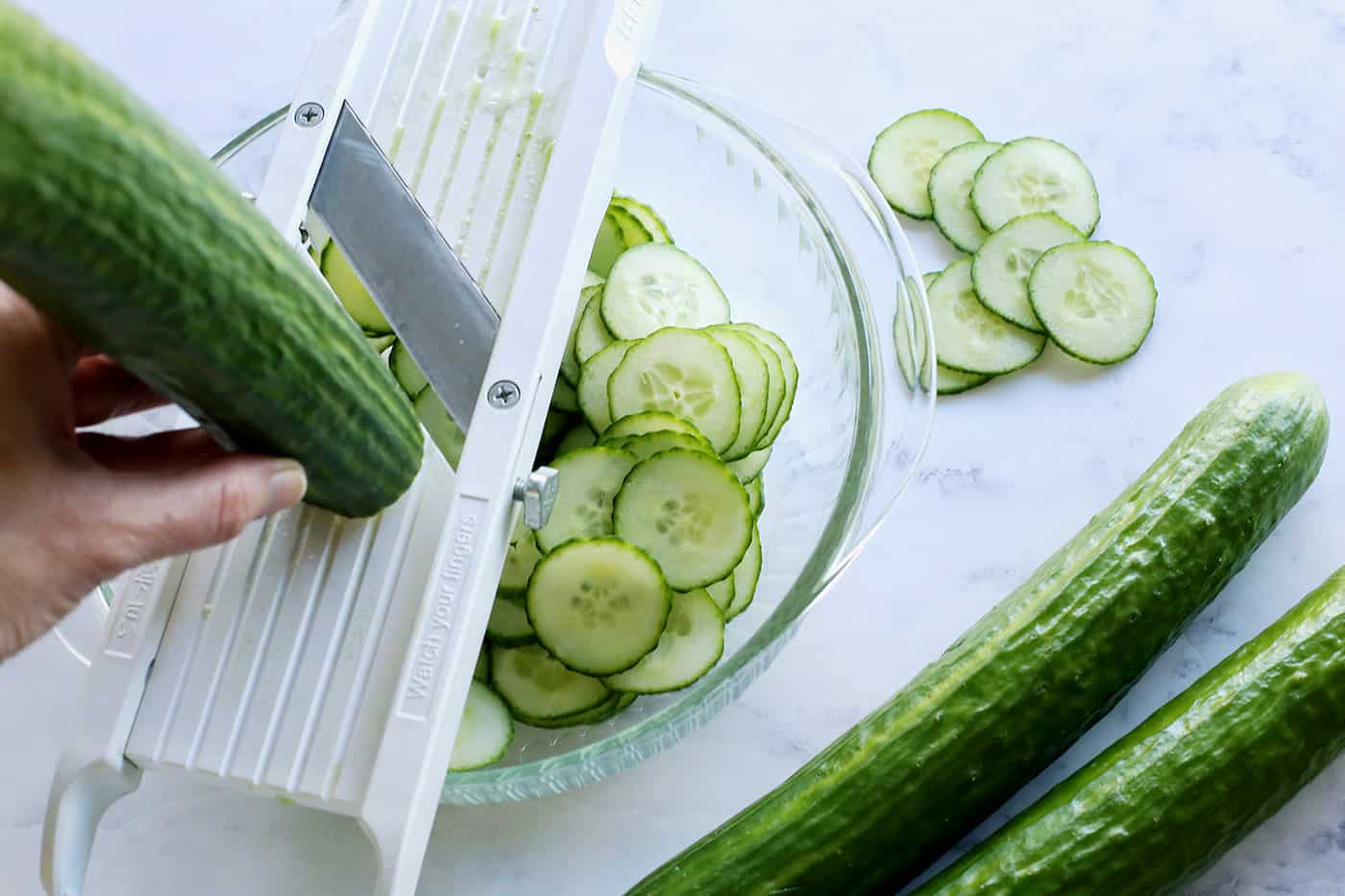 How To Slice Cucumbers Thin
A mandoline is one of my favorite kitchen tools. I use it whenever I want thin and/or especially uniform slices, so it comes in super handy for the cucumbers and onion in this recipe. Also – the slicing goes so much faster than when using a knife!
My favorite recipes to use a mandoline: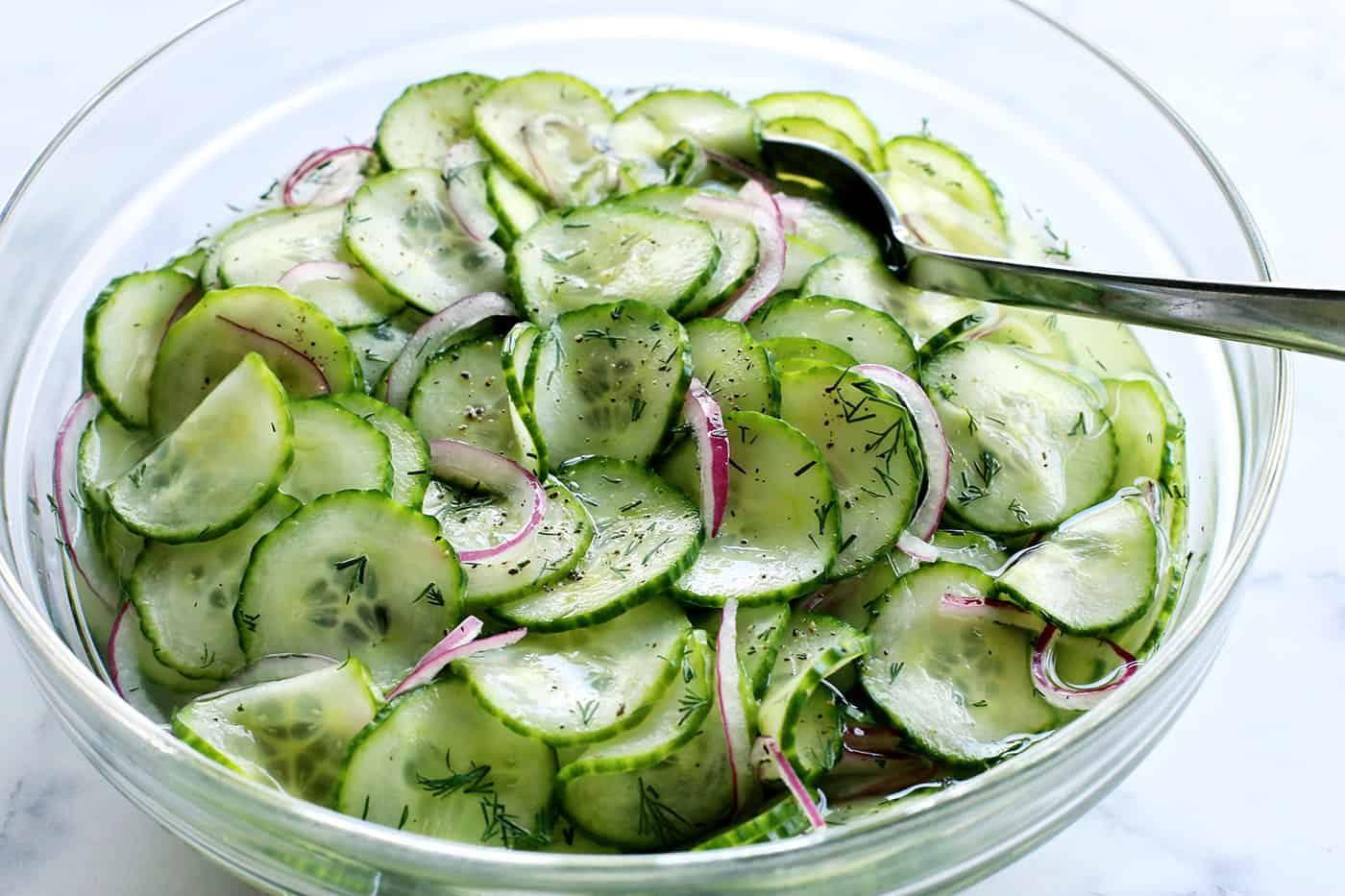 What To Serve With Cucumber Salad
This salad is a dream when it comes to summer gatherings. It goes with absolutely any menu and can stand the heat of a hot summer day. Here are a few main entrée suggestions – my favorite ways to enjoy these tasty cucumbers in vinegar!
How Long Will This Salad Last?
To store this cucumber salad, simply cover it with an airtight lid and refrigerate. The salad will be at its best when eaten within 3 or 4 days, but keeps well for up to a week.
Like this recipe? Save it to Pinterest!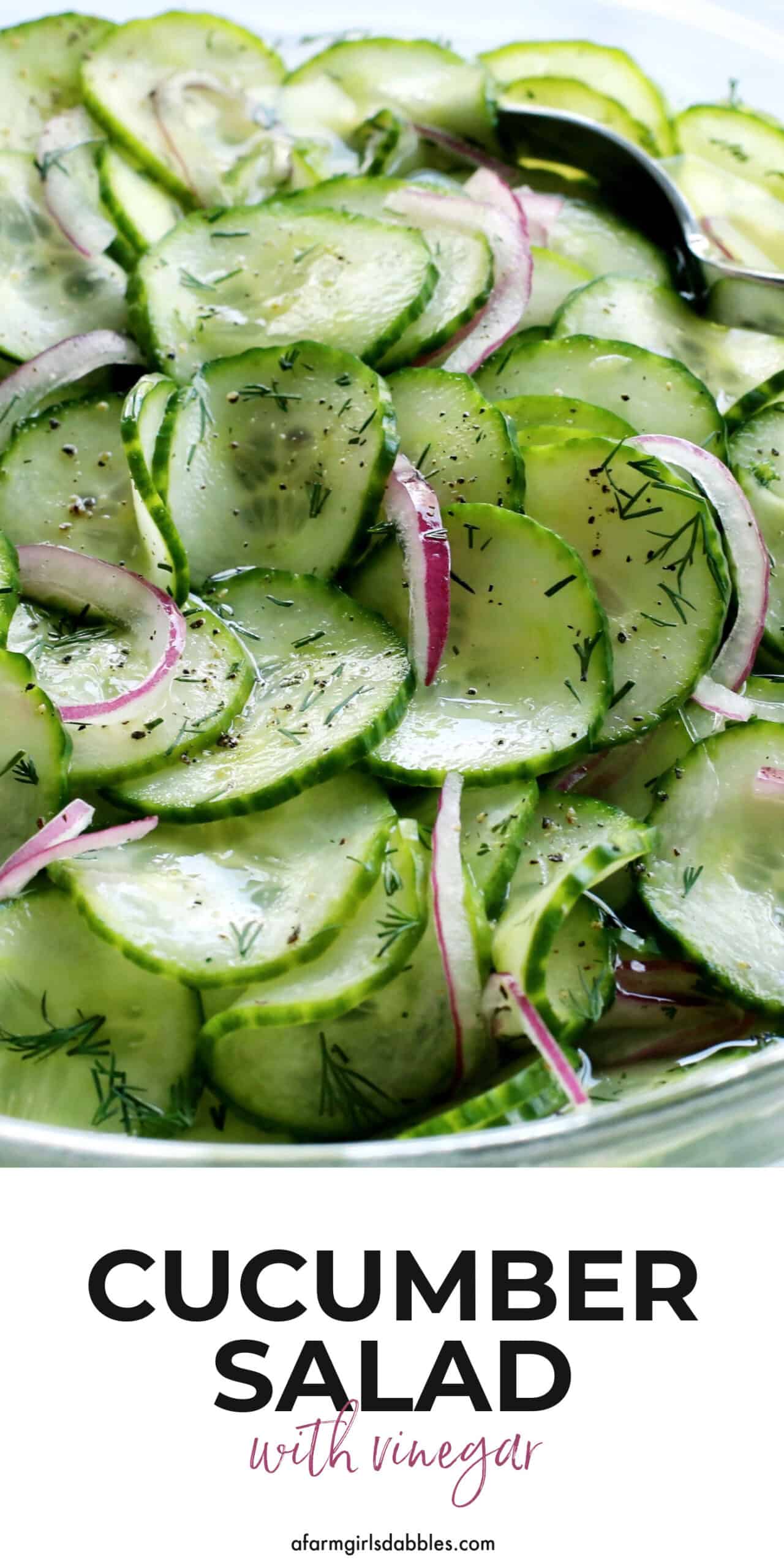 More Cucumber Recipes
Cucumbers are cool, crisp, and refreshing; you'll always find them in our fridge. Here are a few more recipes for inspiration: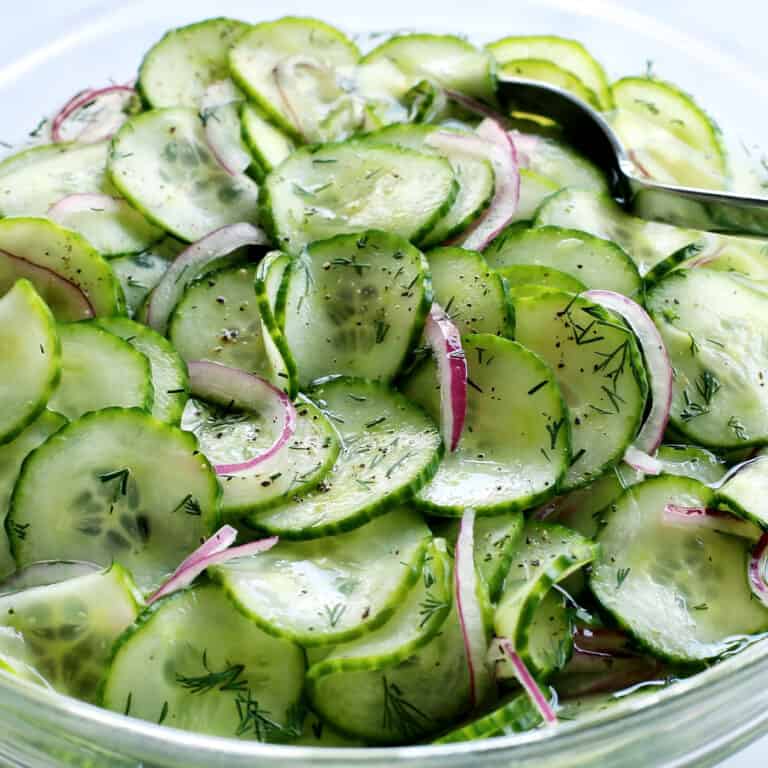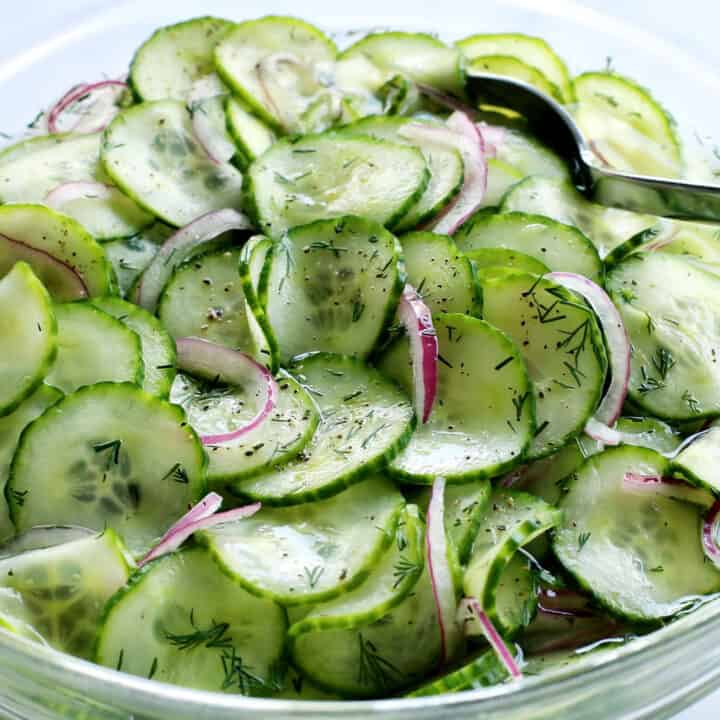 Cucumber Salad
Yield: 12 servings
Prep Time: 15 minutes
Cook Time: 5 minutes
Total Time: 20 minutes
This easy Cucumber Salad recipe combines thinly sliced cucumbers and onion with a tangy vinegar dressing. It's a refreshing summertime side dish that goes with absolutely EVERYTHING!
Ingredients
1 cup white vinegar
1/2 cup water
3/4 cup granulated sugar
1 teaspoon kosher salt
3 large English cucumbers (about 2 to 2.5 pounds)
1 small red onion
1 tablespoon chopped fresh dill
finely ground black pepper, optional
Instructions
In a small saucepan over medium-high to high heat, combine vinegar, water, sugar, and salt. Whisk vigorously until sugar is dissolved and the mixture looks clear. Remove from heat and let cool while you prepare the cucumbers and onion.
Slice cucumbers and onion thinly. I prefer them to be between 1/16" and 1/8" thick - a mandoline works great for this!
Add sliced cucumbers and onion to a large bowl. Pour vinegar mixture over the top. Add dill and then fold to incorporate. Cover and refrigerate for at least 1 hour before serving. Sprinkle with finely ground black pepper if desired.
Notes
Enjoy cold or at room temperature.
Keeps well in the refrigerator for up to 1 week. Salad will soften more as time goes by.
Recommended Products
As an Amazon Associate and member of other affiliate programs, I earn from qualifying purchases.
Nutrition Information:
Yield: 12
Serving Size: 1
Amount Per Serving:
Calories: 65
Total Fat: 0g
Saturated Fat: 0g
Trans Fat: 0g
Unsaturated Fat: 0g
Cholesterol: 0mg
Sodium: 107mg
Carbohydrates: 16g
Fiber: 0g
Sugar: 14g
Protein: 1g
Nutrition information is automatically calculated by Nutritionix. I am not a nutritionist and cannot guarantee accuracy. If your health depends on nutrition information, please calculate again with your own favorite calculator.