Shaved Brussels Sprouts Salad
A Shaved Brussels Sprouts Salad recipe with kale, dried cranberries, sunflower seeds, and Parmesan – and a zippy lemon yogurt dressing that brings it all together. A gorgeous fresh winter salad that's perfect for holiday entertaining!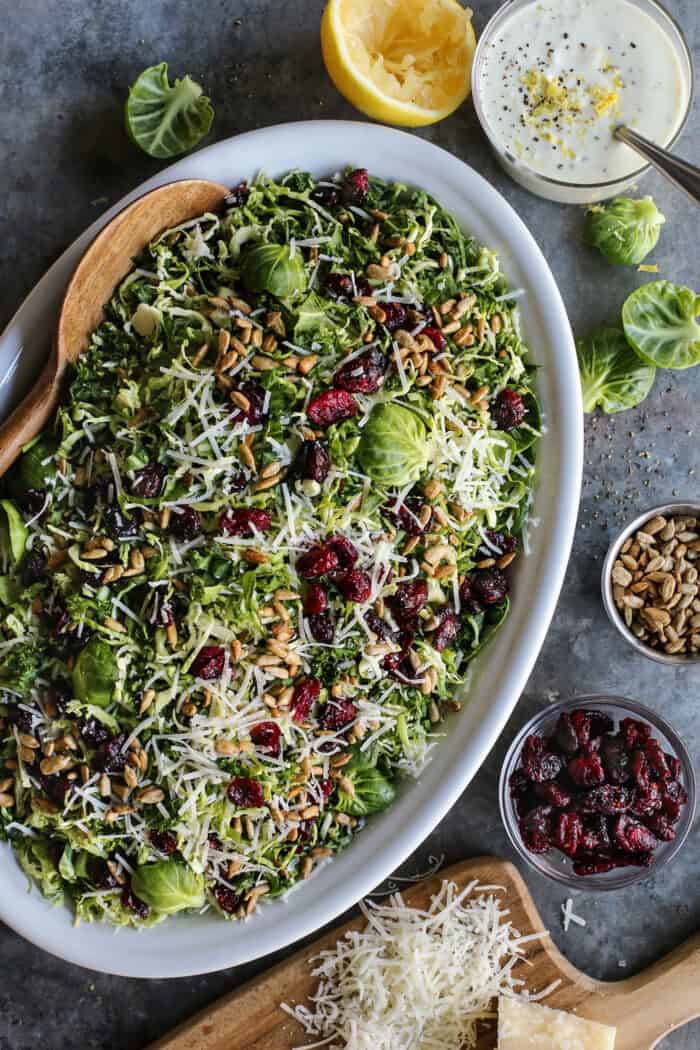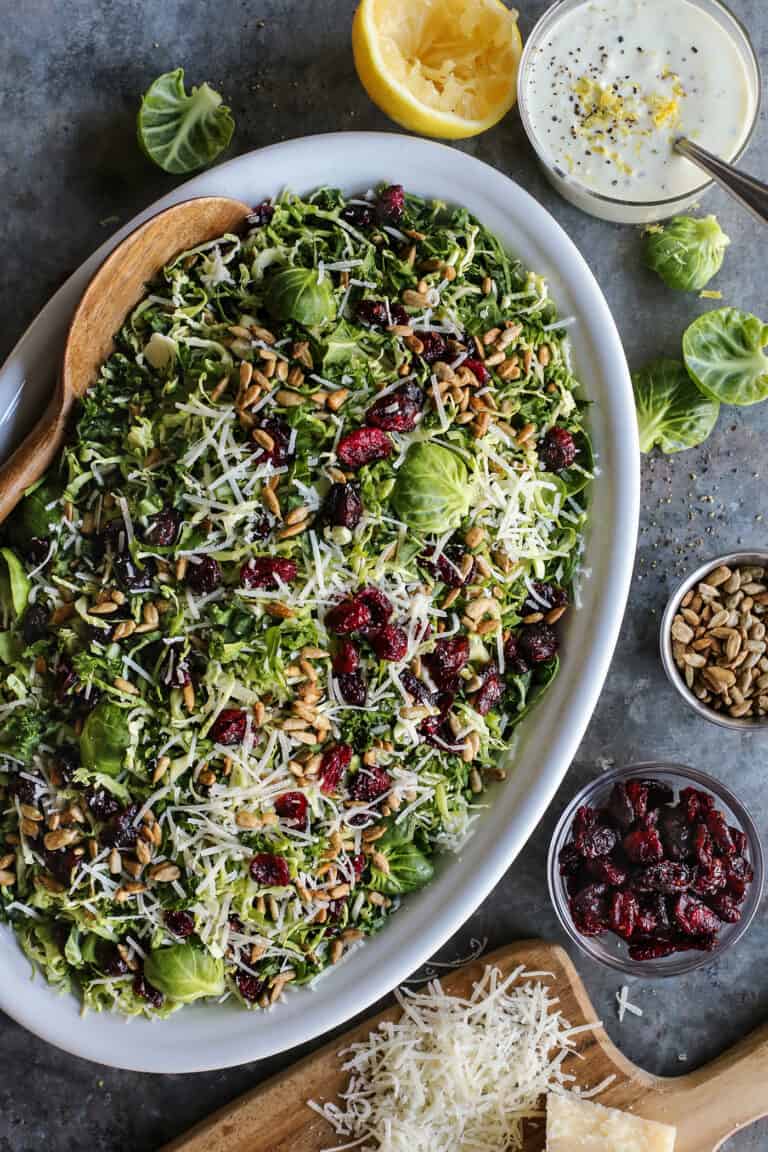 A Gorgeous Shaved Brussels Sprouts Salad
I admit, I'm a latecomer to the Brussels sprouts game. It's been only five years or so since I started ordering it regularly at restaurants, which then led to my experimenting with these cute little cabbage-y buds at home. I haven't yet mastered the tender roasted Brussels sprouts with the incredibly crispy, delicate leaves…but you can bet I'm working on it!
What I can share with you, though, is this gorgeous Shaved Brussels Sprouts Salad. I love the pretty ribbons of Brussels sprouts and kale that are tossed with a cheery lemon yogurt dressing. Then chewy dried cranberries, sunflower seeds, and Parmesan cheese are showered over the top.
This salad has a fabulous combination of flavors, textures, and colors. It's perfect for a holiday dinner or a healthy weeknight meal!
A few more salad recipes, perfect for holiday entertaining: My Holiday Wild Rice Salad is full of flavor, color, and texture. This Italian Chopped Salad is a family and reader favorite. And you'll love this Harvest Salad with Butternut Squash, Maple Pecans, and Curry Fig Vinaigrette!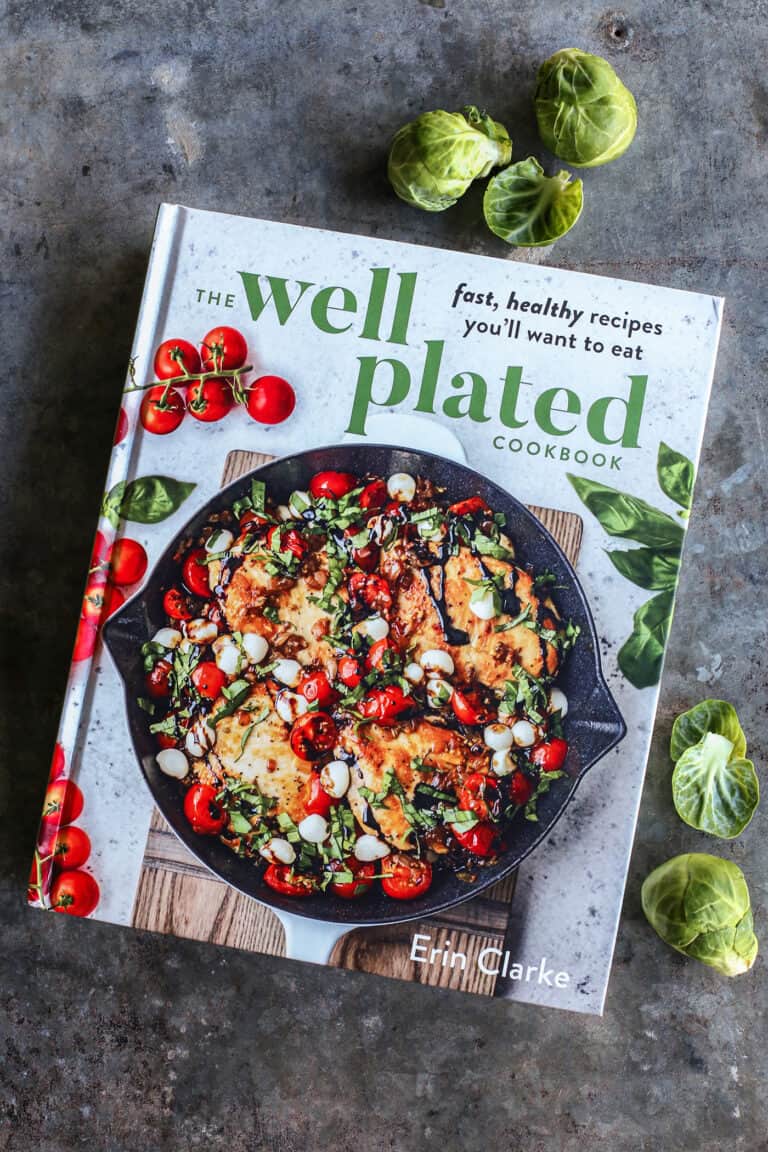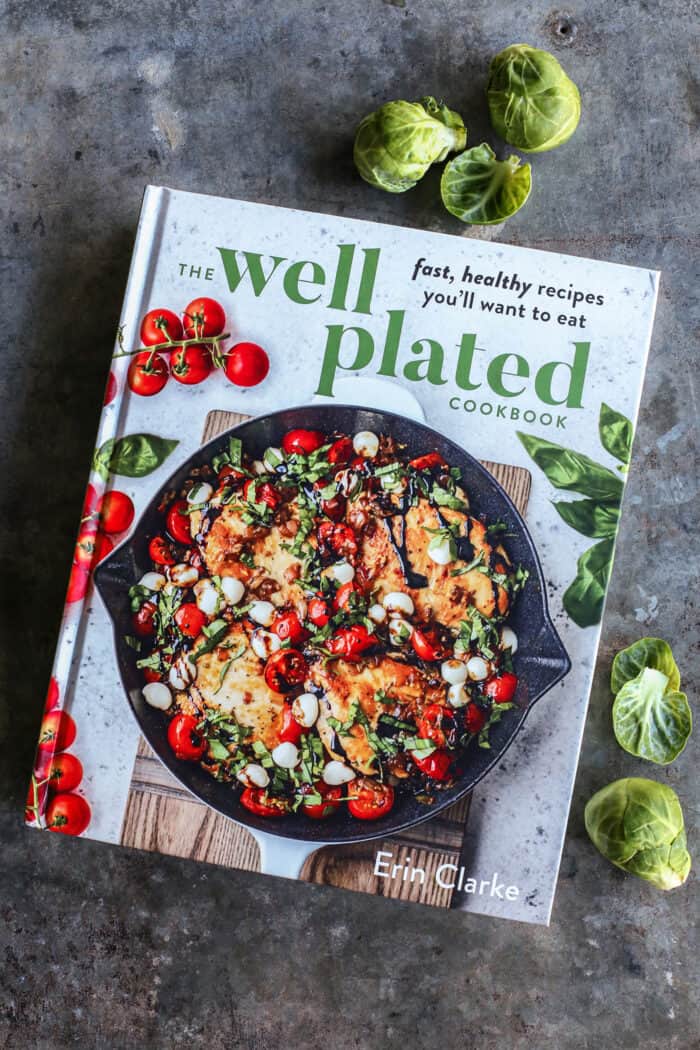 All credit for this salad goes to my friend Erin and her new book, The Well Plated Cookbook.
A GIVEAWAY! Erin is offering up TWO copies of The Well Plated Cookbook. Go here to enter!
Erin blogs at Well Plated by Erin, where she is known for putting lighter spins on comfort classics. She's super approachable (as are her recipes) and kind, with a gigantic smile.
In this cookbook, Erin shares more than 130 recipes inspired by her Midwestern roots. You'll find healthy tweaks on comfort food recipes, a plethora of her best tips, and clever ideas to transform recipes into entirely new dishes. And every recipe is accompanied by a beautiful photo – this cookbook is a feast for the eyes!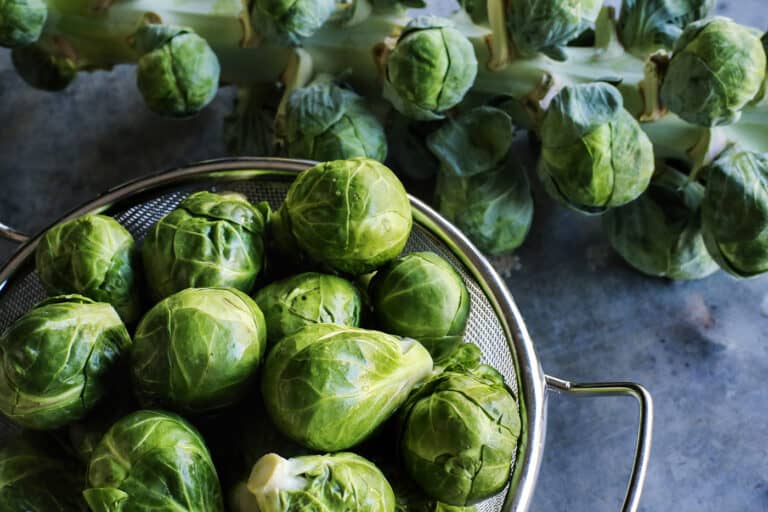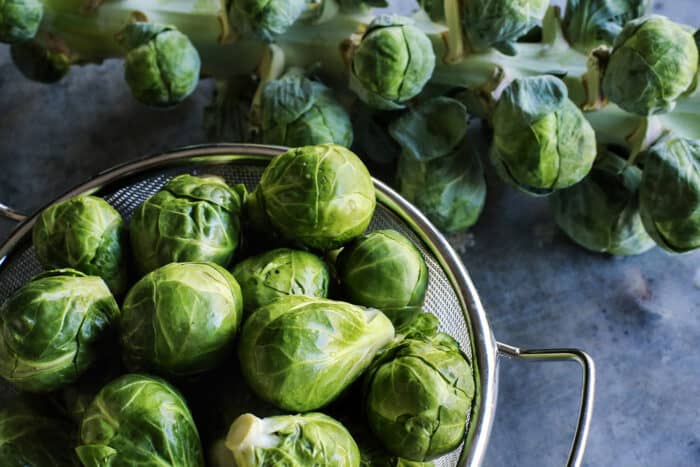 What to Make with Brussels Sprouts
This salad was just meant to be.
First, Erin's book arrived.
And then just a few days later, while on a Trader Joe's run, I spotted their first shipment of Brussels sprouts on the stem. My thoughts went immediately to the shaved Brussels sprouts salad recipe I saw in The Well Plated Cookbook.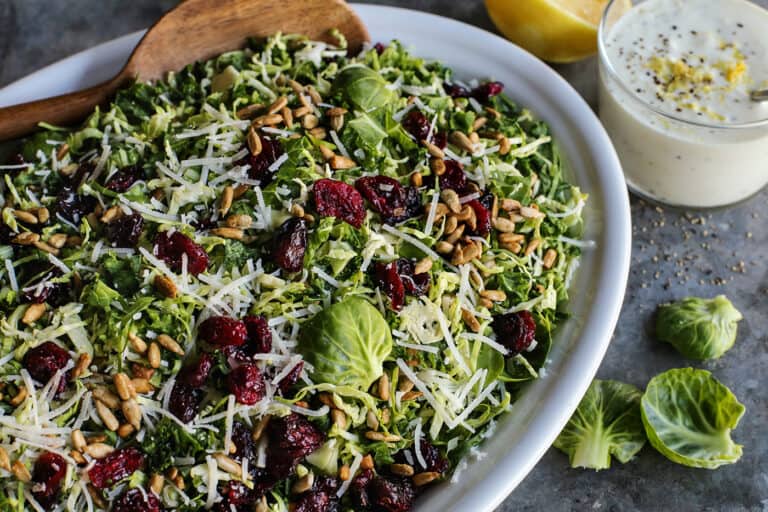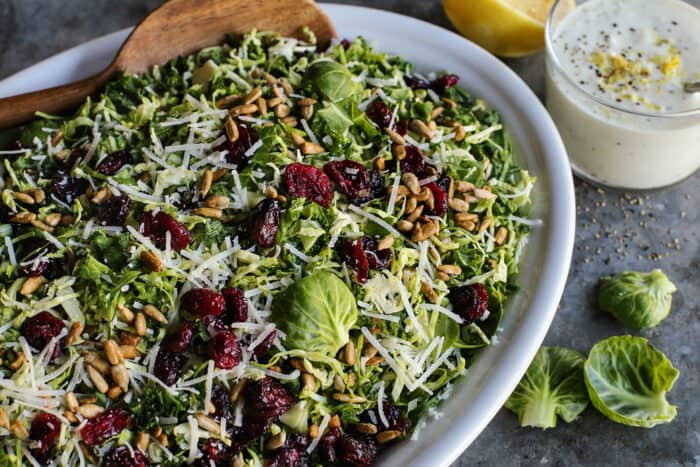 I dropped a two-foot-long stem into my Trader Joe's cart and off I went, eager to create some shredded Brussels sprouts. That salad was calling my name!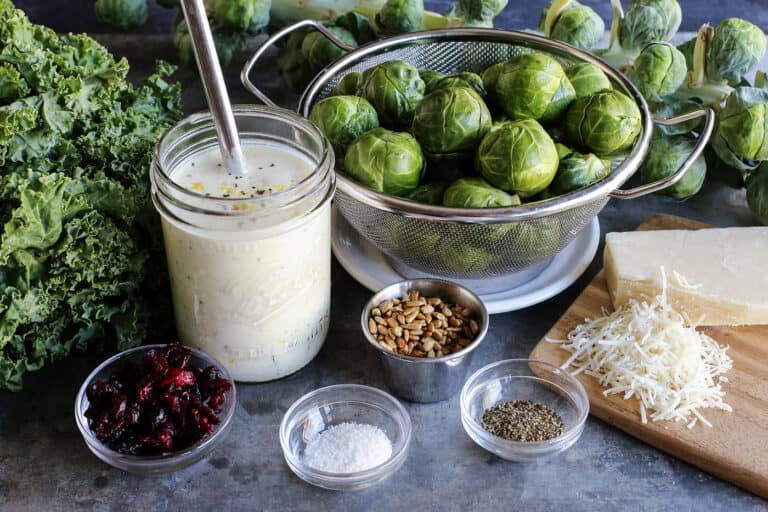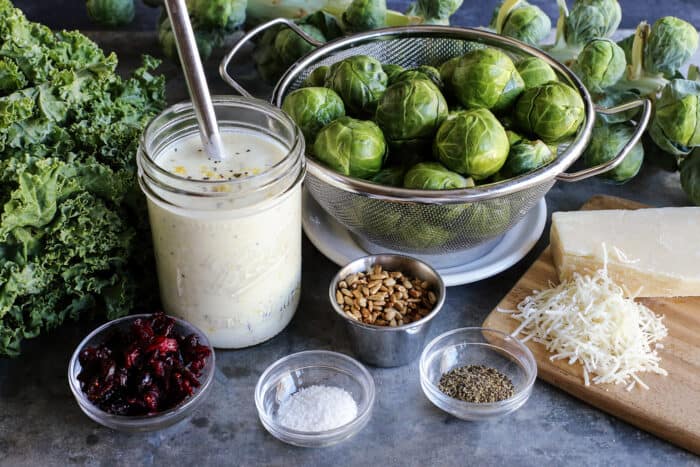 Shaved Brussels Sprouts Salad Ingredients
The ingredients list is short, so make sure that everything is super fresh and beautiful!
Grab these items:
Brussels sprouts – buy them on the stem or just the individual sprouts
curly kale
dried cranberries
sunflower seeds
Parmesan cheese
salt & pepper
You'll also see a jar of dressing in the photo. Hold tight, I'll get to that in just a bit!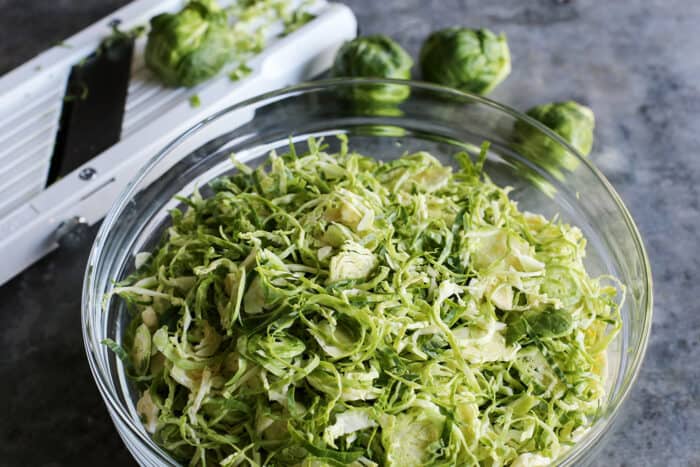 How to Make Shredded Brussels Sprouts
There are a few different methods you can use to create those thin, frilly shreds of Brussels sprouts:
Use a food processer: This will get the job done super quick! Just cut the bottom ends off of the Brussels sprouts and run them through the food processor fitted with a slicing blade.
Use a mandoline: I love any excuse to get out my mandoline, so that's what I use. Just be extremely careful with that razor-sharp blade and those little sprouts – don't risk a cut! Leave the bottoms of the Brussels sprouts untrimmed, hold onto the bottoms, and slice starting from the top. Discard the bits around the bottoms or use a sharp chef's knife to finish up with the cutting.
Use a sharp chef's knife: If you don't have a food processor or mandoline, a sharp chef's knife works as well. Cut off the bottoms, then slice the sprouts lengthwise into very thin ribbons.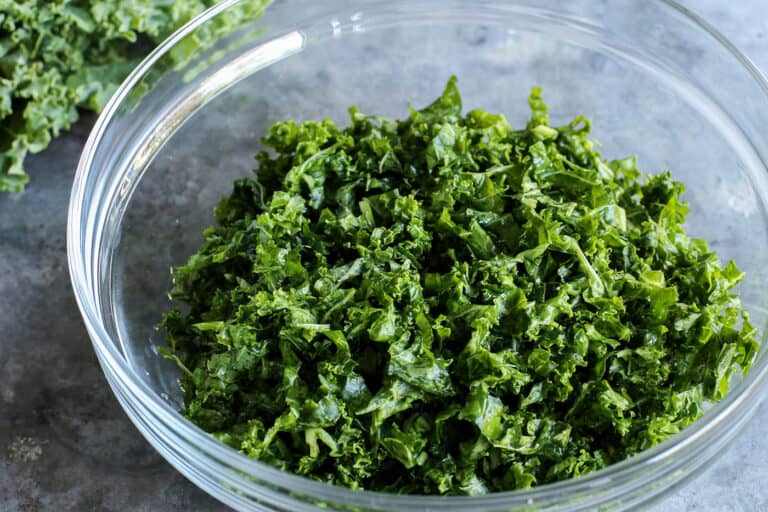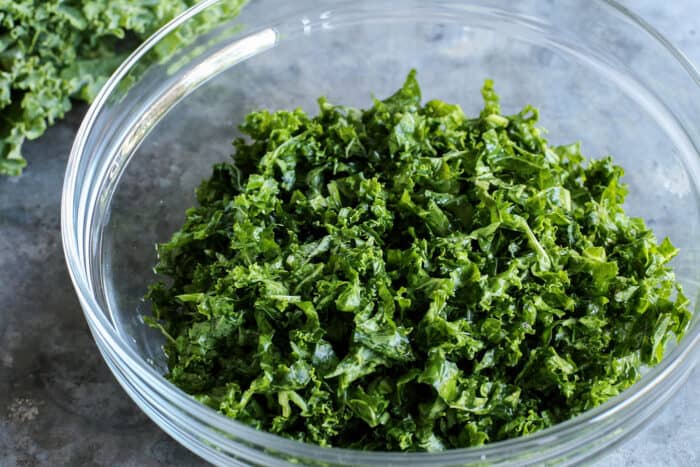 How to Massage Kale
What did that just say? Massage kale?
You heard me right!
Raw kale is rather tough, as far as fresh greens are concerned. When incorporating it into fresh salads, without cooking it, it should always be massaged. This will give it a more tender texture and less bitter flavor.
To start, get rid of the tough, fibrous stems. Just give a quick slice down both sides of the stem, and then discard the stem.
Then – for this salad – finely chop the kale leaves, add them to a large bowl, and sprinkle with salt and pepper. Grab large handfuls of the kale and squeeze gently until the pieces are darker in color, softened, and fragrant. Repeat, grabbing fresh handfuls of kale as you go. Take care to not overdo it, though. You want the kale to still have some crispness, and not turn to a mushy mess!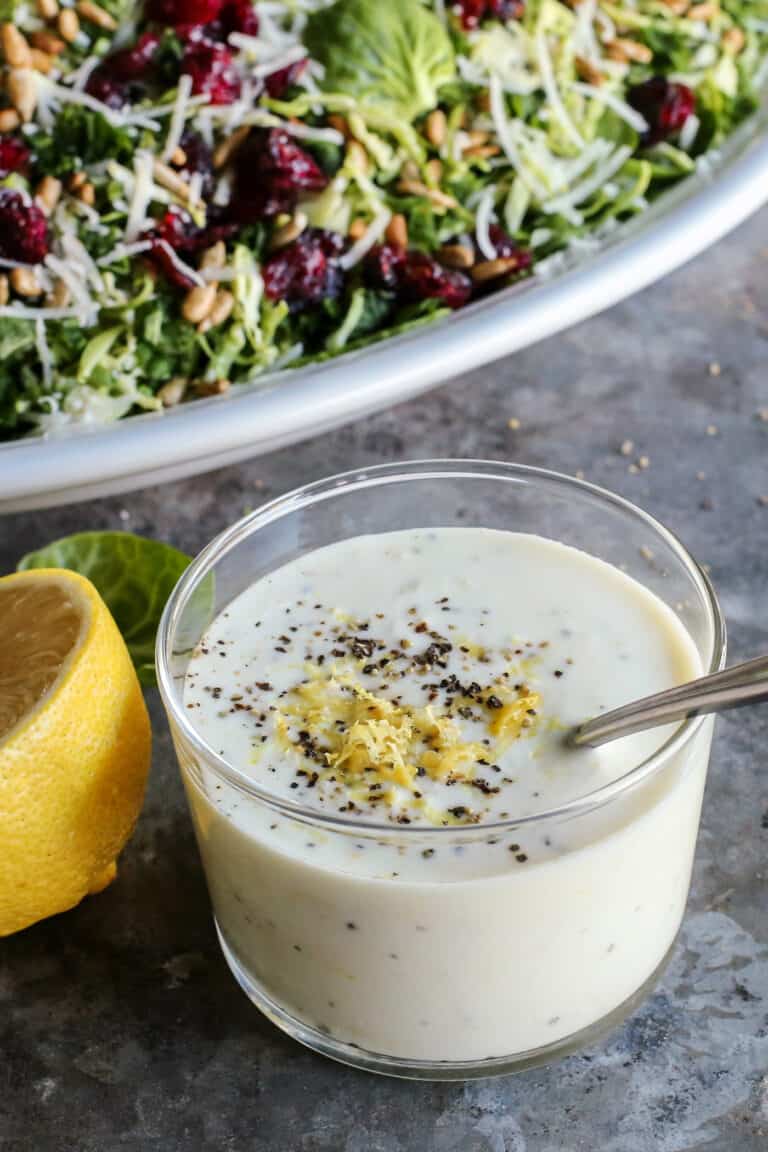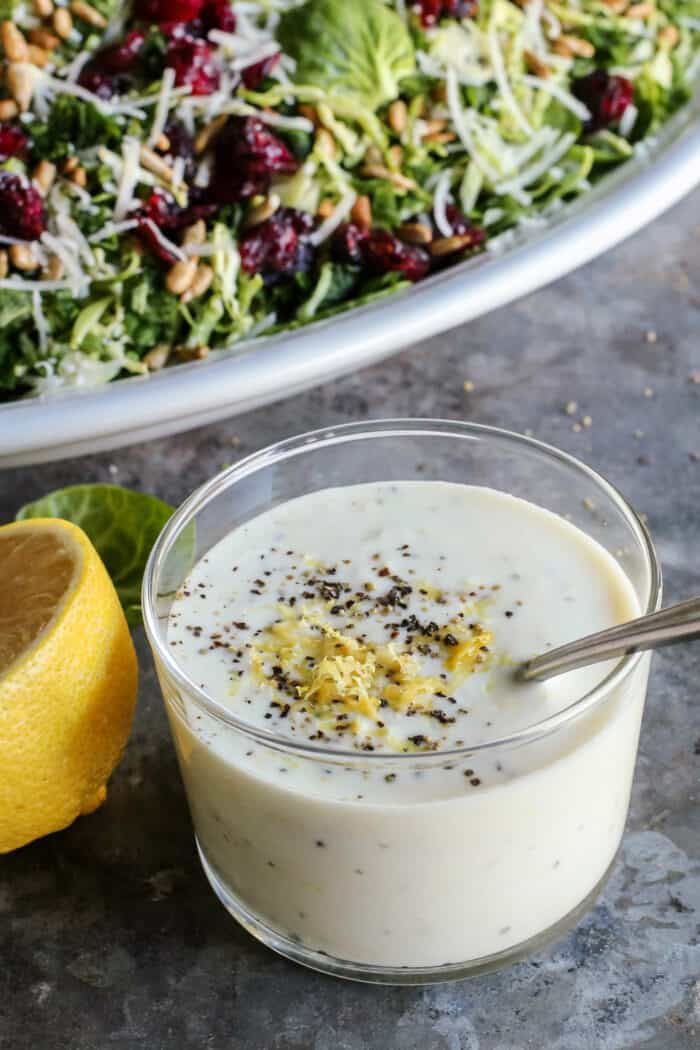 Make a Zippy Lemon Yogurt Dressing for this Salad
Now that we have the base of the salad down, let's talk about this fun little dressing. Our daughter Tessa is obsessed with it. And don't take me for someone who uses the word "obsessed" in every other sentence. When I say this, know for certain that Tessa LOVES the lemon yogurt dressing that gets folded into this salad!
You already know I'm a super fan of homemade dressings. I've shared a good number of recipes here already – some of our top favorites are my Buttermilk Ranch Dressing, sweet Red Wine Vinaigrette, a bright and bracing Italian Vinaigrette, and a lovely Herby Lemon Vinaigrette. This Creamy Taco Salad Dressing is also very popular with readers!
Click here to check out all my salad and dressing recipes!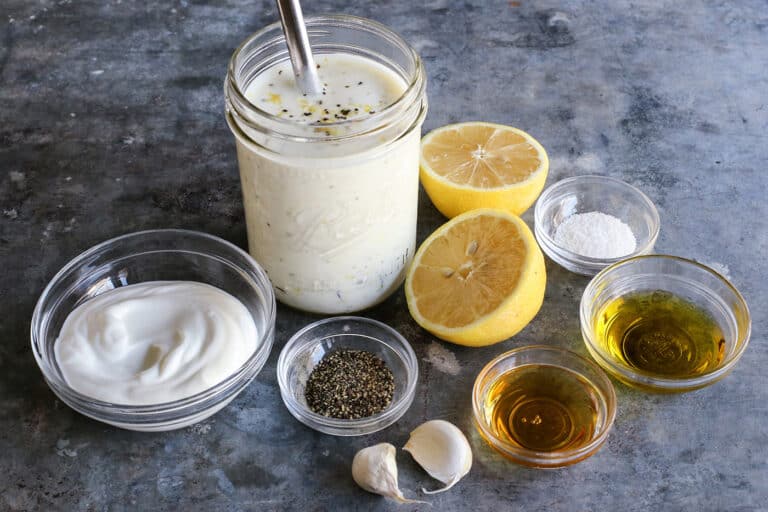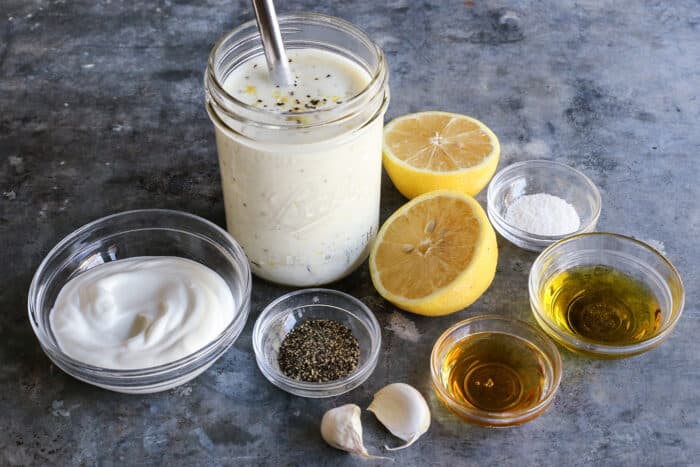 Dressing Ingredients & Instructions
Again, super simple list of ingredients here!
nonfat plain Greek yogurt
lemons
lemon juice
extra virgin olive oil
honey
garlic
salt & pepper
And the instructions are easy, too. Just whisk everything together, all at once in a small mixing bowl. D.O.N.E. Done!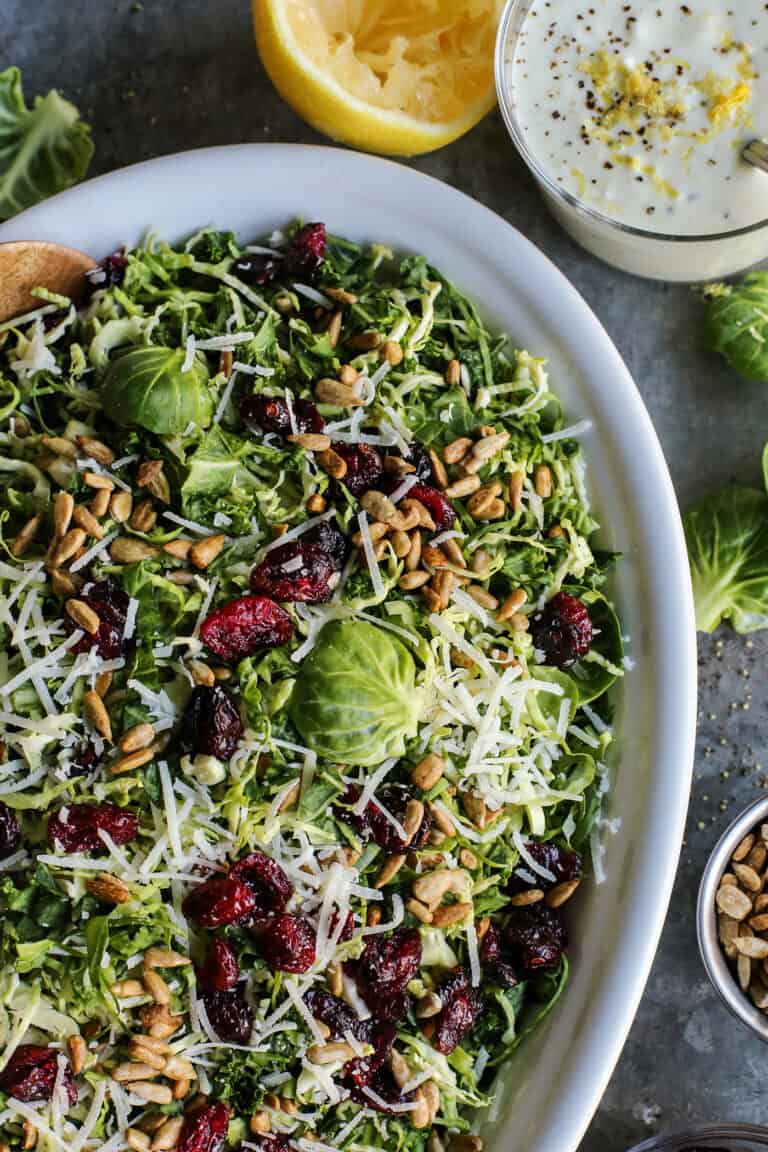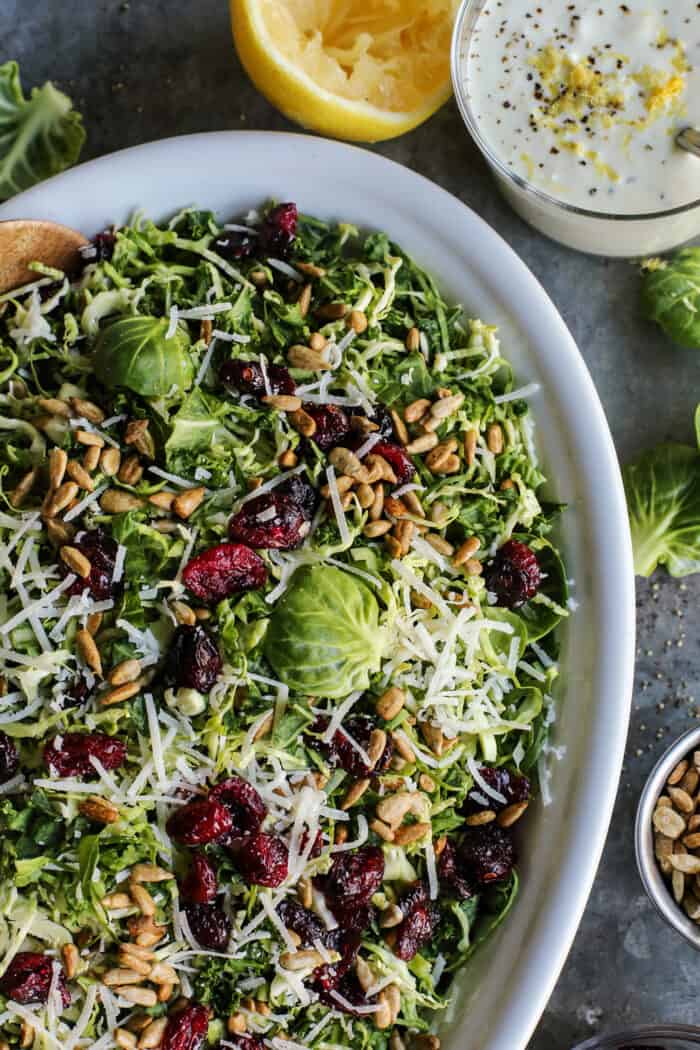 Tips and Substitutions for the Best Brussels Sprouts Salad
Use only the freshest Brussels sprouts and kale. It should go without saying, that fresh salads are only going to be as "fresh" as the ingredients you start out with.
I have always liked sunflower seeds. Like, ALOT. Just ask my parents about the bags of seeds I'd go through as a kid! But if you're not a fan, feel free to substitute chopped pecans or sliced almonds – they'd still be great choices.
Make sure your dried cranberries are fresh and plump and chewy. If you find a bag at the back of your pantry with dry, dark dried cranberries, pleeeeeease get some fresh ones for this salad!
Use good quality Parmesan. I like to shave it right off the block, for freshest flavor!
To partially prepare ahead of time, shred the Brussels sprouts and chop the kale, up to two days in advance. Then store them in an airtight container or baggie in the refrigerator until ready to use.
You can also make the dressing up to two days in advance. Store it in the fridge until ready to use, and then whisk well before dressing the salad.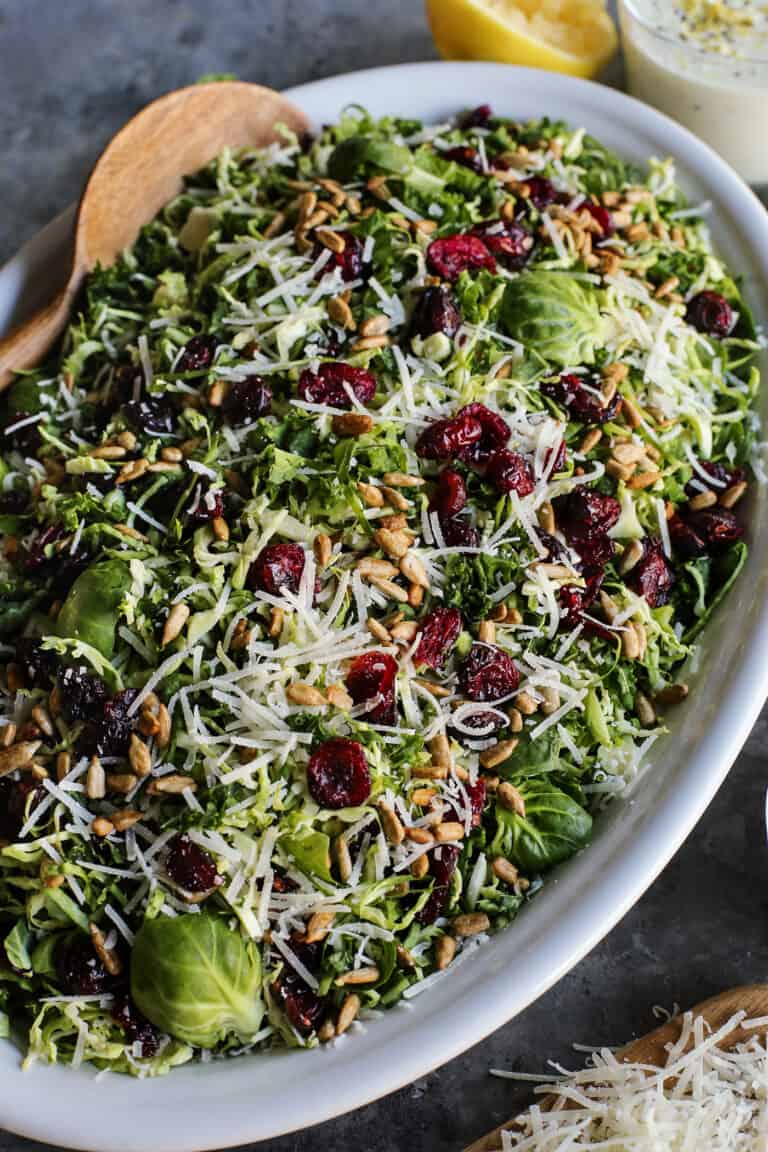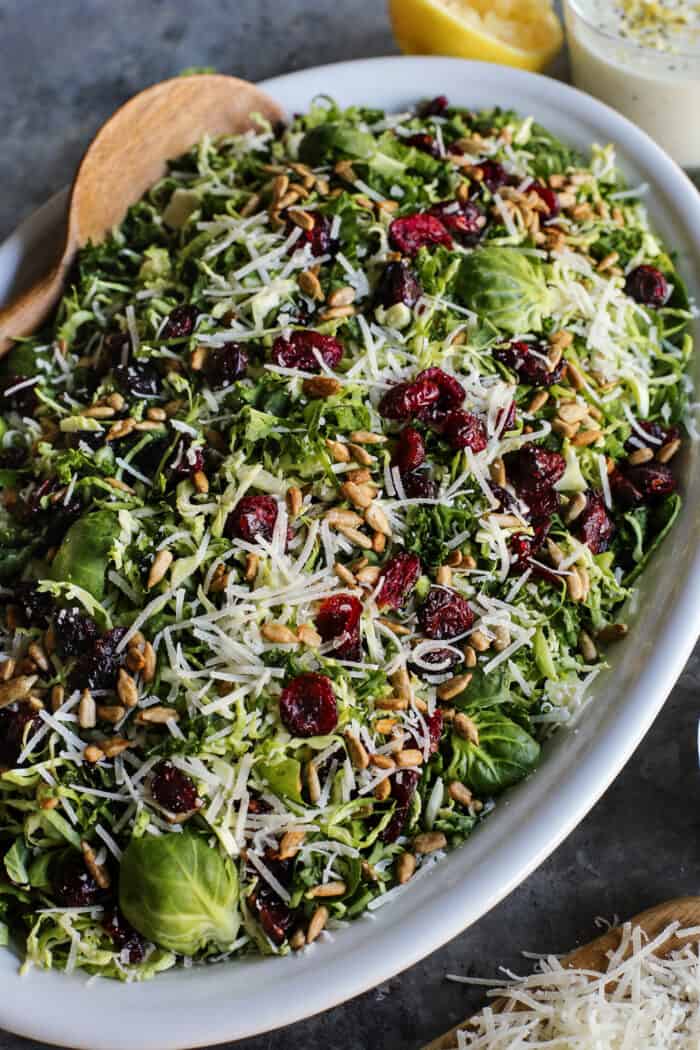 If you're looking for a fresh winter salad, this beauty is a definite winner. It has fantastic flavor, is so very pretty to serve, and holds up well so you can make it in advance. Which also means…it makes great leftovers, yay!
Like this recipe? Save it to Pinterest!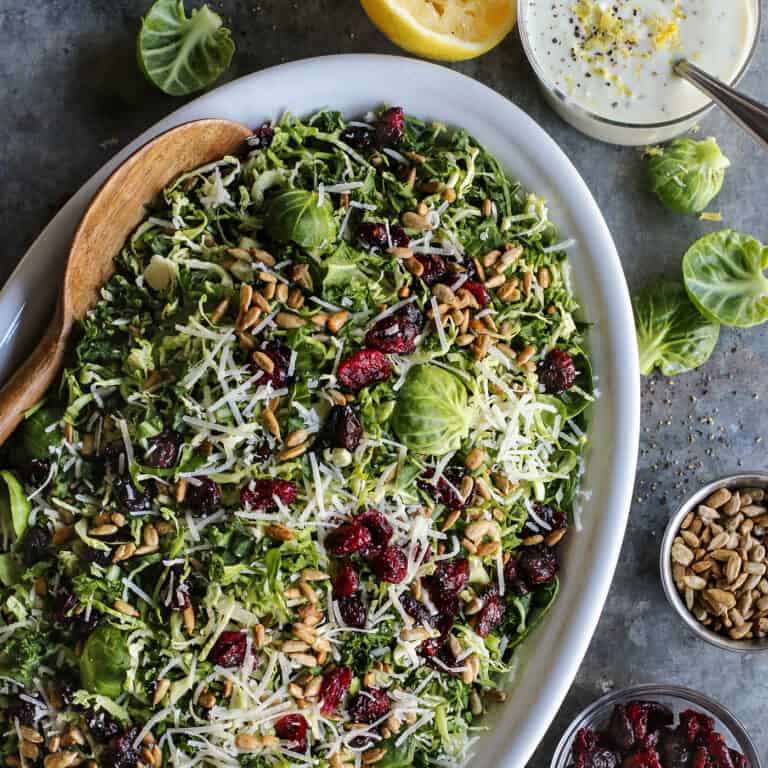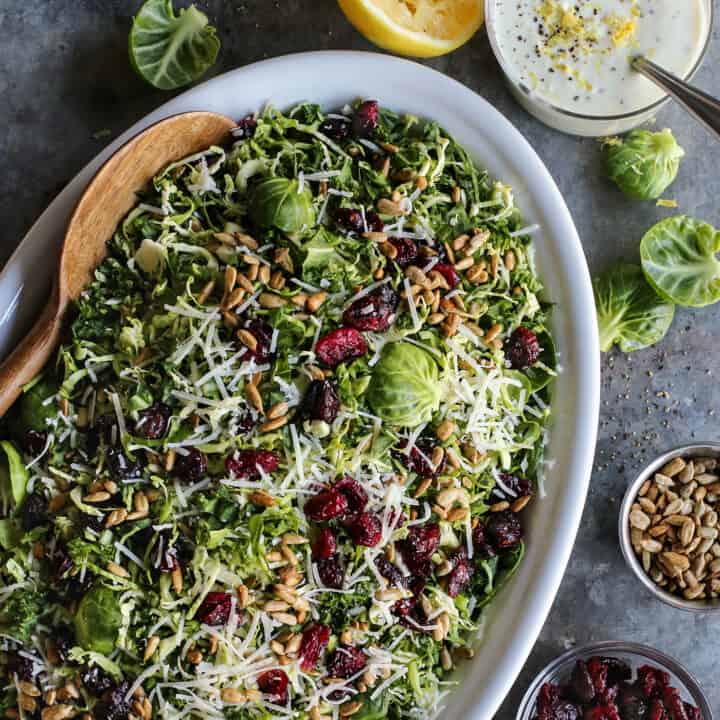 Shaved Brussels Sprouts Salad
Yield: 6 servings as a side
Prep Time: 30 minutes
Total Time: 30 minutes
A beautiful shaved Brussels sprouts salad recipe with kale, dried cranberries, sunflower seeds, and Parmesan - and a zippy lemon yogurt dressing that brings it all together. A gorgeous fresh winter salad that's perfect for holiday entertaining!
Ingredients
for the salad:
8 oz. curly kale, stems removed and finely chopped (about 6 cups)
1/4 tsp. kosher salt
1/8 tsp. ground black pepper
1 lb. Brussels sprouts, finely shredded or very thinly sliced (about 4 cups)
2/3 c. shaved or shredded Parmesan cheese (about 2.5 ounces)
1/2 c. dried cranberries
1/3 c. dry-roasted sunflower seeds
for the Zippy Lemon Yogurt Dressing (yield: about 3/4 cup):
1/2 c. nonfat plain Greek yogurt
zest of 2 medium lemons (about 2 teaspoons)
1/4 c. freshly squeezed lemon juice (from about 1 of the medium lemons above)
2 T. extra virgin olive oil
2 tsp. honey
1 large clove garlic, very finely minced or grated
1/2 tsp. kosher salt
1/4 tsp. ground black pepper
Instructions
For the salad: Place chopped kale in a large serving bowl. Top with salt and pepper. Massage kale by grabbing large handfuls and squeezing gently until the kale is darker in color, softened, and more fragrant. Repeat several times, grabbing fresh handfuls of kale as you go. This will make the kale more tender and less bitter - don't skip this step!
Add shaved Brussels sprouts to bowl, fluffing the strands with your fingers to separate the shreds. Toss to combine Brussels sprouts with the kale.
For the dressing: In a small mixing bowl, whisk together all dressing ingredients. Taste and adjust the seasoning as desired. Use immediately or refrigerate in an airtight jar for up to 1 week.
To assemble the salad: Drizzle two-thirds of the dressing over the top and toss to combine.
Sprinkle salad with Parmesan, cranberries, and sunflower seeds over the top. Toss lightly. Season with additional salt and pepper to taste and add as much extra dressing as you like. Enjoy immediately or refrigerate until ready to serve.
Recommended Products
As an Amazon Associate and member of other affiliate programs, I earn from qualifying purchases.
Nutrition Information:
Yield: 6
Serving Size: 1
Amount Per Serving:
Calories: 301
Total Fat: 18g
Saturated Fat: 3g
Trans Fat: 0g
Unsaturated Fat: 14g
Cholesterol: 7mg
Sodium: 1759mg
Carbohydrates: 28g
Fiber: 6g
Sugar: 16g
Protein: 13g
Nutrition information is automatically calculated by Nutritionix. I am not a nutritionist and cannot guarantee accuracy. If your health depends on nutrition information, please calculate again with your own favorite calculator.
I received a copy of The Well Plated Cookbook for my use and review. All opinions are 100% my own.