Greek Chopped Salad
This post may contain Amazon or other affiliate links. As an Amazon Associate I earn from qualifying purchases.
This Greek Chopped Salad recipe is loaded with fresh cucumbers, tomatoes, bell peppers, and herbs. With a bright, flavorful dressing, it's a salad you'll turn to again and again!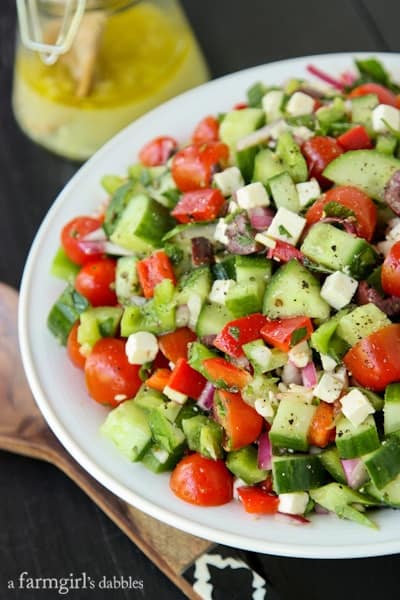 Coming off this past three-day weekend, I am tired, my muscles are achy, and my cheeks are flushed pink from the sun. And it feels so wonderful. We actually had a whole weekend that felt like summer and we took full advantage of it!
Last fall, we started building a new fenced in raised beds garden area, and it just got completed this past week with the addition of a walking path and soil in the boxes. So I was antsy to get the garden planted, of course. The girls love sowing seeds and digging the plants into the ground each spring, and it was just that much more fun with our new garden space. We're trying out strawberries for the first time…wish us luck!
Besides a bunch of other yard and house projects (our main level now has clean windows, yay!!), we also fit in plenty of fun time. Our girls squeezed in a sleepover here with a girlfriend to kick off the weekend. And a conversation out in the new garden with our next door neighbors prompted a gathering on our deck the next evening. We went out to one of our favorite breakfast spots on Sunday morning, followed by an afternoon of watching live horse racing. Our youngest daughter is horse crazy, and the local racing venue reserves Sundays for family days. The afternoon left plenty of smiles and lots of happy chatter on the lips of our daughter.
Besides being tired and achy, I'm also stuffed with so much wonderful food from the weekend. One of my favorite dishes was this Greek Chopped Salad. It's full of fresh ingredients, perfect for the summer ahead!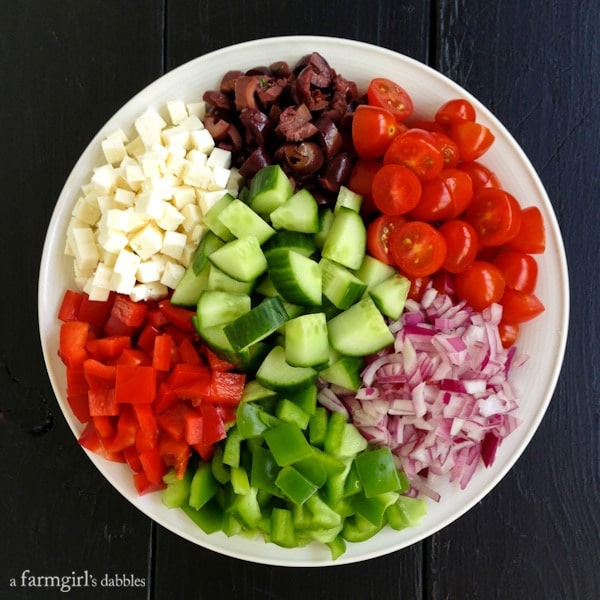 I know that when our garden is ready for its harvest, we'll be enjoying this chopped salad in a whole new way. My mouth is watering just thinking about those sweet fresh-from-the-garden tomatoes!
Fresh chilled salads are my go-to meal all summer long. There is just nothing better on a hot day than knowing you have a salad already mixed up in the refrigerator, or the fresh makings to do so.
This chopped Greek salad is heavy on the cucumbers. Because I love them so! If you like your Greek salad with lettuce, some crisp chopped Romaine would be a great addition. The dressing is light and bright and tangy, consisting of lemon juice, white balsamic vinegar, and plenty of fresh garlic. I've thrown in a big handful of fresh herbs from the back yard (my favorite summer salad flavor booster!), plus some salty briny love from Kalamata olives and feta cheese. It's so good!
Looking for more awesome summer salads, loaded with fresh produce? These salads can be assembled and kept in the refrigerator, to be eaten over a few days' time. Here's to summer. Enjoy!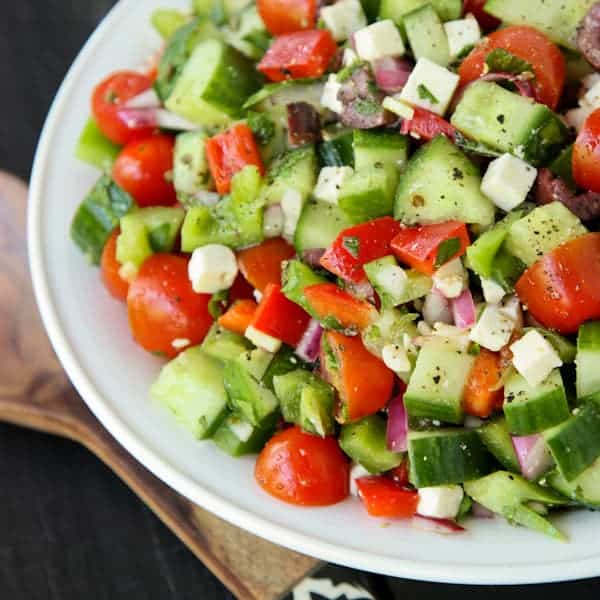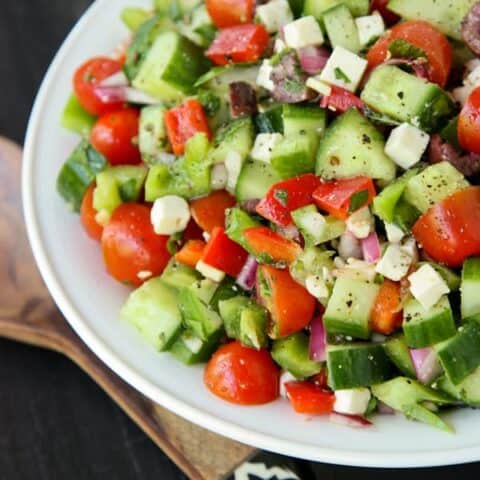 Greek Chopped Salad
This Greek Chopped Salad recipe is loaded with fresh cucumbers, tomatoes, bell peppers, and herbs. With a bright, flavorful dressing, it's a salad you'll turn to again and again!
Ingredients
for the salad:
3 c. halved cherry or grape tomatoes (quarter the tomatoes if they are larger)
2 large English cucumbers or 8 smaller Persian cucumbers, chopped
1 large green bell pepper, seeded and diced
1 large red bell pepper, seeded and diced
1 c. diced red onion
1 c. pitted and roughly chopped Kalamata olives
1/2 c. chopped fresh mint
1/3 c. chopped fresh parsley
1/3 c. chopped fresh oregano
1 8-oz. block of feta, diced (or use crumbled feta)
for the salad dressing:
1/2 c. freshly squeezed lemon juice + zest of 1 lemon
1/4 c. white balsamic vinegar
1/4 c. extra-virgin olive oil
6 medium garlic cloves, minced
2 tsp. Dijon mustard
1/4 tsp. kosher salt, plus additional sprinkled over the top before serving
1/8 tsp. freshly ground black pepper, plus additional sprinkled over the top before serving
Instructions
for the salad:
In a large bowl, combine all salad ingredients, except for the feta cheese. Toss gently to combine.
for the salad dressing:
In a small bowl, whisk together all salad dressing ingredients.
to finish the salad:
To yield the best flavor, it is best to prepare this salad a few hours before serving. Pour about 2/3 of the dressing over the salad mixture and toss a few times to coat.
Refrigerate until ready to serve, folding gently every hour or so. When ready to serve, add more dressing if needed. Then add the feta cheese and fold again to incorporate. Sprinkle lightly with additional salt and freshly ground black pepper.
Notes
from a farmgirl's dabbles
Nutrition Information:
Yield: 10
Serving Size: 1
Amount Per Serving:
Calories: 234
Total Fat: 14g
Saturated Fat: 5g
Trans Fat: 0g
Unsaturated Fat: 8g
Cholesterol: 20mg
Sodium: 389mg
Carbohydrates: 26g
Fiber: 5g
Sugar: 14g
Protein: 6g
Nutrition information is automatically calculated by Nutritionix. I am not a nutritionist and cannot guarantee accuracy. If your health depends on nutrition information, please calculate again with your own favorite calculator.
We participate in the Amazon Services LLC Associates Program, an affiliate advertising program designed to provide a means for us to earn fees by linking to Amazon.com and affiliated sites. See our
disclosure policy
for more info.