Jessica's Taco Salad with Creamy Taco Dressing
Jessica's Taco Salad with Creamy Taco Dressing is bursting with fresh veggies, plus taco seasoned beef and crunchy, nacho cheese-y, irresistible Doritos. Watch the video!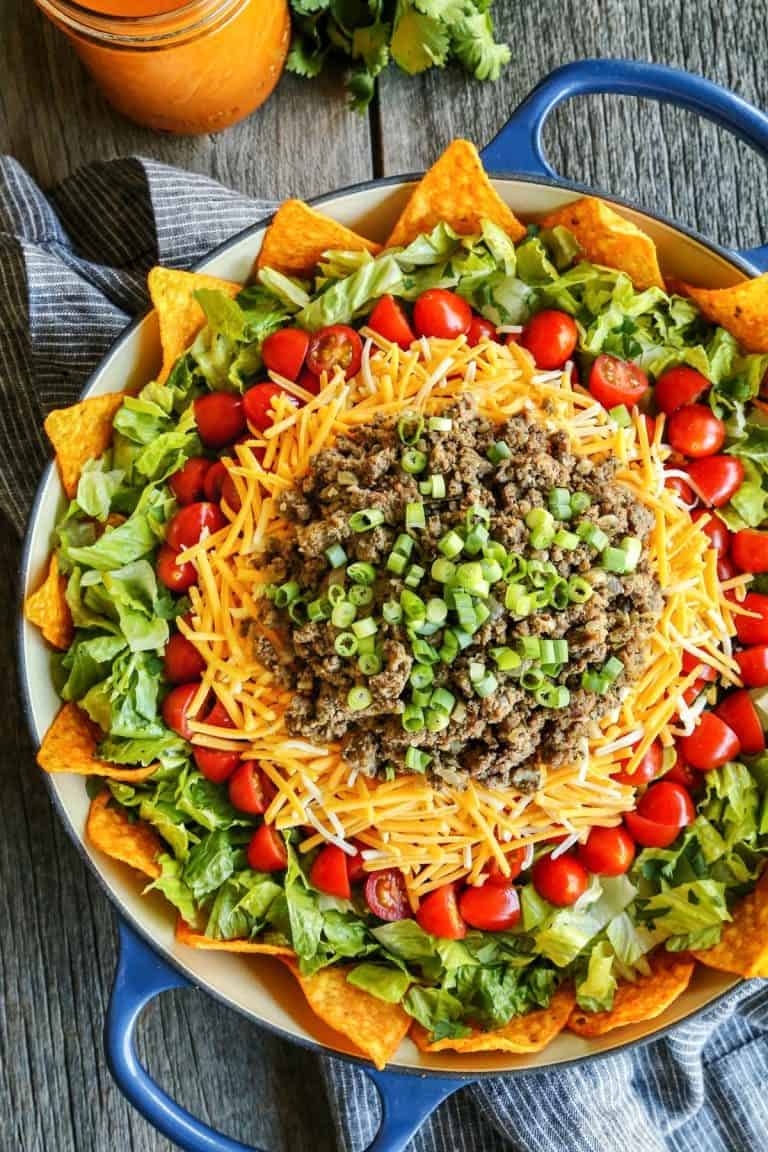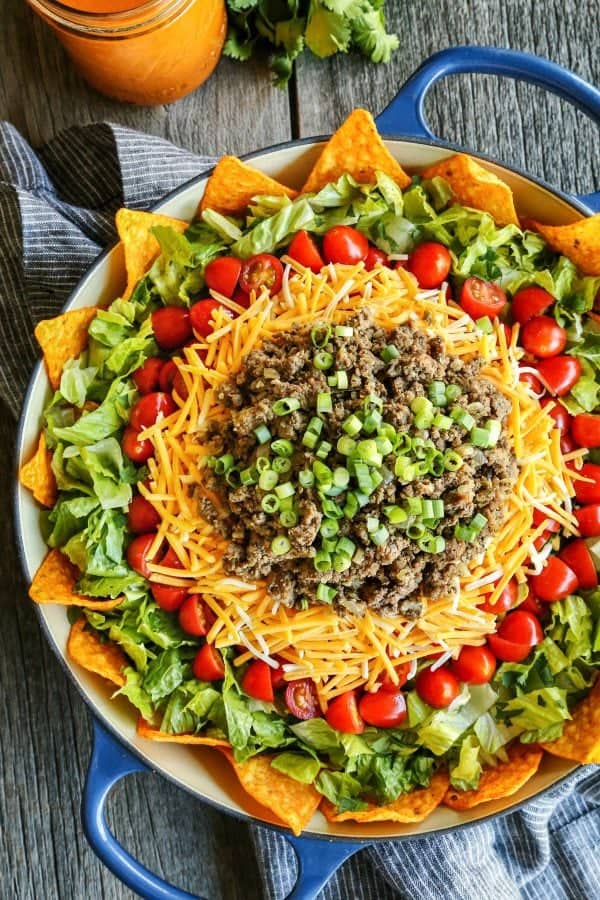 Whenever our family stays with my sister Jessica's family in South Dakota, we can always bet on eating two particular meals:
Pizza and crispy chicken from their local Pizza Ranch (followed up by some video arcade play time next door)
and Jessica's Taco Salad with Creamy Taco Dressing. We never tire of this meal, and welcome it with each and every visit!
I asked Jessica if I could share her taco salad technique here, as she's made this recipe famous for our family and so many friends. It's highly adaptable (just don't forget the Pickled Red Onions!) and bursting with personality and hospitality, just like my beloved sister.
*A few more salads I'm loving right now: my mom's Sweet Onion Coleslaw, fresh cucumber-y Greek Chopped Salad, and creamy Herby Ham Salad.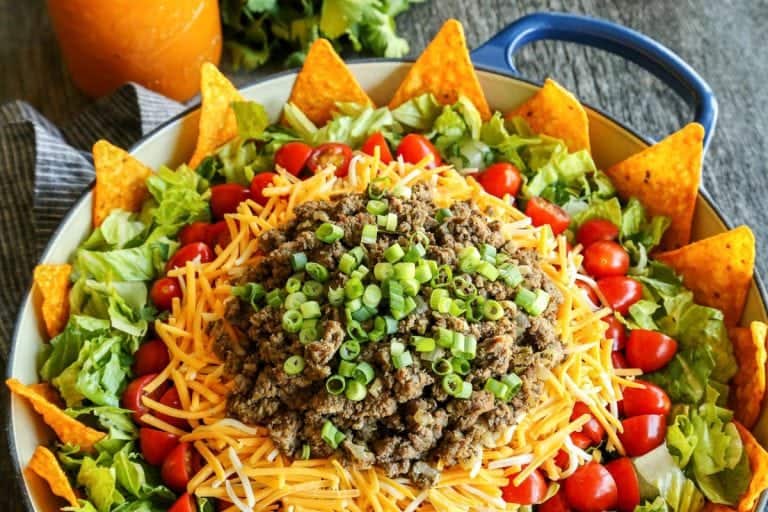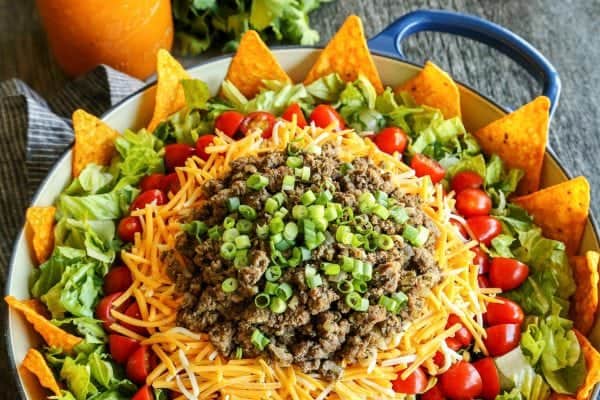 This easy taco salad recipe is great for casual meals
When Jessica serves this meal, it's always super casual.
She places all the ingredients in separate bowls on their kitchen peninsula's counter, for each person to assemble their own salad as they wish. That way, everyone gets exactly what they like. No black beans for our daughter Tessa. Extra cheese for Jessica and her daughters Kate and Meg. And an extra helping of Doritos for almost every person at the table!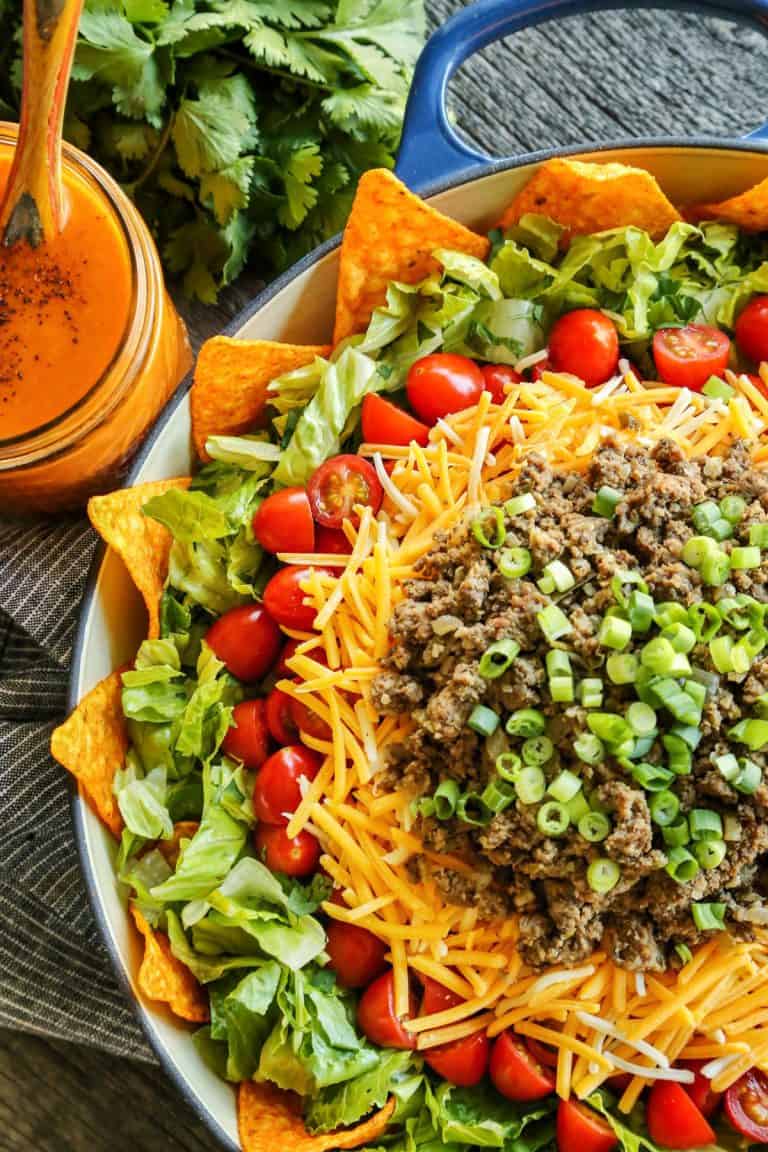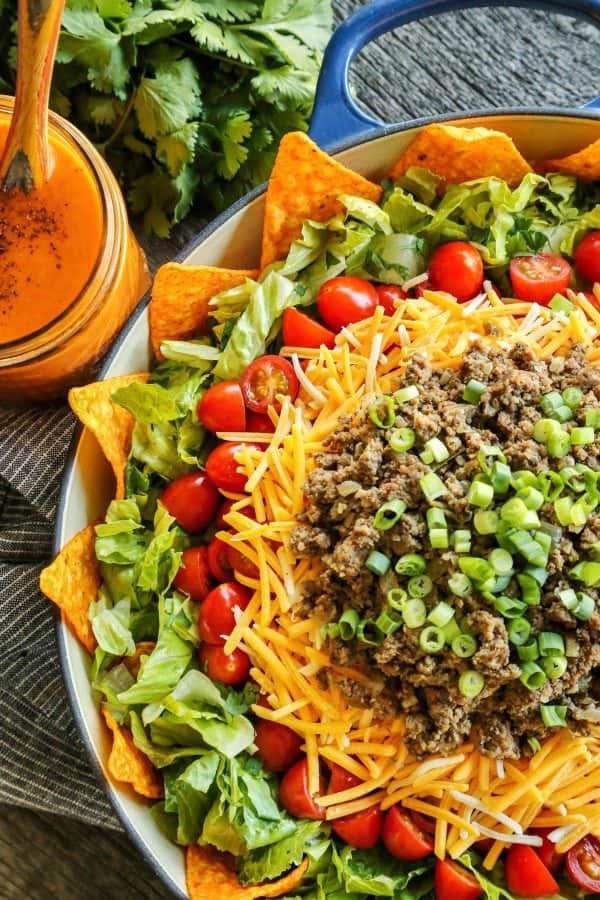 How to make taco salad
When I want to make a one-dish taco salad to set on the table, I take the liberty of arranging Jessica's salad into layers in a low, wide pan (I like to use this round braiser – it's great for more than cooking in!), prettily displaying all the different salad ingredients. This method highlights the variety of colors and textures in an artful, yet simple, way.
This presentation is great for entertaining when not serving buffet-style. It takes up less space on the table, and you can still have available smaller bowls of additional condiments. Like black beans. Our girls always request that black beans be served "on the side", as they are not fans.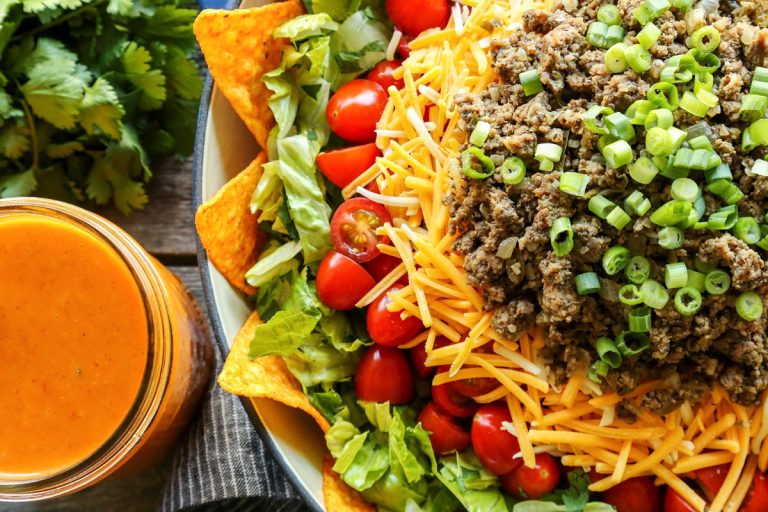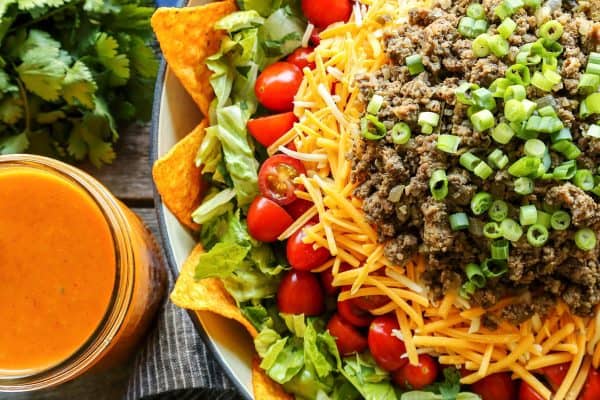 Dorito taco salad will always be a favorite
When it comes to salads, this one easily ranks in our family's top choices. Another top favorite is this grilled romaine salad with homemade buttermilk ranch dressing – we eat it almost weekly all summer long.
I like that this salad is largely based on fresh veggies. And I'm pretty sure the rest of the family digs in so heartily because of the taco seasoned beef (using my favorite store-bought seasoning mix or my own homemade version of the same) and crunchy, nacho cheese-y, irresistible Doritos.
But really, who can actually resist those chips?!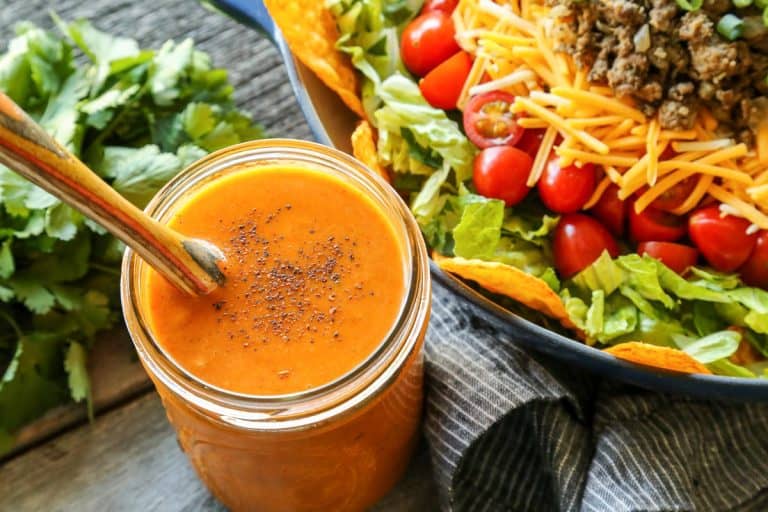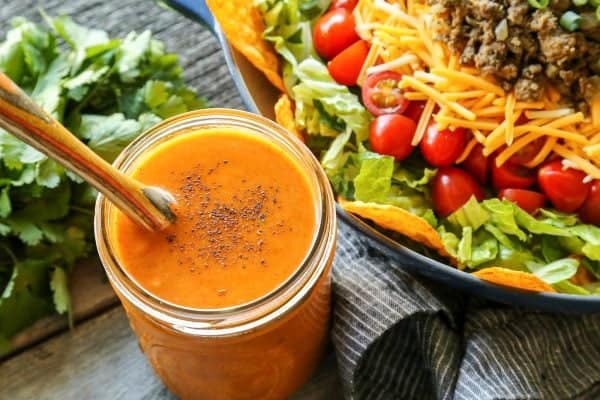 This taco salad loves to get dressed up!
My sister serves her taco salad with a variety of bottled dressings, taco sauces, and sour cream.
When I serve this salad, I stir up this Easy, Creamy Taco Salad Dressing recipe that my friend Bobbi Jo shared with me many, many years ago. It's super easy to make, using three bottled dressings/sauces that we have on hand. The dressing is always a hit, no matter who is at our table.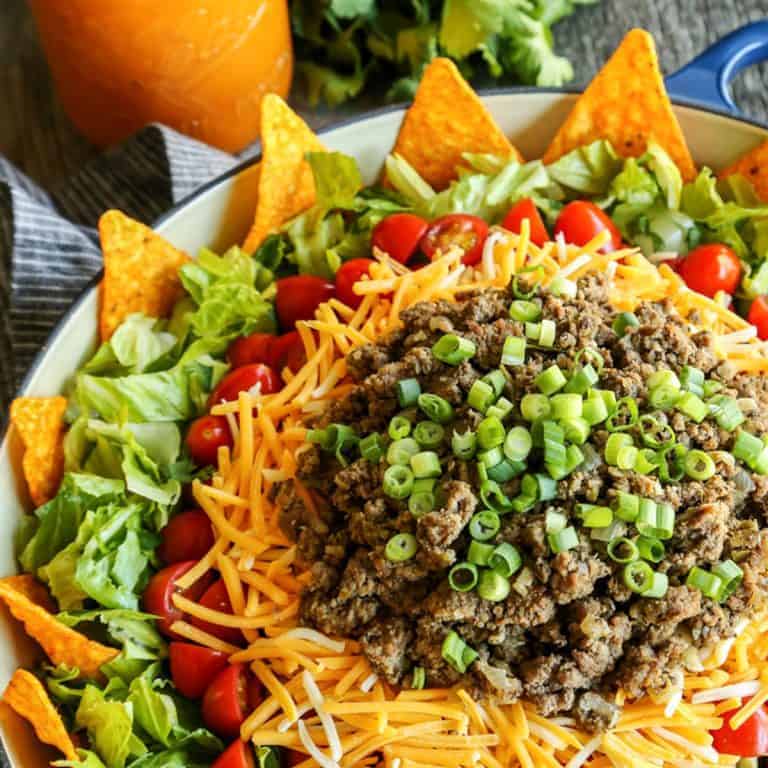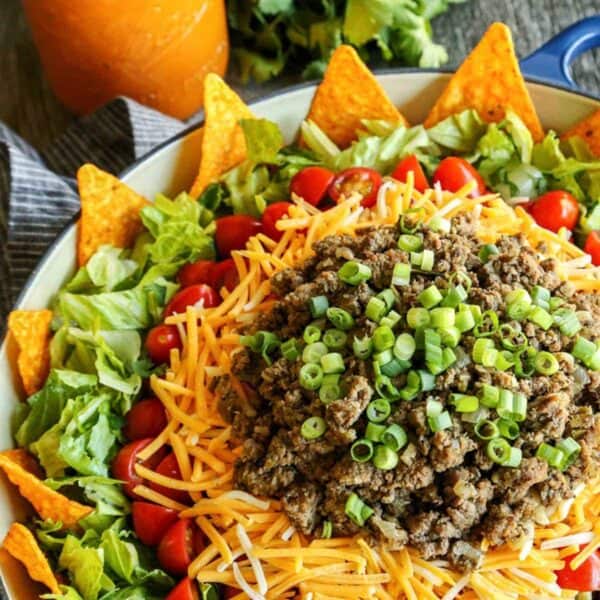 If you like this taco salad recipe, you might like:
Like this Taco Salad? Pin it!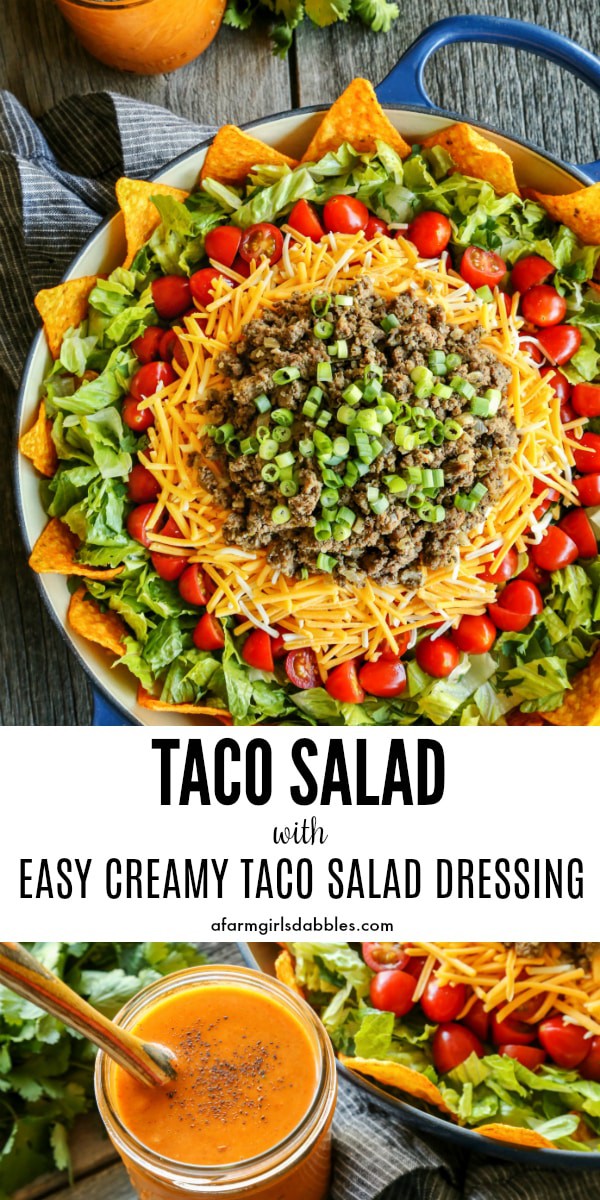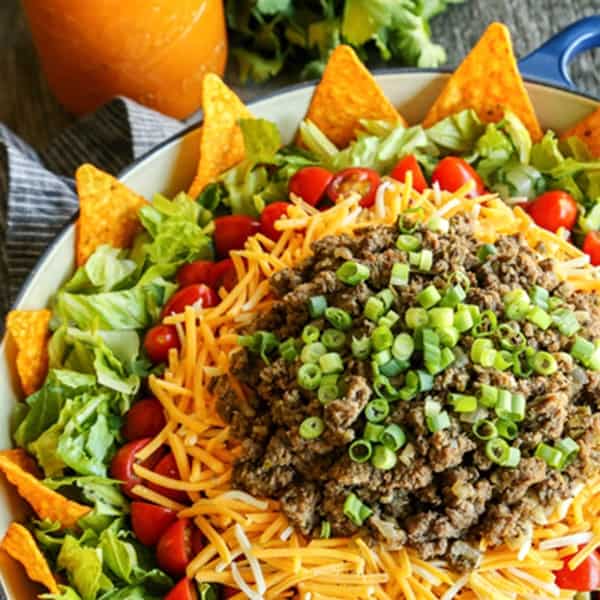 Jessica's Taco Salad with Creamy Taco Dressing
This fun layered salad is bursting with fresh veggies, plus taco seasoned beef and crunchy, nacho cheese-y, irresistible Doritos. Serve it with my easy cream taco salad dressing for a big taco salad win!
Ingredients
for the salad:
1 lb. ground beef, turkey, or chicken
half of a small onion, diced
2 large cloves garlic, minced
1 package of your favorite taco seasoning, portioned for 1 lb. of ground meat - here's our favorite store-bought seasoning mix
2 to 3 heads of romaine or 1 to 2 heads of iceberg lettuce, chopped into bite-size pieces
4 green onions, sliced
3 c. halved cherry tomatoes or chopped Roma tomatoes
2 to 3 c. shredded cheddar or Mexican blend cheese
Doritos nacho cheese flavored tortilla chips, for scooping up the salad and/or for crushing over the salad
for the optional dressings and sides:
taco sauce
sour cream
guacamole or slices of fresh avocado
black beans, rinsed and drained
chopped cilantro
fresh limes, cut into wedges, for squeezing over the top
Instructions
This salad is all about creating a dish that works for you and those you are serving. Delete ingredients you aren't fond of. Add in some that aren't listed here. I've served this salad several different ways:
With all salad ingredients tossed together in one large bowl, with or without the salad dressing mixed in. (To avoid soggy chips, be sure to wait until you are ready to eat to toss the ingredients together.)
With all the salad ingredients, optional ingredients, and dressings, in their own separate bowls, for each person to assemble their own salad. (This is typically how Jessica serves her taco salad.)
With all the salad ingredients layered, as shown in my photos, with crushed Doritos and optional ingredients and dressings served on the side.
cook the ground meat: In a large skillet over medium to medium-high heat, brown the ground meat and onion. When meat is nearly halfway browned, add the garlic. Once meat is browned and onion is softened, remove any excess fat from the pan. Then sprinkle taco seasoning over the mixture and toss to coat evenly. Add 1/3 cup of water and let mixture simmer over medium heat until water is dissolved. Remove pan from heat. This can be prepared a day in advance and refrigerated until ready to serve - just warm it up again when creating the salad.
assemble the salad: From the options above, choose how you'd like to serve the salad. And then choose your ingredients and dressings. I like to incorporate black beans and cilantro into my taco salad, but it seems that these two ingredients are the most likely ones that people might dislike. So...I always serve them on the side, for people to add as they wish. Same goes for the sour cream, guacamole and/or avocado, and lime wedges. Again, these are all optional. My favorite dressing for this taco salad is this Easy, Creamy Taco Salad Dressing. My sister Jessica offers bottles of Thousand Island, spicy ranch, and/or zesty French dressings, for people to drizzle onto their salads as they wish.
Notes
inspired by my sister Jessica's taco salads
Recommended Products
As an Amazon Associate and member of other affiliate programs, I earn from qualifying purchases.
Nutrition Information:
Amount Per Serving:
Calories:

357
Nutrition information is automatically calculated by Nutritionix. I am not a nutritionist and cannot guarantee accuracy. If your health depends on nutrition information, please calculate again with your own favorite calculator.
(This post was previously published January 2015 and has been a favorite with family, friends, and followers of this blog. Photographs and some of the text were updated in 2018.)
We participate in the Amazon Services LLC Associates Program, an affiliate advertising program designed to provide a means for us to earn fees by linking to Amazon.com and affiliated sites. See our disclosure policy for more info.