Jessica's Taco Salad with Creamy Taco Dressing
Jessica's Taco Salad with Creamy Taco Dressing is bursting with fresh veggies, plus taco seasoned beef and crunchy, nacho cheese-y, irresistible Doritos.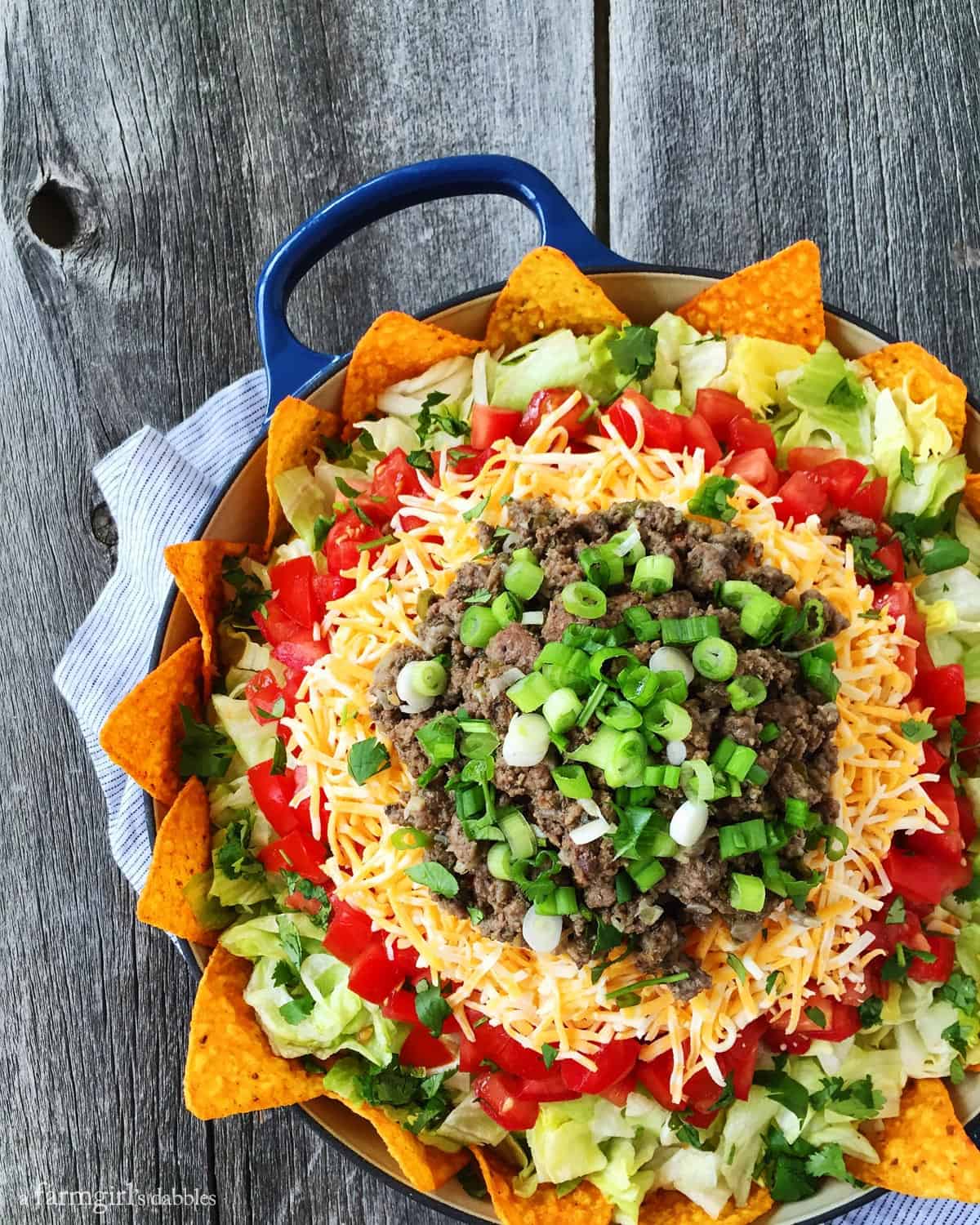 Whenever my family visits my sister Jessica's family in South Dakota, we can always bet on being served one particular meal. Well, make that two. Jessica's Taco Salad with Creamy Taco Dressing, of which I can never eat just one serving of. And pizza and crispy chicken from their local Pizza Ranch, which is always followed by some video arcade time in the space next door.
I asked Jessica if I could share her taco salad technique here, as she's made this recipe famous for our family and so many friends. It's highly adaptable and bursting with personality and hospitality, just like my beloved sister.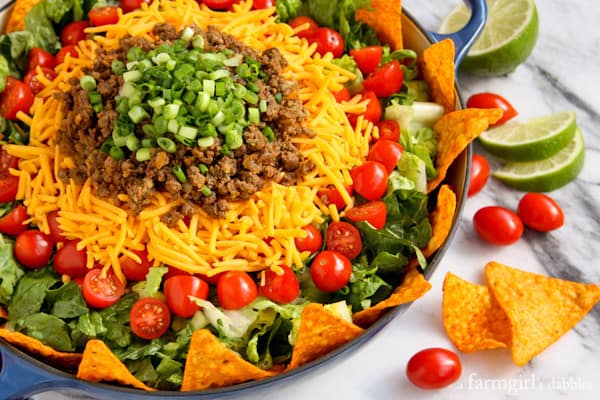 When Jessica serves this meal, it's always casual and highly anticipated. Typically, she places all the ingredients in their own separate bowls on their kitchen peninsula's counter, for each person to assemble their own salad as they wish. And a variety of bottled dressings are at the end of the line. That way, everyone gets exactly what they like. No black beans for our daughter Tessa. Extra cheese for Jessica and her daughters Kate and Meg.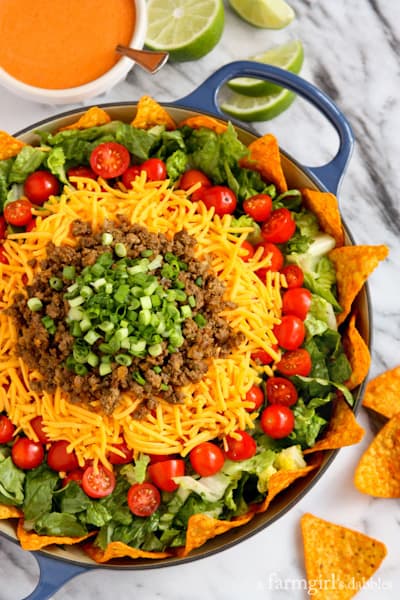 For this post, I took the liberty of arranging Jessica's salad into layers in a wide low pan, prettily displaying all the different salad ingredients. This method makes a more artful statement, highlighting in a bolder way the variety of colors and textures this main dish salad is made of. This also demonstrates how this salad can be served for a slightly more formal gathering.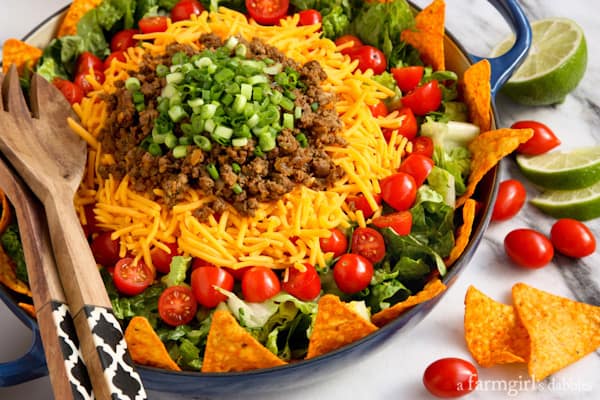 When it comes to salads, this is one of my most favorite ever. It's full of fresh veggies, taco seasoned beef, and crunchy, nacho cheese-y, irresistible Doritos. I'm positive that the crushed Doritos are what makes my family especially fond of this meal, too. Really, who can resist them?! Drizzled with one or more of a variety of favorite bottled dressings, or with a special creamy taco dressing mixture from my friend Bobbi Jo (shared in the recipe below), this salad was destined to become famous, for both my family and yours.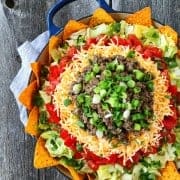 Jessica's Taco Salad with Creamy Taco Dressing
Yield: 6 to 8 servings
Cook Time:12 minutes
Ingredients:
for the salad:
1 lb. ground beef (you could also use ground or diced turkey or chicken)
2 cloves garlic, minced
1 small onion, diced
1 package of your favorite taco seasoning, portioned for 1 lb. of ground beef
1 to 2 heads of iceberg lettuce or 2 to 3 heads of romaine, chopped into bite-size pieces
4 to 8 green onions, sliced
3 c. halved cherry tomatoes or chopped Roma tomatoes
2 to 3 c. shredded cheddar cheese
1 to 3 c. lightly crushed Doritos nacho cheese flavored tortilla chips, plus whole chips for scooping up the salad
for the optional sides and dressings:
1 can black beans, rinsed and drained
1 c. chopped cilantro
sour cream
guacamole or slices of fresh avocado
1 fresh lime, cut into wedges
Thousand Island dressing
spicy ranch dressing
zesty French dressing
mild taco sauce
Directions:
for the salad:
Brown beef in a skillet over medium to medium-high heat. When beef is about halfway browned, add garlic and onion. Once beef is browned and onion is softened, remove any excess fat from the pan. Then sprinkle taco seasoning over the mixture and toss to coat evenly. Add 1/3 cup of water and let mixture simmer over medium-low heat until water is dissolved. Remove pan from heat. This can be prepared a day in advance and refrigerated until ready to serve.
This salad is all about creating a dish that works for you and those you are serving. Delete ingredients you aren't fond of. Add in some that aren't listed here. I've seen this salad served many different ways:
With all salad ingredients tossed together in one large bowl, with or without the salad dressing mixed in. (To avoid soggy chips, be sure to wait until you are ready to eat to toss the ingredients together.)
With all the salad ingredients, optional ingredients, and dressings, in their own separate bowls, for each person to assemble their own salad. (This is typically how Jessica serves her taco salad.)
With all the salad ingredients layered, as shown in my photos, with crushed Doritos and optional ingredients and dressings served on the side.
for the optional sides and dressings:
I like to incorporate black beans and cilantro into my taco salad, but it seems that these two ingredients are the most likely ones that people might dislike. So…I always serve them on the side, for people to add as they wish. Same goes for the sour cream, guacamole and/or avocado, and lime wedges. Again, these are all optional.
The dressing(s) for this taco salad is whatever you want it to be. Most often, Jessica offers bottles of Thousand Island, spicy ranch, and/or zesty French dressings, for people to drizzle onto their salads as they wish. I especially like a mixture that my friend Bobbi Jo serves with her taco salad. She combines 1 cup of Thousand Island with 1 cup of zesty French and 1/4 cup of mild taco sauce, which is shown in my first photo. It's delish!
adapted from my sister Jessica's and my friend Bobbi Jo's recipe boxes
©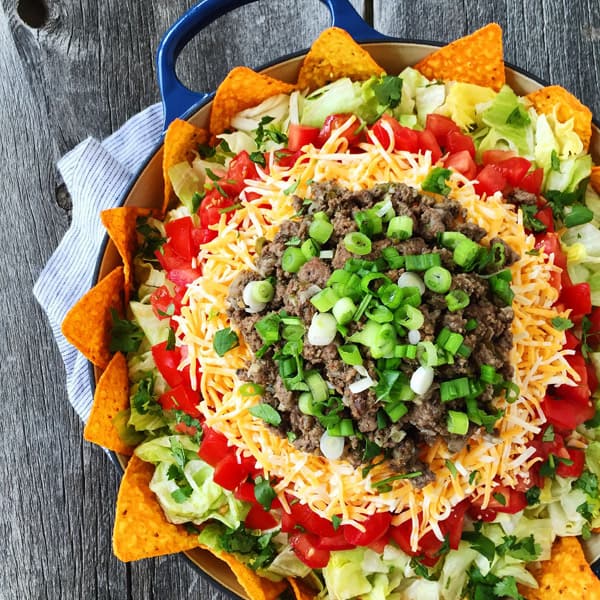 This post was originally published January 2015. Some of the photos and some of the text were updated June 2016.
We participate in the Amazon Services LLC Associates Program, an affiliate advertising program designed to provide a means for us to earn fees by linking to Amazon.com and affiliated sites. See our disclosure policy for more info.