Grilled Vegetable Salad
This post may contain Amazon or other affiliate links. As an Amazon Associate I earn from qualifying purchases.
This Grilled Vegetable Salad recipe has perfectly charred vegetables dressed with a sunny, herby lemon vinaigrette. Bites of creamy, salty blue cheese (or substitute Parmesan) are the finishing touch!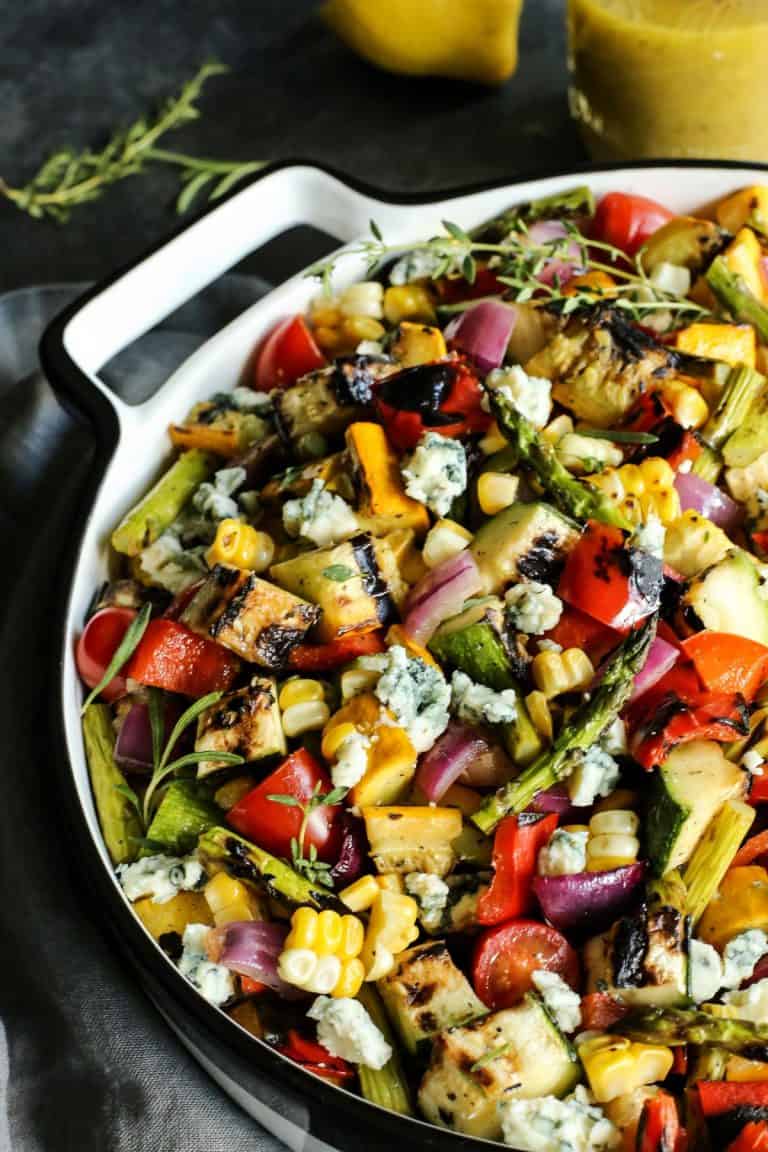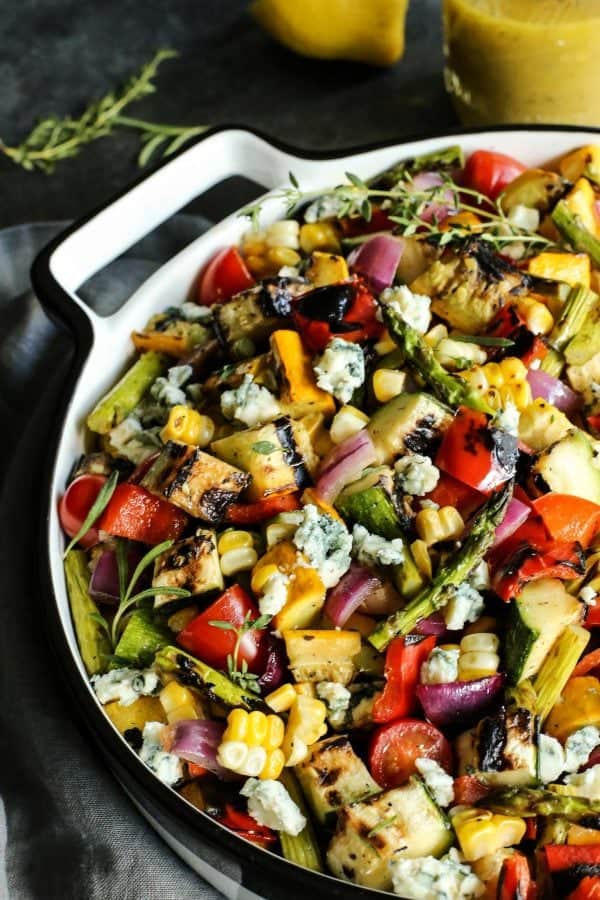 Grilled Vegetable Salad is a summertime favorite!
Every summer, we seem to grasp onto a new-to-us salad or salad dressing. We end up liking it so much that we add it to the menu almost weekly, and especially when we're entertaining. When I've watched our guests reach for second – and even third – helpings, I know for certain that we have a great all-around recipe on our hands.
And this year?
This has been the summer of the Grilled Vegetable Salad. We char the veggies over hot grill grates and then toss them with an herby lemon vinaigrette. A sprinkling of blue cheese crumbles is the grand finale.
This is definitely one of my favorite vegetable salad recipes, a surefire way to get everybody eating their veggies. Serve it with this ultra tender and flavorful Beer Can Chicken, easy Grilled Turkey Tenderloin, or this Sweet and Smoky Grilled Salmon for a meal entirely from the grill!
Other fresh summertime salad hits for our family have included this crazy good Italian Chopped Salad that's dressed with the zippiest Italian Vinaigrette, Grilled Romaine with the BEST Homemade Buttermilk Ranch Dressing, and my grandma's Fresh Ginger Dressing.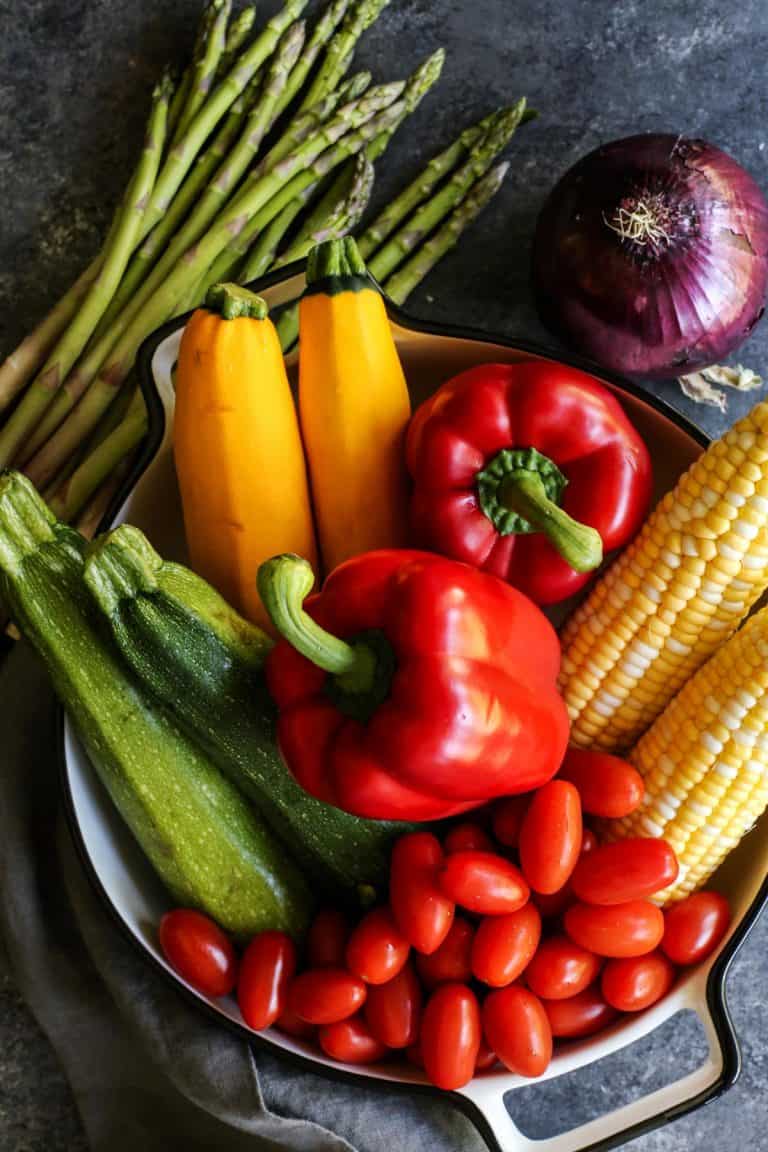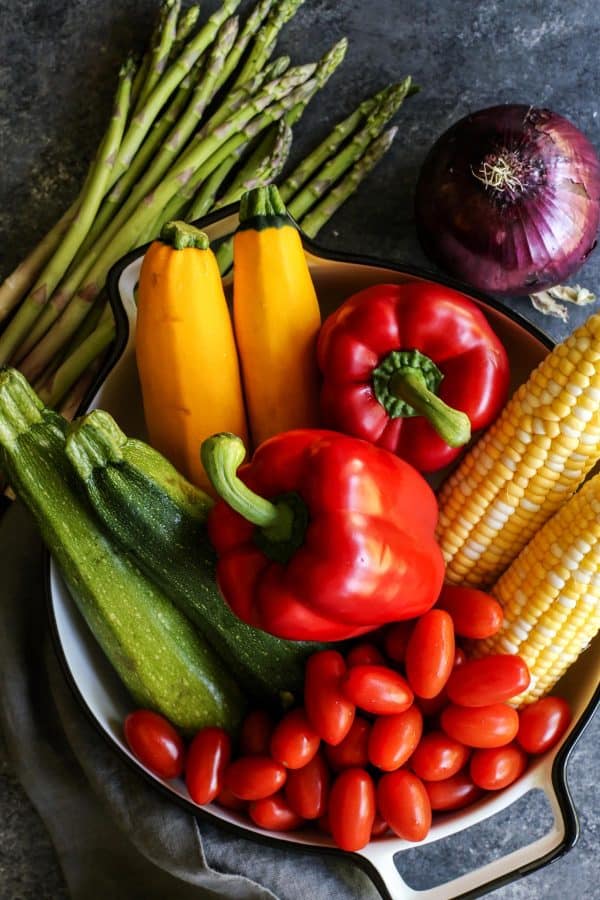 What are the best grilled vegetables?
I could eat grilled vegetables every single day, all grilling season long. There is nothing like the char from a hot grill!
These are our favorites, and the best veggies to grill for this salad:
asparagus
red onion
sweet corn
red bell peppers
yellow squash
zucchini
I also toss in some fresh grape or cherry tomatoes when dressing the finished salad, but we don't grill them.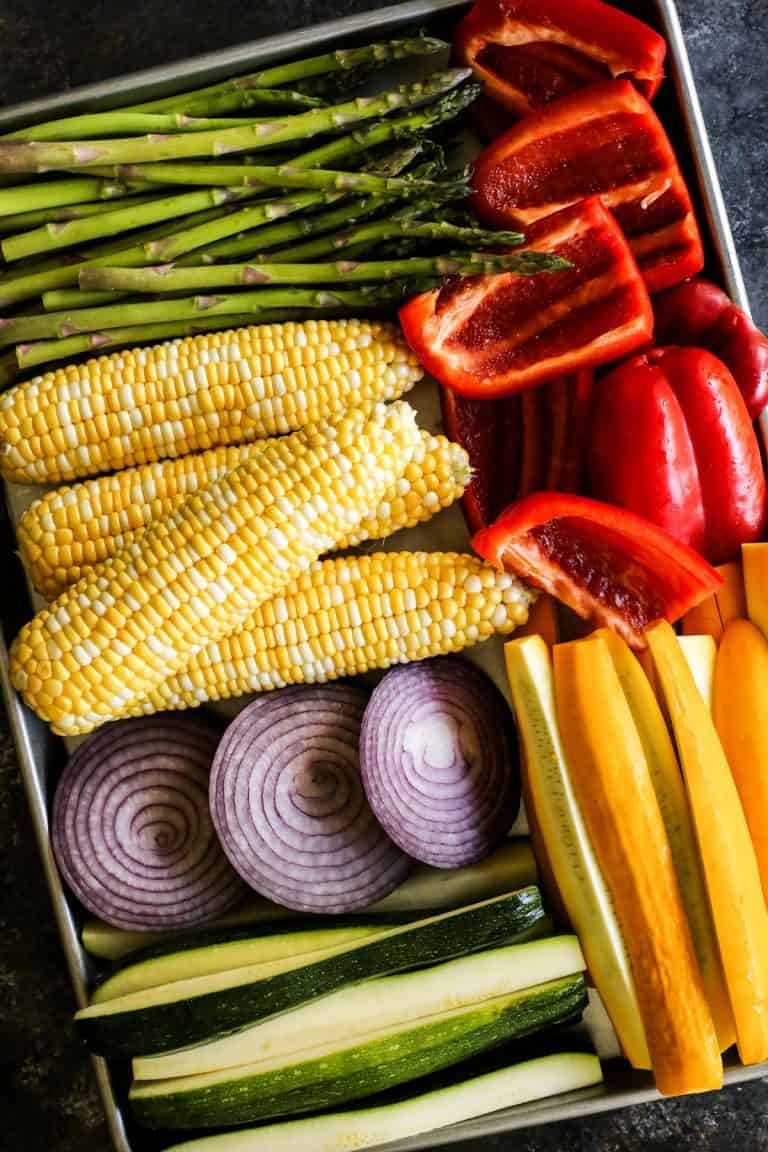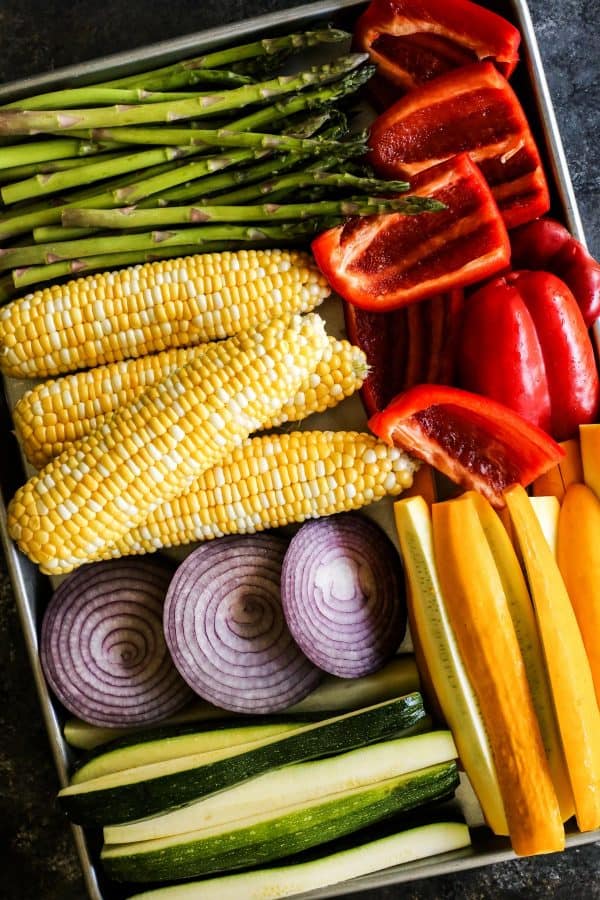 How to prepare the vegetables
You'll usually find our whole family in the kitchen, prepping this salad together. This is how we prep the vegetables for the grill.
First, wash up all the veggies.
Next, cut the vegetables into grillable portions. Snap off any tough ends on the asparagus. Core and then cut the red pepper into quarters. Slice the red onion into thick rings. Cut the zucchini and yellow squash lengthwise into quarters. With all these gorgeous vegetables, my favorite large cutting board gives us plenty of space to cut and slice like champs!
Place the prepared vegetables on a large rimmed pan.
Then drizzle the veggies with olive oil and sprinkle with salt and black pepper.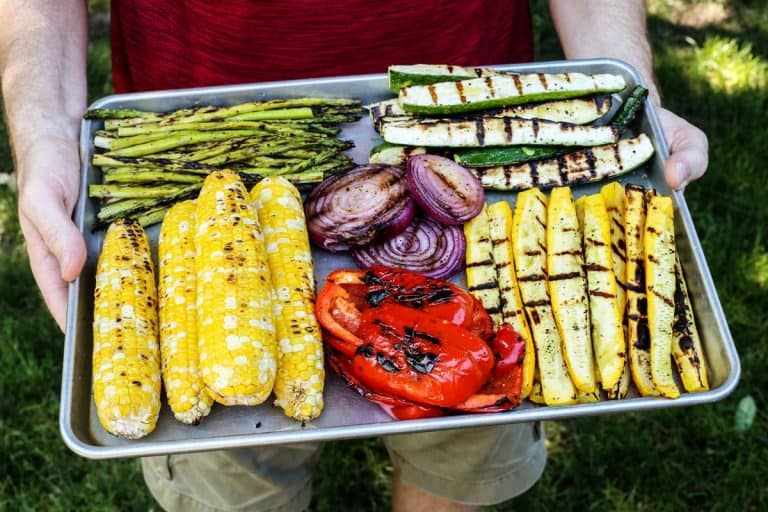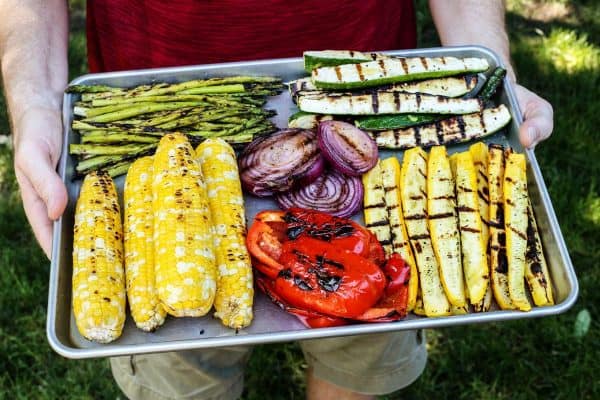 Cook the veggies on the grill until they're beautifully charred and nicely softened.
Every single time, I'm tempted to just eat all those gorgeous vegetables straight from the grill grates!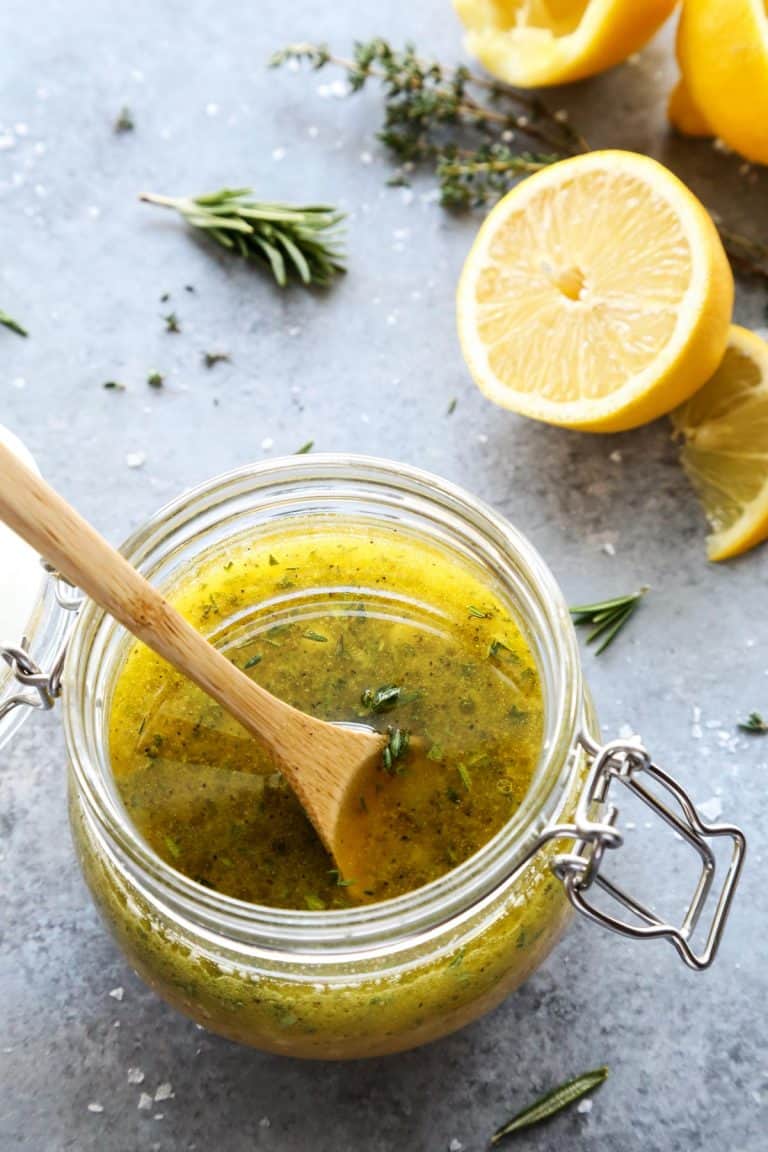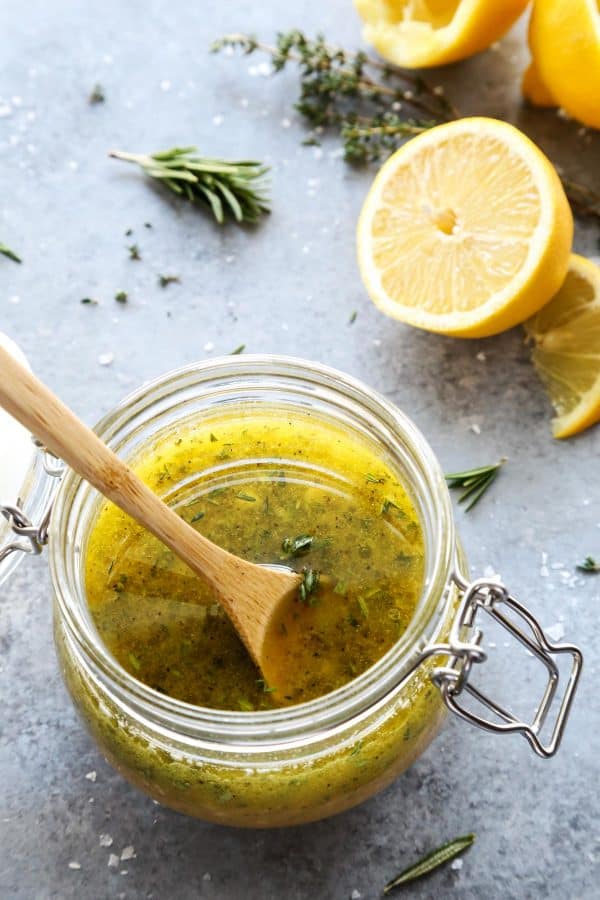 Citrus vinaigrette is great with grilled vegetables!
Once the vegetables are grilled, chop them into bite-size pieces and drizzle them with this bright and sunny herby lemon vinaigrette.
This citrus vinaigrette has tons of versatility. I like to dress a variety of salads with it, and even use it as a marinade for grilling.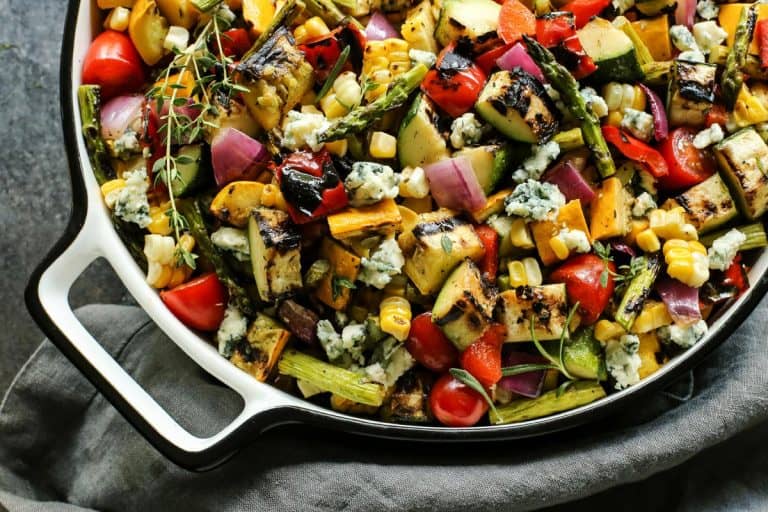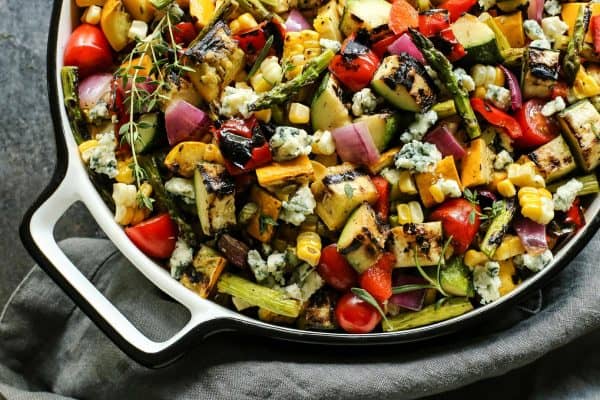 Some salty cheese is the finishing touch
The grand finale for this grilled salad is a sprinkling of salty blue cheese crumbles. These creamy, pungent bites are like little prizes in this grilled veggie salad. You will LOVE it!
And for those of you who aren't fond of blue cheese…
Simply grab a block of your favorite Parmesan. With a vegetable peeler, shave off some big, wide pieces and substitute it for the blue cheese. The Parmesan definitely gives this vegetable salad a little different vibe, but it's still a very, VERY good vibe!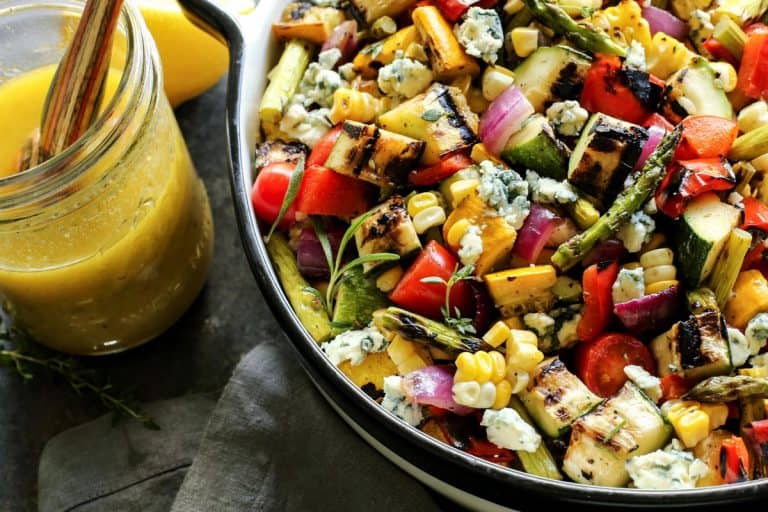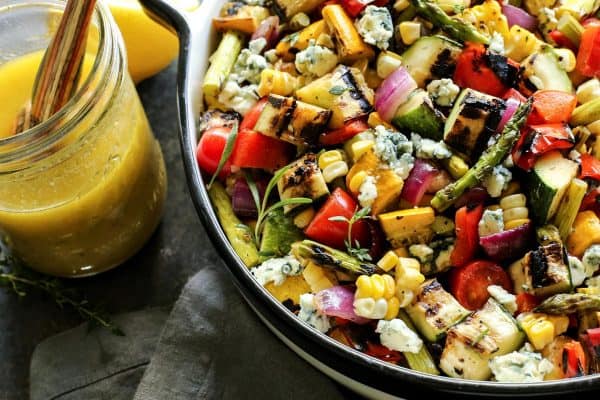 Here are a few more grilled vegetable recipes I'd like to try: Grilled Peach Burrata Salad (so pretty!) from Nutmeg Nanny, Grilled Corn Salad from Recipe Girl, and Grilled Avocado and Tomato Salad from The BakerMama.
Like this salad? Save it to Pinterest!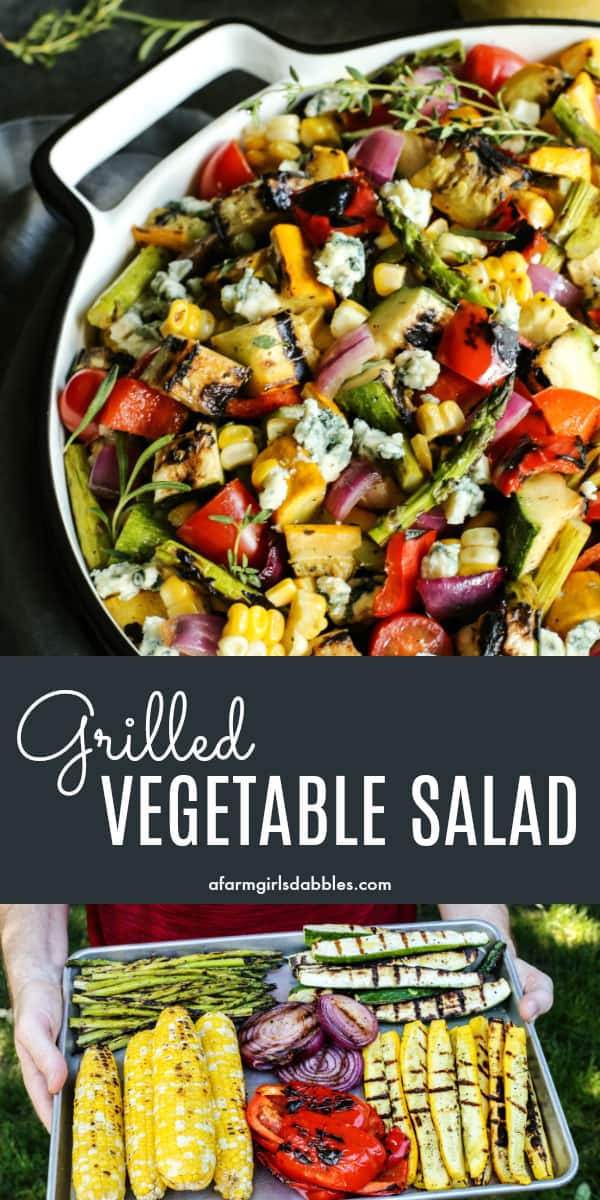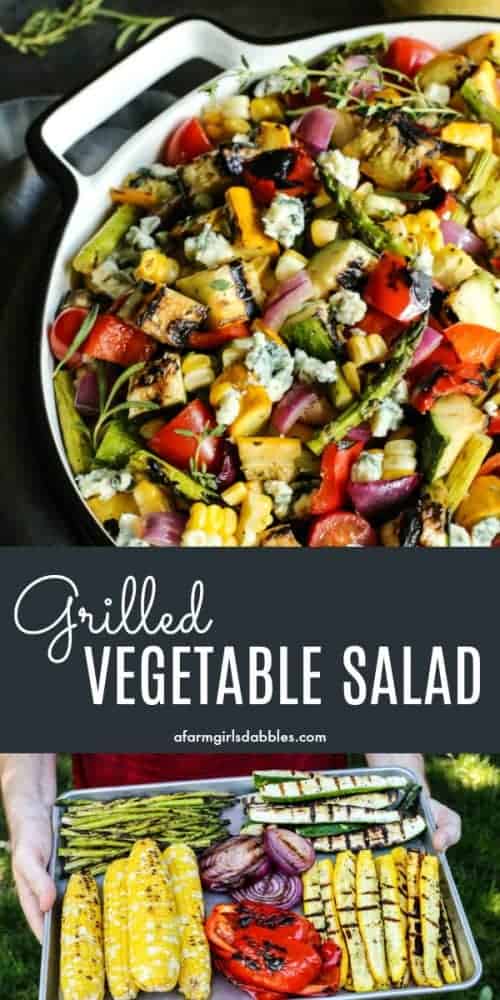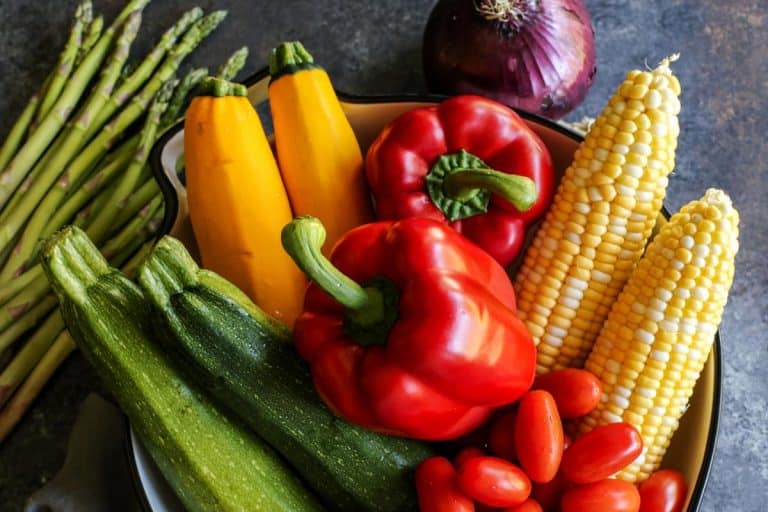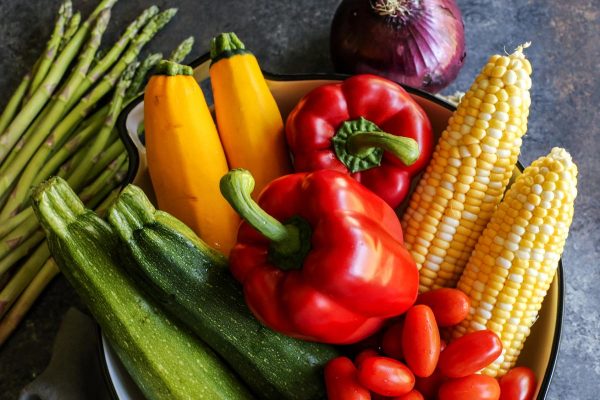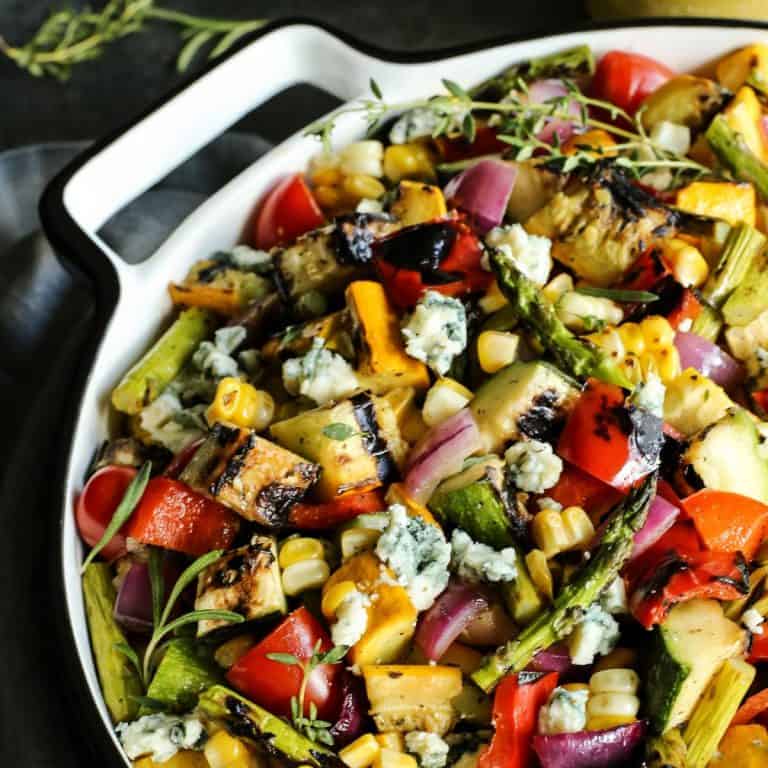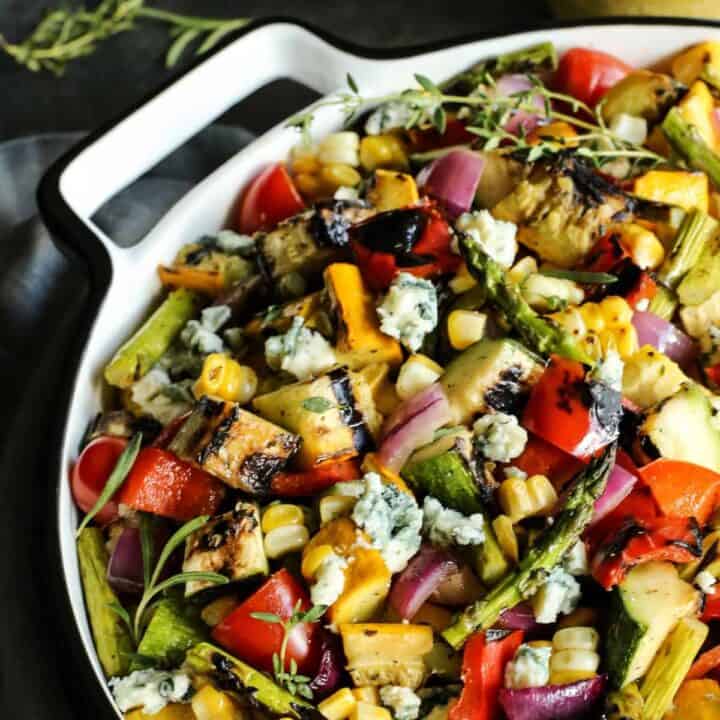 Grilled Vegetable Salad
Yield: 8 to 10 servings
Prep Time: 25 minutes
Cook Time: 15 minutes
Total Time: 40 minutes
Veggies are charred to perfection and then drizzled with a bright-and-sunny herby lemon vinaigrette. Bites of creamy, salty blue cheese (or substitute Parmesan) are the finishing touch!
Ingredients
4 medium ears sweet corn, husk and silk removed
4 small to medium yellow squash, ends trimmed, quartered lengthwise
2 medium zucchini, ends trimmed, quartered lengthwise
2 large red bell peppers, stems, seeds and any large ribs removed, and cut into 3 to 4 pieces each
1 large red onion, ends and skin removed, sliced into 3 to 4 large intact-rings
1 lb. asparagus, tough ends snapped off
olive oil
kosher salt
freshly ground black pepper
1 lb. cherry or grape tomatoes, sliced in half
herby lemon vinaigrette - can be made a day or two prior!
4 oz. your favorite blue cheese, crumbled - if you don't like blue cheese, use large, wide shavings of Parmesan!
Instructions
Preheat grill to 400° F. Make sure grates are scrubbed clean and then oiled. (To oil the grates, add some vegetable oil to a small bowl. Then fold a heavy paper towel a few times to make a smaller square. With a tongs, grasp the folded paper towel and dip it into the oil until the paper towel is drenched. Then run the paper towel over the grates, repeating until all grill grates are thoroughly oiled.)
Place prepared/cut corn, yellow squash, zucchini, bell pepper, onion, and asparagus on a large rimmed pan. The pan will be very full. Here's my favorite large cutting board and my favorite knife for recipes that involve alot of cutting and chopping. Drizzle olive oil over all vegetables. Keep sliced rings of red onion intact, brushing the olive oil evenly over the cut surfaces. With your hands, gently fold the rest of the vegetables until they are all nicely coated with the olive oil. Sprinkle vegetables fairly generously with kosher salt and freshly ground black pepper, and fold again using your hands. Sprinkle one more time with kosher salt and freshly ground black pepper, and you're ready to grill.
Depending on the size of your grill, you may need to grill in batches. Cooking times will vary with each of the vegetables, so it's just a matter of checking on them regularly and removing them when they're done to your liking - you'll want a good set of tongs for flipping the vegetables. I like the onion to get nicely softened, so that always takes the longest. I prefer the ears of corn to have some char, but to not be completely cooked - so we set the ears on the hottest part of the grill to get some quick char, and then remove them. The asparagus always cooks the fastest. Once the vegetables have charred and are cooked/softened to your liking, remove them back to the rimmed pan.
Once the vegetables have cooled enough to handle, cut the kernels from the corn and chop the rest of the vegetables into bite-size pieces, about an inch or so in size. Place everything into a large-ish serving vessel - I like to use a low, wide bowl. Add the tomatoes and fold everything together. Drizzle with a bit of the herby lemon vinaigrette, and then fold. Add more vinaigrette if needed. Sprinkle with blue cheese. Serve just slightly warm or at room temperature.
Notes
from a farmgirl's dabbles
Recommended Products
As an Amazon Associate and member of other affiliate programs, I earn from qualifying purchases.
Nutrition Information:
Yield: 10
Serving Size: 1
Amount Per Serving:
Calories: 205
Total Fat: 10g
Saturated Fat: 4g
Trans Fat: 0g
Unsaturated Fat: 5g
Cholesterol: 16mg
Sodium: 269mg
Carbohydrates: 26g
Fiber: 5g
Sugar: 13g
Protein: 9g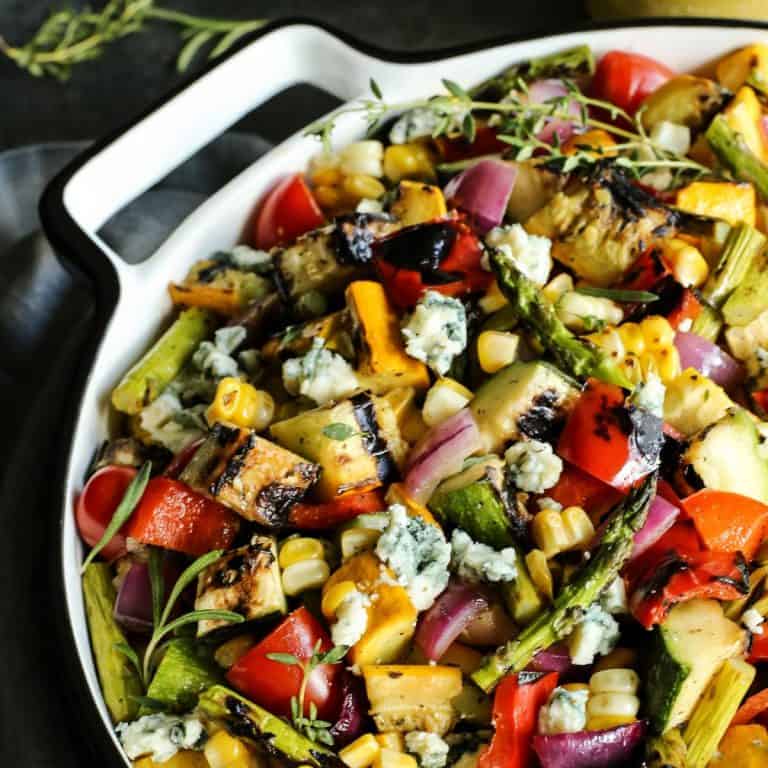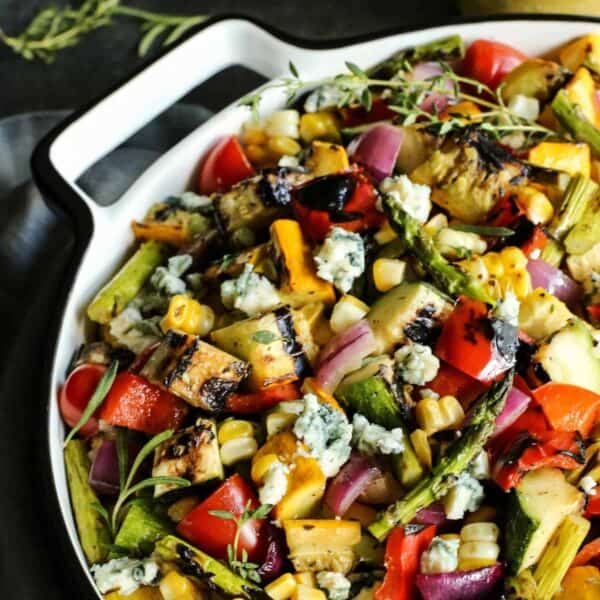 We participate in the Amazon Services LLC Associates Program, an affiliate advertising program designed to provide a means for us to earn fees by linking to Amazon.com and affiliated sites. See our
disclosure policy
for more info.