Sour Cream Coffee Cake with Cinnamon Ripple
This post may contain Amazon or other affiliate links. As an Amazon Associate I earn from qualifying purchases.
Sour Cream Coffee Cake: This easy classic coffee cake recipe is moist and tender from sour cream, with a fantastic cinnamon sugar topping and ripple!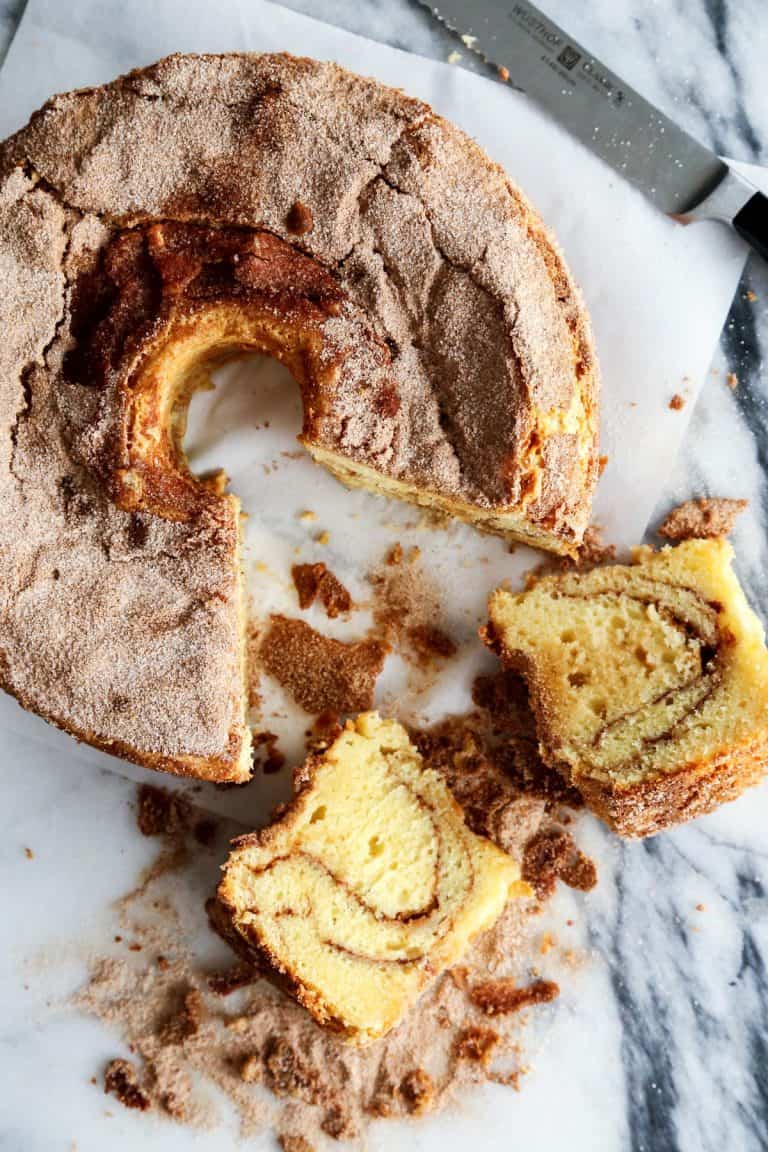 Sour Cream Coffee Cake
I have always been fond of coffee cake, and remember Mom making a simple recipe of my grandma's when I was young. Baked in a 9″ x 13″ pan, with a hefty layer of cinnamon sugar over the top, it was an easy-to-love breakfast treat.
This past New Year holiday, we had a house-full of family staying with us for the weekend. Our days were filled with fresh snow for the kids to go sledding on the hill at the end of our street, plus hours and hours of playing games and puzzles around the table together.
That cold and snowy weekend, I made this Sour Cream Coffee Cake with Cinnamon Ripple, and now I can't keep it from my mind. I knew I would be making this recipe for years to come, and that I needed to share it with you!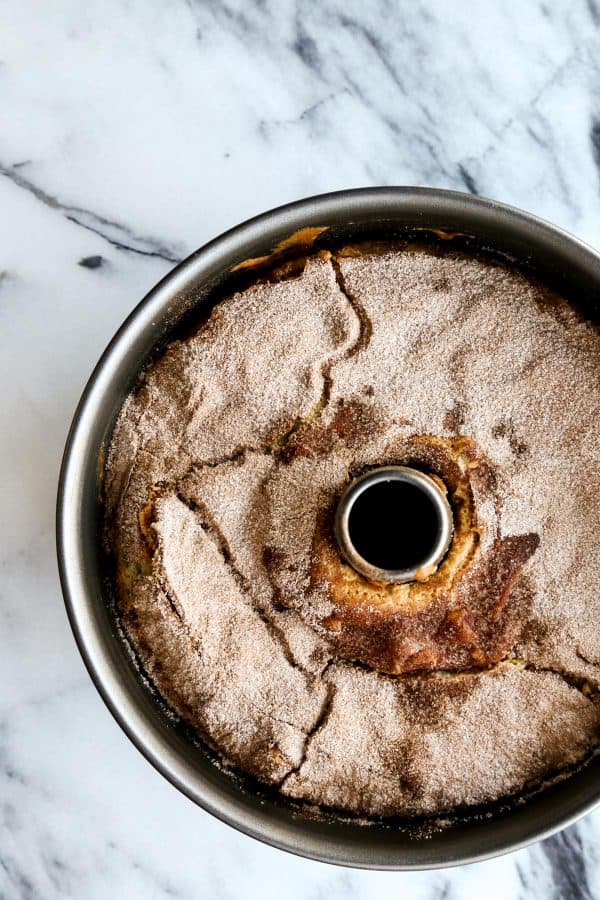 What pan to use?
There's just something about baking with a tube pan that gets me all giddy.
And nostalgic.
I remember Mom baking many pans of angel food cake, letting it cool inverted on the countertop in our kitchen on the farm. The scene, softly sweet aroma, and excitement for a slice of cake were all happiness inducing.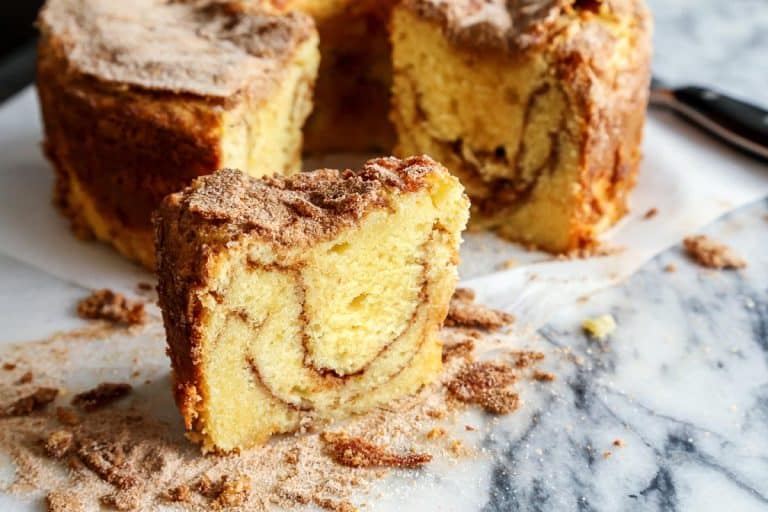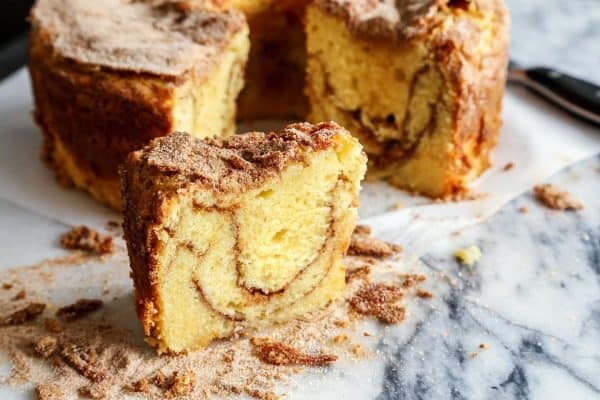 Why use sour cream in cake?
I sincerely believe that the very best coffee cakes (and banana breads!) involve sour cream.
The sour cream gives a moist and tender crumb, plus it adds a beautiful little tang to the flavor of the cake.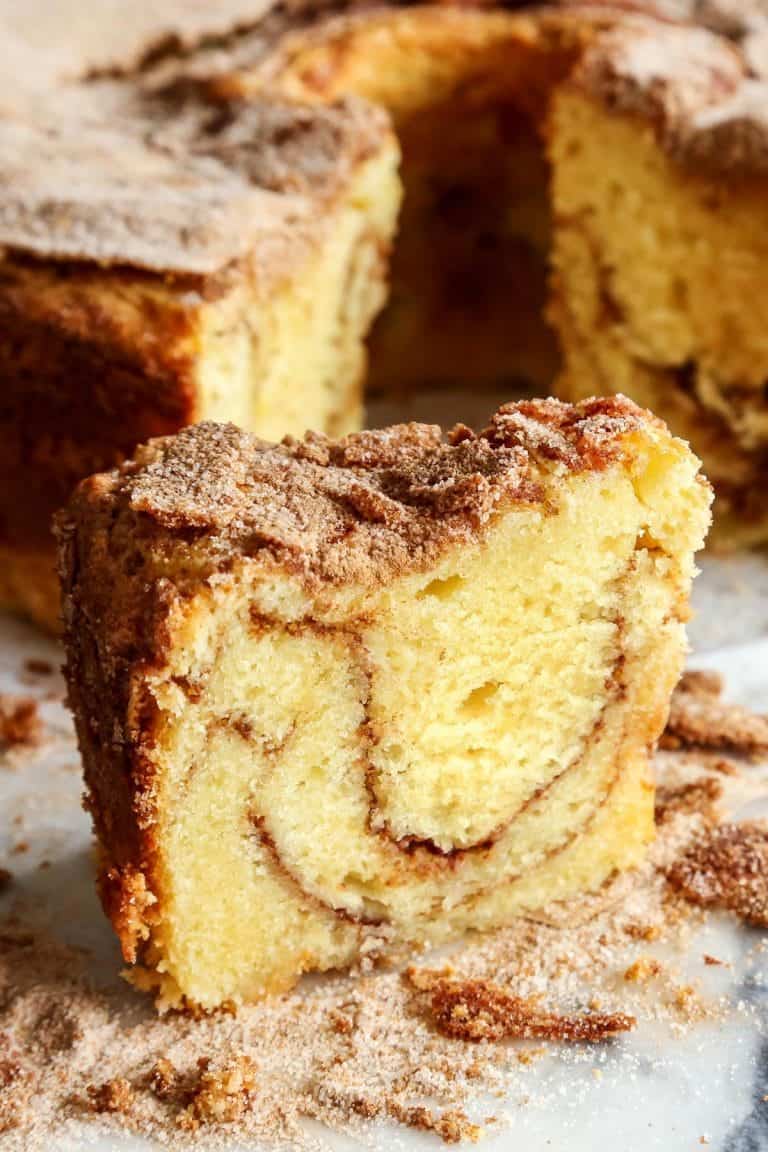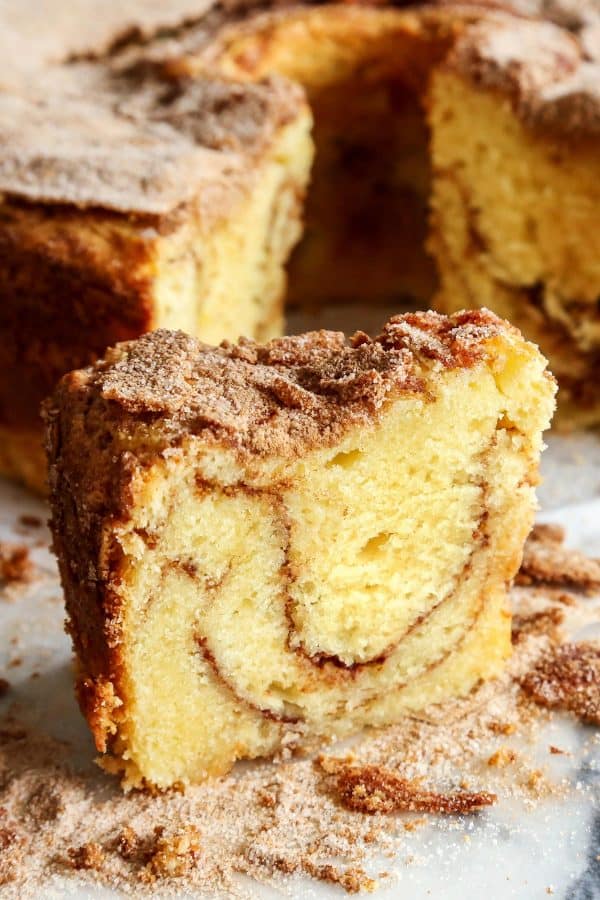 And.
There MUST be a good amount of cinnamon sugar.
This sour cream coffee cake recipe, baked in a tall tube pan, allows for ripply layers of cinnamon sugar to be baked into each and every slice. Plus a hefty sprinkling of cinnamon sugar over the top that gets all crackly-shattery and super amazing when baked. The texture is such a fun contrast to the tenderness of the cake below.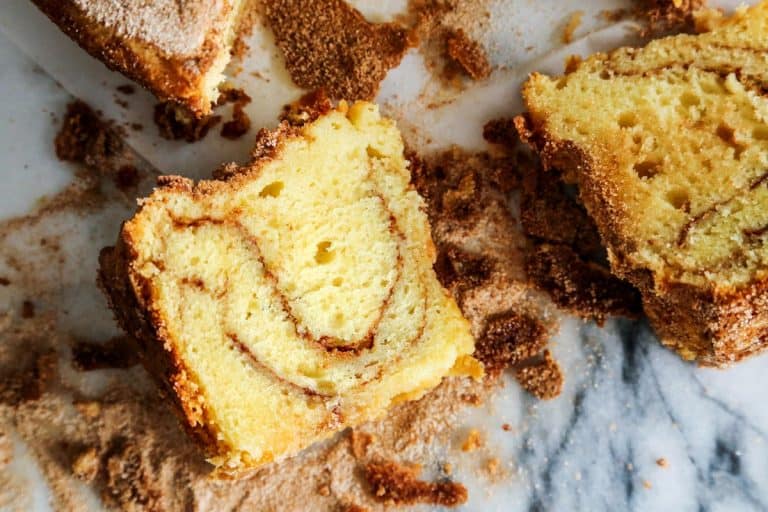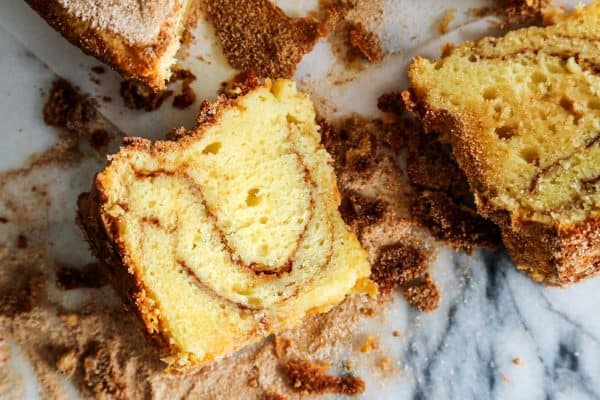 If you appreciate a really wonderful coffee cake, put this recipe on your breakfast/brunch menu soon. And please come back to let me know what you think!
Like this coffee cake? Save it to Pinterest!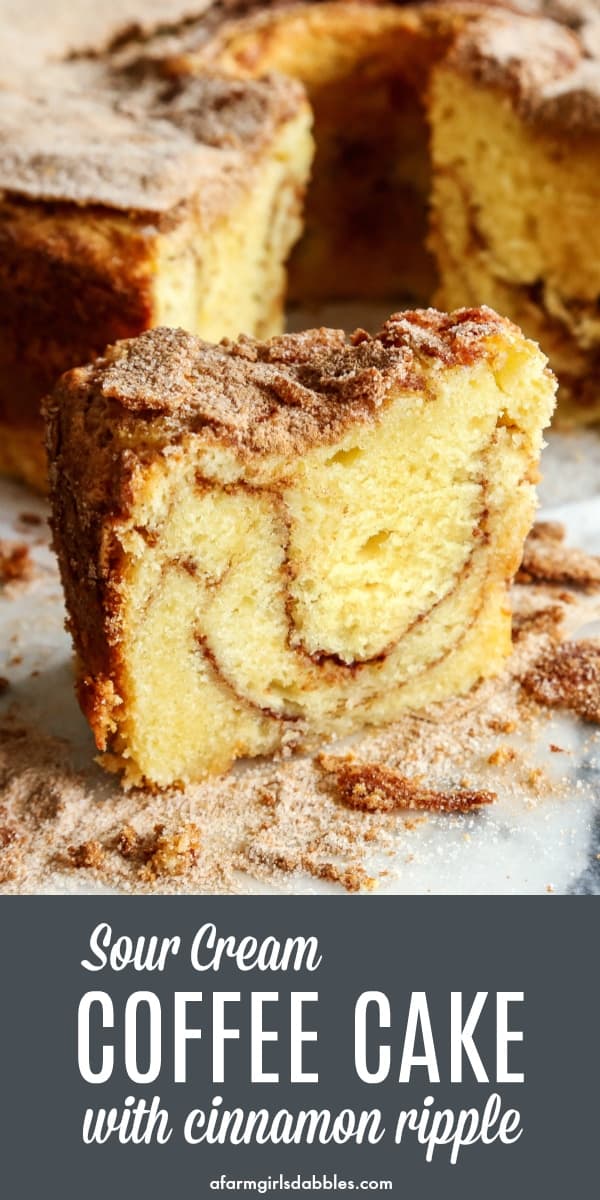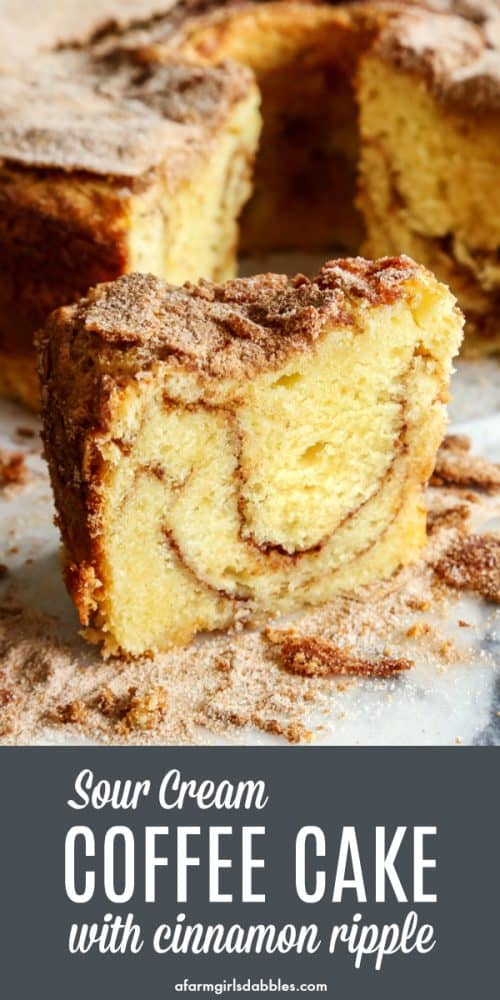 Here are a few more recipes you might like: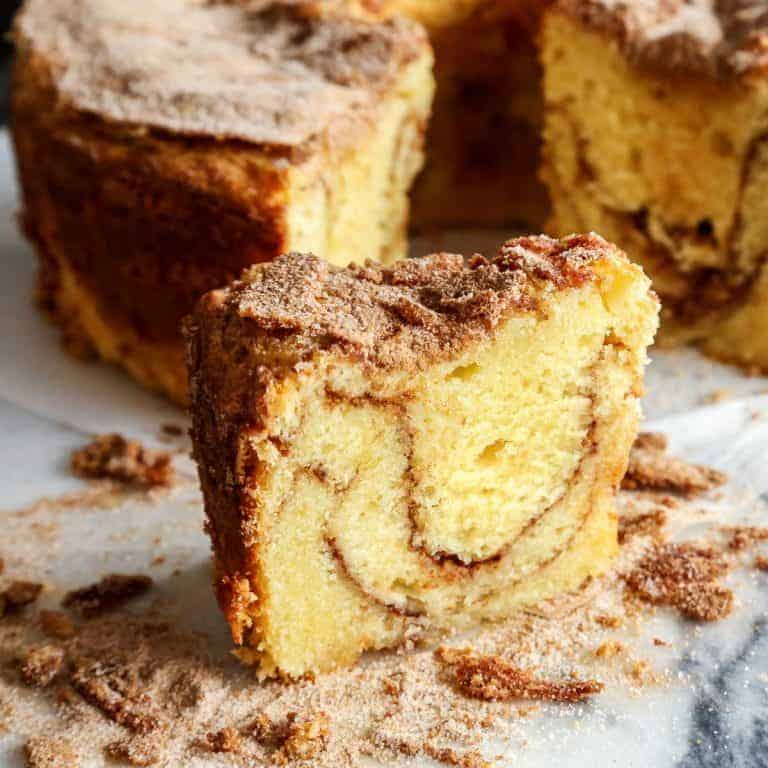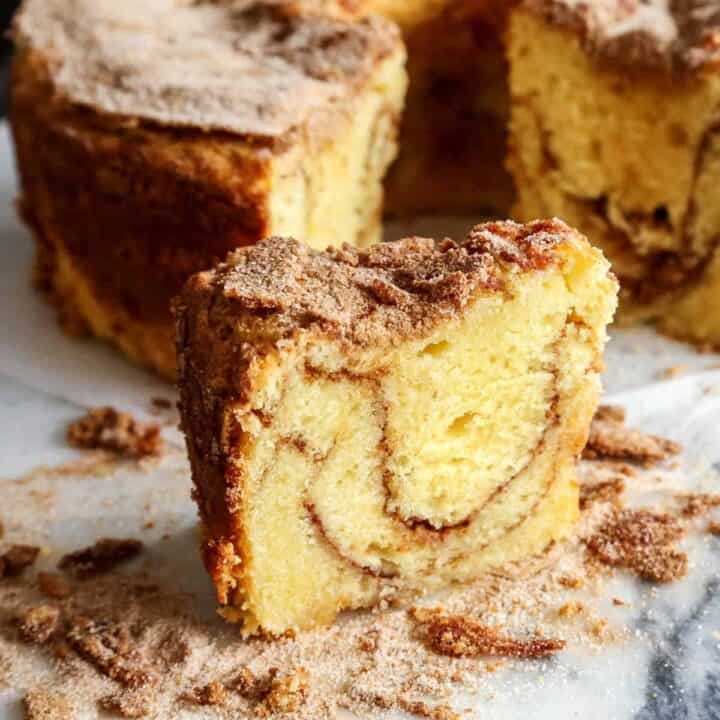 Sour Cream Coffee Cake with Cinnamon Ripple
Yield: 16 servings
Prep Time: 20 minutes
Cook Time: 1 hour
Total Time: 1 hour 20 minutes
The best coffee cakes are made with sour cream and a good amount of cinnamon sugar. You will not be disappointed with this easy recipe!
Ingredients
1 cup unsalted butter, softened
2-3/4 cups sugar, divided
4 large eggs
1 tablespoon pure vanilla extract
3 cups all-purpose flour
1 teaspoon baking soda
1 teaspoon kosher salt
2 cups sour cream (use regular sour cream, not light or non-fat)
2 tablespoons cinnamon
Instructions
Preheat oven to 350° F. Lightly spray a 10" tube pan with non-stick cooking spray and set aside.
In the bowl of a stand mixer, cream butter and 2 cups of the sugar on medium to medium-high speed until light fluffy, about 3 minutes. Add eggs, one at a time, beating well after each addition. Then beat in vanilla.
In a small bowl, combine flour, baking soda, and salt. Add to the butter and sugar mixture, alternating with sour cream, beating just enough after each addition to keep batter smooth.
With a spatula, transfer a third of the batter into prepared tube pan and level it out.
In a small bowl, combine cinnamon and remaining 3/4 cup of sugar, and sprinkle a third of this cinnamon sugar mixture over batter in pan. Repeat layers two more times, alternating batter and cinnamon sugar, ending with a layer of cinnamon sugar on top.
Bake for 60 to 65 minutes, or until a toothpick inserted in the center just comes out clean.
Cool for 30 to 45 minutes. Then cut around the pan edges with a knife and remove cake from pan to a wire rack to cool completely.
Notes
Adapted from Taste of Home.
Recommended Products
As an Amazon Associate and member of other affiliate programs, I earn from qualifying purchases.
Nutrition Information:
Yield: 16
Serving Size: 1
Amount Per Serving:
Calories: 395
Total Fat: 18g
Saturated Fat: 10g
Trans Fat: 0g
Unsaturated Fat: 6g
Cholesterol: 93mg
Sodium: 252mg
Carbohydrates: 55g
Fiber: 1g
Sugar: 36g
Protein: 5g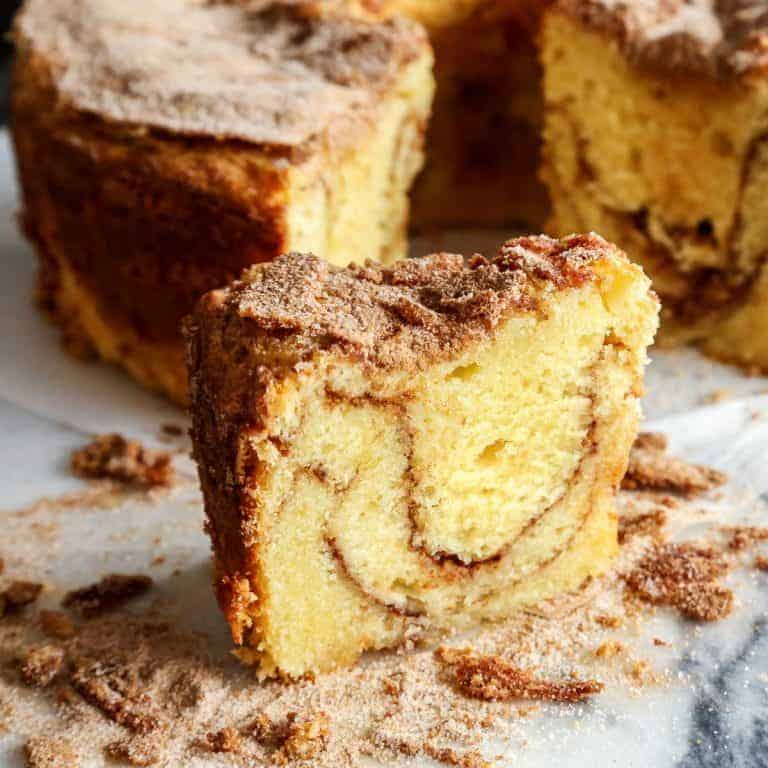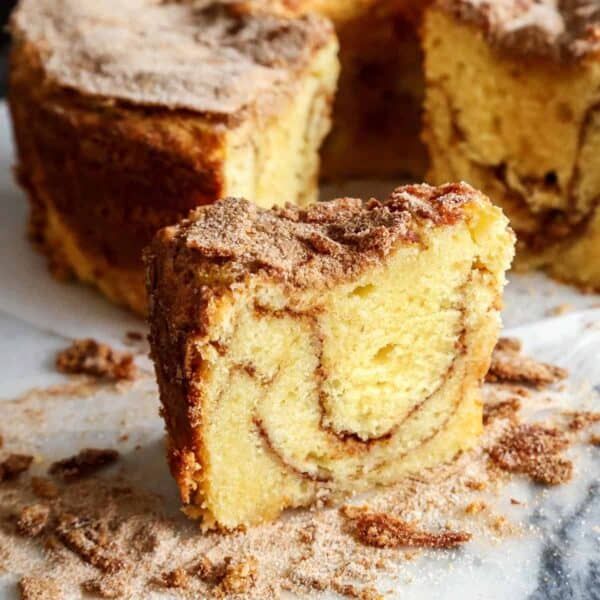 We participate in the Amazon Services LLC Associates Program, an affiliate advertising program designed to provide a means for us to earn fees by linking to Amazon.com and affiliated sites. See our
disclosure policy
for more info.