Grandma Barb's Apple Bread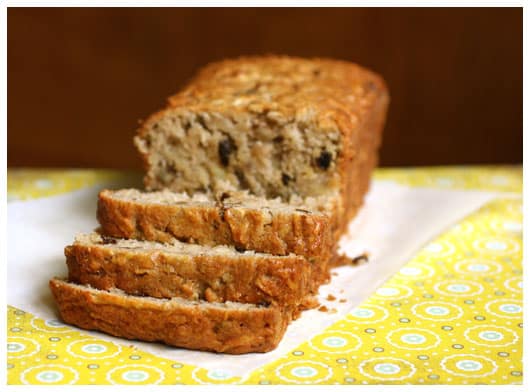 My mom has been making this Apple Bread for a few years now, and I've actually placed orders for this stuff when I know she's due for a visit.  Our family has dubbed it "Grandma Barb's Apple Bread", as it has turned out to be such a favored treat from her kitchen.
This Apple Bread is truly a loaf of fall.  It's extra moist, loaded with shredded apples.  And then there's crunch from nuts and chew from raisins. So many yummy tastes and textures in every single bite.  And did I mention cinnamony?  I'm certain it's one of the top reasons Mom loves this bread so much.
So grab your Granny Smiths and your shredder and get to it!  In just a short while, when you take that first bite, you'll find yourself embraced by one big autumn hug.


Autumn on the farm is such a special time.  To see the fruits of farm labor harvested is one of my favorite thingsin the whole wide world.  And I love to take our girls back there each year, to visit family and take part in this wonderfully grounding experience.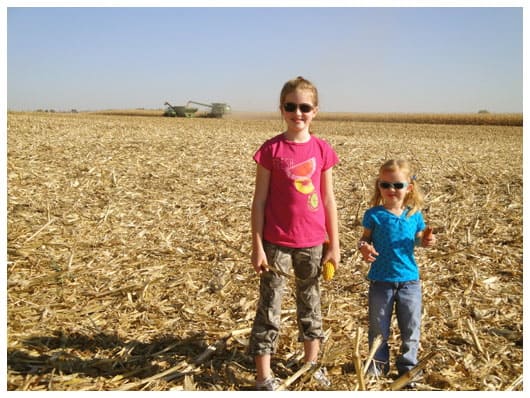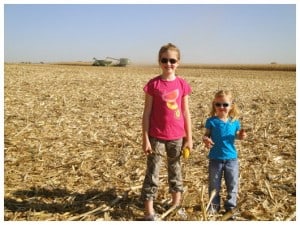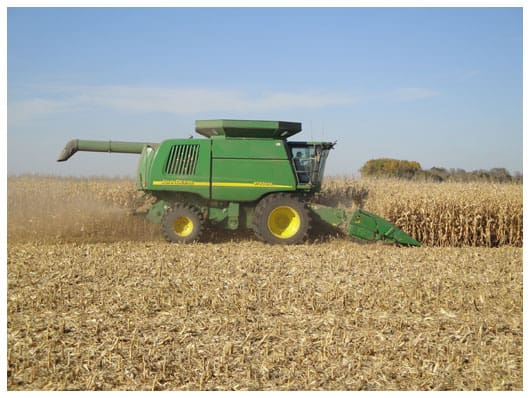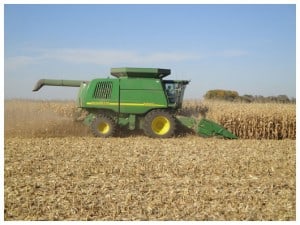 In the combine,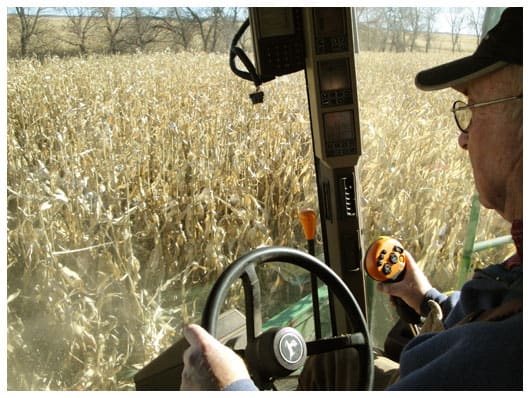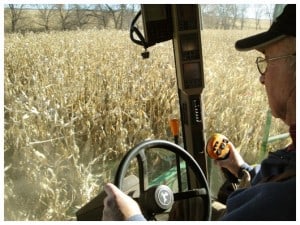 we take a ride with Uncle Elroy,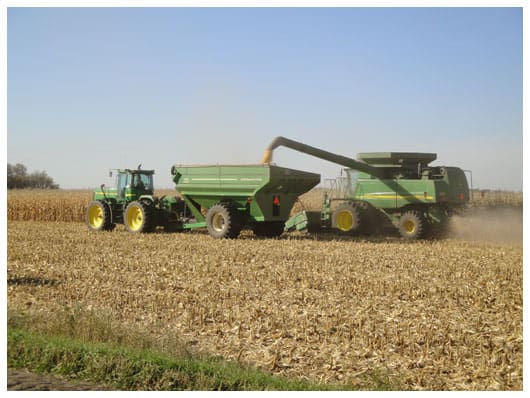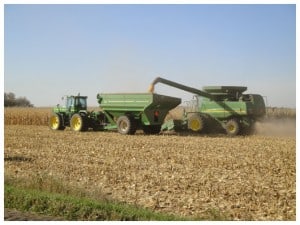 who transfers the corn to the grain cart driven by Uncle Arnie,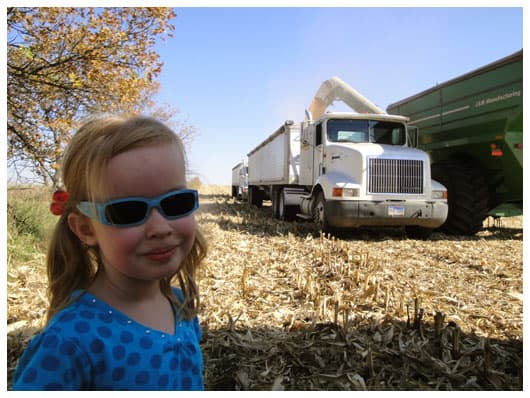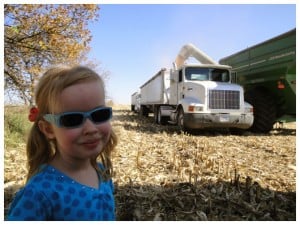 who transfers the corn to the truck,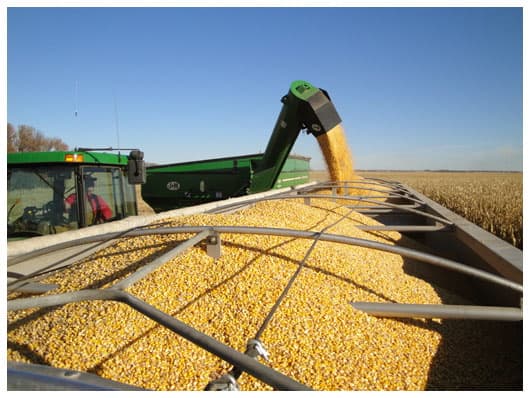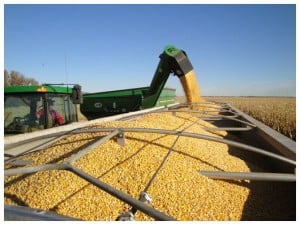 that used to be driven by Dad (retired),
but now my cousins, Mathew and Jeremiah, have taken over the road,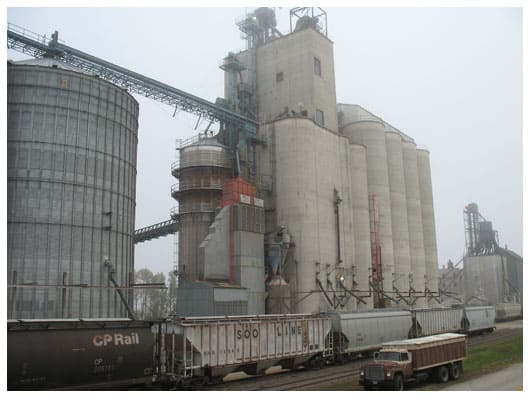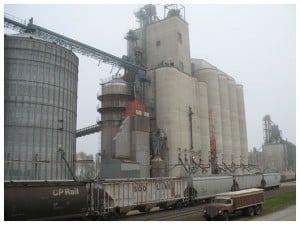 transporting the corn to the local grain elevator,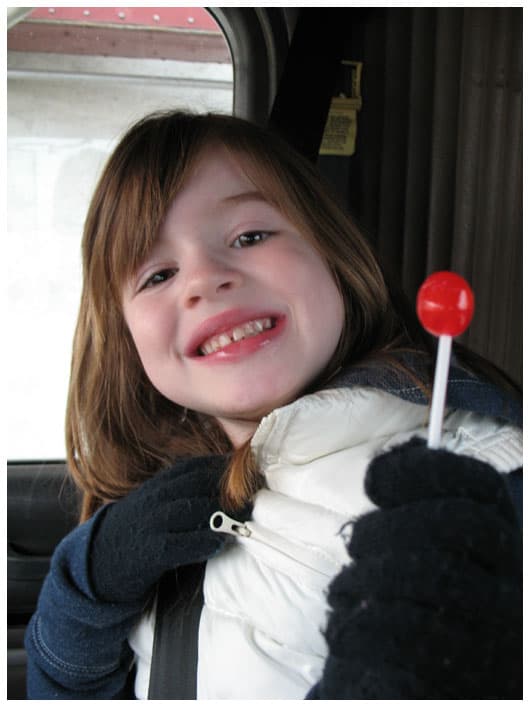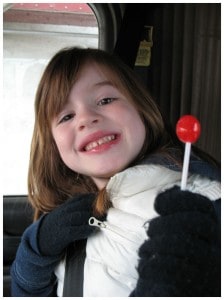 where you get a sucker every time you bring in a load.
Don't ask me why you get a sucker at the grain elevator.
Just smile, lick, and enjoy the ride.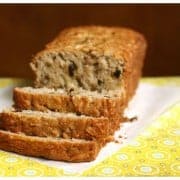 Grandma Barb's Apple Bread
Ingredients:
4 large Granny Smith or Haralson apples (firm & tart), peeled and shredded
2 c. sugar
½ c. oil
2 large eggs
2 tsp. vanilla
1 c. chopped pecans or walnuts, optional
1 c. raisins, Craisins, or chopped dates
3 c. flour
1 T. baking powder
½ tsp. baking soda
1 tsp. salt
1 T. cinnamon
½ tsp. nutmeg
Directions:
Preheat oven to 350°. Grease and flour two 8.5" x 4.5" loaf pans. Set aside.
Using large holes of grater, shred the apples. Mix apples and sugar in large bowl and let sit for 15 minutes until sugar dissolves. There will be alot of liquid. Add next five ingredients (oil through raisins) and stir to mix well.
In a medium bowl, whisk together the remaining six dry ingredients. Stir dry ingredients into the apple mixture, just until mixed. Pour into the loaf pans. Bake 50 to 55 minutes, or until center tests done with a toothpick. Cool 10 minutes in pan and then turn out onto rack to cool completely.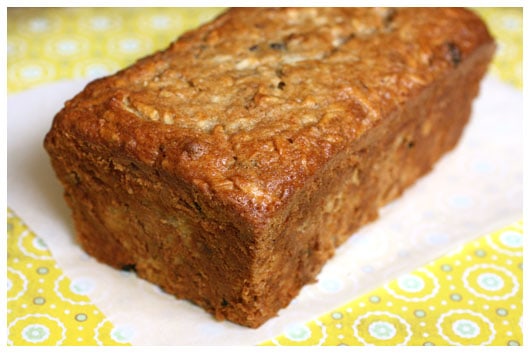 We participate in the Amazon Services LLC Associates Program, an affiliate advertising program designed to provide a means for us to earn fees by linking to Amazon.com and affiliated sites. See our disclosure policy for more info.