Turkey Dinner Stuffed Acorn Squash
This post may contain Amazon or other affiliate links. As an Amazon Associate I earn from qualifying purchases.
Turkey Dinner Stuffed Acorn Squash: the traditional Thanksgiving flavors of turkey, dressing, and a side of sweet and tender squash, all in one easy recipe!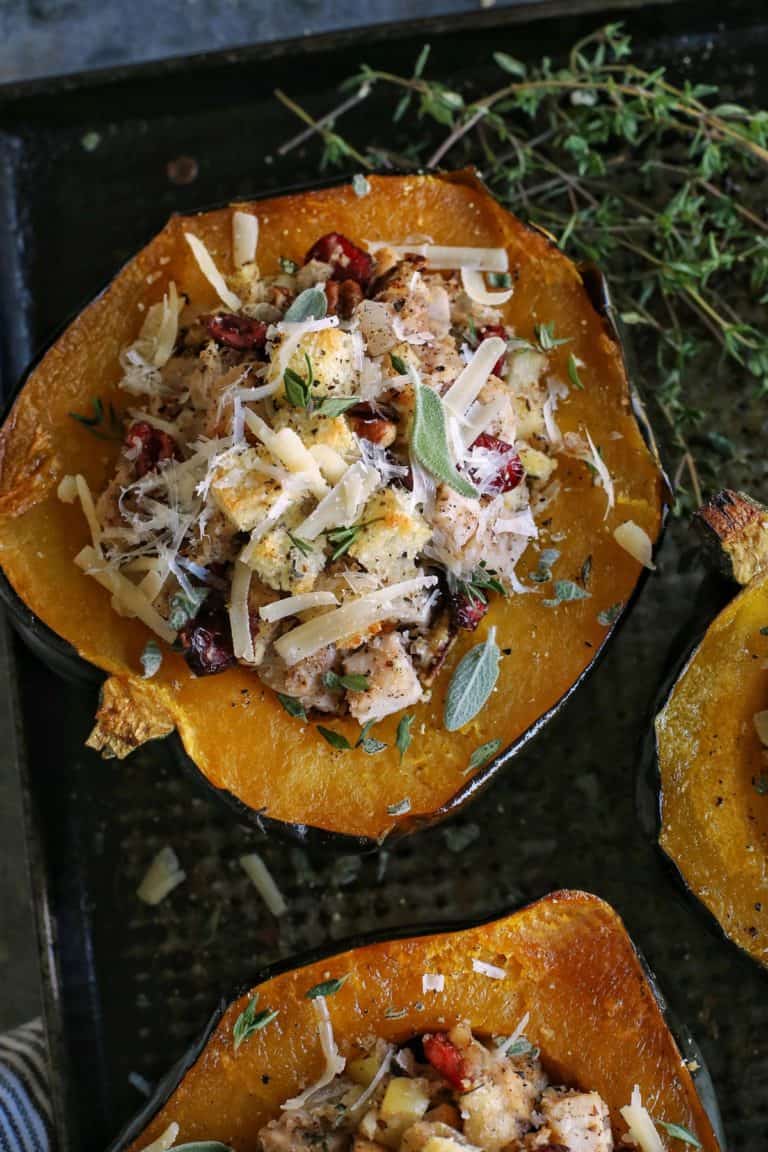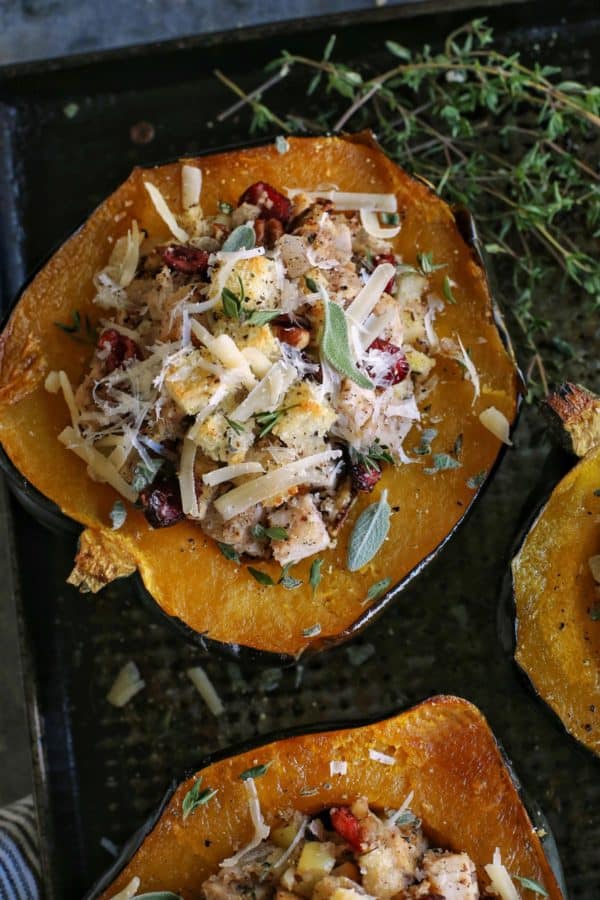 Squash was never really "a thing" in my family when I was growing up. And I didn't catch on to its deliciousness until shortly after I was married (Blake and I recently celebrated our 20th anniversary).
My earliest memories of eating winter squash and wondering why I haven't been enjoying it all my life? I first give credit to my friend Meghan. We worked together nearly fifteen years at SALA Architects, and she makes one crazy delicious butternut squash soup. And Meghan's friend Heather introduced me to this wonderful butternut squash tart. I also have Blake's cousin's wife Jenny to thank. She roasted slices of acorn squash for Thanksgiving one year…and I just might have gone back for three (or four?) helpings.
I'm happy that our daughters already know about the beauty of squash. And even more happy that they've told me, numerous times, how much they like this Turkey Dinner Stuffed Acorn Squash.
This stuffed acorn squash recipe is all about the traditional flavors of Thanksgiving dinner. It's turkey, dressing, and a side of sweet and tender squash, all in one easy dish!
* This is a sponsored post, created in partnership with Minnesota Turkey.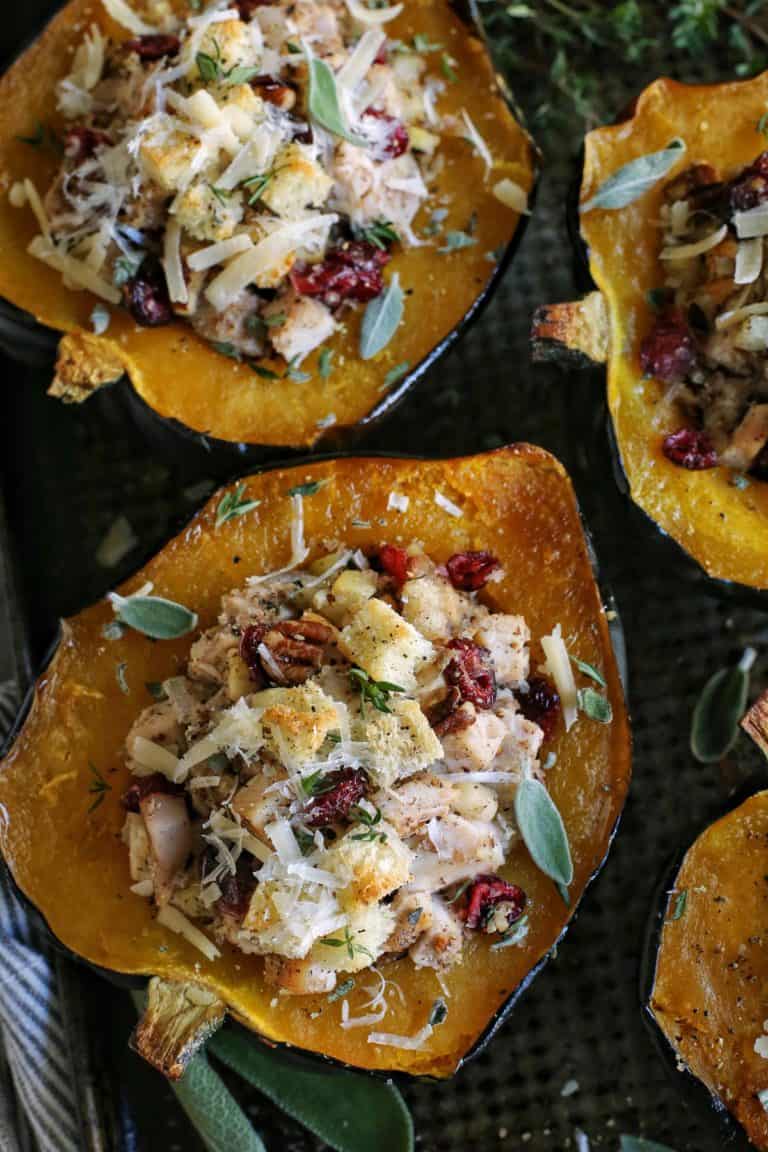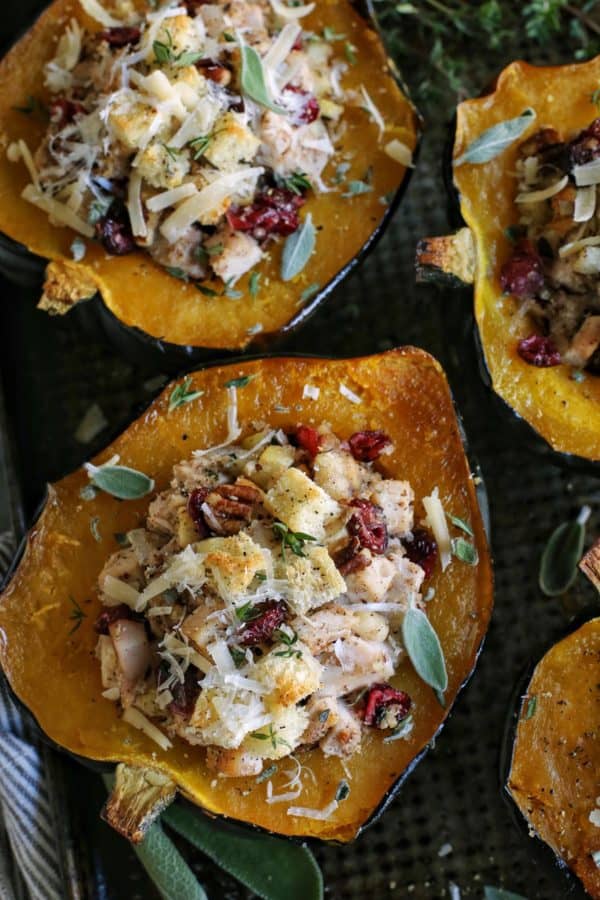 Stuffed Acorn Squash Recipe
There are a few steps in creating this recipe, but none are difficult. And it comes together rather quickly. The filling is made while the squash is baking, so the overall time involved is downright minimal when compared to preparing a traditional Thanksgiving spread.
I'm sharing this new turkey recipe, in celebration of Thanksgiving, in partnership with our local Minnesota Turkey Growers Association. Remember when I joined them for some Thanksgiving fun, when they sent Minnesota-grown turkeys to the White House?!
Did you know?
Minnesota ranks #1 nationally in turkey farming, with 450 turkey farm families raising approximately 42.5 million turkeys each year. Meet the Minnesota turkey farmers who may produce your Thanksgiving turkey. (These videos were part of a celebratory campaign to celebrate MTGA's 80th anniversary this year!)
About 95% of Americans eat turkey at Thanksgiving. So November is an especially busy time of year for Minnesota turkey farmers.
The average weight of turkeys purchased for Thanksgiving is 15 pounds – that means about 675 million pounds of turkey are consumed in America on Thanksgiving!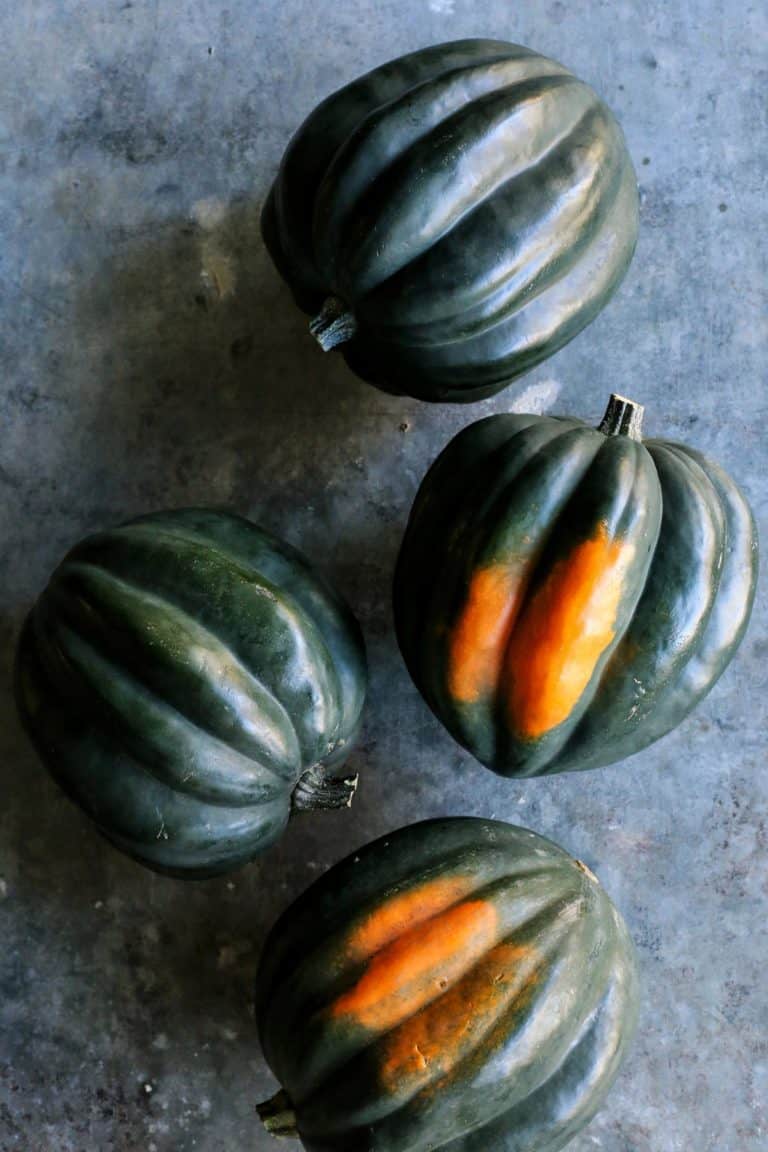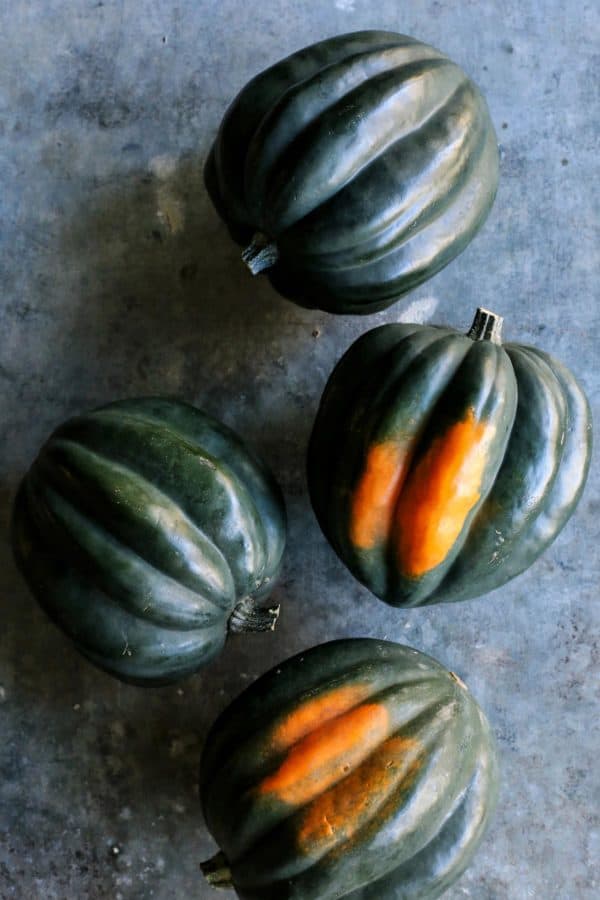 Acorn Squash
Acorn squash is a winter squash with distinctive ridges running down the exterior, from stem to bottom. On the inside is sweet, yellow-orange flesh. And as the name suggests, its shape does resemble an acorn.
The most common variety has a dark green exterior, often with a single splotch of orange on the side. But there are other kinds as well.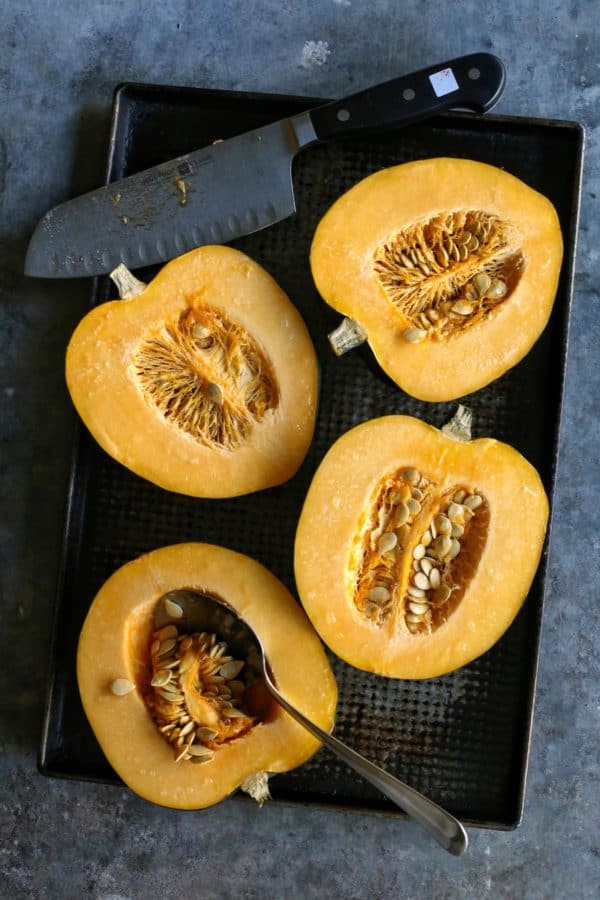 How to make acorn squash
There are a wide assortment of acorn squash recipes, as this variety of squash is easily baked, roasted, sautéed, or steamed. It can be used in soups, chunky or puréed. Include it in hotdishes and casseroles. And it's absolutely lovely in this fresh fall harvest salad.
But let's talk about stuffed squash. Acorn squash, when cut in half, provides the perfect personal "bowl" to stuff with turkey and dressing filling.
For this recipe, cut the acorn squash through the stem. You will need a large, very sharp knife.
Then scoop out the seeds and stringy goo. I use a thin-edged spoon for this, but a grapefruit spoon also works great.
Brush a bit of olive oil onto the flesh and sprinkle with kosher salt. Place the squash halves onto a rimmed baking sheet, flesh side down. Then set the baking sheet in the oven and cook until the squash flesh is tender. At its very simplest, this is how to cook acorn squash.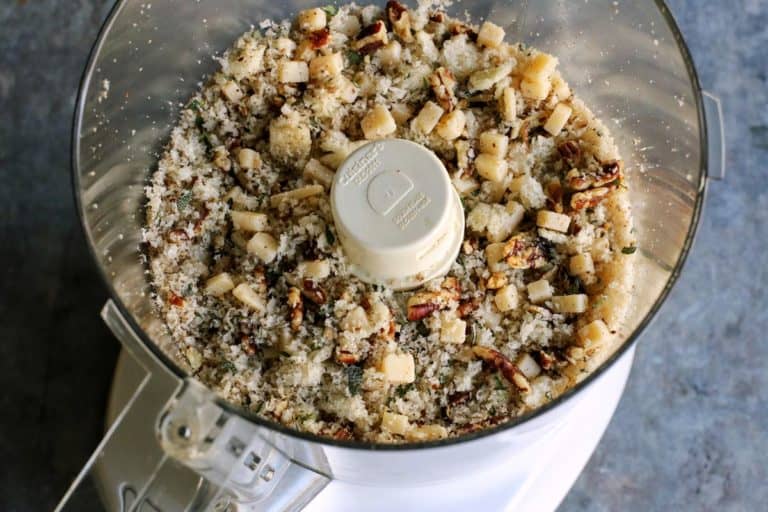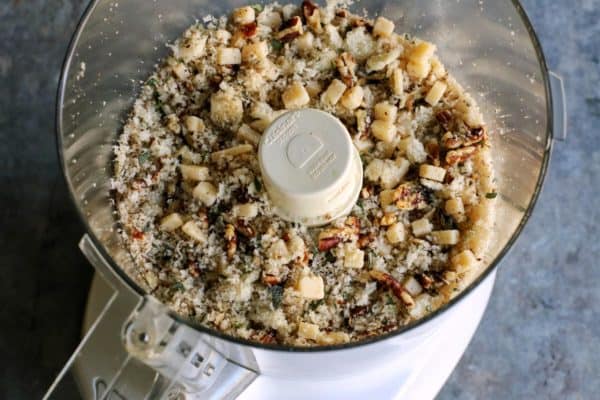 Ingredients for Stuffed Squash
Next blitz the dressing ingredients in a food processor. Bread cubes, roasted pecans, little chunks of Parmesan, plus fresh thyme and sage. The heavenly scent gives me all the Thanksgiving dressing feels!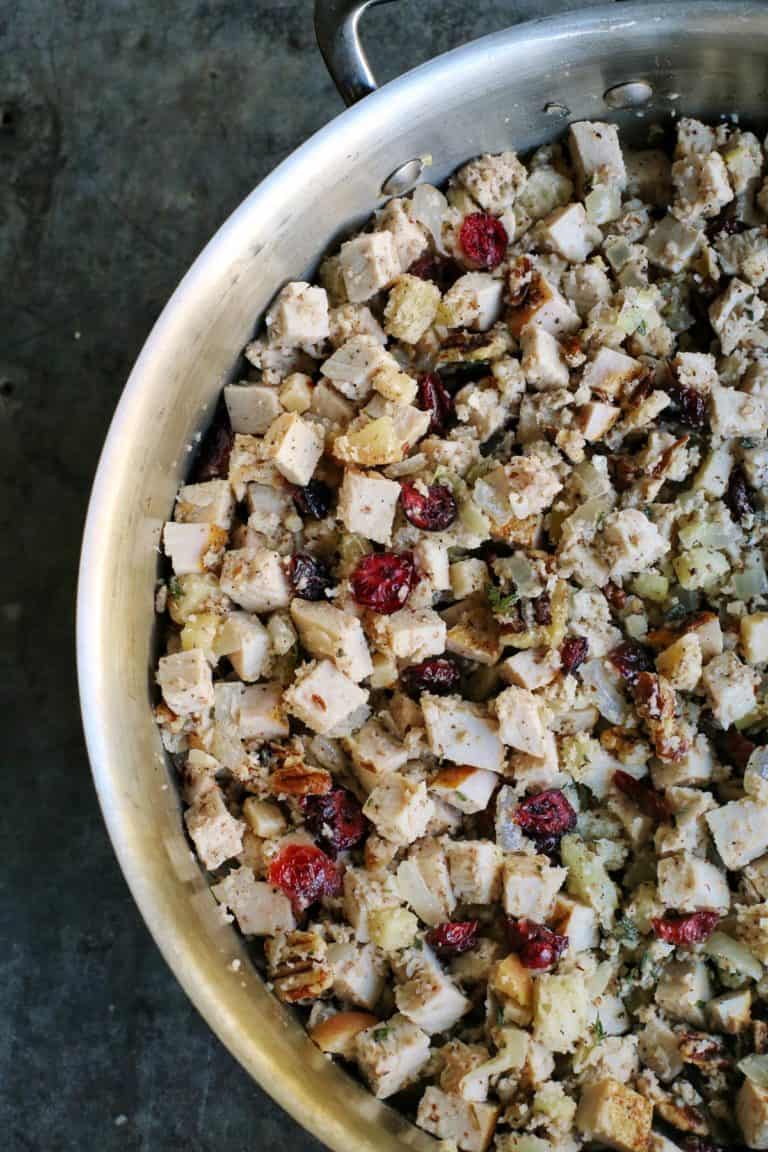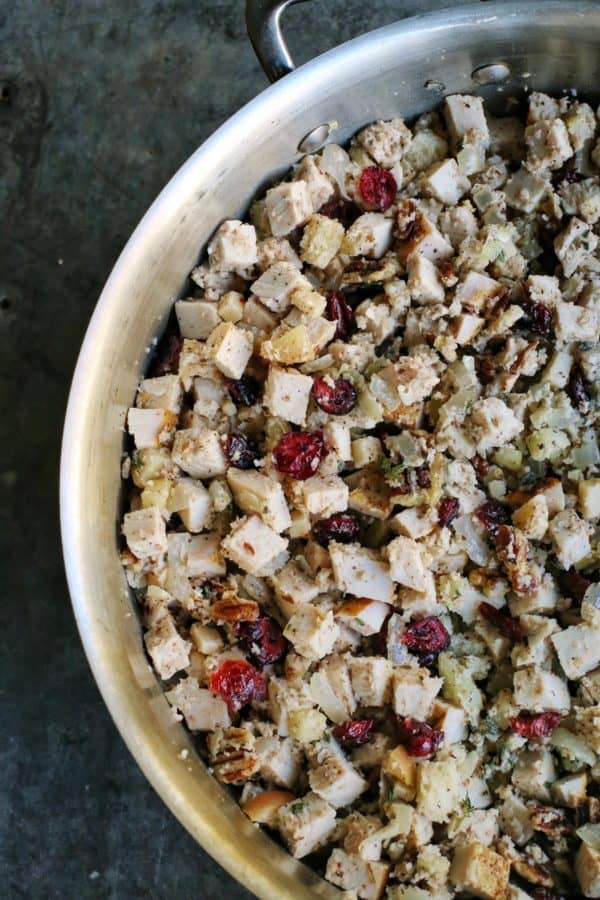 The especially beautiful piece to this recipe – that makes it so quick and easy for entertaining – is that it uses turkey breast meat that's been prepared ahead of time.
This could mean that you cook a turkey breast the morning of Thanksgiving, or even a day or two beforehand. Or you could cook a whole turkey earlier, and simply reserve the breast meat for this dish. A little prep work gives big reward in terms of relaxation for the cook on Thanksgiving day.
To make the filling, first sauté some onion, apple, and garlic in a big skillet. Then fold in the cooked turkey, prepared dressing, and dried cranberries. I absolutely adore the contrast of savory and sweet flavors here.
Stuff the squash halves, all nice and mounded, and then pop them back into the oven for a few more minutes. This will heat the squash and filling thoroughly, and create cheesy little pockets of melty Parmesan.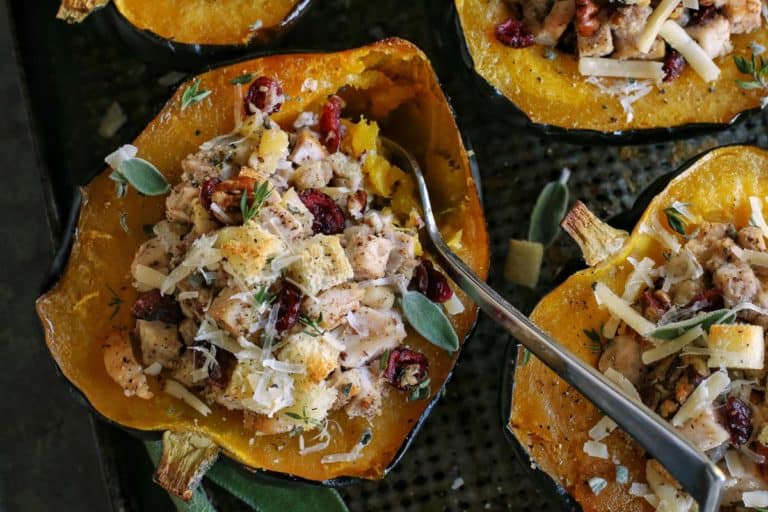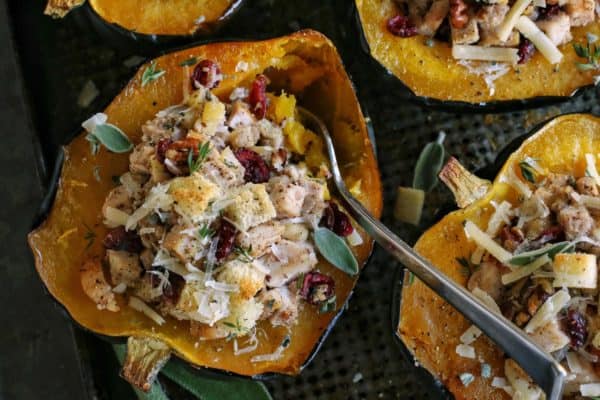 To round out this meal, all that's needed is a simple green salad to go alongside. For even more wonderful fall flavors, I recommend serving the fresh greens with my maple Dijon dressing from this recipe, or the curry fig vinaigrette from this recipe. Enjoy!
Here are a few more of my favorite turkey recipes for you!
Like this stuffed squash recipe? Save it to Pinterest!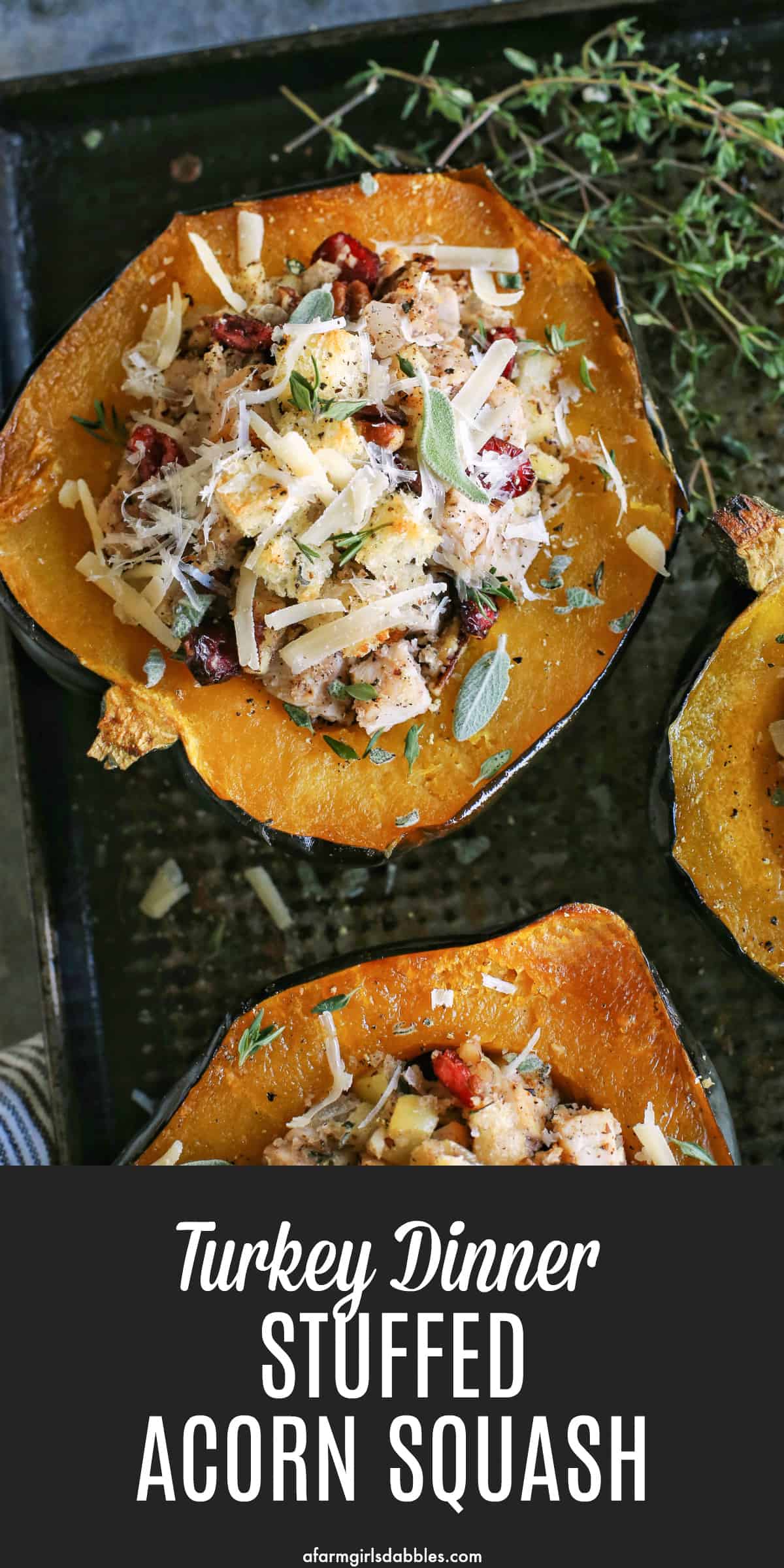 And here are a few more acorn squash recipes from my friends!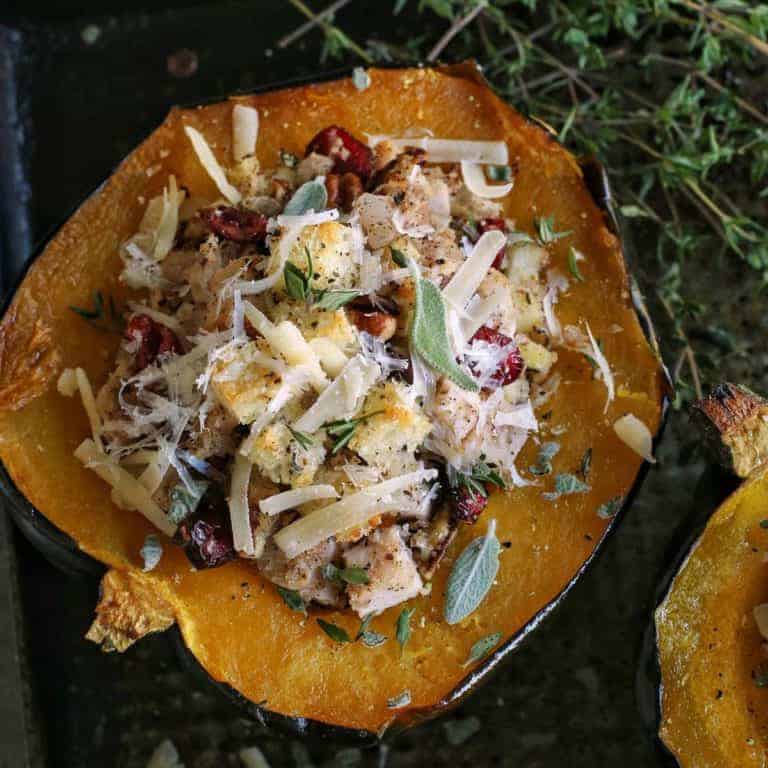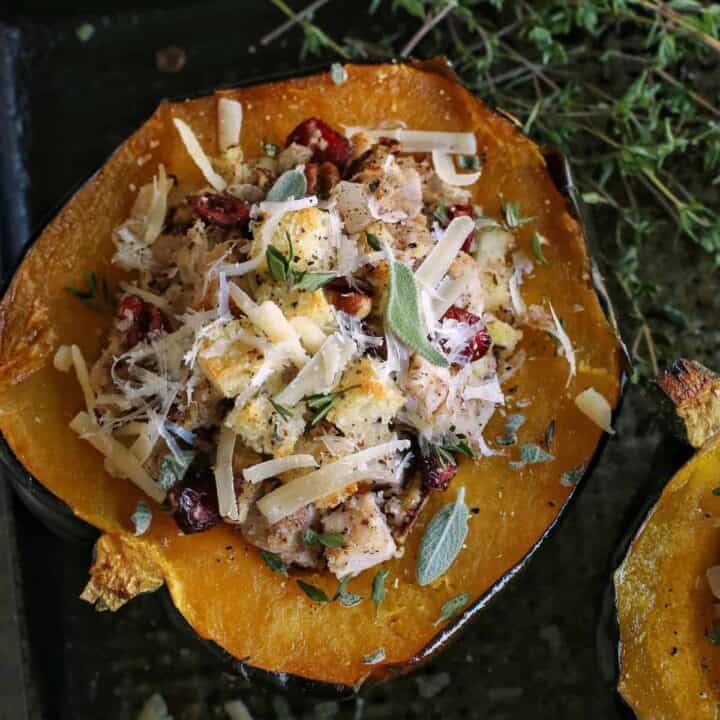 Turkey Dinner Stuffed Acorn Squash
Yield: 4 servings
Prep Time: 25 minutes
Cook Time: 45 minutes
Total Time: 1 hour 10 minutes
This dish is a great way to enjoy all the traditional Thanksgiving flavors of turkey, dressing, and a side of sweet and tender squash, all in one easy recipe!
Ingredients
for the squash
2 large acorn squash (about 2-1/4 lbs. each)
2 tsp. olive oil
1 tsp. kosher salt
for the stuffing mixture
6 c. cubed English muffin toasting bread, 1/2" in size, divided
2/3 c. roasted, salted pecans
1/2 c. cubed Parmesan cheese, 1/4" in size
1/2 T. fresh thyme leaves
1/2 T. minced fresh sage
for the turkey mixture
1 T. olive oil
1 c. diced yellow onion
1-1/2 c. diced Honeycrisp or Haralson apple, cored, with skin on
2 large cloves garlic, minced
3 c. cubed cooked turkey breast, 1/2" in size
2/3 c. dried cranberries, coarsely chopped if they are especially large
1/2 tsp. ground black pepper
1/4 c. reduced sodium turkey or chicken broth
1/2 tsp. kosher salt, or to taste
1 T. melted unsalted butter
1/4 c. shredded Parmesan
Instructions
for the squash: Preheat oven to 400° F. Line a rimmed pan with parchment paper or aluminum foil, if desired.
Wash and dry the exterior of each squash. Then carefully cut each one in half with a large, sharp knife. Scoop out seeds with a spoon; discard seeds or save for roasting. Brush 1/2 teaspoon olive oil over the cut side of each squash half. Sprinkle the cut sides with kosher salt. Place squash halves, cut side down, on baking sheet and cook for about 35 minutes, until the flesh is just nicely softened. Adjust cook time for smaller or larger sized squash. Remove squash from oven and lower the oven temperature to 350° F.
for the stuffing mixture: Add 5-1/2 cups of the bread, pecans, Parmesan, thyme, and sage to a food processor. Pulse until mixture is chopped and crumbly, with a few larger pieces of bread cubes, pecans, and Parmesan remaining. Refer to my photo in the post, if needed. Set aside.
for the turkey mixture: Heat a large skillet over medium heat. Once skillet is hot, stir in onion and apple. Sauté until just softened, stirring occasionally. Then stir in garlic and sauté for two minutes more. Fold in turkey and dried cranberries, and then the prepared stuffing mixture and black pepper. Drizzle turkey broth over the top; fold to combine. Taste test, adding kosher salt as needed.
Add half a cup of turkey mixture to the center of each cooked squash half, pressing it in lightly but firmly. Then add more turkey mixture on top of that, to form a generous mound. Press a few of the reserved bread cubes onto the top of each mound, and then spoon the melted butter over the top of the bread cubes. Sprinkle bread cubes with a bit more kosher salt and ground black pepper. Place stuffed squash back into the oven for another 10 to 12 minutes to heat throughout. Remove from oven and serve immediately, with freshly grated Parmesan sprinkled over the tops.
Notes
This dish is great with a simple, fresh green salad. I recommend serving it with my maple Dijon dressing from this Holiday Wild Rice Salad. This Harvest Salad features a curry fig vinaigrette, which would also pair very well!
from a farmgirl's dabbles
Recommended Products
As an Amazon Associate and member of other affiliate programs, I earn from qualifying purchases.
Nutrition Information:
Yield: 4
Serving Size: 1
Amount Per Serving:
Calories: 449
Total Fat: 22g
Saturated Fat: 7g
Trans Fat: 0g
Unsaturated Fat: 13g
Cholesterol: 105mg
Sodium: 509mg
Carbohydrates: 41g
Fiber: 19g
Sugar: 34g
Protein: 66g
Nutrition information is automatically calculated by Nutritionix. I am not a nutritionist and cannot guarantee accuracy. If your health depends on nutrition information, please calculate again with your own favorite calculator.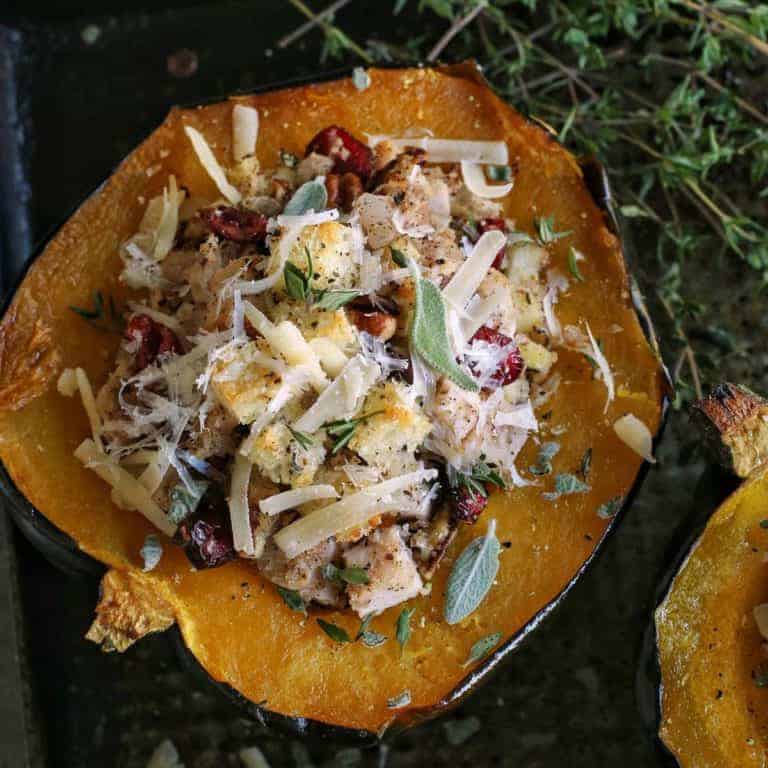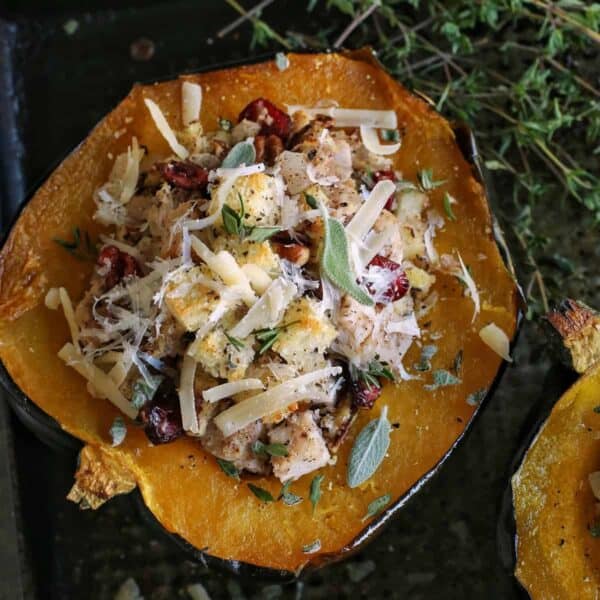 Serving turkey? Here's how to ensure it's cooked properly!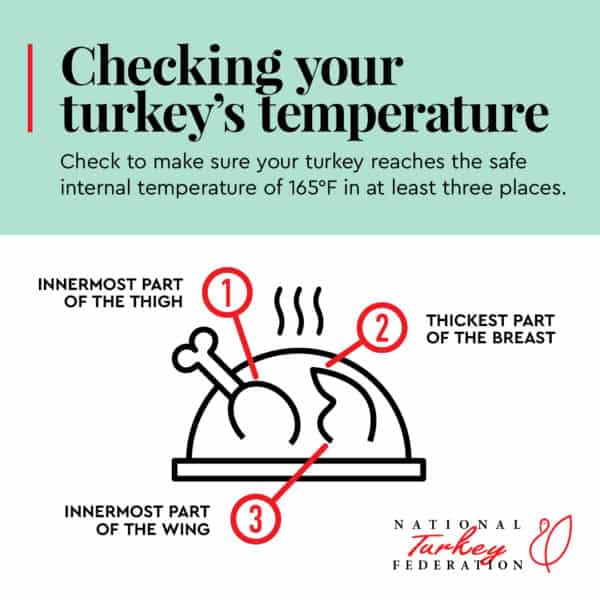 Follow the Minnesota Turkey Growers Association on Facebook, Twitter, Pinterest, Instagram and YouTube for recipes, Thanksgiving tips, and farmer stories.
This post is sponsored by our local Minnesota Turkey. All opinions are my own. Thank you for supporting the brands that help make this site possible.
We participate in the Amazon Services LLC Associates Program, an affiliate advertising program designed to provide a means for us to earn fees by linking to Amazon.com and affiliated sites. See our
disclosure policy
for more info.