Turkey Dinner Stuffed Acorn Squash
Featuring stuffing, turkey, and cranberries, this Turkey Dinner Stuffed Acorn Squash has all the flavors of the holidays in one dish. A perfect stuffed squash recipe to enjoy all fall and winter long!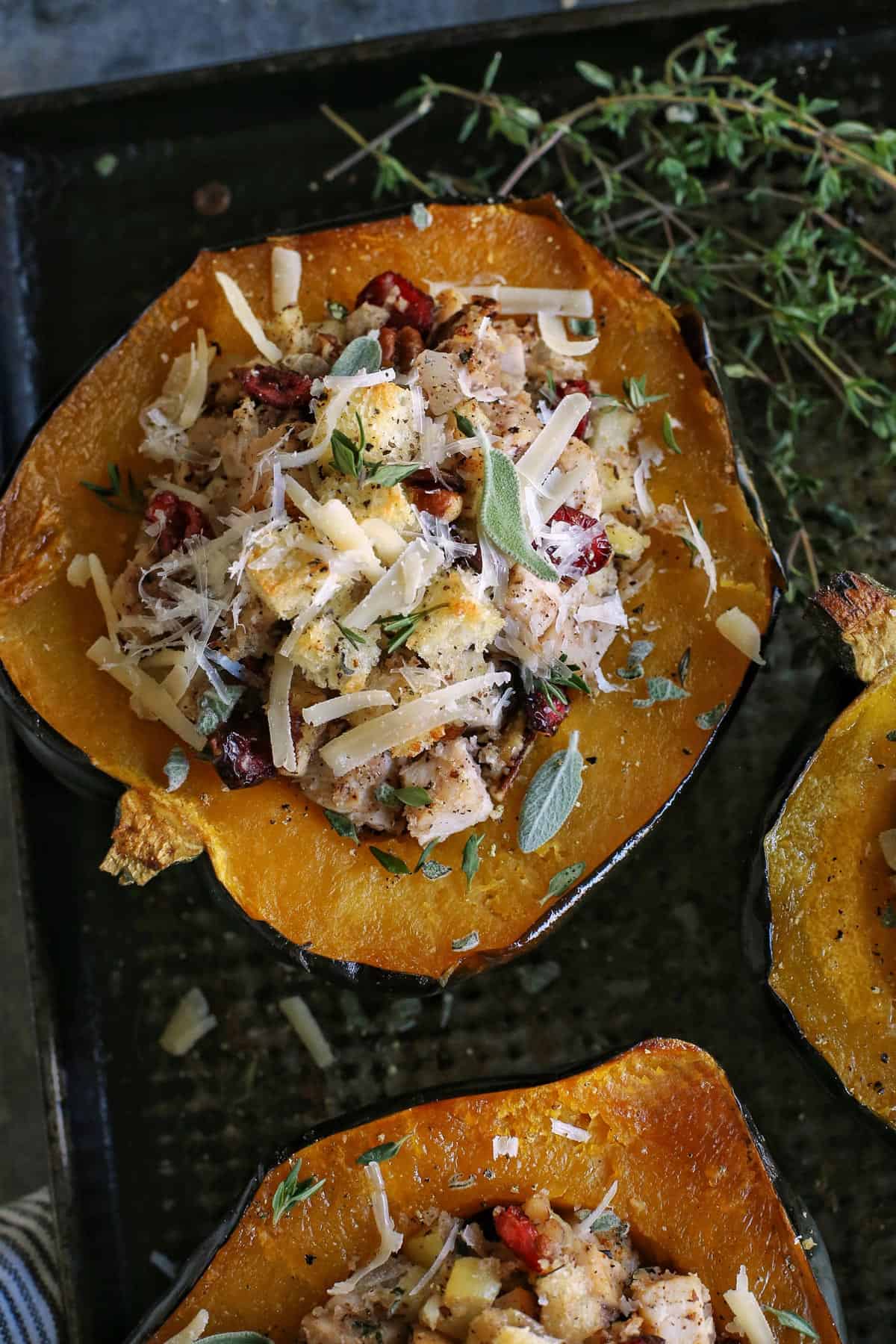 An Easy Stuffed Acorn Squash Recipe
This Turkey Dinner Stuffed Acorn Squash truly has everything you could want in a turkey dinner, all wrapped up in one dish. It's got the turkey, the dressing, and the cranberries, all served up in sweet and tender squash. Though my inspiration for this dish was definitely Thanksgiving and the traditional flavors of the day, there's absolutely no reason you can't make this stuffed squash recipe anytime. In fact it would be a fabulous Christmas dinner idea too!
For this recipe, acorn squash is roasted and then filled with a stuffing and turkey mixture that features cubed bread, leftover turkey, parmesan cheese, and dried cranberries. You can make this recipe using leftover Thanksgiving turkey or just cook a turkey or smaller turkey breast the night before to use.
Turkey stuffed squash is fancy enough to serve for a holiday – this is great on Thanksgiving in place of making several dishes – but also easy enough for a casual dinner!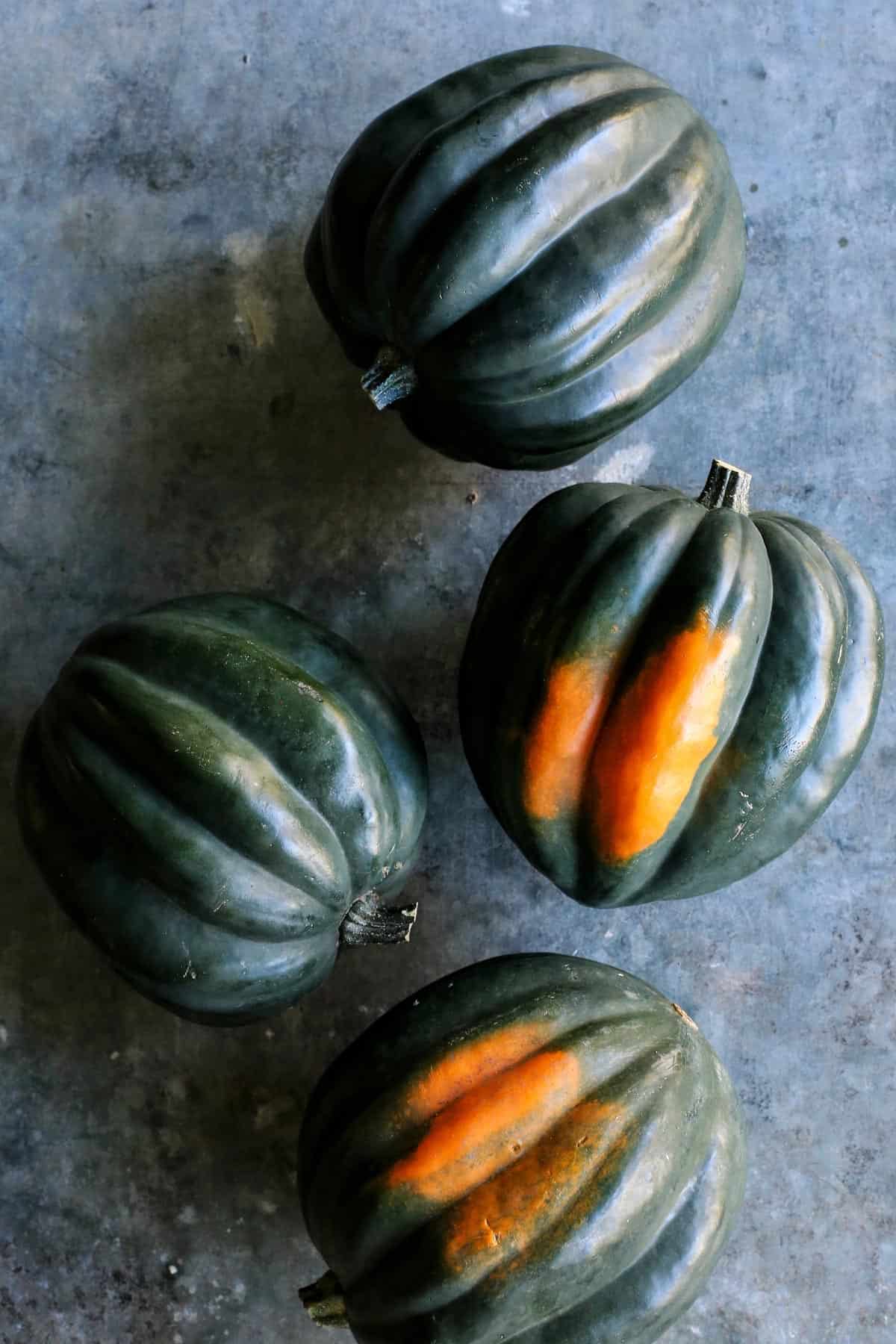 What is Acorn Squash?
Acorn squash is a winter squash with distinctive ridges running down the exterior, from stem to bottom. On the inside is sweet, yellow-orange flesh. And as the name suggests, its shape does resemble an acorn.
The most common variety has a dark green exterior, often with a single splotch of orange on the side. But there are other kinds as well.
There are a wide assortment of acorn squash recipes, as this variety of squash is easily baked, roasted, sautéed, or steamed. It can be used in soups, chunky or puréed. Include it in hotdishes and casseroles. And it's absolutely lovely in this fresh fall harvest salad.
But let's talk about stuffed squash. Acorn squash, when cut in half, provides the perfect personal "bowl" to stuff with turkey and dressing filling.
For this recipe, cut the acorn squash through the stem. You will need a large, very sharp knife.
Then scoop out the seeds and stringy goo. I use a thin-edged spoon for this, but a grapefruit spoon also works great.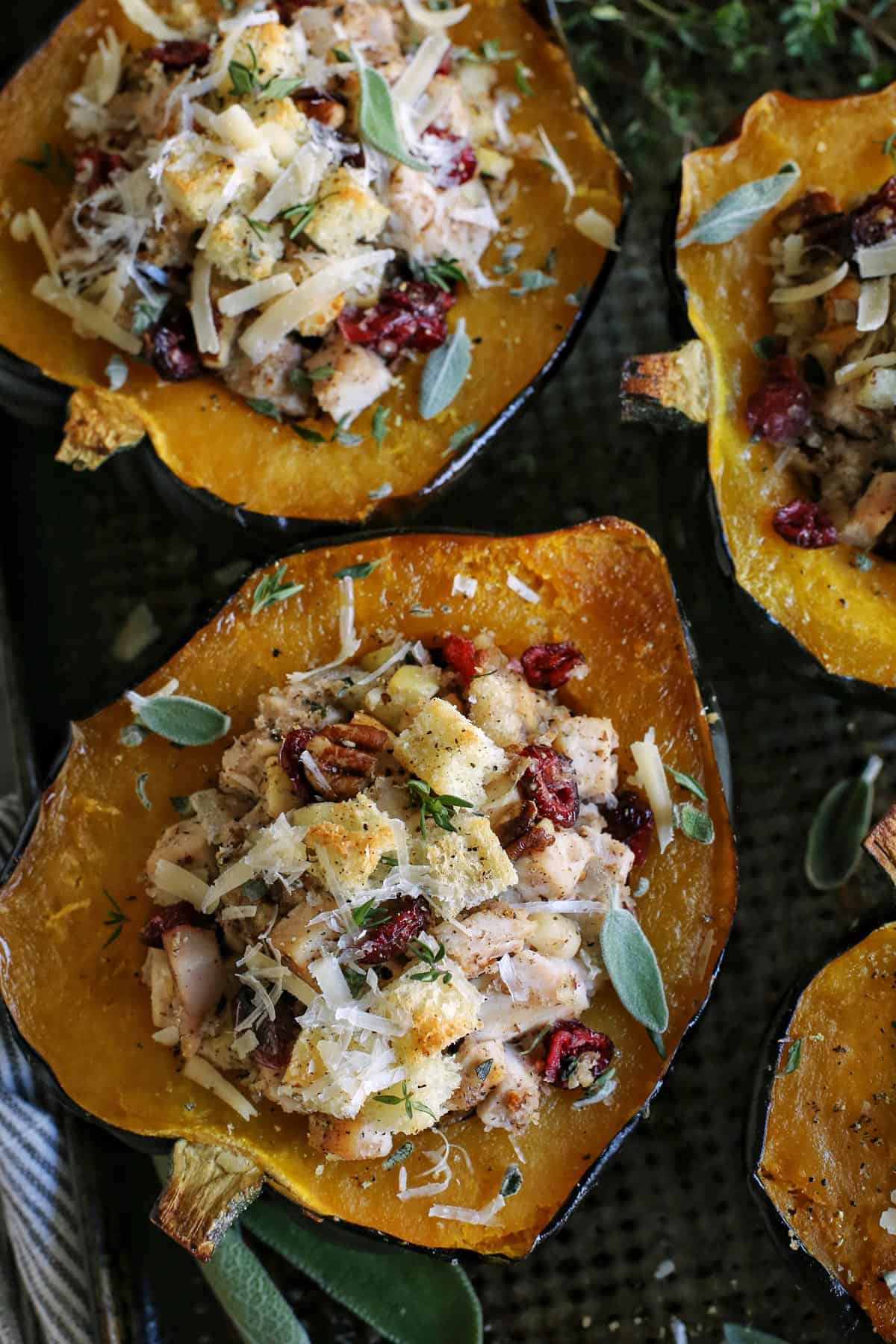 What You'll Need
This stuffed acorn squash recipe features many of the same ingredients you'd expect when preparing a traditional turkey dinner.
FOR THE SQUASH
Acorn squash – You'll want two large squash, about 2 1/4 pounds each.
Olive oil
Kosher salt
FOR THE STUFFING MIXTURE
English muffin toasting bread – This bread provides great texture for the stuffing. It holds up during baking and any exposed pieces get a little crispy.
Pecans – You'll want to choose roasted, salted pecans for the best flavor and crunch.
Parmesan cheese – I use cubed parmesan in this recipe.
Herbs – Equal parts thyme leaves and minced fresh sage provide the fresh, earthy flavor in the stuffing.
FOR THE TURKEY MIXTURE
Olive oil
Diced yellow onion
Apple – Any crisp, tart apple works great. I use Honeycrisp or Haralson apples.
Garlic
Cooked turkey breast – This is perfect for Thanksgiving leftovers!
Dried cranberries – Coarsely chop them if they're especially large.
Black pepper
Broth – You can use either turkey or chicken broth. Low sodium is best to avoid making the mixture too salty.
Unsalted butter – Melt it and drizzle over the stuffed squash.
Parmesan – Freshly shredded parmesan is a great finishing touch.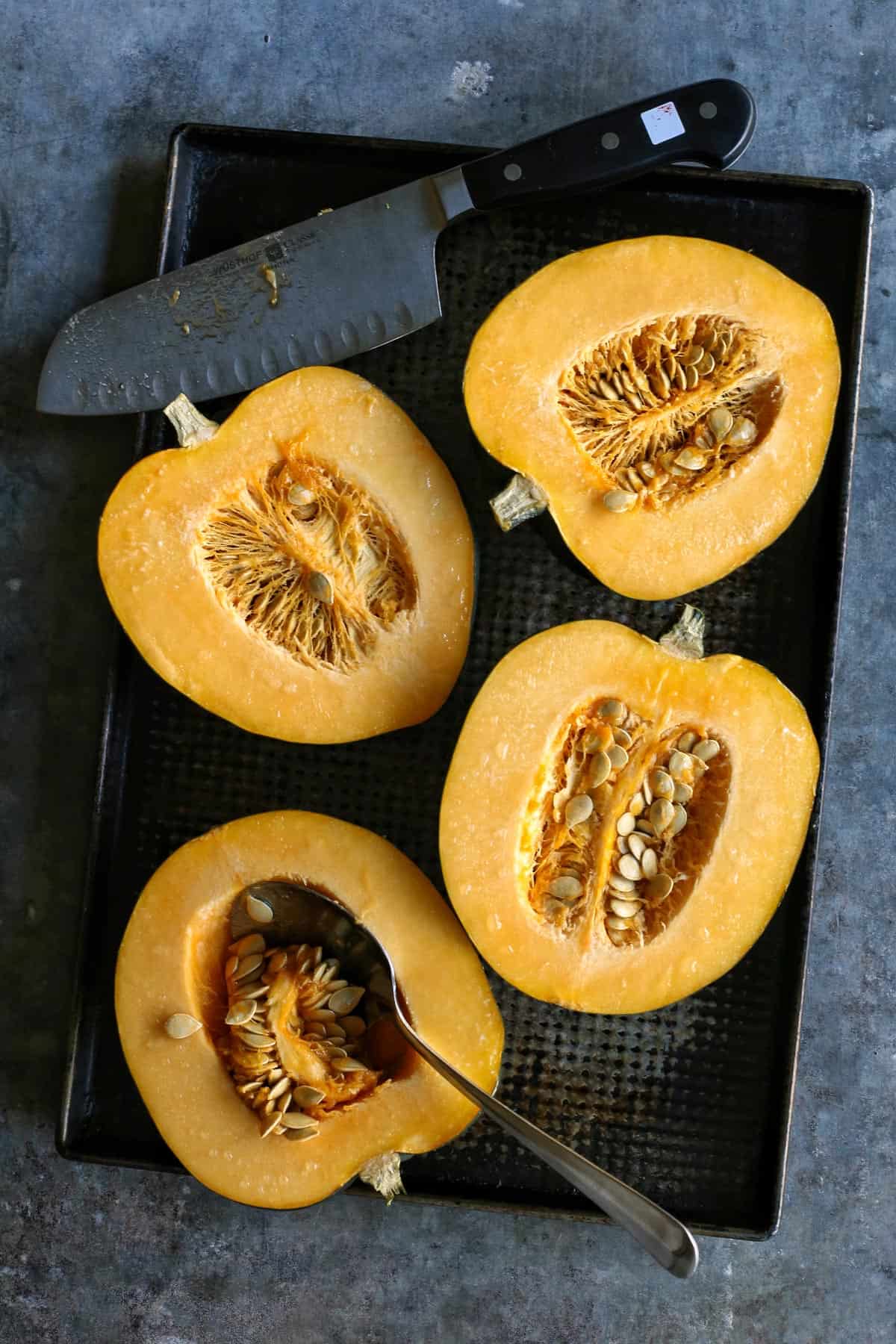 How to Make Turkey Stuffed Acorn Squash
While this pretty dish does take some time to prepare, it's a very straightforward recipe.
Bake the squash. Wash and dry each squash. Cut the squash in half through the stem, then scoop out the seeds. Brush the cut sides with olive oil and sprinkle with salt. Place the squash cut side down on a baking sheet and cook until flesh is nicely softened, about 35 minutes.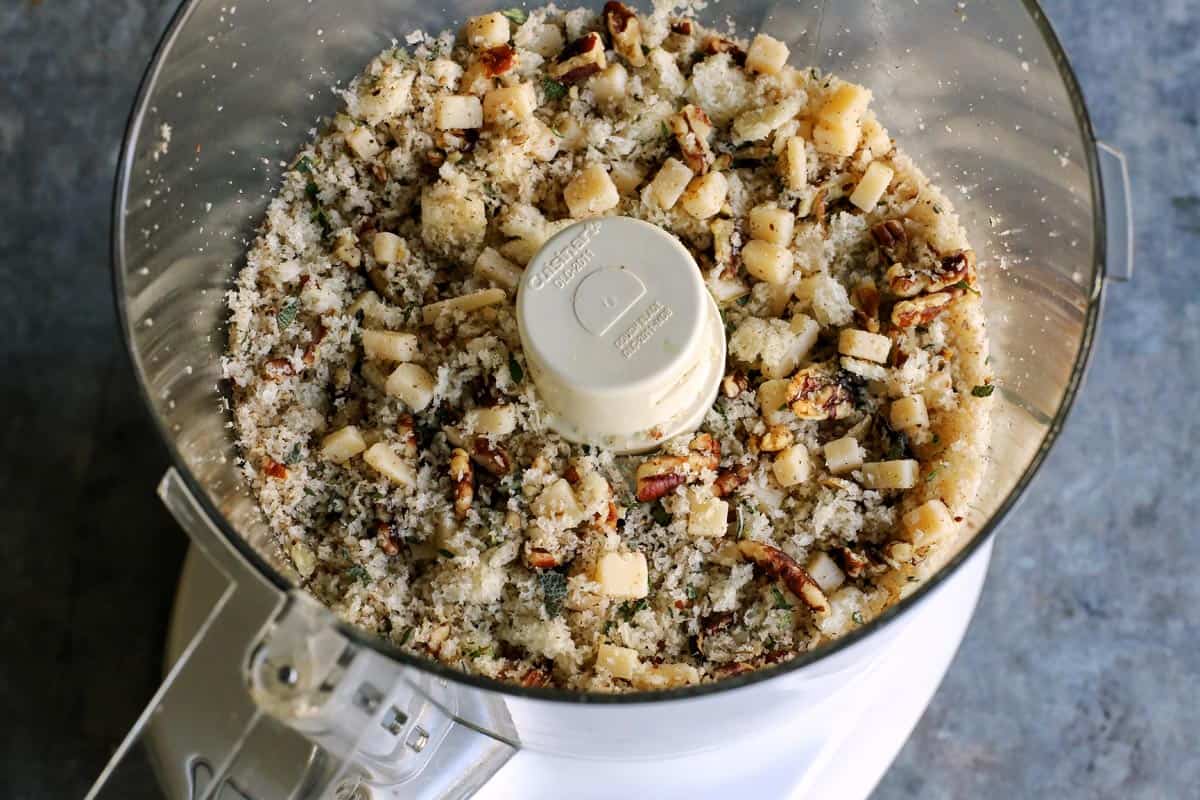 Make the stuffing mixture. Pulse all of the stuffing ingredients in a food processor until crumbly.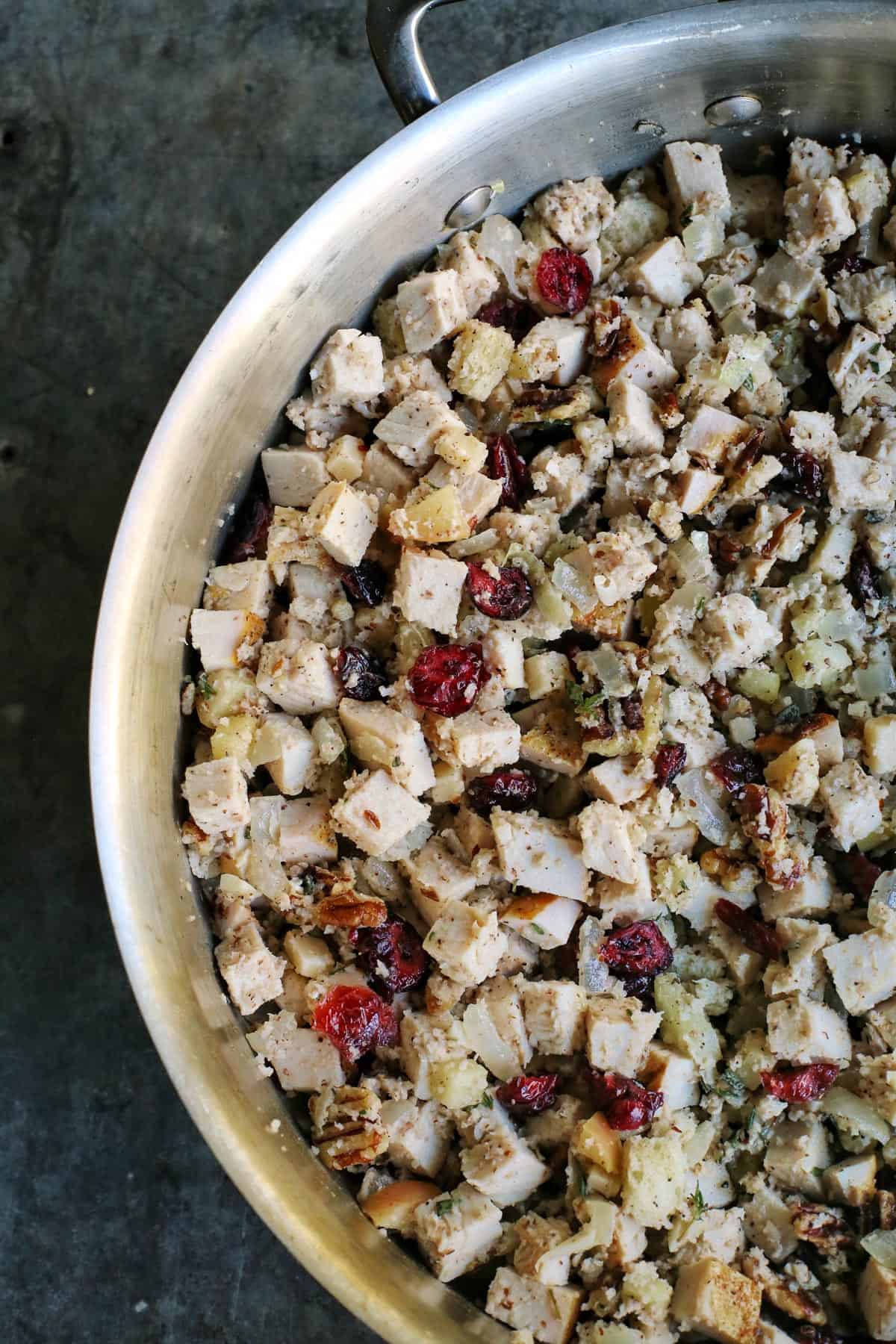 Make the turkey mixture. Sauté the apples and onions until just softened. Stir in the garlic. Fold in the turkey and cranberries, followed by the stuffing mixture and black pepper. Drizzle turkey broth over the mixture and stir. Add more salt as needed.
Bake. Add half a cup of the turkey mixture to each cooked squash half, pressing in firmly. Add more on top to create a generous mound. Sprinkle reserved breadcrumbs on top then spoon the melted butter over the top. Sprinkle with salt and pepper. Bake for another 10 to 12 minutes.
Serve. Sprinkle with parmesan cheese and serve immediately.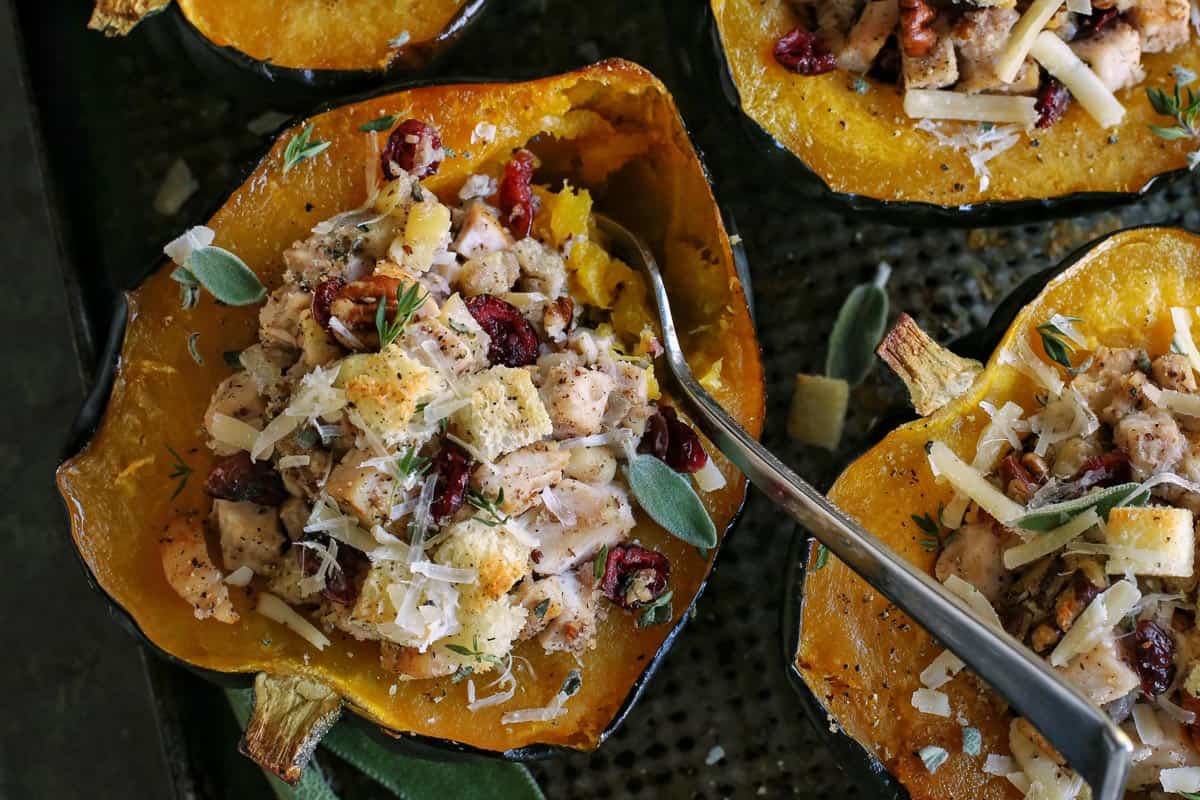 Tips & Variations
There are many ways to switch up this acorn squash recipe, as well as a few things to keep in mind when making it.
Don't over or under cook the squash. While you want the squash to be soft, you don't want it to be overly mushy. And you definitely do not want it hard and under cooked!
Choose fairly large squash. When picking out your squash, choose ones on the large side, around 2 pounds or so. You want the inside to be big enough to fit a decent amount of the turkey stuffing inside.
Make it vegetarian. To make this stuffed squash recipe vegetarian, you could use quinoa, lentils, or beans in place of the turkey. And use vegetable broth.
Use ground turkey. If you don't have any leftover turkey breast, you can substitute ground turkey in this acorn squash recipe. Cook the meat and drain any excess fat off before combining it with the other ingredients.
Can I use a different type of squash? While acorn squash is a great fall and winter option, you can also make this turkey stuffed squash with butternut, delicata, or buttercup squash.
Serving Suggestions
The great thing about this turkey dinner stuffed acorn squash is that almost everything you'd typically want in a dinner is already inside. There's no need for making a handful of side dishes to go with your turkey.
But a fresh salad would be so very nice!
To round out this meal, I like to serve a salad alongside. I especially like to serve fresh greens with my maple Dijon dressing or this curry fig vinaigrette.
Can I Make This in Advance?
I don't recommend roasting the acorn squash in advance but you can prepare the turkey stuffing mixture a day beforehand. Prepare as directed and then refrigerate in an airtight container. When you start to roast the squash, remove the turkey mixture from the fridge to take some of the chill off. You may need to increase the baking time a minute or two to account for the stuffing being chilled.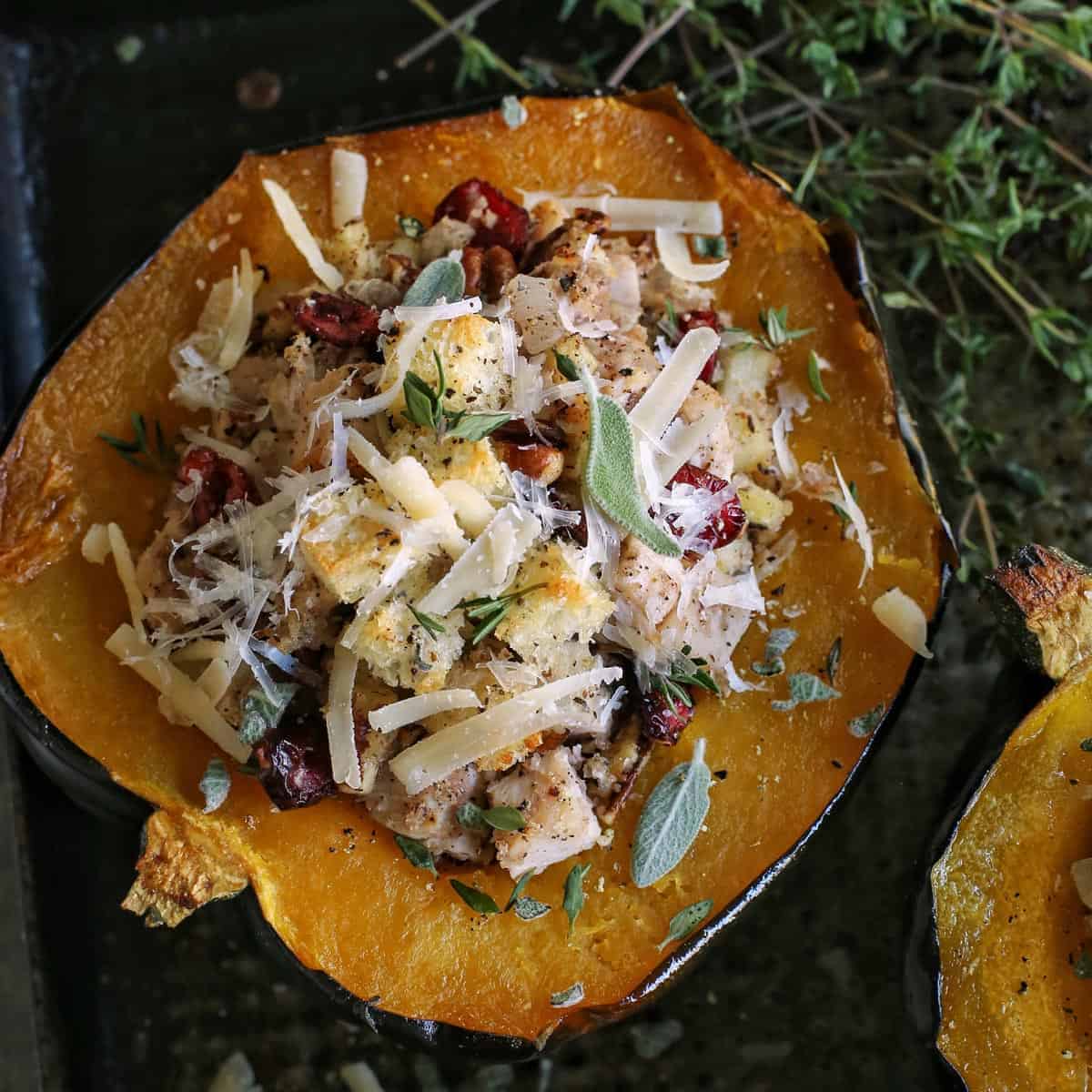 How to Store & Reheat Leftovers
How to store leftovers. Store any leftover stuffed squash in an airtight container in the fridge. It will stay good for up to 4 days.
How to reheat leftovers. I recommend reheating leftovers by popping them back into the oven but you can also reheat them in the microwave.
More Turkey Recipes:
Like this stuffed squash recipe? Save it to Pinterest!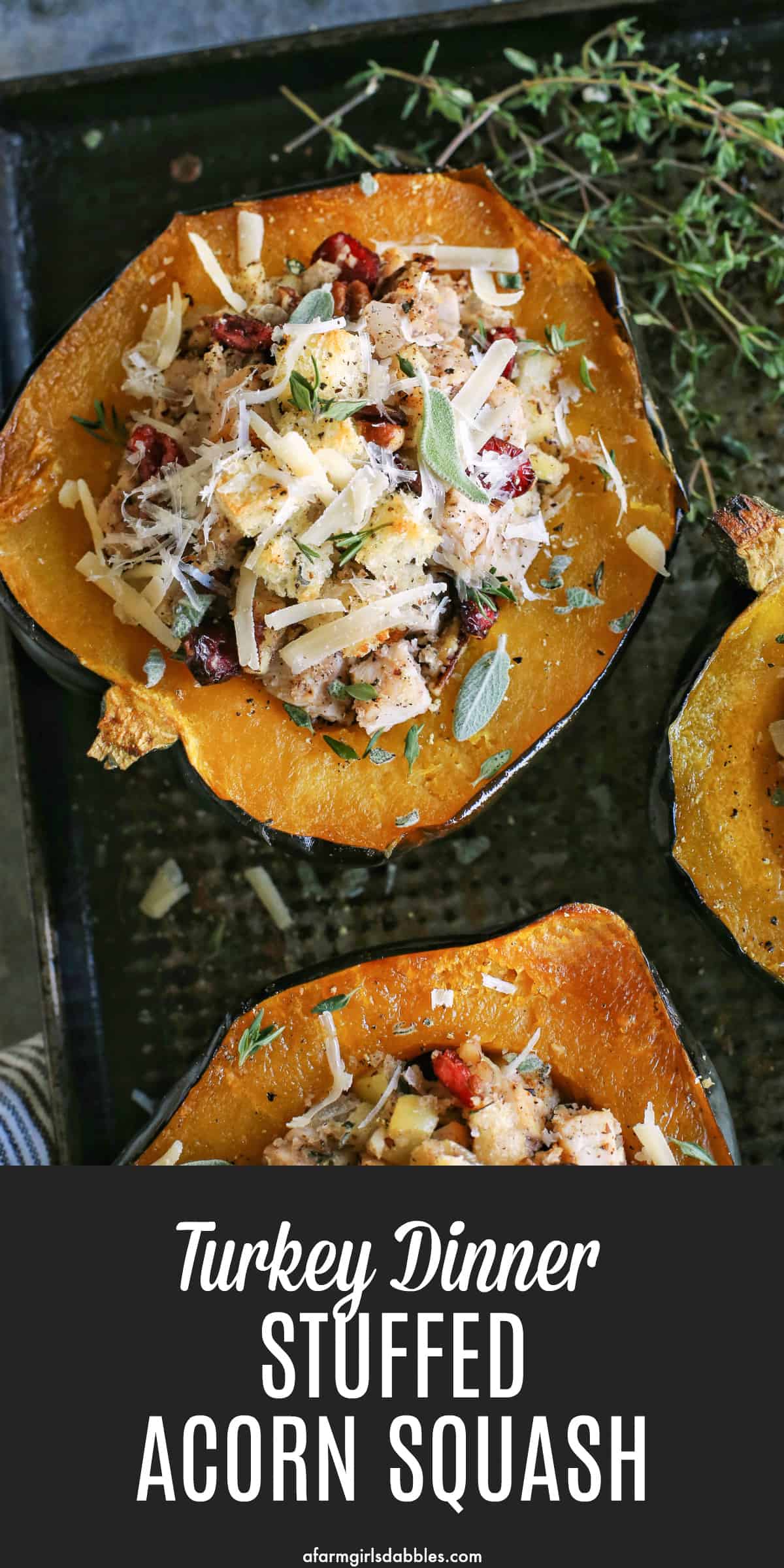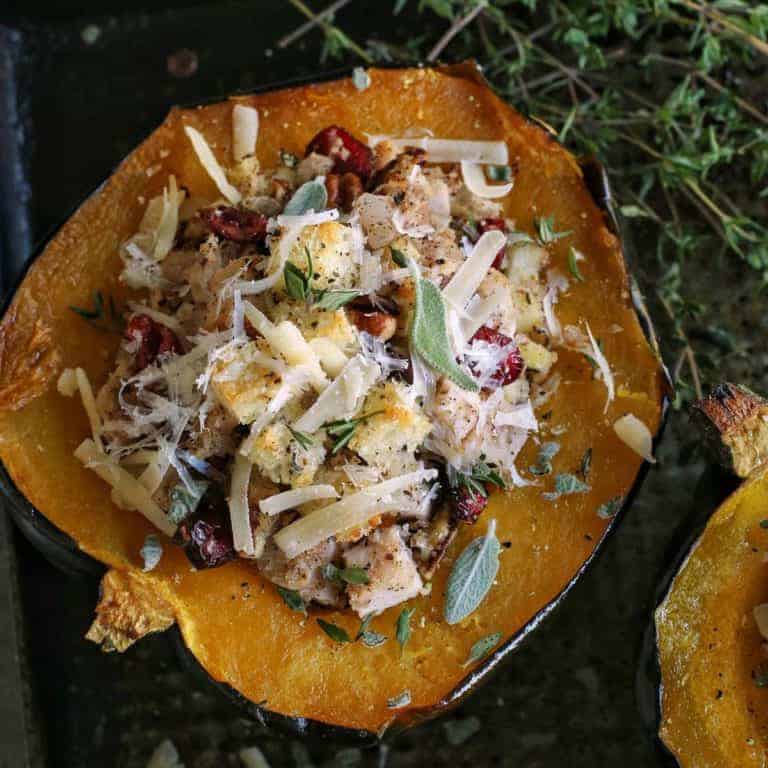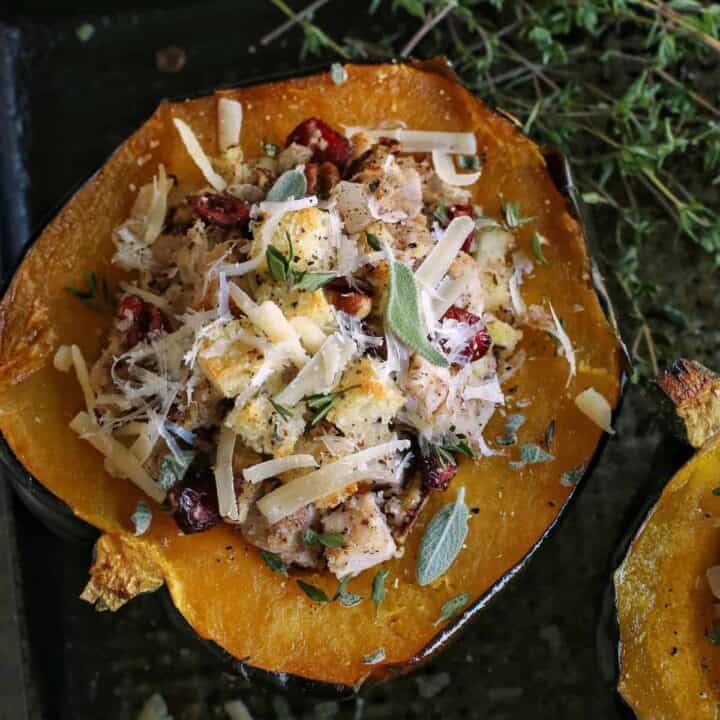 Turkey Dinner Stuffed Acorn Squash
Yield: 4 servings
Prep Time: 25 minutes
Cook Time: 45 minutes
Total Time: 1 hour 10 minutes
Featuring stuffing, turkey, cranberries, parmesan and more, this Turkey Dinner Stuffed Acorn Squash has all the tastes and flavors of Thanksgiving in one dish. A perfect stuffed squash recipe to enjoy all fall and winter long!
Ingredients
for the squash
2 large acorn squash (about 2-1/4 lbs. each)
2 tsp. olive oil
1 tsp. kosher salt
for the stuffing mixture
6 c. cubed English muffin toasting bread, 1/2" in size, divided
2/3 c. roasted, salted pecans
1/2 c. cubed Parmesan cheese, 1/4" in size
1/2 T. fresh thyme leaves
1/2 T. minced fresh sage
for the turkey mixture
1 T. olive oil
1 c. diced yellow onion
1-1/2 c. diced Honeycrisp or Haralson apple, cored, with skin on
2 large cloves garlic, minced
3 c. cubed cooked turkey breast, 1/2" in size
2/3 c. dried cranberries, coarsely chopped if they are especially large
1/2 tsp. ground black pepper
1/4 c. reduced sodium turkey or chicken broth
1/2 tsp. kosher salt, or to taste
1 T. melted unsalted butter
1/4 c. shredded Parmesan
Instructions
for the squash: Preheat oven to 400° F. Line a rimmed pan with parchment paper or aluminum foil, if desired.
Wash and dry the exterior of each squash. Then carefully cut each one in half with a large, sharp knife. Scoop out seeds with a spoon; discard seeds or save for roasting. Brush 1/2 teaspoon olive oil over the cut side of each squash half. Sprinkle the cut sides with kosher salt. Place squash halves, cut side down, on baking sheet and cook for about 35 minutes, until the flesh is just nicely softened. Adjust cook time for smaller or larger sized squash. Remove squash from oven and lower the oven temperature to 350° F.
for the stuffing mixture: Add 5-1/2 cups of the bread, pecans, Parmesan, thyme, and sage to a food processor. Pulse until mixture is chopped and crumbly, with a few larger pieces of bread cubes, pecans, and Parmesan remaining. Refer to my photo in the post, if needed. Set aside.
for the turkey mixture: Heat a large skillet over medium heat. Once skillet is hot, stir in onion and apple. Sauté until just softened, stirring occasionally. Then stir in garlic and sauté for two minutes more. Fold in turkey and dried cranberries, and then the prepared stuffing mixture and black pepper. Drizzle turkey broth over the top; fold to combine. Taste test, adding kosher salt as needed.
Add half a cup of turkey mixture to the center of each cooked squash half, pressing it in lightly but firmly. Then add more turkey mixture on top of that, to form a generous mound. Press a few of the reserved bread cubes onto the top of each mound, and then spoon the melted butter over the top of the bread cubes. Sprinkle bread cubes with a bit more kosher salt and ground black pepper. Place stuffed squash back into the oven for another 10 to 12 minutes to heat throughout. Remove from oven and serve immediately, with freshly grated Parmesan sprinkled over the tops.
Notes
This dish is great with a simple, fresh green salad. I recommend serving it with my maple Dijon dressing from this Holiday Wild Rice Salad. This Harvest Salad features a curry fig vinaigrette, which would also pair very well!
from a farmgirl's dabbles
Recommended Products
As an Amazon Associate and member of other affiliate programs, I earn from qualifying purchases.
Nutrition Information:
Yield: 4
Serving Size: 1
Amount Per Serving:
Calories: 449
Total Fat: 22g
Saturated Fat: 7g
Trans Fat: 0g
Unsaturated Fat: 13g
Cholesterol: 105mg
Sodium: 509mg
Carbohydrates: 41g
Fiber: 19g
Sugar: 34g
Protein: 66g
Nutrition information is automatically calculated by Nutritionix. I am not a nutritionist and cannot guarantee accuracy. If your health depends on nutrition information, please calculate again with your own favorite calculator.
And here are a few more acorn squash recipes from my friends!
I'm sharing this turkey recipe in celebration of Thanksgiving, in partnership with our local Minnesota Turkey Growers Association. Remember when I joined them for some Thanksgiving fun, when they sent Minnesota-grown turkeys to the White House?!
Did you know?
Minnesota ranks #1 nationally in turkey farming, with 450 turkey farm families raising approximately 42.5 million turkeys each year. Meet the Minnesota turkey farmers who may produce your Thanksgiving turkey. (These videos were part of a celebratory campaign to celebrate MTGA's 80th anniversary this year!)
About 95% of Americans eat turkey at Thanksgiving. So November is an especially busy time of year for Minnesota turkey farmers.
The average weight of turkeys purchased for Thanksgiving is 15 pounds – that means about 675 million pounds of turkey are consumed in America on Thanksgiving!
Serving turkey? Here's how to ensure it's cooked properly!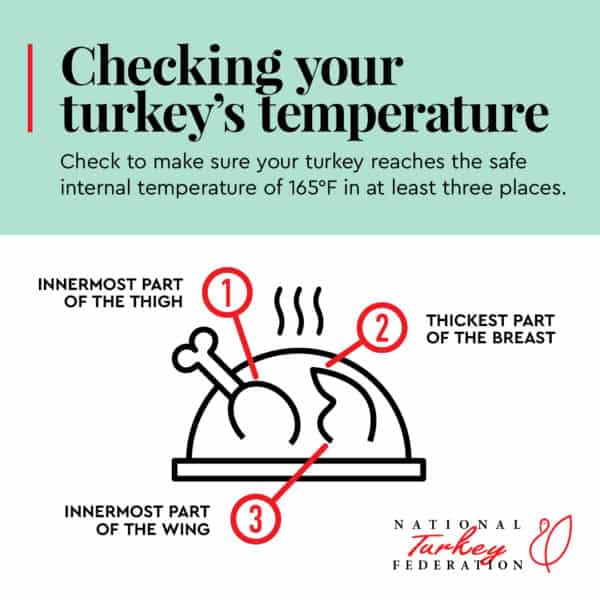 Follow the Minnesota Turkey Growers Association on Facebook, Twitter, Pinterest, Instagram and YouTube for recipes, Thanksgiving tips, and farmer stories.
This post was originally published in 2019 and then republished in 2021. This post is sponsored by our local Minnesota Turkey. All opinions are my own. Thank you for supporting the brands that help make this site possible.