Smoked Turkey Pot Pie Soup
Smoked Turkey Pot Pie Soup is full of rich flavors and creamy comfort, and served with ultra-tender cream biscuits for dipping!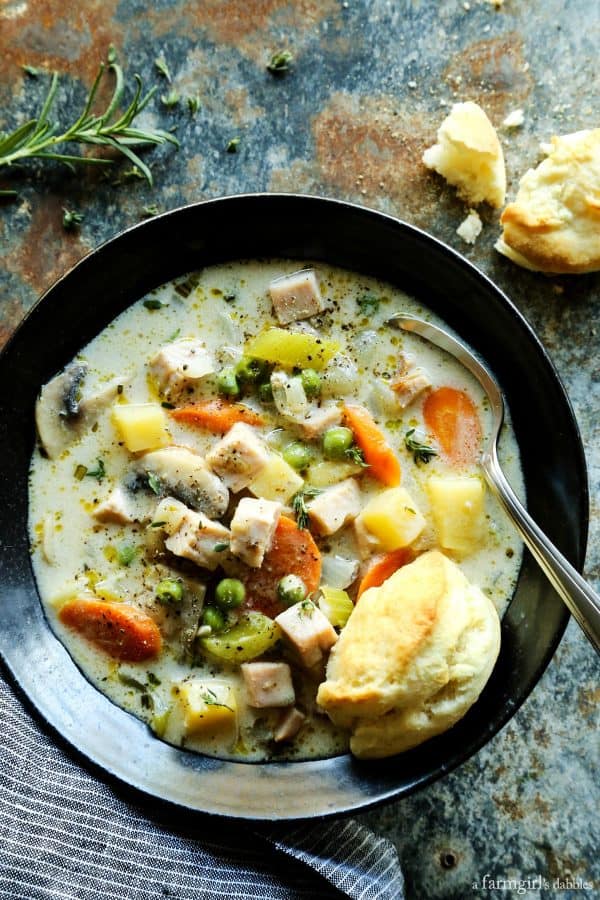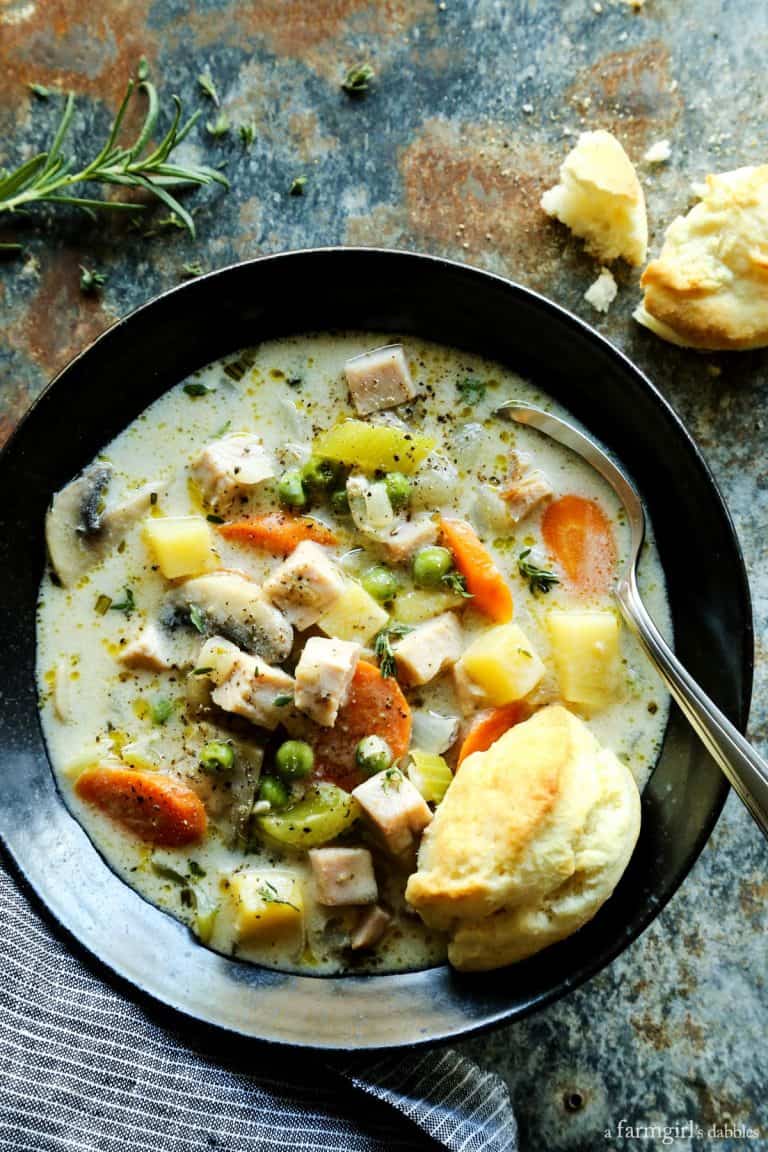 The weather this past week here in Minnesota. Everyone you talk to, it's a topic of conversation. With temperatures in the upper 80's and into the 90's for more than a week straight, at the end of September, it's just plain odd. Our oldest daughter was even invited to a pool party last Friday evening, a celebration to close out the school week.
Remember, this is Minnesota we're talking about, where pools are shut down with Labor Day's final summer hurrah.
Please don't interpret this as complaining, though. Oh, no. This extension of summer's warmth feels like a gift to me. I happily accept.
But we all know this summer-like weather will soon be but a memory. And our menu plans will quickly change over from everything on the grill to comfort food on the stovetop and in the oven. For our family, that always means soup. A big pot of steaming, hearty, comfort-your-cold-Minnesota-bones soup. Smoked Turkey Pot Pie Soup to the comfort food rescue.
* This is a sponsored post, created in partnership with Ferndale Market.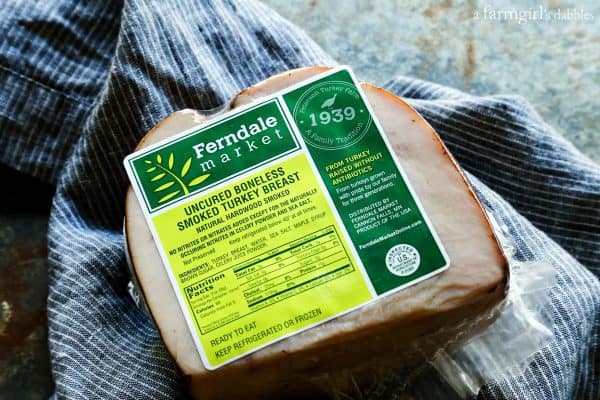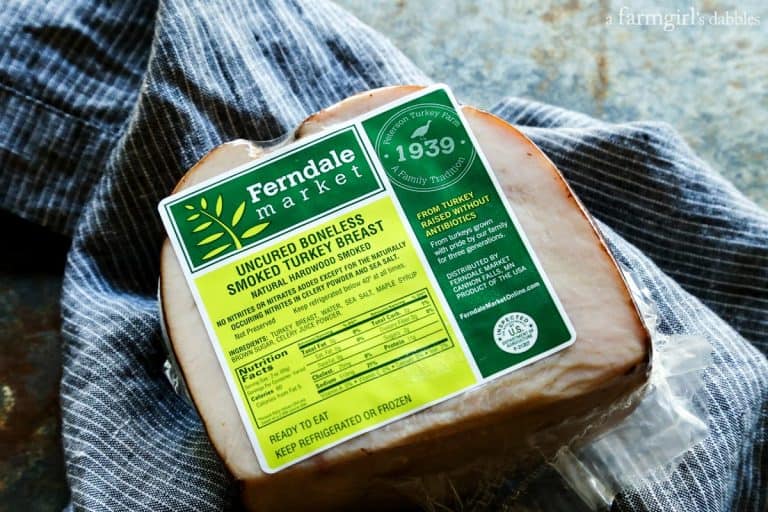 The preparation of the smoked turkey for this soup recipe could not be any easier than this. I simply purchase a smoked turkey breast from our local Kowalski's (also available at other local markets and co-ops, just use this store locator) and cut it into cubes. No smoker and hours of preparation required.
Our family has quickly embraced this smoked turkey. It is fully cooked, tender, and has the most beautiful flavor. We tuck this turkey meat into a variety of sandwiches and salads – that often make their way to our girls' school lunch bags. Also, I have to share how much we like the Ferndale Market ground turkey. You'll find it on our table weekly.
If you don't already know about the goodness that comes out of Minnesota's Ferndale Market, I would like to introduce you.
Meet the Peterson family from the Little Cannon River Valley.
Dale Peterson founded his turkey farm in 1939, and shortly thereafter married Fern. Ferndale Market is proud that all of their turkey products bear the names of their founders and first generation.
Now in their third generation, Ferndale Market remains an independent family farm. This legacy is a source of tremendous pride for the Petersons, and we were honored to meet their family and learn about their farm and its practices on a recent visit.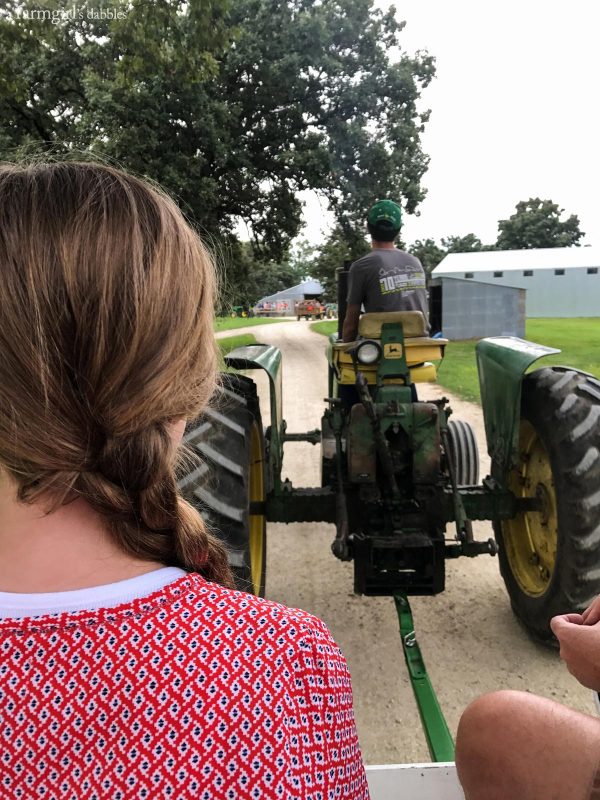 Any chance to visit a farm and learn something new, I'm in. You know that.
And touring Ferndale Market, via tractor-pulling-a-hay-wagon, to sit amongst their happy, chatty turkeys in the open pasture, was a great Minnesota experience. Because, did you know…
Minnesota is the #1 turkey producing and processing state in the U.S.
450 Minnesota family farmers – many of whom are 3rd, 4th and even 5th generation turkey farmers – raise approximately 44 million to 46 million turkeys annually (!!!)
Ferndale Market's practices haven't changed much in the 80 years they've been farming. Their turkeys are free-range from early spring to late fall, and moved to fresh pasture weekly during the summer months. They are 100% antibiotic-free and are processed naturally without additives at a USDA facility, without artificial ingredients or nitrates.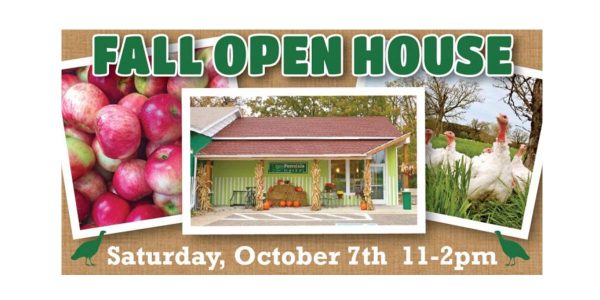 In 2008, Ferndale Market opened their on-farm market as a way to support other local farmers and food producers, and connect shoppers to their food. They are proud to partner with over 75 local vendors and carry everything from pastured meats to artisan cheese and chocolate – and, of course, you'll also find Ferndale Market turkey products!
FALL OPEN HOUSE
Ferndale Market invites you to celebrate their store's 9th anniversary on October 7th!
They will be commemorating this occasion with samples from local food vendors, live music, and complimentary Ferndale Market turkey hot dogs from 11 a.m. to 1 p.m. More information is available on their website event page and Facebook event page.
If you attend this event, mention A Farmgirl's Dabbles at the register for a FREE Smoked Turkey Breast!
Fall is a beautiful time to get out and explore Minnesota. I recommend making a daytrip of it – with a visit to Ferndale Market – and then to check out other Cannon Falls activities, including the Sogn Valley Craft Fair, just 10 minutes down the road from Ferndale Market. The Cannon River Winery and Cannon Valley Bike Trail are also fun stops.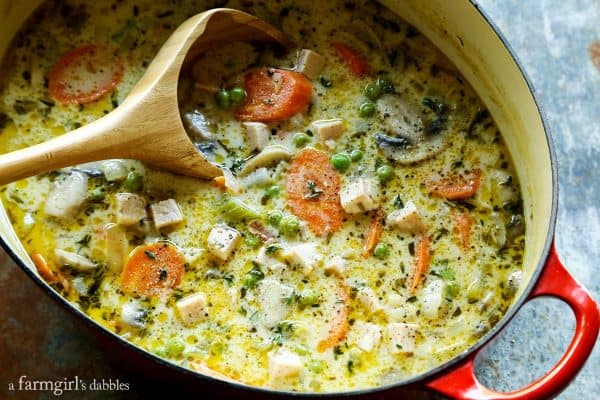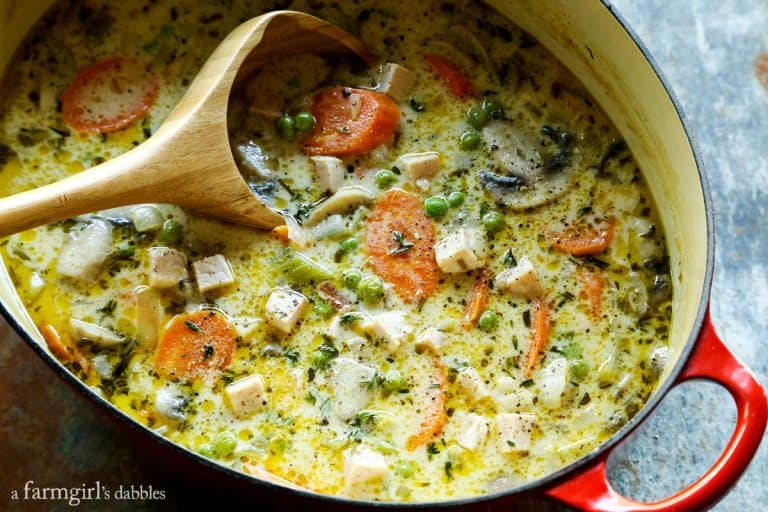 And then, when you have that delicious Ferndale Market Smoked Turkey Breast in your hands, treat yourself to a big pot of my smoked turkey pot pie soup!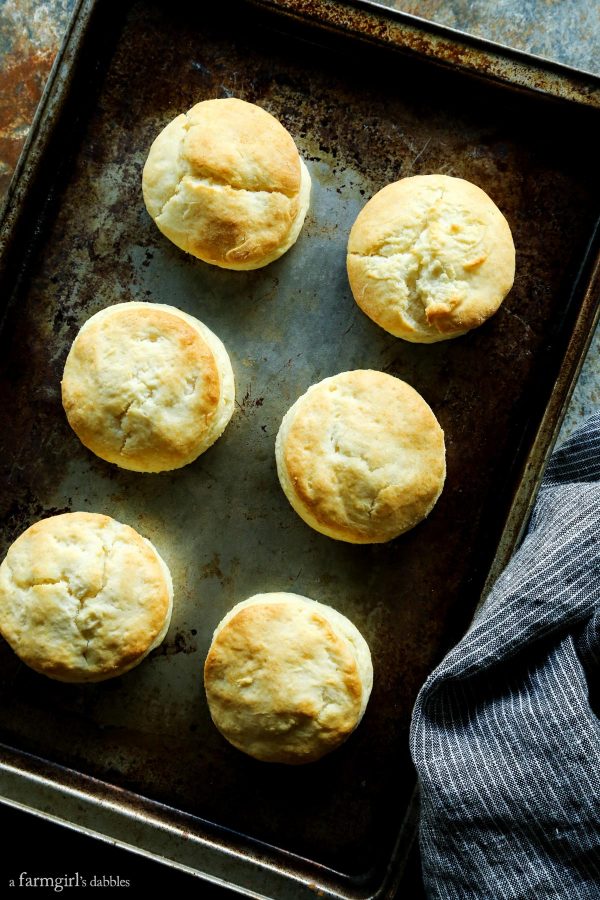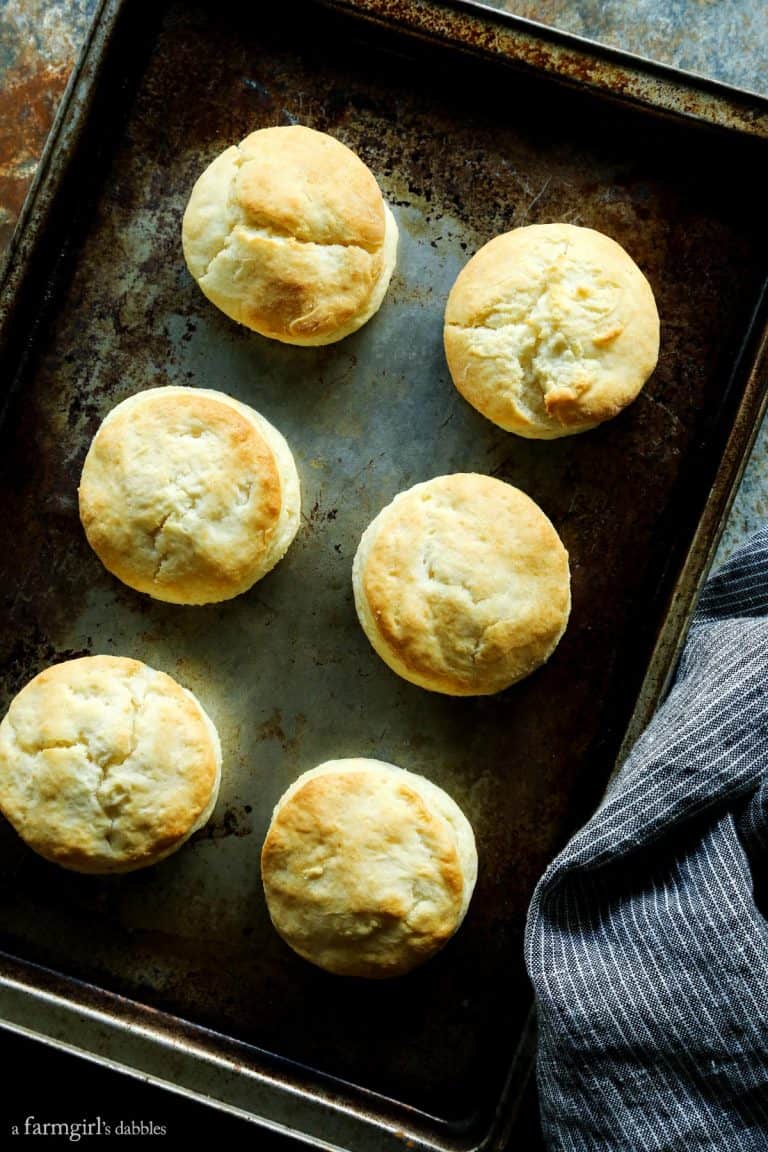 Because this riff on turkey pot pie is a recipe for soup, there's obviously no pastry crust to wrap it all up in. But I couldn't leave out the concept of that buttery, flaky crust.
What to do?
Biscuits!
These ultra-tender cream biscuits are the perfect solution, just the thing for dipping into that creamy soup. The biscuits have been a longtime family favorite around here – I know you'll love them!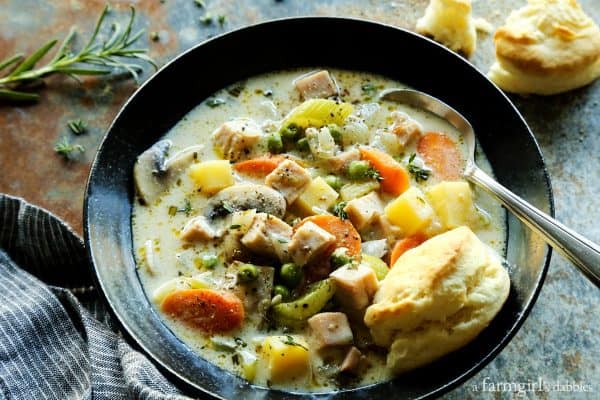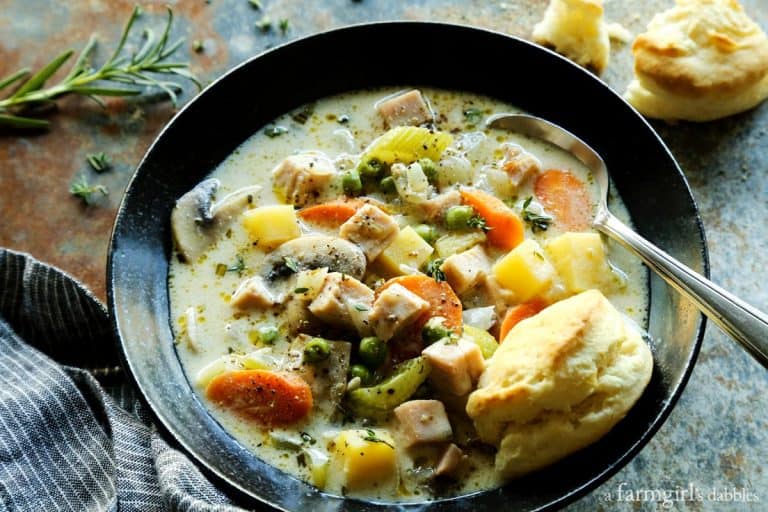 My husband is a soup enthusiast through and through, welcoming a bowl of steaming hot soup in spring, summer, winter, or fall. And I'm becoming more and more that way, too. But we are coming up on the height of soup season, when we're all looking for ways to soothe away the cold temps. Please promise me you'll put this smoked turkey pot pie soup on your menu during the fall and winter months. Full of rich flavors and creamy comfort, I just know this recipe will quickly become a favorite.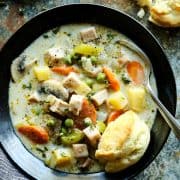 Smoked Turkey Pot Pie Soup
Ingredients:
for the smoked turkey pot pie soup:
1/2 c. unsalted butter
1 medium onion, diced
4 stalks celery, sliced on the diagonal
4 carrots, peeled and then sliced on the diagonal
8 oz. button mushrooms, sliced
2 large cloves garlic, minced
1/2 c. all-purpose flour
8 c. turkey broth
2 c. half and half
1/2 tsp. salt
1/2 tsp. black pepper
1 bay leaf
2 tsp. chopped fresh thyme
2 tsp. chopped fresh rosemary
2 c. frozen peas
2 c. cubed (1/2″ size) peeled gold potatoes
4 c. cubed (1/2″ size) Ferndale Market Uncured Boneless Smoked Turkey Breast
2 tsp. fresh lemon juice
for the cream biscuits:
Directions:
In a large stock pot or Dutch oven, melt butter over medium to medium high heat. Add the onion, celery, carrots, mushrooms, and garlic. Stir well and sauté until onion is transparent and softened. Blend in flour, cooking until it bubbles a bit. Gradually add the broth, stirring constantly. Turn up the heat a bit and bring the soup to a low boil. Boil for 1 minute. Reduce heat slightly and add half and half, salt, black pepper, bay leaf, thyme, rosemary, peas, potatoes, and smoked turkey. Simmer for 35 to 40 minutes, or until potatoes are tender to your liking and the soup is thoroughly warmed. Stir in lemon juice. Taste test to see if soup needs more salt and pepper. Serve with warm biscuits.
from a farmgirl's dabbles
©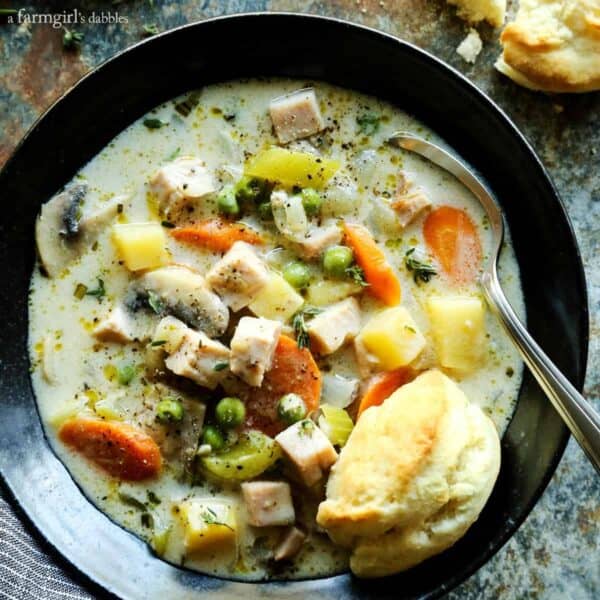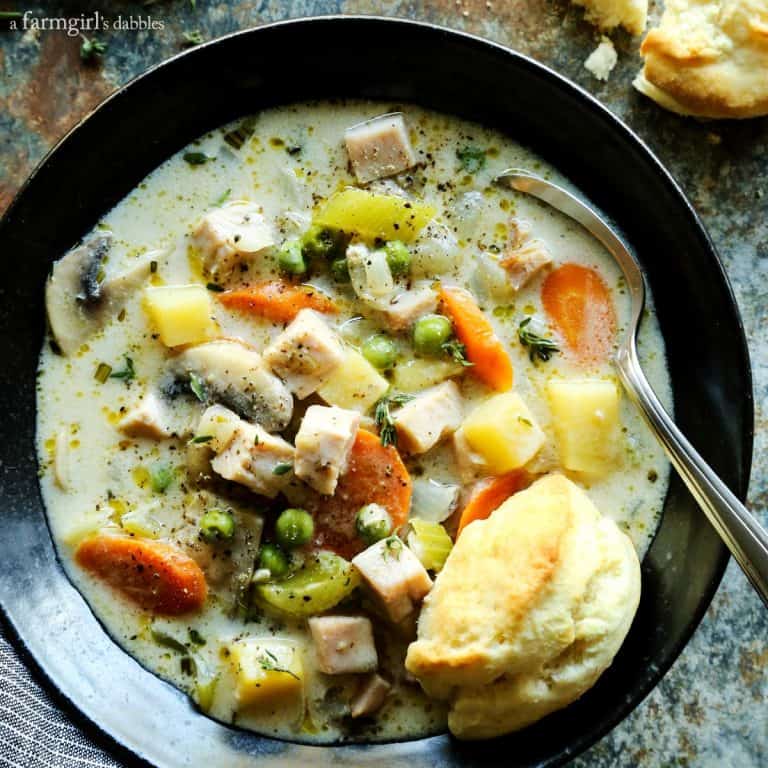 .


You can find more on Ferndale Market on their website, plus on social on Facebook and Instagram.
This post is sponsored by Ferndale Market, a local Minnesota independent family farm. All opinions are 100% my own, as always. Thank you for supporting the brands that help make this site possible.
Recommended for this post:
We participate in the Amazon Services LLC Associates Program, an affiliate advertising program designed to provide a means for us to earn fees by linking to Amazon.com and affiliated sites. See our disclosure policy for more info.