Biscuits with Sausage and Mushroom Gravy
Ultra-tender cream biscuits are the base for this Biscuits with Sausage and Mushroom Gravy meal.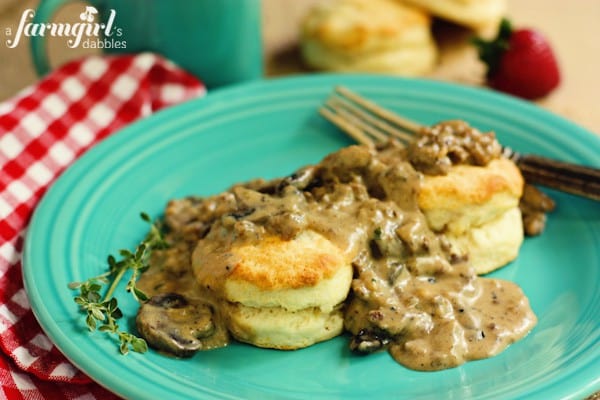 My husband is a breakfast man. It's his favorite meal, whether it's soft eggs and bacon, cajun eggs benedict, waffles, or pancakes. But his favorite breakfast indulgence is, by far, Biscuits with Sausage and Mushroom Gravy.
He hesitates to order it at restaurants, however, as he's been left disappointed far too many times. Instead, he waits for me to make it every now and then at home. Yes, this recipe is THAT GOOD.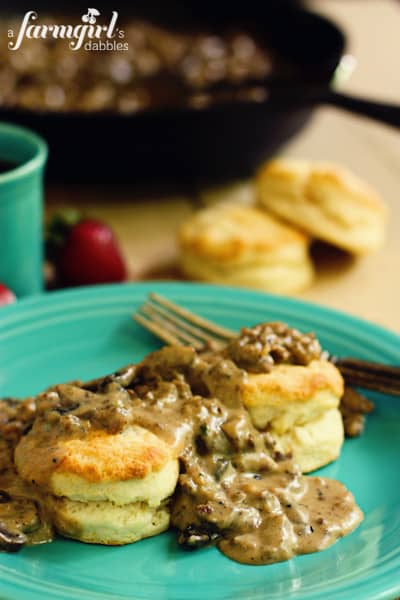 When I say "every now and then"…well, that actually means about twice a year, as I've never had a from scratch recipe that I've been proud of. Long ago, a friend served me biscuits and gravy using canned biscuits and a gravy made from a can of cream of mushroom soup. I can't deny that, with some tweaking of the soup, it's very good, and Blake loves it. But creating my own recipe for biscuits and gravy has been on my list for a number of years, and after baking biscuits at the Southern Baking Retreat in Nashville (read past the recipe for a trip recap!) a couple weeks ago, I knew it was time!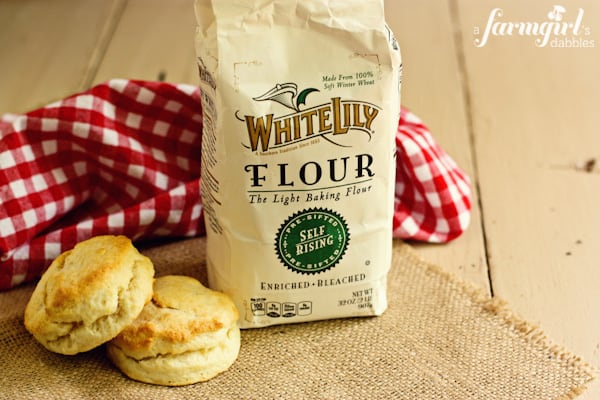 That baking retreat introduced me to White Lily flour and the most awesome biscuits I've ever bitten into! And lucky ducky me…I got to bring some home with me so I could bake more of those same biscuits for my family.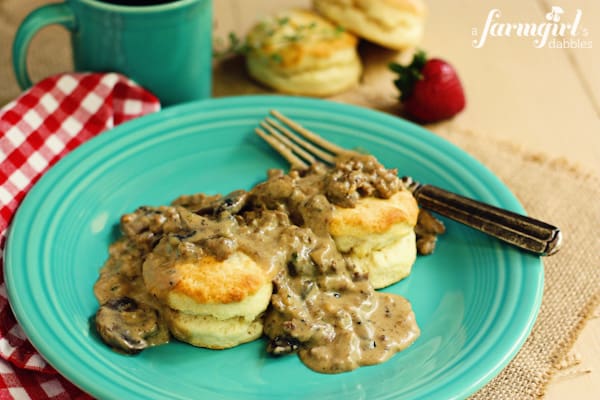 These Biscuits with Sausage and Mushroom Gravy are all that I had hoped to sit down to at our home breakfast table. The biscuits are soft and tender and fluffy, oh so yummy. And the gravy is super flavorful, with plentiful nuggets of pork sausage and fresh mushrooms throughout. A sprinkling of fresh thyme makes it extra special.
Lookin' for a fabulous weekend breakfast plate? You can stop searching right now. This is it!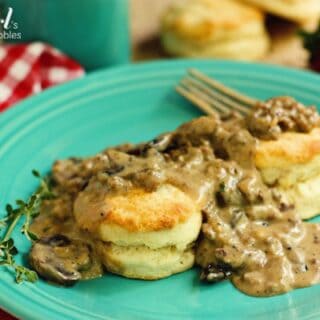 Cream Biscuits with Sausage & Mushroom Gravy
Yield: 4 servings
Prep Time: 20 minutes
Cook Time: 40 minutes
Total Time: 1 hour
Ultra-tender cream biscuits are the base for this Biscuits with Sausage and Mushroom Gravy meal.
Ingredients
for the cream biscuits:
1¾ cups White Lily Enriched Bleached Self-Rising Flour
1 cup heavy cream
2 tablespoons salted butter, melted
for the sausage & mushroom gravy:
1 pound mild or hot pork sausage
½ cup small diced yellow onion
8 ounces sliced fresh mushrooms
1 large garlic clove, minced
3 tablespoons salted butter
¼ cup all-purpose flour
2 tablespoons soy sauce
1 teaspoon Frank's RedHot Sauce
½ teaspoon Worcestershire sauce
2 cups whole milk
¼ cup sour cream
1 teaspoon chopped fresh thyme
freshly ground black pepper
Instructions
for the cream biscuits:
Preheat oven to 500° F.
Place flour in large bowl. With a large wooden spoon, gradually stir in cream to form a sticky dough. Turn dough onto lightly floured surface and fold twice gently to form a ball. Do not knead. Gently pat dough to a generous ½'' thickness. Cut with floured 2½'' biscuit cutter, leaving as little dough between cuts as possible. Gather remaining dough and pat again to a generous ½" thickness. You should get 8 biscuits with a 2½'' biscuit cutter. Discard scraps.
Place biscuits on baking sheet, about 2'' apart. Generously brush tops with melted butter. Bake 8 to 10 minutes, or until tops are golden brown. Serve hot and fresh!
for the sausage & mushroom gravy:
In a large cast iron skillet or a skillet with tall sides, brown sausage over medium to medium-high heat, breaking up the sausage until it's in small bite-size pieces. When sausage is about half-way browned, stir in the onions, mushrooms, and garlic. Cook until the onions are transparent and the mushrooms are nicely softened, about 6 to 10 minutes more.
Now slide everything in the skillet to one side. Add butter to other side of skillet. When the butter is melted, sprinkle the flour over the butter, whisking all the while (a flat whisk works awesome here). Draw in as much butter and sausage fat as you can, into the flour. Cook for 4 to 5 minutes, until the mixture is bubbling and slightly browned.
Stir in soy sauce, Frank's RedHot Sauce, and Worcestershire sauce. Cook for 1 minute. Then slowly add the milk while you constantly whisk and scrape the bottom of the pan. Once this mixture is smoothed out, bring the sausage and mushroom mixture into the milk mixture. Stir to incorporate. Cook until thickened, about 15 minutes. Then stir in sour cream and thyme, and season with plenty of freshly ground black pepper.
Serve over hot cream biscuits.
Notes
Biscuits adapted from White Lily Cream Biscuits recipe. Sausage and Mushroom Gravy from a farmgirl's dabbles.
Nutrition Information:
Yield: 4
Serving Size: 1
Amount Per Serving:
Calories: 976
Total Fat: 74g
Saturated Fat: 37g
Trans Fat: 2g
Unsaturated Fat: 32g
Cholesterol: 224mg
Sodium: 1962mg
Carbohydrates: 46g
Fiber: 3g
Sugar: 13g
Protein: 33g
Nutrition information is automatically calculated by Nutritionix. I am not a nutritionist and cannot guarantee accuracy. If your health depends on nutrition information, please calculate again with your own favorite calculator.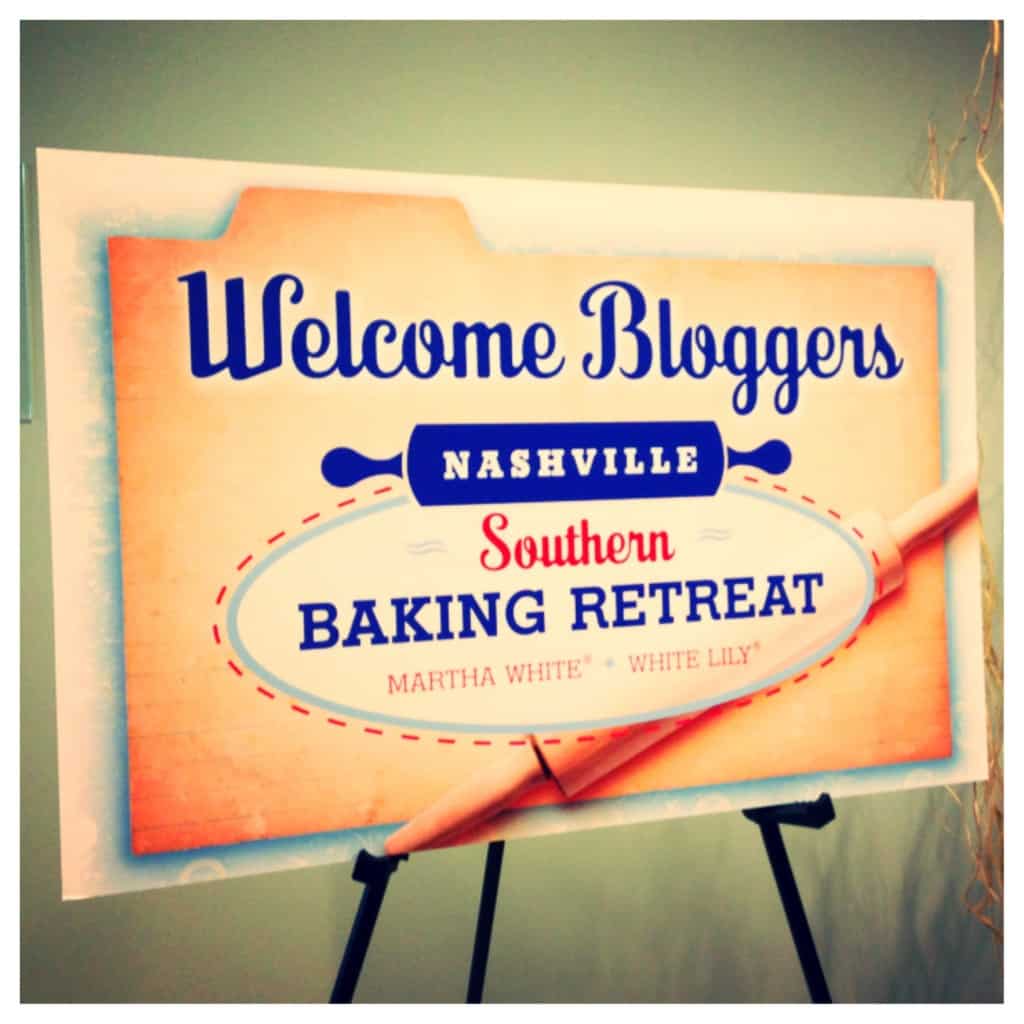 I was recently invited to Nashville to spend a couple days at the Southern Baking Retreat. This inaugural event was hosted by Martha White and White Lily, two brands deeply rooted in Southern history, and both of which are owned by the J.M. Smucker Company.
Here's a fun little video from the retreat that sums up our time together so well…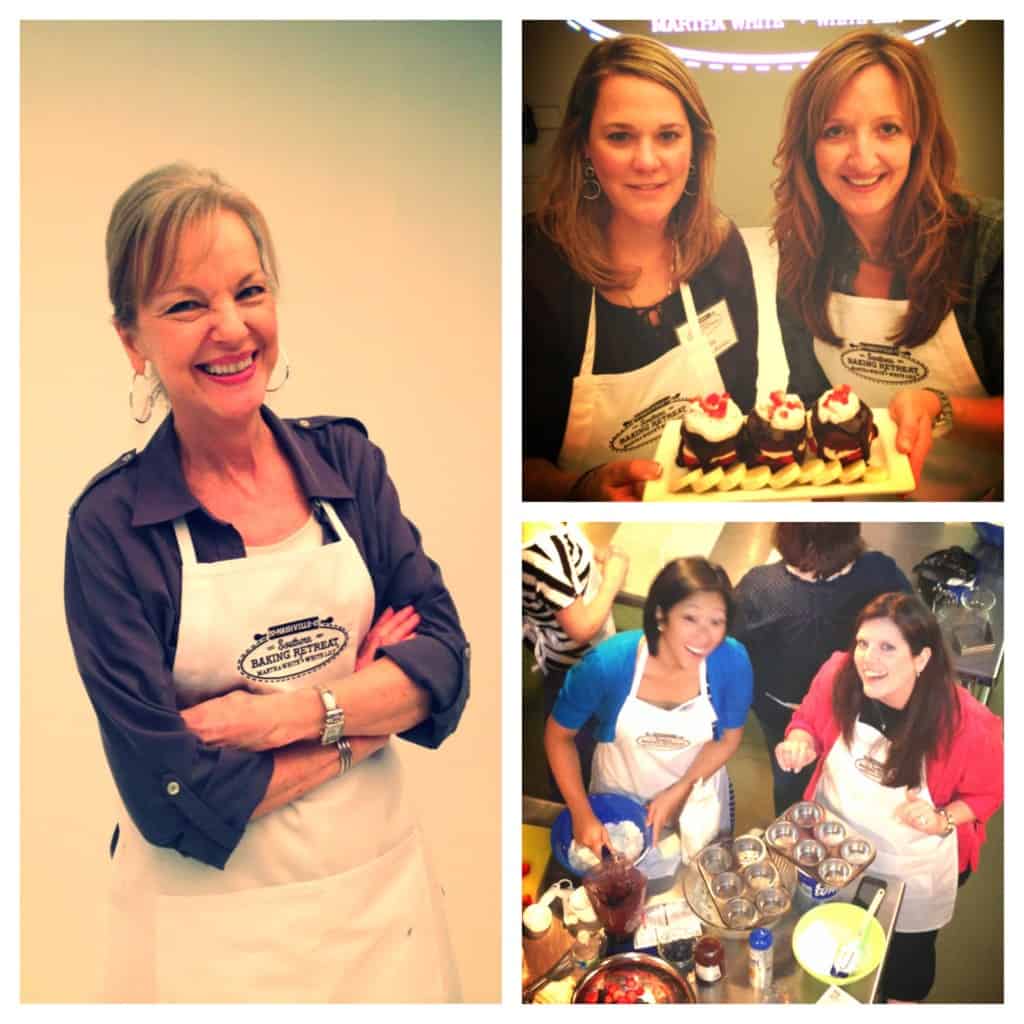 This trip to the Southern Baking Retreat was so much fun for me. Coming from the Midwest, my food traditions revolve around recipes for bars and hotdish and such. So being able to learn about and sit down to famous dishes from the South…well, it was a real treat!
Our first day was spent learning about the Martha White Company, which produces flour, corn meal, grits, and baking mixes. Sitting there in Nashville, in the land of country music, it was fun to learn that Martha White sponsored its first Grand Ole Opry show in 1948, and and has been a part of the world's longest-running radio show every week since.
While we sat down to a super tasty meal of winning recipes from the Cornbread Festival (check out the recipe for "Roasted Poblano Chicken Posole with Floating Corn Cake Islands"…so wonderful!), we were introduced to the very lovely Linda Carman (photo: left), who has been heading up the Martha White Test Kitchen for 20 years (wow!).
We were then teamed up and challenged to create an original recipe using the Martha White baking mixes. My partner was Tina from Mommy's Kitchen (photo: top right). And there's Julie from Table for Two and Robyn from Add a Pinch! (photo: bottom right)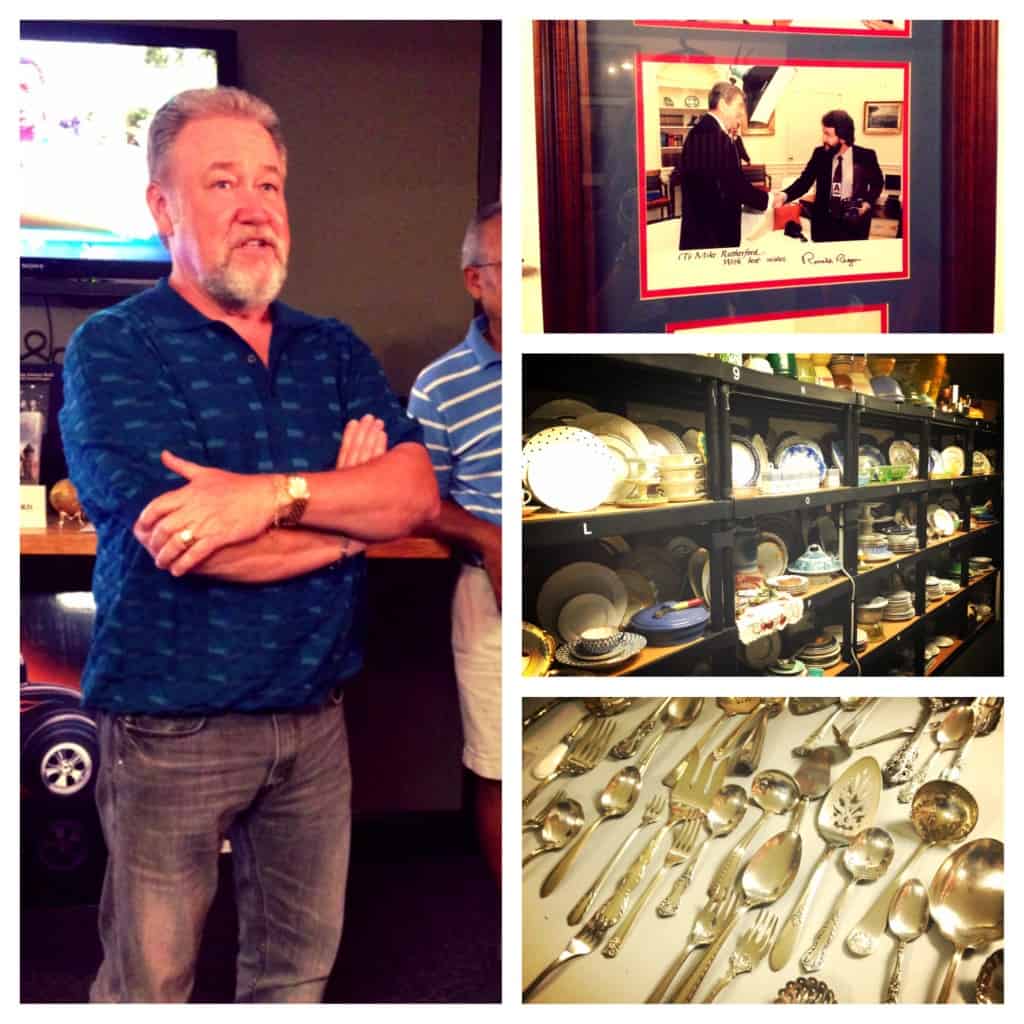 We baked in the studio kitchen of Rutherford Photography. Mike Rutherford (photo: left) is one incredibly interesting man, with a grand collection of images that whisper of stories I only wish I could hear. From the Oval Office with President Ronald Reagan (photo: upper right), to cattle drives in Montana, he's a master of light. His photographs range from sleek to dusty, energized to haunting. And, of course, there's also delicious. Because he is one heckuva food photographer. If only my prop room looked like his! (photos: middle right, bottom right)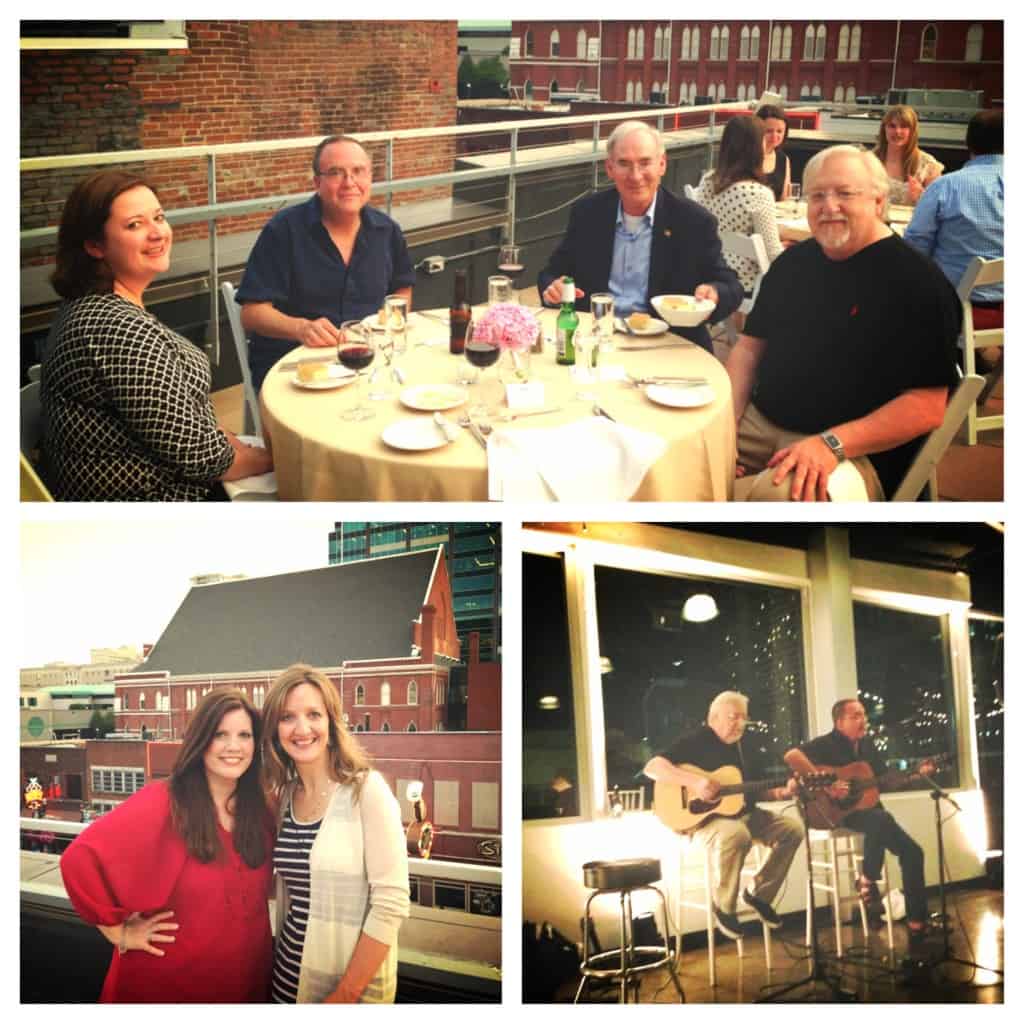 That evening we dined on the roof top, with a fabulous view of downtown Nashville. It was so wonderful to finally meet Robyn from Add a Pinch (photo: lower left…and that's the Ryman Auditorium in the background). She's such a sweetie, and I love following her Southern life.
My table companions for dinner were (photo: top), from left to right, the very lovely Jennifer from Bake or Break, Tony Arata, John Van Mol, and Pat Alger. John is the Chairman of the Board at DVL. And both Tony and Pat are award winning country music songwriters who actually performed a number of their songs for us later in the evening (photo: lower right), along with bluegrass musician and singer Rhonda Vincent (what a little dynamo, she is!).
I had always thought it was something special to listen to country music artists live in concert. But let me tell you, it was even more special to hear the songs you've grown up with, being sung from the original songwriters. Tony and Pat have written songs for the likes of Garth Brooks, Don Williams, Dolly Parton, Hal Ketchum, Bonnie Raitt, Trisha Yearwood, Emmylou Harris…the list goes on and on. I've been to a number of live concert performances in my life. But none as special as this.
Here are just a few of the songs that Tony and Pat performed for us that evening, songs that they wrote…
"The Dance", "The Thunder Rolls", and "Unanswered Prayers" for Garth Brooks
"Small Town Saturday Night" for Hal Ketchum
"True Love" for Don Williams
"Here I Am" for Patty Loveless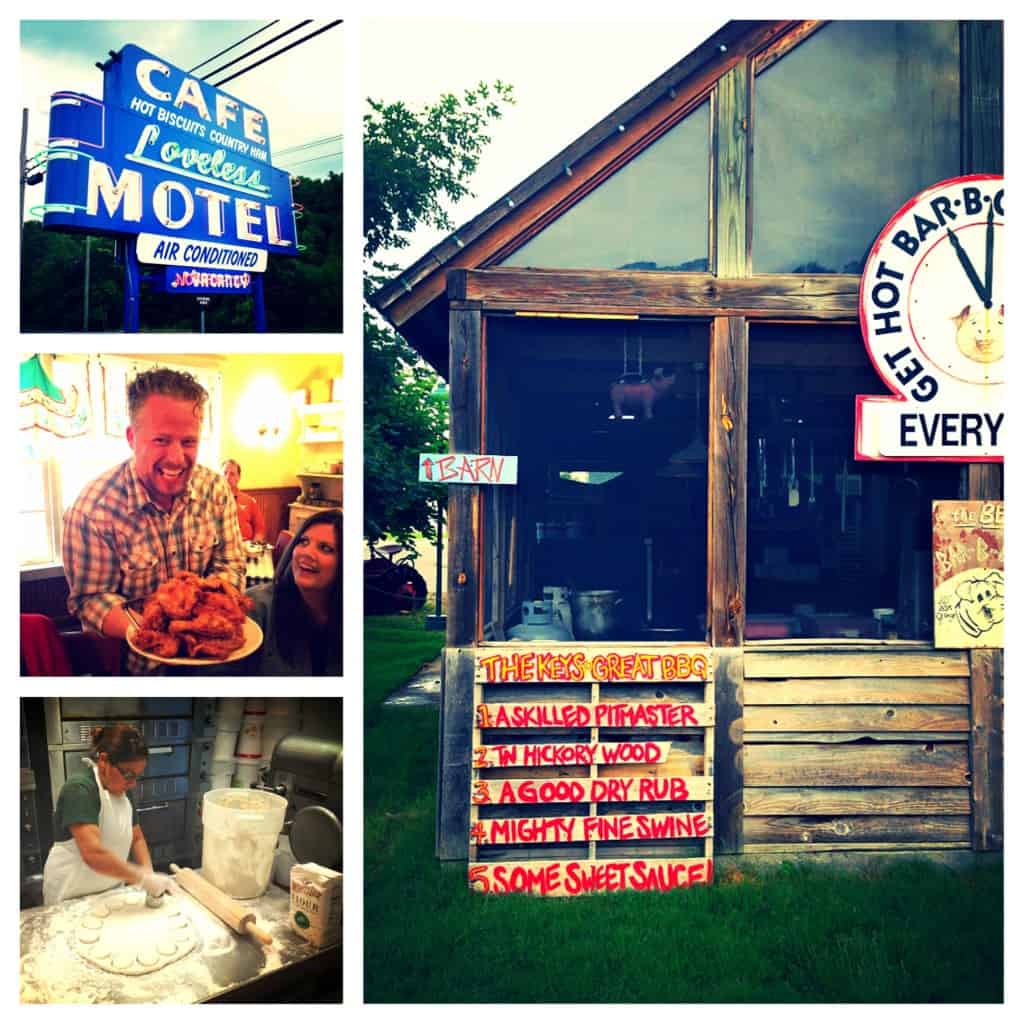 The next morning brought one of the most memorable breakfasts I've come by yet, at the famous Loveless Cafe. I had my first experience eating sorghum molasses and grits (both delicious!). And our group devoured tender flaky biscuits and the-best-fried-chicken-I've-ever-had. For breakfast! It was awesome!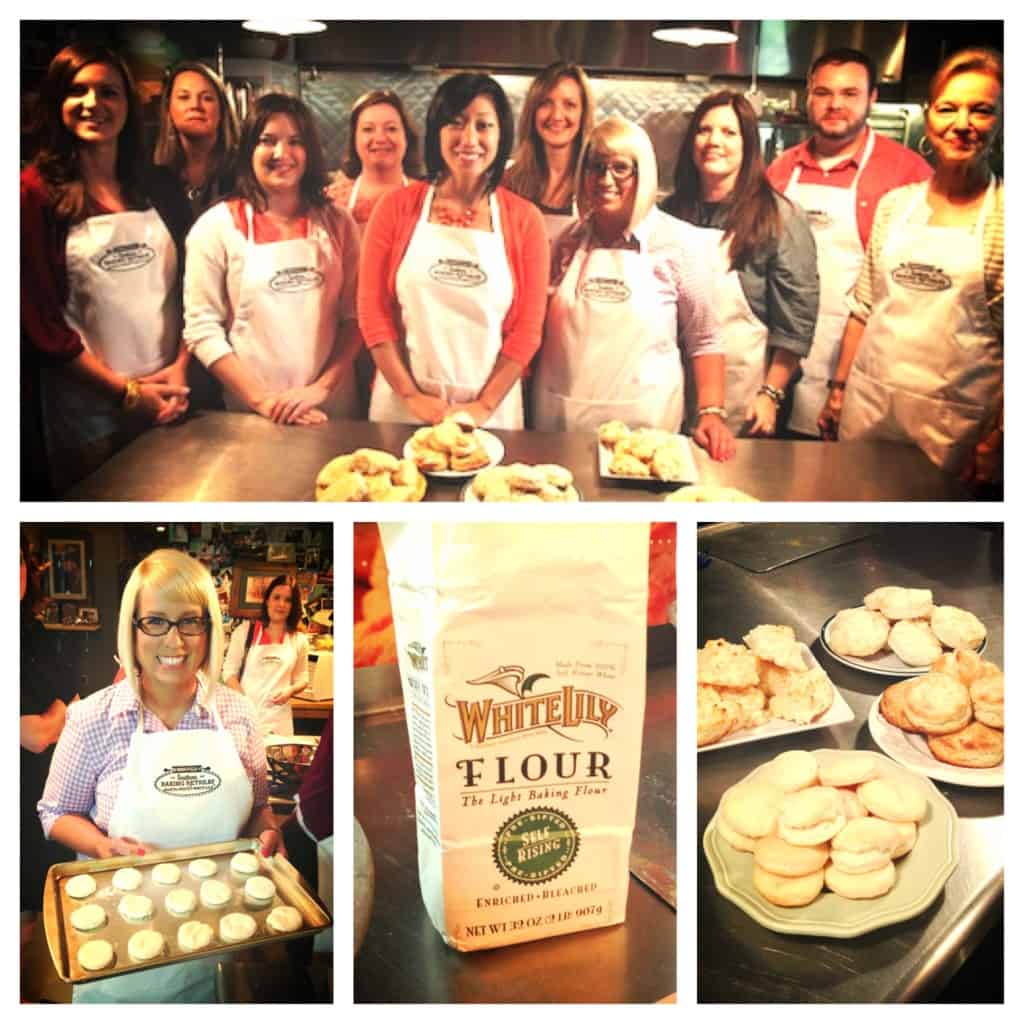 And when we could absolutely eat no more, we headed back to Rutherford Photography to hear from Robby Melvin, the Test Kitchen Director for Southern Living magazine. And we baked biscuits with White Lily flour. And then we proceeded to eat them. Even though we were still stuffed. Ohhhhh, they were heavenly.
I had no idea what a staple ingredient White Lily flour is to the Southern kitchen. It's made from soft red winter wheat, and yields an extremely tender biscuit with higher volume. I love their message about how important it is for everyone to not only learn about their food traditions, but also to teach others about them, and to share them!
Again, we divided into teams of two and put our aprons on. There's my lovely Southern baking partner, Brandie from The Country Cook (photo: lower left). Her smile and contagious laughter eased me through my biscuit lesson, as I quickly found out I had a lot to learn!
Each team baked a different White Lily biscuit recipe, and I was amazed at the difference in appearance, texture, and flavor of each one. My favorite biscuits overall were the White Lily Cream Biscuits, the recipe I used in my Biscuits with Sausage and Mushroom Gravy. They are so incredibly fluffy and tender, but with nice height and body. I'm in love! (Brandie also shared about these biscuits here.)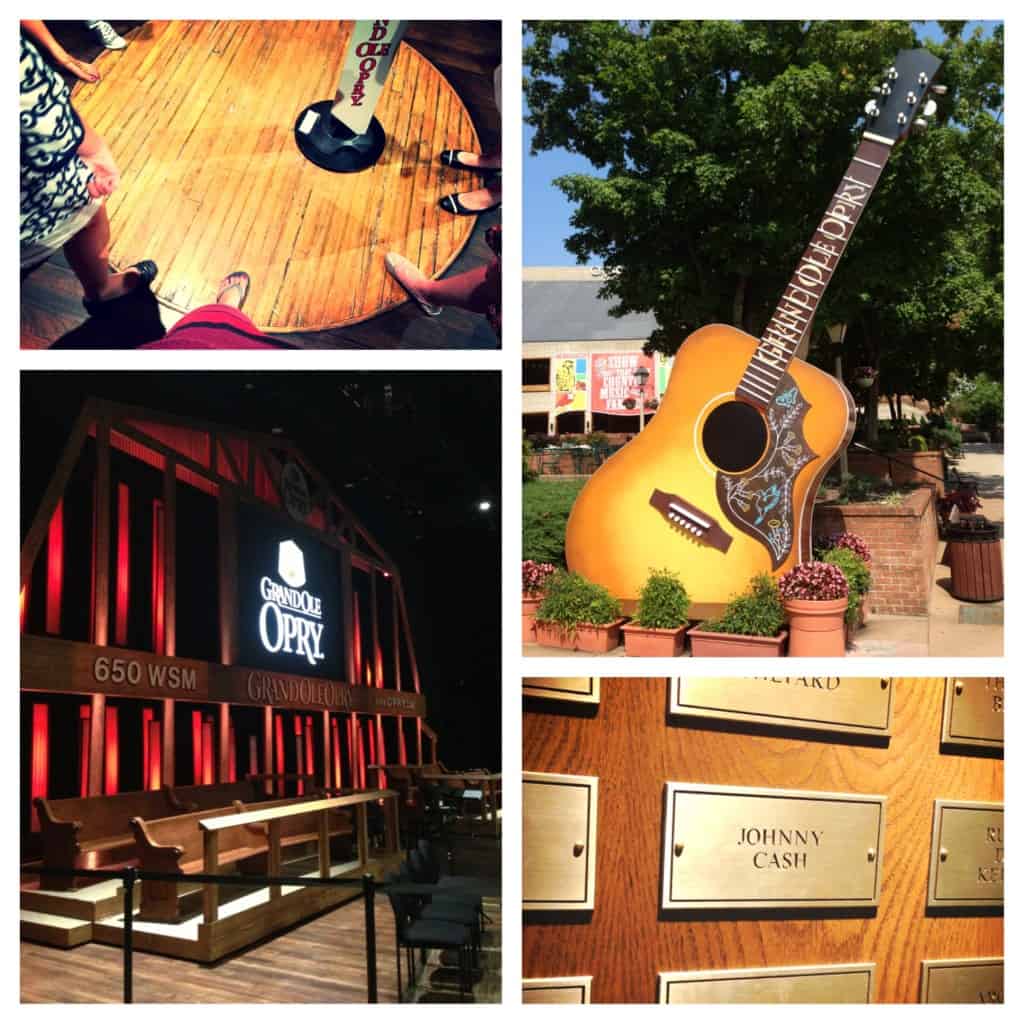 And the grand (pun intended) finale was a stop at the Grand Ole Opry, country's most famous stage. We actually stood on the stage and gathered around that famous six-foot circle of oak cut from the Ryman, where hundreds of top music artists have stood…and we sang. Yes, together we sang, "You Are My Sunshine". And I got kind of choked up. It's a song that my dad has always sung to me and my sisters, and he now sings to our kids. And just moments before starting the Grand Ole Opry tour, I received a text from Mom, saying she and Dad were seeking shelter in the crawl space of their home in South Dakota. Tornadoes were on the way. Needless to say, my mind was finding it hard to concentrate. Thankfully, they were just fine, except for a very messy yard to clean up from the high winds.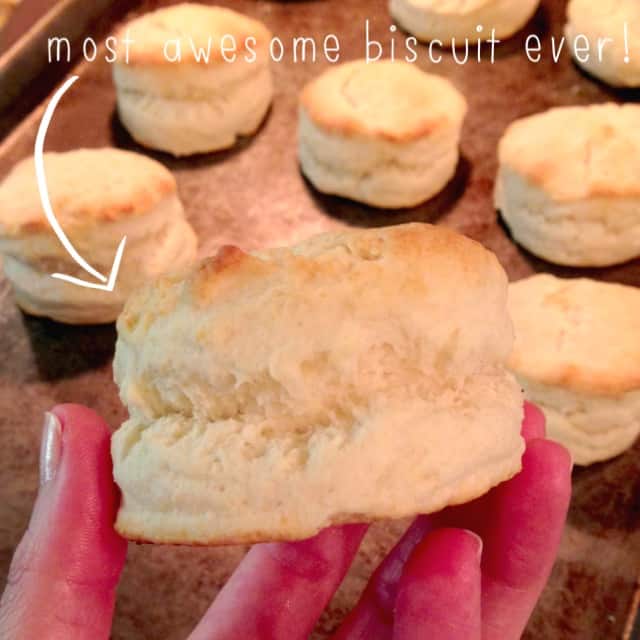 And now I leave you with my Instagram photo of the "most awesome biscuit ever!".
Isn't it lovely?! I was experimenting with White Lily flour this past weekend and made quite a few pans of fabulous biscuits. This one was my Chosen One.
And this happened because a farmgirl from the Midwest got to fly south to the Southern Baking Retreat.
Thank you so much to Martha White and White Lily for showing me your wonderful Southern Hospitality. And a special thank you to Tony Arata and Pat Alger for a magical evening of original country music.