Skillet Fried Potatoes with Bacon and Eggs
All my favorite breakfast-y things come together for a happy little reunion in this recipe for Skillet Fried Potatoes with Bacon and Eggs!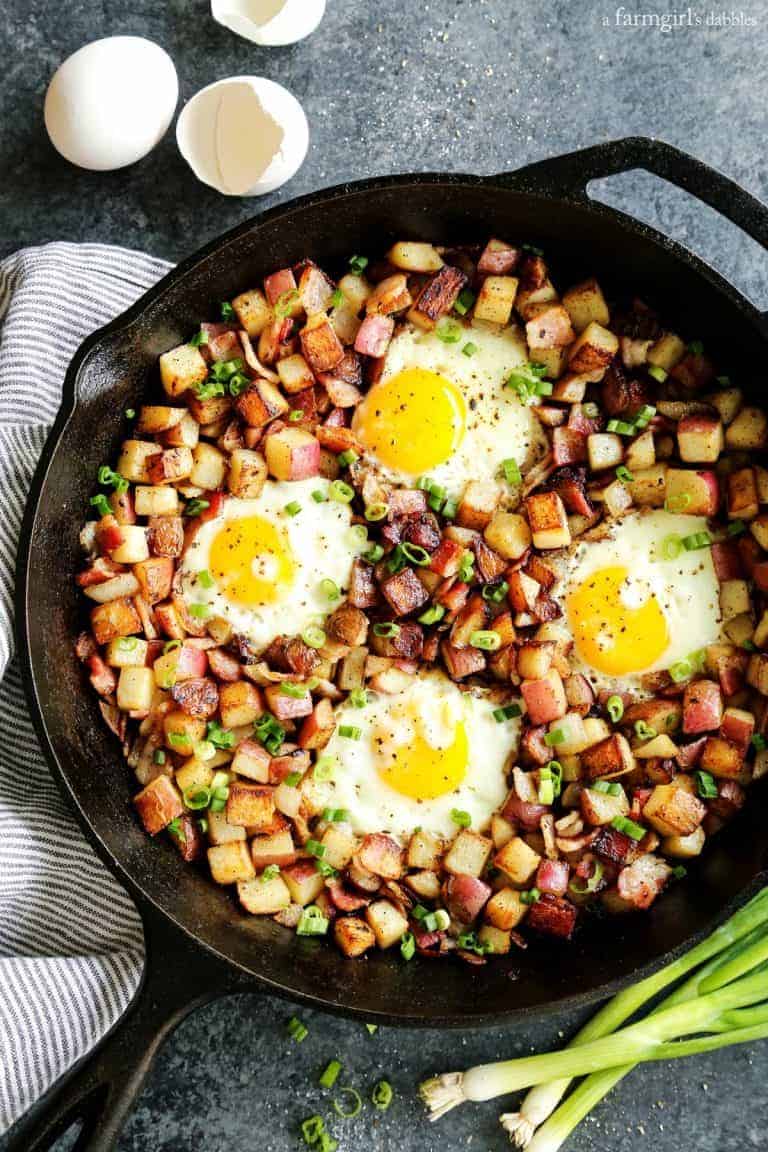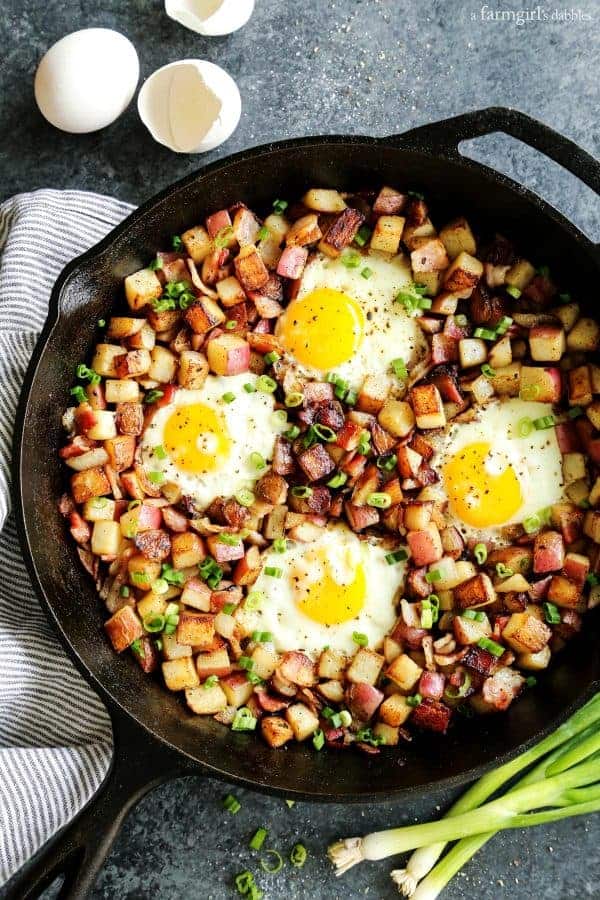 Growing up, my mom's seasoned fried potatoes were one of my favorite things. If I close my eyes right now, I can see Mom at the stove in our kitchen on the farm, that wonderful smell from the skillet wafting over to me.
I remember Mom spending alot of time in the kitchen, and in the yard and garden. These places were, and still are, her happy places. Where she creates beautiful things – whether it's fried potatoes, fresh rhubarb pie, homegrown beans, or lovingly grown flowers – and then gifts them to those she loves.
So when I make my own fried potatoes, I can't help but think of Mom. She always chunks her potatoes bigger than I did for this recipe of Skillet Fried Potatoes with Bacon and Eggs, but no matter. Good fried potatoes are always good fried potatoes.
* This is a sponsored post, created in partnership with the American Egg Board.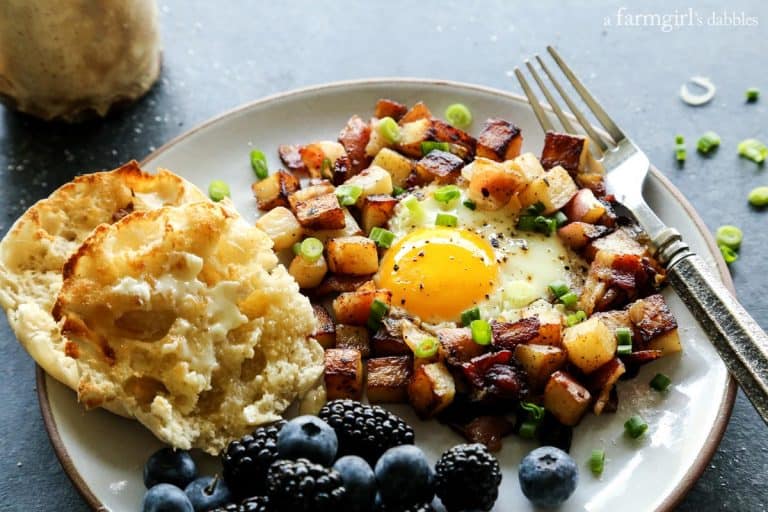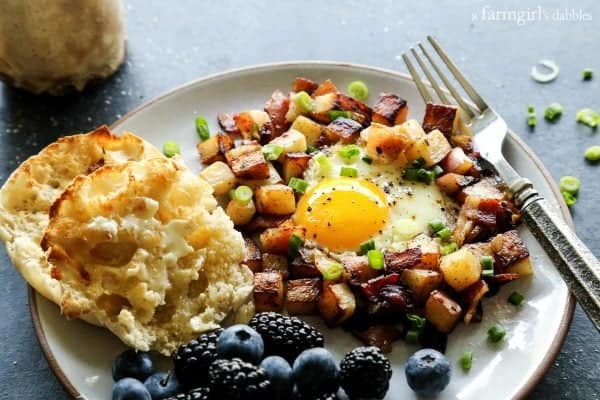 I believe in the high-quality protein goodness of eggs. You'll find me eating eggs for breakfast and/or lunch, at least a few times every single week. Scrambled, fried, baked, hard-boiled, deviled, poached, pickled, chopped in egg salad, served with a plate of fresh greens…I like ALL of the versatile possibilities. But especially with some fried potatoes!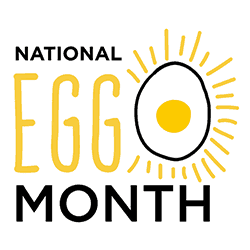 May is National Egg Month. I'm honored that the American Egg Board has asked me to share a few of the ways I enjoy eggs (stay tuned on Instagram as well!) and to let you know about a contest they're holding:
Simply share a photo or video of your own delicious egg creations on Twitter or Instagram using #EggChallenge and #contest and you could win a KitchenAid mixer, a year's supply of eggs, and a host of other great prizes! Find the full details here.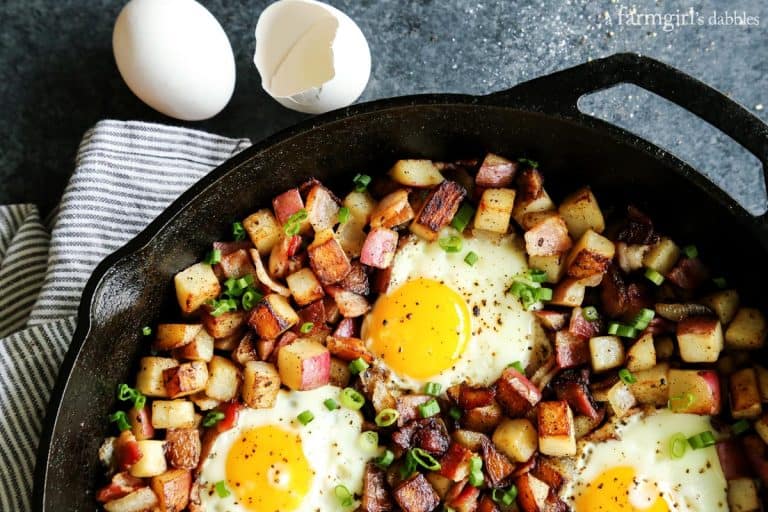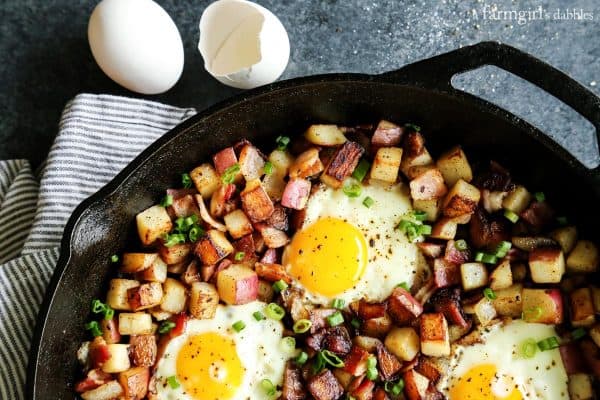 All my favorite breakfast-y things come together for a happy little reunion in this recipe for skillet fried potatoes with bacon and eggs. It's a delicious, comforting one-pan wonder.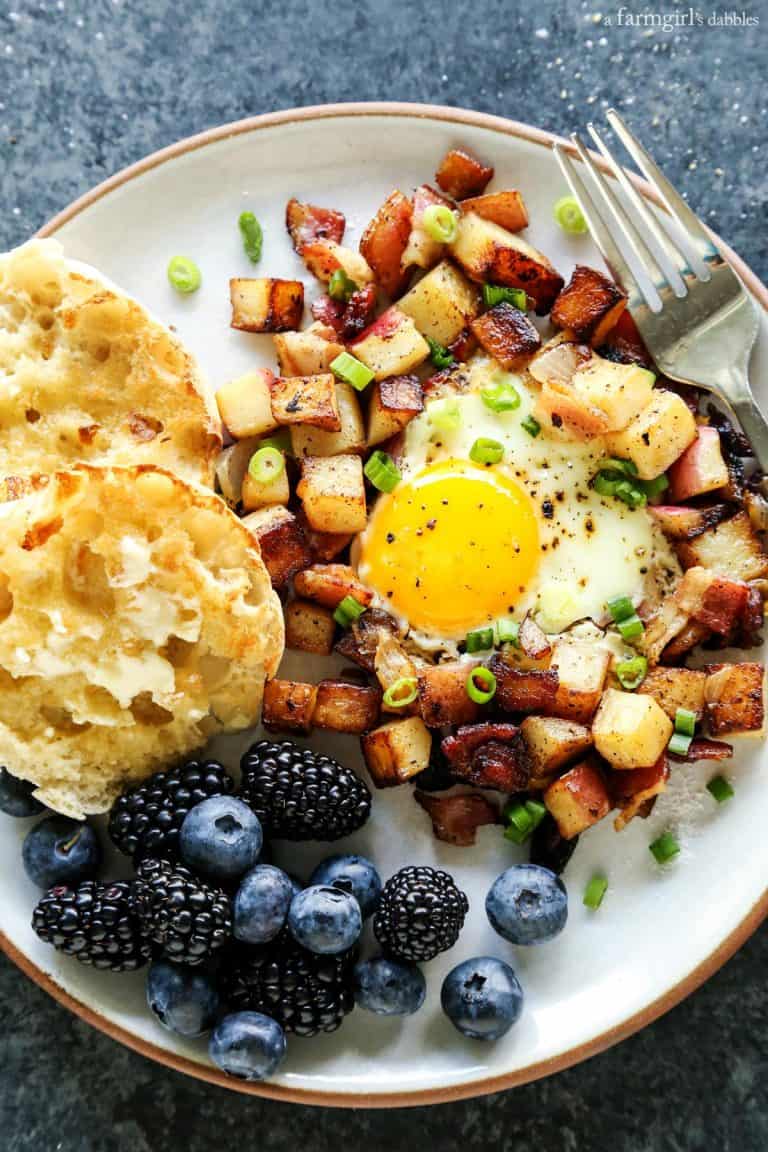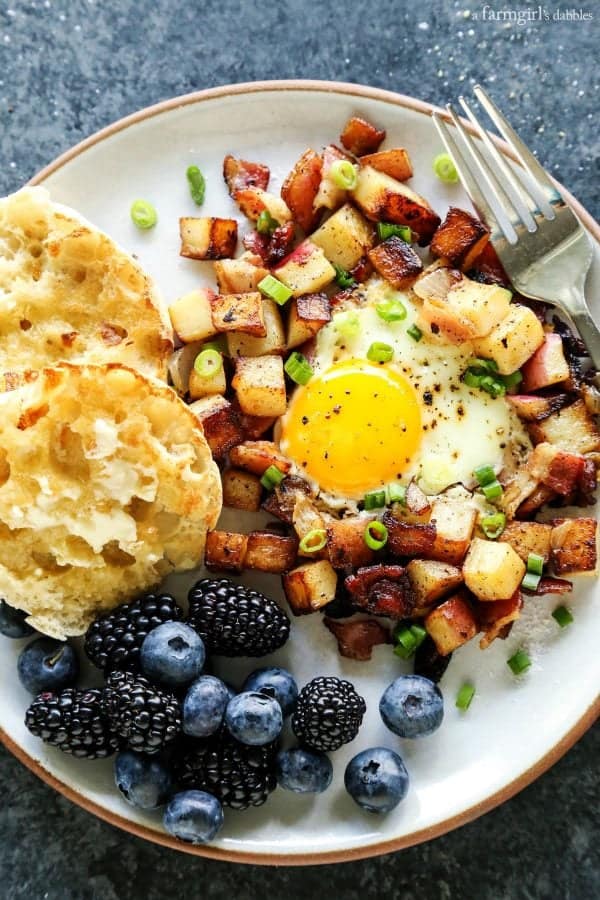 Grab a plate for yourself and enjoy!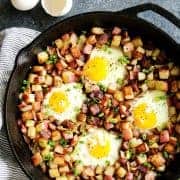 Skillet Fried Potatoes with Bacon and Eggs
Yield: 4 servings
Calories per serving: 557
Ingredients:
1-1/2 lbs. red potatoes (about 4 medium-large potatoes), washed and diced into 1/2″ pieces
1 T. + 2 tsp. vegetable oil, divided
1-1/2 tsp. seasoned salt (such as Lawry's)
1/2 tsp. kosher salt
1/4 tsp. black pepper
1 T. unsalted butter
1 c. diced onion
8 oz. bacon, trimmed mostly of its fat, diced into 1/2″ pieces
4 large eggs
2 green onions, thinly sliced
Directions:
Place diced potatoes in a large bowl and run cold water over them. Drain and then run cold water over them again. Let sit for 30 minutes to release more of the starches. Drain. Place potatoes in a a lint-free towel and dry extra thoroughly. Place potatoes in a dry bowl and add 2 teaspoons of the vegetable oil, seasoned salt, kosher salt, and black pepper. Fold to evenly coat.
Heat large cast iron skillet (mine is 12″ in diameter) over medium heat. Once skillet is heated, add remaining tablespoon vegetable oil and butter, spreading these across the skillet bottom. When vegetable oil and butter are hot, add seasoned potatoes, spreading them out into an even layer. Let potatoes sit, without stirring, until the bottoms get golden brown. Start peeking at potatoes after letting them sit for at least 10 minutes. This step will take awhile, up to 20 minutes. Then flip/stir the potatoes, add bacon and onion, and fold to incorporate. Resist stirring for awhile to let the potatoes get golden again. Once potatoes are soft in the centers and bacon is cooked to a chewy texture, tilt skillet and remove any excessive fat. Leave 1 to 2 tablespoons of pooled fat, as this will help the eggs cook. With a wooden spoon, make four wells in the potatoes mixture. Crack an egg into each well. Fry until whites are set and eggs are cooked to your liking. Covering the pan will help cook the eggs faster, but you may lose some crispness in the potatoes. Remove from heat, sprinkle with additional salt and pepper if desired, plus green onion slices. Serve immediately.
from a farmgirl's dabbles
©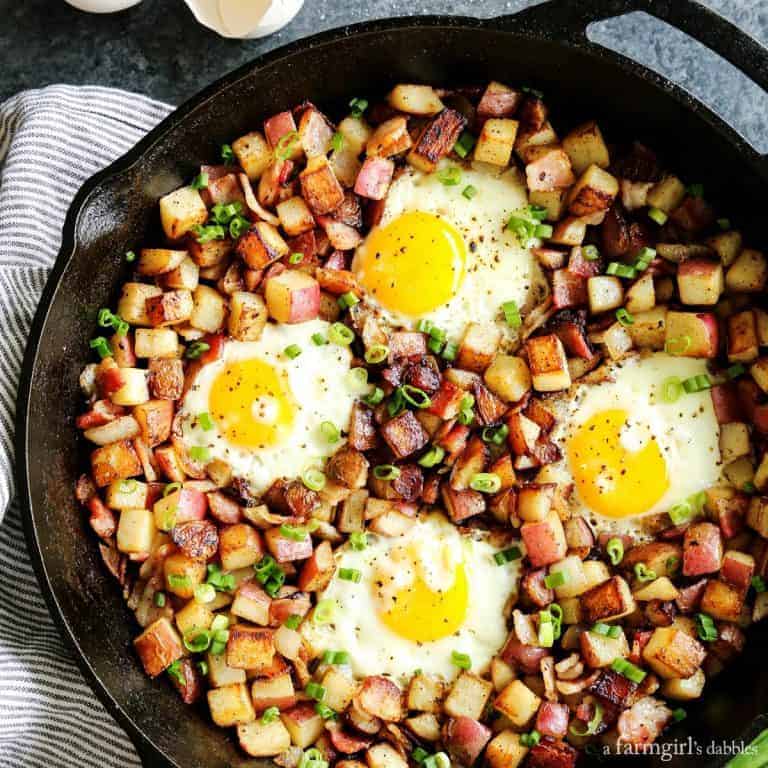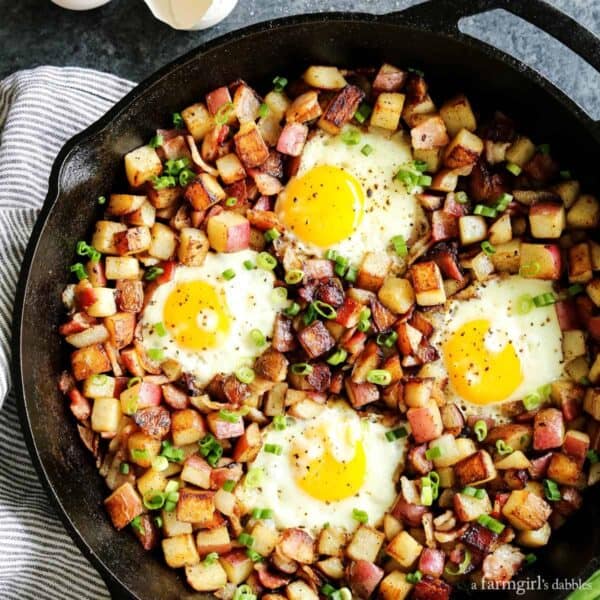 For more information about the American Egg Board, including recipes and nutritional information, visit their website. Also find them on these social media channels: Facebook, Twitter, Instagram, and Pinterest.
This post is sponsored by the American Egg Board. I am honored to be partnering with them this month during National Egg Month. All opinions are 100% my own, as always. Thank you for supporting the brands that help make this site possible!
We participate in the Amazon Services LLC Associates Program, an affiliate advertising program designed to provide a means for us to earn fees by linking to Amazon.com and affiliated sites. See our disclosure policy for more info.