Baked Eggs with Pancetta, Provolone, and Peas
Individual ramekins of Baked Eggs with Pancetta, Provolone, and Peas are sure to make brunchers happy!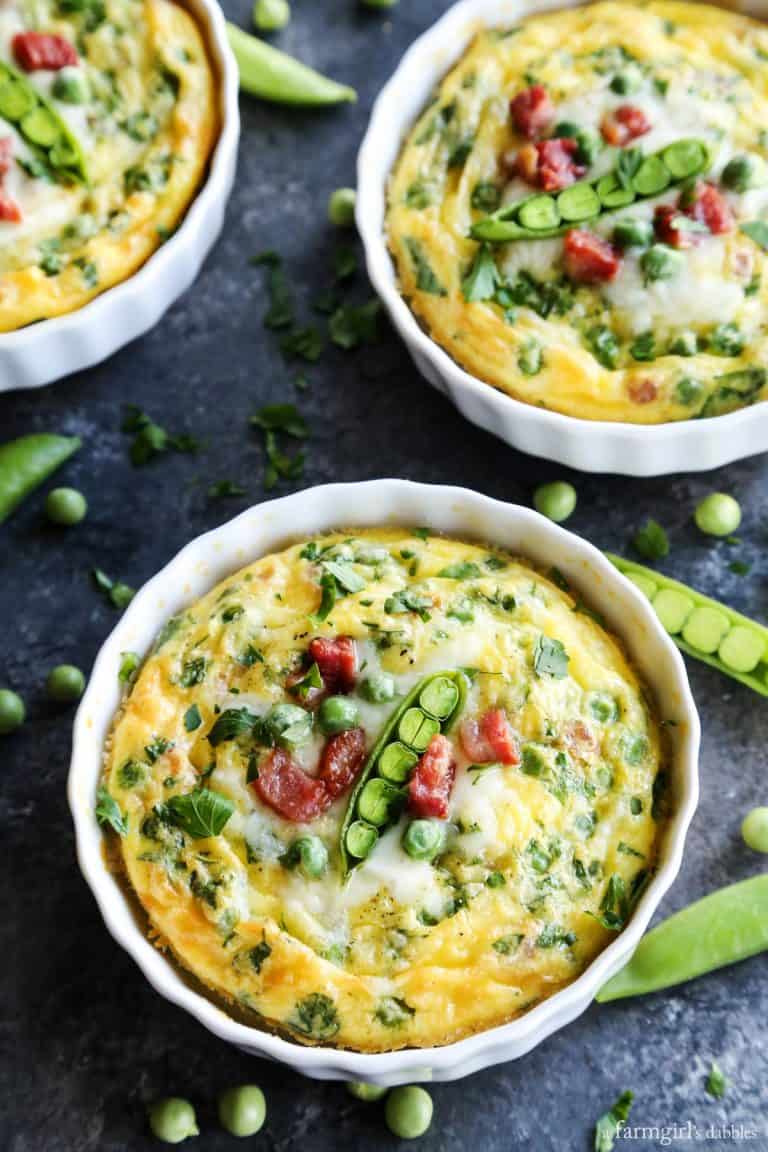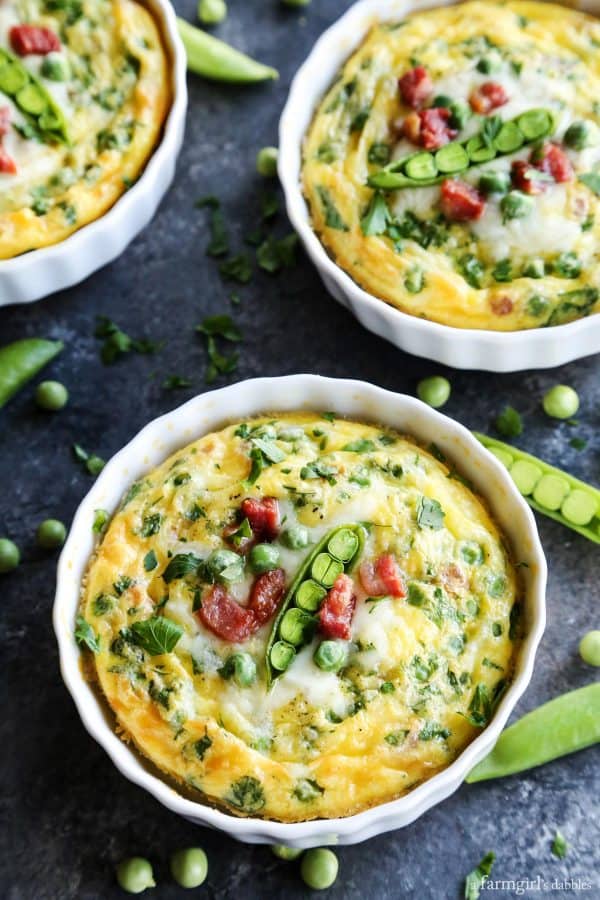 Fresh snap peas are one of my favorite vegetables. Ever since I was a kid, helping out in the (huge!) garden on the farm, I've found them delightful. I can remember picking so many peas that Mom would let us girls turn on one of our favorite TV shows to keep us occupied while we shelled them. And the reward was a huge bowl of peas for the supper table.
Do you know how fun it is to run your fingers through a big bowl of fresh peas? And then to be able to eat those sweet little nuggets to your heart's content?!
Our daughter Tessa picked out a packet of peas to plant in our own garden two years ago that produced peas with an extra long pod that was super crisp and juicy, with big sweet peas inside. We ate them, pod and all…incredibly snackable! So we planted the same variety again last spring. But we had a terrible year with critters getting over, under, and through our fencing, and ended up with not one pea plant. Every single sprout was chewed off, right down to the ground. Needless to say, I was NOT happy. Nor was Tessa. So at the end of last season we fortified our fencing. Please wish us luck in our garden this year. We want to eat fresh peas!
This recipe for Baked Eggs with Pancetta, Provolone, and Peas contains a beautiful little list of ingredients that every springtime brunch should embrace. Can you just imagine how wonderful this will taste with peas picked fresh from the garden?!

* This is a sponsored post, created in partnership with Crystal Farms® Cheese.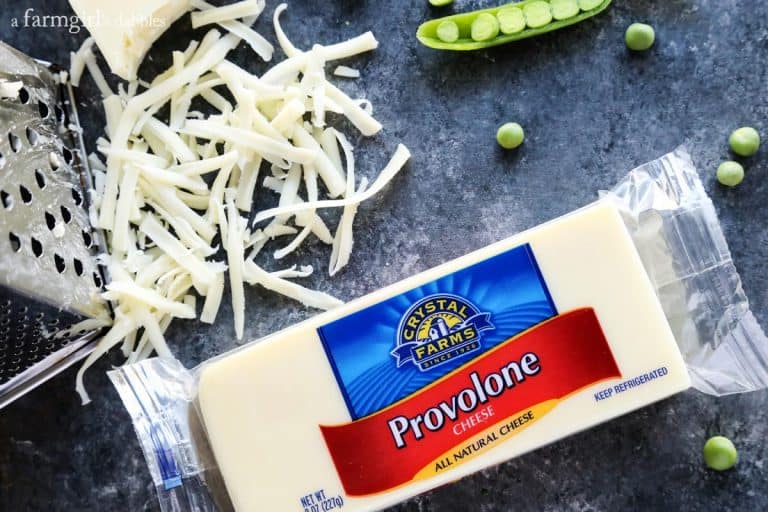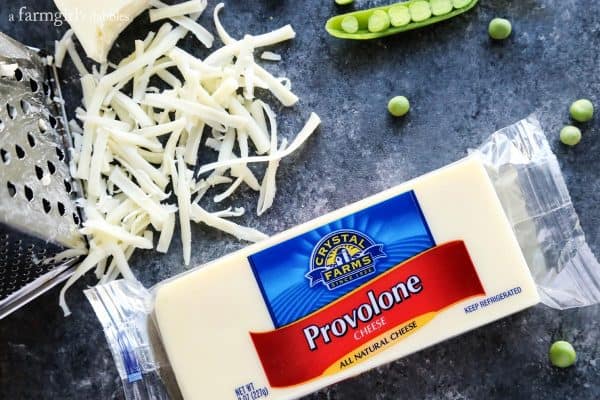 I always enjoy a little cheese with my eggs. Depending on my mood, I'll add anything from sharp cheddar to pepper jack to Parmesan. For this particular recipe, my heart was set on provolone.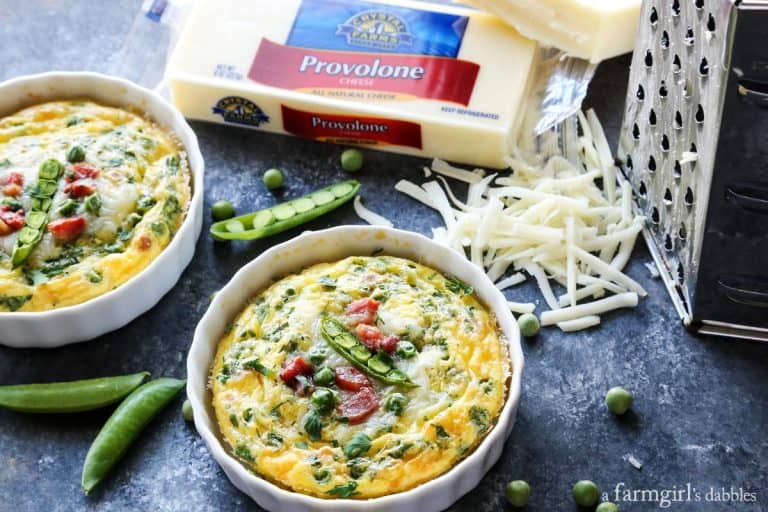 Since 1926, Crystal Farms has been committed to providing the highest quality products, and is one of the largest cheese brands in the country today. Located in Wisconsin, just across the border from where we live, Crystal Farms keeps all of us cheese lovers supplied with a plethora of great tasting, calcium-rich cheeses.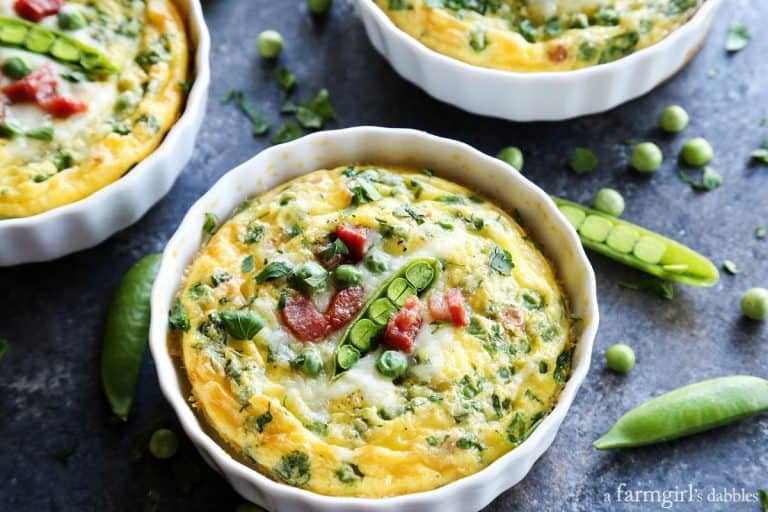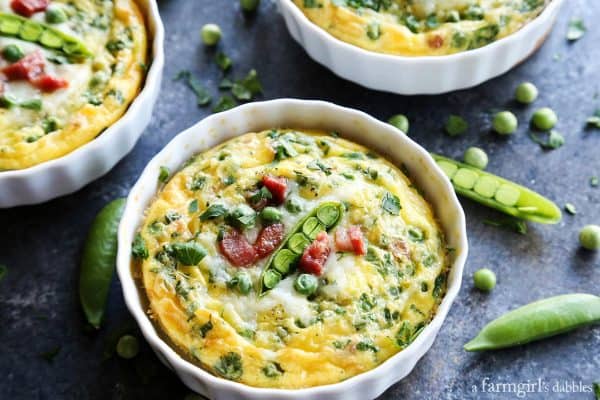 I am all about recipes that gift you with your own personalized portion, baked in its own individual vessel. I utilized these porcelain ramekins in this recipe for baked eggs with pancetta, provolone, and peas. The ramekins also work perfectly for crème brûlée, and for serving miscellaneous desserts and dips.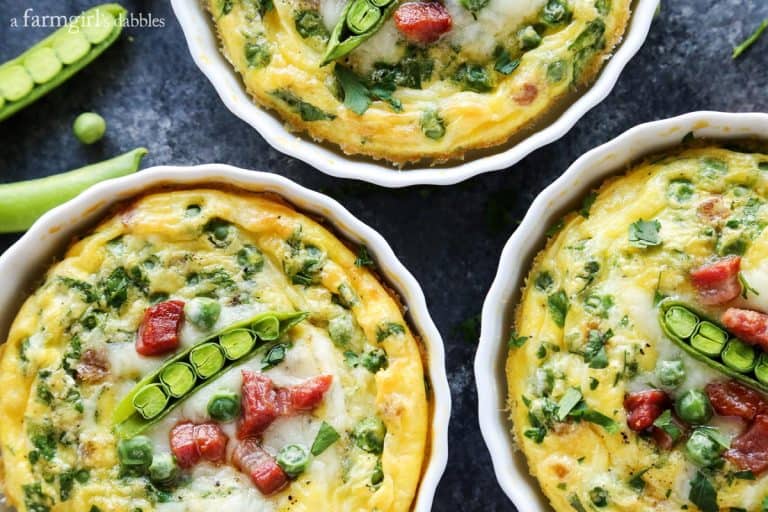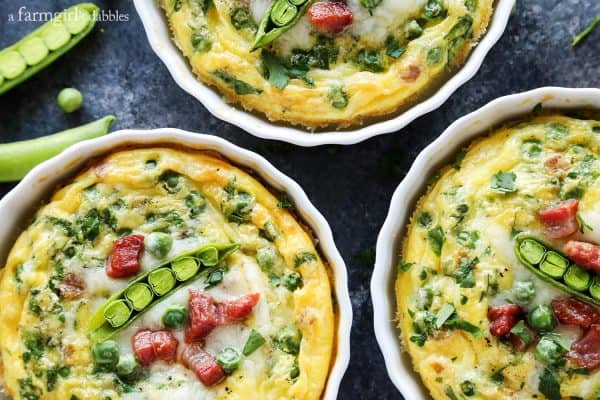 The creamy eggs bake up beautifully, with just the perfect amount of toothsome, delicious cheesiness studded with bites of salty pancetta and fresh peas. This is a recipe that's sure to make brunchers happy!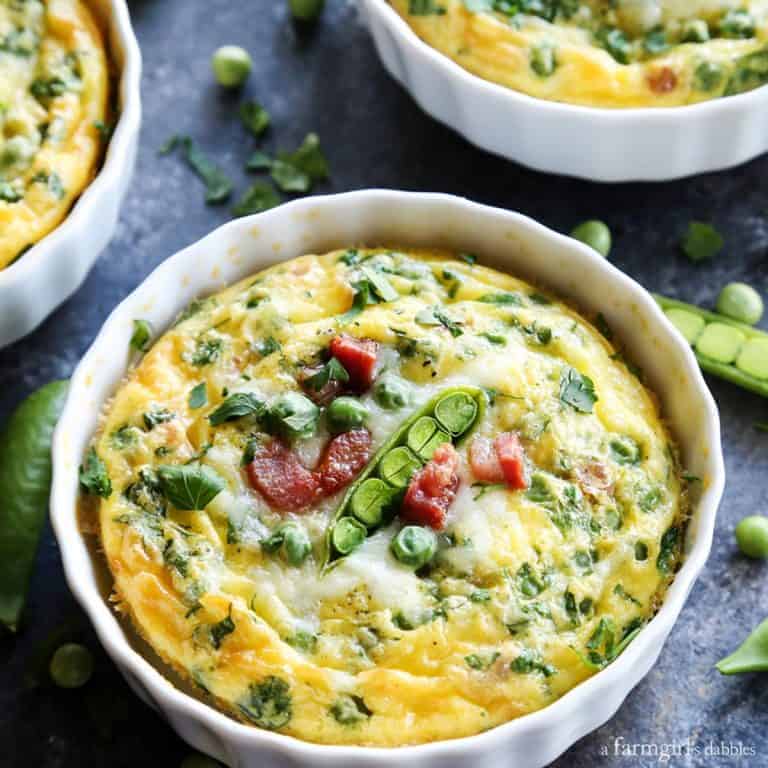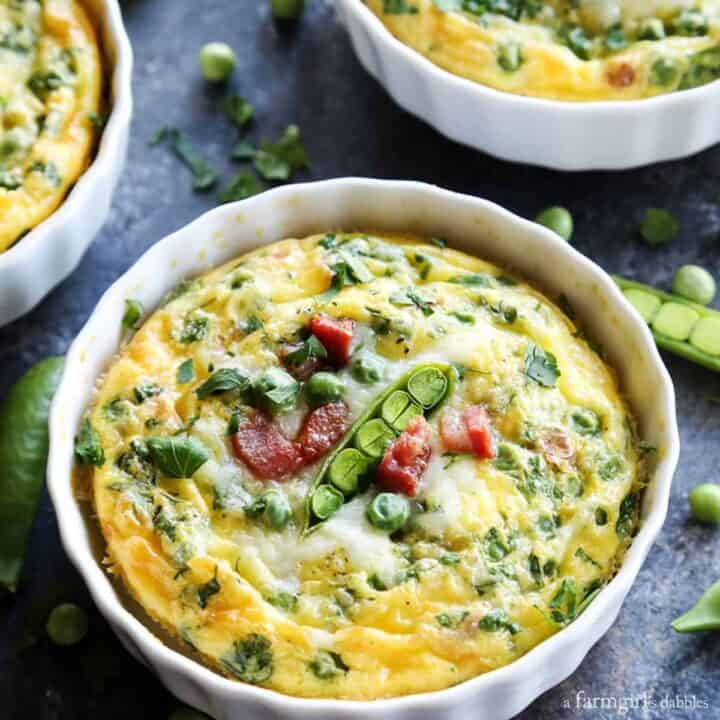 Baked Eggs with Pancetta, Provolone, and Peas
Yield: 6 servings
Prep Time: 30 minutes
Cook Time: 20 minutes
Total Time: 50 minutes
Individual ramekins of Baked Eggs with Pancetta, Provolone, and Peas are sure to make brunchers happy!
Ingredients
1 T. unsalted butter
6 oz. diced pancetta
1/2 c. diced shallot
12 large eggs
1/2 c. heavy cream
1/2 tsp. dried mustard
2 T. chopped Italian parsley, plus a bit more for garnishing
3/4 tsp. kosher salt
1/4 tsp. freshly ground black pepper
1/2 c. fresh or frozen peas
6 oz. Crystal Farms® Provolone Cheese, shredded
fresh pea pods, split in half lengthwise, for garnish if desired
Instructions
Lightly butter the insides of 6 ramekins that are 5" in diameter and 1" tall. Place ramekins on a large rimmed pan and set aside. Place oven rack in upper third of oven. Preheat to 350°F.
In medium-size non-stick skillet over medium heat, cook pancetta until chewy-crisp, stirring regularly. Remove pancetta from skillet to a paper towel-lined plate. Discard all but 1 tablespoon of fat from the skillet, and then add shallot to skillet and cook until softened, stirring often. If the shallot starts to brown before it is softened, turn down the heat a bit. Remove shallot to a plate.
In a medium bowl, whisk eggs, cream, mustard, parsley, salt, and pepper. Divide mixture evenly among the 6 ramekins. Reserve a bit of the pancetta for the tops of the eggs, and then divide the remaining pancetta among the 6 ramekins. Reserve a bit of the peas and cheese for the tops of the eggs, and then divide the remaining among the 6 ramekins. Give the mixture in each ramekin a little stir with a spoon and then place pan of ramekins in the oven. Bake for 15 minutes.
Remove pan of ramekins from oven and top each ramekin with reserved cheese, then reserved pancetta and peas. Add a split fresh pea pod, if desired.
Return pan of ramekins to oven and bake for an additional 5 minutes or so. You want the eggs to be just softly set and the cheese on top melted.
Garnish with freshly ground black pepper and a bit of chopped parsley. Let sit for a few minutes before serving.
Notes
from a farmgirl's dabbles
Nutrition Information:
Yield: 6
Serving Size: 1
Amount Per Serving:
Calories: 496
Total Fat: 41g
Saturated Fat: 19g
Trans Fat: 0g
Unsaturated Fat: 19g
Cholesterol: 440mg
Sodium: 708mg
Carbohydrates: 6g
Fiber: 1g
Sugar: 3g
Protein: 24g
Nutrition information is automatically calculated by Nutritionix. I am not a nutritionist and cannot guarantee accuracy. If your health depends on nutrition information, please calculate again with your own favorite calculator.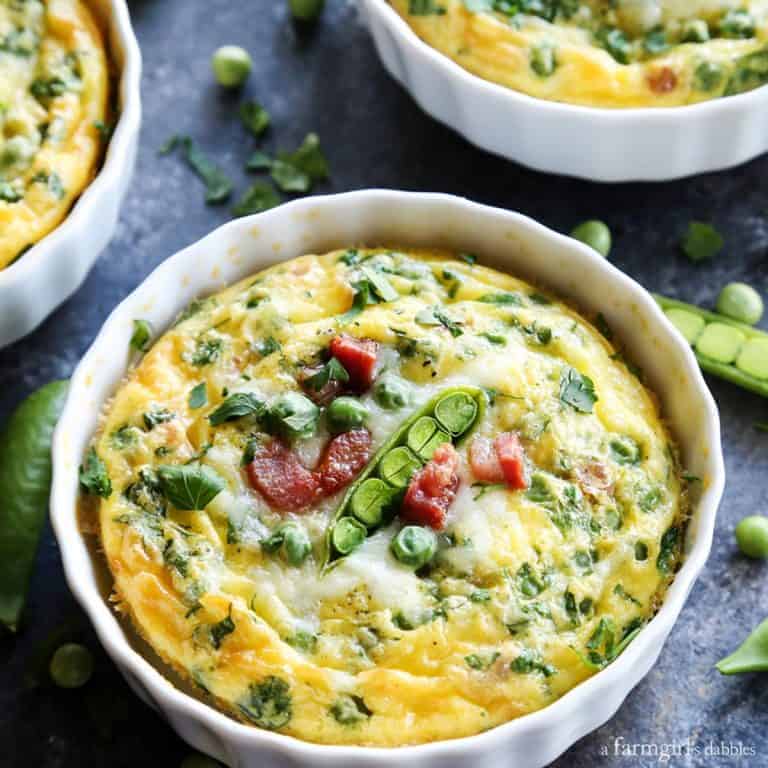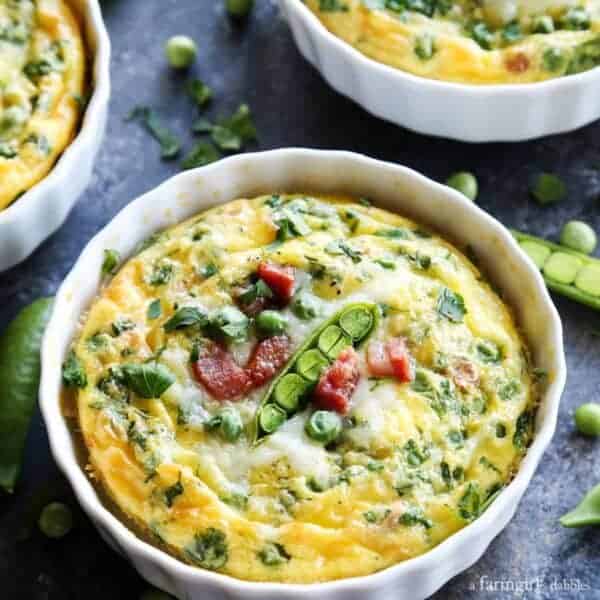 For more Crystal Farms #cheeselove, be sure to check them out on their website. You can also find them on social media on Facebook, Twitter, and Pinterest.
This post was created in partnership with Crystal Farms® Cheese of Wisconsin. All text and opinions are mine. Thank you for supporting the brands that help make this site possible. There are affiliate links in this post.