Homemade Almond Coconut Granola
Homemade Almond Coconut Granola. It'll change your breakfast bowl life.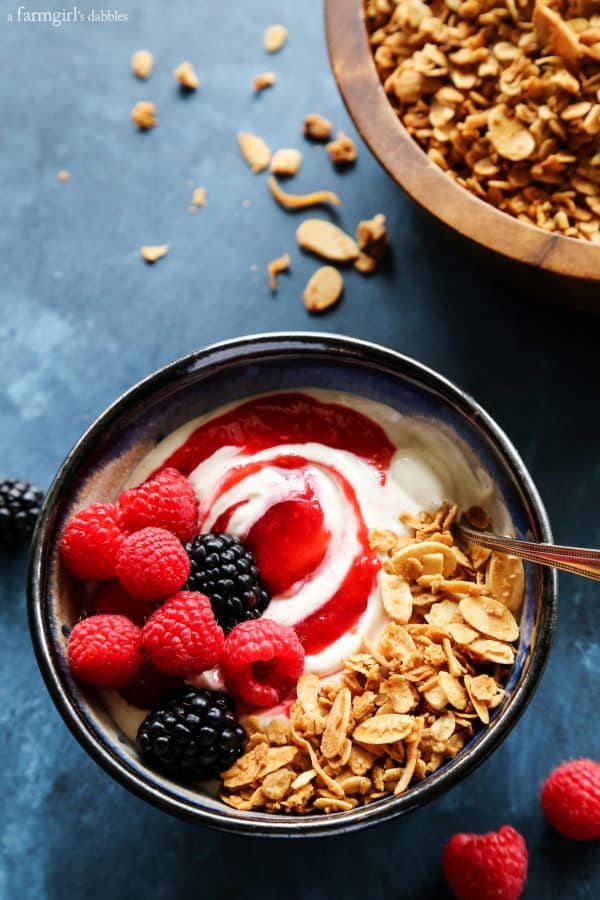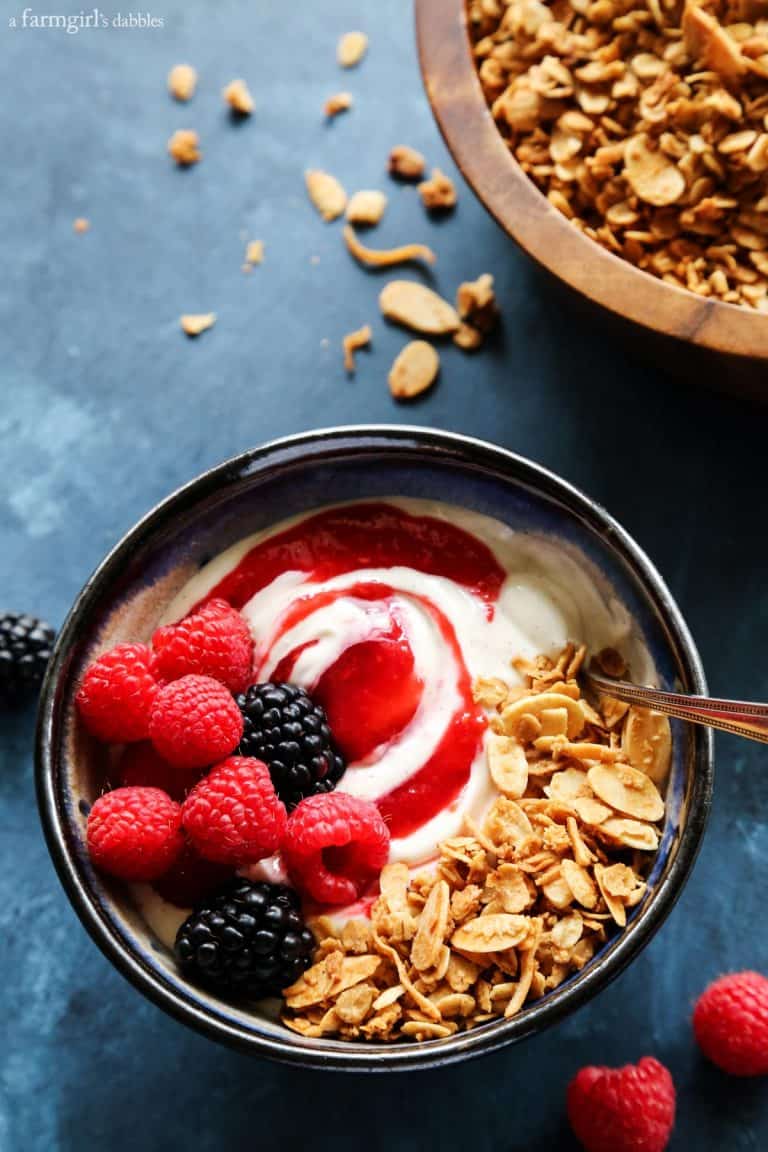 I never really ate granola until just a few years ago. Until then, I knew granola as tough and cardboard-like, with flavors that tasted either unappealing or dare I say "fake". But that's because I had never made my own granola. I was buying it packaged from the store or trying it from a hotel breakfast buffet, always disappointed, left wondering what the hype was all about.
But then I started experimenting with making my own granola at home. And my life was forever changed.
This right here is my favorite tried-and-true granola recipe that I make over and over and over again. Homemade Almond Coconut Granola.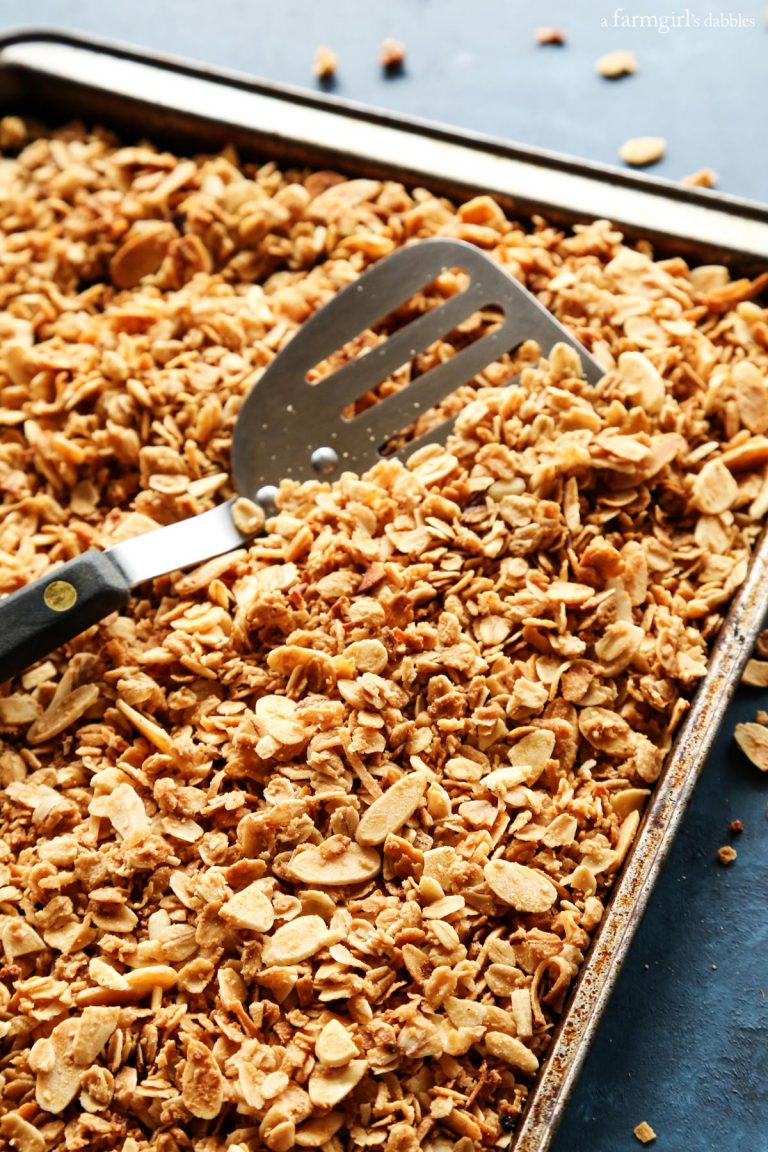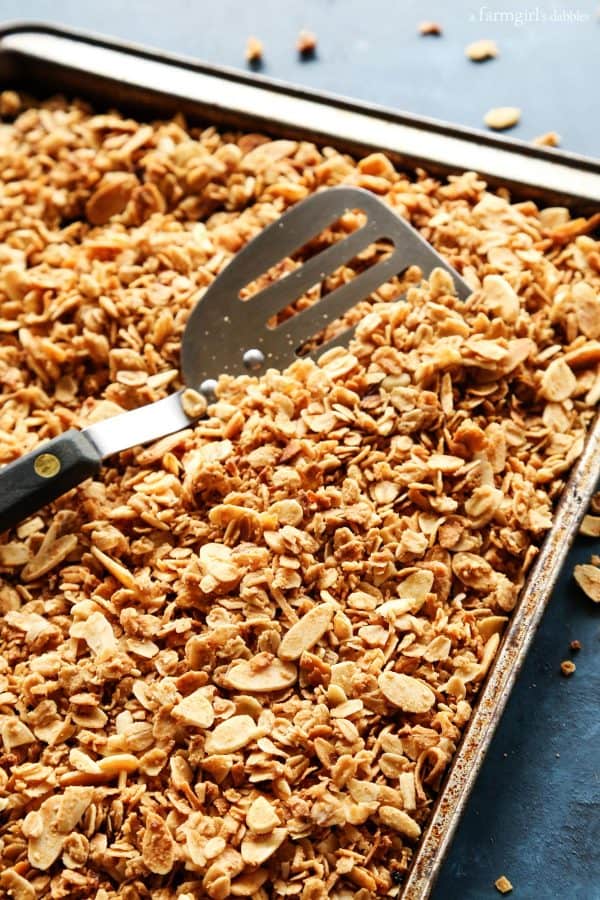 This homemade granola is all things perfect to me.
FLAVOR: Warm and toasty. Sweetened with brown sugar and maple syrup, with the added flavors of almond, coconut, and a touch of cinnamon and nutmeg.
TEXTURE: Crisped perfectly, with no large hard chunks of break-a-tooth granola pieces here!
STORABILITY: Is that a word? I love that this granola keeps well for a good amount of time. Most often, we make a double batch.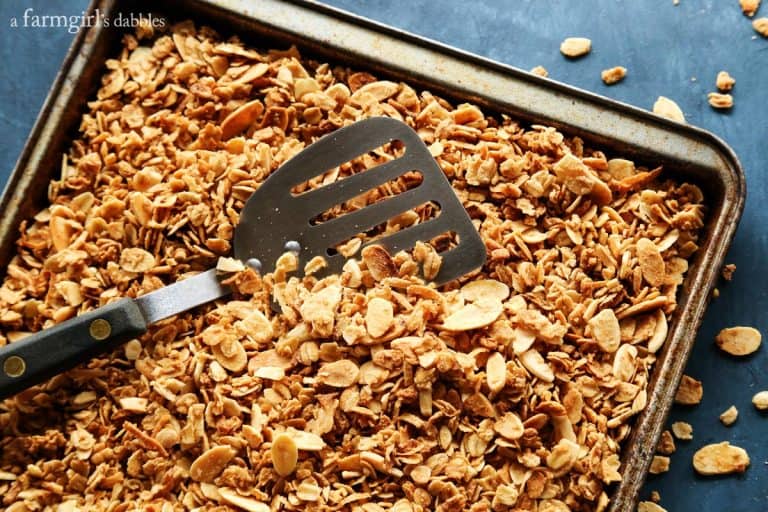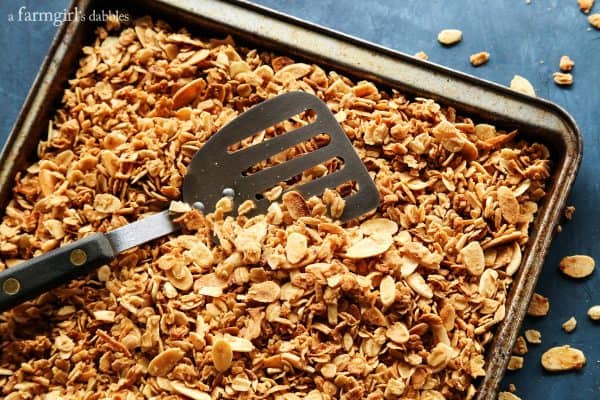 When this homemade almond coconut granola is in the oven, the whole house is enveloped in its toasty scent. I always welcome its wonderfully comforting visit.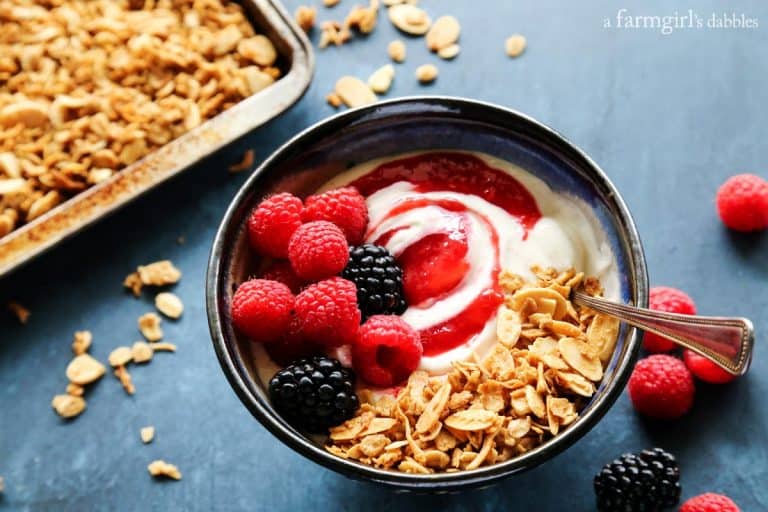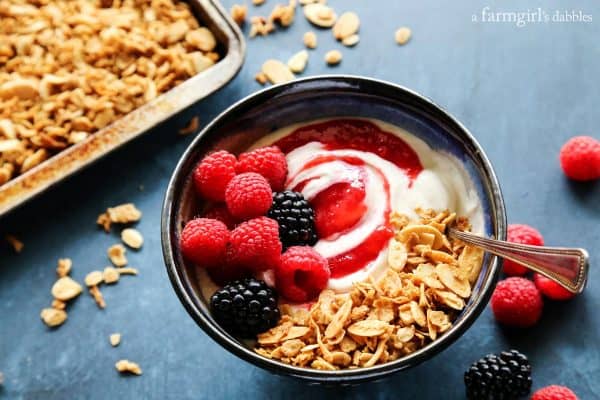 I like to add a handful of granola to any yogurt, but my current favorite combination is vanilla bean yogurt (Noosa brand) or coconut yogurt (Noosa or Trader Joe's brand) with a swirl of homemade berry freezer jam and a sprinkling of fresh berries. I also adore any of the flavored Noosa yogurts, and enjoy them with a simple dose of this homemade granola.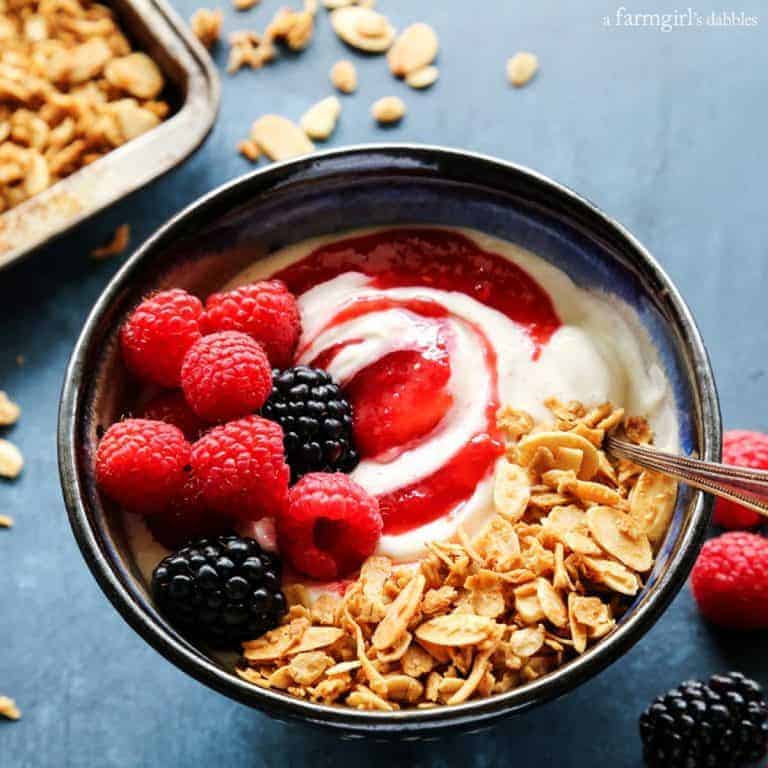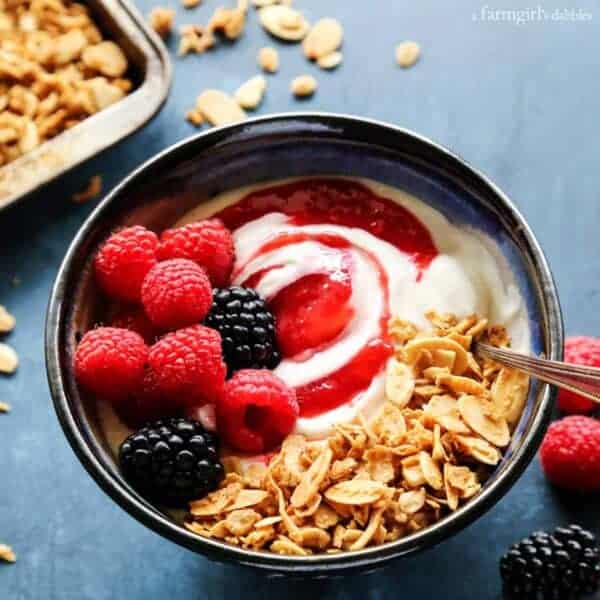 Homemade almond coconut granola. It'll change your breakfast bowl life.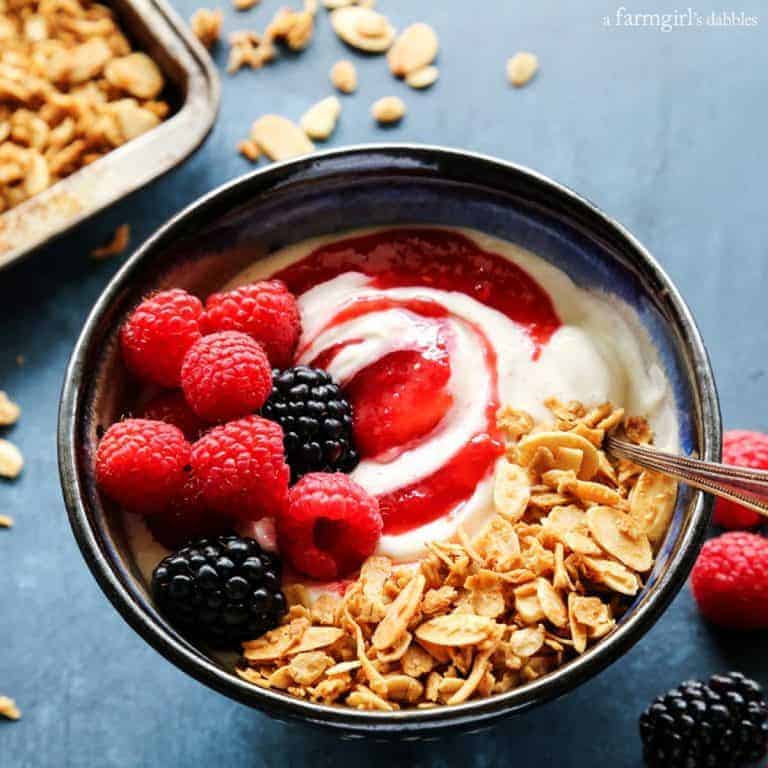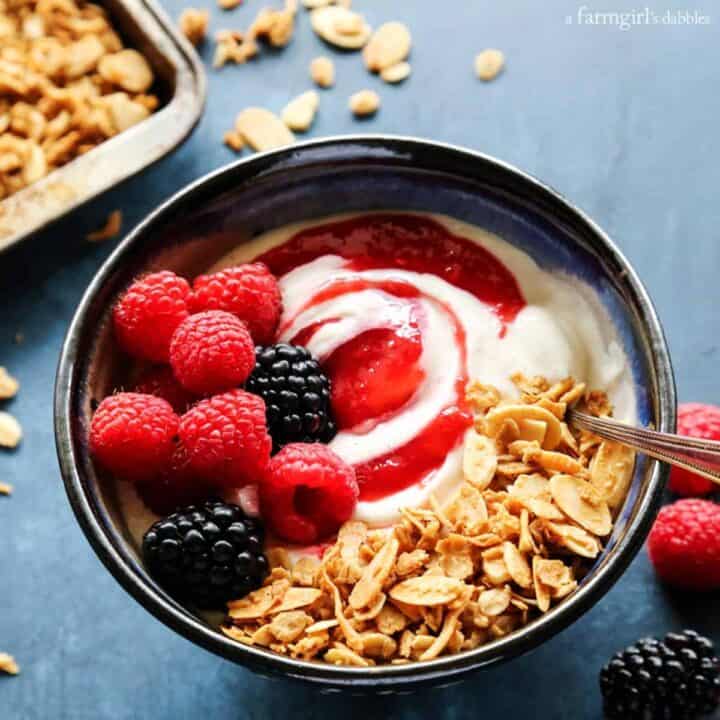 Homemade Almond Coconut Granola
Yield: about 6 cups
Prep Time: 15 minutes
Cook Time: 40 minutes
Total Time: 55 minutes
Homemade Almond Coconut Granola. It'll change your breakfast bowl life.
Ingredients
3 c. old-fashioned oats
1 c. shredded sweetened coconut
1.5 c. sliced almonds
5 T. brown sugar
1/2 T. cinnamon
1/2 tsp. kosher salt
1/8 tsp. nutmeg
1/3 c. coconut oil, melted
3/4 c. pure maple syrup
1 tsp. pure vanilla extract
1/2 tsp. pure almond extract
Instructions
Preheat oven to 300° F.
Spray an 11" x 17" rimmed baking pan lightly with cooking spray and set aside.
In a large bowl, combine oats, coconut, almonds, brown sugar, cinnamon, salt, and nutmeg. In a medium bowl, whisk together coconut oil, maple syrup, vanilla extract, and almond extract. Pour liquid mixture over dry mixture and fold until evenly coated.
Spread mixture evenly in prepared pan. Bake for about 40 minutes, stirring every 10 minutes, until granola is nicely browned. If you like a crispy, crunchy granola, be sure to let it brown. If you like a more chewy texture, don't let it brown as much. Remove from oven and let cool completely.
Store in airtight container.
Note: This keeps very well in an airtight container. I often make a double batch, using two rimmed 11" x 17" baking pans.
Notes
from a farmgirl's dabbles
Nutrition Information:
Yield: 20
Serving Size: 1
Amount Per Serving:
Calories: 188
Total Fat: 10g
Saturated Fat: 5g
Trans Fat: 0g
Unsaturated Fat: 4g
Cholesterol: 0mg
Sodium: 73mg
Carbohydrates: 23g
Fiber: 3g
Sugar: 12g
Protein: 3g
Nutrition information is automatically calculated by Nutritionix. I am not a nutritionist and cannot guarantee accuracy. If your health depends on nutrition information, please calculate again with your own favorite calculator.