Cookie Monster Ice Cream
This post may contain affiliate links to products we use and love.
Homemade Cookie Monster Ice Cream: fun in blue, speckled with fresh vanilla bean flavor, and stuffed with cookie dough and Oreos. What a treat!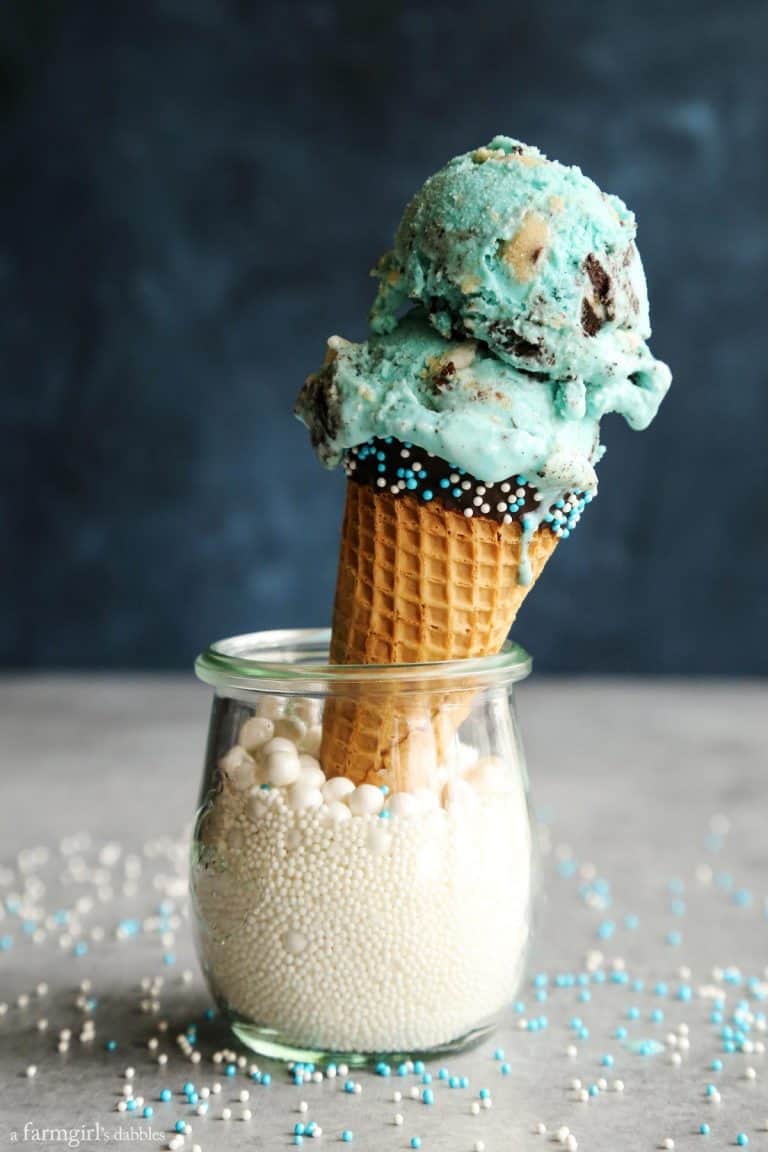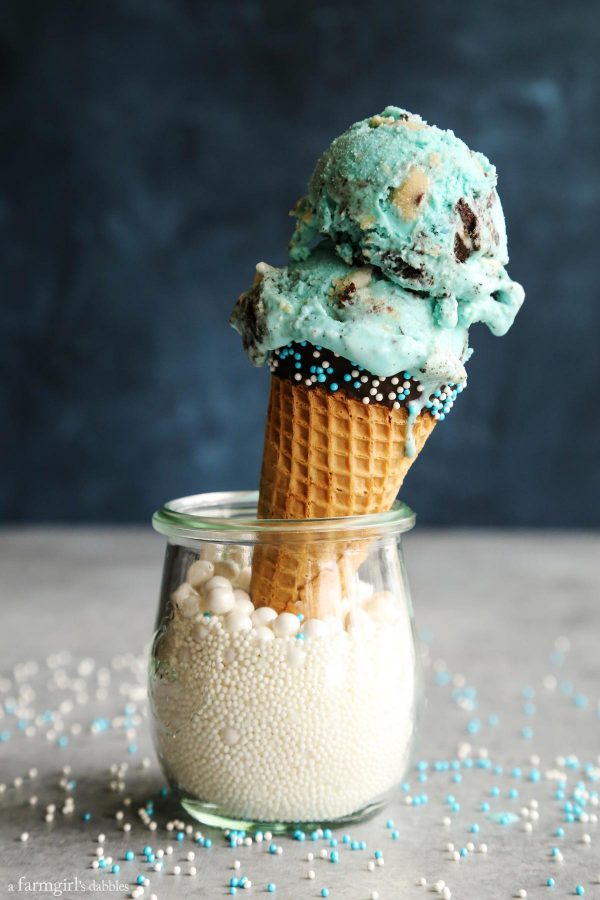 If there's one thing that our daughter Hatti inherited from her grandpa by being born on his birthday, it's his love of sweets. Take those two to an ice cream shop, and they're in high heaven!
I churned up a homemade ice cream in honor of the special people in our family with birthdays this month. Hatti and my dad share the same day on the calendar, with Blake's dad's (who passed away 1 year ago this month) birthday just a couple days before.
Cookie Monster Ice Cream.
We celebrate!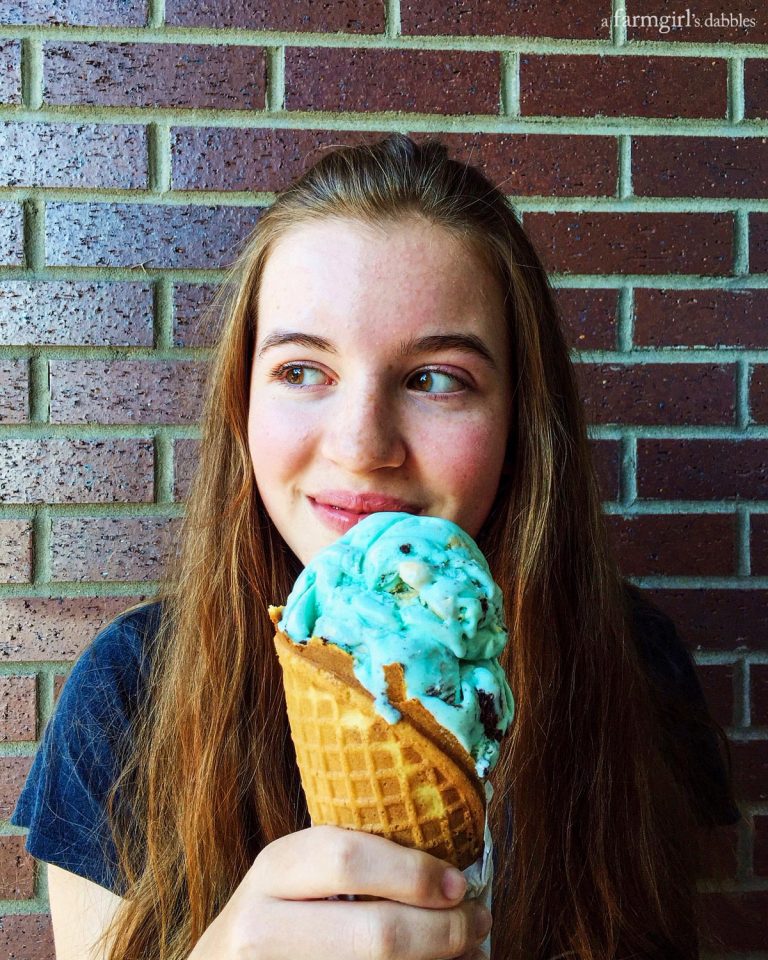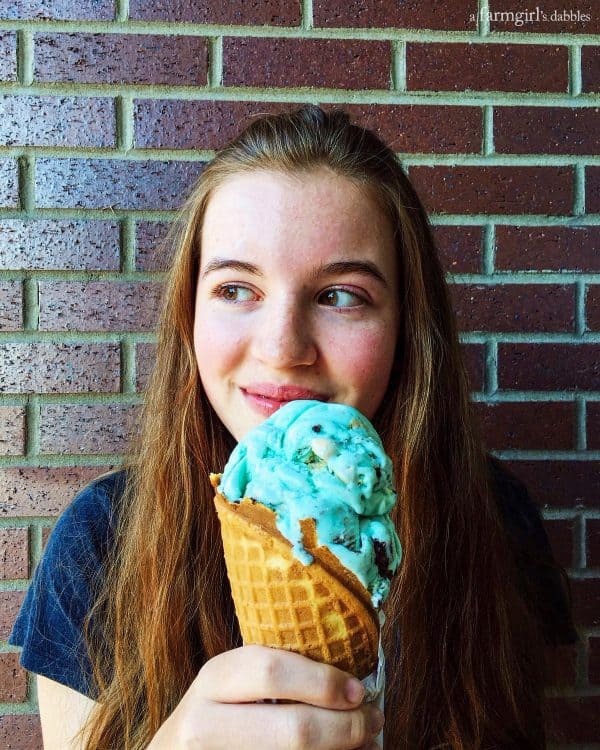 Cookie monster ice cream
My inspiration for making cookie monster ice cream came from this photo of Hatti last summer at Grand Ol' Creamery. It's one of my favorite photos of this beautiful brown-eyed girl, soon to be 15.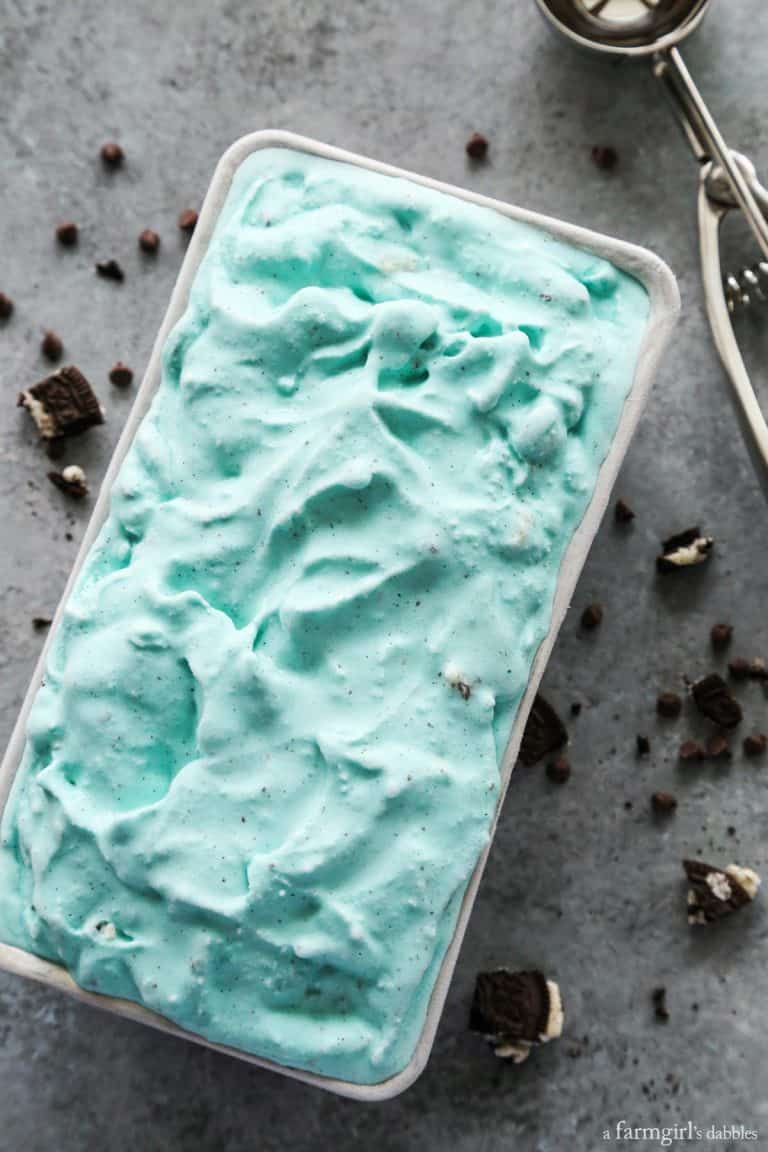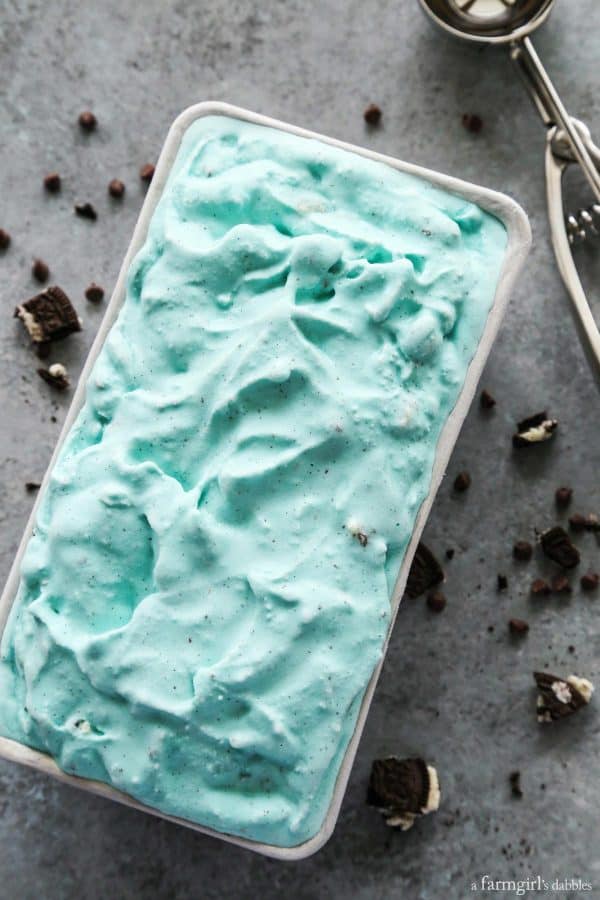 What is cookie monster ice cream?!
Hatti was at school the day I was making this cookie monster ice cream. And since I hadn't eaten this particular ice cream flavor myself, I had questions for her. So I texted…
Me: "Is it blue-tinted ice cream, flavored with vanilla only?"
Hatti: "yes"
Me: "Is it raw chocolate chip cookie dough or baked chocolate chip cookies that are broken up?"
Hatti: "cookie dough is not baked – and there are Oreos – alot of cookie dough and Oreos so you get some in every bite"
pause…
Hatti: "we should probably go to grand ol creamery to get a sample though 😏"
And then she came in with a final suggestion.
Hatti: "you should make homemade waffle cones too, like grand ol creamery"
That girl is always working me, always working me…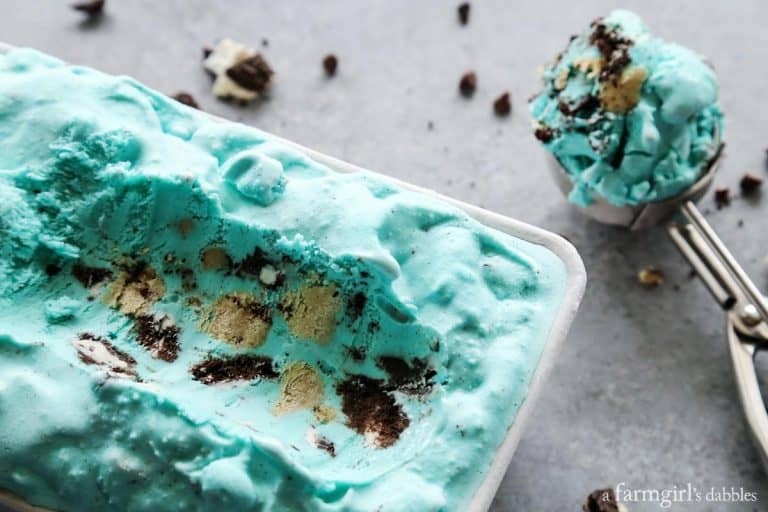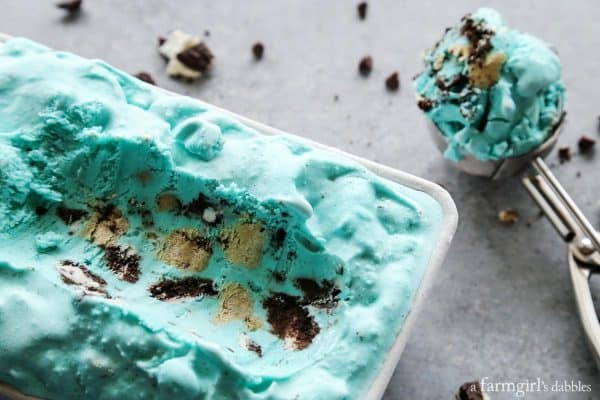 Hatti was home by the time I was forming the chocolate chip cookie dough chunks, and was all too happy to supervise, making sure I got the size of the dough chunks juuuuuuuust right.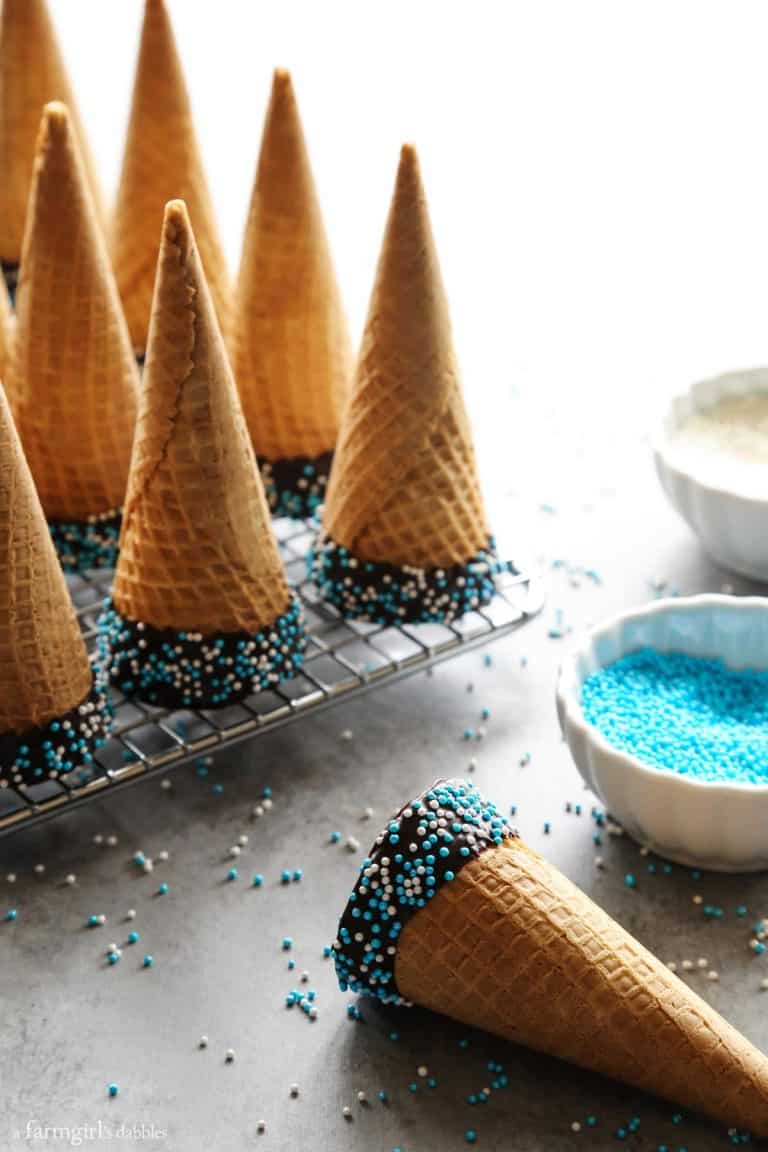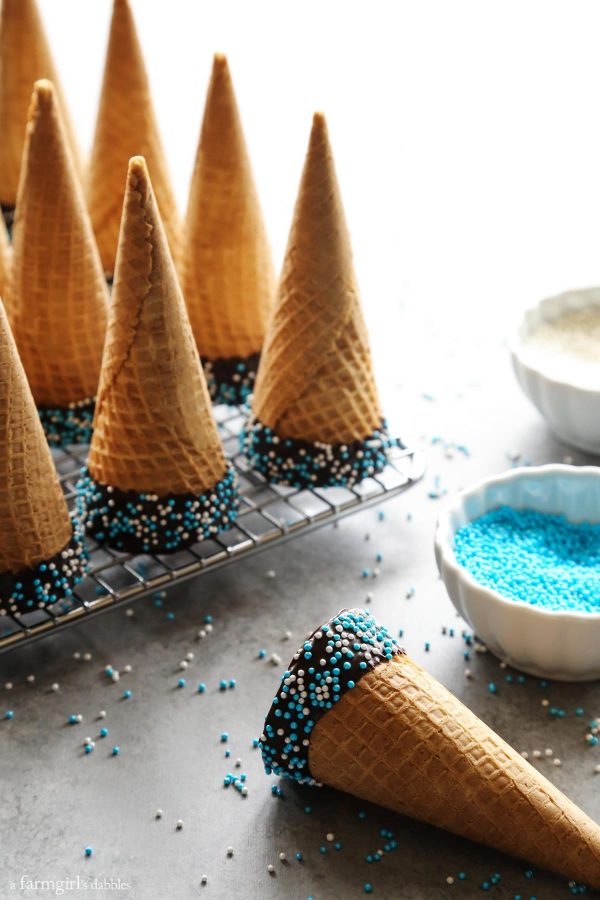 And while I did not follow through with Hatti's suggestion for homemade waffle cones, I did give some store-bought cones a little dip-and-sprinkles love. I followed my friend Bridget's advice. And can I just say how fun this project is?!
If you're looking to add a little more fun to an ice cream party, give this a go. Choices of flavors and colors and sprinkles are endless, a project perfectly adaptable to any celebration!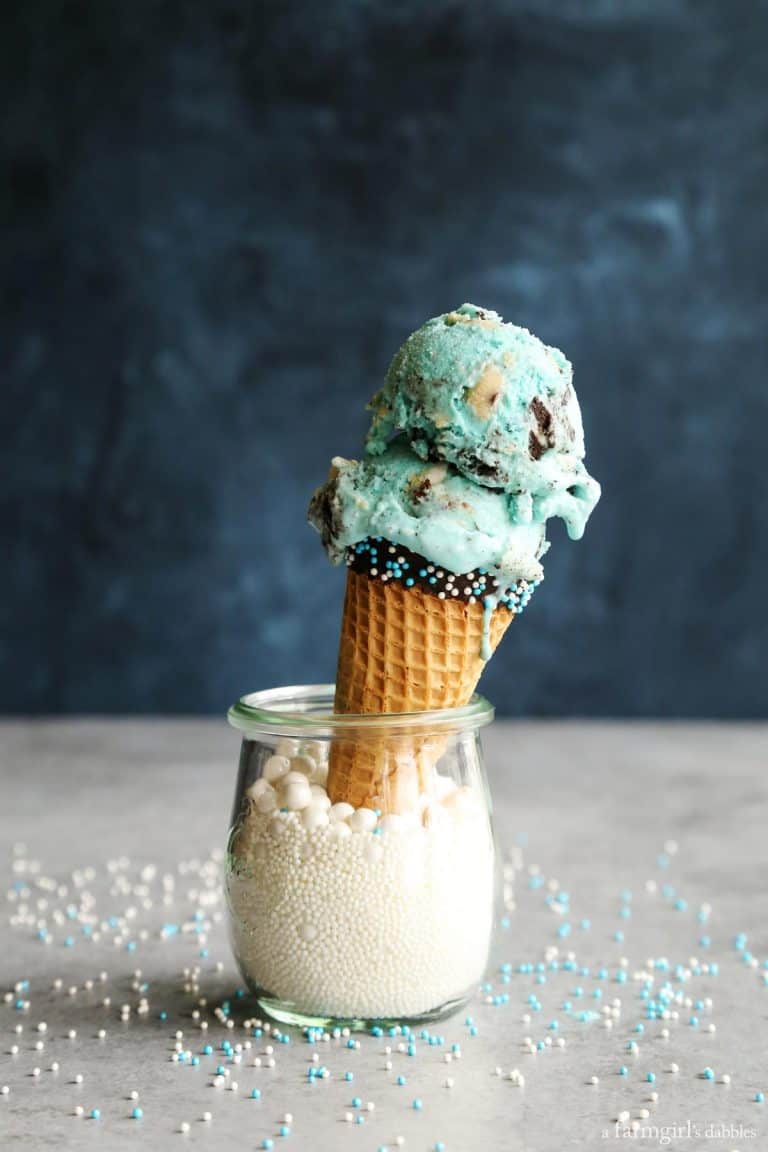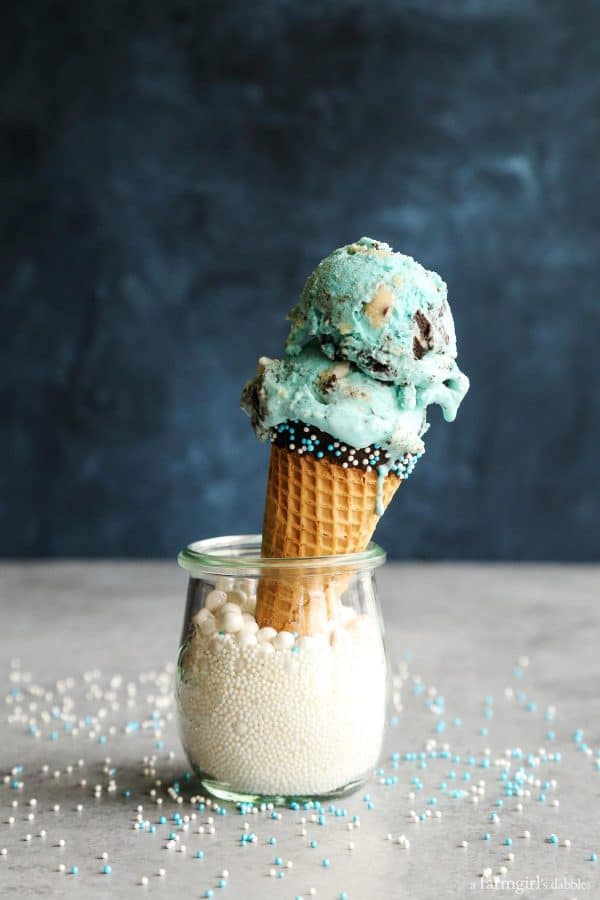 Homemade ice cream is always a treat, but even more so when colored a fun blue hue, speckled with fresh vanilla bean flavor, and stuffed with cookie dough and Oreos. Two scoops, please!
Here are a few more homemade ice cream recipes you might like:
Cookie monster ice cream recipe >>> Pin it!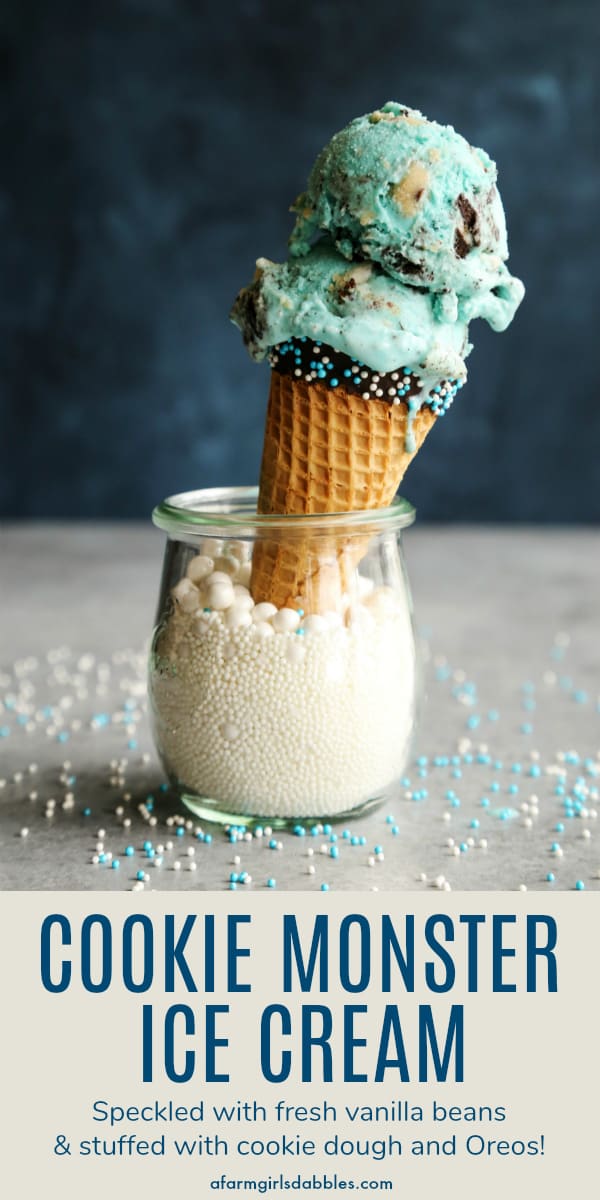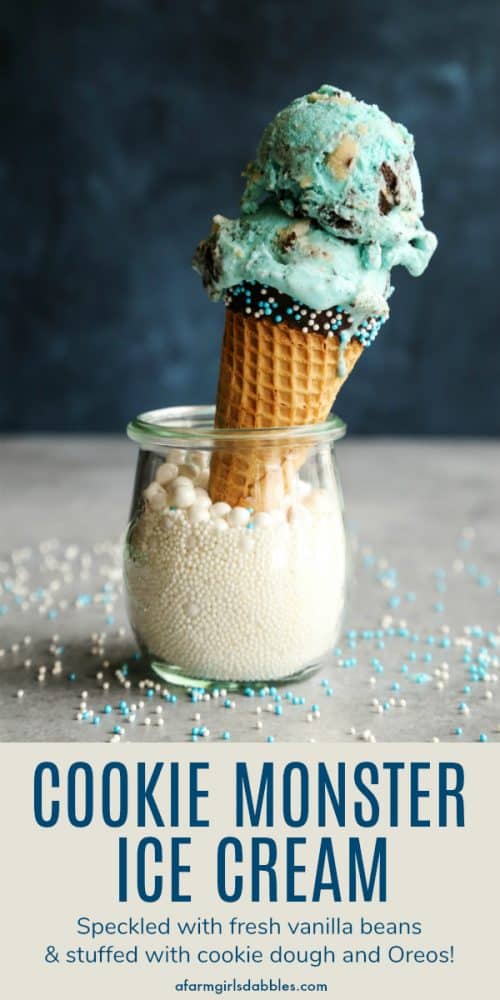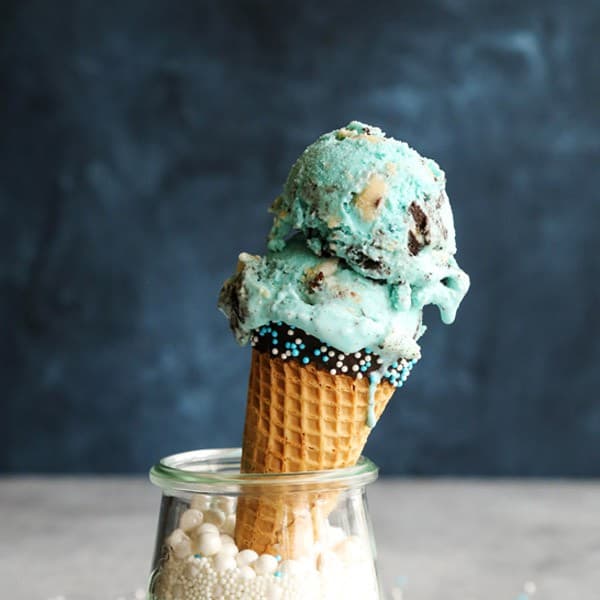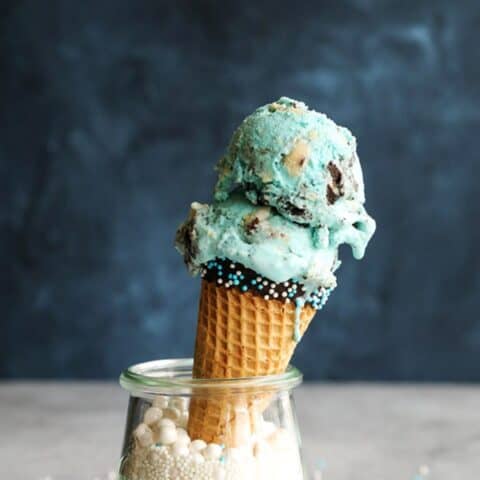 Cookie Monster Ice Cream
Yield: about 1-1/2 pints of ice cream
Prep Time: 40 minutes
Cook Time: 20 minutes
Additional Time: 2 hours
Total Time: 3 hours
Fun in blue, speckled with fresh vanilla bean flavor, and stuffed with cookie dough and Oreos. What a treat!
Ingredients
for the chocolate chip cookie dough:
1/4 c. unsalted butter, softened
1/4 c. brown sugar
1/2 c. all-purpose flour
1/4 tsp. kosher salt
2 tsp. pure vanilla extract
1/3 c. mini semi-sweet chocolate chips
for the ice cream base:
Instructions
for the chocolate chip cookie dough: Using a stand mixer or hand mixer, cream together butter and sugar. Add flour and salt, and mix to combine. Mix in vanilla, and then the chocolate chips. Pinch off small pieces of dough, aiming for 1/4" to 1/2" pieces. Place dough bites on a parchment paper- lined pan and chill until ice cream base is ready.
for the ice cream base: In a small saucepan, warm milk to 170° F, stirring occasionally. Do not let milk boil. While the milk is warming, whisk sugar, eggs, vanilla bean seeds, and vanilla in a medium bowl. Very slowly and gradually drizzle warmed milk into the egg mixture, whisking continuously to prevent the egg from cooking from the heat. Whisk in heavy cream, and then food coloring to your preference. I add a few drops of color, but prefer to keep the blue on the lighter side. Chill for an hour, or until cool to the touch. You can even chill overnight if desired, and then make the ice cream the following day.
Pour cream mixture into an ice cream maker and churn according to the manufacturer's directions. Once the ice cream has reached a soft-serve consistency, add the chopped Oreos and chocolate chip cookie bites. Mix by hand if necessary. Pour ice cream into a freezer-safe container and freeze until solid.
Notes
from a farmgirl's dabbles
Recommended Products
As an Amazon Associate and member of other affiliate programs, I earn from qualifying purchases.
Nutrition Information:
Yield: 8
Serving Size: 1
Amount Per Serving:
Calories: 481
Total Fat: 33g
Saturated Fat: 20g
Trans Fat: 1g
Unsaturated Fat: 10g
Cholesterol: 132mg
Sodium: 146mg
Carbohydrates: 42g
Fiber: 1g
Sugar: 34g
Protein: 6g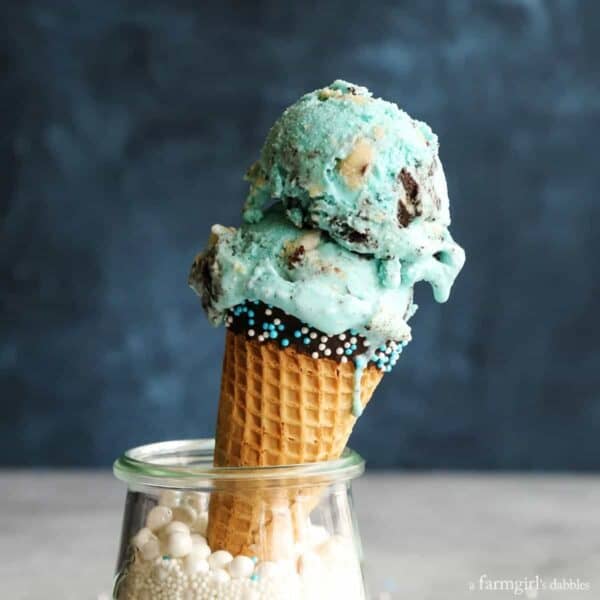 .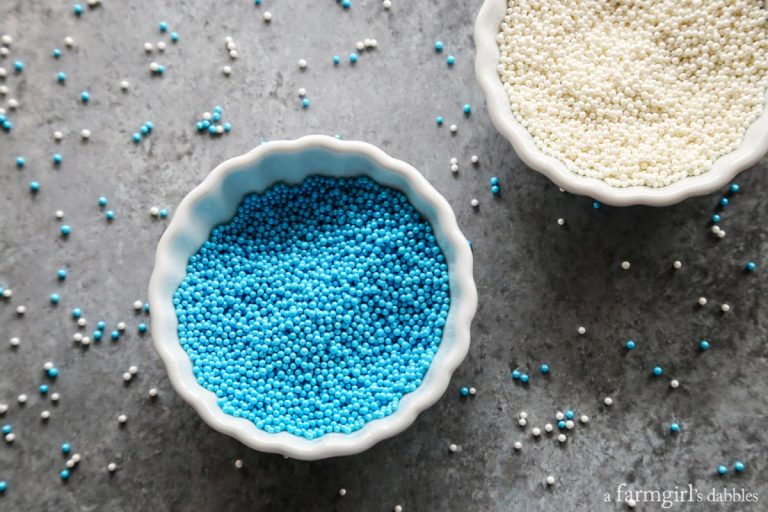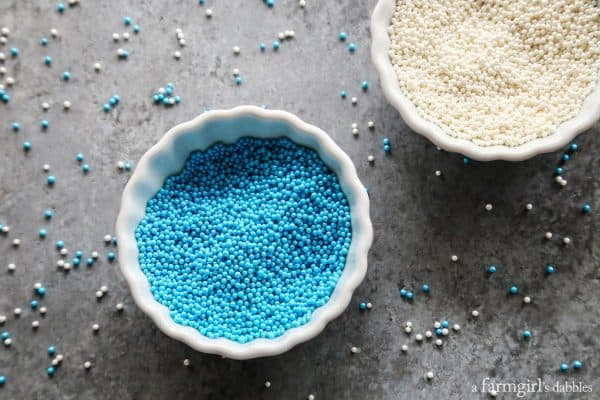 We participate in the Amazon Services LLC Associates Program, an affiliate advertising program designed to provide a means for us to earn fees by linking to Amazon.com and affiliated sites. See our
disclosure policy
for more info.